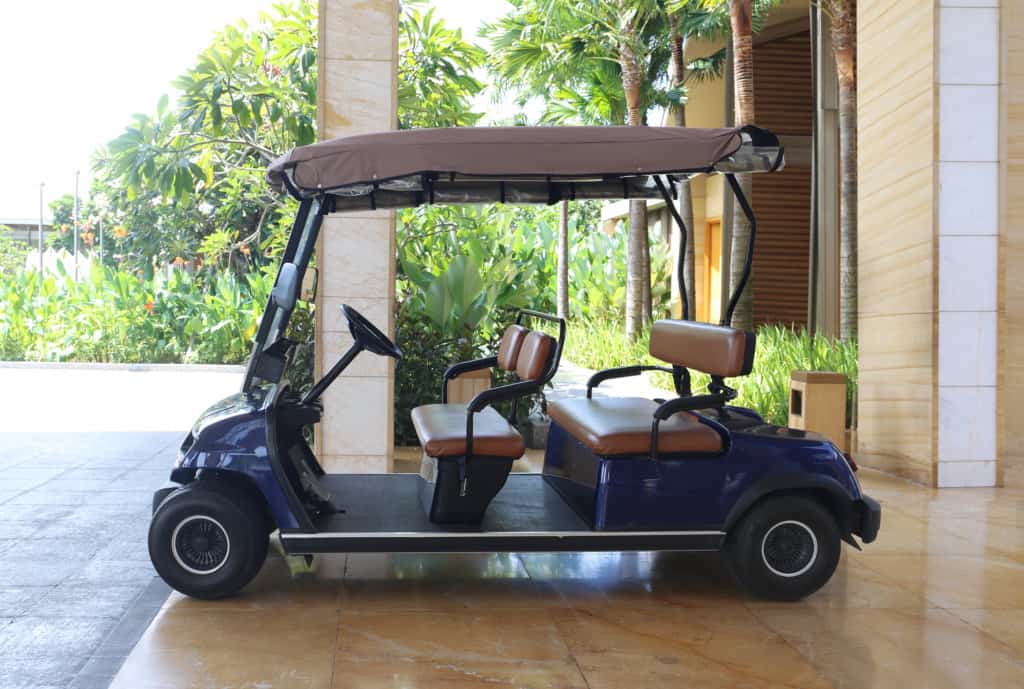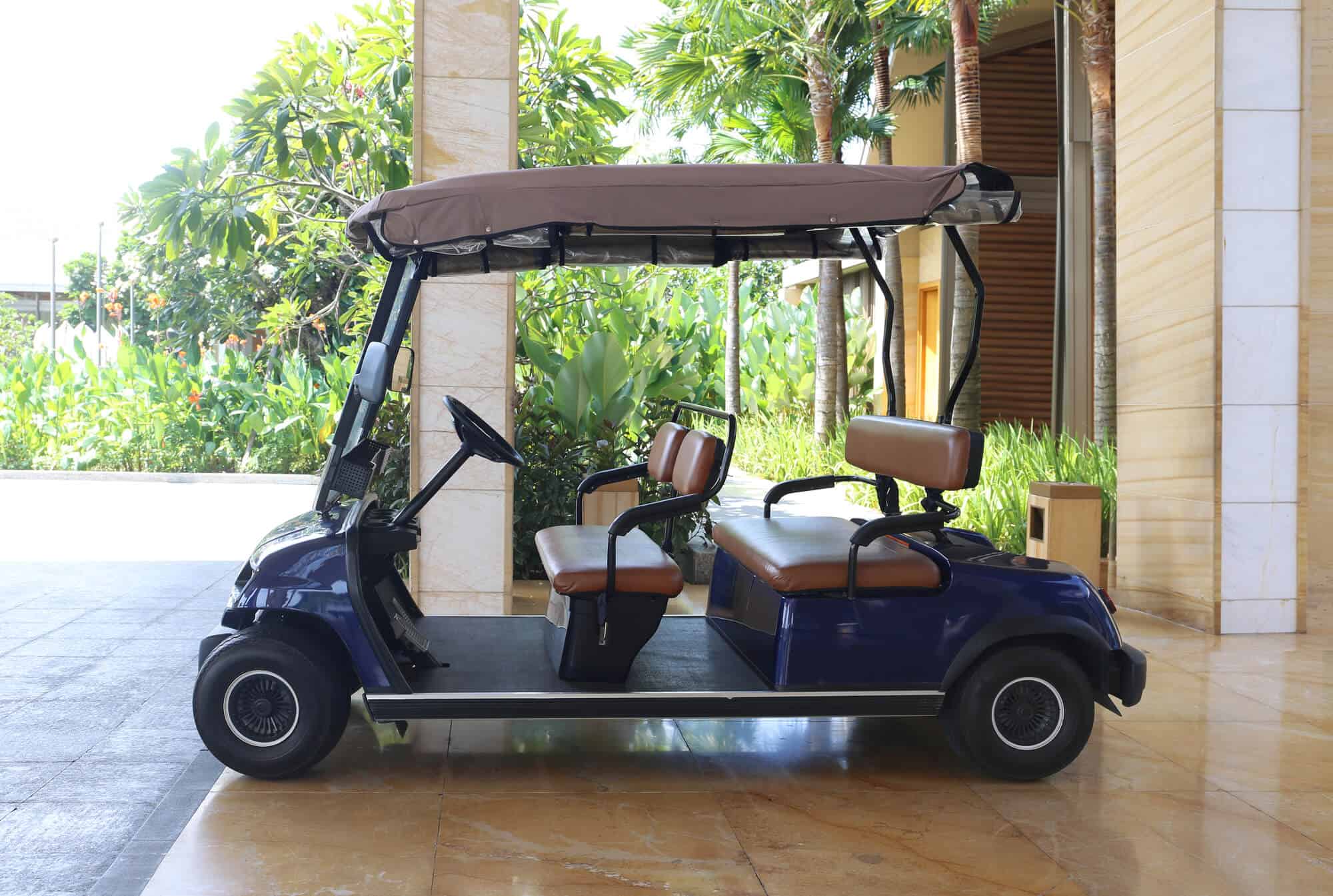 Looking for the most popular golf cart parts and accessories?
We have you covered with our complete list of the best-selling golf cart parts and accessories on the market today.
Read our extensive reviews of each of these parts and accessories before making your next purchase.
Let's take a look at 25 of the most popular accessories and parts.
Top 25 Most Popular Golf Cart Parts and Accessories 
1. Mr. Heater MH4GC Golf Cart Heater
This heater is an excellent addition to any golf cart because it provides high-quality heating protection during the coldest times of the year.

As a result, you can use your cart during the winter – which may be useful if you own it for more general purposes.
A high-quality heater is also a great idea if you like going out golfing in the fall and want to ensure that you are protected from bad temperatures.
Pros
Simple safety switch keeps the heater from getting too hot
The sizeable radiant heating surface produces much heat
Oxygen Depletion System manages heat level better
Cons
Does not come with a propane tank
Possesses just 5.5 hours of run time
2. BETOOLL HW9008 Golf Cart Folding Side View Mirrors
Side mirrors provide an excellent level of safety for your golf cart, particularly if you want to take it out on the road.
These mirrors are compatible with various Club Car, EZGO, and Yamaha carts, which makes them a particularly good investment.
Each comes with a two-bolt universal mount that keeps it attached to the cart and protected from various damage situations.
Pros
Fully adjustable to meet your needs
Creates a non-distorted rear view
Posses an extensive vision area
Cons
May be hard for some to install
Does not possess a 180-degree view
3. Classic Accessories Fairway Golf Cart Enclosure Travel 4-Sided
This accessory is designed to protect you from rain, snow, and other adverse weather situations while you're in your cart.
With a four-sided design, you can fully protect yourself and ensure that you are comfortable while you ride.
Cuts on each side of the cart allow you and your passenger to quickly step out, making this a great addition to any cart that is used in potentially frightening weather.
Pros
Very easy to install
Large enough to fit most two-person carts
Comes in several different colors
Cons
Side cuts may let in the weather
May slip if your installation is weak
4. 10L0L Golf Cart Rearview Mirror
If the previous rearview mirror wasn't appropriate to all tastes, this option might be a better choice.
Designed to fit on EZGO, Club Car, and Yamaha carts, it helps fill in the gaps that the other mirror may have left.
With a more panoramic view, it can help you stay safe on the course or wherever you drive your cart.
It makes an excellent choice for those who want to drive carts on roads.
Pros
Price is very reasonable for this model
May be installed in many different areas
Provides a very comprehensive view
Cons
Requires a metal crossbar for installation
May wiggle on rough terrain
5. Monument Golf Stick It Magnetic Rangefinder Strap
Rangefinders help make it easier to track your ball or figure out where you're going when in the woods on a golf cart.
This tool helps to hold your rangefinder closer to you at all times.
The sturdy material is very reliable and durable, and the strap easy to adjust.
As a result, you can either attach your rangefinder to your hand or to a different part of your cart to keep it at hand at all times.
Pros
Constructed with a durable and high-strength nylon
Allows the use of an easy rangefinder
Doesn't require much installation
Cons
Could wiggle off due to road terrain
Feels somewhat loose in some hands
6. Panel Mirror
Here's another mirror that is an excellent choice for many golf carts.
Explicitly designed for Club Car, EZGO, and Precedent models, it has a high level of quality that makes it worth your choice.
For example, you can see more easily behind you when installing this mirror.
You can also protect your friends and family members by ensuring that it is easier to use your car safely and effectively.
Pros
Universal design makes it easier to fit
Gives a full rear view while you drive
Includes a mounting bracket
Cons
Stress on the bracket may cause a break
Does not fit on Yamaha carts
7. Classic Accessories Fairway Golf Cart Deluxe Enclosure
Though we have already highlighted a few different enclosures on this list, this option is an excellent choice for four-person carts.
It is designed to fit comfortably over your cart and protect against various types of weather conditions.
The interior and exterior zippers create an easy-to-access design that should make this a very easy option for most.
And it is designed to withstand winter storms in particular.
Pros
Should fit over just about any four-person cart
Fabric won't shrink or grow in weather
Transparent window material makes driving easy
Cons
Driving may be harder for some people
Requires careful adjustment to fit properly
8. Himal 4 Passenger 400D Waterproof Sunproof Golf Cart Cover
Like other golf cart covers, this option is designed for specific models. It should fit most EZ GO, Club Car, or Yamaha models.
Expect a size of about 112 by 48 by 66 inches.
It will extend a bit more for larger roofs, which is a nice feature.
The durable fabric is designed to withstand rain, snow, and many other issues.
That makes this cover a good choice for many different golfers.
Pros
Will cover the rear seats and armrests
Contains a waterproof exterior
The upgraded zipper is considered unbreakable
Cons
May experience some damage from wind
The warranty lasts just one year
9. Classic Accessories Fairway Golf Cart Seat Blanket/Cover
If you are sick of getting into a cold golf cart in the morning and want to protect its surface, consider this accessory.
This blanket or cover fits snugly on most golf cart seats and attaches at the bottom to keep it in place.
As a result, your seat will be warmer when you get in and will be protected from weathering damage at the same time.
Wear this blanket on your cart seat to preserve your cart as much as possible.
Pros
Manufactured and designed in the USA
Will help cover some of your back seats
Includes a storage pocket
Cons
Does not cover your armrests
The surface may fray given time
10. Explore Land 600D Waterproof Golf Cart Cover
Another cart cover, this option is one of the last that we'll cover on this list.
It comes in many different colors, some of which are less expensive than others.
Like other covers, it carefully fits over a variety of different carts quickly and easily.
The universal mounts help make this easier to install, and with a tear- and UV-resistant cover, it should give you maximum protection for the price you pay.
Pros
Adjustable hem cord keeps the cover down
High-level double stitching provides maximum protection
600D polyester fiber is among the strongest available
Cons
Price may seem high to some buyers
Water could damage some covers
11. JSP Manufacturing Black Replacement Cup Holder
The propane cup holder is an essential part of any high-quality golf cart and must be treated with respect.
However, you may lose your propane cup holder due to strain or problems with the cart.
Thankfully, this simple replacement can help you out here.
These holders will go in your golf cart to replace any you may have lost. And if your cart never had a cup holder, you can use this one to add one to its interior.
Pros
Holds a relatively large propane heater (16.4 ounces)
Should work with most propane models
Fits on most golf carts
Cons
May take time to install
Shakes while you ride
12. BleuReign Personalized Custom License
Personalizing a golf cart is a fun way to make it stand out from others on the road and also helps to make your ride more engaging.
This simple license can fit on the back of multiple types of small vehicles, including golf carts.
When you create an order, you choose the state that you want, the text on the license plate, and more.
These options provide you with a truly individual and personalized license that looks close to the real thing.
Pros
Can be printed in any language
Allows for 25 characters
Handsome metallic design is quite strong
Cons
Requires extra tools to install
May be prone to some weathering damage
13. Bushwhacker Magnetic Multi-Purpose Mount
Next, you need to make sure that you have a high-quality mount for your golf cart.
This simple mount can be used for many different purposes, such as installing a rangefinder and much more.
The use of durable and robust magnets ensures that it stays on your cart without trying.
Just as importantly, you can also use Velcro straps to hold the mount and other items firmly in place as you drive.
Pros
Holds very firmly to most golf carts
Compatible with a wide range of carts
Creates multiple angle possibilities
Cons
Rangefinders may slip if you aren't careful
Straps necessary for some models
14. Clicgear XL Cup Holder
Another cup holder option, this one is by Clicgear, a respected manufacturer of golf cart accessories.
This holder is designed for oversized drinks, which makes it an excellent choice for those taking large cups with them in their cart.
The holder can also expand and close to hold a broad range of cups, making it adaptable for multiple situations.
This model should also easily fit on pushcarts, as well, for more comfortable golfing situations
Pros
An accessory tab that fits multiple tubes
Fits on all Clicgear and Rovic carts
Very easy to install
Cons
May not fit on some carts
Could loosen, letting your cup go free
15. 10L0L Golf Cart Steering Wheel Adapter
When your steering wheel starts to wear down, you may need an adapter to help it work properly again.
This simple wheel adapter fits on most golf carts and is a relatively easy one to adjust.
Even better, it allows you to add a multitude of possible steering wheel options.
Make sure that you pay attention to the instruction manual when you buy this item. You could easily make a mistake if you don't.
Pros
Fits just about most golf cart brands
Includes aluminum and chrome finish
Comes with a high-quality warranty
Cons
Installation may be problematic for some
May not fit off-brand golf carts
16. Golf Cart Rear Safety Grab Bar
If you are concerned about safety while riding your golf cart, this simple bar should make things a lot easier for you to handle.
When added to your cart, this bar adds extra safety for climbing in and out of your rear seat.
As a result, you can protect younger drivers who may be coming along with you or other individuals who may not be used to riding in carts.
This bar is even useful for individual riders who may have gear in the back that they need to take out.
Pros
Easy to add to the cart
Reliable welding makes this a great item
Should work with most EZGO, Yamaha, and Club Car models
Cons
Some have complained of off-center attachment holes
May not work with some fold-open carts
17. Original Golf Cart Keys Replacement for Club Car
Losing your cart keys can be very frustrating, mainly if your model is old, and the manufacturer no longer produces a replacement key for your vehicle.
Thankfully, these inexpensive replacements can help you start your cart without difficulty.
They are very reasonable, designed for Club Car models, and should be easy to add to your key ring.
Even better, you get two with each model, so you can store one somewhere in your house to keep it safe.
Pros
Very inexpensive cost
The silver color is quite handsome
Should work in most Club Car models
Cons
Some may not fit in specific cart models
The material is less sturdy than original keys
18. Golf Cart Push and Pull Headlight Switch
Headlights on a golf cart provide you with extra safety and ensure that everything goes smoothly and effectively while you drive.
Most golf carts are compatible with this switch, which makes it a good investment if you own multiple cart brands in your fleet.
They are also carefully adjusted for maximum safety and shouldn't cause any concerns, such as shortages, in your cart's electrical system.
Pros
Used in all major golf cart brands
Made to suit OEM specifications for safety
Fits a multitude of different switches and lighting systems
Cons
Lacks a 12-volt electrical connector
Some complaints of the switch breaking
19. Clicgear Push Cart Adjustable Umbrella Holder
This high-quality umbrella holder is designed for a multitude of Clicgear and Sun Mountain carts and, when paired with an umbrella, provides a little extra protection from the sun and rain.
The design integrates a multitude of elements, such as left and right adjustment, and much more.
Most models are compatible with multiple types of cart umbrella options, which makes this a good investment for numerous carts in a fleet.
Pros
Raises quite high to provide maximum coverage
Easy angle adjustment for many carting situations
Takes little time to install
Cons
May struggle in heavy winds
Reviewers have noted some failure with a specific screw
20. Golf Cart Battery Charger for EZGO
Keeping your golf cart battery charged is integral if you want to keep it in good condition.
This charger works for EZGO batteries and has a multitude of benefits compared to other chargers.
For example, it has a simple LED indicator that alerts you when the battery is fully charged.
This battery charger also has an 18ADC output, which is one of the strongest on the market today.
Owning multiple models may help keep your cart running in all conditions.
Pros
Very fast battery charger
Works with just about every EZGO battery
Price is reasonable for the product
Cons
The charger cable may fail on some users
Customer service for this charger has been reported as quite poorPrice: $290.95
21. Bushing Kit for Club Car
The bushing on your golf cart provides strength and protection to gas and electrical engines alike.
If you are worried that yours are about to fail on your Club Car, this accessory should help.
Designed for Club Car models, it should fit on just about any model and give you the reliable and robust cart that you need.
Pros
Comes with many unique pieces
Fits on a variety of carts
Protects your vehicle from damage
Cons
Tricky for some people to install
May be a little pricier than expected
22. Clicgear Mitts
Staying warm on a golf cart can be hard, particularly your hands.
And while these mitts are designed for a pushcart, they can still be integrated onto a standard riding cart.
However you use them, they fit comfortably in position, warm your hands as you ride or walk, and provide maximum comfort.
They should fit on a majority of cart brands and contain pouches for heat packs that make them even better.
Adjust them properly, and they should work for years to come.
Pros
Fit on a majority of hand sizes
Uses a Velcro strap to keep them tight
Allow the use of hand warmers for extra warmth
Cons
Some buyers received off-brand models
May be too small for very large hands
23. Universal Gas/Electric Golf Cart X-Mas Tree Rivets
Keeping your cart in great shape requires adjusting and working with a variety of unique connective items.
For example, these replacement rivets help to hold down many items in your cart, including seat covers, panel covers, and much more.
These simple rivets will fit on EZGO, Club Car, and Yamaha models.
While they won't fit on every cart model – an issue noted by several reviewers – they should fit on a majority and are very inexpensive as an investment.
Pros
Inexpensive and easy to install
Works with just about any item in your cart
Fits with many types of wrenches and screwdrivers
Cons
Some have complained of incompatibility with some carts
Size may not be right for modified parts
24. Woxla 1016478 Carburetor for Club Car
If your cart is operating poorly, a new carburetor may be just what it needs to start working again.
This kit comes with two fuel filters, two gaskets, a fuel shut-off valve, two fuel lines, and four clamps.
Those who have the skills necessary to work on a Club Car cart can use this accessory to enhance their cart operation.
However, this accessory may not be the right choice for those with little operational experience, so keep that in mind before any installation.
Pros
The price is definitely reasonable
Helps to enhance the operation of your motor
Comes with a lifetime warranty
Cons
Could be hard for some people to install
Operational problems may occur on some carts
25. Golf Cart Rear Seat Kit Armrest Set With Cup Holder
Lastly, this high-quality seat kit gives you a new armrest that includes a simple cup holder that holds a variety of different cup sizes.
Mounting this item onto your cart is reasonably straightforward but will take a little knowledge of the operation and fitting of various elements on a cart.
Typically, this rest is an excellent choice for those who own a cart that doesn't already have a place to put a cup.
Adding it helps to ensure you can drive safely by focusing both hands on the steering wheel and your eyes on the road.
Pros
Easy to install
Not expensive to purchase
Attractive and easy to use
Cons
Color might not be what you ordered
May require some adjustment to fit properly