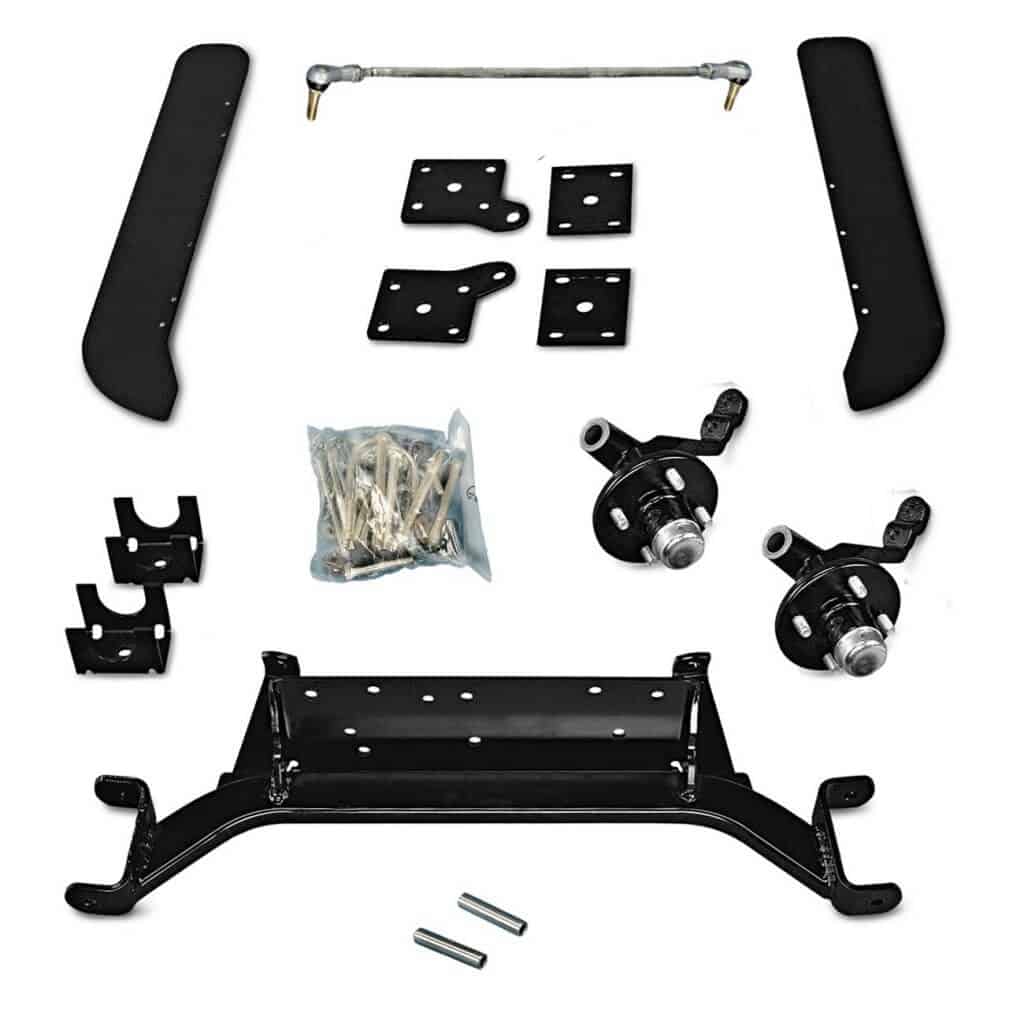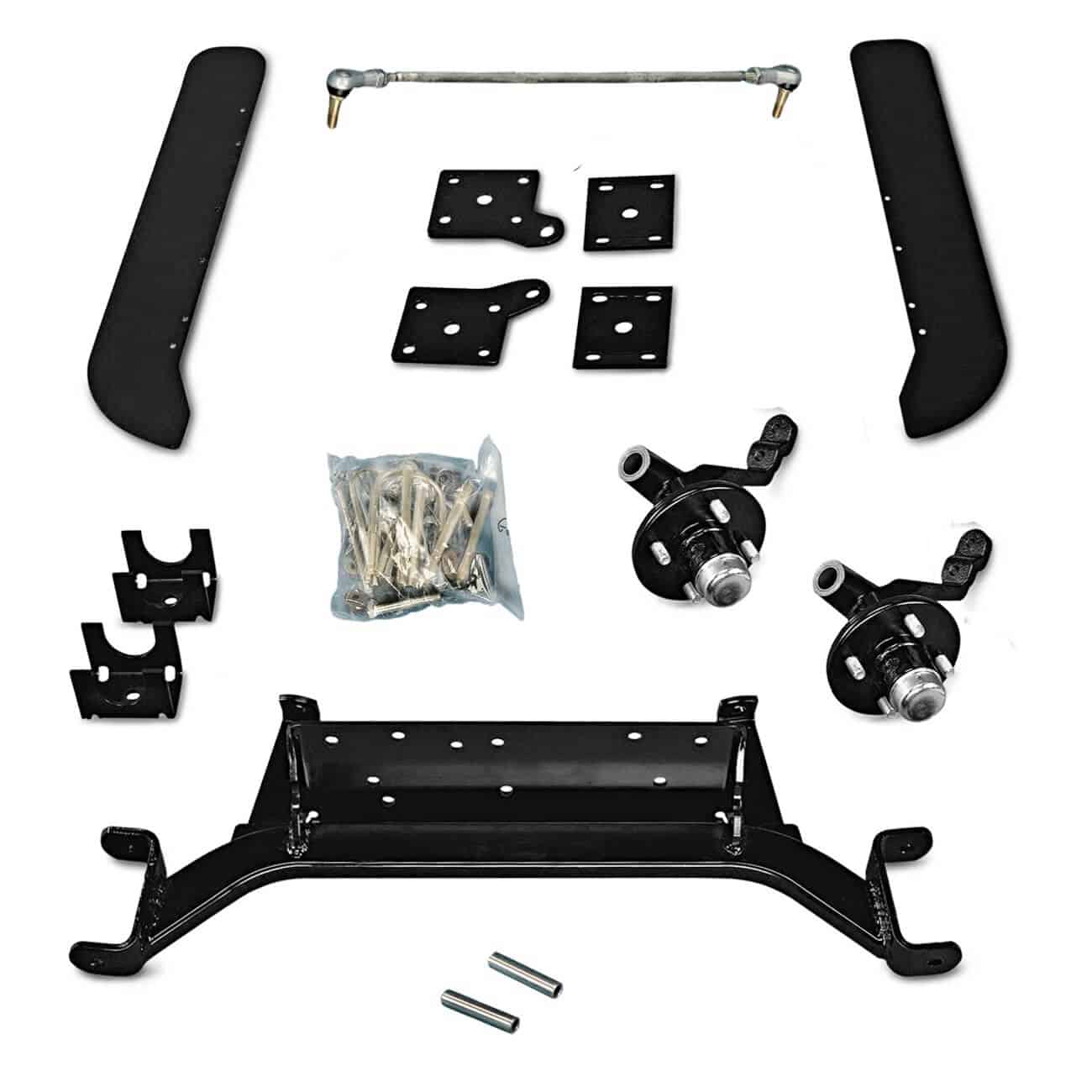 Golf carts aren't renowned for their incredible road clearance and may often bottom out in an off-road driving environment.
However, you can avoid this problem by installing a high-quality lift kit on their chassis.
These kits will give your golf cart a boost and let you install larger off-road tires at the same time.
Currently, many different golf cart lift kits are available, which can make choosing one fairly tricky.
For example, we rated carts based on their price, strength, lift power, and compatibility with various golf cart models.
Some lift kits are specific to a narrow range of models produced in particular years. Other packages are broader in use and can be installed on just about any cart. This information helped us better gauge each kit and to decide which is the best overall choice for you.
Note: This list is numbered but not in a specific ranking. The best golf cart lift kits will be discussed at the bottom, but the numbers here are for your reference only. The final verdict will include the best overall lift kit and a choice for those who are on a more limited budget.
The Top 8 Best Golf Cart Lift Kits
1. Club Car Precedent 6″ Double A-Arm Golf Cart Lift Kit
This lift kit – produced by GTW – is made with durable steel to provide a reliable and robust lift for your cart. The design integrates a no-cut and no-weld design, which means you don't have to do any problematic mechanical work to attach your kit to your cart. As a result, you should get this lift kit on your cart in just a few hours.
The high-gloss finish helps to produce a more elegant style that will appeal to a large number of golf cart owners. Even better, that black finish can protect your lift kit from issues with damage by preventing water, wind, and rust damage on your cart. This issues typically occur most often on the lift kit.
Pros
Easy instructions make the kit simple to install
Includes additional rear brackets for easier installation
Can raise your cart over two feet in the air
Cons
Adds a surprising amount of extra weight to your cart
Manufacturer may be hard to contact
Some customers have complained about difficulties with wheel adjustment
2. Club Car DS 6″ Double A-Arm Golf Cart Lift Kit
Club Car produces this quality lift kit for a variety of cart models. This kit will fit on electric carts from 1982 to 2003 and electric models from 1997 to 2003. Once installed, you can install tires of up to 23-inches, giving you a higher clearance for off-road fun wherever you drive.
Each kit comes with detailed full-color instructions that give step-by-step help in assembling this kit. Like many other lift options, you don't have to worry about any cutting or welding. Make sure, however, to double-check for all parts after opening the box because some may have not have made it in the box beore shipping.
Pros
Adaptable to both gas and electric carts
Includes durable urethane bushings for maximum protection
Lets you use camber and tow adjustments
Cons
Requires metal dust covers for proper fitting
Only fits on older cart models
Limited to Club Car models
3. Drop Axle EZGO Lift Kit
Though this kit is mostly limited to models past 2001, it provides a variety of benefits for golf cart owners. For example, it fits on the newest TXT and Medalist carts, which makes it an excellent choice for golf courses and those with more modern carts. And it has Class 8.8 high-strength all-alloy steel for maximum strength and protection. When looking for lift kits, make sure to find one that utilizes this steel.
Unfortunately, this kit – like other EZGO kits – is not compatible with any RXV models or any gasoline-powered carts. This limitation is frustrating and should be considered before making a purchase. Thankfully, the no-weld installation remains easy and free of any extreme difficulty. Most cart owners should be able to add this lift to their cart without professional help.
Pros
Comes with a four-year factory warranty
Includes front and rear pieces for easier installation
Fits easily on most newer TXT and Medalist carts
Cons
Some have complained about problems with larger tires
Price high for what you get in the kit
4. EZGO All Terrain Golf Cart Tires Combo
Owners of TXT or Medalist carts built between 1994 to 2001 should try out this simple kit. Unlike some lift kits on this list, it includes a multitude of extra elements, including 12-inch and 23-inch wheels. As a result, you can install whatever wheel option you want without having to do any other shopping.
All wheels and tires come pre-mounted for easier installation and are fully inflated to the proper pressure. Make sure to check the pressure before you add them to your cart, though, as a small amount of air may have leaked out during the shipping process.
Pros
Provides everything you need for lift installation
Utilizes a four-by-four bolt pattern for maximum strength
Cons
Very costly and may be hard to afford
Not compatible with gas carts
5. Drop Axle Lift Kits for EZGO Golf Cart
Owners of EZGO carts may want to try this lift kit, particularly if they have a model from 2001 to 2013. Although this kit is limited to electric TXT models, it provides a surprising range of benefits. For example, the all-alloy design can withstand up to 85,000 to 92,000 PSI.
And once you install this kit, you will not only lengthen your wheelbase and increase its height but replace your stock front axle with a more durable drop-axle design. Unfortunately, though, this kit will not fit on RXV models and instructions are, for some strange reason, not included.
Pros
Low price is perfect for budget-conscious buyers
Strong customer support options
Adaptable for most carts by this manufacturer
Cons
Some issues with drop brackets may require cutting
U-bolts aren't as strong as other lift kits
6. Club Car Precedent 6″ A-Arm Lift Kit
Club Car produces a broad range of golf carts, including their Precedent line of models. This kit is compatible with this group of products and is designed to provide clearance of up to 23 inches for your wheels. Both gas and electric Precedent carts can use this kit.
Even better, no year limitation is put in place for these carts. As a result, you don't have to seek out specific models that only work for limited options. Make sure that you avoid adding wheels over 23 inches, though, as this may cause complications with your cart.
Pros
Easy maintenance options keep this kit strong
Grease fittings provide superior lubrication
Wide range of cart compatibility
Cons
Price may seem high for such a standard kit
May have some issues with bearings
7. Freedom Off-Road Performance Yamaha
Those who drive Yamaha carts (either electric or gas) may appreciate this lift kit. This kit is compatible with G14, G16, and G19 Yamaha carts and produces clearance for 20-inch tires. While this is three inches shorter than many lift kits, this lower lift does provide a stable ride.
Each kit comes with a multitude of parts that include extra brackets and bolts in case you lose any. The simple hardware is also easy to understand and the instructions detailed enough to make installation a snap for even the most inexperienced golf cart owner.
Pros
Low price makes this affordable for many carting enthusiasts
Lifetime warranty on manufacturer defects
Lower lift height may be more comfortable for some drivers
Cons
Lower price does mean a slight dip in material quality
Limited use makes it somewhat frustrating
8. EZGO TXT 6″"Rhox" Spindle Lift Kit for Gas and Electric
Lastly, this EZGO lift kit provides a durable and reliable boost in your cart's height that will give the extra clearance that you need for your ride. Compatible with EZGO TXT gas and electric carts between 1994 and 2001, this lift kit does require wheels of at least 10-inches to work correctly.
Most importantly, this kit is designed for easy installation and should take no more than one hour or two to put on your cart. This time will vary, though, depending on your comfort level working with golf carts. However, the bolt-on installation is standard for the market and easy to grasp.
Pros
High-quality testing ensures reliable product
Kit includes tools, brackets, and everything else for installation
Installation is the easiest of any kit listed here
Cons
Often doesn't work with standard golf cart wheels
Price may seem high to some buyers
Some reviewers complained of weld problems
Final Verdict
Trying to narrow this list down to just eight carts was a significant challenge.
Hundreds of different options are available on the market, all of which have some benefits and drawbacks.
Ultimately, we had to come up with pretty strict rules and qualifying factors for each lift kit. In this way, we could narrow them down to the best models available.
The many different models reviewed on this list made choosing the best sometimes difficult.
Some were reasonably expensive but stronger than less expensive options.
Others were too narrow in their focus but more comfortable to install than other models. When push comes to shove, though, the best lift option for golf cart enthusiasts is probably the EZGO All-Terrain Golf Cart Tires Combo.
Yes, this is the model that cost over $700, but the included parts and options make it the best bang for your buck.
You won't have to go out and buy golf cart wheels and hope that they work with your lift kit. Everything is included with this kit, which makes installing it on your cart more streamlined and efficient. Save up for a few months, and you should be able to afford this option.
If you can't justify a $700 purchase on a lift kit, though, we suggest the Drop Axle EZGO Lift Kit if you have TXT and Medalist golf carts.
As this option can fit on 2001 and newer carts, it provides you the best chance of finding a relatively inexpensive option.
Ultimately, though, the best lift kit comes down to your personal choice, so don't be afraid to experiment with other models.