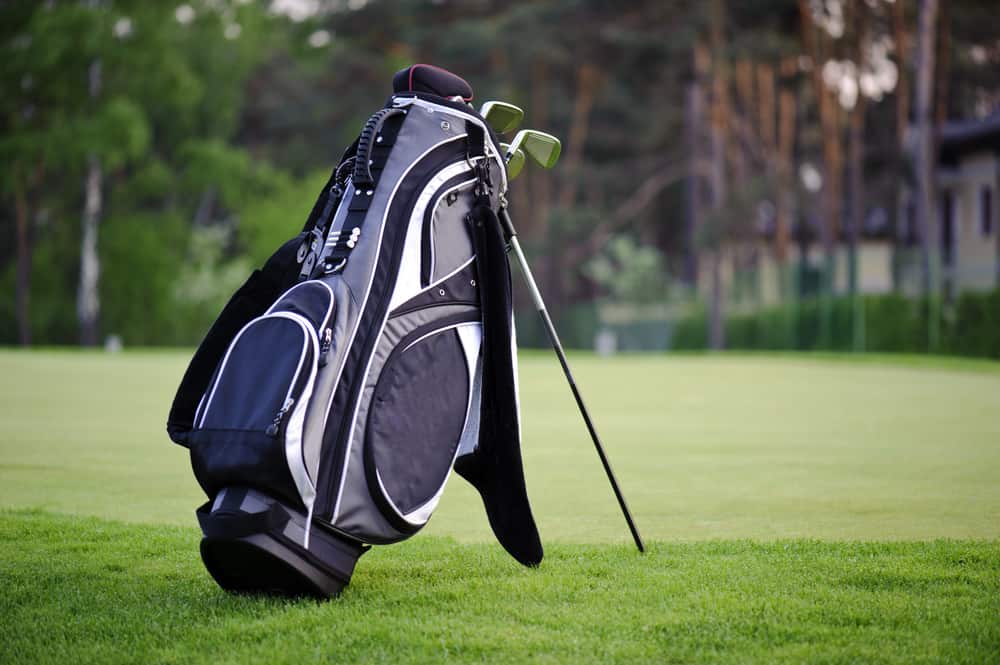 Golf bags come with a variety of great features and benefits.
However, it can be a bit difficult to find the one that is perfect for your needs.
If you are a golfer who thinks a cooler bag will be a great fit for your game, we have a list of bags with all of the options you might be looking for, and then some.
Cooler bags can help you save money by allowing you to bring your beverages from home instead of having to purchase them at the golf course, which can get quite expensive.
With the addition of the cooler bag, you can get the most functionality from your game.
Here are ten bags that are well worth considering for the next time you head out for a round on the course.

Top 10 Best Golf Bags with Coolers
1. The Bucket II Collegiate Cooler Cart Bag
Key Features
Insulated beverage pocket
Range finder pocket
14-way organizer top
The Bucket II Collegiate Cooler Cart Bag is a great option for those who need to keep their beverages cold the entire time they are on the course.
The insulated cooler pocket has a drainage port that allows excess water and ice to drain out without it causing damage to your bag.
One of the great things about this Collegiate Cooler Bag is that the cooler pocket is not the only functional one.
There are pockets for your range finder, apparel, and plenty of other accessories.
The cart strap pass through system is going to help to make sure that your cart is secure while still giving you access to your beverages.
Overall, this is a great bag for any college sports fan who also enjoys a round of golf.
Pros
Made in many college team colors
Cart strap pass-through
Cooler with drain
Cons
No plain color choices; all options have college logos
2. 14 Way Golf Cart Bag for Push Bag Classy Design Full Length with Cooler, Rain Hood, Putter Well Black
Key Features
14-way top
Lots of front facing pockets
Fully insulated cooler pocket
This Yovital 14-way top golf cart bag is an excellent choice for both value and functionality.
With this bag, you can easily carry several drinks or a sandwich with you as you head out for the course.
The insulated pocket is also capable of draining out extra water, so you won't have a problem with mold in your golf bag.
There are lots of additional features on this bag, including the 14-way full length dividers.
These will help to make sure that your clubs are not touching each other as you pull them out of the golf bag and slide them back in.
The large base makes it easy for this bag to stand up on its own as you get your golf equipment organized for the day.
Pros
14-way top
9 front-facing pockets
High-quality materials
Cons
Does not have removable cooler
3. Bag Boy Chiller Cart Bag
Key Features
Removable cooler bag
14-way organizer
Top-Lok cart attachment technology
The Bag Boy Chiller Cart bag is one of the original designs for removable coolers.
With this bag, you will be able to pack your cooler the night before, leave it in your fridge, and it will be ready when you head out to the course the next morning.
The cooler itself can hold up to 12 cans, and therefore, all of your friends will also be fans of this bag.
You will be able to keep the entire foursome hydrated easily using the Bag Boy Chiller Cart Bag.
You will notice other features as well, including the cart strap pass through technology and a dedicated putter well for your most frequently used club.
The great thing about these Bag Boy Chiller Cart bags is that they are built with high quality in mind and will last you for many years to come.
Pros
Comes in a variety of colors
Cooler is removable
Very good golf cart to golf bag connection on the cart
Cons
Handles are not the easiest to lift the bag in and out of the vehicle
4. PING 2019 Pioneer Cart Bag (Black)
Key Features
15-way top
Very convenient pocket design
Magnetic pocket closure
The Ping company always makes their golf cart bags with quality and durability in mind.
If you want a bag that is going to last you a long time, the Ping is the way to go.
Many golf bags have a built-in cooler, but not many of them will fit 12 cans like this Ping Pioneer does.
With the large cooler capacity and other great features, the Ping becomes one of the more popular choices of all the golf bags with coolers on the market.
We like that the pockets have the magnetic closure as it is easier and quicker, and it seems to hold up better than zippers over the long term.
The large 15-way top also makes it easier for golfers to keep their clubs in great shape, round after round.
Pros
High quality materials
Features great organization factors
14 total pockets
Cons
Larger and sometimes heavier golf bag
5. Callaway Golf 2020 ORG 14 Cart Bag
Key Features
Non stadium design
14-way top
Towel and glove hook
In addition to having a large cooler pocket, the Callaway Golf 2020 ORG 14 also has a cooler sleeve.
This feature allows golfers even more capacity when it comes to storing their drinks.
The non stadium features of this bag will help you always have access to all of your clubs without feeling restricted by the cart.
In addition to the cooler pocket, the Callaway ORG also has a pocket for your range finder pocket as well as one lined with velour for protecting your valuables.
You should have no issues keeping your golf gear organized using this high functioning bag.
One of the things that we like most about the Callaway ORG is that there are many color selections available.
Regardless of what your style is as a golfer, you will be able to find something that works for your game.
Although this model is slightly higher in price, the bag is built to last.
If you are purchasing some of those new Callaway Mavrik or Epic golf clubs, this will be the perfect place to store them.
Pros
Large capacity for cans
Smart design for serious golfers
Non stadium golf club design
Cons
It can be priced a bit high
6. Founders Club Premium Cart Bag with 14 Way Organizer Divider Top
Key Features
14-Way top
Lightweight construction
11 total pockets
The Founders Club products are known for being a fair value while still offering everything that the more premium brands offer.
That is certainly the case with the Founders Club Premium Cart Bag.
This is a lightweight design that will make it easier for you to get the bag in and out of your car.
The insulated cooler pocket is large and easy to work with if you are looking to bring your lunch out on the course.
In addition, there is a putter well to make sure you always have easy access to the clubs that you need the most often.
Sometimes it is the small things that set a bag apart, and the umbrella holder, golf towel clip, and range finder pocket are some of the small additions that make this a great golf bag.
Pros
Cooler pocket with drain
Rear grab handle
Tuck-away padded strap
Cons
Material may not hold up as long as that of some other premium golf cart bags
7. TaylorMade Supreme Cart Bag
Key Features
15 full-length dividers
Built-in putter protecting patch
Fade resistant yarn-dyed fabric
One of the things that will stand out right away about the TaylorMade Supreme Cart Bag is the unique color selection.
These golf bags come in some very bold and beautiful colors.
As most golfers know, the problem with colors like this is that they have a tendency to fade on the golf course over time.
It is fortunate, then, that TaylorMade has started implementing the use of fabric that is not going to fade when it is exposed to the sun.
The Supreme cart bag has 15 individual full-length club dividers to keep your clubs protected.
The built-in cooler pocket has a drain to make sure that nothing will be causing your bag to become moldy or have water issues over time.
There are more front-facing pockets on the Supreme Cart bag than there were in the previous models.
These pockets will certainly give players more access to their gear.
This is just another impressive product from TaylorMade in which they have yet again thought of everything.
Pros
Great organizational features
Large built-in cooler
Magnetic pockets for valuable
Cons
Split side apparel pocket makes it harder to store larger items
8. Orlimar Golf CRX Cooler Cart Bag
Key Features
Removable cooler
Lightweight Nylon construction
Nine zippered pockets
The Orlimar Golf CRX is a fairly priced and easy-to-use cooler cart bag.
We love the fact that you can remove the cooler from your bag altogether and put it in your fridge the night before you play golf.
The cooler holds a total of six cans which should be plenty to make it through a round of golf.
There is a 15-way top, but only three of the dividers are going to extend the full length of the bag.
For most people with steel golf shafts, there is still plenty of separation and organization.
There are other great features like a towel ring and a Velcro glove attachment as well.
Orlimar gives golfers two color choices that are both darker and capable of getting a bit dirty without ever showing it.
This is an excellent bag offered at a very fair value for any player.
Pros
Large golf bag size
Removable cooler
Lightweight materials known for longevity
Cons
Dividers are not full length
9. Izzo Golf Gemini Cart Golf Bag
Key Features
Front pocket can be personalized
Magnetic pockets
Water resistant valuables pocket
The Izzo Golf Gemini golf cart bag is a great design for any golfer who is looking to stay organized and stylish on the course.
Although this bag does not have a removable cooler, the cooler pocket is well designed and has a large capacity.
The 14 full length dividers on the Izzo Gemini Cart Bag help to make sure your clubs stay protected during your round.
With the magnetic pockets being easy to open and close, you will have no problem accessing all of your golf gear whenever you need it.
The front pocket on the golf bag can be personalized with your name to make this look like a custom golf bag made just for you.
Another exciting feature of the bag is a built-in bottle opener.
If you plan on stocking that cooler pocket, you might as well have a way to open your beverages.
Overall, you will be quite impressed with the quality and design of the Izzo golf bag.
Pros
Full length dividers
The cooler pocket is large
Free personalization of front pocket
Cons
Cooler pocket is not removable
10. Sun Mountain 2021 Boom Bag 14-Way Golf Cart Bag
No products found.
Key Features
Bluetooth controller
Built in speaker
Ventilated cooler pocket
The Sun Mountain Boom Bag is an addition that is brand new to the world of golf.
With players being more and more interested in enjoying music while playing their round, the Boom Bag combines a speaker and a golf bag.
In addition, they have included a large ventilated cooler pocket.
With the Boom Bag from Sun Mountain, you will get 13 pockets in total, and of course, the color-coded speaker wires will help make sure you will be able to listen to your choice of music in style.
This is a golf bag that has never been seen before in the world of golf, and the features and accessories are going to be something that will appeal to younger players.
There is no question golf is becoming a more modern game, and this bag appeals to those who are enjoying the younger aspects of the game.
Pros
Large 10.5-inch top
13 total pockets
Built-in speaker
Cons
One of the more expensive cart bags on the market
Conclusion
Hopefully, you now have an idea of the options available to you as far as golf bags with coolers.
You should make sure to choose an option with a removable cooler if that matters to you functionally.
The golf bags with coolers are generally priced slightly higher than other bags on the market, but the increased functionality is often worth the price.
This is a bag that will save you money and time when you hit the golf course.