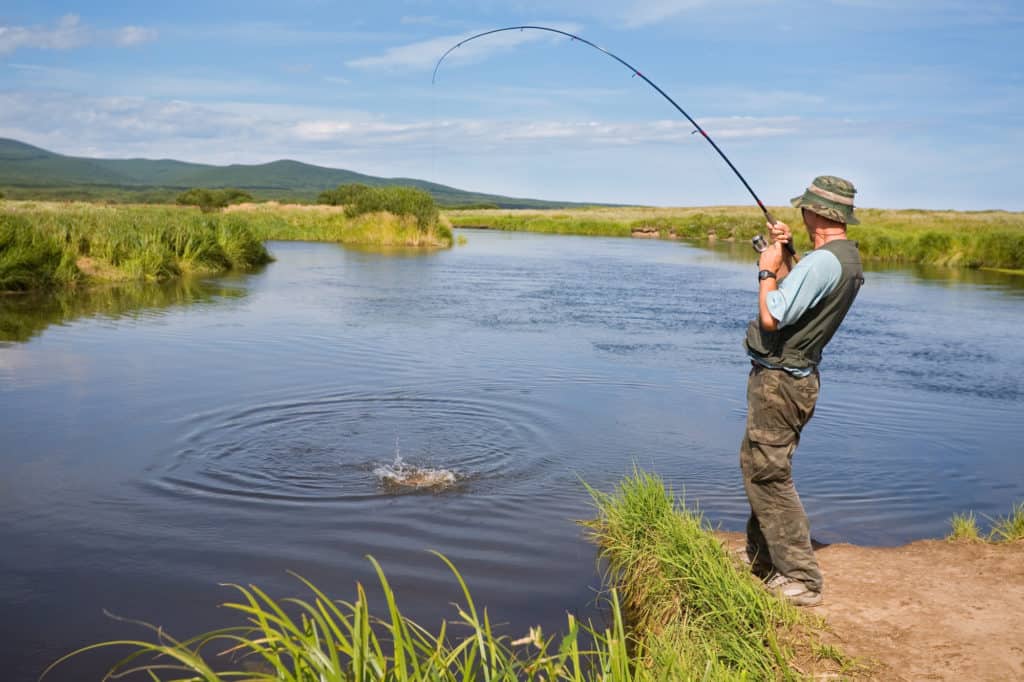 Taking your golf cart to get in a little bit of fishing is a wonderful convenience.
You can usually pull up much closer to the water and have all your gear close by.
Speaking of all that gear, how can you safely transport it to your fishing destination?
There are many different golf cart fishing rod holders out there.
Some are built specifically for golf carts, and others will take a bit of imagination.
However, regardless of the type of fishing you want to get done, we know there is a solution that will work for you.

Top Ten Best Golf Cart Fishing Rod Holders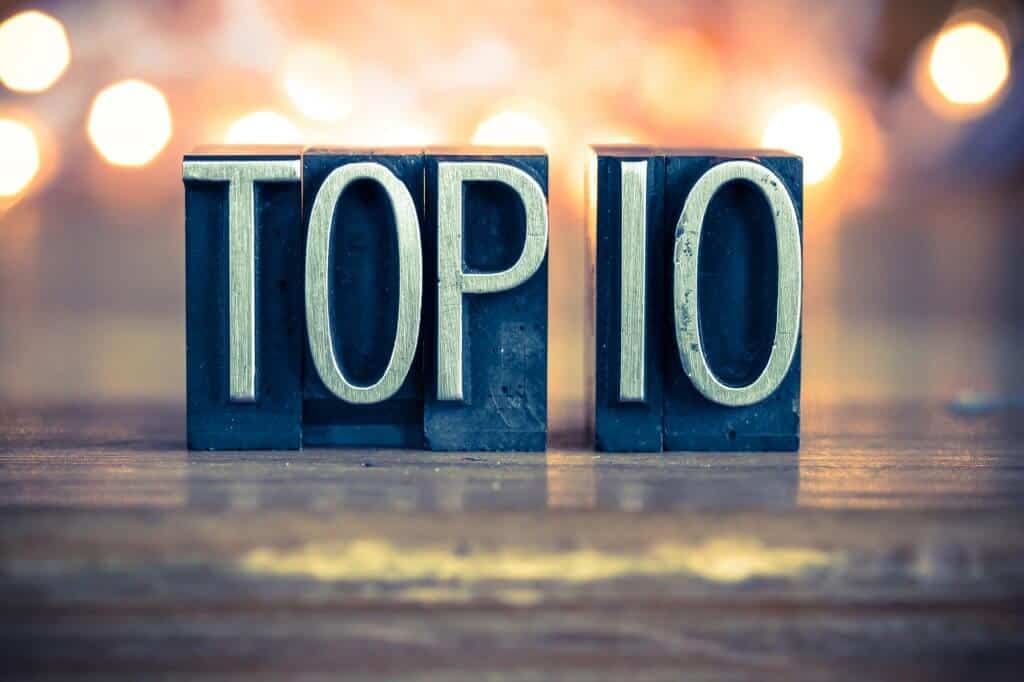 1. Madjax Golf Cart Hitch Mount Cooler & Rod Holder Rack for Club Car EZGO Yamaha
Key Features
Holds a cooler and fishing rods
Will hold 5 rods
Easy to mount
Madjax makes a wide variety of golf cart accessories.
Some of their designs have nothing to do with fishing, but they make high-quality products specifically built for a golf cart.
We love their Golf Cart Hitch Mount Coller and Rod Holder.
With this option, you get a cooler rack in addition to the rod holder.
It's hard to have a successful day of fishing without a great cooler, so we know these two things will go hand in hand.
In addition to all this great cooler space, you also get a spot to put five individual fishing rods.
The inner cargo space is 28 x 15.5 x 6 inches.
The holder itself is going to be powder coated black material that will hold up to fading when left outside and exposed.
The Madjax is going to be more expensive than just a traditional rod holder, but you are going to be getting quite a bit of functionality for the money spent.
Pros
Holds quite a bit of gear
Easy to mount
Space to hold a cooler
Cons
Expensive when compared to just a rod holder
2. DasMarine 316 Stainless Steel Wall Side Mounted Rod Holder 3 Rod Rack Fishing Rod Pod for Marine Yacht RV
Key Features
Stainless steel material
Easy to install
Non-corrosive
The DasMarine 316 Stainless Steel Wall Side Mounted Rod Holder is a perfect addition to your golf cart.
This model is not made specifically for carts but it is made to last outside.
Many people will attach this rod holder to their RV or their yacht.
You will be able to attach three fishing poles to this corrosion-resistant rack.
The rod diameter will have to be two inches or less.
If you want to carry one of these on each side of your cart, that is certainly an option.
The tops and bottoms of the fishing rod rack are rolled smooth, so there will be no sharp stainless steel.
Water can escape out the bottom of each holder so you won't need to worry about mildew or water buildup at the bottom of the holder.
When you look at the pricing of this model, you will be pleasantly surprised.
It even comes with the mounting hardware necessary to attach this to your golf cart.
Since this is not made specifically for carts, you will have to drill a few holes or bring to a local shop where they do customizations.
Pros
Great price
Stainless steel corrosion-resistant
Allows water to drain out the bottom
Cons
Not made specifically for carts
3. BigTron Fishing Rod Holder Bracket
Key Features
Propene Polymer material
Good for fresh or saltwater
Easy to install
The BigTron Fishing, Rod Holder Bracket, is made with a highly durable polymer material.
We have not yet mentioned that you will always want to make sure your fishing rod holder is capable of handling itself in both fresh and saltwater.
Saltwater tends to deteriorate a product rather quickly.
Luckily with the polymer material, you won't have to worry about the rod holder deteriorating.
You can mount this rod holder directly on your golf cart, a boat, a truck, or even a wall.
The product comes with all the mounting material that you will need, and you should have this up and running in just a short period.
Remember that many people will mount rod holders on the side of their cart, but others will mount them on the roof of the cart as well.
Both locations can be effective for storing rods.
Pros
High-quality material
Durable
Will protect the rod from damage during transport
Cons
Will need to be creative about install
4. 3G Universal Fishing Pole Holder for Golf Carts
Key Features
Made specifically for golf carts
Need a grab bar to attach
Durable construction
With the 3G Univeral Fishing Pole Holder, we are back to an option that is made specifically for golf carts.
This specific rack is going to fit directly on the grab bar of your cart.
If you don't already have a grab bar or don't want to install the one you may need to look into another model.
We love how durable the 3G unit is.
It even has UV stabilizers to help resist chips and cracks.
This design should hold up well over time and is very easy to clean with just a little soap and water.
You can use this rod holder for both freshwater and saltwater fishing.
The total measurements are 11 inches high by 12.5 inches wide
If you have been looking for a fishing pole holder made specifically for a golf cart, you will be pleased with this option.
Pros
Built for golf cart
Should attach easily
Cleans easily
Cons
Need grab bar in place for this to work
5. Berkley Tube Rod Rack
Key Features
Holds 3 rods
Does not corrode
Easily attaches
The Berkley Tube Rod Rack is a great option if you would like the choice between a white or black fishing rod holder.
These are very lightweight but hold up well to weather and elements.
The Berkley Tube Rod Rack is corrosion-resistant, so you don't have to worry about replacing this product anytime soon.
Since this object is so lightweight, you can attach it with zip ties to an area on your cart.
The product is not made specifically for a golf cart, but you can work with it to get it to work and attach it to your cart.
Pros
Lightweight and durable
Available in both black and white
Corrosion-resistant
Cons
Not made specifically for a cart
6. SEACHOICE 89501 3-Rod Storage Holder Black Abs Plastic
Key Features
Made with durable plastic
Can hang both horizontally and vertically
Holds 3 rods
The SEACHOICE 3 Rod storage holder is one of our favorite options for a roof rack solution for your cart.
If you have any tunnels or low clearance areas to drive your cart through, you will need a roof rack rod holder.
When installing a rack on the side or in the back, you can imagine your rod will stick up a good two (or more) feet over the top of your cart.
This may not work for you, also think about pulling the cart in and out of the garage with the rods on.
However, a roof rack will keep the rods flat on the top.
Of course, this will raise the height of your cart a few inches, but it should not cause much of a problem when it comes to clearance.
The Rod Holder itself is made of a durable ABS plastic.
SEACHOICE fully expects for you to mount this rod either horizontally or vertically, so it will not be out of the ordinary for you to put this on the roof of a cart.
Pros
Suitable for spinning and casting rods
Will work as a roof rack
Holds three rods
Cons
Foam material will deteriorate over time
7. All-Rite Products Double Spinning Rod Holder – Carry 2 Fishing Poles on an ATV or UTV – Model CR2X
Key Features
Holds two spinning rods
Universal hardware
Also works on a bike
The All Rite Products Double Spinning Rod Holder is a versatile rod holder that will help you attach two poles to your cart.
You will have to use spinning rods with this holder.
The spinning rods should have a standard 1/2 inch wide reel stem.
All of the other options we have covered so far allow you to carry three or more fishing poles.
Not everyone needs to keep this many poles on their golf course at any given time.
We love the All Rite Products Spinning Rod for that reason.
You should not have a hard time finding a spot on your cart to mount this rod holder.
It is not as wide or large as some of the other three rod holders available on the market.
The mounting hardware includes two u-bolts that should only take you a few minutes to install.
If you also happen to enjoy taking your bike to fish, you can get the rod holder to work on your bike as well.
At the bottom of the mounting block, they have installed patented micro grooves to help keep the base from slipping or twisting.
Pros
Sturdy and durable
Holds two rods
Easy to install with U bolts
Cons
8. KUDES 2 Pack Vehicle Fishing Rod Holder Adjustable 35 to 44 inch Easy Install Car Fishing Rod Carrier Belt Strap for SUV, Wagons, Van
Key Features
Adjustable width
Works as a rod rack
Easy to install, no drilling or screwing
The KUDES is a unique option if you are not interested in putting holes in your golf cart.
These fishing rod holders work almost like two hanging belts that the rods will fit into.
The entire rack can hold five rods.
We have seen golf cart owners use these both on the top and under the roof of their golf cart.
This is a great option if you have height clearance issues to work with.
We love that you can adjust this unit within a matter of minutes to get the fit that you need for your cart.
When the rods are in place, you would be surprised how well they stay in place.
You simply pull tight on the straps, and the rods stay tight.
The material is a high stretch material belt that should hold up fairly well to the elements.
If you plan on leaving this on the top of your golf cart at all times, you will likely see it deteriorate rather quickly.
Pros
Easy to use
No drilling or mounting hardware needed
Highly adjustable
Cons
Not necessarily made for outdoor long term use
9. AresKo Fishing Boat Rod Holder, Fishing Rods Holder, Fishing Rod Racks with 360 Degree Large Adjustable Clamp
Key Features
Clamp design
No drilling
Adjustable
The AresKo Fishing Boat Rod Holder is a great choice if you need a temporary solution.
Not everyone wants to or can drill holes in their cart to install a fishing rod holder.
The AresKo makes it, so you don't have to.
This is a simple design that works using a clamp.
There are multiple areas of your golf cart that you can attach to this clamp.
Once the clamp is in place, you will have the ability to adjust and turn the fishing rod in several different directions.
Some people will use this rod on a boat and keep it in place while fishing; this proves that it is quite sturdy when it comes to holding on to your fishing pole.
Probably one of the most important features for a golf cart owner is the fact that this is also corrosion-resistant.
Pros
No drilling
Clamps onto the cart in several different areas
Cons
Only can hold one pole
Must have available space to mount the rod holder
10. Booms Fishing TB1 ABS Tube Rod Racks 3 Position with Reel and Tools Slot
Key Features
Holds one poll
Easy to mount
Could put on your cooler or your cart
Last on our list is the Booms Fishing TB1 ABS Tube Rod.
We wanted you to have a single rod option in addition to the double, triple, so you can find something that works well for you.
A .6" wide reel slot holds the fishing rods firmly in place.
This rack also has no bottom, so the water will be able to drain right through.
Overall this is a cheap and easy choice to install on your golf cart.
Pros
Low price
Easy to install
Lightweight
Cons