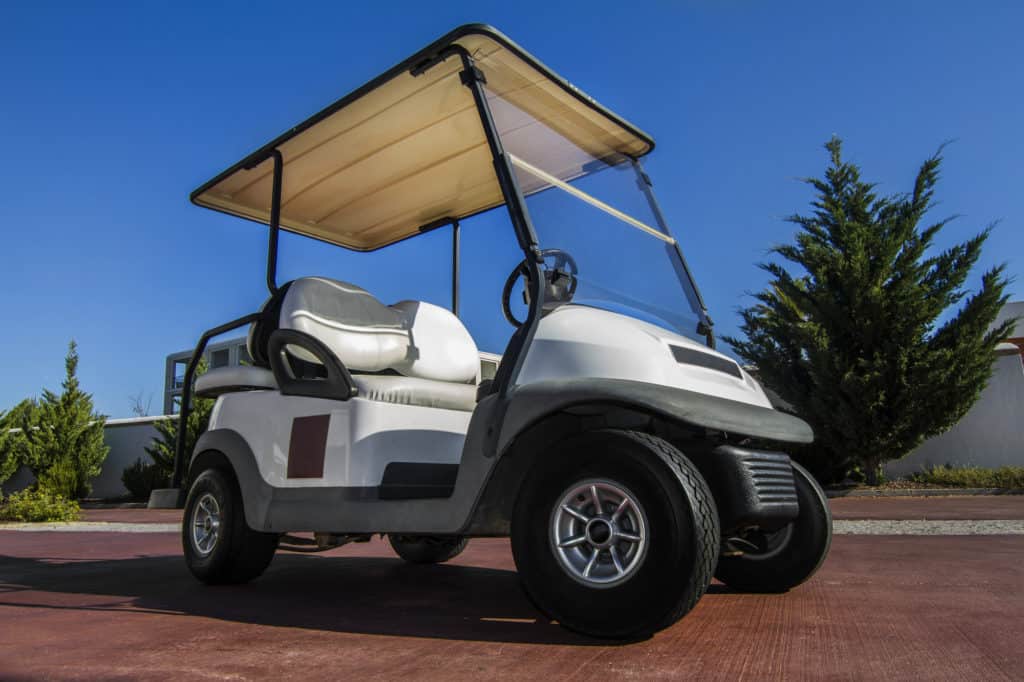 A golf cart roof rack is a beneficial thing to add to your golf cart.
When you are touting around a group of people, there is very little room to store belongings.
There are racks and trailers to add to the back of your cart, but a roof rack is another great underutilized space.
Roof racks are generally used for carrying hunting gear or beach gear, but you can use your roof rack for a variety of things.
Roof racks vary in price, and some are built precisely for your cart, others are universal fitting.
If you have been considering a roof rack, this guide will give you some insider information on the best roof racks on the market.
Just be sure to take careful measurements before you order anything.

Top 10 Golf Cart Roof Racks

1. EZGO TXT Golf Cart Roof Rack Storage System
At the top of our list is the EZGO TXT Golf Cart Roof Rack Storage System.
The biggest thing you need to consider when choosing a roof rack is what you need to store.
The roof rack can be a very convenient and easy to use addition to your golf cart.
Most roof racks do not have very high sides.
They work best with bins, bags, coolers, or gear in the roof rack.
This EZGO TXT roof rack is a 52″ L x 32″ W x 5″ H.
If you have an EZGO TXT model cart from 1996-2013, this rack will fit perfectly.
It is made out of very heavy-duty steel.
The steel is a black coated steel that is designed to stay looking good for years to come.
As far as installation is concerned, the EZGO TXT Roof rack will come with all of the necessary hardware.
You will need a good ladder to get the installation correct, and you will have to drill several holes.
If you don't feel comfortable with this, you may want to have the roof rack installed professionally.
As far as pricing is concerned, the TXT is a bit more expensive than other options.
For the extra you pay for the EZGO TXT, you get a rack built for your specific cart that is made to hold up for years to come.
Pros
Easy to install
Made with heavy-duty steel
Fits well with EZGO carts
Cons
2. Great Day CCRR750 Roof Rack
If the first choice was a bit more money than you were planning on spending on a roof rack, the Great Day could be a good option.
You will need to ensure that your golf cart top will be compatible with the Great Day roof rack.
This is a very sturdy and well-made rack.
We love that the sides are a bit higher on this as well.
It's excellent for helping to ensure things don't fall off the top of your cart.
Of course, with a higher rack, you will need to pay attention to clearance when you are going through tunnels or under a branch.
The Great Day model is made with aircraft aluminum, and it is designed to be easy to install.
Although we would agree it is easy to install, you do have to be prepared to drill holes.
Always make sure you have the right drill bit and drill before starting your project.
Using the wrong equipment could lead to unnecessary damage to the top of your cart.
If you end up having to replace the top, that is just going to make this project much more expensive than it needs to be.
This Great Day is easy to work with and a long-lasting roof rack that will fit a variety of golf carts.
Pros
Priced a bit lower than the EZGO model
Sides are higher to keep belongings in
Made with aircraft aluminum
Cons
Not specific to your cart, will need to measure
Will require drilling
3. Madjax MJFX Armor Roof Rack with Mounting Brackets Club Car Precedent
Next on our list is the Madjax MJFX Roof Rack.
This particular model is built to work with a Club Car Precedent.
If you have the Club Car Precedent, you should have no trouble fitting the Madjax on your roof.
This is a well-built model with a durable textured powder coat finish.
Your roof rack is going to be exposed to the elements quite often.
In addition to the rain or intense sun, you will be loading gear in and out of your rack.
Making sure you purchase a product with a durable and long-lasting finish is essential.
In addition to the actual storage unit being high quality, so is the included hardware.
Not all roof racks come with the hardware needed to mount them.
Madjax should have everything you need.
This rack comes with integrated light tabs as well.
Pros
Works with Club Car Precedent
Easy to install
Durable textured powder coat
Cons
Some issues with the hardware matching up exactly
4. EZGO RXV Golf Cart Roof Rack Storage System
We already found an option for the EZGO TXT golf cart.
This option is perfect if you have the RXV Golf Cart.
The RXV Golf Cart Roof Rack Storage System is a more heavy-duty model than some of the others we have reviewed.
The total weight on the EZGO RXV is forty pounds.
Your cart is capable of handling this weight, but you should pay attention to how much you are putting in your roof rack storage basket.
This roof rack utilizes all of the space on the top of your cart, so you really will get maximum storage from the EZGO RXV.
The RXV model is perfectly capable of holding a small cooler, hunting gear, backpacks after a day of school, or just some beach chairs.
The RXV roof rack is made with the same black powder-coated steel that the TXT model is made with.
This steel should hold up over time, even when being exposed to poor weather conditions.
When you wash your golf cart, make sure you clean your roof rack as well.
Check to make sure that none of the hardware is rusting and if it is, treat it appropriately.
The overall dimensions of the RXV Roof Rack are 52″ L x 32″ W x 5″ high.
Pros
Large size
Heavy-duty steel materials
Easy to install
Cons
Only works on EZGO RXV models
A bit expensive
5. Roof Rack
This roof rack is a generic model built to fit a variety of golf carts.
The height on this particular roof rack is five inches, so it will be just about as high as the EZGO models that we have reviewed.
Since this design is universal, you will want to check the exact dimensions of your cart before ordering.
The actual makeup of the roof rack is heavy-duty steel.
The steel is then coated with black powdered coated paint to help the rack last for many years.
The universal roof rack comes with custom brackets that you can use depending on the type of golf cart you have.
Another great thing about this rack is the pricing.
It is priced quite a bit lower than other models simply because it is not a name brand.
The only bad thing we can say is that you may end up with a trip to the hardware store.
Even though this comes with hardware that should fit most carts, sometimes your cart can be an exception.
Overall the size of the unit should work, and with a bit of creativity and engineering, you should have no trouble attaching this to your cart.
Before loading your roof rack with belongings, take it for a test drive and make sure it works.
You will want to make sure the rack is tight and does not cause any clicking or banging noises as you drive.
The actual dimensions of the Roof Rack storage system are 52″ x 32″ x 5″.
Pros
Universal fit
Great pricing
Cons
Could require a bit of engineering to get it to work
6. Performance Plus Carts Golf Cart Roof Rack Storage System – Yamaha G22
Next is the Performance Plus Carts Golf Cart Roof Rack.
This model is built to fit a Yamaha G22 cart.
If you have a Yamaha cart, you should have no issues getting this Roof Rack to work for you.
Even though this roof rack is geared toward the Yamaha carts, it can work on many different models.
The dimensions of this rack are 52″ x 32″ x 5″, which leaves plenty of room for all of your gear.
The Performance Plus roof rack is made with black powder-coated steel.
This type of material will give your roof rack quite a long life.
The hardware and brackets needed to install the Performance Plus model are included.
The only real downside with this model is the price.
If you can find something similar, even if it's not made for the Yahama, you may be better off.
Pros
Good for Yamaha carts
Easy to install, comes with hardware
Cons
7. Madjax MJFX Armor Roof Rack Universal-Mounting Brackets Sold Separately
The Madjax brand is quite popular when it comes to golf cart accessories.
This Madjax cart roof rack is the same one that we reviewed earlier, but it does not come with the mounting brackets.
If you are looking to replace a roof rack and you have something in place, you may not need the brackets.
If you have an alternative way that you want to install your roof rack, the Madjax without the hardware could be a great option.
The one thing that we really like about this Madjax is the shape of the design allows for less wind resistance and drag.
Pros
Easy to work with design
Should work on most golf cart styles
Great pricing
Cons
Does not come with mounting hardware
8. Dakine New Golf CART/EV/Electric Vehicle Surfboard Longboard ROOF Rack
No products found.
If the reason you are in the market for a golf cart roof rack is that you are looking to hit the waves, this Dakine could do the trick.
This roof rack is a bit different than some of the others we have reviewed.
The Dakine comes with two assembled racks, mounting hardware, and two straps.
This will work on several cart models, including EZ Go, Club Car, and Yamaha.
You will have to make sure that your roof style matches the one in the picture shown.
The two included pads are 28″ and help to protect your surfboard or longboard.
Once your rack is in place, and your boards are on, you can use the approved rubber straps to make sure everything is in place.
You will not need any tools or hardware to mount this model.
Since these come pre-assembled, it is just a matter of putting them on your cart and getting things secure.
Most people had no trouble installing this simple golf cart roof rack on there own without professional help.
Pros
Requires no tools to install
Simple design
Cons
Mostly used just for surfboards
Not a complete roof rack storage system
9. Yamaha Drive Rear Overhead Storage Tray
The Yamaha Drive Rear Overhead Storage Tray is not a roof rack.
If you are not sure if you want a full roof rack but you want something that is quick to install and gives a bit of storage, this is a great choice.
This Yamaha Drive Read Overhead is placed behind the cart occupants.
You can get this up and running in just a matter of minutes.
The Yamaha Drive Read Overhead Storage Tray attaches to the roof supports, and you should not need any additional hardware.
This is a much lower-priced product than a complete roof rack.
Unfortunately, it is not going to be an excellent solution for coolers and beach towels.
However, for smaller accessories, especially for golfers, this is a great choice.
If you have never installed an accessory to your golf cart, it may take you a while to get this unit up.
The directions are not very clear, but you can find them online if needed.
Although this is made for a Yamaha Cart, you may have luck using it with other models.
Pros
Good for small storage
Lower priced item
Cons
Not a complete roof rack
Won't work for more substantial things like coolers or hunting gear
10. Premier Plastics 60in. 2 Piece Universal Roof with Cargo Storage VPRE-UNI0103BK
Although our last option is not exactly a roof rack, it does provide storage.
This is a complete roof that comes with cargo storage.
Your roof will work for a Club Car XRT model.
This is a 60 x 43.5 x 5.5-inch roof.
The cargo tray is molded in and allows for extra storage.
Although you will not be able to store as much as a traditional roof rack, this is an excellent and convenient option.
You may need a few bungees, and you may need to get creative, but it still works for a bit of added storage.
Overall the Premier Plastics Roof comes with UV Stabilizers and a modeled water run-off area.
Pros
Complete roof system with built-in storage
UV Stabilizers
Water run-off
Cons
Not just a storage rack
Will not work on all carts
Final Thoughts
When it comes to choosing a perfect golf cart roof rack, you need to decide what your goals are.
Sometimes you can get away with a bag and a few bungee cords.
However, if you plan to store heavier materials or things like coolers and beach chairs, you need a rack.
The rack you choose will require some installation.
We love the units that are made for your particular cart and can be installed with existing hardware.
If you are unsure about drilling any holes in your cart, be sure to have your cart roof rack installed professionally.
The last thing to keep in mind with regards to a roof rack is the capacity.
Even if your particular rack says it can hold 150 pounds, make sure the roof of your cart can also support 150 pounds.
You should be able to find this information in your golf cart owners manual.