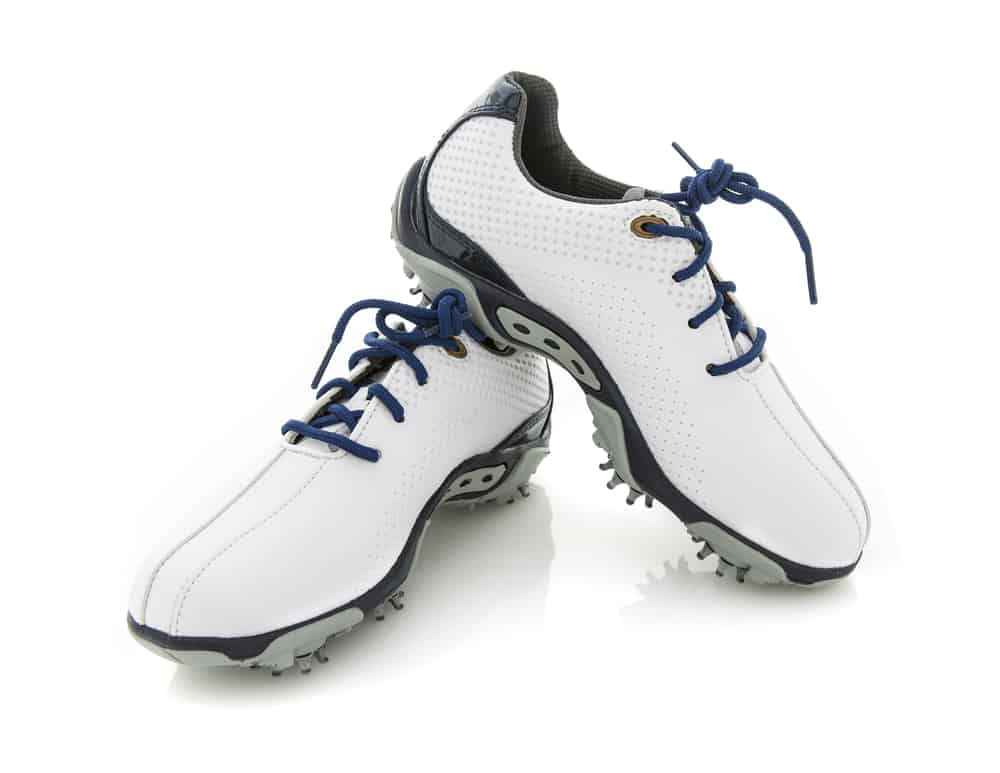 Plantar Fasciitis can be a painful condition which makes walking the golf course quite difficult.
If you struggle with foot and heel pain, finding the proper golf shoes is essential.
Playing with a bad shoe could not only cause you to play poorly, but it might make your foot condition worse overall.
Keep in mind that there are hundreds of different golf shoes on the market, and there is likely something out there which can help you feel better.

Top 10 Best Golf Shoes for Plantar Fasciitis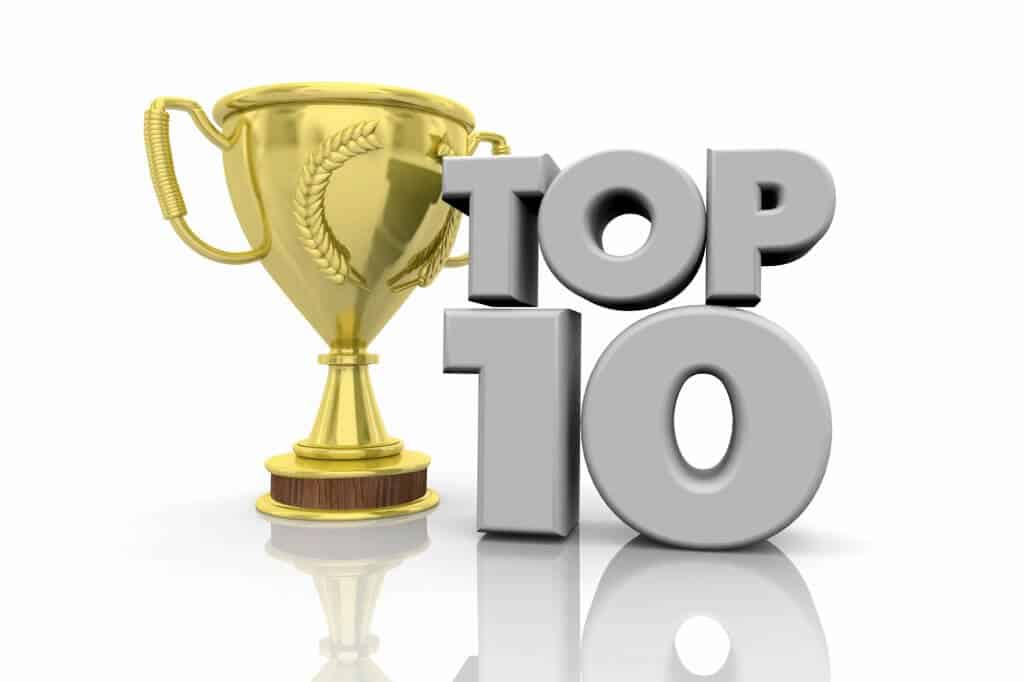 1. adidas Men's Tech Response Golf Shoes
Key Features
Available in a few different models
Lightweight mesh upper for comfort
Removable insole
At the top of our list is the Adidas Men's Tech Response.
This golf shoe has everything you need to get in a great round of golf while also taking care of your feet.
The Tech Response series is a very athletic looking series of golf shoes, and they have everything necessary for both walking and cart golf.
The Adidas Tech Response is a shoe that is 75% microfiber leather and 25% lightweight mesh.
This means that this golf shoe is going to hold up over time, but it is also not going to be too heavy or too expensive.
This is not our favorite option for walking through a lot of wet grass.
However, if you are seeking comfort and playability from a very affordable golf shoe, this could do the trick.
The Tech response comes in three very neutral colors, so you can surely find something that works best for your game.
The synthetic sole on the Adidas Tech Response will help to make sure that it holds up in all conditions over the years.
Pros
Lightweight shoe
Great arch support
Synthetic sole
Removable insole
Available in many sizes
Priced well
Cons
More of a sneaker look than a traditional golf shoe look
2. New Balance Men's Striker Waterproof Spiked Comfort Golf Shoe
Key Features
Waterproof
Comfortable
Fairly priced
The New Balance Striker Waterproof Spike Comfort Golf shoe is a great choice for those with Plantar Fasciitis.
This shoe has a very good arch support, and it is built for comfort.
If you are tired of your feet hurting after a round of golf, this is a shoe which can help you feel much better.
Another thing we love about the New Balance is that it is waterproof.
A waterproof shoe will also keep your foot dry.
If you struggle with Plantar Fasciitis, you know there is nothing worse than being in pain and having your feet soaking wet from a wet shoe.
The New Balance is a leather golf shoe, so it will hold up quite well over time.
The outsole is known as the Exoskeleton TPU, and it is designed to move with your foot in a natural way as you walk.
When you experience foot pain, it is essential to purchase a shoe that has lots of flexibility and movement.
Anything that is too rigid could increase the amount of pain you are feeling.
If you are looking for a shoe that is comfortable and fits on your foot with ease, the New Balance is a perfect choice.
Pros
Waterproof
Synthetic sole
Waterproof upper
Available in a few colors
Cons
Waterproof will not last forever
3. New Balance Men's Breeze Breathable Spikeless Comfort Golf Shoe
Key Features
Spikeless
Breathable
Extra cushioning on the inside
Many golfers are finding that walking with a shoe that is spikeless turns out to be much more comfortable.
A spineless shoe will tend to hit the ground a bit more evenly from one step to the next.
Spikeless shoes are great because you can wear them on and off the golf course as well.
Most of the spikeless golf shoes have enough of a grip on the bottom that they still give you stability when you swing your golf club.
The great thing about the New Balance shoes is that they are breathable as well.
If you play a lot of golf in the summer and worry about your foot overheating, this shoe could undoubtedly help.
The inside of the New Balance Spikeless Comfort is what really makes this golf shoe stand out among its competition.
This is just a very comfortable shoe which has quite a bit of cushioning and responsiveness every time you take a step.
The only real downside to this model and many of the shoes that are best for Plantar Fasciitis is that the shoe does not look like a traditional golf shoe.
Pros
Very breathable and lightweight
Lots of cushioning on the interior
Spikeless design for more stable walking
Cons
Spikeless don't always provide as much traction when you swing
4. ECCO Men's Biom Hybrid 3 Golf Shoe Gore-Tex
Key Features
Gore-Tex Waterproof
Available in many colors
Leather uppers
If you want something that looks a bit more like a traditional golf shoe, the Ecco Men's Biom shoe could be a great choice.
With the Gore-Tex technology, you will not have to worry about your foot getting wet.
You will also notice that the Biom natural motion technology helps the golfer feel more grounded and supported.
For someone who is struggling with foot pain, this can be a very important feature.
Even though these shoes have Gore-Tex and leather, they do a great job of conforming to your foot and making you feel more comfortable overall.
Pros
Gore-Tex waterproof
Natural motion technology
Leather upper
Available in many different colors
Cons
Ecco shoes are always priced a bit high
5. ASICS Men's Gel-Course Duo Boa Golf Shoes
Key Features
Precision fit dial
Lightweight
Gel cushioning system
The Asics Men's Gel Course Duo Boa Golf Shoes are built for a golfer who is suffering with foot pain.
With this shoe, you will get a gel cushioning system which helps to eliminate any shock and vibration that you get from walking the course.
This Asics shoe is manufactured with seamless materials to make sure that there is less friction in the shoe while you are wearing it.
Again, the attention to detail on the fit and technology of this shoe is really what sets it apart from the rest.
The BOA is a fitting system that Asics uses in their golf shoe.
With the BOA, you can turn the dial and get the shoe to fit on your foot exactly as you need it to.
Between the gel, the advanced fitting system, and the low-density foams used to make this shoe, it will be hard to find a better choice.
Pros
Made with high-quality materials
Lots of traction
Easy fitting system
Cons
Priced higher than other golf shoes
6. Callaway Men's Balboa Vent 2.0 Golf Shoe
Key Features
Spikeless
Mesh upper
Breathable
The Callaway Balboa Golf Shoe is an excellent choice for those who are dealing with Plantar Fasciitis.
This is a very comfortable and lightweight golf shoe which gives your foot room to move around while still offering plenty of support.
The midsole on this Balboa is considered to be an Opti soft material.
This material helps for both feel and comfort on the Balboa.
This is also a very good looking shoe from Callaway.
It comes in three different styles and a few different widths to make sure you can get the perfect fit for your game.
Although this is a spikeless, more sporty looking type shoe, the color combinations and patterns make it look more like a golf shoe than a sneaker.
Pros
Arch support
Breathable
Great for warmer weather
Cons
7. Johnston & Murphy Men's XC4 H1-Luxe Hybrid Golf Shoes
Key Features
Waterproof
Advanced cushioning
Lightweight
This Johnston and Murphy golf shoes are considered to be high end golf shoes.
They have a ton of durability and stability.
One of the things we like the best about the Johnston and Murphy shoe is that it is shock absorbing.
For a golfer with plantar fasciitis, the Johnson and Murphy shoes are going to be an exceptional value.
You can use this shoe on the golf course and when you are heading to work as well.
These Johnson and Murphy shoes have a very classic golf look to them and they are considered more like orthotics.
The footbed on the Johnston and Murphy is removable so that you can customize the fit for your foot.
The Luxe Hybrid is cooling when hot and then warming when cold, so this is truly a golf shoe that you could wear all year long.
Pros
Stability and durability
Comfort and stability
Waterproof material
Cons
Expensive higher end shoes
8. FootJoy Men's Superlites Xp Golf Shoes
Key Features
Turf Gripping bottom
Waterproof
Comfortable fit
When it comes to durable and high quality golf shoes, FootJoy is going to sit at the top of the list.
FootJoy shoes are very high quality and something like this XP is going to come with a waterproof guarantee.
Many of the FootJoy golf shoes are high in quality, but they can be a little stiff and uncomfortable when you look at the leather tour-like golf shoes.
However, this shoe is built with comfort and durability in mind.
If you need something which provides arch support and allows for a more comfortable feel, the FootJoy Superlite is a great choice.
If you choose to walk the golf course, it is a smart idea to have something lightweight like this.
The bottom of the FootJoy Superlites are going to help you grip the turf as you walk.
This is a good shoe to wear if you are worried about slipping on wet turf as well.
Between the waterproof ability and the anti-slip, you will find that FootJoy Superlites are a great choice for Plantar Fasciitis.
Pros
Waterproof
Durable construction
Grips the turf really well
Comfortable fit
Cons
Only available in a few sizes
9. PUMA Golf Puma Ignite NXT Disc Men's Shoe
Key Features
Synthetic sole
Disc closure system
Foam inside
The Puma Golf Ignite is a comfortable and sporty looking shoe that will help with your foot pain and discomfort.
With the Puma Ignite, you will get the disc closure system to make sure that the fit is exactly what you need in a shoe.
The ignite foam on the inside of the shoe will make your foot much more comfortable as you walk.
One of the complaints of those with plantar fasciitis is the pain they feel during each step.
When it hurts to land on your heel, you will want something like the Puma Ignite to put your foot down on.
With performance mesh and synthetic fabric, this is a shoe that will last quite a long time as well.
Overall, we like the sporty look and great color choices you get with this shoe, but the only thing you will want to do is stay out of the wet grass.
With the performance mesh upper you will notice some water can get into this shoe.
Pros
Lots of different colors and styles available
Good arch support
Lightweight
Cons
Mesh upper will allow water in
10. ECCO Men's Biom G3 Boa Gore-tex Golf Shoe
Key Features
Gore-Tex waterproof shoe
BOA closure system
Good arch support
Last but certainly not least on our list is the Ecco Men's Biom G3.
You may remember that the Biom Hybrid 3 landed on our list as well.
This Biom G3 is the top of the line in Ecco shoes, and you will see that reflected in the pricing.
The Gore-Tex protection of this shoe allows it to be both breathable and waterproof.
The main reason this is a great choice for those with plantar fasciitis is that it has the Biom natural motion technology.
This technology allows the player to feel closer to the ground, more stable, and better able to take each step with comfort and support.
With the BOA closure system to help you get the exact fit you need, this is a pair of shoes you will want to hold on to for quite some time.
Pros
Easy to close
Gore-Tex Waterproof
Natural motion fit
Cons