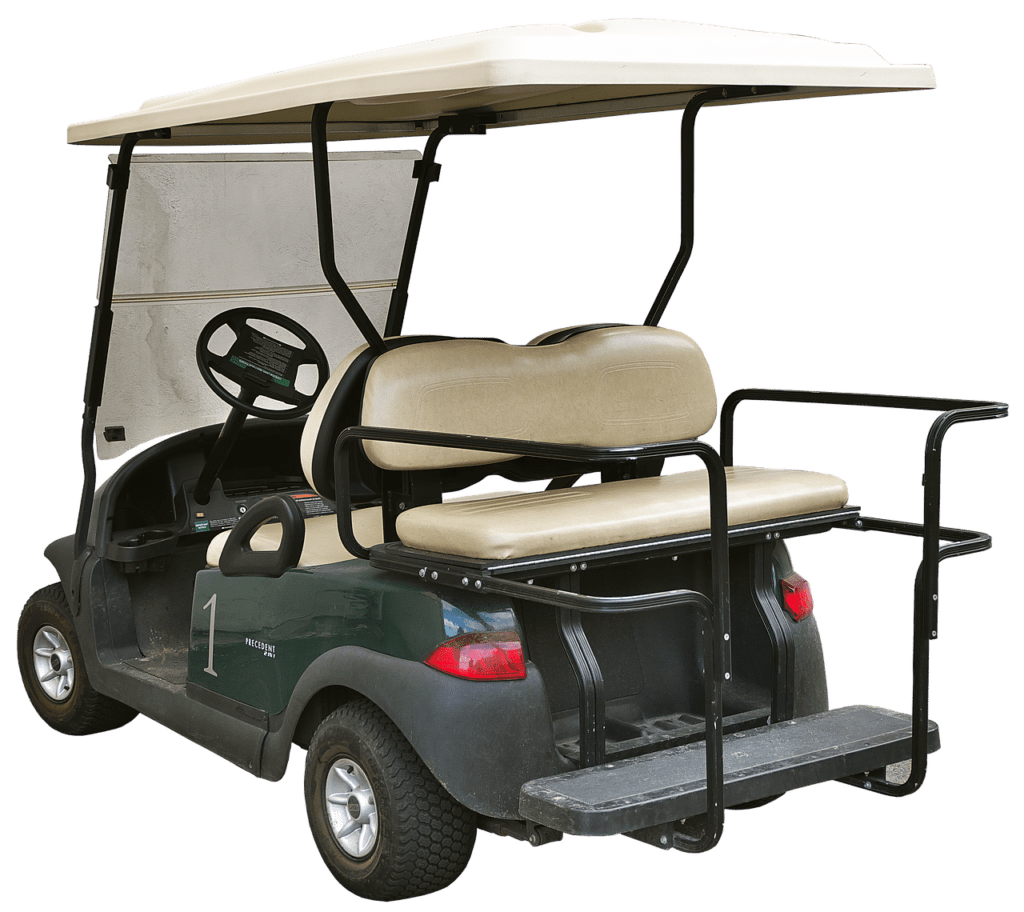 There is no question that golf cart safety is an essential part of being a golf owner.
A golf cart safety grab bar can help people getting on and off the back of a golf cart.
In addition to entering and exiting the back seat, safety grab bars are great while riding.
If you happen to go around a corner with a bit of speed, at least your passengers have something to grab onto.
Golf cart safety grab bars are not hard to come by, but some are better than others.
We put together a list of the top ten best golf cart safety grab bars on the market today.

Top 10 Best Golf Cart Safety Grab Bars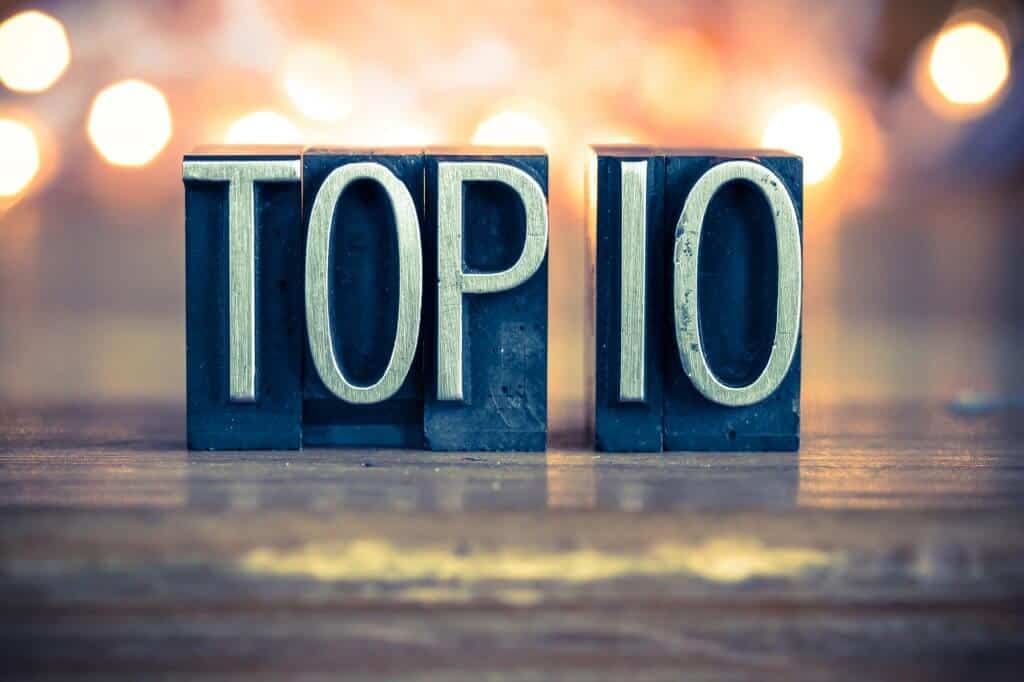 1. Madjax Universal Golf Cart Grab Bar
At the top of our list is the Madjax Universal Golf Cart Grab Bar.
This is a very highly rated and reviewed cart grab bar that works with or without a hitch.
Everything you need to install this grab bar will be included with the package.
The pricing is a bit higher than other models, but the quality of the product is evident.
The installation with the Madjax should not require any other hardware or additional holes to be drilled.
Potentially our favorite part of this product is that it comes with a one year warranty.
Should you find that paint starts to peel or the package was damaged during shipping, it will be handled.
The only downside that we can find with this grab bar is that some people have seen paint bubbles.
There is a black powder coat finish on the bar that should hold up in weather conditions and over time.
Keep an eye on this and make sure that if you have any issues, you treat it right away.
If paint starts chipping and there is rust, your entire bar could look very bad in a short period.
Pros
Great stability
Works with or without a universal hitch
Black powder coat finish
One year warranty
Cons
Priced a little higher than others
Sometimes the bar seems out of level
How to Install a Madjax Universal Golf Cart Grab Bar
2. Performance Plus Carts Universal Golf Cart Grab Bar
The Performance Plus Carts Universal Golf Cart Grab Bar is a great all-around option.
This is a grab bar that should fit on any cart.
Even though it is universal, you may need a few extra bolts or to drill a hole or two, however, it will fit most carts.
This is a stable grab bar that is coated in a high-quality powder.
The paint and condition of this golf cart safety grab bar should hold up for years to come.
Pros
Great pricing
Stable and sturdy grab bar
Should hold up over time
Universal fit
Cons
May need extra hardware to install
3. 10L0L Golf Cart Rear Safety Grab Bar
The 10LOL Golf Cart Rear Safety Bar is designed to fit most golf carts.
This is not considered to be a universal mount so you will want to check your golf cart prior to ordering.
They do mention that it should be fine with EZGo, Yamaha and Club Car carts that have the rear seat attachment in place.
The 10LOL is made with a thicker steel pipe; when your passengers feel like they need stability, they should find it with this cart safety bar.
The 10LOL is easy to install and comes with the hardware necessary to get the job done.
This is not a project that should take you very long to complete
Pros
High-quality steel
Comes with all necessary hardware
Cons
Mounting holes do not always line up properly
4. Rear Seat Trailer Hitch with Receiver
If you are looking for a product that is more than just a grab bar, this may be a good choice for you.
In addition to the grab bar, you also get a trailer hitch.
If you have been considering pulling something with your cart, the hitch will now allow you to do so.
This trailer hitch grab bar combo is a bit more expensive than other options, but it is still a good value for what you get.
Pros
Easy to install
Two products for the price of one
Cons
More expensive than just the grab bar
May not need a trailer hitch on your cart
5. Keenso Golf Cart Grab Bar
No products found.
Next on our list is the Keenso Golf Cart Grab Bar.
This is another medium priced option that will allow your back seat passengers to feel safe and secure.
It is essential to keep in mind that even with a golf cart grab bar, passengers should still have seat belts.
This is a U Shape design that is supposed to fit all cart models and sizes.
The Keenso is made with high-quality steel that is rust-resistant and sturdy.
When a passenger steps onto the back of the cart, they should feel that this bar will support them.
If you live in an area with hills, the golf cart grab bar is even more critical as your passengers will be leaning forward during the descent.
The mounting hardware necessary to install this bar is included with the kit, and it should not require any drilling.
Pros
Sturdy
Rust resistant
Universal fit
Easy installation
Cons
Lesser known brand
Unsure of the long term quality
6. Golf Cart Grab Bar
If you like to customize your cart with different color accessories, this golf cart grab bar is for you.
The option is available in black, yellow, pink, white, red, and silver.
Not too many golf carts have custom color golf cart safety grab bars.
We love that you can choose the color you want, the only problem is that comes at a cost.
The standard black is a very fair and competitive price but as you change the color the price increases.
This is likely due to the finish work having to be done on the colored bar but if the look matters to you it may be worth it.
As far as stability and quality of steel on this product, it doesn't rank quite as high as our number one choice.
Pros
Easy to install
Works with or without a universal hitch
Warranty
Comes in a variety of colors
Cons
Not the highest quality bar
Does not come with mounting hardware
7. Big Times Universal Rear Seat Safty Hand Rail Grab Bar for Golf Cart
No products found.
If you are looking for a value purchase, the Big Times Universal could be a great choice.
This is a grab bar designed to fit on any golf cart even if it does require a few extra screws.
The Big Times is a metal bar coated in a black powder finish.
If you want something that is lightweight and easy to install, the Big Times is a great choice.
If you notice the top of the Big Times bar, there is not cross-section.
The cross-section adds just another place for people to grab and hold on.
We also feel as though it makes the bar itself a bit more stable.
The reason we moved the Big Times down to the seventh spot on our list is because of this stability and ease of use issue.
However, for the price, if you need a grab bar, this option will work.
Pros
Very low price
Lightweight
Easy to install
Cons
Not as stable
Not as much area for a passenger to grab on
8. Steel Safety Grab Bar for Golf Cart Rear Seats
The Steel Safety Grab Bar is a simple option that should provide you with a stable and easy to use grab bar.
This is a steel bar that is powder coated and should have no trouble withstanding the test of time.
The only real problem we have with this is that it is not a universal fit.
Since the fit is not universal, you will likely be drilling and picking up some additional hardware.
If that does not bother you, then you may enjoy this golf cart safety bar.
One other thing we will mention is that there is a heavy coat of paint on this product.
Although lots of paint is a good thing for the longevity of the product, there are some issues when trying to install the hardware.
Pros
Quality steel
Lots of paint on the product
Cons
Not a universal fit
The product looks like it is inclined, but it is 90 degree
Does not always come with the correct bolts
9. AW Golf Cart Rear Seat Safety Grab Bar Hand Rail
Next on our list is the AW Golf Cart Rear Seat Safety Grab Bar HandRail.
This model is a bit different than others as it screws in directly to the footrest.
Although this makes for an easy install, you may run into some issues with the back seat folding down.
Since no bottom bar goes under the cart, the handle does not extend out far enough for the seat to fold.
If this is not an issue for you, then you will like the pricing and the quality of the AW Golf Cart.
We don't think that this style is as sturdy as some of the others we have reviewed.
If you have larger adults getting in and out of the cart, you may want something more stable.
Pros
Easy install
Powder-coated finish
Cons
Creates issues with rear seat fold-down
Not as stable as some of the other choices on the market
10. 10L0L Universal Golf Cart Rear Grab Bar and Trailer Hook with Receiver and Grab Golf Cart on Back
Last on the list; we have the 10LOL Universal Golf Cart Rear Grab Bar and Trailer Hook.
This is a package set that comes with the bar and the trailer hook.
Although this package is offered at a great value for having both the bar and the hook, it is rather low quality.
The install is a little awkward and the holes don't seem to line up.
If you can get everything lined up and installed, then the actual function of the bar is not inadequate.
You will likely be better off purchasing the bar and the trailer hook separately and spending a few dollars extra.
Pros
Two-piece package
Low price
Cons
Hard to install
Quality control issues
Not high quality
Conclusion
Although there are several golf cart grab bars to choose from, just having one will make your cart safer.
If you are continually bringing passengers around on the back of your golf cart or traveling on hilly or bumpy areas, you need a grab bar.
When choosing the right fit for your cart, make sure you check how it is installed.
Also, be sure to look if the product comes with the hardware for install.
The last thing you want is a trip to the hardware store the day you planned on installing your grab bar.
Once your bar is installed, check it from time to time for stability.
It is also essential to encourage your passengers to hold on when the cart is rolling.