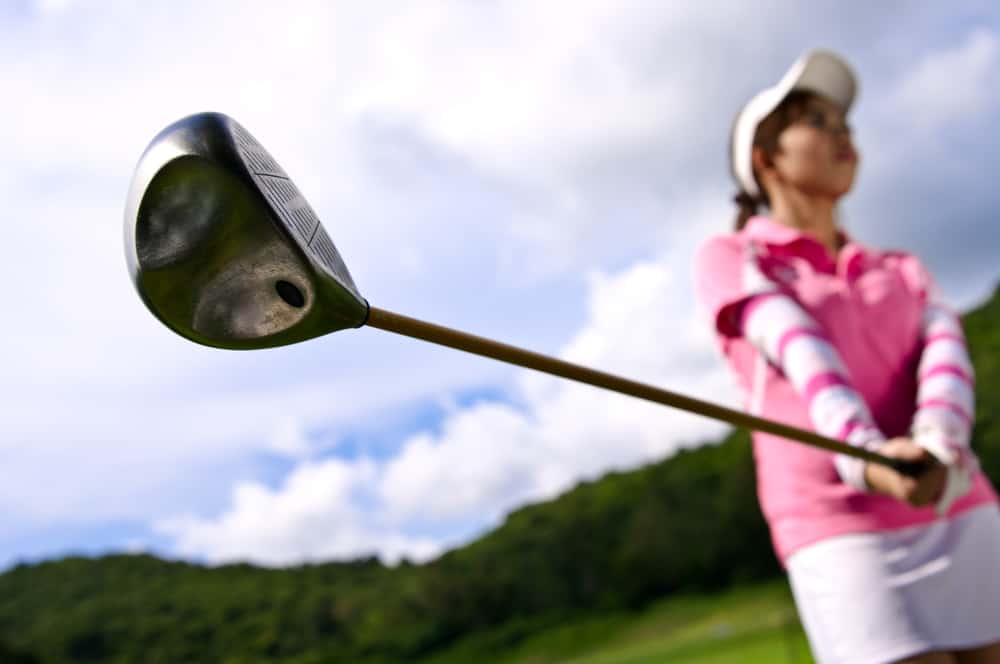 Have you been considering purchasing a new driver this year?
Chances are you have seen some of the impressive technology on the market.
Every year, it seems that these products become more forgiving and longer.
For players who have not upgraded their golf clubs in several years, the differences in technology can really be quite impressive.
If you are a golfer who needs a bit of extra clubhead speed in your irons, then it may be time to look for a lightweight golf driver.
There are several lightweight golf drivers on the market, and we have ten of the best to choose from.

Lightest Golf Driver (Top 10)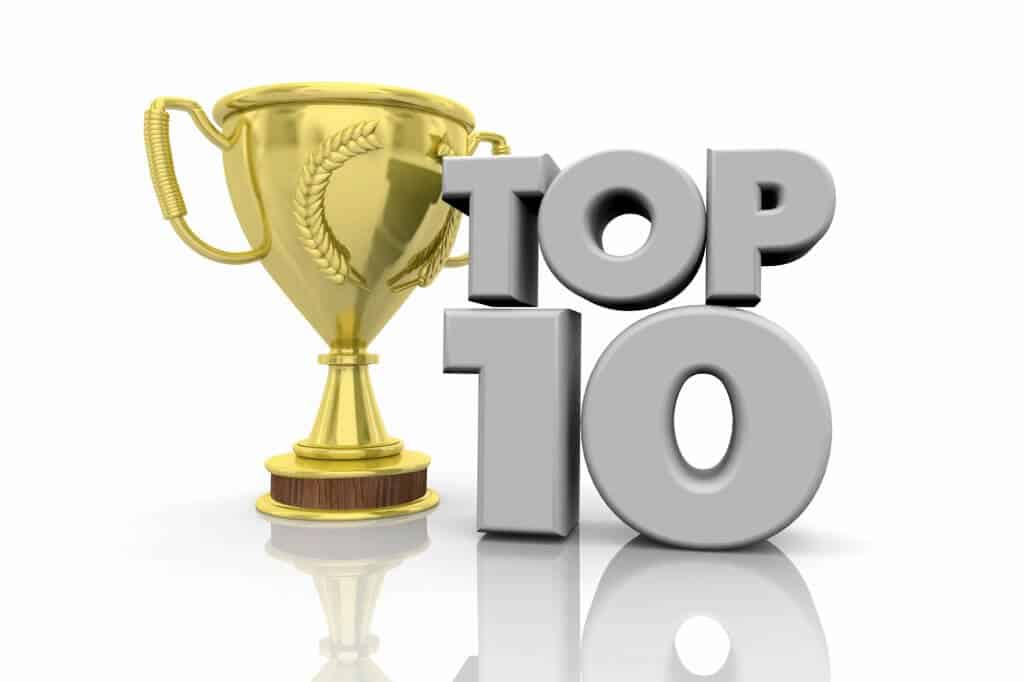 1. Cleveland Golf Launcher Turbo Driver
Key Features
HiBore Crown for a low center of gravity
Turbocharged cup face
Very lightweight hosel
The Cleveland Golf Turbo Launcher is one of the lightest golf drivers on the market.
One of the reasons that the Turbo Launcher is so well known for being light is that it comes with a standard hosel.
Many golf clubs come with an adjustable hosel to help get the launch and lie set up properly for a player.
Although this is a nice feature, it will add to the overall weight of the club.
If you truly want a lightweight club, it can make sense to stay away from adjustability.
The Cleveland Turbo Launcher is built for distance, but it has plenty of forgiveness incorporated into the clubhead as well.
The large sweet spot will help to ensure that you are not going to miss the ball by too much, even when you have a poor swing.
In addition, the high-performing Miyazaki C. Kuma shaft was made specifically for this golf club.
The Cleveland Golf Launcher Turbo offers a great combination of technology for any golfer.
Pros
Low center of gravity
Counterbalanced shaft
High MOI
Cons
2. Cobra Golf Men's 2019 F-Max Superlite Driver
Key Features
Back heel weighting
Lighter shaft, grip, and clubhead
Offset or straight options
It's hard to complain about a driver that is called the "Superlite" when you are looking for a lightweight club.
The club itself is much lighter overall than other drivers on the market, and that is because of specific technologies that were incorporated.
The shaft, clubhead, and grip are lighter than they were in other drivers.
It's impressive that Cobra thought of the idea of making all parts of the club lighter, not just the clubhead or the shaft.
The F Max line of clubs from Cobra has always been known for its forgiveness and performance for the higher handicapper.
If you are a senior golfer or one who feels as though the proper clubhead speed is unattainable, the Cobra Superlite is a very smart choice.
Pros
High launch
Large sweet spot
Forged E9 Face technology
Cons
The driver is so light it takes a bit of time to get used to it
3. Tour Edge Golf- Bazooka 470 Black Driver 10.5 Senior Flex
Key Features
High flight and deep face design
Black PVD Finish
460 cc titanium head
The Tour Edge Bazooka driver is a lightweight and affordable golf driver.
Golfers who are looking for a driver with a high MOI and is lightweight and forgiving will enjoy what the Tour Edge brings to the table.
The face on the Tour Edge is a variable face thickness that will work for helping players to get more clubhead speed.
The Tour Edge does not have as much advanced technology as a new TaylorMade or Callaway iron may have.
However, if you are a new player or just simply frustrated with the current clubs you have in your bag, the Tour Edge is a great choice to consider.
One of the best things about the Tour Edge Bazooka is the ability to achieve a higher ball flight.
Many golfers with low swing speeds have a hard time launching the ball in the air, but with the Tour Edge Bazooka, this won't be an issue.
Pros
Very fair pricing
Lightweight option
Deep face design for a larger sweet spot
Cons
Black PVD finish will chip if not properly protected with headcover
4. Wilson Staff LaunchPad Men's Golf Driver – Right Hand
Key Features
Very lightweight design
Moderate offset
Great distance
The Wilson Staff LaunchPad golf driver was built for the golfers with the slowest swing speeds.
The Variable Face Technology on the club helps players to get that trampoline-type effect when they make contact with the ball.
Those who have typically struggled to get distance seem to find that things are much easier when putting the LaunchPad driver into play.
In addition, you will notice that most of these drivers come with a slightly higher loft than other options on the market.
It has been proven that the longer we can keep a golf ball in the air, the further it is going to fly.
Pros
Straight drives
Very long distance when solid contact is made
Minimal offset
Cons
Some will hit it too high with the LaunchPad technology
5. Callaway Epic Max Driver
Key Features
Artificial intelligence
Very high ball speeds
Adjustable driver
The Callaway Epic Max driver is the latest release from the Callaway brand.
If you are a golfer who cares about top-of-the-line technology, artificial intelligence, and adjustability, this is the club for you.
You won't find a more modern piece of golf equipment on the market.
Although there are some really great things about the Callaway Epic Max Driver, the fact that it is lightweight certainly sits near the top of the list.
Callaway has been using artificial intelligence to create their drivers for several years now.
With the way this technology has improved their product offerings, we don't see this stopping anytime soon.
Overall, the Callaway Epic Max Driver is going to have a lot of adjustability.
You will be able to change the sliding weight so that this feels like it is a custom golf club.
Each time you head out to play, you can set the club for the course or for your golf abilities that day.
Pros
17g sliding weight
Brand new speed formulas for the mid to high handicappers
Created using artificial intelligence
Cons
Adjustability adds a little weight to the driver's head
6. Cobra Women's Radspeed
Key Features
Radial Weighting Technology
CNC Milled Infinity Face
Extreme back weighting
Men are not the only golfers who are going to benefit from a lightweight golf club.
The women golfers are those who typically need to gain some extra clubhead speed in their shots.
The best way to do that is to play with a golf driver that is very lightweight and easy to use.
The brand-new Cobra Radspeed is a perfect choice for those who are looking for speed, distance, and forgiveness.
The biggest improvement in the Radspeed from previous versions is the extreme back weighting.
With the weight in the back of the clubhead, the forgiveness and the launch are increased.
As is common with the Cobra line of premium drivers, this is also going to have quite a bit of adjustability.
Depending on how you set this driver, it can feel and perform even lighter.
Overall, we are impressed with this new release from Cobra and think that it will make a perfect lightweight driver choice for the female golfer.
Pros
Radial weighting technology
Thin carbon wrap crown
CNC milled infinity face
Lots of adjustability
Cons
Brand new driver with higher pricing
7. MAZEL Titanium Golf Drivers for Men, Right Handed, 460CC
Key Features
Very lightweight head
Large sweet spot
Speed channel technology for minimum face thickness
The Mazel Titanium Golf drivers are some of the lightest that golf has seen.
Of course, Mazel is not the most well-known golf manufacturer on the market, but they have certainly done some great things with this club.
For players who are new to the game or are on a budget, the Mazel Titanium is a smart choice to consider.
One of the things that you will notice is that the use of materials on this club has helped to transfer even more ball speed to the ball.
If you feel as though you are wasting energy when your swing and everything is transferred to the golf ball, you probably are.
However, some drivers like the Mazel titanium does a much better job of managing this energy transfer.
In addition, the low center of gravity and the variable face thickness make the Mazel just as forgiving as it is lightweight.
Truly, this is a driver to try if you are on a budget and want something higher in quality.
Pros
Very lightweight head
Large sweet spot
Cup face design
Great pricing
Cons
Feel and sound won't be as good as the top manufacturers'
8. Cobra Golf 2020 Airspeed Driver Offset Black-Blue (Men's, Right Hand, Senior Flex, 10.5)
Key Features
Lightest driver by Cobra
Carbon Crown
Offset design
Cobra Golf is known for making some of the best clubs on the market for the senior golfer.
It is no secret that senior golfers tend to play better when they are using an offset golf club that is lighter in weight.
As our swing speeds slow down, we tend to start hitting the ball a bit to the right and losing some distance.
To avoid that, you can make certain adjustments to your golf equipment.
The Cobra Airspeed driver with the carbon crown and lightweight design helps to ensure that the slowest swinging golfers still get plenty of launch and performance.
In addition, the fact that this is an offset clubhead gets the ball back on track when it starts to trail to the right.
It's hard to beat the quality and performance of a Cobra when you are looking for lightweight golf clubs.
Pros
Carbon crown
Lightweight design
Offset clubhead
Cons
The sound the club makes is not favored by all who use it
9. Wilson D9 Men's Golf Driver – 9/10.5/13
Key Features
Impressive upgrade to the D7
High ball speeds from new face design
Neutralizes vibration at impact
This is the second Wilson driver to make our list.
If you are noticing the trend, the golf companies that are better at making clubs for the golfer who needs forgiveness are going to be the best places to look for lightweight clubs.
The clubhead on the D9 is not adjustable, and that will save some weight for players.
One of our favorite features of this golf club is the fact that it features the Mitsubishi Tensei CK Blue golf shaft.
This is one of the more premium shafts on the market, yet this driver comes at a fairer price.
The center of gravity is low on the D9, so getting higher ball flight and forgiveness will not be an issue.
At impact, there is new vibration dampening technology to ensure that the clubhead does not rattle or move around more than it should.
Overall, for the price at which it is offered and the lightweight technology it features, the D9 is a smart choice to consider.
Pros
Fair pricing
Lightweight because of no adjustability
New features in clubface for better feel and stability
Cons
Ball speed still lacks a bit from a Cobra or TaylorMade
10. Cobra Golf 2020 Men's Speedzone Extreme Driver Black-Yellow
Key Features
CNC Milled Infinity face
Speed back weighting
Aerodynamic shaping
The Cobra Men's Speedzone is an excellent choice for the player that is working on building up clubhead speed.
This is not the lightest golf driver on the market, but it is plenty light enough for the slower swing speed player to see the performance that they need.
We love the 360 Carbon wrap crown and the weight that was moved in the lower back portion of the club.
These changes made the Cobra feel faster and fly through the air quite a bit better.
The Titanium Speed Chassis also helps give players that extra speed they need to perform.
Pros
CNC Milled infinity face
Plenty of adjustability
The clubhead is very stable at impact
Cons
Not the lightest driver on the list, but it still qualifies as a lightweight golf club