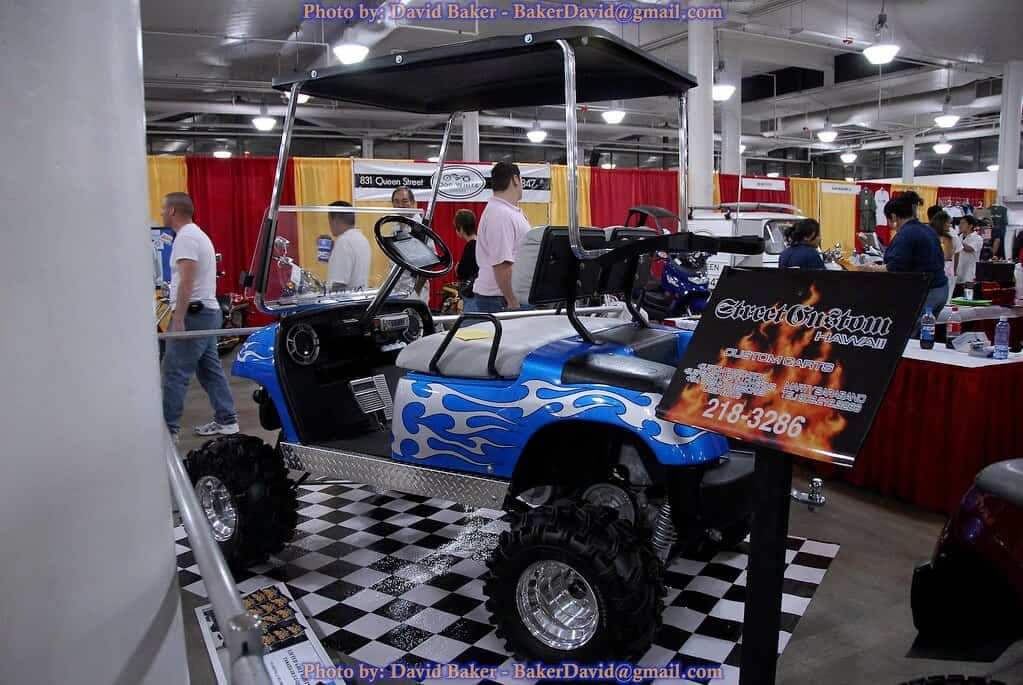 "Blue Raised Cart"by rust.bucket is licensed under CC BY-ND 2.0
Golf carts provide smart individuals with a variety of impressive design and adjustment possibilities that make them an excellent vehicle for a multitude of riding situations.
For example, you can add a lift kit to your cart to turn your cart into a small, but powerful, ATV.
However, you may want to lift your cart without a prefabricated lift kit.
Before you start taking the wheels off your cart and adding new shocks and other items, you need to understand how to craft a high-quality lift kit that will increase your cart's height with ease and grace.
Reasons to Lift a Cart Without a Prefabricated Kit
Lift kits are designed to help people like you create a high-quality cart with an increased height that you can enjoy while driving off-road.
However, many individuals may be interested in lifting a cart without one of these kits.
This process is one that requires multiple steps and a skilled understanding of how to adjust the chassis of your cart in a way that increases its height.
So before we go into how to lift a golf cart without a prefabricated lift kit, we're going to explore a few reasons why you might want to try this process on your own.
Many of the reasons have to do with pride, while others have a more practical application.
Just a few reasons you may want to forego a lift kit include how you can:
Save Money – If you don't want to invest money in a lift kit for your cart, lifting your cart without one is a wise choice. You can save yourself not only the purchase price of the kit but the installation cost of the kit if you hire a professional.
Increase Your Cart's Personal Look – A lift kit can only do so much for your cart, which is frustrating if you want to achieve a specific effect with your style. However, lifting without a prefabricated kit removes many of these limitations and makes the process easier to handle.
Prove Your Mechanical Skills – Some mechanics – either professional or amateur – may feel like they need to challenge themselves from time to time. Lifting a golf cart without a kit is definitely a unique challenge and one that will make you feel better about your skills.
Boost Your Cart's Chassis Strength – A skilled mechanic may boost the strength of their cart's chassis if they lift a cart without a kit. This increase in strength occurs because you can add supporting elements, such as stainless steel bars, in ways a lift kit may not.
These reasons are just a few explanations for why you may want to lift your cart without a kit.
Other reasons, such as the chance to turn this skill into a profitable enterprise, may also inspire many people.
For others, the raw challenge inherent in the process will be all the inspiration they need.
After all, lifting a cart without a kit will require a skilled understanding of the build of the cart.
Therefore, this process is one that only those with real mechanical skills should attempt.
If you have little experience working with carts or other types of vehicles, you may want to contact a professional or buy a lift kit instead.
However, if you feel ready to tackle this project, you should read the following sections to learn more about this relatively straightforward – but by no means simplistic – process.
How To Lift A Golf Cart Without A Kit
When you're trying to lift a golf cart without a lift kit, you are going to craft your own lift kit to increase the height of your cart.
Let's stress this point a little bit here: you can't lift a golf cart body without a lift kit.
However, you don't have to use a prefabricated lift kit to get good results.
Instead, you can create a lift kit yourself out of a variety of different materials.
For example, you can purchase aftermarket parts like A-arms, longer shocks, springs, and axles for your cart.
Most kits will require a support plate that you can attach directly to your cart and which will then attach your kit to your wheels.
You'll also need tools such as various drills, wrenches, screwdrivers, and more.
The basic process follows a procedure similar to the one outlined below:
Remove Cart Wheels – Carefully remove the wheels from your golf cart using the appropriate tools. Make sure to keep the nuts and bolts close to the wheels from which they come. In this way, you can avoid being short when you put the cart back together.
Take Off the Axles – Now, you'll need to remove the axles from your cart carefully. This process is more complex and will require intricate mechanical skills that you may not possess. If you feel comfortable with this step, you can move on to the rest of the steps, including removing your A-arms.
Install the Support Plates – After you've removed the axles and A-arms, you can install the support plates to the front and back of the cart. These plates go near where you install your axles and will provide extra support strength for your cart's lift kit.
Add the A-Arms, Shocks, and Springs – Add your newer and longer A-arms to your support plate and position them properly. Make sure that you also add the shocks and springs on the arms to increase your cart's support. You'll likely need a second person to help you with this step.
Put on Your New Axles – At this point, you should add your new and longer axles to your A-arms. Make sure that you carefully balance the height of the front and back of this vehicle to ensure that your cart smoothly runs while you drive.
Adjust Your Angles Properly – The camber and caster of your car may change after you lift your car. This situation is a problem because your cart may improperly steer if you don't tweak the angles to ensure that they centered. Talk to a cart professional if you feel uncomfortable with this process.
When adding a DIY lift kit to your vehicle, make sure to take into account the fact that lifting a cart will vary based on the model that you buy.
For example, some carts have slightly different axle styles that may require you to add different support plates or to weld various elements of your lift kit.
Beyond that, you also need to remember that some carts may have wheels that require proper balancing before you ride.
Just as importantly, you need to fully grasp the possible problems you may experience if you attempt to add a personalized lift kit to your cart without the proper mechanical skills.
Again, this process takes a reasonable amount of mechanical skills and should only be attempted if you understand what you are doing and can fix any mistakes that you might trigger.
Potential Issues
When you try to add a DIY lift kit to your cart, you are opening yourself up to a wide range of possible complications.
These issues may also occur in a variety of different prefabricated lift kits but can become worse if you don't take the time to understand how to install your DIY lift kit properly.
Just a few issues that you can anticipate with improper DIY lift kit installation include how it:
May Affect Cart Appearance – If you aren't careful about the installation process, your new DIY lifting kit could make your cart appear very ugly. That's one reason why the need for high-quality mechanical skills is so important, as mistakes are very easy to mistake.
Could Cause Frame Damage Problems – Although skilled cart mechanics shouldn't have a hard time with a DIY lifting kit, some individuals may cause damage to their cart's chassis or frame. This damage may require either professional repairs or replacement of the affected parts.
Very Likely Will Affect Safety – Though golf carts may seem fairly safe to drive, tweaked ones can be less safe if you add a DIY lift kit. For example, you may put your tires on improperly and cause them to stick out awkwardly in a way that may increase your risk of accidents or other problems.
These issues are complicated by the fact that your DIY lift kit is likely to emulate a specific lift style, one that may come with inherent issues.
For example, a drop spindle kit utilizes a standard suspension, which does make it easier for you to emulate.
However, these kits also create a wider wheel stance that may complicate the installation process and make adding your new tires and axles more difficult to handle.
Your kit will also vary based on the extra height that it adds to your cart.
For example, you can anticipate increased lifts of at least three inches.
This lift height is among the most popular for various carts, particularly when adding 20-inch tires.
However, you can also get four-, five-, six-, seven-, and even eight-inch lift kits.
The model you choose to emulate with your DIY kit will vary based on your needs.
Home Made Golf Cart Lift on a Club Car DS