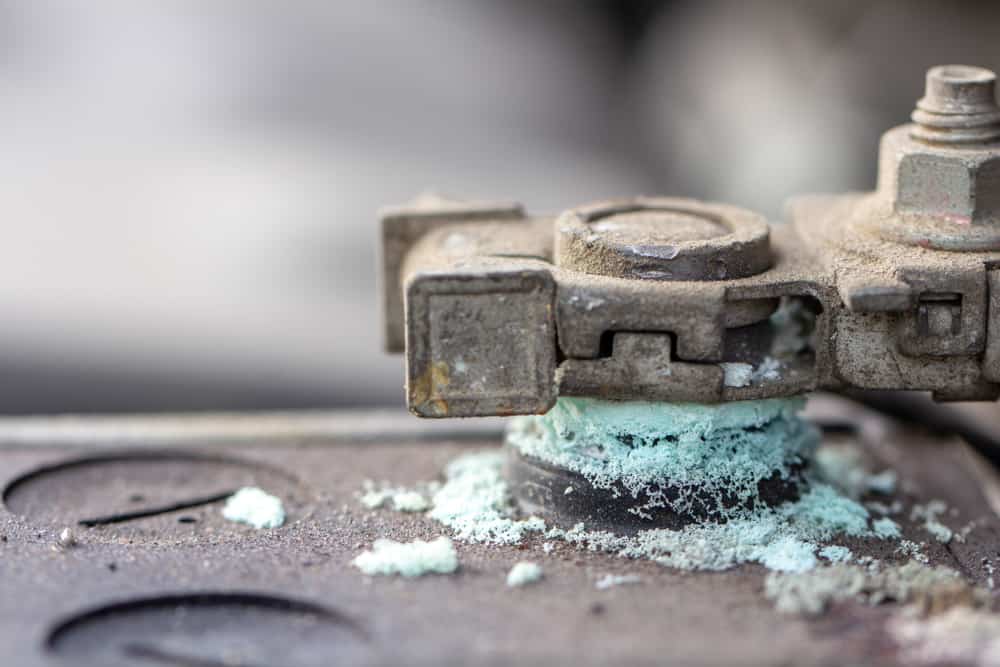 A golf cart battery contains both water and acid, which work together to produce electricity in your cart to help it run properly.
Whether you have a gas or electric cart, you should have at least one battery that needs to be maintained properly to avoid long-term damage.
However, batteries that leak acid are a real problem and can fail to run properly or may experience other issues that can be very concerning.
As a result, it is important to understand why a golf cart battery leaks, what you can do to spot these problems, and how to fix them to meet your needs.
Thankfully, most of these issues are often quite minor and don't require a lot of excess work to fix properly.
That said, some of them may require professional help to manage, so make sure to have a cart mechanic ready if your battery continues to leak.

Why Is Your Golf Cart Battery Leaking Acid?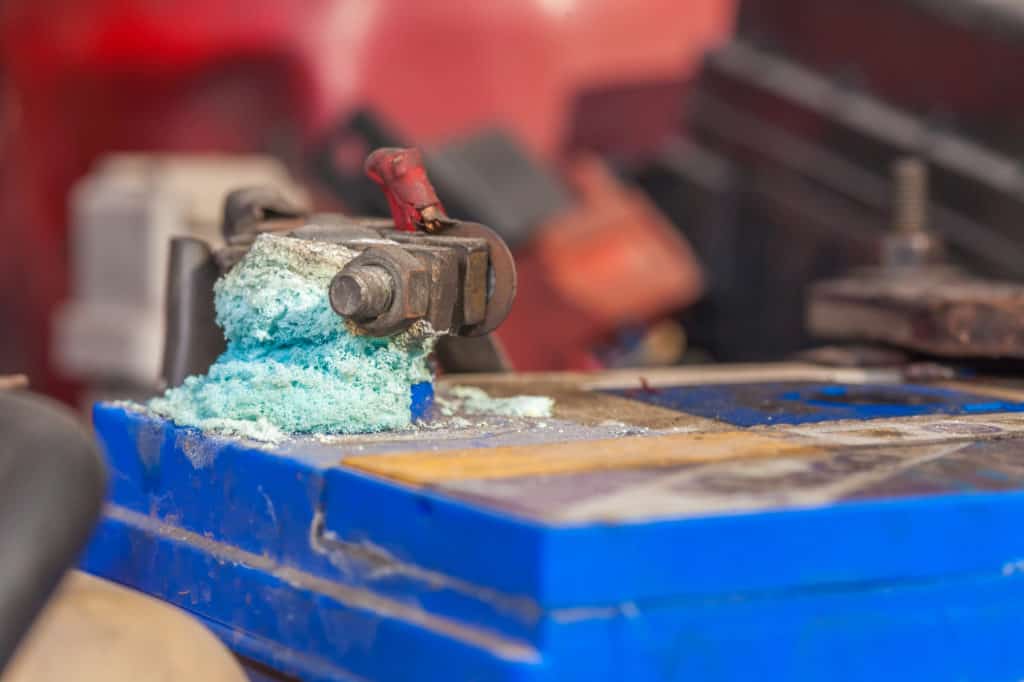 Many different issues could contribute to your golf cart battery leaking acid, including damage to the exterior of the battery, poor driving skills, bad maintenance steps, and much more.
Often, many people don't know how to handle their cart or the battery and may perform many steps that ultimately trigger serious problems with its operation.
1. Rough Driving May Cause Some Troubles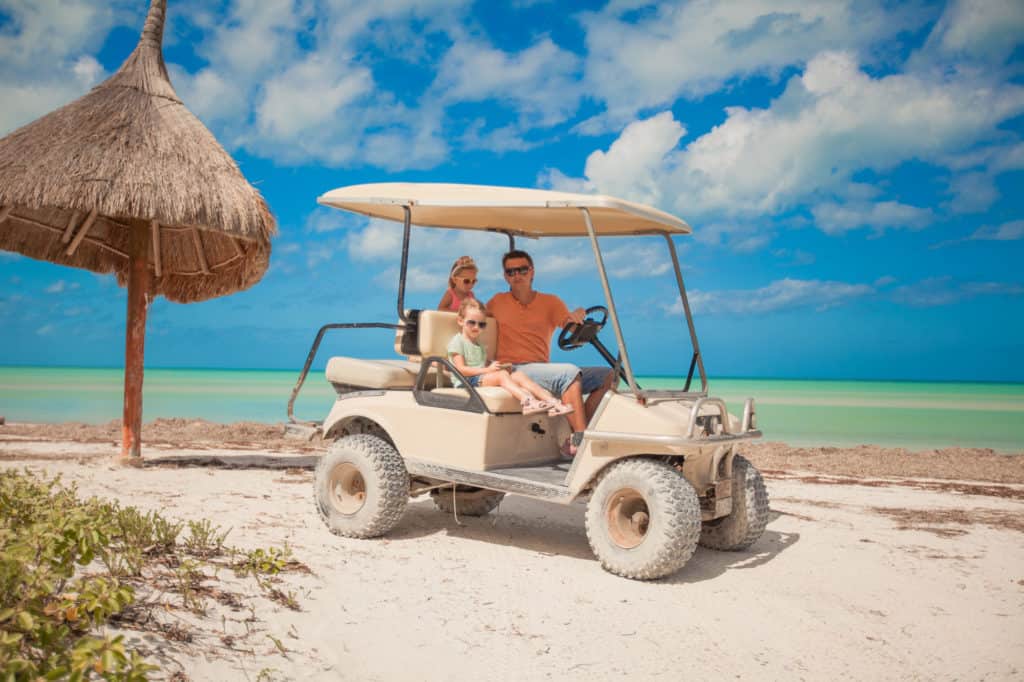 Golf cart drivers who are not careful about how they drive their vehicles on the track may end up causing damage to their cart's battery.
For example, riding around heavily, hitting trees, jostling the battery, and riding in very inappropriate ways may cause damage to the exterior of the golf cart.
The easiest way to avoid this problem is to drive properly and follow all rules and restrictions on golf carts in your area.
Typically, this will require you to drive at a specific speed limit that is appropriate for the vehicle, and which won't cause any troubles with your cart's battery.
Just a few steps that you can take to minimize the risk to your battery include the following simple driving ideas:
Never drive at the top speed of your cart to avoid putting strain on its body as you drive.
Don't put your golf cart into neutral to let it ride down hills and pick up more speed.
Carefully use your brakes to manage your speed and keep it at a rate that makes sense.
Pay attention to your surroundings and avoid running into trees or other items on the course.
Install mirrors throughout your cart to make it easier to track your location relative to others.
Inspect the exterior of your golf cart battery to spot problems that could cause leaks.
Add extra padding around the sides of your battery to keep it from jostling as you ride.
Install safety gear throughout your golf cart, like seat belts, to avoid getting injured during a crash.
These steps are particularly important if you ever drive your golf cart on a road or a public roadway, as you may end up running into others if you aren't careful.
If you have updated your cart to be a low-speed vehicle, you also need to avoid riding too dangerously to avoid serious damage to your cart and your battery.
While it is possible to drive at higher speeds without damaging your golf cart battery, the potential risk that it poses to your cart as a whole makes this an unwise decision.
Don't neglect to pay attention to any of these other potential problems, as well, because there's a good chance that you might end up experiencing other battery leak issues if you aren't careful.
Make sure that you read through the rest of this list and perform any repairs that are necessary to keep your cart's battery from leaking.
2. Excessive Battery Age May Cause Some Problems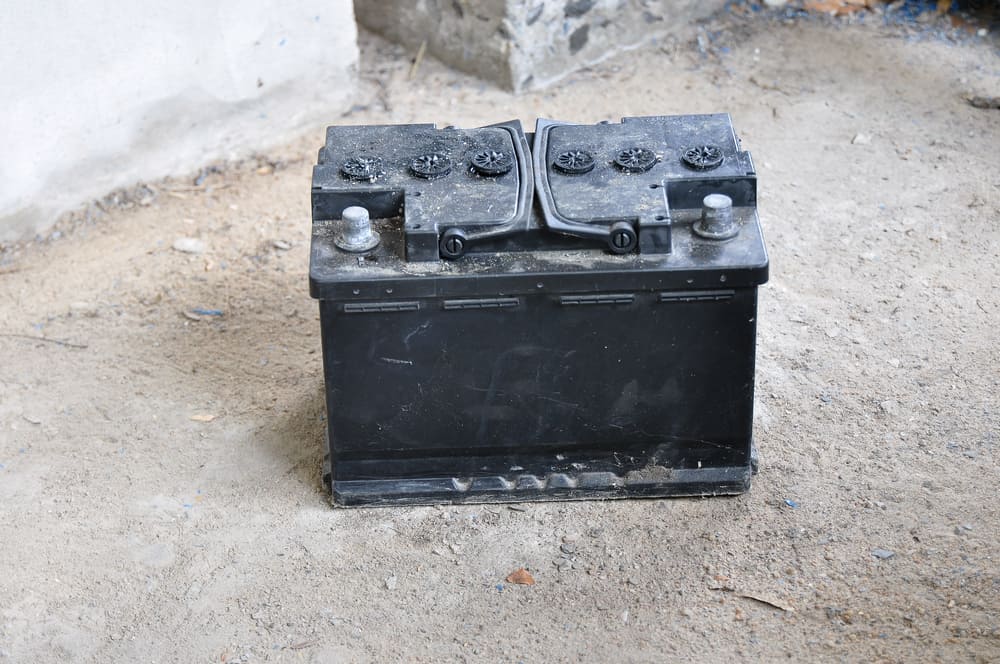 While your battery can last anywhere from five to 15 years if it is properly maintained, all golf cart batteries will eventually "age out" and start operating less efficiently.
This problem is important to note because your battery may start leaking acid due to a worn-down structure, or it may experience other complications that need to be properly managed by following these steps:
Inspect the side of your battery to find its age, which is listed on a small tag on the exterior.
Gauge how long it has been since you've replaced the battery based on this information.
Decide if you want to take out the old battery to replace it with a newer one.
Find an appropriate replacement battery from a dealer specializing in your cart brand.
Replace the old battery and perform any maintenance steps necessary to keep it operating.
Most golf cart owners should be capable of handling this problem without causing any difficulties with their cart operation.
If this type of repair is not something that you can handle for any reason, it is important to contact a professional who will handle it for you.
3. Improper Water Management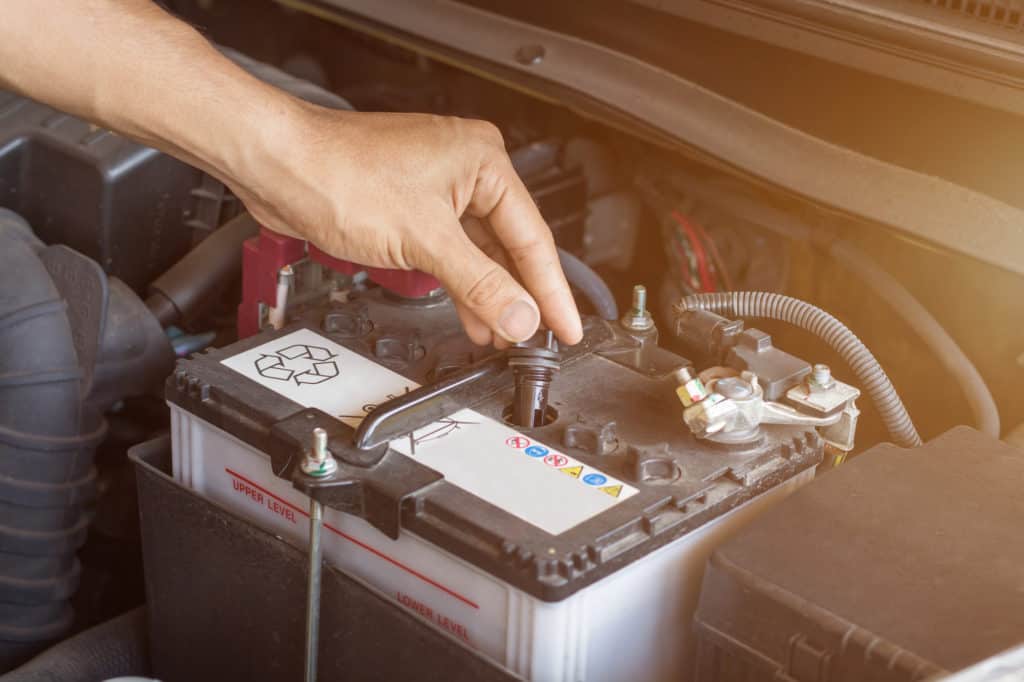 Golf cart batteries are likely to leak if you fill them with water before you charge the battery if you ever notice the level is a little too low.
This mistake is not uncommon because many people don't realize that this water will heat up as your battery charges and could cause damage.
That's because it hasn't fully mixed well with your acid and may expand more than it would otherwise when charging.
It may also occur if you add too much water to your battery, which could cause damage by creating more expansion than the battery can handle.
Instead of making this mistake, you should fill your batteries after they are fully charged to avoid expansion that may damage the exterior of your battery.
Doing so will help to prevent more serious damage issues and keep your battery from leaking acid unexpectedly.
4. Extremely Cold Weather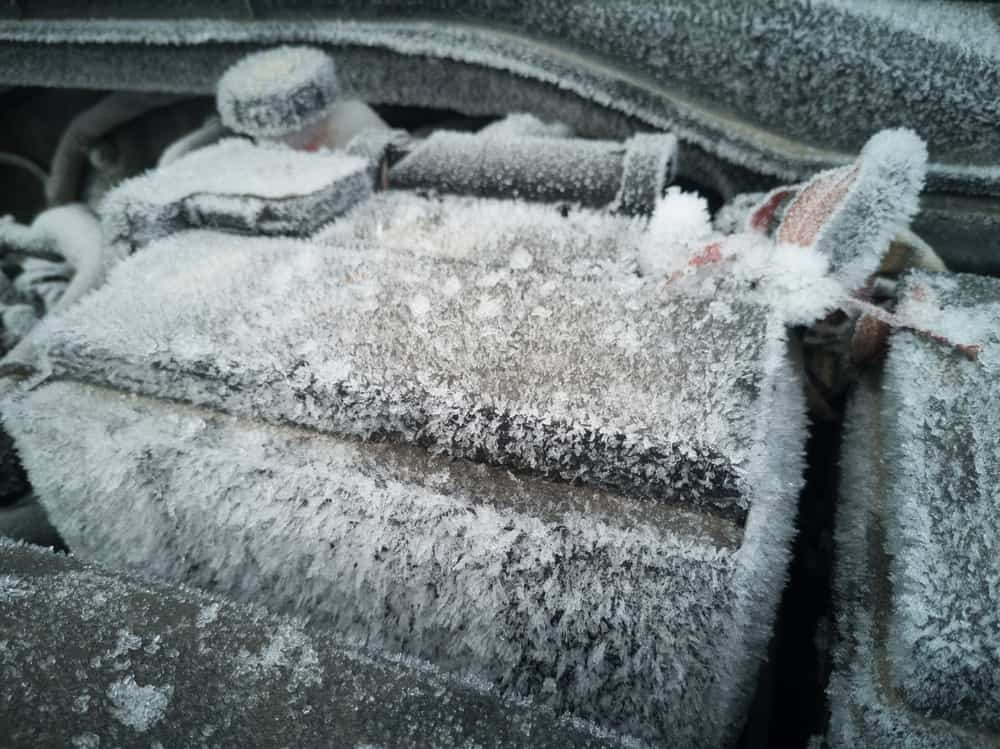 Although not many people are likely to take their golf cart out when the temperatures are freezing or below zero, there are some who may enjoy winter riding.
Unfortunately, the golf cart's battery is likely to experience some damage if the water mixed with the acid ends up expanding due to the cold.
When this happens, these cracks may cause acid leaks throughout the battery surface which could cause damage to other areas of the golf cart.
This problem is probably more common when storing a golf cart, though, as many people may not take a look at their cart through the winter season.
As a result, it is important to know how to avoid this issue and to take a few steps that will minimize the potential for damage.
Here are just a few ways that you can prevent cold weather from causing acid leaks throughout your golf cart battery:
Pay attention to the weather, particularly when unexpected cold situations may develop.
Remove your battery if you are expecting cold weather to strike your area any time soon.
Place your battery in a temperature-controlled room and keep it at room temperature.
Check the battery occasionally to look for symptoms of expansion within the structure.
Decrease the amount of water in your battery while storing it to avoid expansion damage.
Wrap your battery with a small blanket if you do have to run your golf cart in cold weather.
Heat the storage area for your golf cart if you do not want to remove the battery.
It is important to know that extreme heat may also cause damage to your golf cart battery that will cause serious acid leakage.
This problem is, in some ways, more likely to happen than extreme cold because most people will ride their golf cart during the summer.
However, this issue can still be a problem if you run your golf cart too long and cause the battery to heat up as well.
Try to limit your time in your cart when the temperature gets above 80 degrees Fahrenheit or so to prevent serious damage.
The higher the temperature, the more you may need to cut back on your time on your cart, paying attention to any heat gauge on your dash to ensure that you avoid serious battery damage.
5. Trying To Fill the Battery with More Acid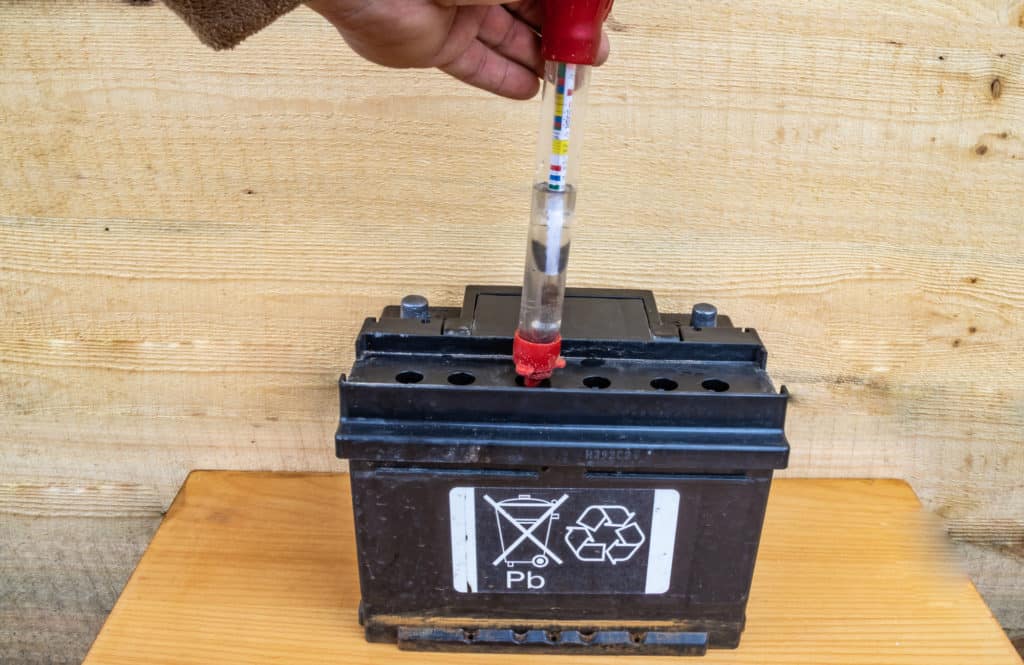 This problem is more of a maintenance mistake than a true concern with your battery, and it is something that many people have done—filling the battery with more acid.
In most cases, your golf cart battery is not going to need an acid refresher throughout its lifespan in the same way that it needs water.
That's because water will evaporate with time in a way that acid does not, meaning that the original acid in your battery is likely to stay strong and secure for many years.
If you do find that your battery is low on acid, do not pour any into your battery alongside your water because you're likely to damage the structure of the cell.
Also, never pour acid into your battery alongside water because this will likely only increase the risk of a serious leak occurring.
Instead, contact a golf cart professional who knows how to add acid to your battery to minimize your risk of damage.
They can either add this acid to get your battery back up to its normal level or install a new battery, whatever option makes the most sense for your cart's needs.
6. Damage To The Battery Exterior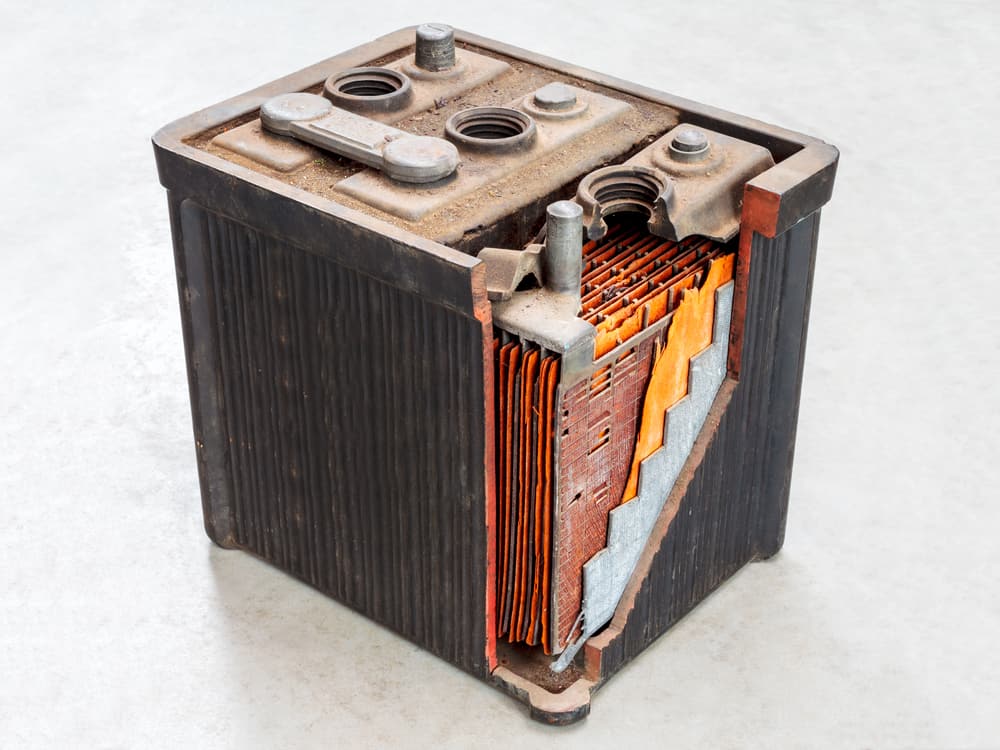 Lastly, it is important to know how to spot the various types of damage that may occur throughout the structure of the battery's exterior by paying to problems that impact its design, such as the following:
Cracks in the surface around connecting areas, such as screws or wire connectors.
Holes caused by aging that may expand slightly as your battery deteriorates.
Wear-and-tear at the corners where the sides of the battery meet.
Damage at the bottom of the battery that may not be immediately visible.
If your golf cart battery's exterior is severely damaged, it may be important to contact a professional to purchase a replacement, as repairing this problem is usually not an option.