Golf cart batteries are what power your electric golf cart.
If you don't take care of your batteries, you will end up replacing them much sooner than you would like.
Some golf cart owners don't know that they should be cleaning their golf cart batteries quite often.
In this guide, we will give you step by step instructions on how to clean your golf cart batteries.
How To Clean Golf Cart Batteries
Step 1: Prepare An Area
When you clean your golf cart batteries, you want to make sure that you are working in an area where you are not worried about damage.
When you start this process, water, corroded metal, and battery acid can run out the bottom of your golf cart.
If you do this process in your garage, make sure to protect your garage floor.
If you plan on doing this outside, you may not want to do it on your grass.
Sometimes the cleaners and runoff will kill your grass.
Step 2: Prepare The Golf Cart
You will want to prop open the seat on your golf cart to expose your batteries.
Make sure you choose something stable to prop the seat up.
Choose a brace or prop that won't fall on you while you are doing the work.
Some carts come with a bracket or device that will hold the seat up to allow you the proper access to the golf cart batteries.
You do not need to disconnect any of the batteries in your golf cart.
You will want to make sure you are not charging your cart.
Turn your golf cart off and remove the key as well.
Do not clean the batteries after you have just gone for a long ride.
The batteries could be hot and more difficult to work with.
Step 3: Supplies Needed To Clean Golf Cart Batteries
Once your space and your cart are setup, then you will want to grab some baking soda, warm water, and your hose.
Take some warm water and baking soda and mix them.
You will also need a toothbrush.
If you prefer to use a golf cart battery cleaner, you can. (We have listed the best battery cleaners further down in the article)
This would replace your baking soda and water solution.
The cleaner will likely cost a bit more than the baking soda solution, and it won't clean as many batteries.
Depending on how bad the batteries get, you may need a can of the cleaner each time you need to clean the batteries.
If this is effective and works for you, it will be worth it, but if not, do not worry if you need to go with the baking soda solution.
Step 4: Rinse and Clean The Area
The first step is to put your hose on a light setting and spray off all the batteries and the battery compartment.
You will likely see some corrosion and battery acid, but at this point, you just want a light mist to spray everything clean.
Step 5: Clean Terminals
Next, you will take that baking soda and warm water mixture and pour it on all the terminals.
The amount of baking soda you use will vary.
You do not want a paste, but you do not want this to be a pure liquid either.
Somewhere in between is perfect and will help when it comes to clean up as well.
After putting your solution on the terminals, let them sit for about five minutes.
Step 6: Scrub
Take the toothbrush and scrub each of the terminals.
You can dip your toothbrush into the baking soda/water mixture if it needs a bit more solution to release the corrosion.
You should scrub with moderate force.
Step 7: Rinse
Once you feel like you have removed most of the corrosion, you are going to rinse the batteries.
You can do this with a hose, and you do not need to use a large amount of water or high power.
Step 8: Inspect & Protect
When your batteries are all clean and dry, you are going to want to inspect them.
Look for any cracks in the battery casing, also see if you need to tighten down any of the connections.
Inspect the terminals to make sure they are all in good condition and attached to the battery.
Once you have inspected everything, you can put on a battery terminal protector.
This is almost like a gel that will be placed on all the terminals.
The terminal protector will help to decrease corrosion long term and keep the battery functioning at a higher level.
If you ever feel like you get intermittent performance from your batteries, this is a great way to fix it.
What Is The Best Way To Clean Corroded Battery Terminals?
"
03/01/2010
" (
CC BY-NC-ND 2.0
) by
G A R N E T
The best way to clean corroded battery terminals is to take a bit of baking soda and mix it with warm water.
Take that mixture and pour it over the terminal.
Let the terminal sit for a few minutes, and you will notice quite a bit of bubbling going on.
Once it seems to settle, take an old toothbrush and scrub the battery terminal.
It should come completely clean.
If you still notice corrosion or battery acid buildup, you can pour on more of the solution.
You will want to use a soft toothbrush because scrubbing a terminal too hard could result in it starting to separate from the battery.
This is rare and will probably only happen if the battery is in horrible shape, but it is something to consider and be aware of.
What Is The Best Golf Cart Battery Cleaner?
Here are a few golf cart battery cleaners that could work instead of our baking soda water formula.
Some of these will offer more benefits than the baking soda and water, and others will work precisely the same way.
1. CRC 05023 Battery Cleaner with Acid Indicator – 11 Wt Oz
Key Features
Helps detect leaks
Spray on and rinse off
The CRC Battery Cleaner with Acid Indicator will help you if you suspect your golf cart batteries could leak.
It will go to the source of the leak and neutralize the acid almost immediately.
You can spray on the battery cleaner and then wipe off with water.
We love that you can direct the spray directly at the area that you need, and you don't have to dump something all over the battery.
Keeping your batteries clean will allow for maximum current flow.
Pros
Fair price
Neutralizes acid
Spray directly in the area needed
Cons
About as effective as a baking soda/water mixture
2. NOCO Remove E403S 14 Oz Battery Terminal Cleaner Spray
NOCO Remove E403S 14 Oz Battery Terminal Cleaner Spray
Instantly neutralizes, dissolves, and removes battery corrosion.
Restores a battery to maximum current flow.
Reduces a batteries potential for voltage leakage.
Easy to use - simply spray-on and rinse-off.
Perfect for battery terminals, cables, hold-downs, and more.
Key Features
Neutralizes acid
Dissolves and removes corrosion
Easy to use
Another option for a golf cart battery cleaner is the NOCO Remove.
This is another spray-on formula that will instantly neutralize and dissolve any corrosion.
If you feel as though your batteries are not performing as they should because of corrosion, this formula will help.
You can direct your spray right to the terminals that need cleaning and then rinse when finished.
Luckily this formula is also effective on cables and hold-downs as well.
Pros
Easy to spray on
Instantly neutralizes acid
Helps increase current flow
Cons
Still need to scrub the battery
3. Throttle Muscle TM2548 – Battery Cleaner with Acid Indicator
Key Features
Sold as a package set
Cleans and protects
The Throttle Muscle Battery Cleaner is sold with a Battery Protector as well.
After you get your batteries cleaned up, you can protect them and help the corrosion from happening again so soon.
This is a spray-on product that goes on with ease.
It will find the battery acid and the corrosion and quickly get rid of it.
Once the batteries are clean, you can cover the terminal and connections with the protector.
The protector is not going to keep the battery from having any corrosion, but it will certainly help.
Even with batteries that have a protective layer on them, it is essential to clean from time to time.
Pros
Package set with all you need to clean and protect
Sprays on easily
Acid indicator
Cons
Probably only takes care of about five batteries
Are Corrosion and Battery Acid The Same Thing?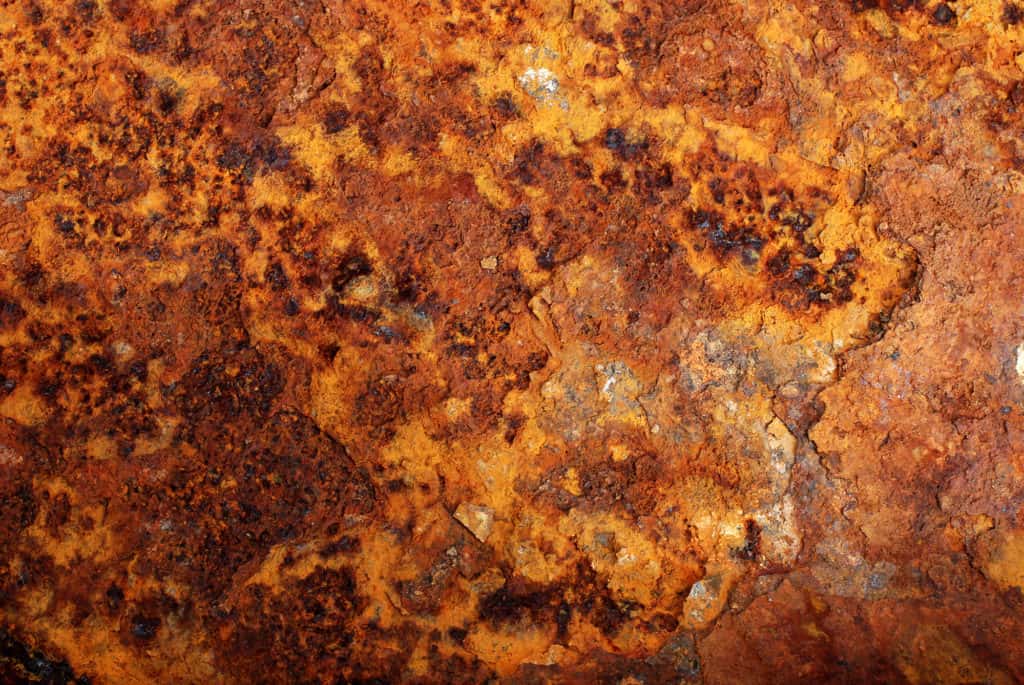 Battery acid is located inside a battery.
As long as the battery acid stays inside the battery, you should not have any issues with your battery.
Once the acid starts to leak, that is where you will notice problems starting.
Corrosion is the gradual destruction of metal.
If you let the corrosion sit, it will continue to expand, and it will start destroying other areas of your golf cart.
Corrosion and acid need to be cleaned up right away.
By inspecting your golf cart batteries monthly or more often, you can avoid a constant buildup of corrosion and acid.
Can You Power Wash Golf Cart Batteries?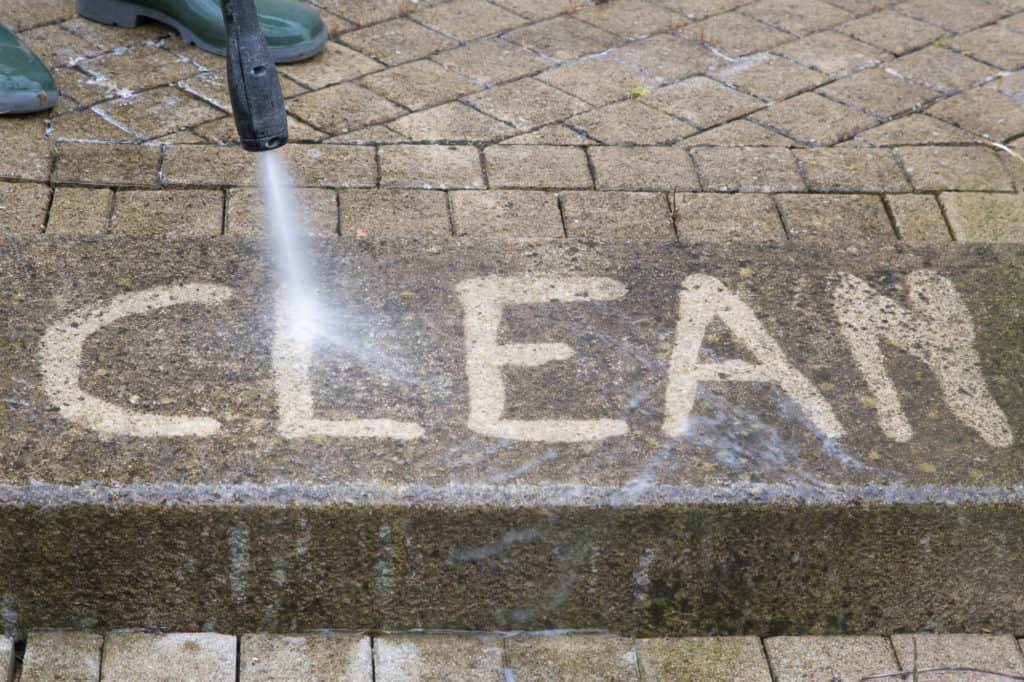 No, you should not power wash golf cart batteries.
There are a few reasons for this.
For starters, the spay is way too hard for the battery to handle.
There are sensitive cables, terminals, and casing on a battery.
It is not worth puncturing a hole in the casing of your battery just to clean it with the power washer.
Also, a power washer is just not necessary.
By the time you get your power washer setup and ready to use, you could have already completed the project of cleaning the batteries.
A power washer does not have the right tips or tools to work with the batteries in a golf cart, which are not that big.
Even though the tops of the batteries may seem like a giant mess, as soon as you use something like baking soda and water, the corrosion and acid buildup will go away.
After it is gone, you can simply rinse with water and save yourself a great deal of time.
Lastly, spraying into the battery compartment with a high power spray could cause pieces of built-up corrosion and acid to fly everywhere.
Not only is this going to be a mess to clean up, but it is also dangerous to be around.
Save yourself the trouble, use a little spray bottle or a gentle spray from a hose to take care of your golf cart batteries.
How Do You Clean Battery Acid Off Of A Golf Cart?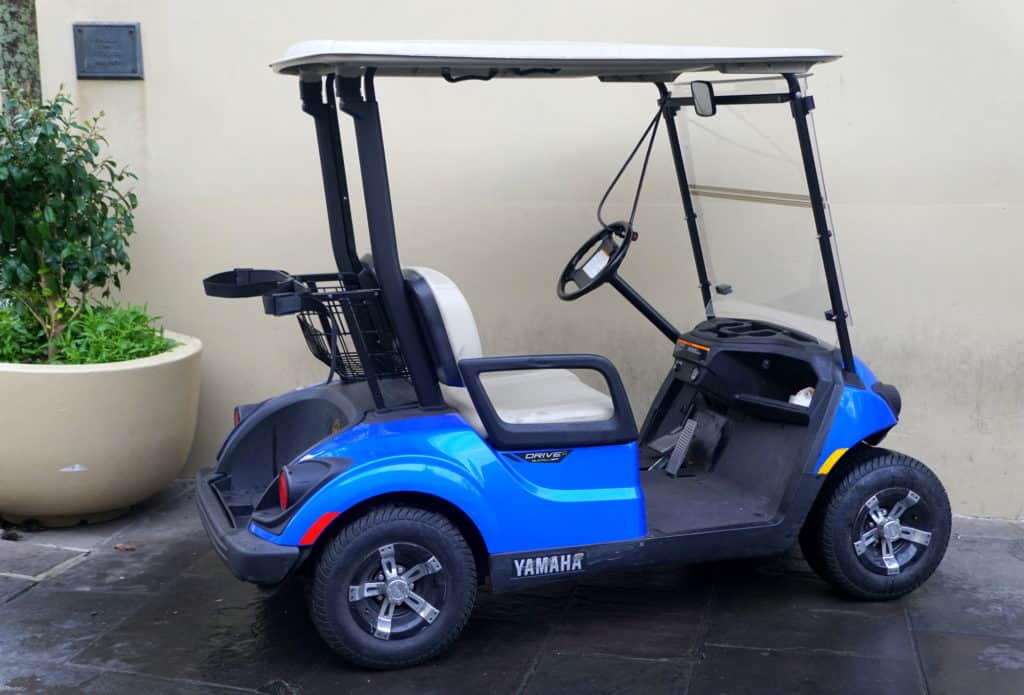 If you have battery acid on the golf cart, chances are one of your batteries is broken or corroded.
This is a significant problem that needs to be fixed as soon as possible.
The first thing to remember when cleaning up battery acid is that the acid itself can be very harmful to humans.
You will want to make sure you have some personal protective equipment to wear before starting this process.
Mostly you want to protect your eyes and your hands.
Even if the battery acid is dry, it can still be harmful.
The first thing you need to do is to neutralize the acid.
You will need a mix of baking soda and water to neutralize the acid.
Once it is neutralized, then you can start wiping up the mess.
You will still want to be careful not to get the acid on yourself, clothing, etc.
Make sure that all areas where the acid was located on the golf cart are thoroughly cleaned.
If battery acid is left on the cart, it could start to deteriorate some parts of your golf cart.
Does Coke Get Rid Of Battery Corrosion?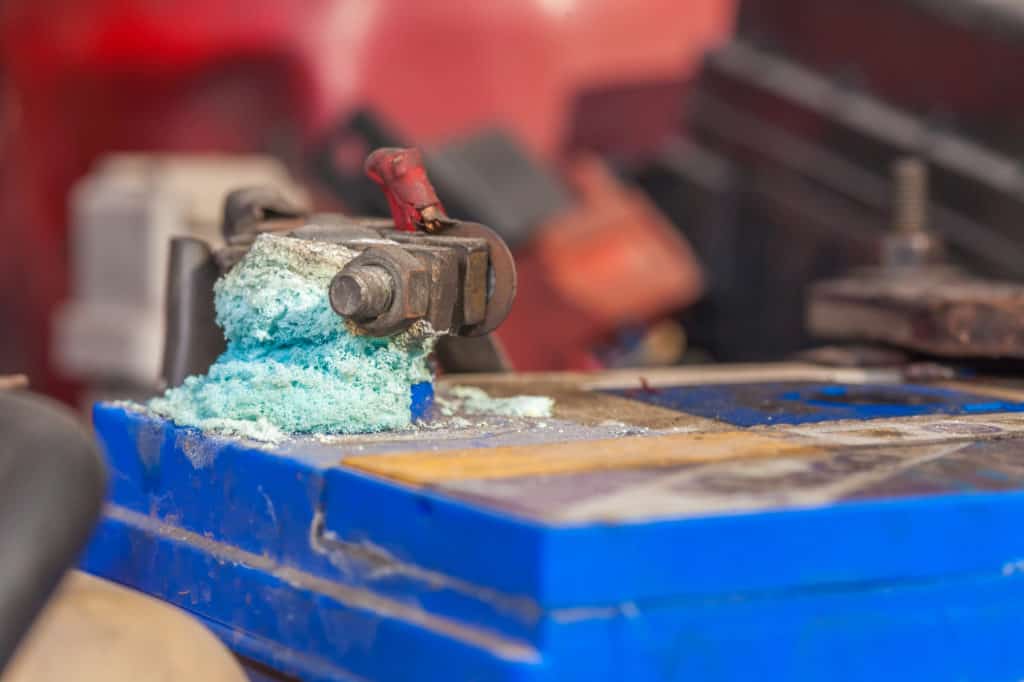 Yes, believe it or not, the drink that you probably consume quite frequently can remove battery corrosion.
Although this is undoubtedly an option to use on your batteries, it is not the best option.
The problem with Coke is that if you don't wash it off entirely afterward, it will leave a sticky mess.
Also, the area under the cart will be left as a sticky mess.
This is a neat experiment to test, but it's not necessary to use on your batteries.
A baking soda and water solution or even a little vinegar will undoubtedly do a cleaner job than Coke.
Can I Use Vinegar To Clean Battery Terminals?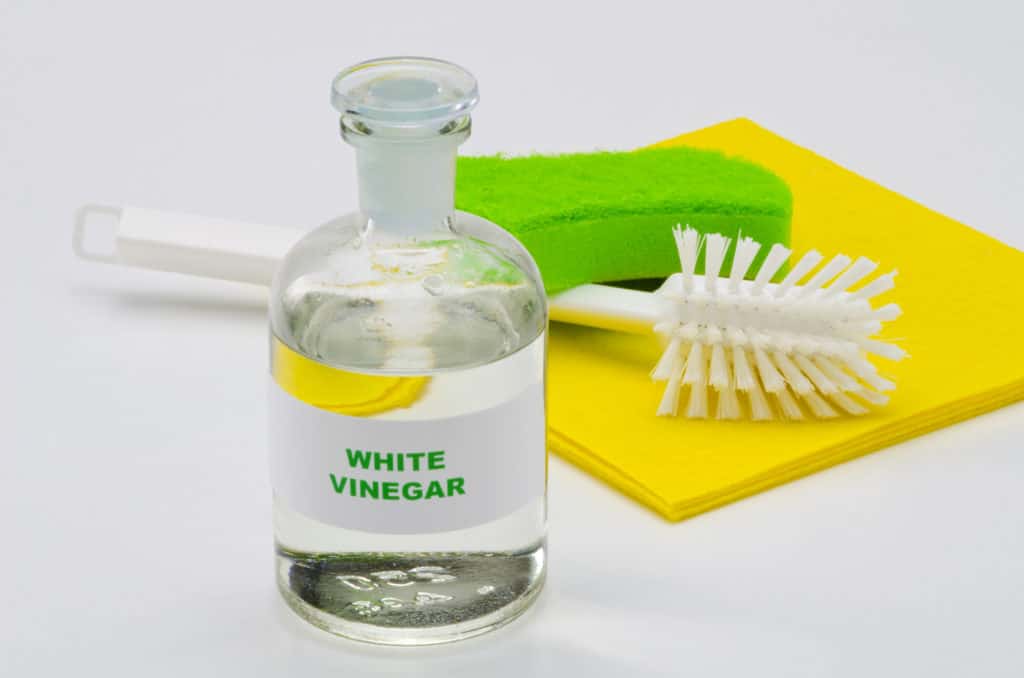 You can use vinegar to clean battery terminals, but most say that it is not necessary and not as effective as baking soda and water.
A combination of baking soda and water seems to work best.
You can also clean with just some water if necessary, but it will be much harder to remove corrosion.
How long does it take for baking soda to neutralize battery acid?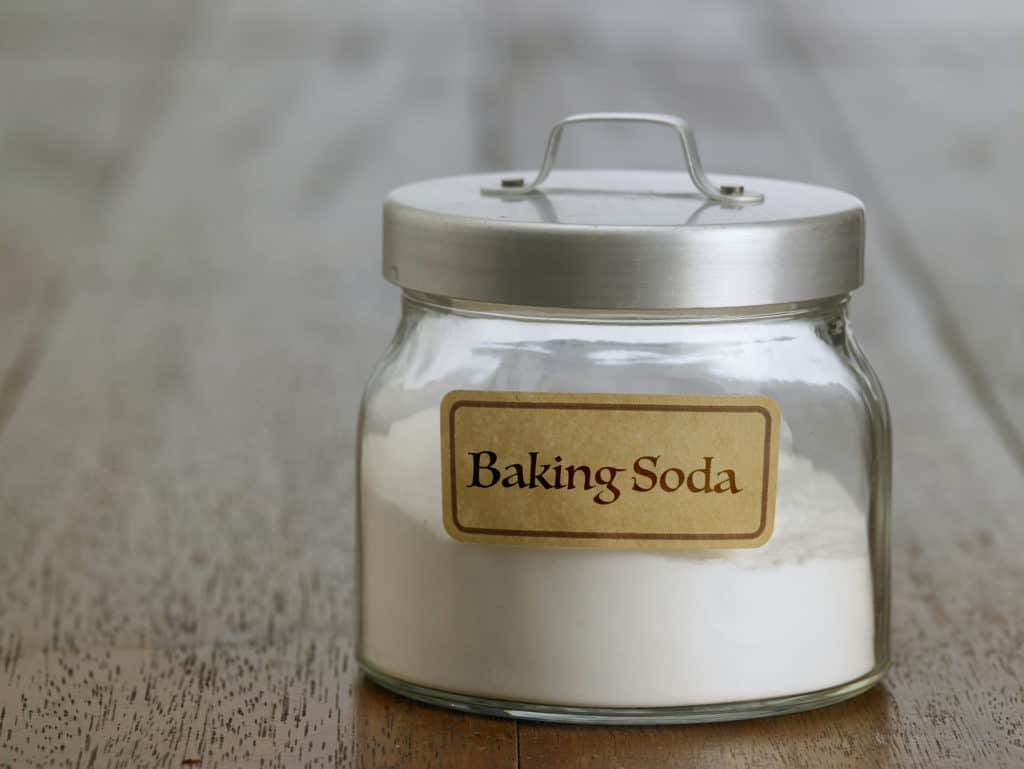 It will take several minutes for baking soda to neutralize battery acid.
You will have to let it sit on the acid and then scrub it with a toothbrush.
While it is sitting is when the baking soda is working to neutralize the acid.
When you scrub the area, you are just removing the acid and other buildups.
Can you spray golf cart batteries with water?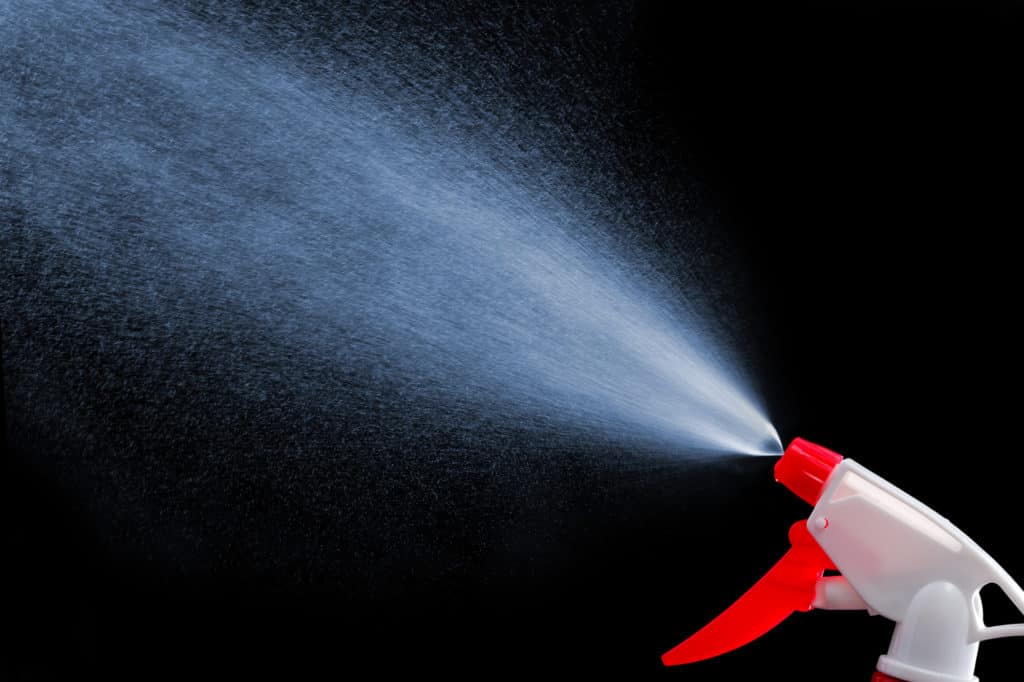 You can spray your golf cart batteries with water, but you must consider how much water.
There is no reason to be taking the hose and hitting the batteries with full blast.
As we explained in our step by step guide, water alone may not take the corrosion off the batteries.
Since this is the case, it does not pay to stand there and just spray them down.
Use a small spray bottle or our mixture to get the batteries clean.
Do Some Batteries Corrode More Than Others?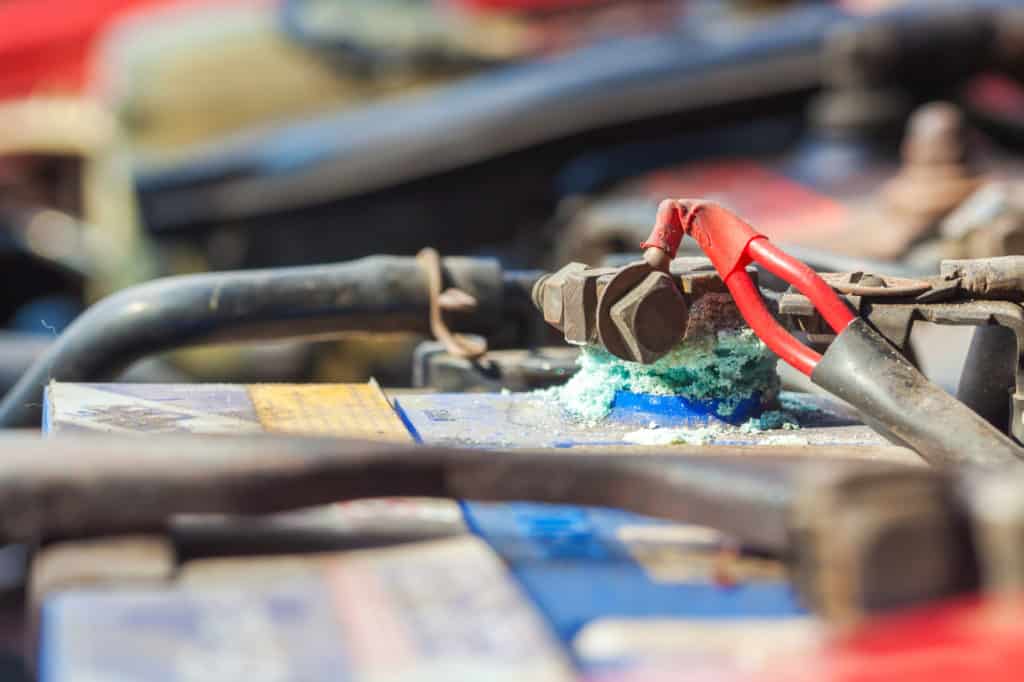 Some golf batteries are better than others.
When you purchase a golf cart battery, it does pay to purchase a quality battery.
You will have less long term issues with corrosion and acid leaks as well.
Even though the quality of the battery is essential, maintenance may be more critical.
Golf cart owners that only pay attention to their golf cart when it has an issue are making a mistake.
If you stay on top of the battery cleaning and make it a part of your routine maintenance, you will significantly prolong the life of your batteries.
You should be checking the water level in your batteries at least once a month.
When you check that level, it makes sense to clean the batteries as well.
Conclusion
Cleaning golf cart batteries is not difficult.
Making sure that you inspect your batteries and clean them regularly is the most crucial part.
Choose an excellent cleaner and a protector so that your cleaning procedure will be much easier each time.