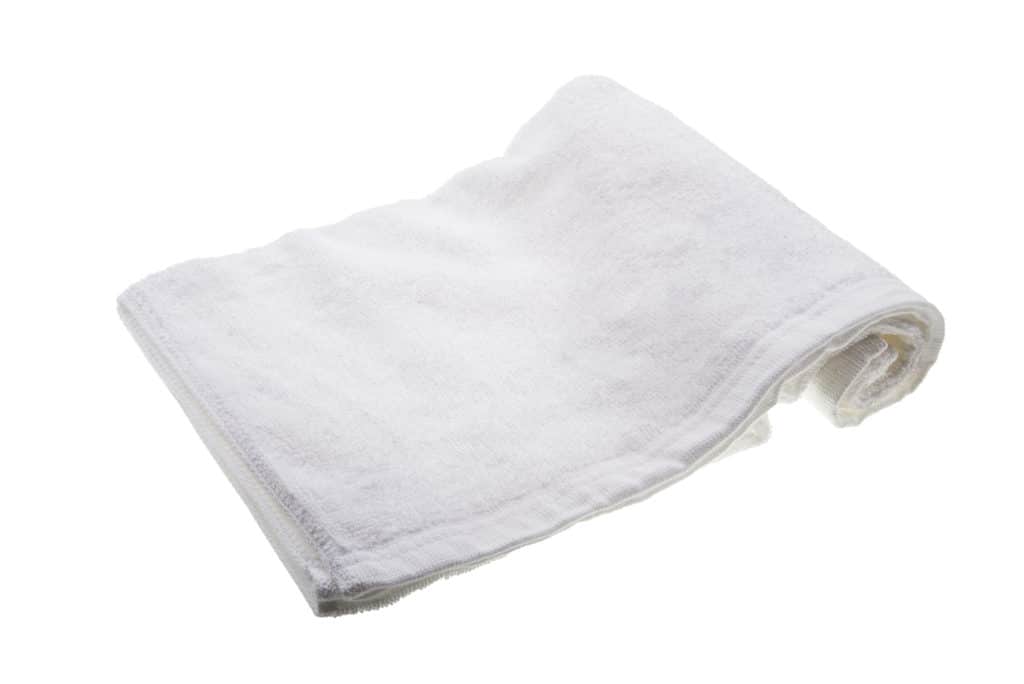 A golf towel is a golf accessory that can be tough to go without.
Whether it's wiping your clubs, your hands, or even your face, without the towel some golfers would be lost.
However, not all golf towels are created equal.
We are here to give you our picks for the best golf towels on the market.
You will find options for all player types and golf bag types on our list.

Top 10 Best Golf Towels

1. Greens Towel (6 Pack, Pure White, Microfiber, 16″ X 16″ with Carabiner Clip. The Convenient Golf Towel
Key Features
Sold in pack of six
Available in many colors
Soft and convenient
At the top of our list is the microfiber greens towel six-pack.
This is an excellent value for a six-pack of towels.
The Greens Towel is a bit small compared to some other options, but it makes it an excellent choice to clip to your belt loop.
Since this towel has such an easy to use club, it becomes quite portable.
We see this as a great option to bring with you up to a tee box or onto the green.
You do not need to leave it strapped on your golf bag.
Since this is a microfiber design, it works on golf clubs, but you can also use it to clean your sunglasses without worrying about a scratch.
This towel does not have the traditional brass ring around the clip area so that it won't discolor your towel in any way.
Speaking of colors, you can purchase the Greens Towel in eight different colors.
If you walk and carry your bag, often you may like how lightweight this towel will be.
The six-pack package is excellent for a rainy day as you can keep a few dry towels in your bag should you need them.
Pros
Sold in a pack of six
Lots of color options
Very fair price
Convenient carabineer clip
Cons
2. Uther Golf Towel – CART – 20+ Original Designs
Key Features
Unique patterns
Fast drying
15 x 24-inch design
If you like to be the golfer that stands out, this is the golf towel for you.
The Uther towel has some patterns and designs that you will not see featured on any other golf towel.
In addition to looking great, this is also a high performing towel as well.
The Uther is made with moisture-wicking material, and it is a very soft microfiber design.
This towel is going to be three times more absorbent than cotton.
In addition to being more absorbent, it also is very durable.
You should have no issues getting several years of use out of the Uther Golf Towel.
The easy to use carabiner clip makes it easy for you to remove this towel and bring it with you when headed to the green.
You can clip it on your belt buckle so that it is not left on the ground or dragging in the grass.
Since the Uther towels are made with a waffle design, they are very good at cleaning dirt out of your clubs.
If you have a rangefinder with a lens that needs a quick wipe, this towel will be soft enough to do so.
The Uther towels are a bit more money than some of the competitors, but for the quality of the design and longevity, they are still a good value.
Pros
Nice patterns
Easy to use clip
Safe microfiber material
Cons
A bit more expensive than other towels
3. Center Cut Microfiber Golf Towel 16″x40″ – Lightweight, Large Size
Key Features
16 x 40-inch design
Center cut hole
Microfiber fabric
The Center Cut Microfiber Golf Towel is going to be the golf purist's dream.
This towel is perfect for the real player who needs a large towel at all times.
If you need to keep clubs clean and hands dry, you will have plenty of room to do so with this extra-large design.
If you want to bring this towel with you when you walk away from your cart or bag, it will not have a clip on it.
Some players like this feature as they don't want to hang the towel on their belt but instead carry or put it under the shoulder.
Like some of the other towels we have reviewed, this Center Cut also features the waffle weave material to help with cleaning.
It is incredibly absorbent and, when dry, only weighs six ounces.
Even for its' large size, you will not feel like you are adding a heavy, bulky towel to your bag.
The towel is a dark navy/black color, which does a great job of keeping it looking good for years to come.
This is a comfortable towel to throw in the wash as there are no metal grommets on it that connect to anything.
The stitching is durable and will hold up to repeated use.
Pros
Perfect size
Easy to drape over the golf bag
Dark color to keep cleaner
Cons
Does not have a carrying clip
4. Golf Towel Set 2pc/Carabiner 2pc/Pocket Brush/Ball Marker
Key Features
Two convenient size towels
Easy clip to hang to bag
Microfiber design
We love this golf towel set because it provides such great value.
If you like a smaller towel, you will get a 22 x 10-inch microfiber option.
If you like the larger size towel, you get a 33 x 16-inch microfiber towel as well.
Why this is such a nice feature is that you can leave one towel strapped on your bag and take one to the putting green with you.
Both towels come with a metal carabiner that makes it very easy to attach to the bag.
In addition to the towels, you also get a pocket golf club brush and groove cleaner.
If you are a fanatic about keeping your golf clubs clean, this option will certainly help.
For the price of this towel set, you get quite a bit.
The towels are made of good quality material, and the stitching seems durable.
Pros
Easy to attach to bag
Comes with two good size towels
Keep one on your bag and bring one with you
Cons
Lighter in color will show dirt
5. Mile High Life Trifold Golf Towel
Key Features
Folds small for storage
Aluminum Clip
Lots of color choices
The Mile High Life Trifold Golf Towel comes in a variety of colors and will look great on your golf bag.
This is yet again, a microfiber design.
If you have not yet caught onto that trend, most golf towels are a microfiber material.
The microfiber seems to hold up much better to the continued use and exposure to dirt and mud.
The natural patterns on the microfiber also do a great job of cleaning the grooves of your clubs.
Even when you have to clean sand, dirt, and small particles from the golf club, it doesn't tend to rip the towel either.
The unique thing about the Mile High Towel is the tri-fold design.
This towel folds up quite small even though when unraveled, it is 16 x 21.
It is about standard size for a golf towel.
However, when you are done with your round, this simple tri-fold design makes it very easy to put the towel back in your bag if needed.
The Mile Hile towel is very easy to wash even though it has the metal grommet.
Just don't wash the carabineer with the towel, and everything should be fine.
Pros
Available in several colors
Waffle pattern helps to keep clubs clean
Cons
A bit small
Does not stay folded will unravel on the bag
6. Team Golf NCAA Embroidered Golf Towel
Key Features
Available with custom team logos
16 X 22 Inches
Longer and narrow towel
The Team Golf NCAA Embroidered golf towels are a great way to support your favorite college teams.
Whether you played college golf, college football, or didn't even go to your favorite college, this is a great way to support a team you love.
This is a 100% cotton towel.
The material is easy to care for and should hold up over time.
However, it won't have some of the same benefits that the microfiber towels have.
The cotton towels seem to take quite a bit longer to dry and don't clean grooves quite as well.
The nice thing about this towel is the ability to customize the college that you would like to support.
Not only does it come with a logo, but there will also be some additional threading on the towel to make things stand out.
The cotton towel does have a checkered design that is intended to help scrub the golf clubs a bit more.
This does seem to work quite well for this particular towel.
When purchasing the Team Golf Towel, you also get the swivel clip that will help you remove and attach to your golf bag.
If you have been looking for an excellent gift for the golfer who has everything, this towel could do the trick.
Pros
Customize with a favorite team
Bold colors that stand out
Nice swivel clip that is easy to use
Cons
Cotton towel not as high performing as a microfiber towel
7. Graphic Design Cooling Towel for Sports
No products found.
Key Features
Can be used for other sports
Cooling ability
Long
Although this Graphic Design cooling towel is not explicitly made for golf, it works amazingly well as a golf towel.
You will notice that this towel is offered in several very cool patterns, and it will undoubtedly stand out in your bag.
You can chill the Graphic Design cooling towel by soaking it, ringing it out, and snapping it.
The towel will get about 30 degrees lower within just a few seconds and stay that way for several hours.
If you plan on playing golf in the very hot weather, this could be a perfect towel for you.
Not all golf towels need to be used to clean clubs; some can be used to keep a player comfortable on the golf course.
The towel itself if 47 inches long, and it has a 50 upf protection.
Many golfers are putting these on their necks on a summer day.
It helps to cool down and protect from the sun as well.
The graphic patterns on these towels will likely appeal to the younger golfer that looks at golf like an athletic sport.
Even when this towel is wet, it still won't weigh your golf bag down.
If you want a unique and versatile solution to put on your golf bag, this is a great choice.
Pros
The towel will chill instantly
Long
Several patterns available
Cons
Does not have a hook
May not appeal to all golfers
8. Titleist Golf Players Towel
Key Features
Full loop terry
Will appeal to lower handicap player
Good size
The Titleist Golf Players Towel is not up higher on our list simply because it is quite expensive.
We are not saying that this towel is not worth the money; it's just more than some want to spend on a golf towel.
However, you will get a very high-quality full loop terry golf towel.
The towel is branded with the Titleist logo across the front.
It is a large towel measuring 16 x 32 inches.
Perfect for carrying around with you or leaving draped over the golf bag.
As most low handicap golfers will tell you, the towel will serve many purposes.
The better you get, the more critical it is to keep your club clean and your hands dry.
The Titleist 100 percent cotton towel is made with the player in mind and does a great job of absorbing water.
This towel does not have a clip, so you won't have to worry about throwing it in the wash after a round of golf.
Pros
Large size
Functions as an authentic towel not small rag
Titleist logo
Cons
Expensive
Some like microfiber better than cotton
9. Frogger Golf Wet and Dry Amphibian Golf Towel
Key Features
Unique wet and dry design
Two towels in one
Secure attachment to the golf bag
The Frogger towel is unlike most other golf towels out there.
This towel functions as two different tools in one.
You can get the inner layer of the towel wet to clean your clubs and leave the outer layer dry.
The dry outer layer will help you keep your hands and your clubs dry.
Indeed, the same can be accomplished by choosing to keep one side of a large towel wet, yet this is still an impressive design.
The Frogger towel has a straightforward hookup and attachment to the golf bag.
Our favorite feature to the Frogger towel is how you can use it on a rainy day and let the inside of the towel keep your grips dry.
Pros
Two areas on the towel to keep wet or dry
Available in several colors
Cons
A bit expensive because of the unique design
10. Golf It Forward Black Magnetic Golf Towel
Key Features
Magnetic material sticks to club
Waffle pattern for cleaning
Great size
Last on our list is the golf it Forward Black Magnetic Golf Towel.
This is an exciting concept that will allow you to quickly pick up your golf towel without having to bend over.
The industrial strength magnet on the towel stick and clips to your clubs or your cart.
If you don't want to deal with your towel hanging on your bag and you want it on the cart, you can attach directly to the cart bar.
When you finish putting on a green, you can just put your club next to the towel, and it will pick it up for you.
In addition to this excellent magnet feature, the waffle pattern on this golf towel allows you to get a very good clean on your clubs.
The one thing that had us worried was how to wash this towel with a magnet inside it.
Luckily you can remove the magnet and throw it right in the wash.
Overall this is a smaller towel, but it's a great option to take to the putting green with you when you need it.
Pros
Magnetic clip
Easy to attach to a variety of surfaces
Can still be washed
Cons
Small in size
Only available in the one color
Hopefully, our list helps you find a golf towel that is perfect for your golf game.
Certainly, there are many choices when it comes to pricing and style.
The biggest thing to make sure of is that you are getting something that is the right size for you.