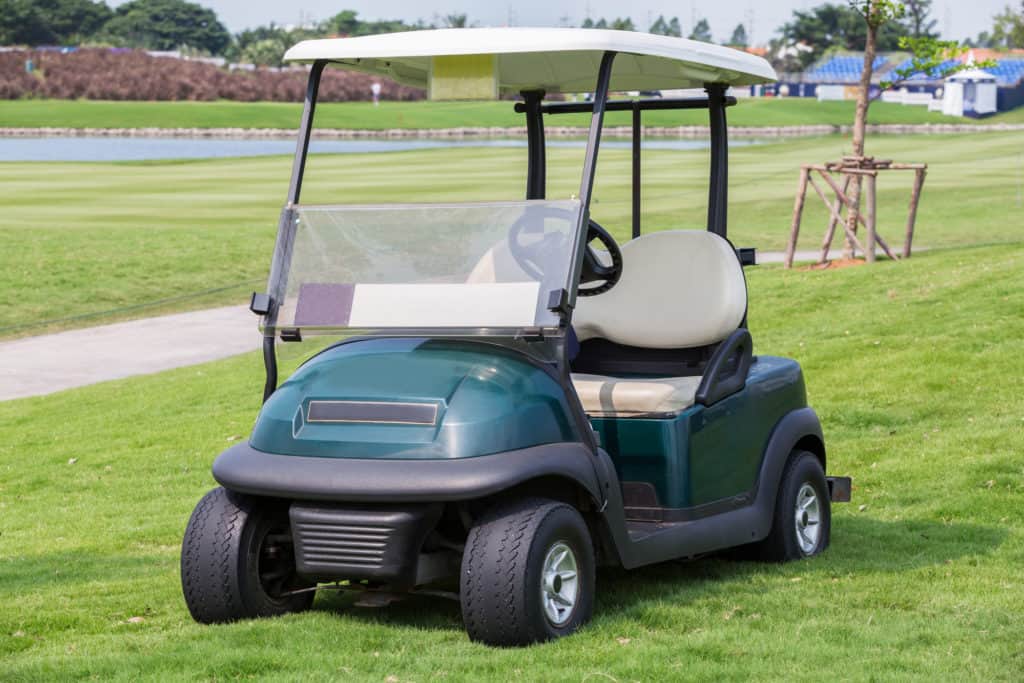 When you turn the key in your golf cart, you should hear a "click" that indicates it has started.
Unfortunately, power doesn't mean that your cart will move, as some issues may cause it to fail to operate.
Here are the most common problems that likely trigger this issue on your cart.
Golf Cart Clicks But Won't Move (Everything to Check)
Battery is Dead
Have you tested the battery strength?
Honestly, you should probably do this long before you replace anything in your cart.
That's because battery failure is the most common cause of golf cart operational issues.
The battery may be strong enough to "click" the starter but may not be enough to provide power for the rest of your travel.
Place your battery on a charger for an appropriate time and remove it.
Test its electrical level – did it hold the charge you'd placed on it?
If not, the battery is likely dead and must be replaced as soon as possible.
If the battery does hold a charge but your cart still doesn't move, you can then check other problems that may be affecting your cart, such as the tire pressure and the starter generator.
If you find that your new battery still doesn't get your cart moving after it clicks, you may want to check the contacts or wires to see if they are frayed.
These wires can end up getting quite worn down over time and typically require replacement at some point in your cart's life.
You should work with a professional on this step because wires and electrical work can be dangerous.
And if this doesn't help, you may have a solenoid issue affecting you.
Solenoid is Damaged
If your battery is charged but you still can't get your cart to move, check the solenoid for problems.
A solenoid typically has four posts on it that help it operate.
These include two small posts that attach to your cart battery and the larger terminals are designed to help distribute the electricity through the rest of the engine.
When it fails, your cart is going to go nowhere, in spite of the "click" you may hear.
Test your solenoid by carefully disconnecting the cables from the two large terminals and wrapping them in tape to prevent sparks.
Turn the key off and put the cart in neutral position and place a probe on each large terminal – you should get no reading from your voltmeter.
Turn the cart on, now, and put the cart in forward.
Step on the accelerator and measure the ohms – you should get at least 0-0.04 ohms.
Higher readings indicate serious faults with the solenoid.
What can you do in this situation?
We suggest contacting a professional to replace your solenoid right away.
Unfortunately, a failing solenoid cannot be repaired with other types of fixes because it typically stops working when total failure has occurred.
Therefore, it is essential to just get it replaced and to have a professional do it because replacement requires a careful balance of electrical equipment and wiring.
Starter Generator is Malfunctioning
The starter generator is an important part of any golf cart because it helps to keep it operating smoothly and helps it start without any difficulties.
However, if the starter generator is malfunctioning, there's a good chance that it may "click," as you would expect it to normally do, but not start.
And this may cause you to sit where you're at and have troubles getting your cart going properly.
As a result, it is important to replace this part if it is malfunctioning on you and making it impossible for your cart to operate.
You can typically tell if it is malfunctioning because your starter will click but your cart won't turn on.
As a result, you won't be able to move and may end up with some problems with your cart operation that can only be fixed by replacing the starter generator in the engine.
Can you do this type of repair on your own?
Typically, we suggest that most golf cart owners contact a professional to handle repair of this magnitude.
While you may have some skills working on a golf cart and may have replaced some items in the motor, the starter generator is one that cannot be worked on without real expert mechanical skill.
Tires are Too Low
Most cart owners probably don't realize how important it is to keep their tires at a proper pressure to prevent engine issues.
While they may keep their tires inflated to prevent issues with wear and tear on the tires, poorly-inflated tires can cause faster battery drains on many models.
That's because it will require more power to move the cart and can cause the battery to wear down more quickly.
And some models will struggle to move at all if the tires get too low in pressure.
As a result, you should make sure to check your tire pressure to ensure that they are at a proper level.
You usually need no more or less than 18-22 PSI for your golf cart tires.
Check your manual or the sidewall of the tire to get a feel for this level and keep it within this range to ensure that your cart can go when you want.
Should you inflate tires higher than the PSI indicated on the sidewall?
No because you're more likely to blow them if you do.
While higher tire pressure does result in a slightly faster speed and a lower battery drain, you are also likely to pop your tires if you hit any rough driving areas.
Therefore, you should always keep your tires within the 18-22 PSI range.
Other Mechanical Failures
Lastly, there are many other assorted mechanical failures that may occur from time to time.
These issues can be quite minor and easy to fix but others are more complex and hard to manage.
Understanding these elements can help ensure that you properly repair your cart.
As always, we suggest working with a professional to avoid complications with your repairs and maintenance.
For example, your charger may not be operating properly and may need to be replaced.
Check the socket into which the battery is plugged – you should be getting at least 120 volts.
If not, you may have tripped a circuit.
Reset the breaker and see how the charger works.
If the battery still doesn't get a charge, you need a new charger to replace this malfunctioning model.
However, there are also potential issues with the shifting elements in the cart that may cause it to fail.
For example, the F&R switch may be broken, which will make it impossible for the cart to go.
Inside of the cart, the gears and shifting apparatus may also be worn down and no longer operate smoothly.
Lastly, you may have a problem with the keyhole or the key that allow the engine to "click" but don't let it run.