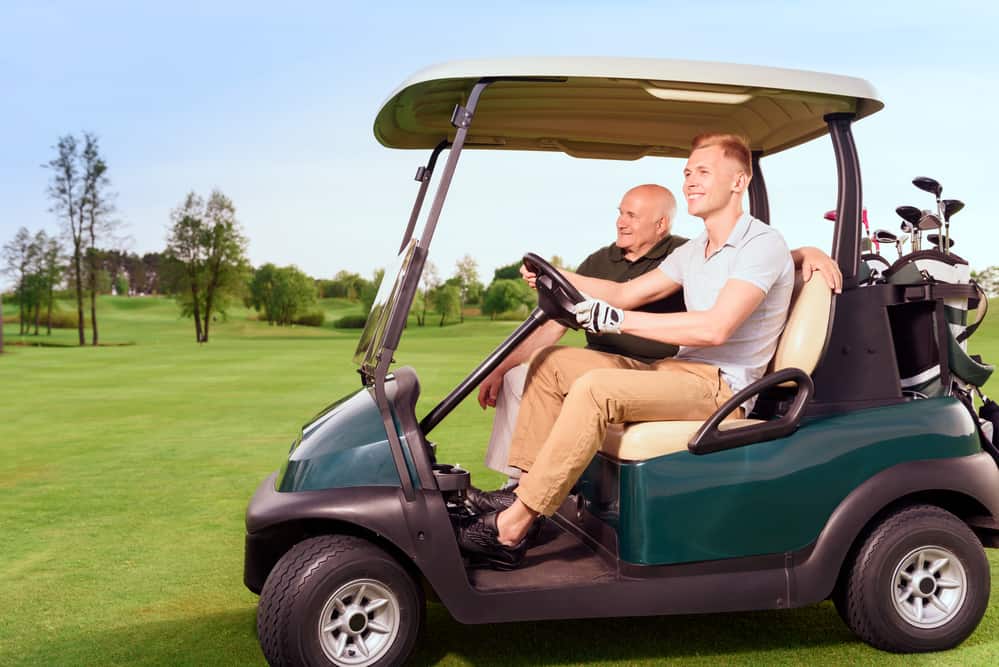 Your gas-powered golf cart is a powerful beast, and you love taking it just about anywhere you go on vacation or in your hometown.
However, maybe it keeps losing power for some reason, and you just aren't sure what to do about this frustrating issue.
Thankfully, there are several simple problems that you can easily spot as a cart owner and fix with minimal concern.

Gas Golf Cart Keeps Losing Power (Causes, Fixes)
10. Broken Speed Magnet
The speed magnet is an important part of your golf cart that helps to manage your operational speeds and minimize problems with how well your cart runs.
Typically, this part rarely suffers from many issues, which is one reason it is so low on this list of power issues.
However, it can still experience some troubles that make it necessary to understand how to replace it on your golf cart.
When it does malfunction, your cart won't realize that it needs much power and will end up failing, so make sure you replace this part by following these steps:
Identify the speed sensor on your cart (usually a small and compact black component).
Find the speed magnet on the sensor to see if it is hanging loose.
Replace the connecting screws if they are loose and leaving your magnet swinging.
Take off the magnet if it is broken and needs to be replaced.
Order a replacement from your cart manufacturer to minimize damage risks.
While you are replacing your speed magnet, you may want to consider adding a high-speed option to help your cart run faster.
The magnet will dictate your top speed, and adding a new one with a higher potential for better speeds will enhance your capabilities.
Make sure that you examine the interior of your engine fully and find a unique way of adding the magnet that increases your speed and provides you with the power that you need.
9. Speed Sensor Failure
Sometimes, the magnet on your speed sensor will be just fine, but the rest of your sensor may be suffering from failure.
Wear and tear issues can quickly run down your sensor and cause power issues by not sending the proper signals to your cart.
This problem is lower on our list because it isn't as common in gas carts as it is on electric ones and is also fairly easy to fix.
Take the steps listed below to not only assess speed sensor problems but to replace the sensor quickly and efficiently on your cart:
Find the screws or bolts holding your sensor together.
Test these connectors to gauge their proper fit.
Use an appropriate wrench to remove the connectors.
Place these connectors to the side.
Disconnect wires or other elements from your sensor.
Remove the sensor and put it to the side.
Place your new speed sensor in its place and reconnect the bolts and wires.
These simple steps should make it quite easy to remove your speed sensor and replace it with a new option that will ensure you get power.
Many times, this step will help out your cart and get it running smoothly again, but remember, it's low on our list because it doesn't happen as regularly.
As a result, you're likely to move on to other things that need to be carefully repaired to keep your cart running, such as loose wires and belts.
8. Frayed Or Loose Wires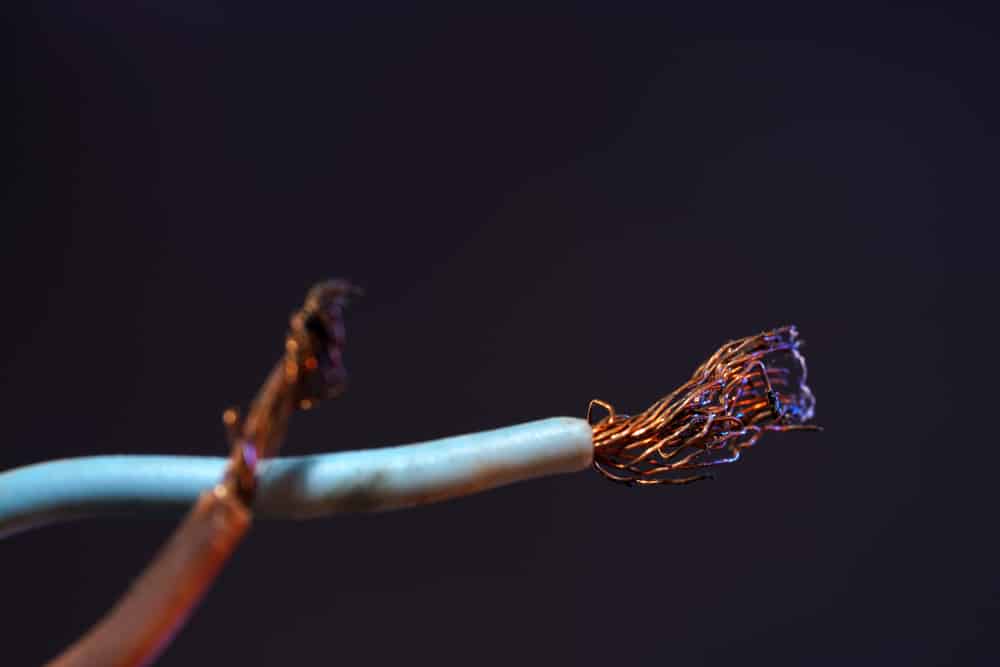 Another fairly easy fix for your golf cart losing power, spotting frayed or loose wires is a critical way of ensuring that your cart is operating smoothly and efficiently.
Over time, your wires may work themselves loose from their connectors or end up with damaged connectors, frayed with common corrosion issues.
However, there is also a chance that your wires may end up broken or frayed, leading to sparks and poor electrical conduction.
As a result, it is important to follow the steps below to assess this problem and to fix it before it becomes a more serious concern:
Open up your cart engine and identify all the wires.
Use your wiring schematic to trace each wire to its logical source.
Tighten all the connections to bridge the connections better.
Inspect each wire for frays or any other problems.
Look for any problems with the wire connection spots.
Replace wires and wire connectors to minimize these issues.
If you spot any loose component wires built into parts (such as wiring inside of the engine that is frayed and soldered to the part), you may need to replace those components.
You may also need to reach out to a professional repair team who can help to fix this concern for you to ensure that things go smoothly.
Yes, it will cost a little bit more money to have someone help you, but it will give you the repair benefit that you need for what could otherwise be a delicate situation.
7. Loose Belts On Your Motor
A gas-powered golf cart typically has a series of motors that help its moving parts stay active and engaged.
As a result, you need to spend the time to check these belts for frays or breaks as they may end up fraying or breaking over time.
Thankfully, it should be fairly easy for most people to handle replacing these belts, as long as you have a second person on hand to provide some assistance.
Just a few of the best steps for taking off a frayed or damaged belt and replacing it with a stronger and more consistent option replacement include the following:
Inspect the belts for fraying or any signs of serious damage.
Use a wrench to loosen up the tightness of the belt if removing it.
Take the old belt off and string up a new one.
Tighten the belt back up to get it running smoothly.
If not replacing a belt, tighten up the current belt with the wrench.
These simple steps will help to minimize belt slipping or breaks that may cause your motor to fail to run properly.
Make sure that you check all of the belts throughout your engine, as there are likely many options that must be carefully tweaked and adjusted.
Doing so will give you the chance to create the high-quality cart that you want and ensure that its operation is as smooth as possible for your needs.
6. Low Battery Water Levels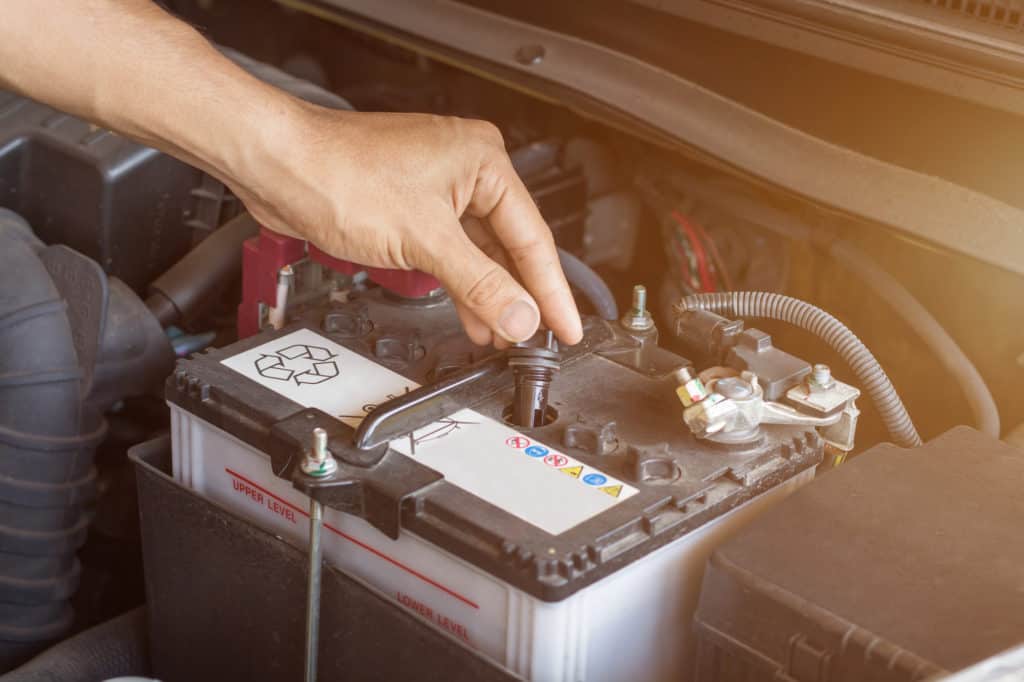 Golf cart batteries use distilled water to provide the kind of power that your cart needs to start and go regularly.
While your batteries are nowhere near as important on a gas cart as they are on an electric model, they still provide the spark that keeps your engine running.
If they lack a good level of water, there's a good chance that your cart may end up quitting on you or cutting out its power as you ride.
Use the tips mentioned below to carefully check your battery for water and to replace it, as needed, to restore your cart to its full power:
Open up your battery to check its water levels.
Identify whether the metal plates are covered.
Pour in distilled water if your battery's water levels are low.
Recharge the battery to see if it will operate smoothly again.
This problem is surprisingly common even in gas-powered golf carts, though not quite as often as in electric carts.
Your battery will need a good water supply, naturally, but water levels are nowhere near as variant as they are with electric carts.
That's one reason this problem is at its position. It happens commonly enough to be a real risk but not commonly enough to be any higher.
5. Problems With The MCOR
The Motor Controller Output Regulator (MCOR) helps to take the motion from your foot pedal to convert it to movement on your cart.
When it malfunctions, you have little recourse but to remove it and replace it with an entirely new part to keep it operational.
First of all, you need to test it using the following steps to make sure that it is malfunctioning on you and needs to be replaced:
Disconnect the MCOR from your cart's battery.
Place a voltmeter on the positive and negative ends.
Wait for a readout to occur.
If the readout is steady, your MCOR is working properly.
If the readout is erratic or doesn't show up at all, you must replace the MCOR.
If you need to replace the MCOR, carefully unscrew it from your engine, placing the screws and bolts to the side to avoid losing them.
Next, unhook the battery from the MCOR and tape the wires to a grounded area on the side of the cart to minimize sparking issues.
Remove the MCOR and replace it with a new one. Order a replacement online to get the best results with this part.
4. Issues With The Solenoid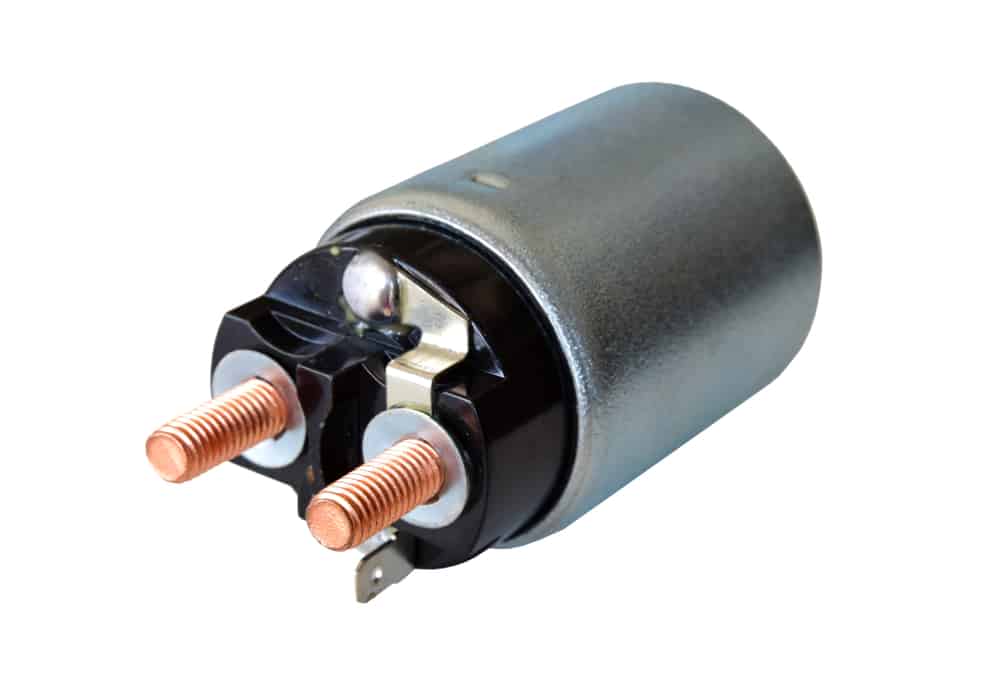 If you find that your MCOR is working correctly and you've taken all of the other steps previously mentioned, you need to check the solenoid.
This part helps to manage your electrical flow in electric and gas-powered golf cart motors and may end up going bad on you.
If it does, you need to understand how to test it and replace it to minimize your power issues and keep your cart running smoothly.
The following steps will make it easier for you to test your solenoid, after which, we'll include a description for removing the part, as needed:
Check the positive and negative charges from the batter to ensure it is providing at least 12–18 volts.
Inspect the battery and solenoid cables to make sure they aren't corroded or disconnected.
Clean and tighten all of the cable ends to ensure that they are as tight as possible.
Carefully charge the battery after cleaning it to ensure that it is fully charged.
Tighten all connections to the solenoid and test the voltage of the solenoid.
If no voltage is present, check for a blown fuse if the connections are tight.
When you replace a fuse and your golf cart still doesn't have the power that it needs to run properly, you need to replace the solenoid.
Start by carefully finding the connecting elements and removing them with the proper wrenches and screwdrivers. This will vary based on the make and model of your cart.
Remove the wires from the solenoid and take it out, placing it to the side before you put in the new solenoid and hook it back up.
Test your golf cart to see how well it runs, paying attention to whether it starts up right away or if it struggles to have any power.
3. FNR Switch Malfunction
The FNR (forward/neutral/reverse) switch helps to control what direction your cart goes and gives you accurate directional management.
However, this switch may also experience various types of damage that could cause it to malfunction and fail to direct your cart properly.
When this happens, your golf cart is going to fail to have the proper level of power that it needs to stay on the road.
As a result, it is important to understand how to use the cart's diagnostic mode to check for these issues and how to fix them properly:
Activate your cart's diagnostic mode inside of the engine.
Put the run/tow switch into the run position.
Switch the FNR between reverse and neutral five times in a row.
Wait for the series of beeps to identify what is wrong.
Use your cart's manual to understand how to interpret these beeps, as each golf cart manufacturer is likely to use different beep patterns.
Typically, your FNR switch is likely broken or has frayed wires or a poor electrical connection, which requires replacing wires or the switch.
Remove the switch by carefully unscrewing its cover, taking off the cover, unhooking the wires connected to the switch, removing the switch, and replacing it.
2. Brake And Axle Troubles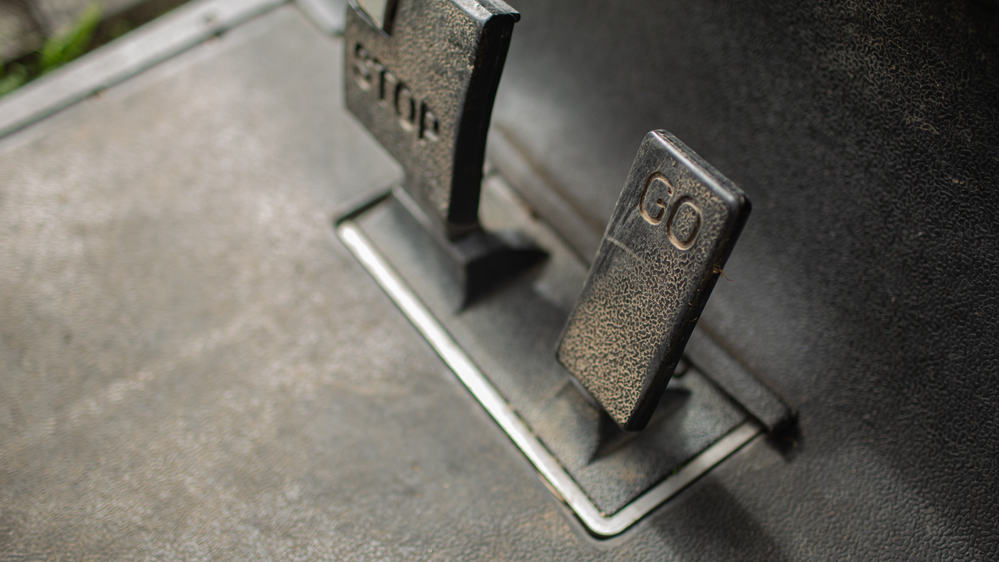 Sometimes, brake and axle troubles may trigger serious complications with your gas-powered golf cart, causing it to cut out and suffer from low power. Diagnose this problem by following these steps:
Remove the brake cap on your wheels.
Place your golf cart in neutral to keep it from moving.
Turn on the cart and press the brake pedal as it runs.
Watch for malfunctions beneath the cart, such as controlling arms failing to operate.
Move the steering wheel back and forth as you brake to watch for more issues.
If you see problems with your cart's brakes or axles that are making it lose power, you need to remove the offending part and replace it.
Typically, you'll probably have to take off a control arm, which requires jacking up your cart, identifying the connecting elements, removing these, pulling out the broken arm, and replacing it.
If this step doesn't work (or if your whole axle needs to be repaired), it is important to take your cart to a professional mechanic because this step is far too advanced for most amateurs to repair.
1. Carburetor Issues
A faulty or broken carburetor is likely the most common triggering factor for serious issues with your cart's power problems.
The carburetor helps to keep your cart cleaner in operation and manages many elements of your fuel in your cart.
When your golf cart suddenly stops and the engine dies, the carburetor is likely the problem, and it needs to be fixed or replaced using these testing and replacement steps:
Open up your golf cart engine and find the carburetor on your cart.
Start your cart and listen to the carburetor as it runs.
Have someone push the gas pedal.
Listen to the carburetor for any signs of malfunction.
If the carburetor runs poorly, remove it, and replace it.
At this point, your golf cart should start up and provide you with the long-lasting ride that you want and deserve.
However, there is a small chance that your cart still won't start up, no matter how many of these steps that you take, which will require the skills of high-quality mechanics to manage.