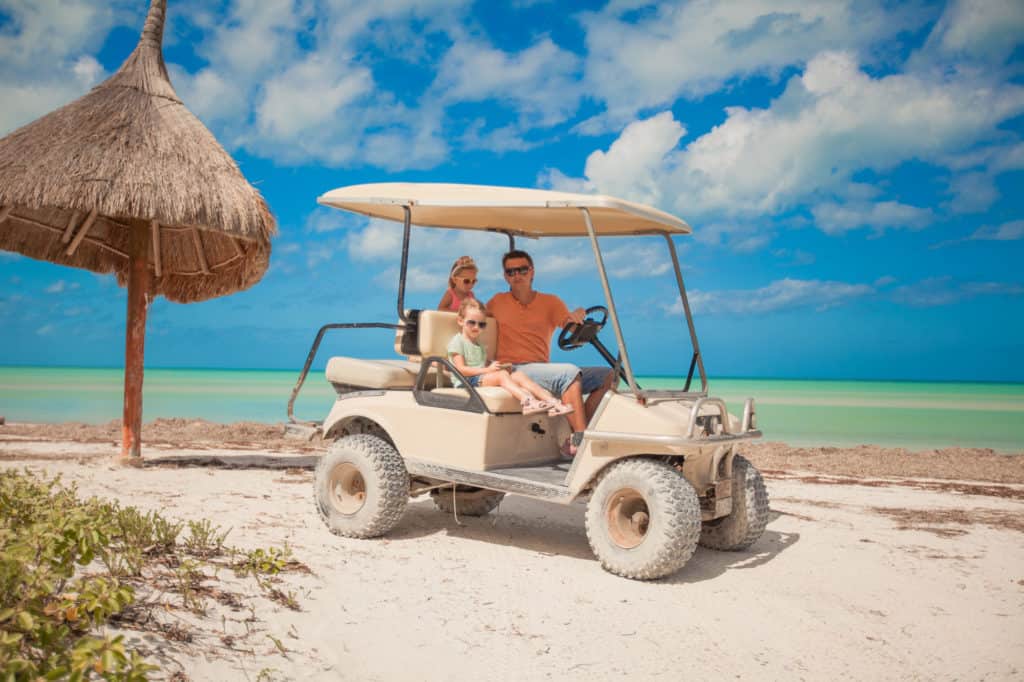 Though gasoline-powered golf carts are not as popular as electric models, these vehicles are still available enough to make it important to talk about them.
We rated each of these batteries based on some pretty simple criteria, including their operational ability, their lifespan, and much more.
We also highlight cart-specific battery options that may be more suitable for your specific carting needs and situation.

How Do Gas Golf Cart Batteries Differ From Electric Types?
Gas golf cart batteries aren't necessarily drastically different in design from electric models.
They all have the same basic setup, look, and design.
Most put out a similar amount of electricity, though you are more often likely going to see gas cart batteries that have 12 volts because this is the most commonly used power level in golf carts of this type – it helps keep the cart running smoothly.
The biggest difference is that these batteries are usually created specifically for gas carts and should not be used in electric carts, if at all possible.
However, there are circumstances in which they can be swapped back and forth.
The battery in a gas cart is nowhere near as important for powering the cart but does start the cart, provide sparks for the sparks plugs, and keep the engine running smoothly.
But how do these batteries differ from each other on a manufacturer or model basis?
The exact type will vary depending on the model of the cart and what it's manual asks you to purchase.
As a result, it is important to check through our list here to get a glimpse of what models are available and what types are best for your needs.
Make sure that you read through each review carefully to get a better understanding of what each battery does for your cart.
Though they are often quite similar in design, they are different enough that it is critical to be very careful in this situation.

Top 10 Best Batteries for Gas Golf Carts

10. Exide E-3600 Batteries
The first battery that we're going to examine is the Exide E-3600.
Currently, this option has a cycle length of about 600.
As a result, it is one of the longest-lasting options that we will highlight on this list, though not as much as the other Exide that we'll discuss.
Even better, this battery has a great resistance to shaking that other batteries may not be able to handle.
In this way, your battery can last a lot longer without running into any complications.
Just as importantly, you can change up the amperage usage rating and get more time out of your cart.

Pros
A discharge rate of 390 minutes at 25 amps
Sturdy and very strong in many driving situations
Reliable for long-term driving
Cons
Only a 110-minute discharge rate at 75 amps
Slower charging rate in some models
A 200 AH rate lasts only 20 hours
9. Casil 6 Volt Battery
This unique battery is designed to be used in many different carts and vehicles.
For example, they are suitable for electric carts and gas ones, as well.
However, they are also useful for solar-powered units, wind units, and a variety of boats and other items.
In this way, they are a diverse battery option that may be a great choice for those who have the money for them.
Even better, they require no maintenance because they don't use the water-based method you see in electric cart batteries.
This protection is enhanced by AGM technology that makes their electrolytes last longer.
We have found that this battery can last for years longer than other models, though there are enough downsides to drag it down our list more than we would like to see here.

Pros
Provides a very reliable charge that rarely goes too fast
Can be swapped out with minimum difficulty
Heavy for easier placement
Cons
Sometimes hard to find
Comes in two-packs that may be more expensive
Not compatible with some carts
8. ExpertPower 12v 33ah Rechargeable Deep Cycle Battery
This deep-cycle battery is one of the most respected on the market and a great choice for a large number of different users.
Though we can't argue that it is the finest for your needs, we do believe it is a good choice for those who may be on a budget – such options are often critical to consider here.
And if you want a no-frills battery that doesn't cost much, this option is a pretty good one.
But if you want a more powerful battery that can handle difficult carting situations, we suggest looking elsewhere on this list to avoid confusion or disappointment.

Pros
Price is reasonable if you know what you're getting
Provides reasonable deep cycle charge
Very easy to install
Cons
Price may seem high if you want high-powered control
Amperage may be low for some users
May be prone to some temperature-related issues
7. Amstron GC2
This battery is a lot like our number-eight choice but is a bit less cheap feeling.
The cost is higher here, which may drive away some buyers, but the quality is undeniably a lot higher on this unique battery model.
And although Amstrong isn't always a name you hear in the battery world, we have to admit that it is one of the better options made by this manufacturer.
Try it out if you want a battery that is unique and not the same as other options.

Pros
Strap makes it easier to lift
Weight makes it sturdy and reliable
Adaptable for many situations
Cons
Price is quite high
6-volt nature may not work on all carts
Could be too heavy for some carts
6. Marine Lifeline
Though this battery is generally designed for boats, it can be adapted to golf cart use.
It has a very simple design that allows users to adjust it to their golf cart and makes it a diverse and engaging option for those who want a 12-volt and 255-AH battery for their golf cart needs.
And since it can be swapped, it is a good choice for those owners of multiple carts.

Pros
Wide frame makes it very sturdy
Output is suitable for many carts
Can last nearly a lifetime
Cons
Price is very high
May not work on all carts
A bit large for some cart models
5.  6V VMAXTANKS High Current Battery
Those who want a high amount of current should choose this battery.
It doesn't require any maintenance or water, making it a great choice for gas-powered carts.
It has extra grid provision that makes it even stronger and more capable of keeping your cart charged up.
And it also has one of the longest cycles that we were able to find on the market.
However, it slips to number five for a handful of reasons.

Pros
Low price makes this a great budget model
Very easy and quick to charge
Light enough for many carts
Cons
Exterior is not as strong as other batteries examined here
May not last as long as other batteries
Feels a bit flimsy compared to others
4. UPG UB12350 Group U1 Battery
This valve-regulated battery is one of the most versatile and useful on the market today.
However, there are a few drawbacks that take it down a notch for us, though we still suggest it for many gas-powered carts.
We particularly suggest this battery on carts with smaller bodies – it doesn't suffer from as much damage on these carts and won't cause nearly as many troubles.
It is also very strong and does not suffer much vibration damage.

Pros
Very durable with a vibration-resistant design
Provides a high level of charge
May be used in other types of vehicles
Cons
Heavy for some carts at over 22 pounds
May degrade if not properly charged
Not quite as adaptable to gas carts
03. Excide Edge Flat Plate Battery
First of all, the battery is self-sufficient, meaning that you don't need to perform a lot of maintenance to keep it strong.
That alone is a great thing to know.
However, the battery also has a reasonable lifecycle that may not be as long as the best batteries but high enough to make it a good choice here.
We also love AGM technology and the ways that it makes this battery safer and easier to use.
Try it out, and we think that you'll agree with us.

Pros
Very simple design makes it easy to install
Reasonable lifecycle
Shock risk not a concern
Cons
Sometimes hard to find
Price may be higher due to rarity
Simple design may not appeal to all buyers
2. Trojan T-105
No products found.
In some ways, this may be the best golf cart battery on our list.
It has the highest cycle on the market and is very compact for its size and its use.
Most people can get nearly two hours of operation or even more – sometimes as much as 500 minutes – off of one battery charge.
The only reason that this option is not number-one on our list is that there is a different Trojan battery that we think just edges it out.
However, you honestly can't go wrong when you buy a Trojan option – and you will get the high-quality charge that you want and deserve out of this battery.

Pros
A high-quality cycle life of 750 charges
Slow discharge rate makes it last longer
Very durable shell
Cons
Quite heavy at 62 pounds
Not inexpensive
May have less amp hours
1. Trojan T875 8V Batteries
No products found.
These batteries are appropriate for a golf cart that needs a pretty specific power range – eight volts or so.
This is an array of batteries, and they are designed more for electric carts than gas ones.
However, you can take one of these batteries and use it for your golf cart, if necessary.
The many benefits make them our top battery option, particularly for their long life span.
And Trojan is one of those companies that you know you can trust to produce high-quality products.
For over 100 years, they have been creating great batteries that serve the needs of riders.
Make sure that you carefully inspect the pros and cons of this battery system and make sure that you're ready to make any changes that may be necessary for keeping them operational.

Pros
Lasts for a long time with each initial charge
Utilizes an overflow lead-acid battery system
Provides a consistent level of power
Cons
May have too low of a charge for some carts
Is quite expensive to purchase
Requires some adjustment for use on gas carts