Are Golf Cart Batteries Deep Cycle?
Golf cart batteries are not quite the same as car batteries because they are what is known as a deep cycle battery. These models offer a more sustainable level of charge than a car battery and are, in just about every manner, more important to cart operation and overall maintenance.
Therefore, cart drivers and owners need to fully understand the nature of a deep cycle battery and how to maintain them as well as possible. Thankfully, a lot of these topics have been touched on in other sections so far. However, they will be re-examined here in more depth to provide a better guide on how to maintain your vital cart batteries.
What is a Deep Cycle Battery?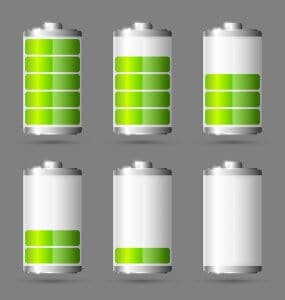 A deep cycle battery is one that is designed to provide a high level of sustained electrical charge and power for a vehicle over a lengthy period. Unlike a car battery – known as a start battery – deep cycle models power a cart for hours. A start battery in a typical auto is only used to start up the engine by providing power to ignite gasoline inside of the engine.
An excellent deep cell battery is designed to hold more charge than a car battery and can be run until it is about 80 percent discharged. At this point, the battery will need to be recharged, though some experts recommend charging when the unit is at 45 percent capacity. Deep cycle batteries are used for a variety of vehicle and non-vehicle power situation, including golf carts, forklifts, recreational vehicles, and renewable energy sources for off-grid living.
The nature of a deep cycle battery makes it the most essential element for powering high-quality electric golf carts. A good deep cycle battery will power a golf cart for hours at a time, including multiple golf outings. Gasoline-powered golf carts, by contrast, may not need a deep cycle battery.
Typically, they require only a startup battery to ignite the fuel in their engine, similar to the average automobile. However, that doesn't mean that you can swap car and golf cart batteries, as specific types are manufactured for each vehicle.
Types of Deep Cycle Batteries
When choosing deep cycle batteries, cart owners have two different choices. Flooded deep-cell batteries require regular watering to run smoothly. Typically, these are the preferred type for golf carts because they allow more hands-on maintenance procedures. However, sealed or maintenance-free batteries require no watering and may be useful for those who don't want to bother with regular maintenance.
Filling a flooded deep-cell battery is typically a relatively simple process. For example, owners can check the water level on the side of the cell or by opening up the plug on top of the battery and looking down. A particular type of water must be prepared and poured into the battery, which will be discussed later on in this section to help you better understand proper battery maintenance.
Sealed or maintenance-free batteries keep a vast majority of their water during operation, with only a small amount of hydrogen and oxygen vented during its operation. The drawbacks of these batteries include a higher price line and higher damage caused to the cell when overcharged or undercharged. However, these types of batteries lose just 1-3 percent of the charge during an inactive month as compared to the 10-13 percent loss suffered by flooded lead batteries.
Deep Cycle Battery Maintenance
While some battery maintenance procedures have already been discussed in earlier sections, cart owners need to understand deeper maintenance procedures to ensure they don't damage their unit. For example, the process of stratification – the separation of acid and water in the battery – can cause real damage to the bottom of the battery if proper maintenance procedures aren't taken.
Stratification occurs when batteries are charged often and would be an unavoidable problem if various types of maintenance procedures weren't available. For example, cart owners can equalize their battery to provide an extended charge that causes the acid and water to mix again.
This process can only be done with a flooded lead type battery and requires setting a charger to equalization mode. The charger then adds this extra burst of power to stir up the acid and water properly. Equalization should be done every few weeks to ensure that a battery doesn't get damaged.
Equalization should be done every few weeks to ensure that a battery doesn't get damaged. And when charging new batteries, you need them to fully discharge at least 20-50 times before they reach their full capacity. Also, never let the charge go below 50 percent during this time to maximize your battery's life and to improve its operation over an extended period. And always use distilled water when filling a battery to avoid buildup of metallic ions, such as iron, inside of your cell.
Proper Charging Behaviors
When using your golf cart, make sure to track your battery's charge to ensure that it isn't getting too low. As mentioned previously, owners should try to charge their battery before it drops below 45 percent. While you can continue to ride on the cart when the amperage drops below 45 percent, waiting too long can slowly and subtly damage the battery over a lengthy period.
On most batteries, you're likely to have an output readout that lets you know how much voltage your battery is producing at a time. For example, a 12-volt battery – which charges to about 14 volts before use – is running at 100 percent capacity when it is outputting 12.6 volts. However, a drop to even 12.3 volts indicates a loss of 50 percent of total amperage. And while that should be enough to get you home, the amperage may start dipping heavily after this point.
Therefore, cart owners need to be willing to halt the use of their cart when it reaches problematically-low charge levels. Make sure that you either have a portable charger with you when you're worried the battery is about to run low or that you save enough energy in the cell to get home. After all, pushing your golf cart back home after the battery goes dead is a highly embarrassing situation.