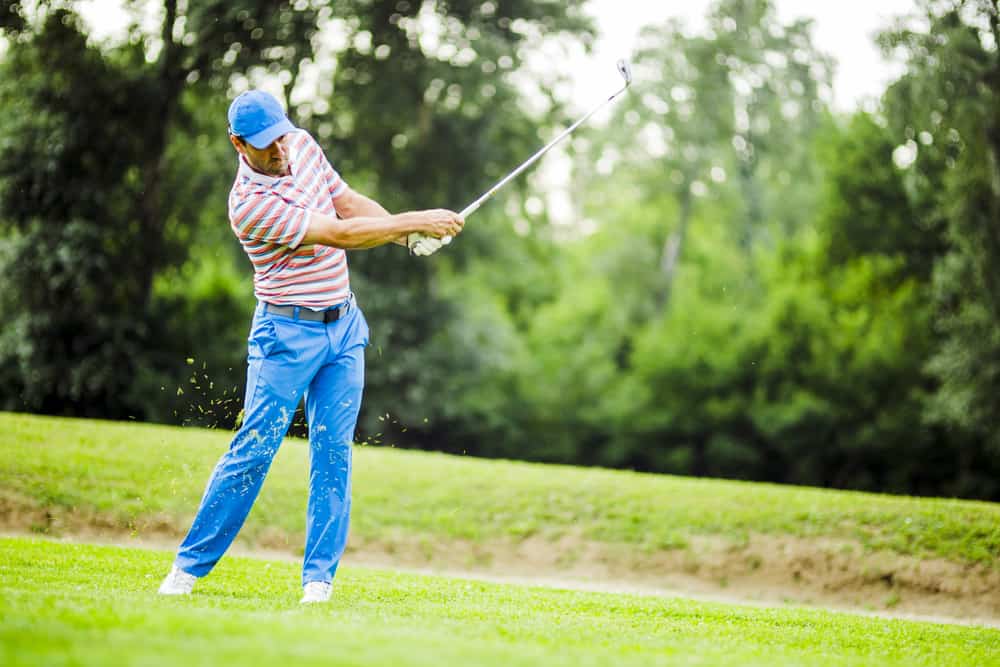 For golfers looking to create more power in their golf swing, it is important to know where power comes from.
Power is not the same for all players, but power is not generated from just one thing.
If you are looking to make sure you are not losing power and you want to address all of the areas of your game where power could be slipping away, we have you covered.
Power in the golf swing is essential.
If you can learn to hit the golf ball further, your success on the golf course will be greatly improved.
However, in order to get this distance, it may require putting a little time and effort into your golf swing.
Here are some of the most important things to keep in mind when it comes to creating more power in a golf swing.

Where Does Power Come From In A Golf Swing?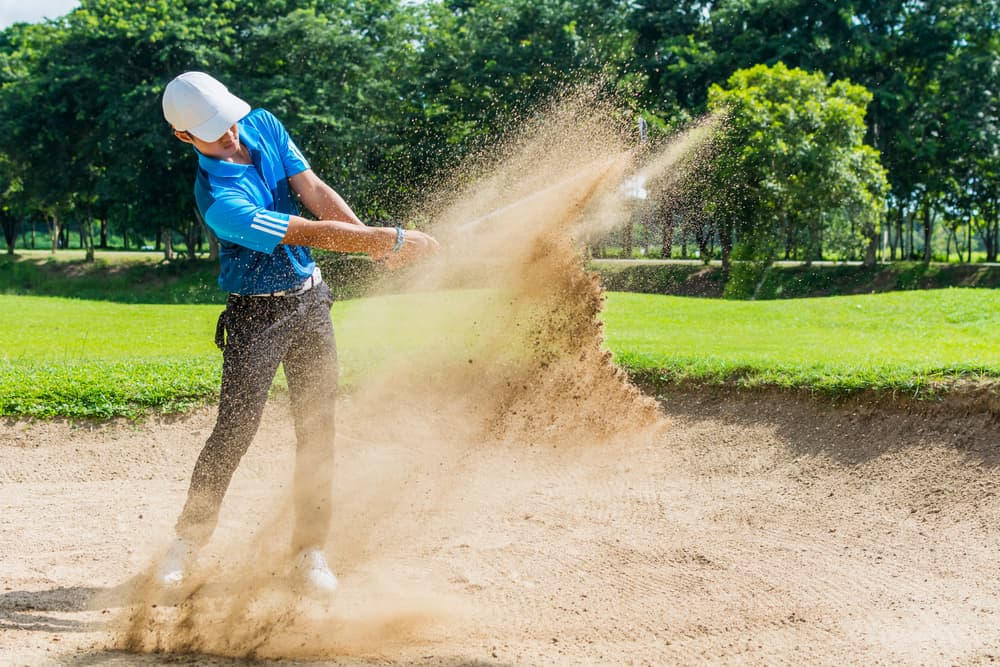 Golfers generate power from the proper body turn, the grip, and even tension in the swing.
Chances are it is not just one area where you are losing your power, and there may be a few things you need to work on.
Let's take a look at where power comes from in a golf swing and what you can do about it.
1. Grip The Club In Your Fingers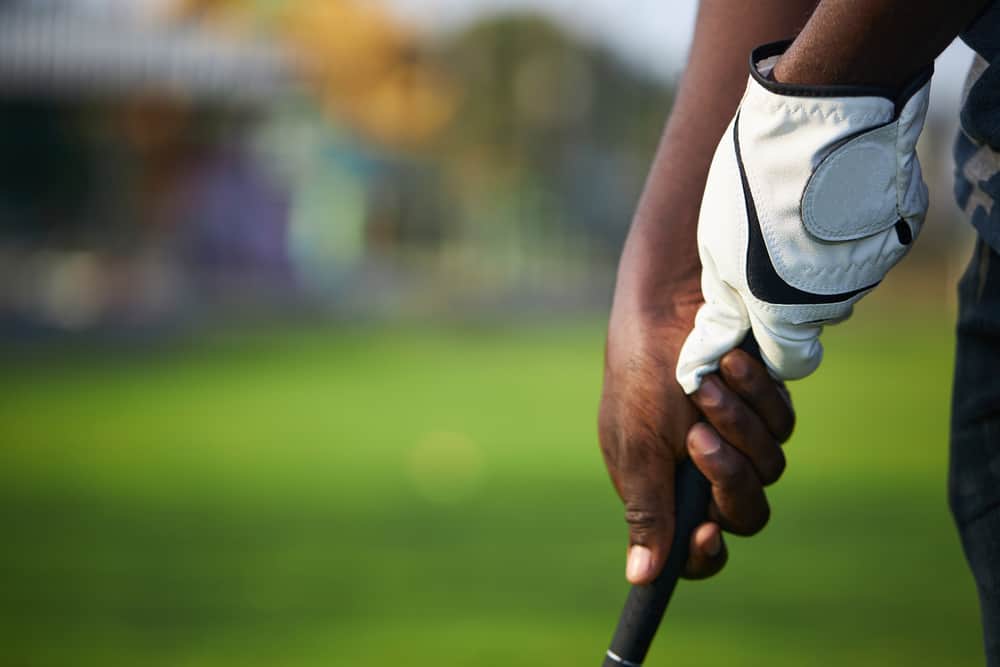 When golfers grip the club in the palm of their hand, they give up on some power.
Gripping the golf club in the fingers allows for players to get a much better wrist hinge and swing path.
The first transition from changing your grip from more of a palm grip to a fingers grip can take a bit of time and effort.
Players will need to work on feeling as though they have less control over the club.
This is really not the case, and you will still be able to control the club with ease.
The key is when the club is in the fingers, your hands and arms can move freely and allow for better positioning of the club head.
Gripping the club in your fingers will absolutely lead to more power, and that is why golfers like Ben Hogan spoke about this concept so many years ago.
It's hard to learn the grip, and you will make adjustments to your grip throughout your entire golf career.
However, all players must remember that the only way we have a connection with the golf club is because of the way we grip it.
If this grip is not ideal, we can't expect a perfect golf shot.
2. Eliminate Tension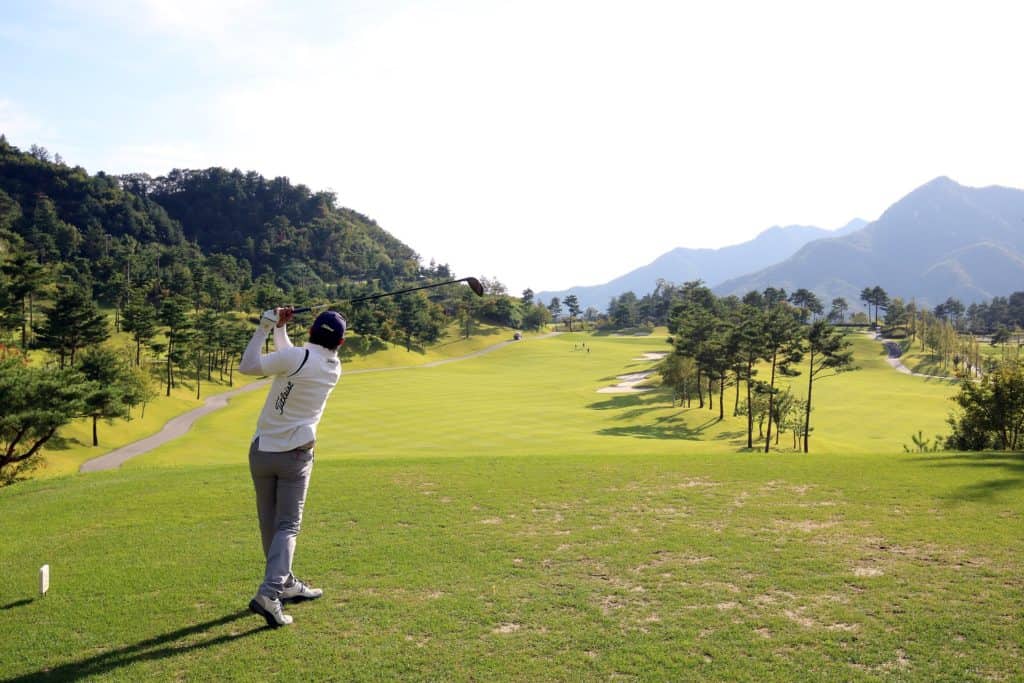 If you are able to eliminate tension in your golf swing, you can get a much better experience when it comes to power.
People seem to have the opposite idea about tension and power.
Many golfers get tense in order to try and control their golf shots and hit these long drives.
However, this does not make much sense.
The best way to get more distance is to eliminate the tension that you have in your swing and start hitting more full swing golf shots with impressive overall distance.
This process takes some work on the mental game as well as some breathing exercises and management of stress.
If you are standing on a tee box where you want to hit a really long drive, you should try and stay as relaxed as possible.
When you have too much tension in your swing, your body will do all the wrong things to get power, and in the end, you will end up with a shorter overall distance in your golf shot.
3. Square Clubface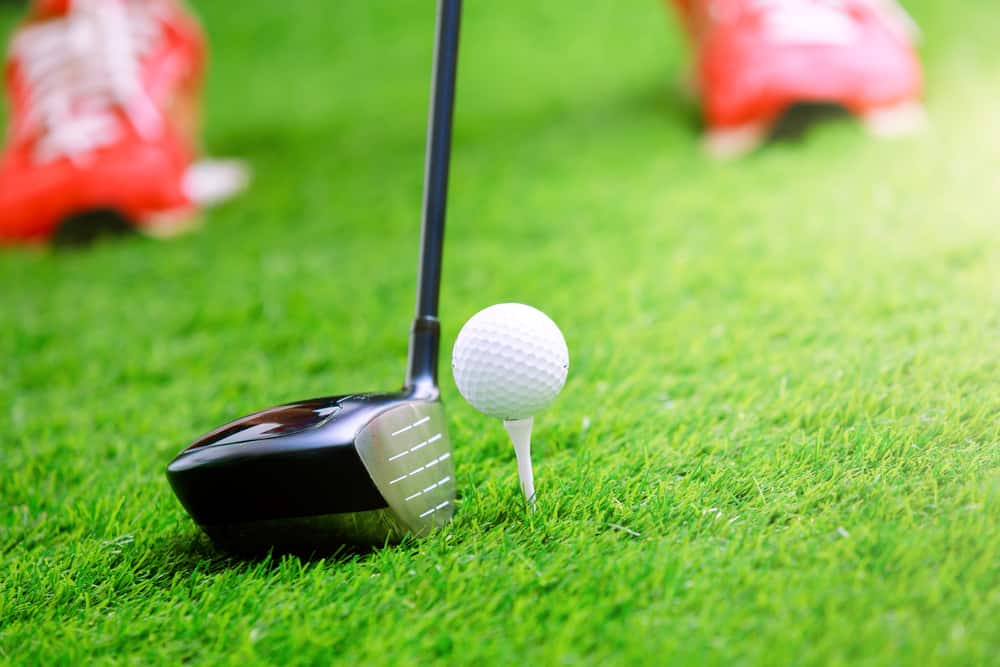 If you want to get distance on your golf shots and plenty of power, you must make sure that your clubface is square.
The square clubface is a very important way to generate power.
Even if your clubface is just slightly open at impact, not only are you risking the fact that you could hit a slice, but you are also losing out on power.
Players who are uncertain if their clubface is returning to square each time can often use a golf launch monitor to test their golf swing path and angles.
If your clubface is open or closed, you may be able to make adjustments in your game that will allow for a square clubface and an increase in power.
The square clubface is not hard to achieve after practice, but you can't expect to have it square every time.
If you want to give yourself the best chance at a powerful shot, the square clubface is entirely necessary.
4. Nail The Transition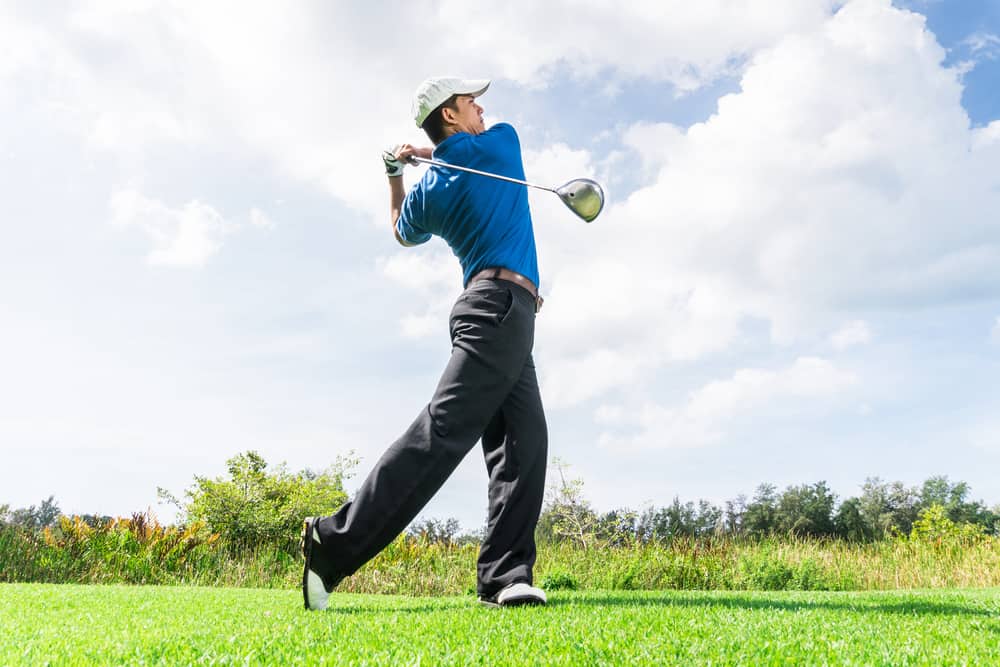 Have you ever noticed that some golfers don't look as though they are swinging that hard, yet they are able to hit really far shots with ease?
This is likely because their golf swing is much more efficient.
Essentially, if you want a more efficient golf swing, you must be careful in the transition between the backswing and the downswing.
At the top of the swing, many players take the club and almost throw it down at the ball, but with this move, you will lose power.
The better move from the top down is to allow your arms to drop into place and let your body rotate towards your target.
The idea is to get rid of this casting of the club and to instead have the club drop into place.
One of our favorite ways to fix this problem is to use a headcover drill.
The key is to put a headcover under your right arm (for a right-handed golfer).
Take a golf swing back where the headcover stays in place, and keep it in place as you transition to the downswing.
If you can keep this headcover in place, you are going to have made a really great transition from backswing to downswing.
This transition can, in turn, make it much easier for you to generate power.
In addition, the clubface will be in a much better position, and that can result in extra yardage as well.
For the golfers who want that effortless efficient golf swing that generates a ton of power, the transition must be a good one.
5. A Perfect Club Path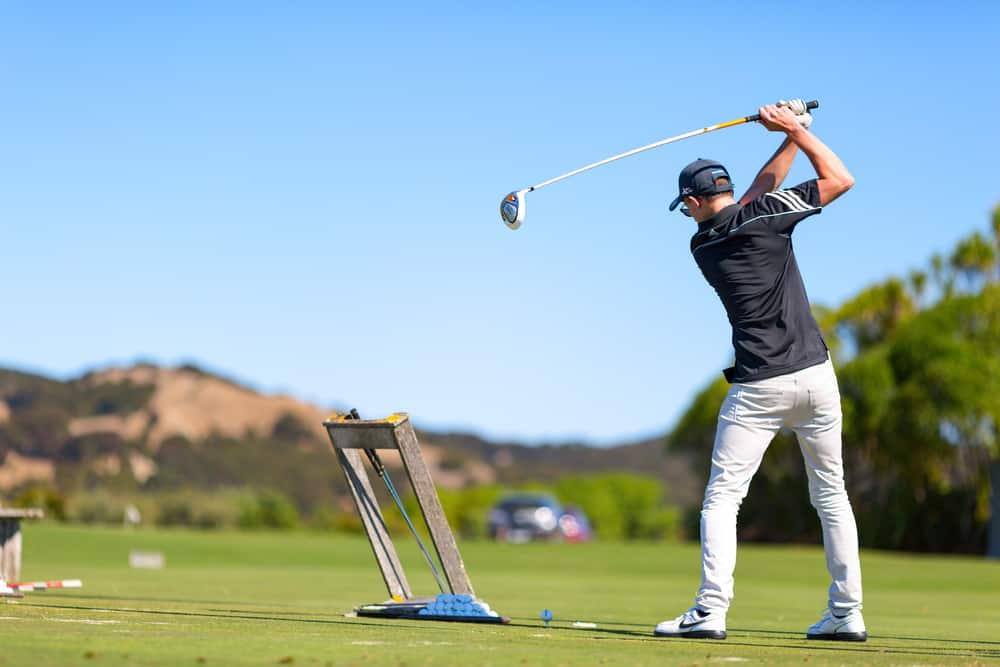 It is entirely true that your club could be on a slightly inside or slightly outside club path and still be able to hit the ball well.
However, the closer you can get the golf club to be on the plane, the more power you will have in your golf shots.
There are lots of different ways to work on your golf swing plane, and club path, one of the best is to use golf alignment sticks.
In addition, you may be able to use a video training aid to record your swing and see how your club is traveling.
A perfect club path will help you hit the ball quite a bit further and generate some tremendous power.
The perfect club path is something that will very likely come and go.
Some days, you will feel as though your swing is really on and the path is strong, but other times, it will be slightly outside in or inside out.
The key is to get as close to the standard club path as you possibly can if you want to get more consistent results.
6. Compression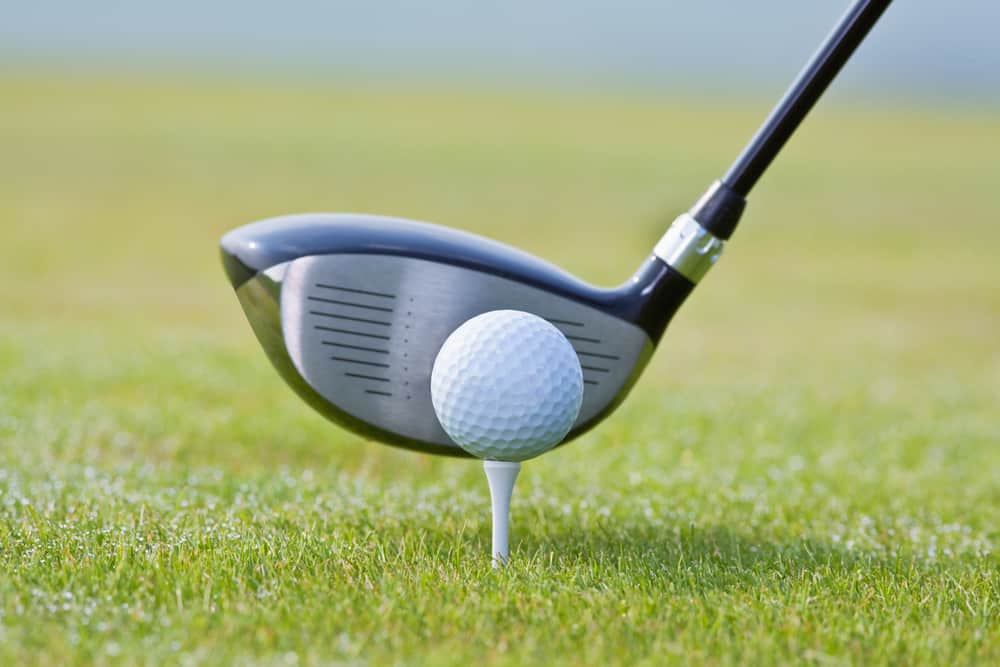 If you want to gain power, you must compress the golf ball.
When you try and scoop a golf ball up into the air, you will undoubtedly lose power.
Golf clubs are created with grooves, and golf balls have dimples.
The combination of the two leads to the physics necessary to get the ball up in the air.
The key is that you must swing down and through the golf shot to be able to launch it into the air and enjoy the proper ball flight.
Compressing the golf ball and hitting it down and through at impact is a way that many golfers can gain more power.
Even great players sometimes realize they are not giving their golf shots everything they have and properly hitting down and through the ball.
This compression of the golf shot will increase the MOI and provide a better launch and considerably more distance.
If you need to work on this concept, there are plenty of great drills out there, but the best way is to work on your chipping.
If you work on your chipping, it is much easier to feel what it takes to launch the ball and compress it.
Since the motion is just a bit abbreviated, it is easier to focus on what needs to be done and hit these great golf shots that have an excess of power.
7. Balance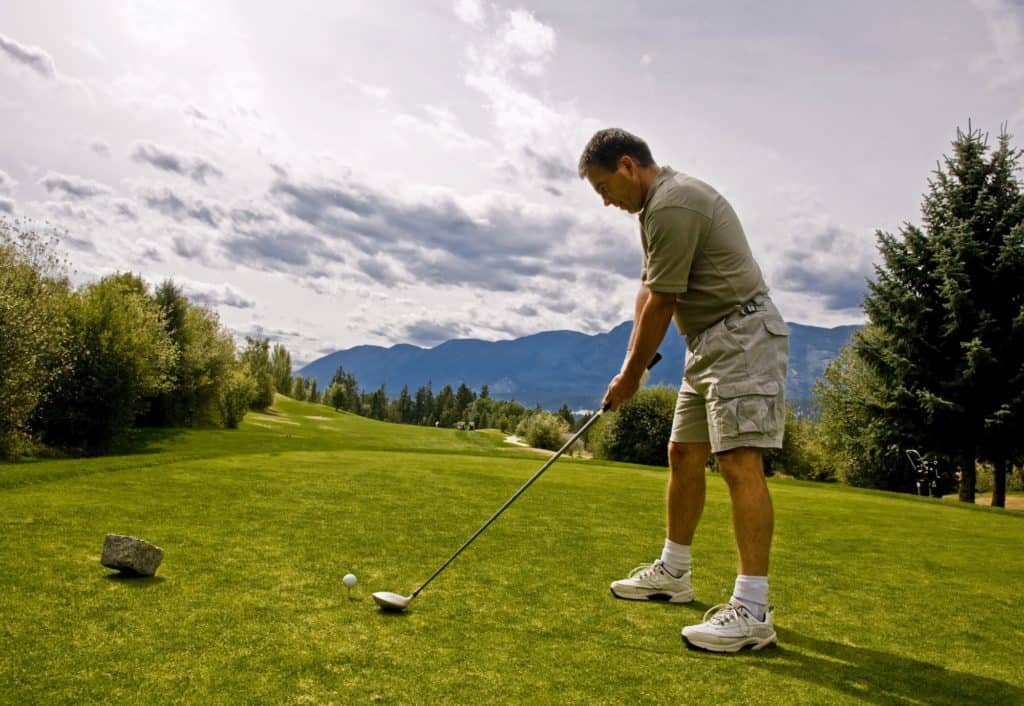 The more balanced you are in your golf swing, the easier it is going to be to hit great golf shots.
Golfers who are losing balance are losing power.
If you can be more balanced, you will generate more clubhead speed and tremendous distance.
Poor balance is typically a result of being a bit out of shape or from making more movement in your golf swing than is necessary.
Balance can be worked on with a personal trainer, but you can also swing a weighted golf club and see a great deal of difference in the balance that you can create.
Weighted golf clubs are similar to weighted baseball bats.
The idea here is that if you can swing a weighted golf club and still maintain your balance, chances are you would be able to maintain your balance with the lighter golf club in your hand.
Balance is something that anyone can work on, and even professionals will work on this from time to time to make sure that they are balanced throughout their golf game.
8. Efficient Weight Shift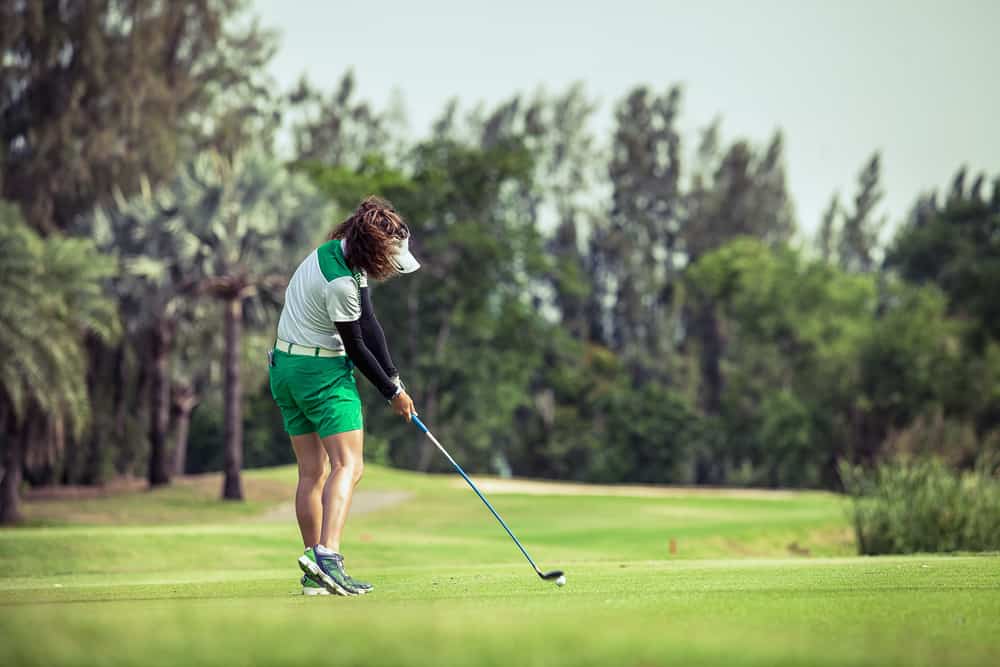 A poor weight shift can lead to a lack of power in a golf swing.
Many golfers will call this a slide as opposed to a poor weight shift.
Essentially, if you are sliding your weight from your left leg to your right leg, you are losing power.
An efficient weight shift takes a bit of time to learn, and you will have to ensure that you are doing this quickly and efficiently.
As you make your turn back, the weight should be loaded onto the right leg.
As you swing through the ball, your weight should be transferred to the left foot.
Overall, an efficient weight shift can generate an incredible amount of power and ball speed if done correctly.
When you watch professional golfers on tour, you will see that their swing is not just the arms, and it is more about their body turning onto the back leg and then through the front leg.
Practice your weight shift while working with just a medicine ball in your hands.
There is no need to have a fancy training aid to get this weight shift perfect.
Simply feeling that efficient transfer of weight should be enough to get it done.
Golfers who are struggling with the weight shift concept can again work on their short game and feel this little bit of transfer with the shorter clubs in their bag.
9. Flexibility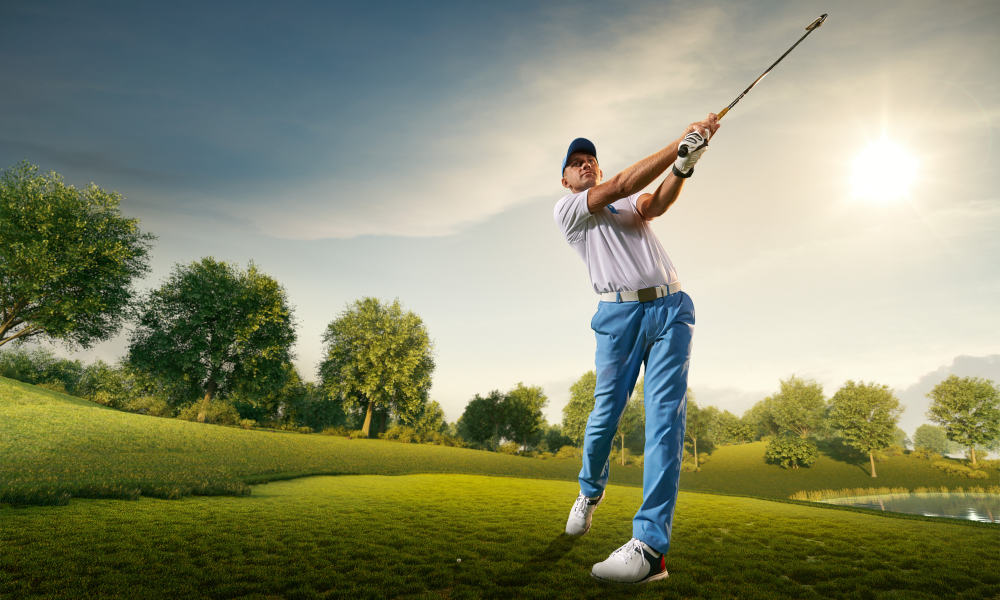 Golfers need to be aware of flexibility in their golf swing as well.
If you do not stretch and feel as though you can get your golf club to the backswing with ease, chances are you have an issue with flexibility.
Watching professional golfers, you can see that they have no problem getting the club all the way to the top and then all the way around them in the finish.
This is a way that they can generate a great deal of power and increase the total distance that they hit their shots.
Flexibility is another part of the golf game that all players can work on.
It is just a matter of incorporating time into your day to stretch and feel the club able to get into these new positions as opposed to being stuck and restricting you.
When you combine something like flexibility with the ability to reduce tension in your golf swing, then you will end up with some of the best shots you have seen.
So many gofers never find out what they are capable of because they never trust their golf swing and swing with full flexibility, confidence, and speed.
10. Equipment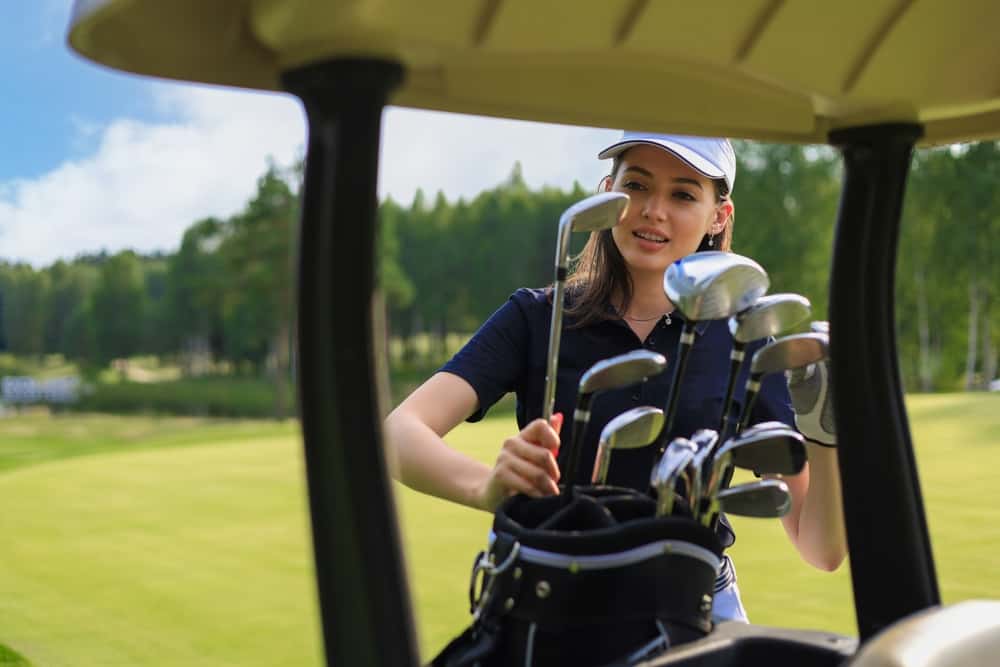 Golfers who are looking for power need to consider the clubs they are using.
Some golf clubs are built for distance while others are better at accuracy.
In the end, you need to find something that is going to be a good mix of accuracy, forgiveness, and power.
Golf equipment is expensive when it is new, and something the difference between one model and another is just a few yards.
However, if your golf equipment is ten or more years old, then you need to consider what new equipment could do from a power standpoint.
The more power you have, the better chance you have of hitting an impressive golf shot that will go a long way.
Use the equipment you have in your bag to get you the most power in your golf game.
Sometimes it is okay to use the technology available to you to make yourself a much better player.
Conclusion
As you can see from these methods of creating more power in your swing, there is no one way to do this.
In fact, there are so many different ways to create power that there is no way you could work on them all at once.
Instead, try to take a tough look at your golf swing and think about what is causing the most lack of power in your golf swing.
Do you think it has to do with the equipment?
Could it be a problem with the tension in your hands?
There are many different ways to approach this so that you can end up with the proper power and strength and get the distances that you need.
Playing golf with no power is really not much fun.
Only when you start to get the strength that you need from the tee can you make it easier to get the approach shots close and really have a great round of golf.
Don't hold back if you think you have issues with power, but start taking steps to fix it.