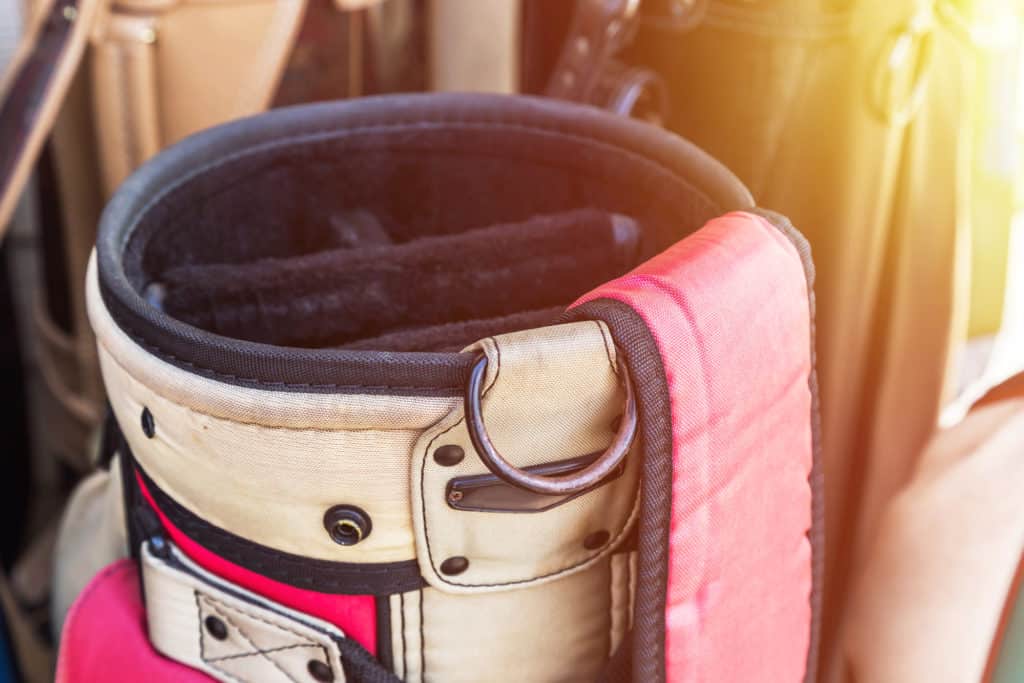 Golf bags are not just about a place to hold your golf clubs.
Your golf bag can keep you organized, can allow you to get more exercise, and can express a bit of your personality as well.
The only downside to getting a new golf bag is that it can be a bit expensive.
Luckily, there are options out there to help you keep the costs down when you purchase a new golf bag.
We have put together a list of the top ten best golf bags under $100.
There is sure to be an option on this list that will work for all golfers.

Top 10 Best Golf Bags Under $100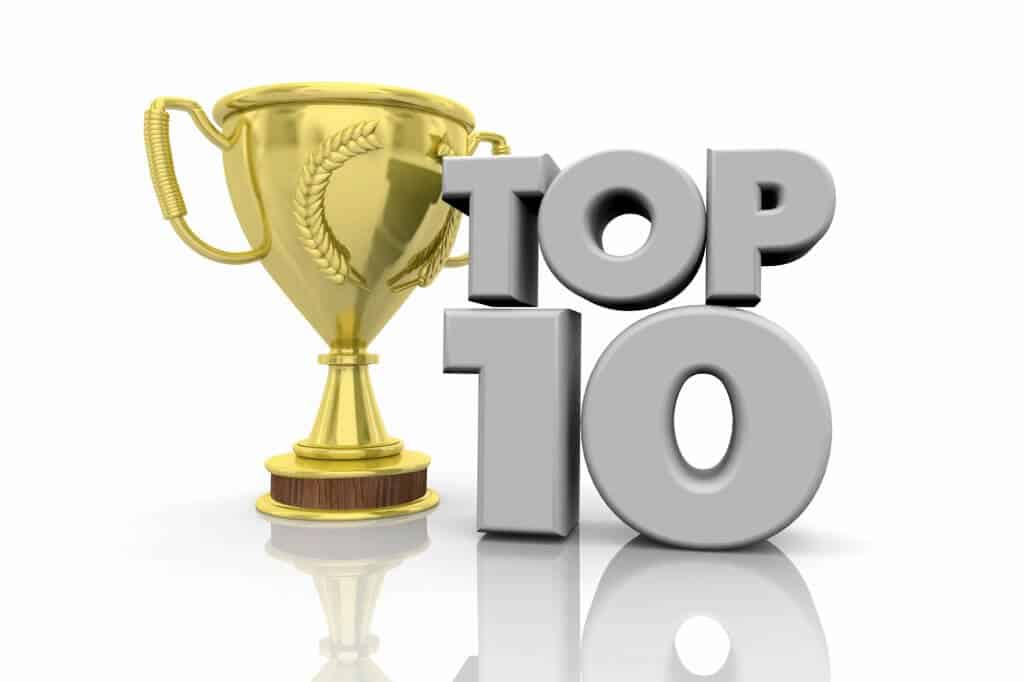 1. TaylorMade Golf TM Stand Golf Bag 5.0
Key Features
Lots of storage
Five-way top
Non-slip foot pads
TaylorMade is a leader when it comes to golf equipment.
Not only do they make very impressive golf clubs, but they also produce this golf bag that will give you a place to store all of your equipment.
This is a stand golf bag meant to be used by the golfer who likes to walk the golf course.
It is not the lightest stand bag on the market, but it is a perfect mix of stability and function.
The TaylorMade 5.0 comes with an ergonomic dual shoulder strap and air mesh.
This will help keep the golf bag balanced adequately on your back but also save you from getting too warm.
The TaylorMade 5.0 has six pockets to help you keep your accessories organized while you play.
One of our favorite features is the hip pad that will allow you extra comfort as you walk.
Some golf bags that don't have this feature will cause some extra stress on the body as you walk the course.
The top of the bag has a five-way divider which will help keep your clubs from rubbing against each other.
Overall, this is a very high functioning golf bag with an anti-split stand system.
Pros
Lots of pockets for organization
Matching rain hood
Available in a few colors
Five-way divider
Cons
Heavier than other carry bags
2. PROSiMMON Tour 14 Way Cart Golf Bag
Key Features
14-way top
Lots of pockets with zippers
Putter tube
As hard as it is to find a golf bag for less than $100, it is even harder to find a perfect cart bag for this price.
Cart bags are more money because they offer more storage and lots of room.
Most of the time, they are about 25% more than stand bags are.
The Prosimmon Tour 14-way cart bag is an excellent choice if you play a lot of golf on a cart.
The bag comes with a 14-way divider top that will help keep your clubs organized and make sure they don't do any damage to each other as well.
The Prosimmon golf bag is also known for having tons of great pockets.
There are two full-length side pockets to help you store larger things like a sweater or a jacket.
You will also notice a fur-lined valuables pocket to keep your belongings safe while you play your round of golf.
If you are one of those golfers who enjoys keeping their putter separate from other golf clubs, Prosimmon is an excellent choice.
The external putter tube allows you a quick exit and entry to each putting green on the course.
On the outside of the bag, you will see a Velcro glove holder where you can quickly attach your glove and let it dry as you move from one hole to the next.
There is not much the Prosimmon bag doesn't have, and for the price, it's offered, it is pretty impressive.
Pros
Available in a few colors
Lots of storage
Putter tube
Cons
The 14-way dividers are not full length
3. Izzo Ultra Lite Stand Bag
Key Features
Four-way top
Very lightweight
Easy to use handles
If you remember when we did our review on the TaylorMade stand bag, we mentioned it was not the lightest bag on the market.
The Izzo is a better choice if you are serious about walking and want something very lightweight.
The overall quality and construction of this golf bag are good, but maybe not quite as good as the TaylorMade.
The top will have a four-way divider, and you can customize the ball pocket if you want your name on this bag.
Weighing in at only 3.2 pounds before you put your clubs in, this is very light for a golf bag.
The handles, umbrella holder, and rain hood only add to the functionality of this Izzo golf bag.
Pros
Very lightweight
Customizable ball pocket
Good handles and strap
Cons
4. Tangkula Golf Bag 7 Way Divider Light Weight Portable Golf Cart Bag
Key Features
Water-resistant
Three-way divider
Backpack style shoulder strap
The Tangkula golf bag is a stand bag with three-way dividers to help keep your clubs from rubbing against each other.
There are a few things we really like about this bag, but the most important is its water resistance.
Any die-hard golfers who have spent some time playing in the rain know how annoying it can be when your bag takes days to dry out.
Sometimes worse than the bag having to dry out, the colors can bleed, and you will find that there are stains you will never get out.
With the Tangkula, you will not have to worry about that.
This is a sturdy and stable bag, and it comes standard in a black color that will not get dirty quickly from playing golf.
The Tangkula comes with seven zippered pockets to help keep you organized while you are on the golf course.
The bottom of the bag has some rubber feet to make sure it does not slide out from under you.
Pros
Lightweight
Seven pockets
Three-way divider
Cons
No color selection to choose from
5. Hot-Z Golf 3.5 Cart Bag
No products found.
Key Features
14-way top
Full-length dividers
Zip-off pocket for embroidery
The Hot Z Golf Bag is another cart bag option for the golfer who plays most of their golf in a cart.
If you have graphite shafts in your clubs and worry about protecting them, the Hot Z is a great choice to consider.
The 14 way top allows the clubs to be protected and stay separated from each other when they are in your golf bag.
If you want your name on your bag, the Hot Z has an easy-to-remove pocket to bring to a local embroidery shop.
One important thing to consider with cart bags is the handles which allow you to lift the bag and put it away when the time comes.
Hot Z has rear, middle, and lower handles on the bag to help load it in and out of your car and onto your cart.
It is an effortless bag to maneuver and work with.
Pros
Easy to carry
Six zippered pockets
Available in a few colors
Keeps clubs protected
Cons
Dividers are not full-length dividers
6. TTD TIANTIANDA 10 Pocket Golf Cart Bag
Key Features
14-way dividers
Putter slot
Nine pockets
The TTD Tiantianda is not a golf bag you have probably heard of.
This is an off brand, but because of that, you actually will get a lot of value with this bag.
With the TTD, you will have 14 full-length dividers to keep your clubs protected.
The nine large pockets help you store everything you need for a day on the golf course.
Inside, you will find a thermal insulated pocket that can hold up to three cans.
It's essential to stay hydrated on the golf course, and the TTD will allow that to happen.
There is a waterproof pocket in this bag that will help you keep your valuables safe and dry during your round.
It's one thing to get caught in a small rainstorm on the course, but it's another to lose your phone and GPS because they got wet.
We like the easy-to-lift handles on the top of this bag as well as the colors you have to choose from.
Overall, this is a great option which may save you hundreds of dollars to choose a golf bag that is not the name brand.
Pros
Available in several colors
Waterproof valuables pocket
14 full-length dividers
Cons
No warranty, not a brand name product
7. Wilson Staff Feather Carry Golf Bag
Key Features
Lightweight
Stylish
Five-way top
The Wilson Staff Feather Carry Golf Bag is an excellent choice for young and old.
This is a lightweight and affordable golf bag with a five-way top and two full-length dividers.
Most carry bags do not have the 14-way dividers, and that is entirely acceptable.
Having the five-way top and the full length dividers in the middle of this bag will do plenty to keep your clubs protected.
There are five pockets to help you keep all of your gear in place.
On the back of the Wilson bag is a two-in-one self-balancing strap, so you can customize the fit.
You will have no issues getting this to the point where you feel comfortable and secure with your bag in place.
The Wilson bag features a molded handle, a full-length side pocket, and a valuables pocket as well.
This is a bag that has everything a golfer could need at a very fair price.
The Wilson bag does not look like an inexpensive golf bag.
Pros
Molded handle
Cooler pocket
Velour lined valuables pocket
Cons
8. Forgan of St Andrews Super Lightweight Golf Cart Bag with 14 Club Dividers
Key Features
Super lightweight
Eight zipper pockets
Valuables pocket
The Forgan of St. Andrews's golf bag is a cart bag, but it is not heavy.
Most cart bags are going to weigh in between six and eight pounds.
The Forgan is closer to four pounds, making it one of the more lightweight cart bags on the market.
You will notice that this bag has lots of additional features to go with the lightweight style.
The Forgan has a Velcro glove holder which will let you dry your glove out from one hole to the next.
Getting into the habit of doing this will significantly increase the longevity of your glove.
The eight large pockets in this bag include a golf ball pocket, a valuables pocket, and two apparel slots as well.
There is no shortage of room to keep your gear while you play with this bag.
Pros
Very lightweight
Cart bag but not difficult to lift into and out of your car
Velcro glove holder
Padded shoulder strap
Cons
Only available in very dark colors
9. Izzo Ultra-Lite Cart Bag
Key Features
Lightweight
14-way top
Customizable ball pocket
Izzo makes our list yet again, this time with a cart style bag.
This very light cart bag is a perfect option for people who don't like lifting a monstrous bag in and out of a car.
Weighing in at only 3.8 lbs, you will be able to fill this bag full of clubs and accessories and still have plenty of room.
The top of the golf bag comes with a 14-way divider that will help you keep things organized and in place during your round.
With this divider, you won't spend much time trying to find your pitching wedge, and your pace of play may actually improve.
The Izzo has other great features like an umbrella holder, a glove holder, and a rain hood.
The Izzo golf bag comes in four different color choices, so you will be able to get an option that fits your style as well.
Pros
Very lightweight for a cart bag
Great handles for carrying
Available in several colors
14-way top
Cons
The material is a little lightweight and may not hold up for a very long time
10. Ray Cook Golf RCS-2 Stand Bag
Key Features
14-way top
Six zippered pockets
Full-length dividers
The Ray Cook Golf RC S-2 Stand bag is an excellent choice if you want a carry bag with a 14-way top.
Most carry golf bags do not have the 14-way top, and they will be a bit more challenging to work with if you are trying to protect your graphite clubs.
Luckily, this bag keeps everything separate, and there are three full-length dividers as well.
The combination of the two is truly a great option.
The padded strap on the Ray Cook bag will help you get a great fit and feel like you are barely carrying any weight.
There is also a hip pad that will keep your hip protected as you walk with the bag in place.
The six pockets give you ample space to organize your gear, and the valuables pocket is waterproof.
Overall, this is a high-functioning bag offered at a great price.
Pros
14-way top
Full-length dividers
Easy lift top
Cons
Only available in the one color pattern