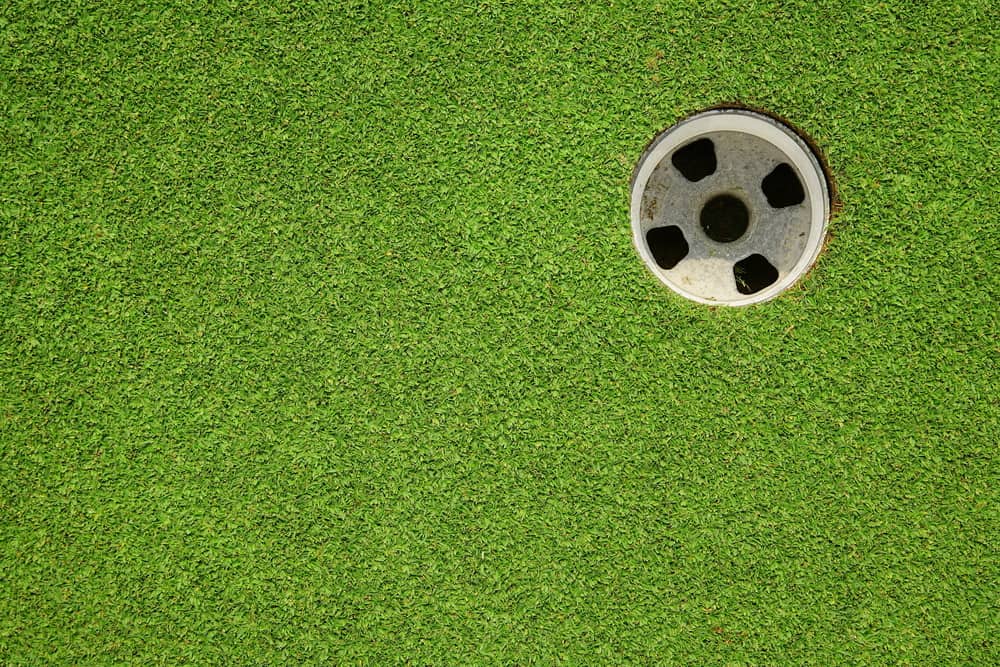 Some golfers will stand on a tee box and declare that the hole is a draw hole or even a fade hole.
However, if you have not been in the game all that long and you don't know all of the terminology, this may confuse you.
Luckily that is where we come in.
We are well aware of all the most important golf terminology and can help guide you when trying to decide what a draw hole may mean.
Luckily this one is pretty simple.

What Does Draw Hole Mean In Golf?
A draw hole is when the golf hole turns a little to the left, and the best shot for a player to hit off the tee box is a draw.
With a draw hole, you will put yourself in a bad location if you end up hitting the shot down the middle or even on the left side of the hole.
The key here is to learn to turn the corner a bit with your golf shot but still leave yourself a clear view of the hole.
On most draw holes, you can still hit a straight shot and be left with a great view of the hole and no trouble making your way to the pin.
Although there are some holes where you will need to hit the ball with a draw in order to get a look at the pin, that is typically rare.
The draw hole can come up once or twice in a round for a player, and it is why it makes sense to learn how to hit both draws and fades.
The more a golfer can learn how to hit different types of shots, the better the chance they have at becoming a great all around player.
What Does A Draw Mean In Golf?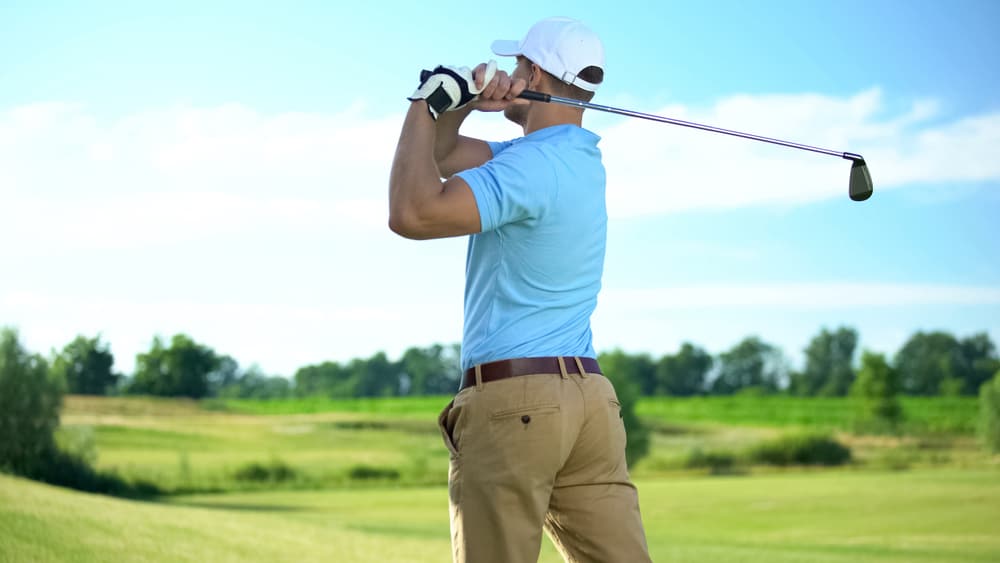 Before you can learn how to hit a draw, you must understand what it means to draw the ball.
When you draw a golf shot, the ball will start out straight down a path, and then it will start to turn a bit to the left.
The draw is a shot that is planned and controlled as opposed to a hook shot that will just send the ball to the left with a big sweeping hook.
Many great players have a natural ball flight that is a draw, and they use this on their everyday shots.
In fact, playing with a draw as your typical golf shot can be very useful.
As long as you know that the draw is coming, you will be able to do quite a bit with it to get the ball closer to the pin.
The draw shot typically requires a swing path that is slightly inside out and a clubface that is a bit more closed than other golf shots.
A draw in golf is a shot that is worth learning to hit.
Chances are if you learn how to hit a draw, you will also be able to learn how to hit a fade.
What Is The Benefit Of A Draw In Golf?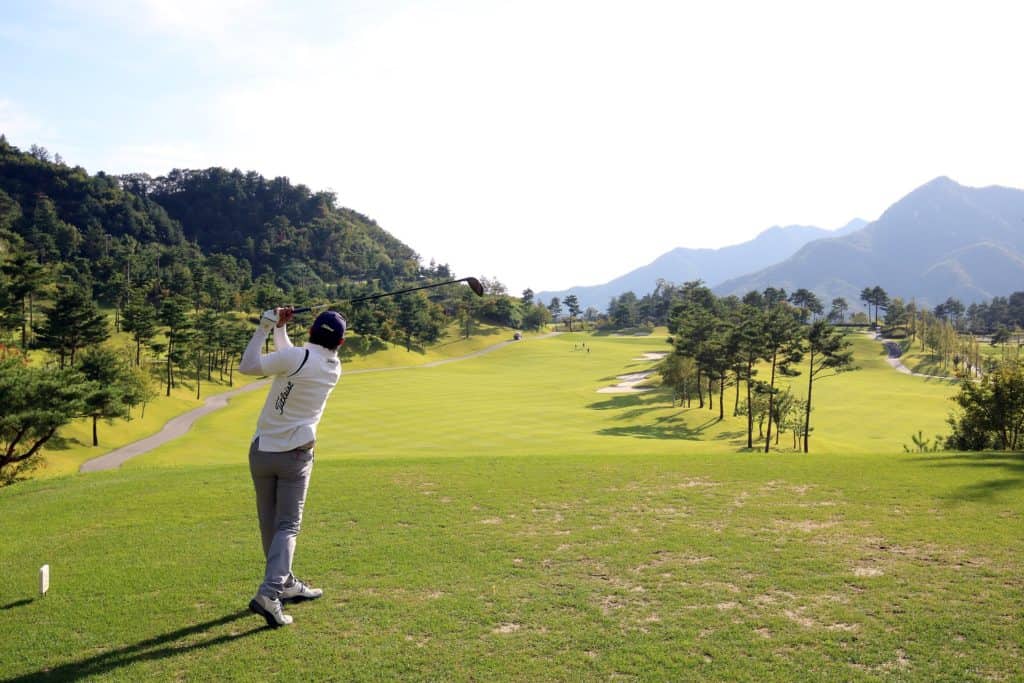 Aside from being able to play a draw hole with lots of precision and get the ball in the hole faster, there are other reasons that the draw can benefit a golfer.
If you are trying to scope out whether or not it is worth learning how to hit a draw or a fade in golf, we have you covered.
Let's take a look at the things that will help you learn that hitting a fade can be a really helpful golf shot.
1. Ball Travels Further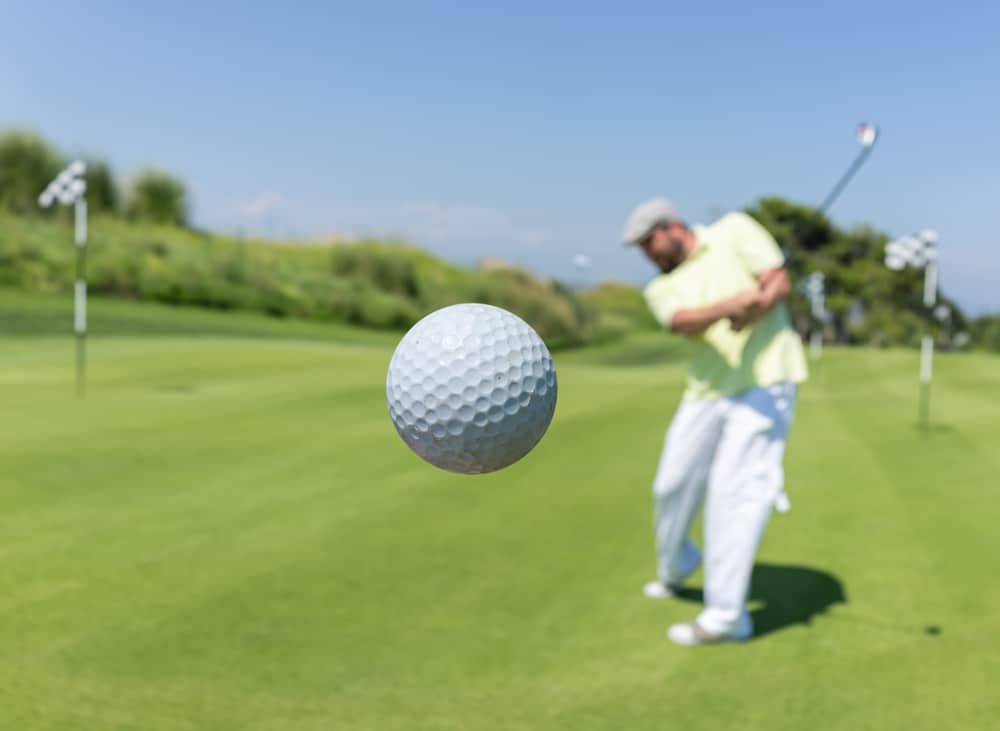 With a fade, your golf ball will travel further.
To hit a proper fade shot, you have to make really solid contact with the center of the clubface, and many times the clubface will even be close a bit.
This is how the ball will be struck, and because of this, the golf ball will end up traveling further.
When the golf ball travels further, players get more distance and end up having more confidence in their swing.
Typically speaking, if you hit a straight golf shot with your seven iron and it travels 140 yards, you can expect that a draw is going to go 145.
The difference in distance isn't much, but it does help the golfers to be able to get the extra distance that will encourage better overall confidence.
For those playing with golf clubs that are slightly more offset, the draw can get a bit exaggerated, and that is something to be aware of.
If you aren't careful of how you make an impact with the ball, the draw could turn into a hook rather easily.
2. Ability To Hit Pins On Left Side Of Green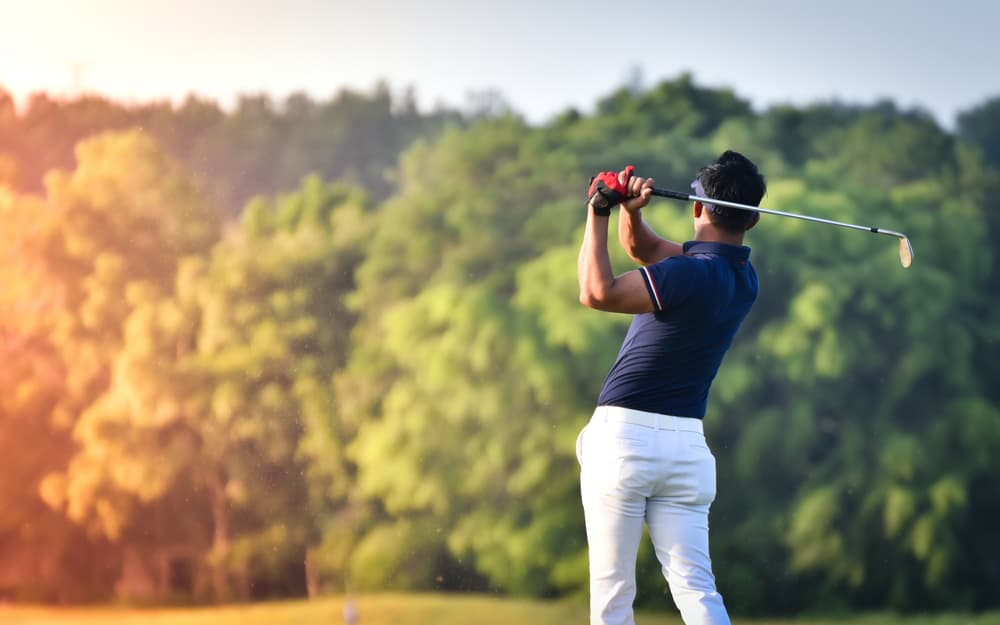 When a pin is on the left side of the green, it can be hard to get the ball close without using a draw.
A draw shot can start in the center of the green and then make a left hand turn that will help it land near the pin.
Hitting the pins on the left side of the green by using a draw means that you will have a much shorter putt for your birdie.
This can also be a really good way to get to the pin if there is trouble all along the left side.
You can take your shot up and away from the trouble and then have it draw back into the hole.
This takes some time to learn before you can confidently pull off the shot, but it will be well worth it in the end.
Players that are able to do this can keep their ball from getting into major trouble that causes those double bogeys and triple bogeys.
If your worst golf holes are bogeys, chances are you will end up with a really solid round of golf.
3. Complete Shot Turning The Club Over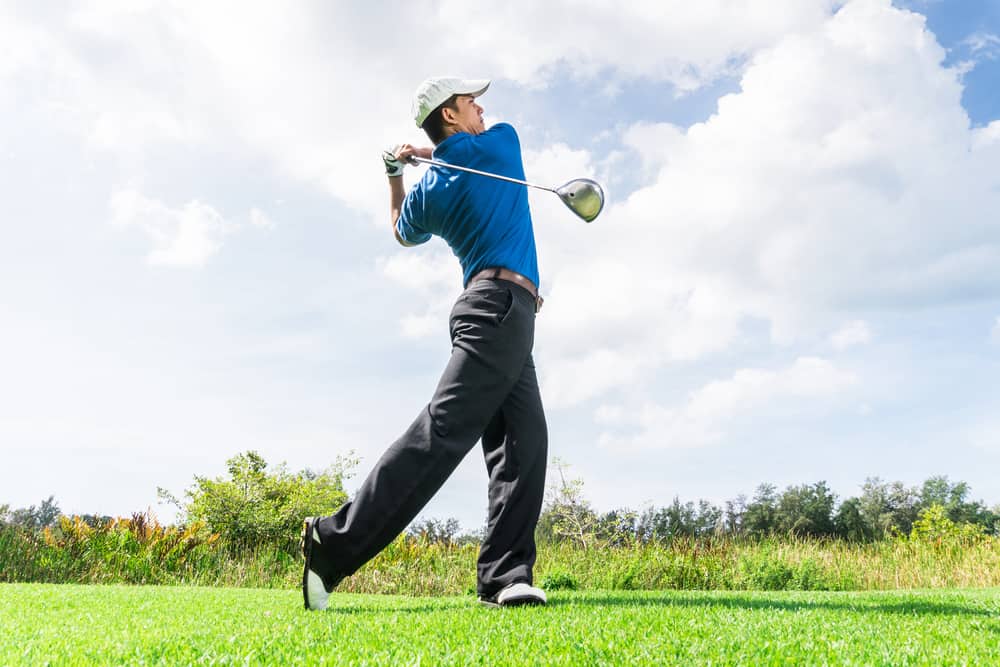 If you ask any golfer what the most common miss is in the game, they will most likely tell you it is a slice.
It is very common to slice the ball, and it is something that golfers have struggled with for decades.
When you slice the golf ball, it becomes very difficult to keep the ball in play, and you will without a double lose distance in your game.
However, if you are slicing the golf ball continually, you may find out that the reason this is happening is that you are not releasing the golf club through impact.
If you want to hit a great golf shot, you must release the club head and make sure that it is no longer open at impact.
One of the ways in which you will know you have done this is that you will start hitting a draw.
Many golfers will try to develop this feel and this concept with their short irons and mid irons and start to hit a draw.
Then as they move up their bag closer to the driver, they continue to feel that same ability, and they learn to turn the ball over at impact.
It's a tough thing to release the golf club and to do it with the proper timing, but it can be done.
For golfers that are new to the game, it is very important to start to practice this concept sooner rather than later, or you will struggle with a slice for many years.
We highly recommend practicing hitting a draw with all of your clubs so that you can learn to feel a proper release and turnover of the golf club at impact.
4. Learn To Reverse It For A Fade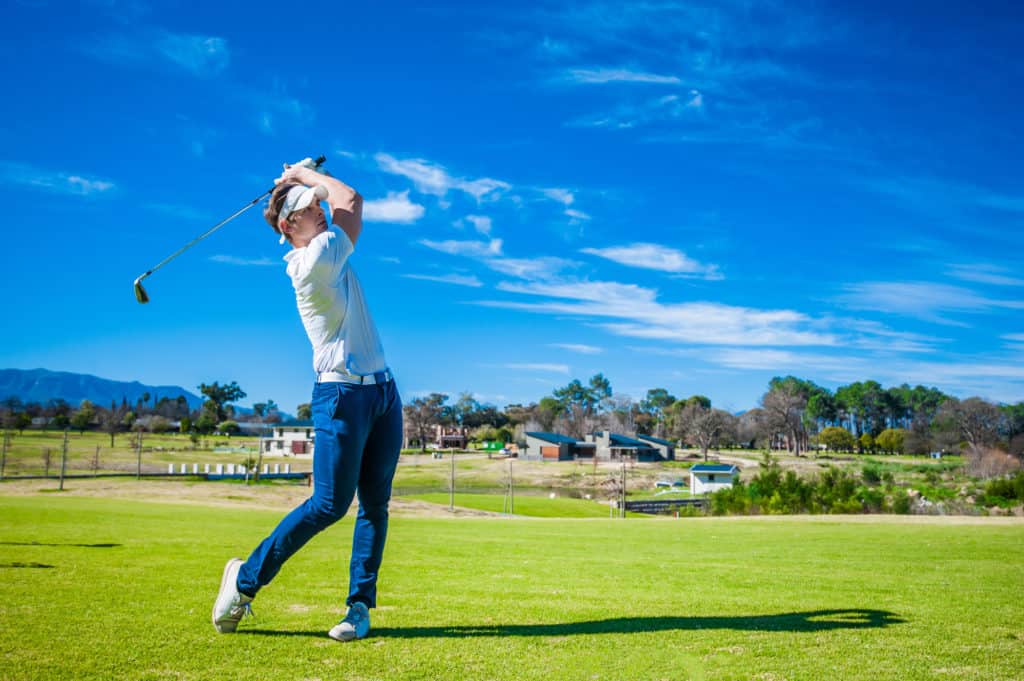 In golf, some of the motions that we make can be reversed to achieve different results.
If you like to hit a draw by taking a slightly inside out swing path with a moderately closed clubface, you can learn to hit a fade by essentially doing the opposite.
When you hit a fade shot, your clubface will be slightly open, and your club path can either be straight or just a bit outside in.
Most golfers try to hit a fade by just taking a swing path that is square with a slightly open clubface.
If you can learn to hit either the draw or the fade, chances are you will be able to reverse them and then hit the opposite shot.
Overall hitting both a draw and a fade can be beneficial.
We especially like the concept that if you are out on the golf course and you get stuck with a problem in your golf game, you will have some idea how to fix it.
Golfers will be able to work on their swings because of their increased knowledge of what it takes to hit a draw or a fade.
The overall ability to hit a draw or a fade is something that you should work on while at the driving range.
Trying to narrow this down on the golf course takes a bit too much concentration, and you may end up hitting quite a few poor shots.
5. Dog Leg Golf Holes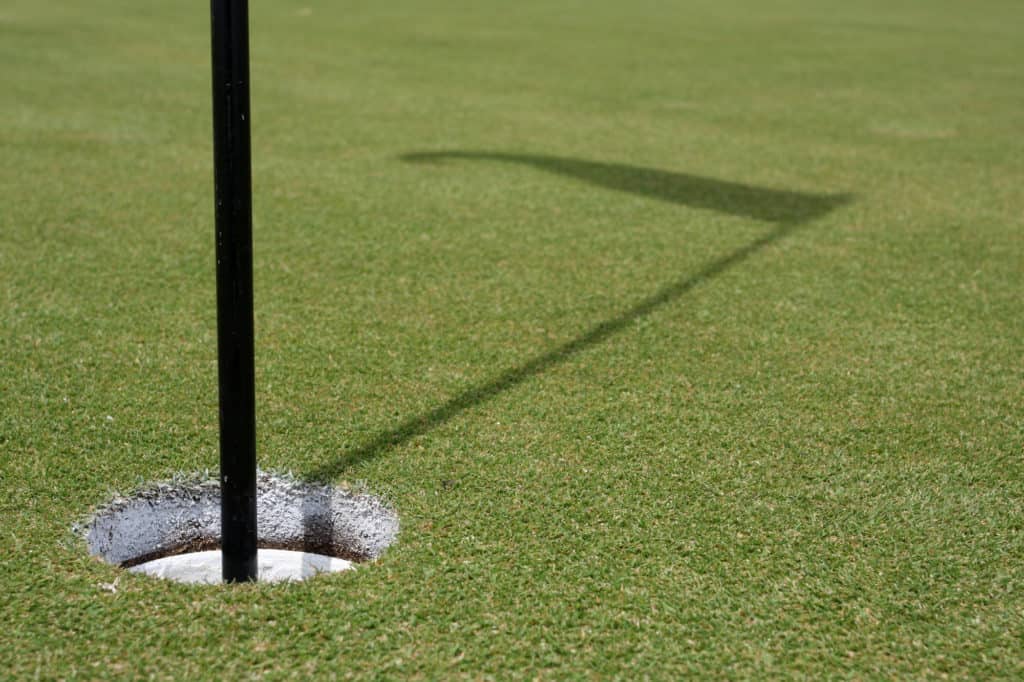 Last but not least, the draw shot is a good one to have when you are playing dog leg golf holes.
Of course, most players can make the hole work by just hitting a straight shot, but for the most part, you will be making things a bit harder on yourself.
If you can't turn the ball around the corner, you won't be able to get the same distance into the pin.
Sometimes this slight difference in angle can mean that you have twenty yards or more closer to the hole.
If a straight shot leaves you a 160-yard approach shot, but the draw leaves you a 140-yard approach shot, you can see the importance of being able to hit the draw.
Dog leg golf holes take time to learn and perfect, but when you have the ability to hit a draw, you will be able to take your game to the next level.
Why Is Tee Shot Placement So Important?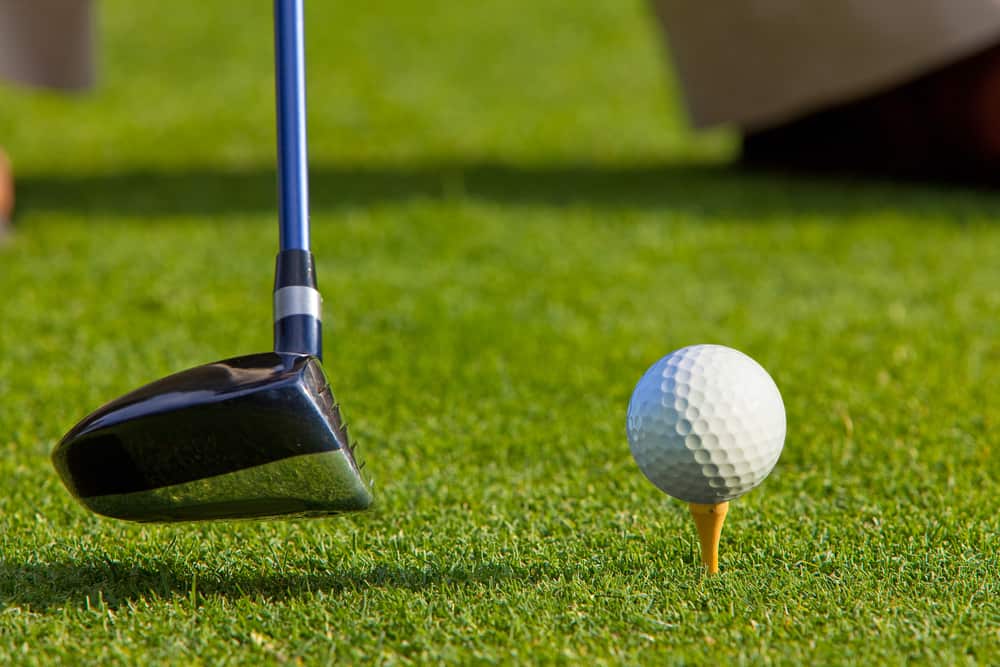 When a golfer calls a hole a draw hole, they are really talking about the type of shot that you will need to hit from the tee box.
This leaves some golfers wondering why hitting the ball in the fairway is not enough.
Hitting the ball in the fairway is important, and it will help golfers that are trying to develop some of that extra consistency that they need in their game.
However, at some point, you will reach a hole where hitting it in the fairway is not enough.
Golfers start to realize that you can break 100 from the fairway; in fact, most times, you can even break 90.
However, if you want to start shooting scores in the 70s and most definitely in the 60s, you are going to need to place the ball around the course.
When a great player looks at a golf hole, they are thinking about where they want to be hitting their next shot from.
Placing the ball in the middle of the fairway may not be enough, but having the ball on the left side or right side of the green could provide the perfect angle to make sure you have a great hole.
The tee shot placement is what leads to a great greenside placement.
When you have a better angle to the pin, you can then hit a shot that lands near the pin and have a much better shot at making a birdie.
All of this starts from the tee box, and it is why golfers start to learn about fades and draws off the tee.
Is A Draw Hole Or A Fade Hole Easier?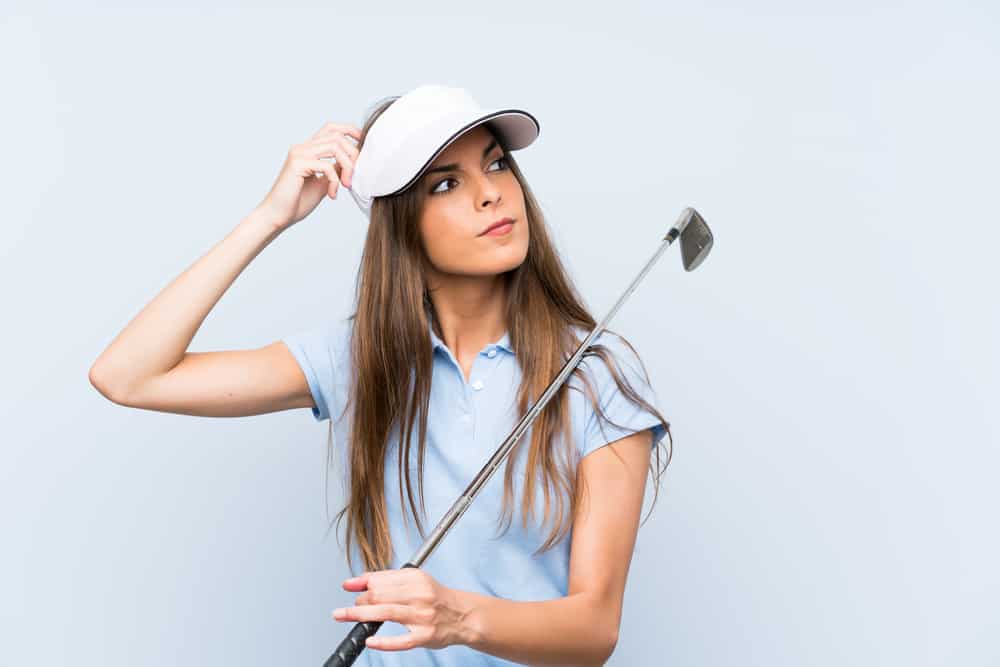 During the course of a round of golf, players will be faced with both draw hole and fade hole opportunities.
Many players wonder if it is easier to play a fade hole or a draw hole.
The good news is that they can both be quite good; it is just a matter of finding a shot that is comfortable for you.
Even though some players tend to slice the ball quite often, they may struggle when it comes to intentionally slicing the ball off the tee.
In other words, players need to develop a shot they are comfortable with and then stick with it.
Whether that is a fade or a draw, or simply a straight shot, make sure that you have a go-to option for a more difficult hole.
Golfers often take some time to figure out what it takes to not hit the hero shot.
Golf course management is all about learning how to hit the percentage shot as opposed to learning how to play with the hero shot.
You won't be able to hit perfect golf shots on the golf course all the time; this is something that all great players know.
However, the great players are not the ones that are trying to hit a shot over and around a tree to a green that has a water hazard in front of it.
Therefore, whether you are playing a draw hole or a fade hole, neither of these needs to be difficult.
As a player, you must simply choose the type of shot you are going to hit and how that is going to impact your score on that hole.
Naturally, the player that has a slightly inside out path likes to play the draw hole a bit more than the golfer that has the outside in swing path.
If you aren't sure what your swing path is, then take a few videos of your swing and see if you can analyze which way it goes.
Conclusion
Hopefully, you now have a better understanding of what it takes to play a draw hole and what a draw hole means.
If you are going to make one change to your golf game this year that you want to have a major impact, learning to hit both a draw and fade is a great idea.
In addition, it makes sense to learn when to hit the draw and fade as there are times that these types of shots can either help or hurt your game.
Try to keep in mind that learning how to work the ball is easier with certain clubs, and it is most certainly a concept that should be practiced on the range.