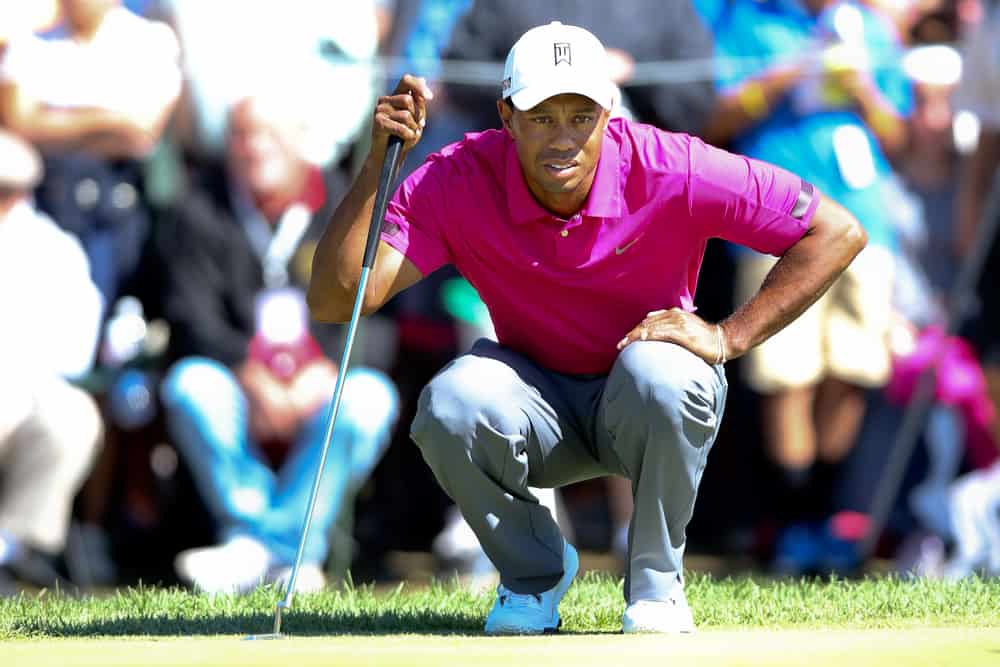 With Tiger Woods being arguably the best golfer that the game of golf has ever seen, people love to know what equipment he uses.
Sometimes understanding if the equipment that Tiger uses could also be good for you will help you get more confidence in your golf game.
Have you seen entire sets of irons that are sold in exactly the same configurations and specifications that Tiger Woods would use?
People are convinced that there must be some secret to his game and how he has been able to accomplish what he has.
Although Tiger Woods is not playing competitively at the moment, you may be wondering what putter he used and if this is a club that changes often.

What Putter Does Tiger Woods Use?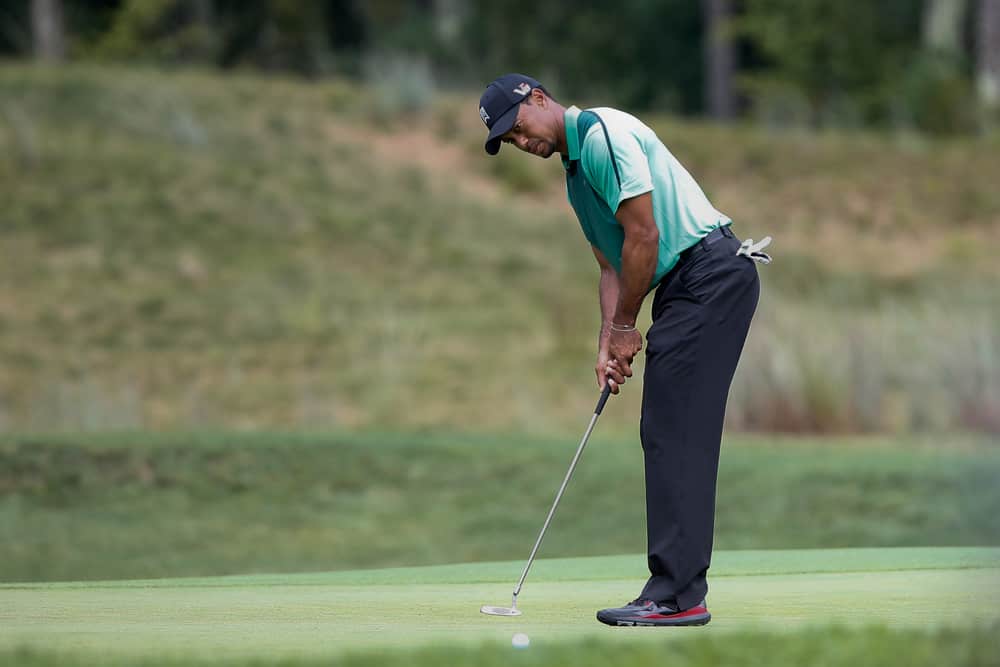 Tiger Woods uses a Scotty Cameron Newport 2 SS Prototype.
This putter has been in and out of the bag several times throughout the years.
Players often change putters to ensure that they are comfortable and confident when standing over their golf ball.
One of the things to keep in mind is that many golfers are on a putter contract with a sponsor.
This means that they can't change their putter to another brand even if they are struggling with the performance.
Tiger typically didn't do this when it came to putters, and that is why we have seen him switch from Ping to Scotty Cameron to TaylorMade through the years.
Tiger has almost always used a blade style putter.
Considering his classic style and putting stroke, this is not all that surprising.
Most of the iconic pictures we see of Tiger winning his many championships will be with a Scotty Cameron in his hands.
The Scotty Cameron putters are very well known in the world of golf and have become some of the most popular among amateur players.
There was a brief period of time when Tiger used a Nike putter.
You may remember that for many years when Tiger was in his prime, he was sponsored by Nike and was able to do some incredible things for that company.
Now that Nike and Tiger are mostly out of the golf business, it remains to be seen what type of putter will be in Tiger's bag the next time he heads out to the golf course.
What Is So Great About The Scotty Cameron Newport 2?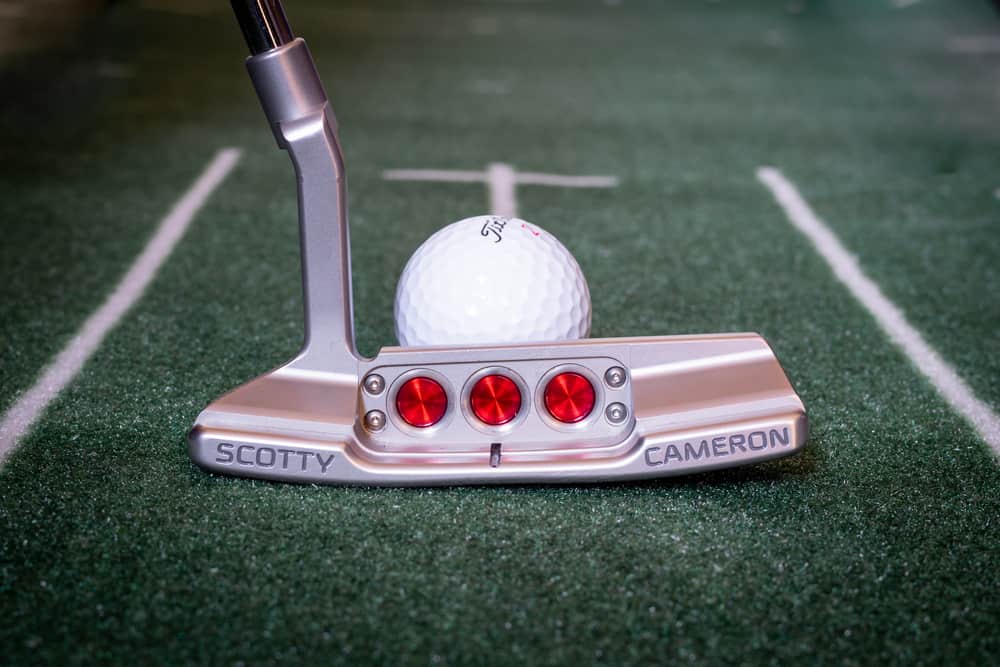 Many golfers will refer to the Scotty Camron Newport putters as being the best in the game.
It is hard to argue with this when you see the number of events and tournaments that these putters have to their name.
Over time, Scotty Cameron has developed some impressive technology that has led to increased performance and a better feel.
The fact that this company (which is a division of Titleist) focuses explicitly on putter technology is another reason they can produce some higher quality products for players.
The Scotty Cameron Newport 2 is a very classic blade style putter.
When you look down at this putter's head, it will be very simple and an excellent choice for those golfers who like a less complicated stroke.
Most players will find that the Newport 2 can work for both arch-style putting strokes and straight back/straight through style putting strokes.
Once you get to understand the Scotty Cameron brand, you will see that the feel of the Scotty Cameron is really part of the appeal.
The best way to describe the feel of a Scotty is solid.
There is almost no vibration when you hit the ball, and the putter will not rock back and forth in any way.
The idea is that if you can start putting strokes on the ball that allow you to hit directly in the center, you can make quite a few putts with the Newport 2 putters.
The Newport 2 is also known for helping players with distance control, and having the combination of great feel, alignment capabilities, and good distance control make this a perfect putter for any handicap range.
What Made Tiger Woods Such A Great Player?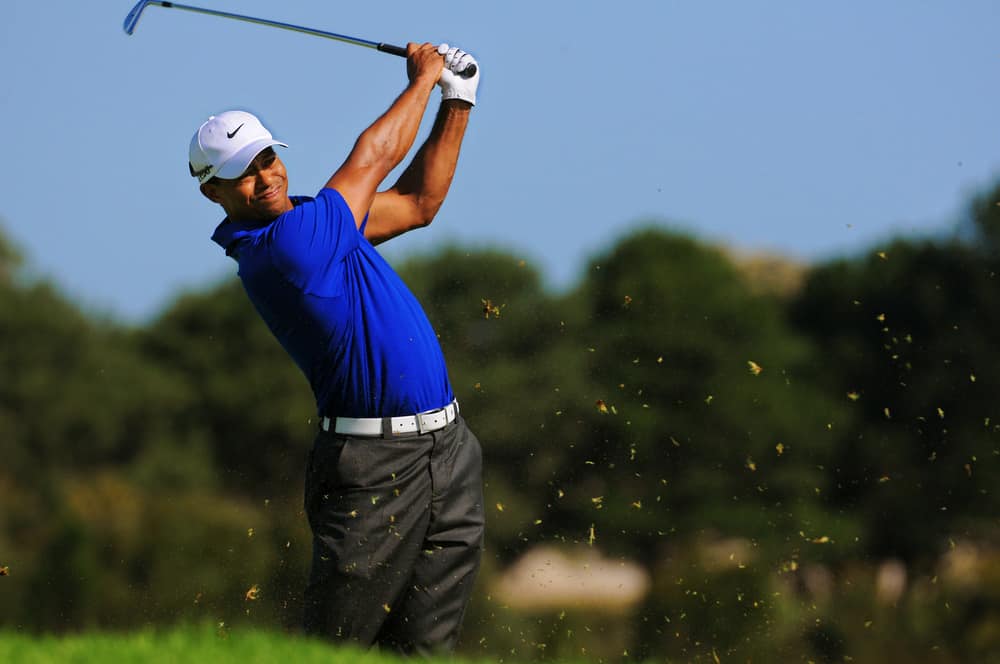 Whether you are a fan of Tiger's or not, you will have to admit that he has made some great putts throughout his career.
If you saw Tiger with a 20-foot putt in front of him to win a major championship, you almost knew that he was going to make it.
It's been a while since another golfer has come through the ranks of the PGA Tour with this much capability when it comes to putting.
You may wonder what it was that made Tiger such a great putter and whether or not this is something that could work in your golf game.
1. Solid Stroke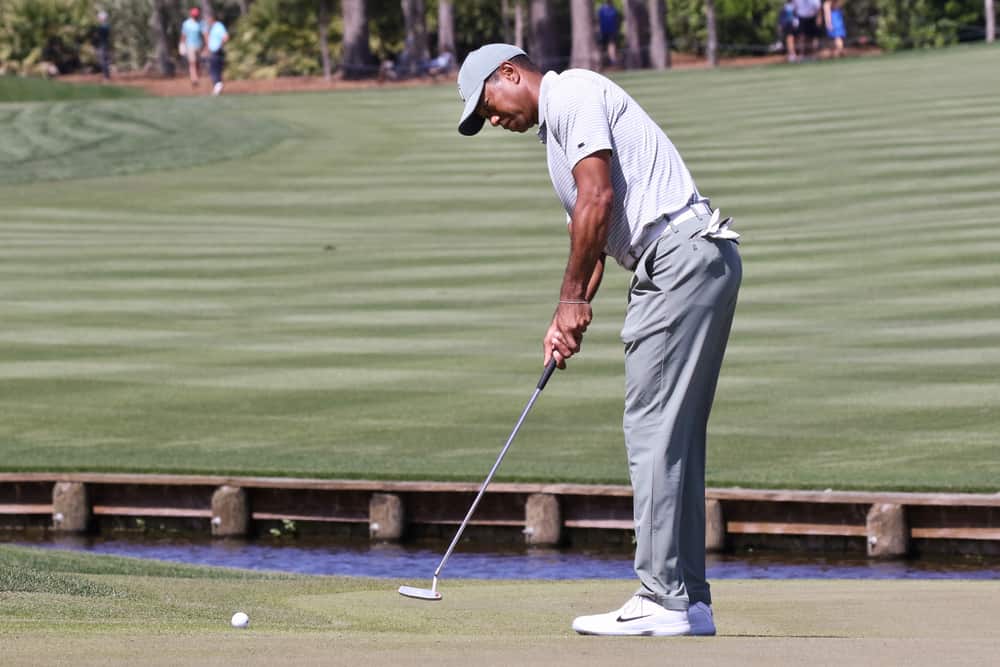 Everything about Tiger Woods's putting stroke was solid.
When he took the club back and through, it was always on track and made contact with the center of the ball more often than not.
Many players don't realize how much putting is like the rest of the golf game.
You will have to hit the ball in the center of the clubface of the putter if you want to get a great performance.
Even though the stroke is smaller, it is still just as important to be on the plane and create a path that goes back and through the golf ball.
Tiger was able to do this, and he had a stroke that he had stuck with from the time he was young.
Although we have seen Tiger go through some major swing transformations, his putting stroke has really stayed very similar through the years.
Part of the reason behind this is that his putting stroke is just really good.
2. Consistency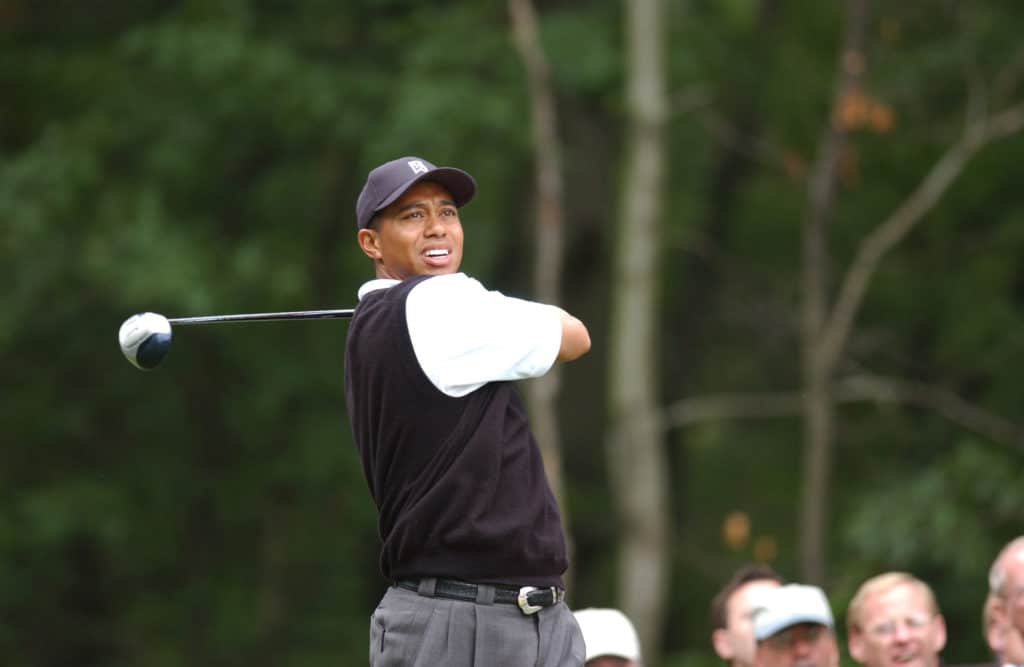 Tiger Woods is known for his consistency.
As we mentioned, when he stepped up to make a putt, he almost always was able to make that putt.
Most golf fans had a tremendous amount of confidence in the ability that Tiger Woods had to make putts.
In addition, his putting stroke was always the same.
If you watch videos of when he was winning his tournaments, you will notice that he was able to keep the stroke the same almost all the time.
Consistency was essential for Tiger, in the putting stroke, swing, and overall golf game.
He practiced and worked harder than most people to ensure that he could repeat the same putting stroke over and over again.
Consistency can make anyone a great putter.
To make three-putting strokes out of ten exactly the same is relatively easy.
However, making eight or nine putting strokes out of ten the same takes quite a bit more work.
Tiger put in the time to make sure his putting stroke was almost exactly the same every single time.
This paid off, and he was able to become one of the best putters that the world of golf has ever seen.
3. Mental Game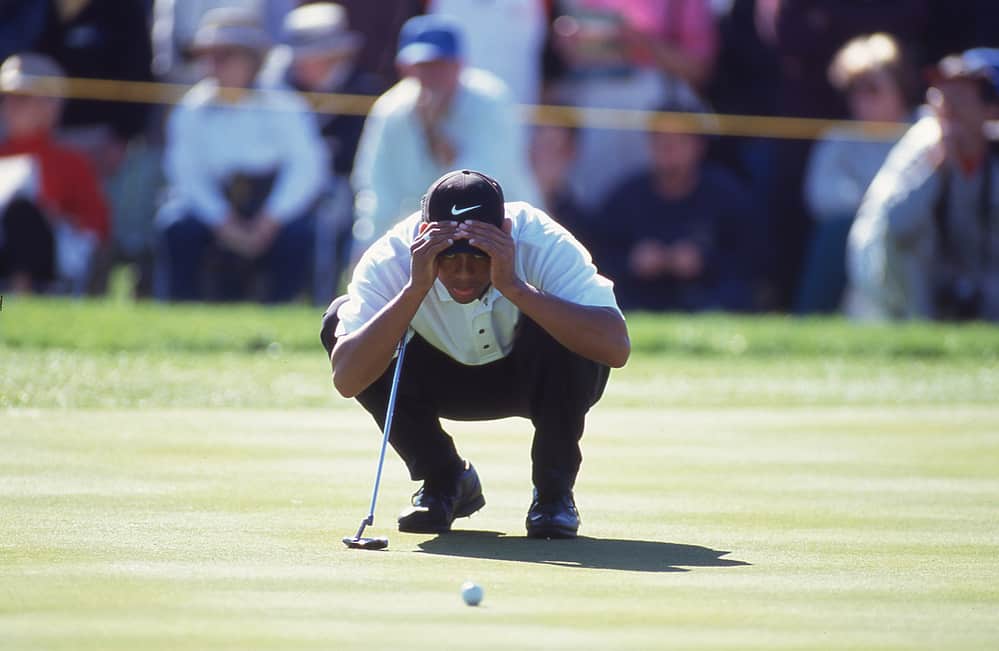 Perhaps the most crucial reason behind Tiger being such a great putter was his mental game.
Tiger was one of the first players to openly talk about how much work he was doing to prepare his brain to play in events.
The mental game is such an important part of golf.
Without a clear mind or confidence that you are going to make a putt, chances are you will not make it.
When Tiger stood over a putt, however long, he knew that he had a very good chance that he was going to make it.
How many times do you stand over a ball and just hope not to three-putt?
The mindset difference is huge, and it is essential that you start to learn how to think more positively about your golf game.
Getting to a strong mindset in golf takes a lot of time and practice.
Most players think that standing on the putting green practicing your stroke will make you a better player.
Although this can't hurt, it is not nearly as effective as putting pressure on yourself and trying to make the putts feel the same way they would on the golf course.
There are many putting games out there that will help you learn how to make each putt count.
The more time spent practicing effectively like this, the better the chance you have of bringing this information and skills out to the golf course and seeing real improvements in your game.
Overall, the mental game of golf is something that all players should learn to practice and perfect.
The sooner you can realize the importance and the impact, the better the chance you have of playing well and shooting some impressive scores.
Should I Play With A Scotty Cameron Newport 2?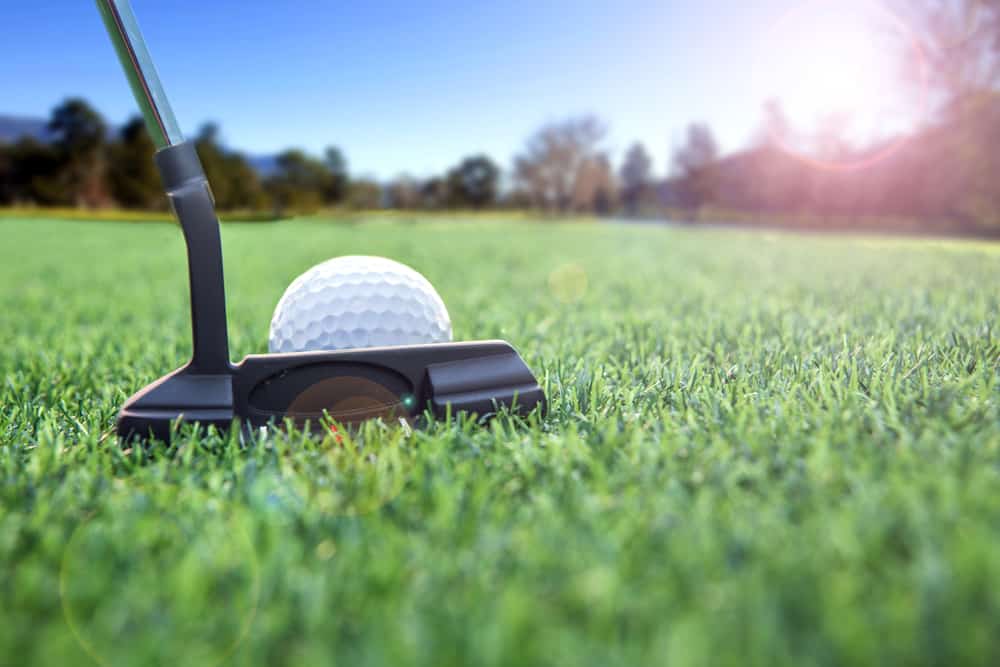 Although Scotty Cameron changes their product offering from time to time, there is usually some type of Newport 2 model in the lineup.
With the impressive history of this putter, Scotty will probably always continue to release one.
The question you may now have is whether or not this putter is a good option for you.
If you like blade style putters this is going to be one of the best options available.
The Scotty Cameron Newport 2 has only one real downside.
The downside is that the putter is expensive.
For many years, Scotty Cameron putters were known as the most expensive on the market.
This was usually because of the research and materials put into these putters and how much it impacted the overall selling price.
However, now that putting technology has changed, many companies are putting out high-end putters that cost even more than the Scotty Cameron.
A putter used to be a cheap addition to a golf bag, and now they cost close to the same as a driver.
When you think about how often you are using a putter in your golf game, you will realize that the extra money spent on a new addition to your bag can make quite a bit of sense.
If you are at the point in your golf career where you know you have a solid and repeatable putting stroke, introducing something like the Scotty Cameron could take your game to the next level.
Conclusion
Tiger Woods changed his putter when he felt as though his golf game could benefit.
However, when it came down to some of the most important tournaments and wins of his career, he went back to the Newport 2.
If you are looking for a new putter this year and want to channel your inner Tiger, the Newport 2 could be a great choice to consider.
You will have a hard time finding a putter with more positive reviews and history tied into it.
Keep an eye on Scotty Cameron as their technology continues to improve and expand.
We will likely see many other great choices from this company in the coming years.