Low spin golf balls produce two great benefits for players.
The first is that, when you hit the ball, it will roll for a very long time.
This is a great choice for those who need that extra speed to get the distance they need from the tee.
A low spin golf ball will also help to ensure that a hook or slice spin is not as prominent on your golf shots.
The majority of golfers will do best with a low spin golf ball off the tee, so here are some of the best low spin golf balls on the market.

Best Low Spin Golf Balls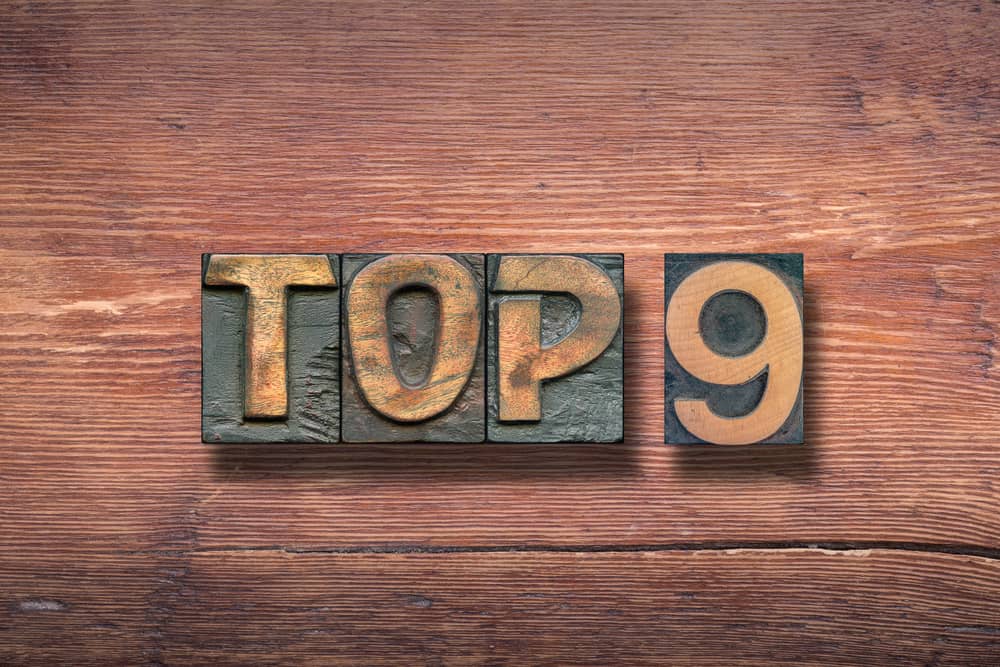 1. Srixon Soft Feel Golf Balls
Key Features
Feels soft around the green
High ball speed
Soft and thin cover
The Srixon Soft Feel is one of the best low spin golf balls on the market.
In addition to having low spin, you will be impressed with the way the dimple pattern on this golf ball is created as there is less drag and higher launch from the golf ball.
Srixon Soft Feel gives golfers great performance from both the tee and the green.
We are impressed with the way this golf ball can give you feel and spin around the greens but still allow you spin around the greens.
Many lower handicap players feel as though this ball is like a three or four piece ball even though it is only a two piece.
Mid handicap players are going to find that the Srixon is one of the best choices on the market, especially in the price range.
The Srixon Soft Feel has been on the market for quite some time, and the technology just keeps getting better and better.
2. Vice Golf Drive Balls, White (One Dozen)
Key Features
Fairly priced distance golf ball
Low to medium swing speeds will benefit
Long roll from the tee
Vice is a company that came to the market to produce reasonably priced golf balls for the average player.
When it started, Vice became popular quickly and then started to branch out to make more and more products for a variety of players.
The Vice Drive is one of the simplest models on the market, and it is a two piece value type golf ball.
Players who have a low to medium club head speed and need as much roll as they can get will enjoy what the Vice Drive has to offer.
This ball is designed with 368 dimples to help keep the golf ball cutting through the air and the wind on those difficult days of golf.
One of the things that these Vice Drive golf balls are known for its longevity.
You may buy a dozen balls, but you can use them round after round, and this only further increases the value of the golf balls.
Pros
Great for players who struggle with distance
Long roll
Moderately soft feel around the greens
Cons
Two piece ball does not have the best spin around the greens
3. Callaway 2021 ERC Triple Track Golf Balls 12B PK
Key Features
Long golf ball but soft feel
Lots of control around the greens
Triple Track alignment system
The Callaway 2021 ERC Triple Track is a brand new design on the market.
This is a golf ball that can combine high ball speed from the tee with a soft feel around the greens.
One of the things that really makes this golf ball stand out is the Triple Track system on the golf ball.
The Triple Track is three lines that are on the ball to help you line up your putts, and you can even use it from the tee if you would like.
This is a great benefit for those who struggle to get their golf ball on the proper line.
Alignment is one of the more difficult parts of playing great golf, and Callaway has set out to make it easier on golfers.
One thing that the ERC Triple Track specializes in is the ability to help golfers transfer the speed from their golf club to the ball.
The High Speed Mantle inside the ERC also helps to ensure that even the slowest swing speed golfers are getting the distance that they need as they get through impact position.
Pros
Very high energy golf ball
Durable cover
Multi material construction
Cons
Not the cheapest of the low spin golf balls
4. Bridgestone Golf e12 Contact Golf Balls (One Dozen)
Key Features
Straight distance golf ball
Bridgestone is a trusted golf ball brand even on the PGA Tour
It still has decent spin around the greens
Bridgestone is one of the leading golf ball manufacturers because they really took the idea of golf ball custom fitting and brought it to the market.
Those who want to ensure they are playing with a golf ball that meets their needs can go to the Bridgestone website and do a custom ball fitting.
The e12 Contact Golf Balls happen to be an excellent choice for getting a low spin off the tee but still having a bit of spin around the greens.
The low spin off the tee also helps to reduce slices and hooks that you may hit.
One of the other great benefits of the low spin Bridgestone e12 Contact is that it offers golfers more contact with the ball than previous models.
Essentially, the way the ball is designed, you will hit more of it when you make contact.
This obviously leads to more distance but also lower sidespin and more of a straight golf ball flight.
Mid handicappers with medium swing speed tend to do the best with the Bridgestone e12 golf balls.
Overall, the more time you spend around golf, the more you will realize that you can't go wrong with Bridgestone.
Pros
Unique dimple pattern
Helps golfers maintain better contact with the ball
Reduced hook and slice spin
Cons
Not the best for the very slow swing speed golfers
5. TaylorMade Project (s) Golf Balls (One Dozen)
Key Features
Soft feel around the greens
Plenty of ball speed
Affordable golf ball from TaylorMade
The TaylorMade Project (s) Golf ball is a very user friendly ball built to help the golfers who need extra ball speed.
You have probably noticed that many of the golf balls on the market are made for those who need extra speed.
All players want to get distance regardless of what it takes, and they are willing to pay for it.
This is why TaylorMade markets to this group of people and puts out one golf ball after another that is a distance golf ball.
Many of the low spin golf balls often overlap in the distance category.
Since low spin golf balls are going to roll for a long time when they hit the ground, those seeking distance enjoy this type of technology.
One of the technologies that help the TaylorMade Project (s) golf balls stand out is the two layer core.
The idea of this two layer core is to help reduce the overall drive spin but increase the speed that players can get off the tee.
With the spin is reduced, you will also see that there is less drag from these golf balls as they fly through the air.
The core in the Project (s) is more extensive than other TaylorMade golf balls, and that only further increases the distance and technology you get with this ball.
Pros
Large core
Very soft feel around the greens
Ball will roll for a long time when hit
Cons
Lower compression makes it a poor choice for faster swinging players
6. Wilson Staff DUO Golf Ball, Soft, White
Key Features
Very low compression
Long distance performance
Aerodynamic dimple pattern
One of the great things about looking for a low spin golf ball is that spin is a golf ball feature that can be measured.
Companies won't be able to lie about their spin rates, so they are simply posted as part of the sales material on the golf ball.
It's much easier to compare golf ball to golf ball when you can read exactly what the spin rates are.
However, something like feel is more of a subjective parameter, and what works for one player may not work at all for another.
The Wilson Duo Soft has the lowest driver spin rate of all two piece golf balls that compete for straight flight.
In addition, the Wilson Duo Soft is one of the lowest compression golf balls in the world of golf.
Playing with something that is low compression is going to help ensure that the ball is much easier for a slower swing speed golfer to use.
The golf balls are easy to compress and always fly higher and get higher launch than other golf balls on the market.
Typically speaking, Wilson is considered to be a value type brand, but overall, this golf ball offers enough performance to be able to consider it as more of a premium choice.
When you can get distance, feel, and easy compression, it's hard to complain about the price you are paying for the golf ball.
If you are opposed to Wilson products for some reason, give this one a shot because you may be pleasantly surprised.
Pros
Improved dimple pattern
Very low compression rate of 29
Has one of the lowest driver spin rates on the market
Cons
It does not have the durability of some other golf balls on the market
7. Callaway 2021 Supersoft Max Golf Balls 12B PK
Key Features
Very affordable golf ball
New Tri Blend cover for increased ball speed and feel
Low compression
The Callaway Supersoft golf balls have really taken over the market in the last few years.
With the Callaway Supersoft, you will be able to launch the ball at incredible distances regardless of your swing speed.
This is the longest golf ball on the market for slower swing speeds, and this is possible because of a low spin rate on the longer clubs.
Luckily, the new Tri-Blend cover on the Supersoft Max allows golfers to get some great feel and reaction around the green.
In addition, this is a very low compression golf ball that offers maximum energy transfer from the club to the ball.
Essentially, if you are able to compress a golf ball, you are going to be able to hit it quite a long distance.
Another thing that people enjoy about the Callaway Supersoft golf balls is that they seem to help with consistency.
When you are around the greens and looking for shots that can help you lower your scoring abilities, the Supersoft is an excellent option to consider.
Players learn what the ball feels like coming off the clubface, and then, they are better able to predict shots and ensure they are heading to the hole the way they should be.
Pros
Great options for slower swings
Very consistent performance around the greens
Oversized golf ball design
Cons
The golf ball does look larger than a traditional ball and can be tough to get used to
8. Volvik T2 Ionomer Polymer Low Side Spin Matte Finished Long Distance Balls 2-Pieces, 1 Dozen
Key Features
Very easy to see
Comes in a variety of colors
Ionomer cover
Volvik golf balls originally became popular simply because they were bright in color.
However, as time has gone on, they have really created a place for themselves on the market, and their benefits go way beyond the color of the ball.
The matte finish on these T2 Ionomer Low Spin golf balls also helps to reduce the glare that you get when you are playing with the ball.
In addition to getting the lower spin to help with distance off the tee, you will get a lower side spin as well.
This means that if you want to hit a draw or a fade, you will be able to do so, but your hooks and slices should straighten out a bit.
This is a two piece golf ball, so it will be built more for distance than green side performance.
However, the addition of the Ionomer cover has helped to make it so that you can still get a softer feel around the greens.
Pros
It comes in a variety of colors that are easy to see
Slice and hook reduction technology
Extremely long distance and high launch angle
Cons
Mixed golf ball pack of colors, you may not like each color
9. Callaway 2021 REVA Golf Balls (One Dozen)
Key Features
Built specifically for women golfers
Produces very high launch
Low spinning golf ball
The Callaway REVA Golf Balls are a brand new addition to the game.
For so many years, we have seen companies take a soft golf ball that is two pieces and paint it pink and call it a women's golf ball.
In today's world of golf products, there is just no reason for this.
There is so much technology on the market that golf balls should be made customized to the specific needs of a female player.
The Callaway Reva golf balls are all about getting more distance and forgiveness for slower swing speed players.
In addition, this golf ball does quite a bit to help increase launch.
Many women golfers struggle to get the ball flight that they want from their shots, and the Reva does a great job of helping to improve that.
Pros
Great for lower swing speed players
Women can get the higher ball flight
It gives women golfers more confidence
Cons
Not an excellent choice for a faster swinging female golfer