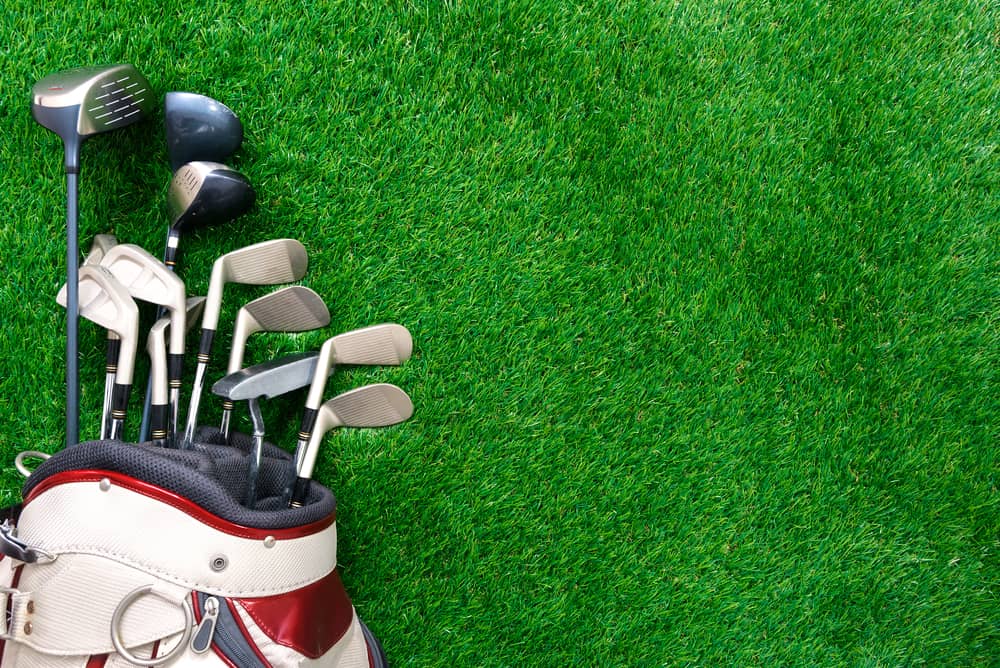 If you are new to the game of golf, it can be a bit overwhelming to learn about all the equipment that is out there.
There is plenty to learn about to make sure you have a good handle on all that golfers can use to help get the ball in the hole.
Each golfer can carry a total of 14 clubs in their golf bag.
However, there are lots of different clubs out there to choose from.
There is no one right way to set up your 14 clubs.
It will certainly be an advantage to know the differences between these golf clubs and how they may be able to help your game.
Here are the types of golf clubs out there and the ways you can use them.

Types of Golf Clubs (And How to Use Them)
1. Driver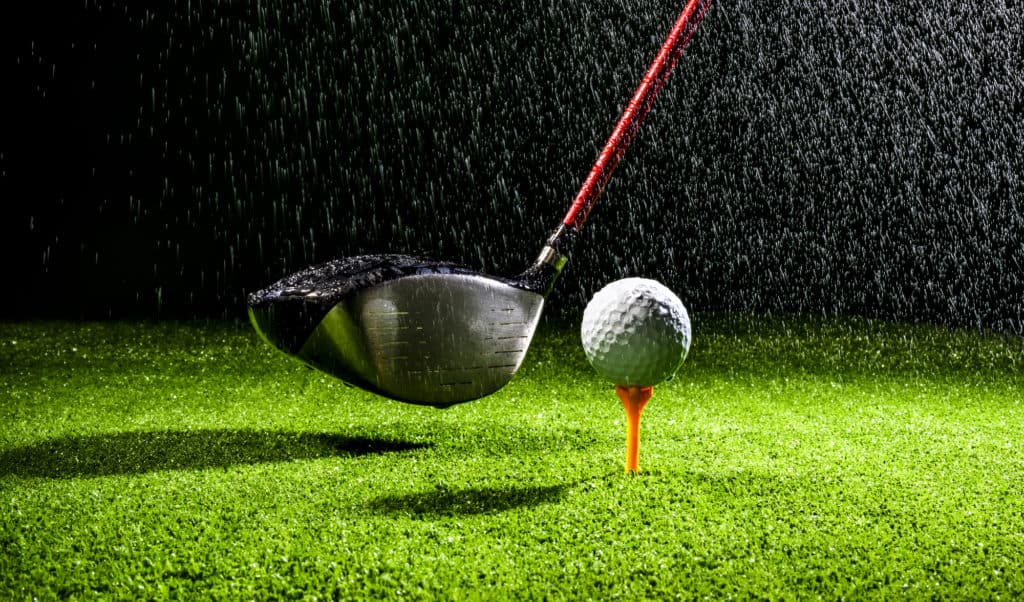 The driver is the largest and longest club in your bag.
Naturally, it is also designed to go the furthest.
You tee off on most of the par four and par five holes with a driver in your hands.
Since drivers are so long and used to create so much distance, they also happen to be difficult to hit.
Many players struggle to hit the driver straight.
Golfers try to hit the ball a long distance with their driver.
The longer you hit your driver off the tee, the easier it will be to score.
If your driver goes further from the tee, you will have a much shorter shot to get to the hole, and this is what helps to make scoring easier.
A standard driver on the market today is going to be about 460cc.
This makes the driver very large and more forgiving than it was years ago.
Many years ago, there was hardly a difference between the size of the fairway wood and the driver, but today, the difference is very noticeable.
The driver is built with a graphite shaft so that it can be lightweight and easy to swing.
The faster your swing speed with the driver, the more distance you can get with the club.
Overall, the driver plays a very significant role in the game of golf.
Getting your golf hole off to a great start is essential when it comes to scoring.
2. Fairway Woods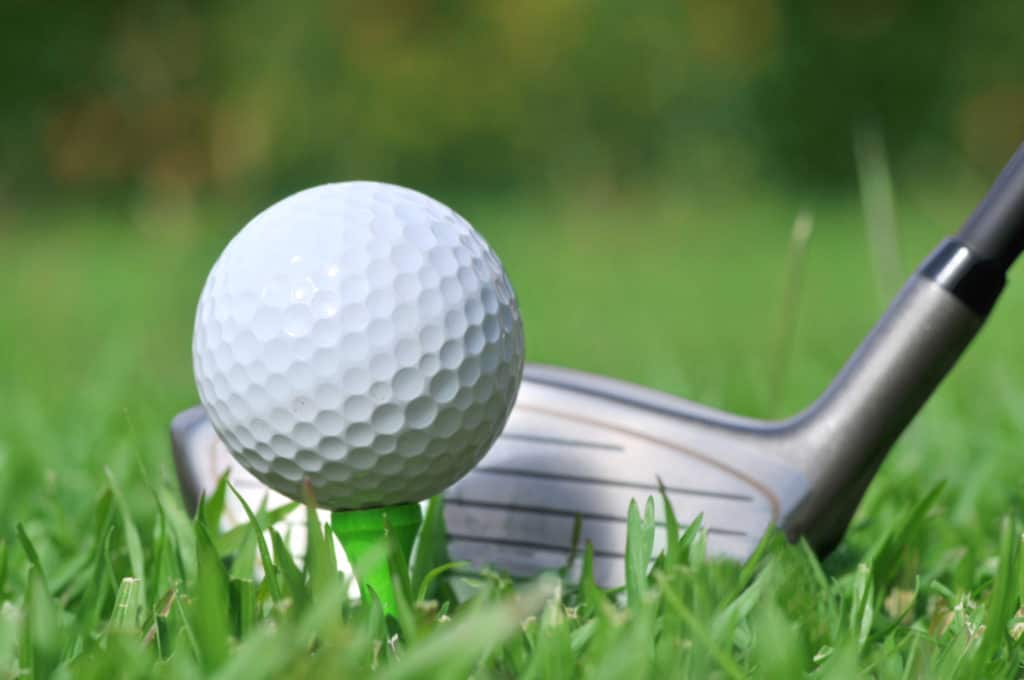 Fairway woods are a bit smaller than the driver, and they can be used to hit shots from the fairway or off the tee.
A fairway wood works off the tee for golfers who struggle to hit the driver well.
Fairway woods are generally easy to control, and they offer good ball flight and plenty of distance.
Most golfers will have anywhere from one to three fairway woods in their golf bag.
The most common fairway woods to carry are the three wood and the five wood.
Some slower swing speed golfers also have luck with the seven wood and sometimes a nine wood.
Fairway woods are hit very similarly to a driver.
You will swing with a sweeping type motion and play the ball towards the front of your stance.
With a fairway wood, you won't hit down and through the shot, and you very likely won't get backspin on your shots either.
It's important to understand the way a fairway wood is hit best so that you can get plenty of distance and performance.
3. Hybrids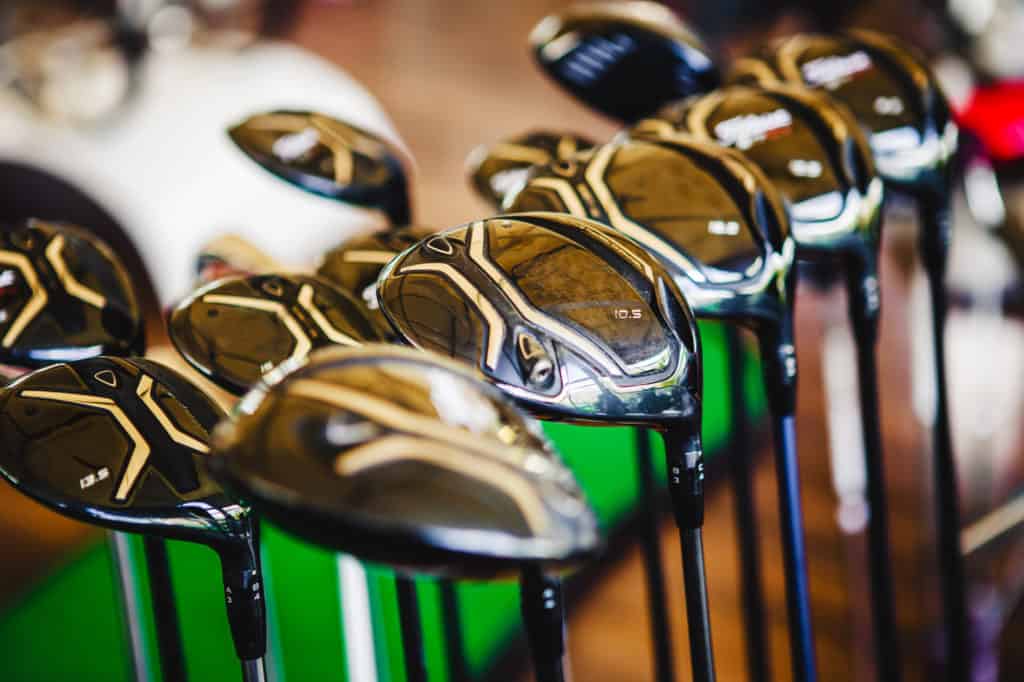 A hybrid golf club is a mix between a fairway wood and an iron.
With a hybrid golf club, the main benefit is going to be the ability to get the ball out of the rough.
When you are stuck in thick rough, it can be difficult to advance the ball at all.
A hybrid golf club has enough weight on the end and plenty of aerodynamic engineering to get the ball out of the rough with ease.
Hybrids are designed to replace a golfer's long irons.
Sometimes when golfer's swing speeds are a little slower, they will have a hard time getting the long irons to perform properly.
However, with the hybrid, you can get a very similar performance, and it is much easier to do.
Hybrids are typically available in a three, four, five, and sometimes a six hybrid design.
Almost all hybrids come with a graphite shaft so that they can be swung at a high rate of speed.
Some players will find that hitting hybrids is even easier than hitting irons.
4. Utility Iron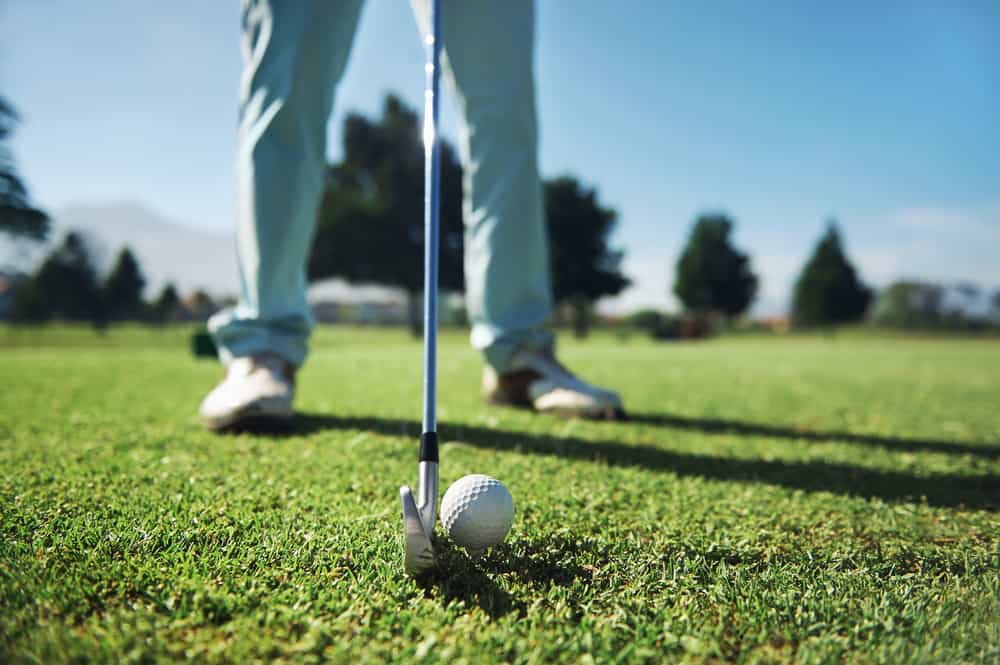 A utility iron is a long iron which is built a little like a hybrid.
Utility irons are for golfers who struggle with long irons but don't want to put a hybrid in their golf bag.
A utility iron will be easier to hit than a long iron, but it will give players a very similar performance.
If you are a lower handicapper who doesn't like the look or the feel of a hybrid golf club, the utility could be a great choice.
Some golfers like the utility iron for tee shots because they feel as though it helps to keep the ball low and running along the fairway.
Utility irons are going to be easy to hit from the fairway and off of a short tee as well.
However, from the rough, the hybrid is considerably easier than the utility iron.
Sometimes the line between a hybrid and a utility iron is going to be very narrow.
As the golf world continues to change its technology, we will notice the utility iron evolving even more.
For new golfers, the hybrid is very likely going to be the better choice for a forgiving and easy to hit club.
5. Irons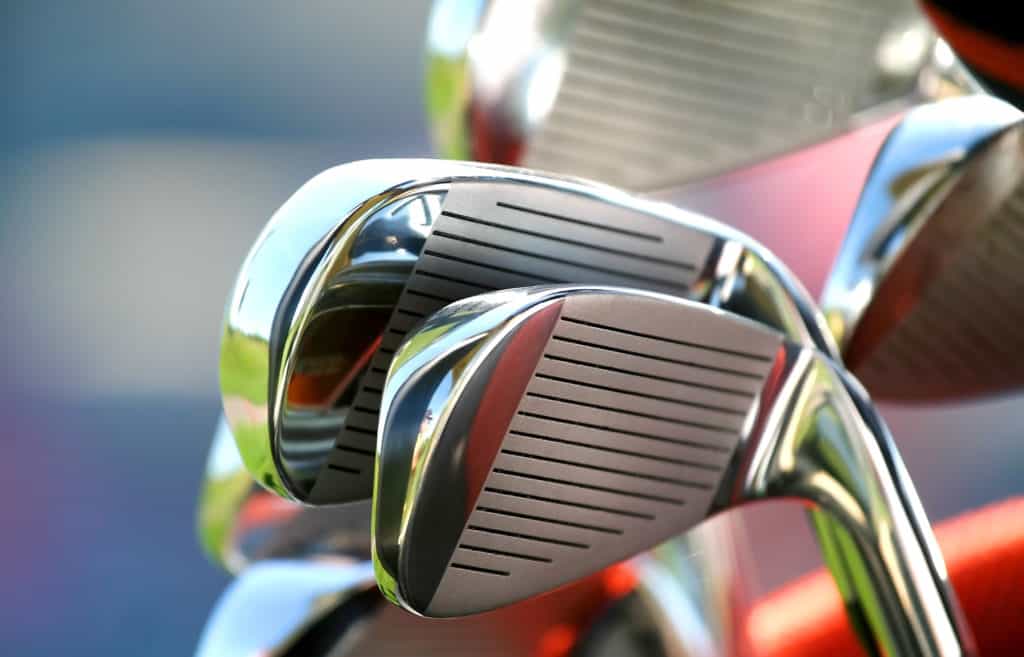 Golf irons are going to occupy the majority of space in a golfer's bag.
Irons are built with metal, and they are meant to go a variety of different distances.
Each iron has a slightly different loft, and that is what helps them to generate the distances they need.
Irons can be made with either steel or graphite shafts.
They are built to help the golfer get the ball up in the air easily and then have the ball stop on the green quickly.
The iron has grooves on the face that will help a golfer create backspin.
Backspin lets the ball stop or even spin backward when it hits the golf green.
Irons are built for accuracy.
Of course, it is important to be able to hit your iron shots a good distance, but accuracy is more important.
The typical irons a golfer will have in their bag include four, five, six, seven, eight, and nine irons.
Some golfers will also carry a three and a two iron, but these clubs are typically reserved for the more advanced players.
There are several different iron type heads a golfer can purchase.
The three most common are the cavity back, blade, and forged iron heads.
The cavity back is the most forgiving and usually the cheapest.
These clubs don't offer the best feel, but they have lots of consistency and are the go-to club for beginners and high handicappers.
Golfers who want a bit more feel but still need some forgiveness will choose the forged irons.
These are typically built for mid to low handicaps, and they offer a great balance of distance, performance, and forgiveness.
Last, some golfers will choose to play with blade irons.
Golf blades are for the best players out there.
You will see that golf blades are very high performing choices, and they have the best feel and feedback of any iron on the market.
Golf blade irons are also very expensive.
Since the blade offers the highest levels of performance, the materials used and time spent on design significantly impact the pricing.
6. Wedges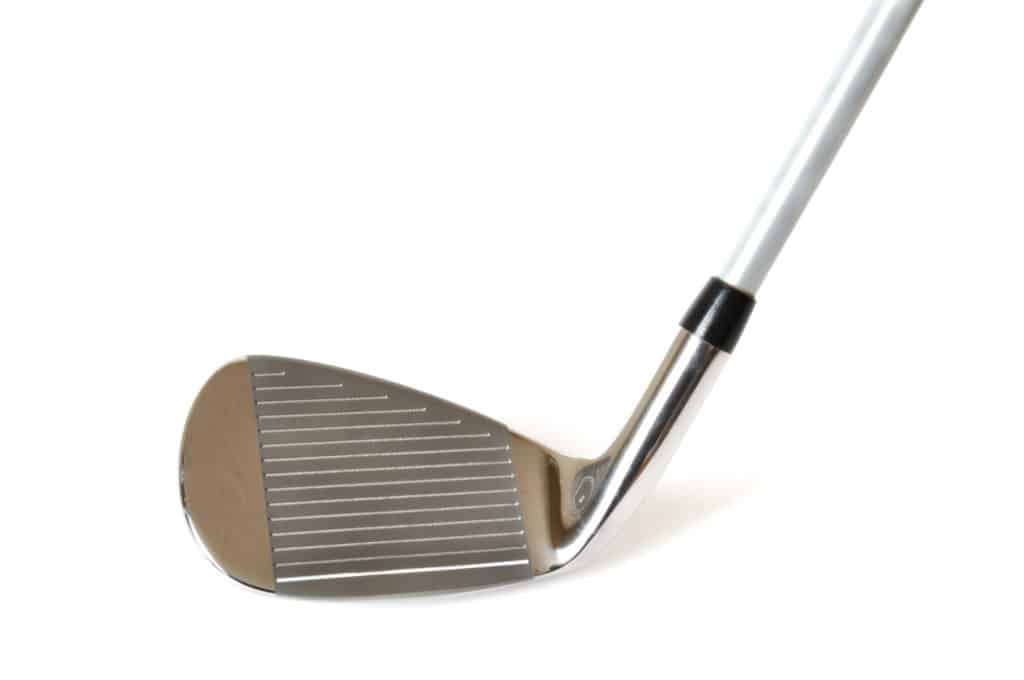 Golf wedges are considered your scoring clubs.
When you miss the green and need to get close to the hole, the wedge is going to be your best friend.
If you learn to hit the golf ball a long way, you may also have the ability to hit wedge shots into the greens.
Wedges are versatile clubs which can help a golfer get much closer to the pin.
The most common wedges are the pitching wedge, gap wedge, sand wedge, and lob wedge.
With a wedge, you can get a very wide range in lofts.
Most pitching wedges will be anywhere from 43 to 48 degrees.
The gap wedge is usually anywhere from 50 to 54 degrees.
Sand wedges play somewhere from 54 to 58 degrees.
The lob wedge is going to have a loft somewhere between 58 and 64 degrees.
Most golfers will have at least three wedges in their bag.
The better a player gets, the more wedges they tend to carry.
This has quite a bit to do with the fact that golf wedges are the scoring clubs and lower handicappers are very concerned with scoring.
Golf wedges are built to create a lot of spin.
The spin helps to control the shots and get them to stop precisely where a player needs them to stop on the greens.
If you are a player who loves your wedges, this is an excellent thing.
Chances are you will be able to score quite well.
7. Chippers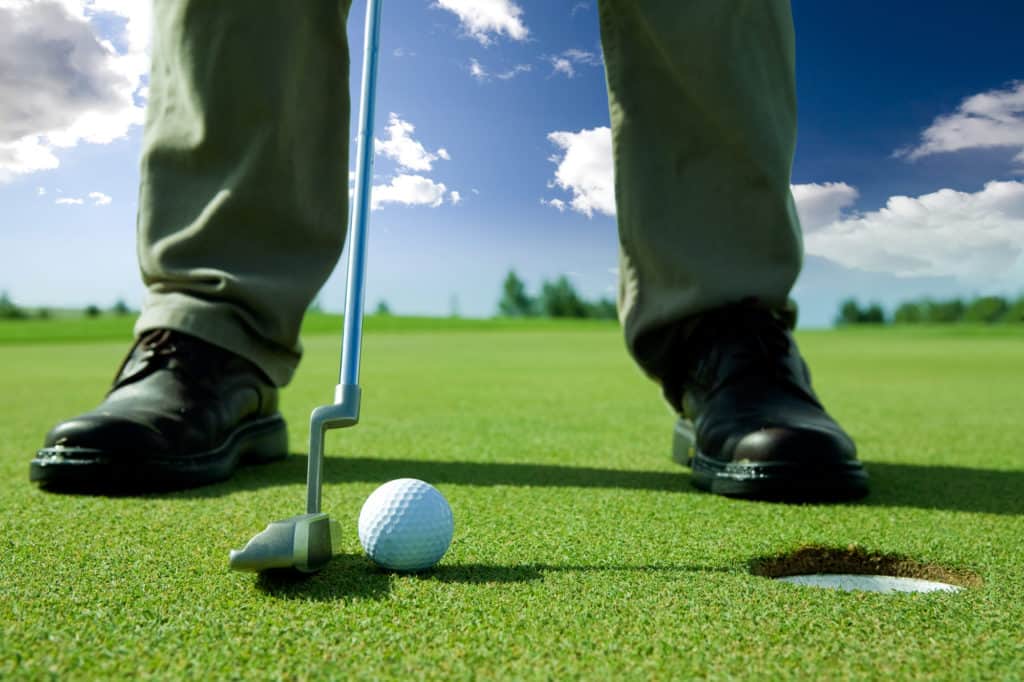 A chipper is an alternative type of golf wedge that some higher handicappers enjoy using.
The chipper is very easy to use and is made with a loft more like a nine or eight iron.
The golfer who uses a chipper is typically not that skilled around the greens.
They will be able to swing the chipper the same way a putter is swung.
The chipper just has a bit more loft on it, and it gets the ball slightly up in the air.
Chippers are best used for bump and run type shots where the golf ball gets in the air and then rolls for a bit.
If you are a golfer who has been struggling with shots around the green, it could be helpful to add a chipper to your bag.
For lower handicap players, chippers don't have enough feel or versatility.
8. Putter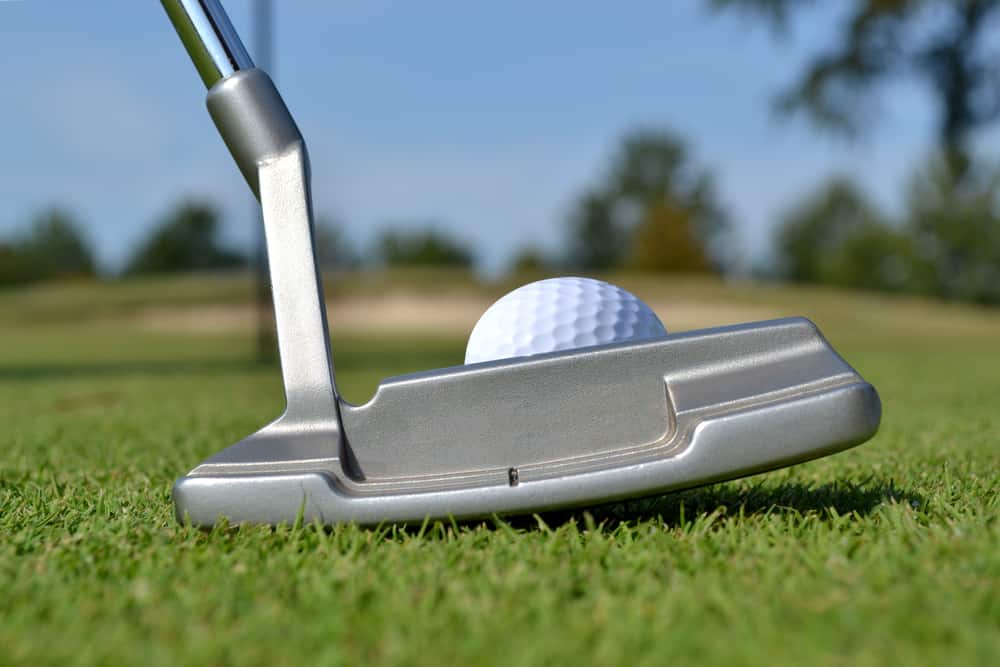 Last but certainly not least is the putter.
The putter is the most important golf club in the bag.
A putter is a unique club that will be nothing like the other golf clubs in your bag.
Putters have a very flat face and hardly any loft.
The job of the putter is to roll the ball across the putting surface as smoothly as possible.
When a putter is working well for a player, it will be consistent in helping the ball to roll smoothly.
There are two main types of golf putters.
The first is the mallet, and the second is the blade.
A blade putter is considered to be a traditional style putter.
It is smaller in size and works quite well to make putting simple.
The mallet is much larger and is excellent for higher handicappers who are learning alignment and distance control.
In today's golf world, putters are getting larger and larger.
This is because of all of the performance benefits a putter is now able to offer golfers.
Whatever putter you decide to go with, you must make sure it is something that you feel comfortable with.
A putter that is difficult to control or align is going to significantly impact the scores a golfer can shoot.
Golfers swing putters much differently than they swing other clubs.
A putter rarely comes off the ground, and the motion of the swing is much more controlled than it is with other golf clubs.
Conclusion
Hopefully, you now have a better idea of the different types of golf clubs and their uses.
It can be a little tricky to put together your first set of clubs.
Choose a mix of equipment that will allow you to hit many types of shots.
If you look at most beginner golf sets, they come with a driver, fairway wood, hybrid, irons, wedges, and a putter.
The more you play, the more you will see which clubs are best suited for your skill level.