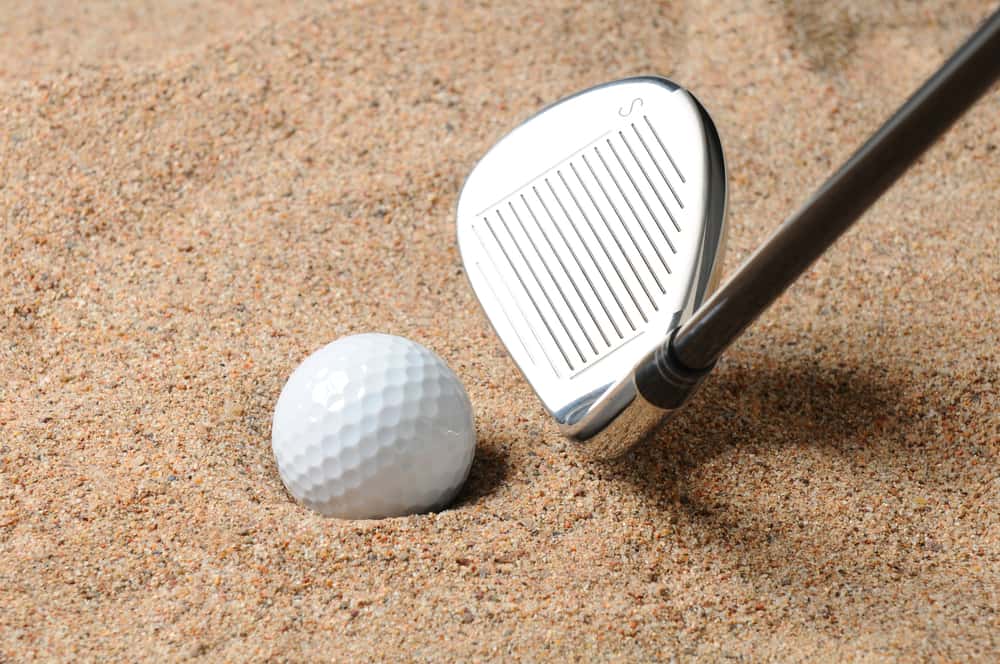 Keeping the right wedges in your golf bag can ensure that you have all the necessary tools to play well.
The golf wedges are some of the most important clubs in the bag because they allow for precision and control around the greens.
When you want to score well, you must ensure that you are able to get close to the pin and give yourself a short putt.
Shorter golf putts are much easier to make, and most of the time, they are only obtained by hitting a chip or a pitch close to the hole.
Having both a sand wedge and a pitching wedge in the golf bag is a good idea.
However, many players are unsure where to use one and whether or not it makes sense to carry several wedges.
Let's look at the differences between a pitching wedge and a sand wedge and see what you need to keep in your golf bag.

Pitching Wedge vs. Sand Wedge (What's The Difference?)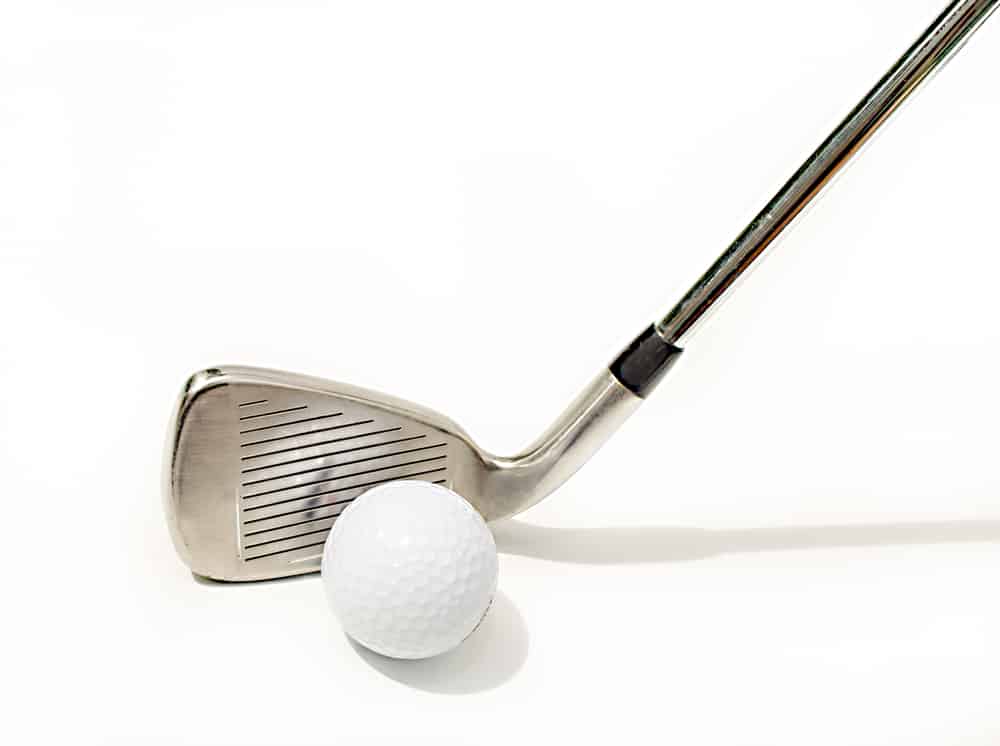 A pitching wedge and a sand wedge have different lofts and shapes that allow them to produce varying shots around the golf green.
A pitching wedge typically has around 45 degrees of loft, where a sand wedge is going to be closer to 56 degrees in loft.
Lofts will differ depending on the manufacturer, and you will have to do a bit of investigating to make sure that you are getting the proper lofts for all of your golf clubs.
However, because of the lofts of these clubs, the pitching wedge will typically travel far but not quite as high as the sand wedge.
With their higher loft, sand wedges tend to be good for shots that need to get up quickly and then stop on the greens fast.
Understanding what a pitching wedge is used for and when to use it will help to ensure that you are using the proper clubs throughout your round of golf.
We will take a look at the situations in which you should be using the pitching wedge and a few in which you should use the sand wedge.
Having these tools can help make a significant change in your game this year.
When To Use A Pitching Wedge
You probably learned how to play with a pitching wedge early on in your golfing career.
The pitching wedge is easy to hit, has a high launch, and can be used around the greens for hitting chip and pitch shots.
Because of its high loft, the pitching wedge is also a good choice when your golf ball is stuck in a bit of rough.
You won't have a hard time using the pitching wedge to pop your golf ball out of a difficult lie.
If you watch professional golfers who play courses where the rough is really thick, they will often sacrifice a shot and use a pitching wedge just to get the ball out of the rough and send it down the fairway a bit.
A pitching wedge tends to have a slightly lower flight for golf shots that are very close to the green.
If the pin is in the back of the green and you happen to be in the front of the green, you can hit a shot that will land about halfway between you and the hole, and then it will roll the rest of the way to the cup.
Pitching wedges are not great out of sand traps or if you are shooting to a pin that is in the very front of the green.
The spin that you get from a pitching wedge will be similar to the spin that you get from other irons.
You will be able to stop the ball on the green, but overall, the spin will not be strong enough to have it hold its position quite as well as the sand wedge.
When To Use A Sand Wedge
A sand wedge has almost ten degrees more loft than the pitching wedge.
In the world of golf, that ten degrees of loft makes a big difference.
Some of the major differences between the sand wedge and pitching wedge are related to this large gap in the loft.
The sand wedge is a club that can be hit relatively high in the air, and it tends to have quite a bit of bounce on the bottom of the club.
The bounce allows the golf club to cut through rough, sand, or even short grass to help the club face make perfect contact with the grooves of the golf club.
With a sand wedge, you will have no issues getting the ball to go up in the air and then stop quickly.
The better you can get at using a sand wedge, the more accurate you can be.
One major advantage of the sand wedge is the spin that it offers.
When you can get great spin from a wedge, the ball will stop on the green very quickly.
Spin is so essential, especially when hitting out of the rough.
If you happen to hit an approach shot to the green and it ends up in the rough, if you use your sand wedge, you may still be able to get the golf ball to stop on the green.
Sand wedges are also important to use when you are approaching a golf hole.
Many players struggle with hitting a half a pitching wedge shot to get a ball close to the hole.
Instead, it may make more sense to use a sand wedge and get the ball exactly to the pin with a full swing.
Players can get a sand wedge that matches their set of irons, or they can get a blade style wedge that will offer some extra precision and shot-making abilities on the golf course.
A sand wedge is a very versatile golf club.
Many beginner sets do not contain sand wedges, and it is so important to put one in play so that you can start to learn the benefits.
Also, don't be afraid to use your sand wedge anywhere on the golf course.
So many players are stuck on the fact that a sand wedge is only for getting out of the sand, but this is not the only place the sand wedge will benefit your golf game.
This is a club that you need to learn to use around the entire course and have it help you become a more skilled player.
Should I Carry A Pitching Wedge And A Sand Wedge?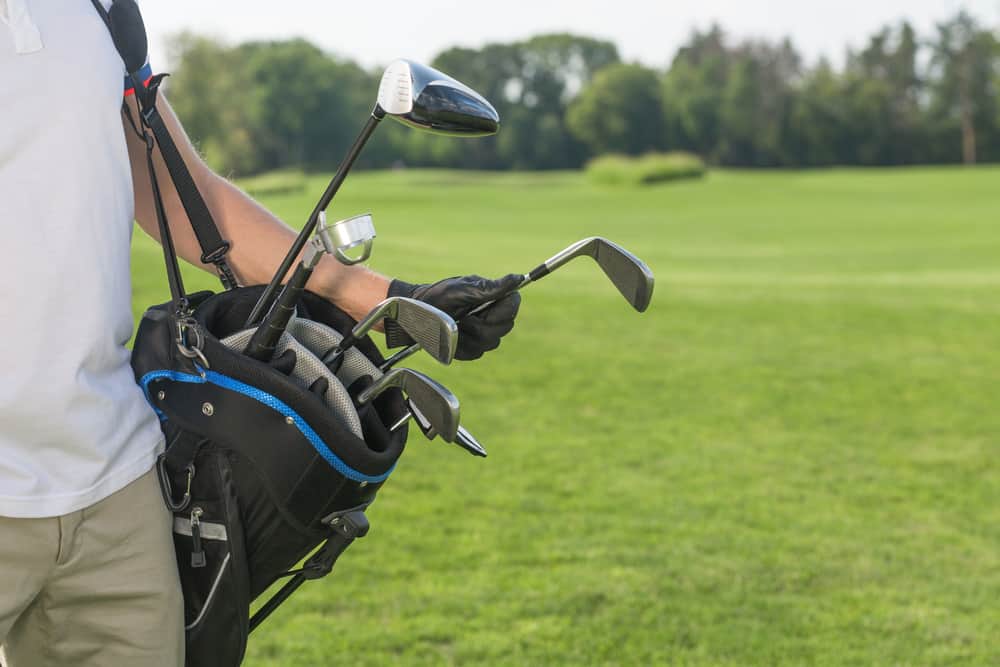 Golfers should have both a pitching wedge and a sand wedge in their golf bags.
When you have both of these clubs, you will be able to make some impressive golf shots to get yourself around the golf course with ease.
Interestingly, you will see many great players carrying both a pitching wedge and a sand wedge with them when they go over to check out their chip shots.
If you notice that the shot is going to have more room to run on the green, or maybe the lie is a little more buried than you first thought, you can change up the club that you use.
Until you have evaluated a lie, it will be difficult to choose the golf club that is best for your shot.
If you choose not to carry a sand wedge, you will need some kind of a golf club that has the extra loft and bounce you need to help you get out of a sand trap.
The sand wedge is well known for its ability to carry out of a bunker and get you close to a pin in just one swing.
Many large bunkers have high edges or lips on them, and the pitching wedge will not have enough loft to get you over the edge.
Therefore, if you don't want to carry a sand wedge in your golf bag for some reason, make sure that you choose something that at least has a good amount of loft with it.
Chances are the high loft on the club is only going to help increase your performance and versatility around the greens.
In addition to the variety of the golf shots that you are going to want to hit, it is a good idea to have several wedges depending on what course you are playing.
You can get around some golf courses without ever having to hit out of a bunker.
Other more challenging golf courses will require you to hit through and around bunkers on every single hole.
In the end, it is smart to ensure that you have more than one wedge to properly accomplish your goals.
Even if you are unsure about the sand wedge, you can pick up a used one at a very low cost and put it in your bag to give it a try.
How Many Wedges Should A Golfer Carry In Their Bag?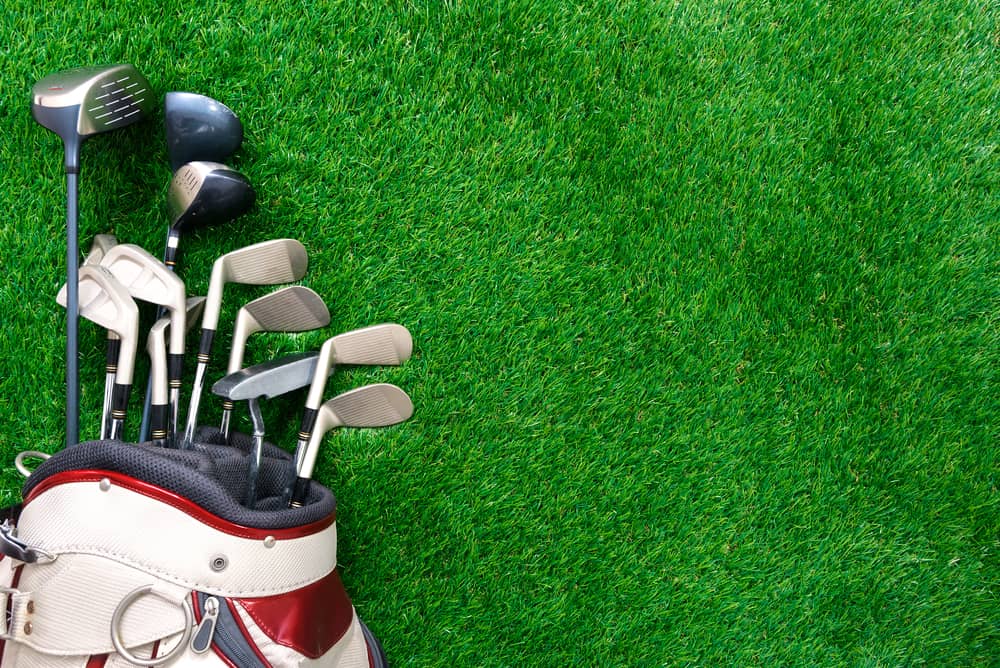 A golfer should play with two wedges at a minimum, but four wedges are ideal.
When you use four wedges, you will have a pitching wedge, an approach wedge (or gap wedge), a sand wedge, and a lob wedge in play.
Having a combination of all of these wedges can help to ensure that you are prepared for any situation you may find yourself in while on the golf course.
For instance, if you need a club that can hit from 100, 90, or 80 yards, you will have an option amongst all of your wedges.
If you get a 50-yard bunker shot, you also have a club that could work.
Many different lies are going to present themself on a typical day at the course.
It is imperative to make sure that you have four different wedges to prepare yourself for this.
Many people put the extra wedge in their bag, but it may cost them a spot for an additional fairway wood.
Although this can sometimes be a tough decision to make, you need to consider how many times during a round you will use a wedge as compared to that specific fairway wood.
Chances are the wedge will win this battle every time as it is the more critical club.
More wedge shots are hit each round than fairway wood shots.
A total of 14 club slots is more than enough, but you need to be smart about how you manage these spots and ensure that you are putting the right clubs in your golf bag at all times.
Should Beginners Use A Sand Wedge?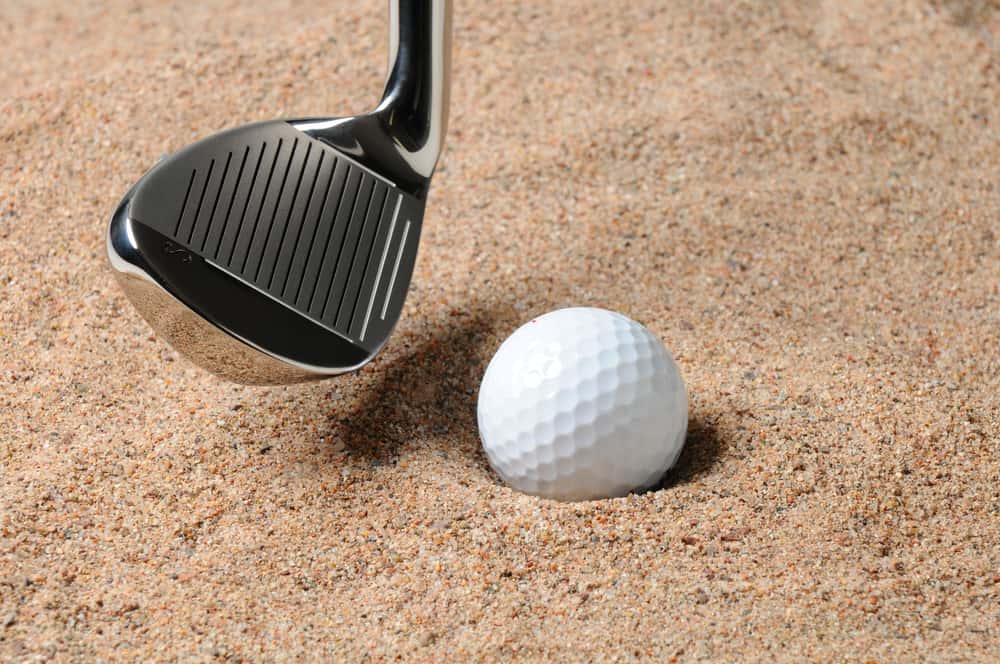 Beginner golfers should learn to use a sand wedge as soon as they start playing the game of golf.
If you don't have a sand wedge in your bag, you should get one as soon as possible.
Beginners tend to struggle with the short game because it takes feel and touch, and those things are hard to develop when you are new to the game.
This is why it is so important for beginners to start practicing these skills right from day one.
In addition, the shots that you hit around the green are sometimes like miniature versions of the full swing.
If you can produce a great chip, chances are you will also be able to get a great takeaway with your irons.
This can then be carried over to the rest of the course, and you will be able to use your new skill set to help with scoring and consistency.
Many of the golfers who are new to the game are also afraid to take out a lob wedge.
Players often fear that these lob wedges are going to end up causing issues around the green and potentially skulling or chunking golf shots.
For the most part, this is not going to be the case as long as you have the fundamentals in place.
When you know how to hit a chip, it should not matter what club is in your hands.
Does The Sand Wedge Need To Match The Irons Set?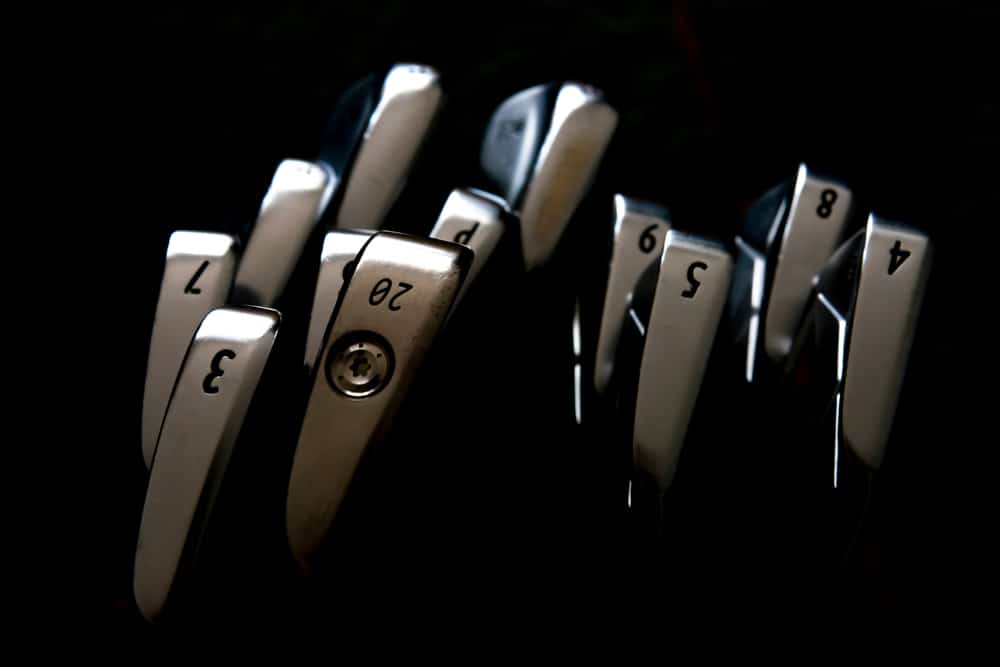 Golfers have two choices when purchasing a sand wedge and pitching wedge.
The wedges can either match the rest of the irons in the set, or they can be blade style wedges that will each match the others.
For the most part, better players will choose a gap, sand, and lob wedge that will match each other as a blade style.
Then they will have their iron set that includes the pitching wedge as part of it.
Typically speaking, a higher handicap golfer is going to have the pitching wedge, approach wedge, and sand wedge that match their iron set.
Since these clubs often have a bit more forgiveness built in, they tend to be a better choice for the mid to high handicappers.
The ultimate goal for all players should be to use a sand wedge or pitching wedge with lots of spin and workability.
You want to have full control over your shots around the green.
If you struggle with getting loft or hitting the ball too thin, you will need to get those skills down before switching to the blade style wedge.
Once you are confident in your abilities to chip and pitch, then you should look for very high-performance golf wedges.
The sand wedge that matches the irons as opposed to the wedges themselves will be quite a bit easier to hit approach shots with.
The transition from your 9I to PW to SW will feel very natural and allow you to predict your yardages accurately.
If you switch to something that is blade style, your forgiveness on approach shots will not be quite as good.
It's going to take some time to figure out which wedges make the most sense for your game and how you should plan out this purchase.
For the majority of golfers, keeping the sand wedge matching the iron set is a smart decision.
Conclusion
Hopefully, you now feel a bit more informed about the difference between the pitching wedge and the sand wedge.
Both of these wedges are essential additions to your golf club set.
It makes sense to keep both of these golf clubs in your bag and to learn how to hit each one correctly.
In the end, you will have several shots on the course that will require you to use one or the other of these clubs.
Golfers who can learn to enjoy hitting both their sand wedge and pitching wedge will end up performing exceptionally well on the course.