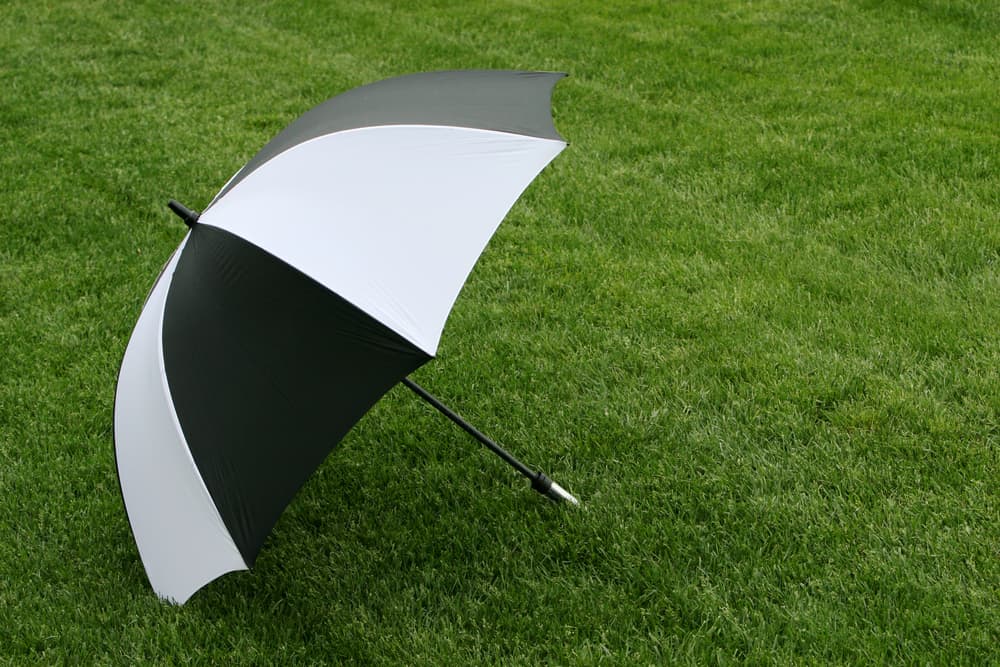 If you are heading out to play golf in the rain, a golf umbrella is a smart thing to bring along.
Many people wonder if there are differences between a golf umbrella and a traditional umbrella.
There are a few key differences which should be noted when you purchase a golf umbrella.
Here is everything you ever needed to know about a golf umbrella.

What Is a Golf Umbrella?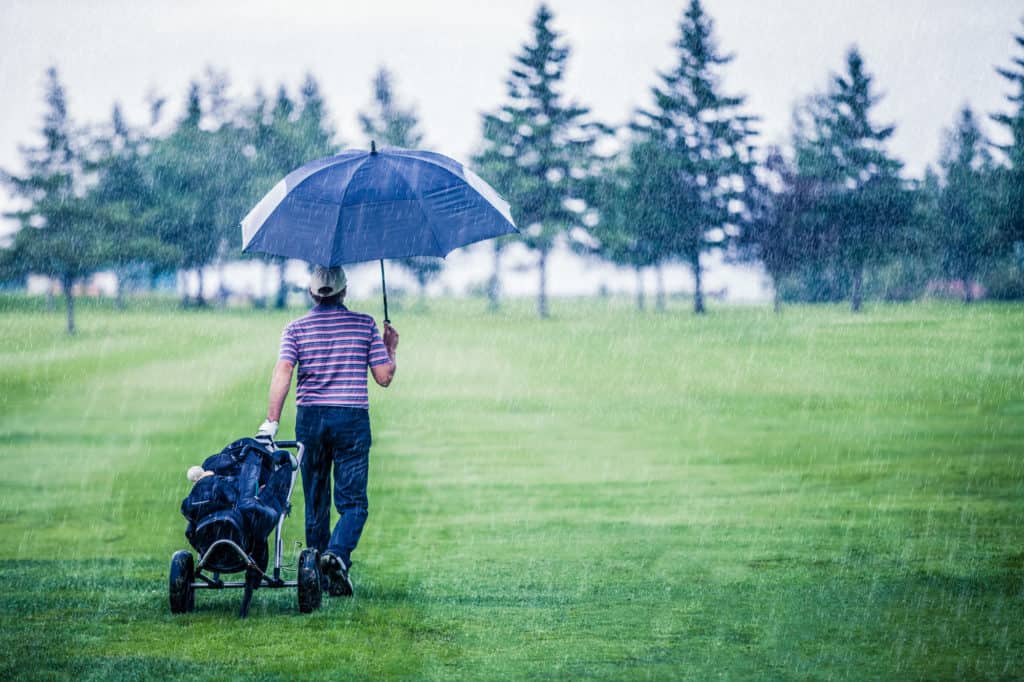 A golf umbrella is an umbrella which is wider and built with certain capabilities to withstand the wind which will make sure it doesn't blow away from you.
A golf umbrella will allow some wind to pass through, but it will not flip the umbrella.
When you are on the golf course, you are going to be exposed to quite a few course conditions.
You will often be out in the open and unprotected, and the wind and the speed of the rain can get relatively high.
A golf umbrella is also built to be quite wide.
The diameter of a golf umbrella will help keep you protected during your round.
Small folding umbrellas typically will not do the trick to keep you and your equipment dry during a storm.
Here are a few other tips for being prepared during a rainstorm on the golf course.
Equipment for Getting Through a Rainstorm on the Golf Course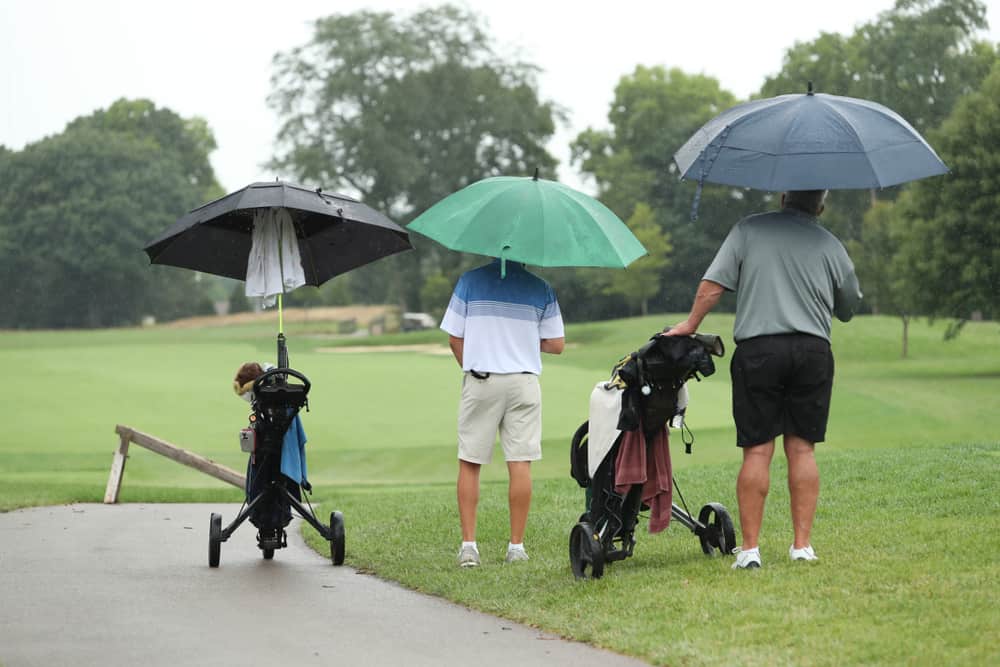 Here are the most important pieces of equipment to keep in your bag in case of a storm and a few tips to manage a storm like a champion.
1. Rain Gloves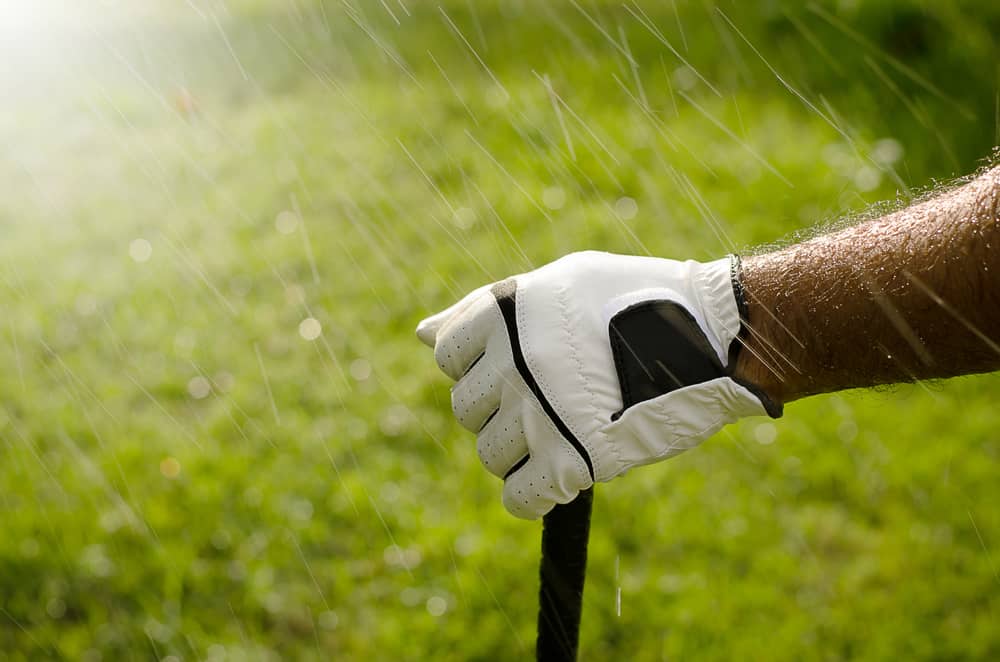 Rain gloves are interesting because they are built specifically to get wet.
A traditional golf glove is not going to do well when it gets wet.
It will get slippery and slide right along your golf club.
Rain gloves are very different because, as they get wet, they actually tend to grab your club much better.
In fact, when it starts to rain a little, you need to get your gloves completely wet so that they will work better.
Rain gloves are so important because they help you establish your connection with your golf club.
As golfers, we need to make sure our hands are connected with the club both for safety and for the quality of our shots.
If your hands are wet and your grip is wet, you could potentially throw the club.
It is very important for your club to stay square as you come into the impact position as well.
If the club happens to twist when you are coming into the impact position, the resulting shot will not be quite as impressive.
Keeping a pair of rain gloves handy in your bag is essential for any die-hard golfer.
2. Golf Umbrella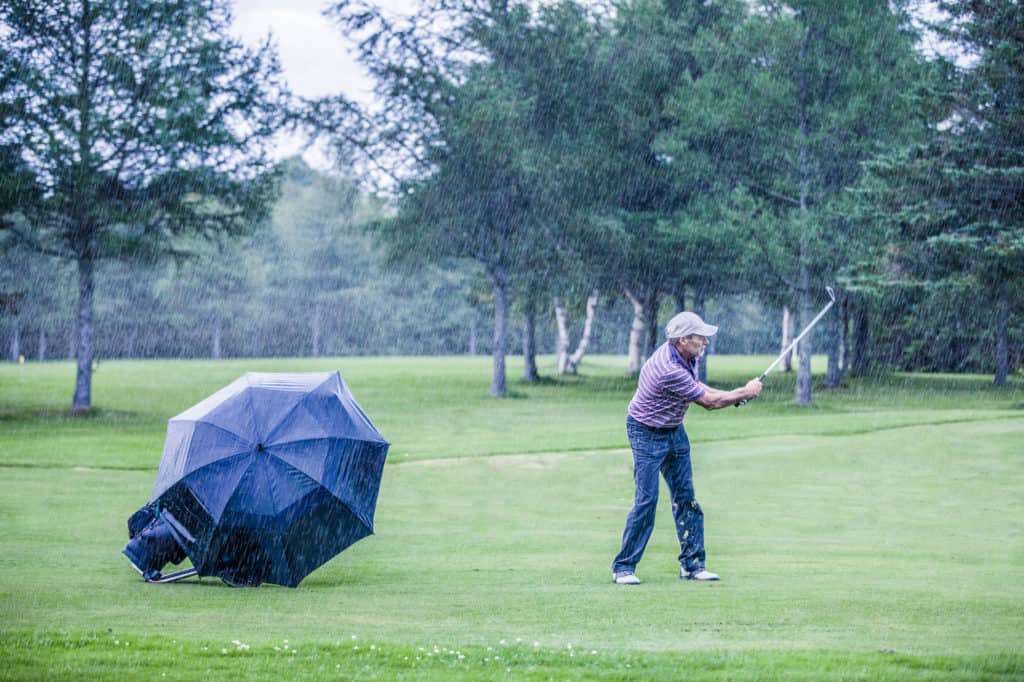 A golf umbrella is a great thing to have on the bag in the middle of a rainstorm and on a very sunny day on the golf course as well.
Golfers can be exposed to very strong sun and warm temperatures when they are on the course.
The umbrella can provide some shade when the golf course is very wide open to the sun.
A golf umbrella can usually be attached to your golf bag, and sometimes it may fit inside your golf bag in one of the club slots.
A smaller golf umbrella can fit inside the pocket of your golf bag as well.
The most important thing to remember about the golf umbrella is that it can be heavy.
If you are a golfer who walks the golf course a lot, you will need to make sure you balance the benefits with the disadvantages of carrying a golf umbrella.
It may be a good idea to check the weather forecast before heading out to see if the umbrella makes sense.
The golf umbrella will keep you dry during a major storm, but it is a bit cumbersome to play golf with as you walk the golf course.
3. Towels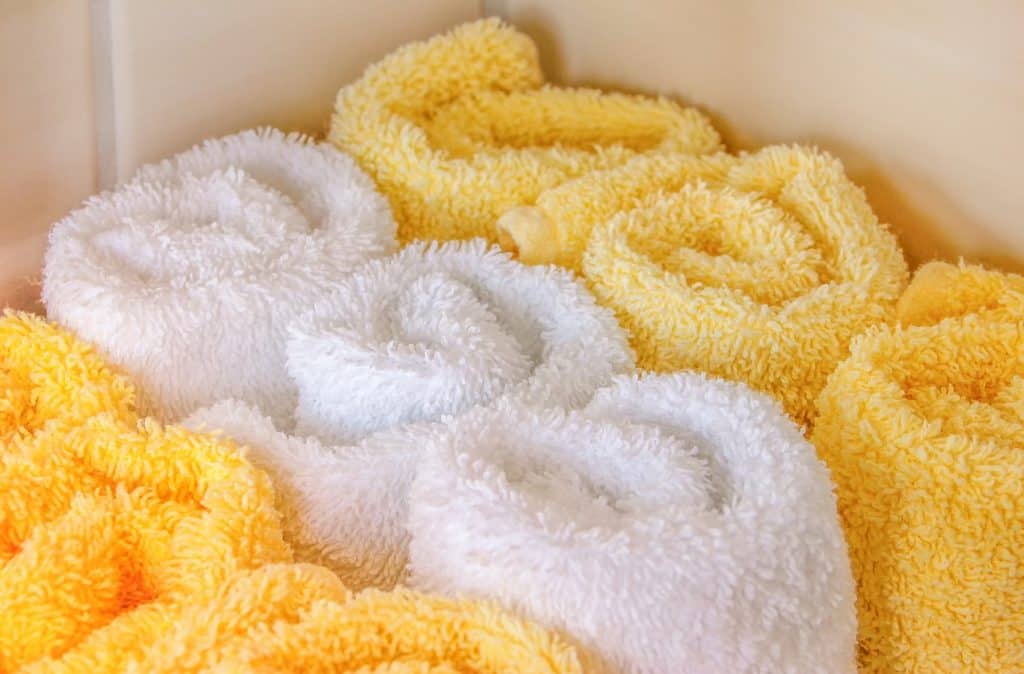 Most golfers keep a towel on their golf bags.
However, it is a smart idea to keep a towel both on the outside and inside of your golf bag.
Use the towel on the outside to keep your clubs clean and dry throughout your round.
When it starts to rain, you can use this towel for as long as possible to keep the clubs clean and your hands as dry as possible.
Once the storm clears, you can pull the dry towel out of the bag and use it to get everything dried off again.
Having something dry after a heavy rainstorm will be a very nice benefit.
Most golf bags have a certain level of waterproofing built into them.
You will find that most of the equipment that is left in your bag will not get all that wet.
Even if the towel is just a bit damp, it will still be better than the other towel which has been exposed to the rain the entire time.
Use the dry towel to get your golf cart dry, dry the clubs, your hands, your glasses, and whatever else you might need.
4. Rain Jacket/Hat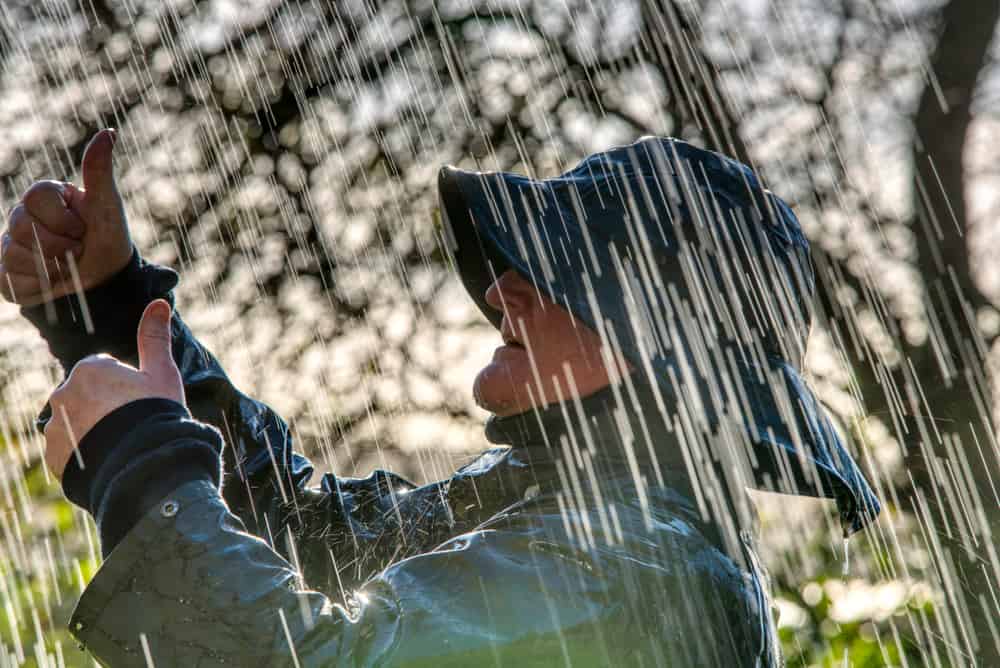 It is a smart idea to keep a rain jacket and a hat in your golf bag.
The rain jacket should have some type of Gore-Tex waterproof fabric.
This waterproof fabric is going to keep your underlayer of clothes from getting too wet.
You will be glad you had it when the weather starts to clear up.
The quicker you can get back to your round and your game, the better.
A rain hat is designed to keep water away from your face as you are swinging and playing in the rain.
This is important so that water is not distracting you as you play.
Some golf rain hats are more of a bucket style hat, and others are like a baseball cap.
The bucket hats do the best job of keeping water away from your face.
Tips for Playing in the Rain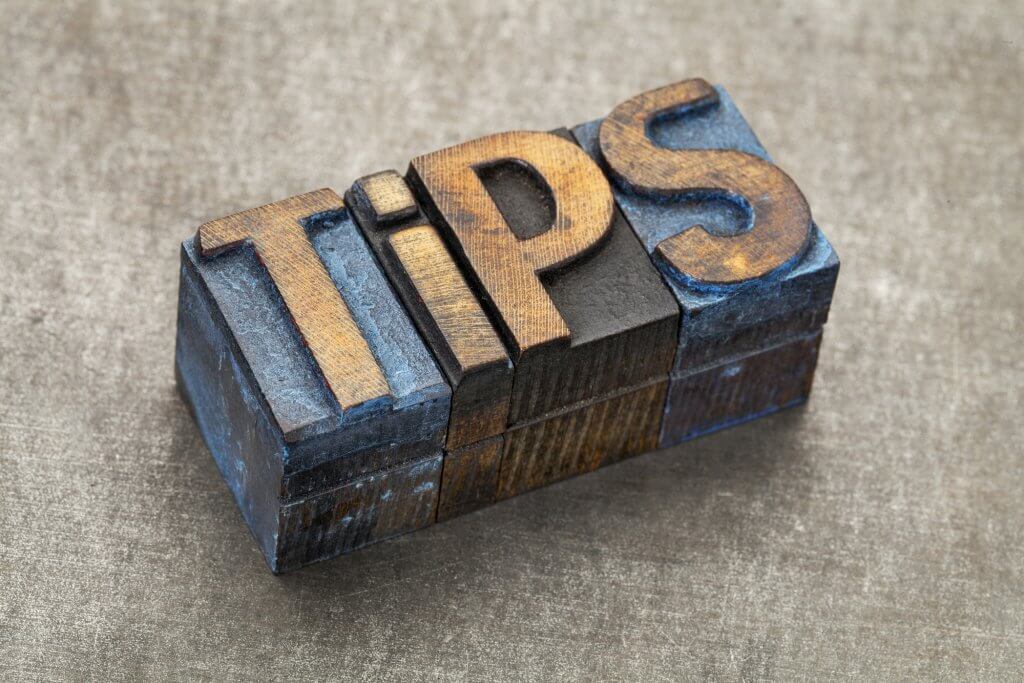 Now that you have the equipment you need and you understand the aspects of what an umbrella can do, it's time to start figuring out how to play in the rain properly.
One of the most important things to remember about playing in the rain is that you should not try and overdo it.
This is not the time to start trying to make birdies and eagles.
You should be working on making par and even a bogey if you have to.
At all costs, you will want to avoid the extra high scores like double and triple bogeys.
These can happen quickly when the weather is bad.
You should be aware that it will be a little harder to get the ball to spin, and you may not get as much roll either.
For golfers who are trying to figure out their distances to a hole, you will have to add a little bit of extra club to make sure the ball can get there.
Playing in the rain and the wind adds another level of difficulty to golf.
You will have lots to think about and lots to adjust for as you play.
Keep in mind that you should try and keep things as simple as possible when playing in the rain.
If you start over-playing or trying to hit shots that you wouldn't normally hit on a good day, you will probably end up in a bad situation.
Although playing golf in the rain is not an ideal situation, you may find that having to focus and simplify your game could help you shoot even better.
Playing in the rain requires some mental grit which is a factor that needs to be learned over time.
The more you focus on your game and learn that you should just take it one shot at a time in the rain, the better your chances of scoring low.
Conclusion
As you can see, a golf umbrella is just one piece of the puzzle that makes golfing in the rain possible.
When you head out to the golf course in a rainstorm, be sure to bring all of the equipment necessary to succeed.
Do not use just any old umbrella on the golf course.
Getting something that is golf-specific will be worth it in the end.
Golf umbrellas range in price from less than $30 to closer to $100.
As long as it has the capabilities needed for golf, the price is not going to matter.