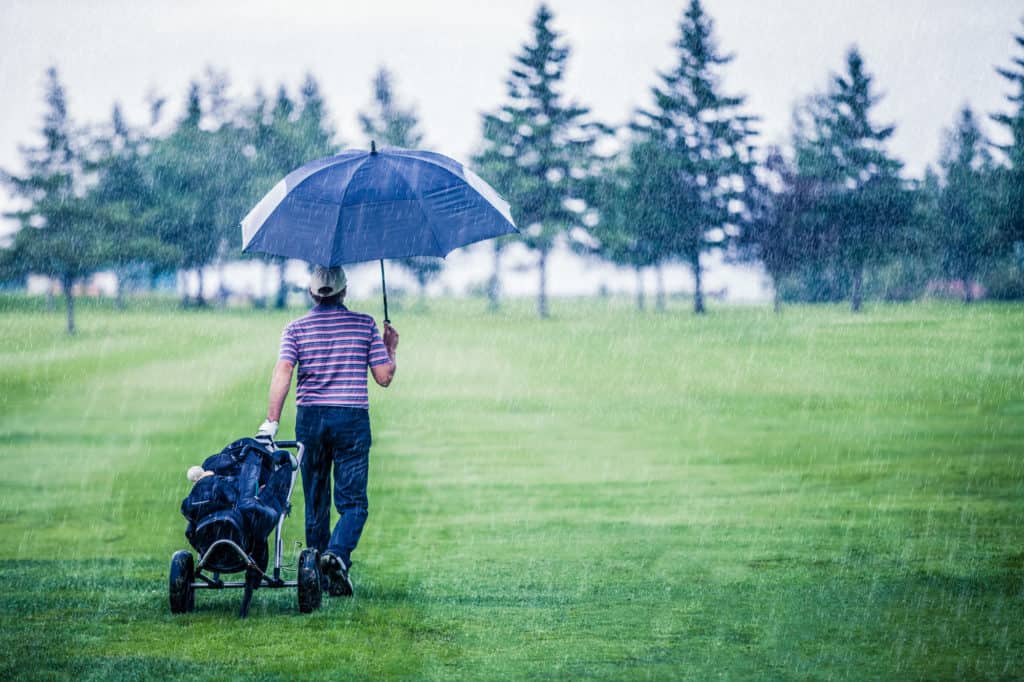 Did you know that your golf umbrella makes a great shade as well?
Golfers who spend a lot of time walking the golf course know that an umbrella is not just for protecting yourself from the rain, but from the sun as well.
Golf umbrellas can come in handy, and they serve multiple purposes when out on the course.
If you find yourself in the market for a golf umbrella, make sure you purchase a good one.
Some of the cheaper golf umbrellas won't get you through a day on the course, let alone a season.
Here are our top ten best golf umbrellas on the market.

Top 10 Best Golf Umbrellas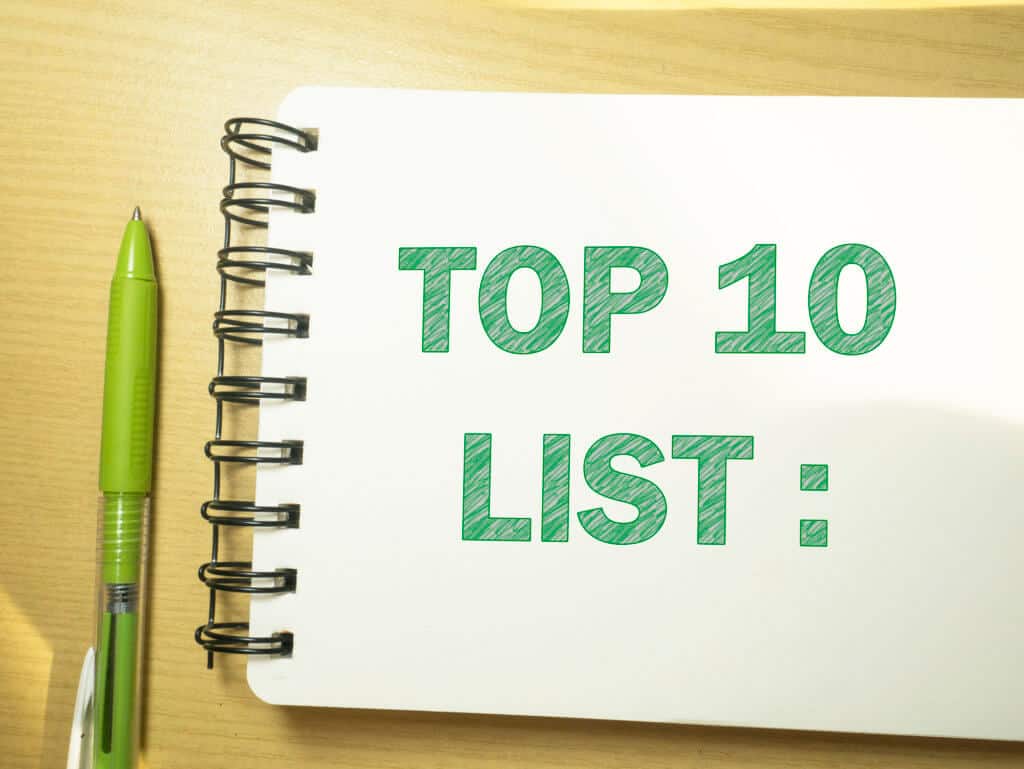 1. G4Free 62/68 Inch UV Protection Golf Umbrella Auto Open Vented Double Canopy Oversize Extra Large Windproof Sun Rain Umbrellas
Key Features
UPF Rated
Large 62 inches
Reinforced fiberglass frame
At the top of our list is the G4 Free 62" umbrella.
We love the large size of this umbrella and the fact that it offers added protection from the sun.
In our intro, we mentioned that, when you choose a great golf umbrella, you need to consider sun protection as well as rain protection.
The umbrella has double canopy venting to help wind pass through, instead of the wind taking your umbrella away.
There is a one-click open which allows you to open your umbrella in a matter of seconds.
The G4 Free will fit into the most golf cart or push cart umbrella mounts.
The only real downside of this particular umbrella is that it is a little bit large.
If you want something lightweight to keep on your bag at all times, this might not be the right choice.
The G4 is a great overall option to consider, and it comes in several colors.
Pros
Multiple use umbrella
Great for sun protection
Fits in most golf cart mounts
Cons
Very large for keeping on your bag at all times
2. Callaway Golf 68" Tour Authentic Umbrella
Key Features
Automatic Open
Ventilation Holes
Lightweight Fiberglass shaft
If you want a true PGA Tour Umbrella like the professionals use, the Callaway Tour Authentic is a great choice.
This is certainly a top-of-the-line umbrella built for long term use.
Even though the Callaway is an extensive 68-inch umbrella, it has a lightweight fiberglass shaft.
Although this is an umbrella you can keep on your bag at all times, it may be a little heavy if you are walking and carrying your bag.
You may want to look into the smaller Callaway golf umbrellas for a permanent fixture to your golf bag.
We love that the Tour Authentic has a UV protection factor of 50.
If you have been looking for something that is a good mix of sun and wind protection, this is a great choice.
The automatic push-button open will have you covered in a matter of seconds.
If you want to put this golf bag on a pushcart, you will be glad it has the ventilation holes for wind pass-through.
The holes make it much easier for you to walk on a windy day without having to stop and adjust the umbrella continually.
Another great feature is the ergonomic handles.
Pros
UV protection
Tour style
Automatic push button open
Cons
3. Under Armour Unisex-Adult Golf Umbrella Single Canopy 62-inch
Key Features
Sporty look
Easy to wash
62 inches
The Under Armour Adult Golf Umbrella is a 62-inch black umbrella built for keeping you and your clubs protected from the rain.
We like this option for the golfer who is looking for an excellent solution to keep on their golf bag at all times.
It has a dual-action opening system and a textured rubber handle.
The Under Armour is a reasonably priced umbrella, but it does not have the same UV protection some of the other options on the market have.
The rain protection the Under Armour gives is very well done, allowing the water to repel off with ease and truly keeps you dry.
Pros
Repels water
Rubber handle with an excellent grip
Large covering to keep you protected from the rain
Fair pricing
Cons
Not the best for wind or sun protection
4. Titleist Players Folding Golf Umbrella
Key Features
Great for all weather conditions
Folding
High-quality materials
Next on our list is the Titleist Folding golf umbrella.
This umbrella is a much smaller scale than the other options we have reviewed.
The Titleist is a folding design that will perform well should a storm break out while you are out on the course.
The total diameter of the umbrella is 44 inches, which is going to be a little smaller scale than other options.
This is what makes the Titleist a great option to keep in your bag at all times.
When the Titleist umbrella is folded, it is only going to take up about fourteen inches of space.
You can keep this inside your golf bag or use the umbrella straps on the outside of your bag.
The Titleist umbrellas always come with the proprietary Titleist logo.
Even if you aren't a great player, the Titleist logo makes you look as though you are.
We love the Titleist umbrella for a quality long term, lightweight option to keep in your bag.
If you want something for week in and week out sun protection, this may not be your best choice.
Pros
Lightweight
Folds up easily
High-quality material
Wind can pass through
Cons
Not great for sun protection
5. The Weatherman Umbrella – Golf Umbrella Made with Teflon-Coated Fabric and Withstands Winds Up to 55 MPH – Available in 2 Sizes and 5 Colors (62 inches, Black)
Key Features
Can handle high winds
High-end strength
Comes in two sizes
The Weatherman is a true golfer's umbrella.
Not only will you get the UPF 50 protection, but you will get tons of rain and wind protection as well.
The fabric on the Weatherman is Teflon coated and has been tested in winds up to 55mph.
If you want something that will work for you in any weather condition, the Weatherman is an excellent choice.
This is an expensive umbrella, but it truly will last you a very long time.
You can choose between five different colors to make sure your Weatherman matches your golf bag.
Another great feature of the Weatherman umbrella is that it comes in two different sizes: 68 and 62 inches.
This is an excellent option for those who want something just a bit smaller on their bag but still have plenty of extra protection from the elements.
Pros
UPF 50, Teflon coated fabric
Made with strong fiberglass
Great for rain and wind
Cons
6. TaylorMade TM Manual Open Single Canopy Umbrella, 60-Inch, White
Key Features
Low pricing
Single canopy
TaylorMade logo
TaylorMade makes several golf umbrellas.
They try to appeal to the different needs of golfers through their variety of umbrella options.
This particular option is a lightweight, inexpensive, single canopy umbrella.
The single canopy options are not that great for use in high winds, but they are much lighter to carry around.
The TaylorMade Single Canopy is sixty inches wide, so it will give you plenty of protection from the rain or the sun.
Using this as a sun protector on your pushcart is an excellent choice as long as there is not much wind during the day.
Of course, with the lower pricing and simplistic features of this TaylorMade golf umbrella, it is going to be a manual open.
Manually opening an umbrella is not challenging to do, and some people find that, long term, manual umbrellas have fewer parts that will break.
The rubber grip of this TaylorMade umbrella makes it easy to carry and maneuver should you be playing a few holes in the rain.
Pros
Lightweight
60-inch size
Easy to carry and hold
Cons
Single canopy, not as good in the wind
7. LANBRELLA Golf Umbrella 62/68 Inch Auto Open, 80 Inch Manual Open Double Canopy Vented Stick Umbrella Extra Large Oversize for Men and Women
Key Features
Very low pricing
Oversized
Great for more than just golf
If you have been waiting for us to review a budget golf umbrella, you are in luck with the Lanbrella Golf Umbrella.
You can purchase the Lambrella in 62-, 68-, or even 80-inch sizes.
The 80 inches is a bit big for playing golf.
Although these umbrellas offer a ton of value, their fabric is certainly not as durable as something like the Weatherman we reviewed.
The fiberglass frame will help to make sure the umbrella holds up in the rain.
We like that the double-vented canopy helps wind pass through so you won't end up with an inverted umbrella by the end of your round.
The Lanbrella comes in four different colors that are very neutral and should work to match with any of your current golf equipment.
The 62-inch umbrella will end up being about forty inches tall when it is wrapped up, so you will need to store it on the outside of your golf bag.
Pros
Double-vented canopy
Great for wind and rain protection
Available in several sizes
Cons
Offers no UPF protection
Material is not long-lasting
8. DrizzleStik Flex- Golf Club Umbrella
Key Features
Unique concept
Collapsible
Telescoping umbrella
The Drizzle Stik Flex is a much different type of golf umbrella, but it is a unique option many people like.
This is like a golf club you can put in your bag, and it will stick up and protect your golf clubs from the poor weather.
Although this umbrella won't do much if you are looking to protect yourself from the rain, it does plenty to keep your clubs clean and dry.
The telescoping umbrella shaft can go from 36 inches up to 54 inches.
You can easily fold this and keep it in your golf bag when you don't need the umbrella.
Some golfers worry about being able to access their golf clubs with this umbrella in place, but it is easier than you may think.
You can move the Drizzlestik Flex quickly to be able to get a golf club out of your bag when you need it.
You won't have to worry about getting the club out from underneath the umbrella top.
Pros
Rubber golf grip
Fits in a golf bag
Does a great job of protecting the golf clubs
Cons
Not great for sun or rain protection for people
9. Lanxiry Umbrella,62 Inch Automatic Open Golf Umbrella Extra Large Oversize Double Canopy Vented
No products found.
Key Features
Lots of colors
Double canopy
Helps block the sun
The Lanxiry umbrella is an excellent option if you like some fun color and style in an umbrella.
This is a lightweight and option that has a double canopy so wind can easily pass through.
Whether you want to use the Lanxiry umbrellas for sun, wind, or rain protection, you will be well covered.
We love that the pricing on this is very fair, but the quality is still going to hold up.
Even at the low price it is offered, the Lanxiry has an auto-open mechanism.
You need only to press one button, and the umbrella quickly opens and extends.
The majority of the Lanxiry umbrellas are going to have red, white, and blue coloring.
If you like adding patriotic golf gear to your bag, you will enjoy this option.
The Lanxiry Umbrella claims to block 99% of sun rays, but it is not UPF rated.
Pros
Nice looking patterns
Fairly priced
Auto open
Cons
Not going to have true sun protection
Only available in the red, white, and blue color scheme
10. FootJoy DryJoys Umbrella, Black
Key Features
Rubber handle
Wind vents
High-quality design
If you are going to trust FootJoy to keep your feet clean and dry during a rainy round, why not let them protect your head and clubs as well?
FootJoy knows how to make some tremendous weather-resistant golf products, and their umbrella choices are certainly no exception.
This is a classic golf umbrella design.
It will help you keep the wind and rain away, and some people use it for sun protection as well.
The Footjoy is offered in a black and white design that will match with many different golf bags.
If you like to keep things classic and simple with your game, the FootJoy is an excellent choice.
Pros
Easy to hold and carry rubber handle
Wind vents so it won't rip
Classic styling and design
Cons
Not the best choice for sun protection
Hopefully, our list of the best golf umbrellas on the market has helped you see the choices and options you have available to you.
You don't need to carry around a large and heavy umbrella to be able to protect yourself from the wind and rain.
Keep in mind that golf umbrellas are an excellent solution for keeping yourself protected from the sun as well.
Many umbrella options come with UPF protection built in, with all the exposure to the sun golfers get, this is a very nice feature.