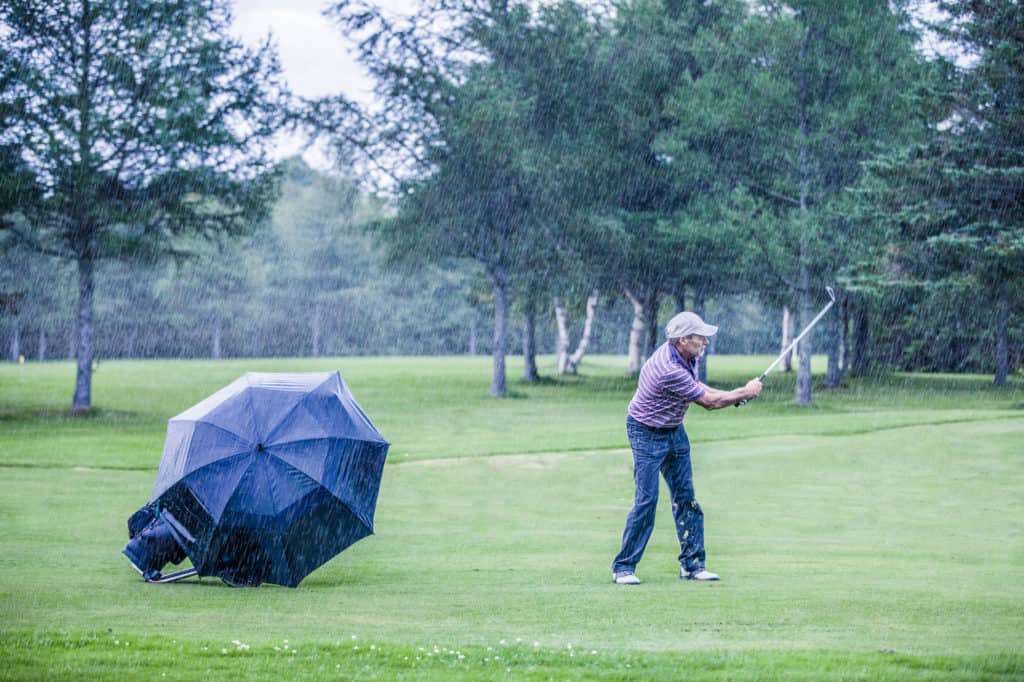 Playing golf in the rain is not always ideal, but it is a reality.
Sometimes a quick rain shower will pass, and other times you may be stuck out in the rain for quite some time.
A great golf rain hat will keep your head dry, and it will keep your eyes and face somewhat protected from the water.
There are several different style golf rain hats available on the market.
Here are our top ten best golf rain hats.

Top 10 Best Golf Rain Hats

1. Zero Restriction Men's Gore-Tex Bucket Hat
Key Features
High-quality material
Gore-Tex Design
Waterproof and WaterResistant
Zero restriction leads the way when it comes to staying dry on the golf course.
The rain suits, rain hats, and rain gloves produced by Zero Restriction are by far some of the highest performing on the market.
When looking for a rain hat, you will often find options that are waterproof and water-resistant.
Water-resistant usually means that you will remain somewhat dry.
Waterproof means that the hat will not let any water in.
You can be standing in very heavy rain with a Zero Restriction Gore-Tex hat on, and your head will not get wet.
You will have to be careful about how you care for and clean any type of Gore-Tex material.
Putting this hat through the washing machine could ruin it.
The 100 percent polyester design needs to be hand-washed only.
The general shape of this Zero Restriction hat is the bucket shape hat.
The brin around the entire hat is quite broad and it is designed that way to keep water-shedding out and away from your body.
It comes in a one size fits all adjustable option.
Some people with very large or small heads said they had to be careful with the sizing on this one.
However, most had no issues.
The Zero Restriction Rain Hat is available in both black and blue.
The only real downside to any of their products is that they are usually priced quite a bit higher than other competitors.
For the quality of this hat, the price will be worth it.
Pros
One size fits all
Gore-Tex
Waterproof
Cons
Hand wash only
Priced high
2. FootJoy DryJoys Tour Bucket Hat
No products found.
Key Features
Waterproof
Quality Material
Bucket Hat Brim
Not far behind Zero Restriction, from a performance perspective, is FootJoy.
If FootJoy can keep your feet dry while walking through a swampy golf course, they can certainly keep your head dry.
Anytime you see the DryJoys name used on a FootJoy product, it is their waterproof material.
This is similar to the Zero Restriction in that it goes beyond water resistance to waterproof.
The bucket hat design will keep the water from pouring down on you as you swing and especially when you putt.
We like the fact that you can put the DryJoys hat in the washing machine.
But the Gore-Tex fabric will still stand out as the best when it comes to repelling water.
Overall this is a high-quality hat available in several sizes that will do a great job of keeping your face and head dry.
Pros
High-Quality material and design
Keeps water from falling on face and hands
Cons
Not a Gore-Tex material
Still priced a bit high
3. Outdoor Research Lightstorm Bucket Hat
Key Features
Pull-on closure
Bucket Hat design
Internal headband for comfort
Next on our list is the Outdoor Research Lightstorm Bucket Hat.
This particular model is a bit of a different design and has a pull on closure.
The pull-on closure is excellent if you are playing in windy conditions and afraid your hat may blow off.
Without the wind, the closure may annoy some golfers.
This will be a decision you will have to make.
This is a 100% Nylon hat that must be hand-washed.
Putting this hat through your washing machine could result in some depletion of its ability to repel water.
Inside this foul weather bucket hat design, you will find a TransAction headband.
The headband is designed to help with both comfort and moisture.
If you are worried about color and style, you will love the number of choices you get with this hat.
This is not an adjustable fit hat; you will have to choose a size from the numerous options available.
Pros
Pull-on closure
Lots of colors
Many sizes available
Comfortable
Cons
Hand wash only
Not 100% Waterproof
4. Zero Restriction Gore-Tex Cap
Key Features
Cap design
Gore-Tex Material
Machine Wash
After reading the review of our top golf rain hat, you probably understand how we feel about Zero Restriction.
When it comes to rain products, they are the best.
This option is a Gore-Tex rain hat in a cap style.
This is a 100 % Polyester material, and you can wash this one in the washing machine.
Some people do not feel comfortable in the bucket hat design, and if that is you, this hat is a perfect option.
This is an entirely waterproof hat where all seams are sealed.
You can easily adjust this hat to work for the size of your head.
If your hat somehow starts letting water in, you can contact zero restriction, and they will replace it for you.
You will always have waterproof protection with this hat.
You can get the Zero Restriction cap in both black and blue.
Again, the only downside to the product is going to be the price.
In reality, you will probably only have to buy this hat once.
Keep in your golf bag for a rainy day, and you will be pleased with the results.
Pros
Gore-tex design
Baseball cap easily adjustable Fit
100% Polyester
Waterproof
Cons
5. Titleist Men's Golf Hat (Stadry Bucket, Stadry Performance)
Key Features
Great looking hat
Available in three colors
Baseball cap design
The Titleist Men's Golf Hat Stadry hat is a baseball cap design.
This hat is similar to the DryJoys hat, but it is water-resistant.
So if you are playing in light rain, your hat will help keep you dry and allow water to dry very fast.
There is a rain gutter trim installed on this hat to help push water away from your face.
This Stadry hat also has interior features to help keep you dry.
There is a moisture wicking sweatband inside to keep you dry even on a hot day.
Your Stadry hat won't run or fade either.
This is a perfect option if you are looking for something a bit more versatile than you can wear both in the rain and not in the rain.
The overall look is going to be a tour-level design with detail and finishing.
Pros
Tour level look
Won't run or fade
Moisture-wicking sweatband
Cons
Not completely waterproof
6. The Weather Co. Golf Bucket Hat
Key Features
Bucket style
Good for both rain and sun
One size will fit most
The Weather Co. Golf Bucket Hat is a very affordable rain hat option for a golfer.
If you need a rain hat but can't afford something like the Zero Restriction styles than this is a great choice.
This is a 100% Polyester design that is both lightweight and packable.
You can easily store this in your golf bag and pull out on a rainy day.
The Weather Co is a waterproof design and will repel water.
Since it's so lightweight, it also works well as a sun hat.
The elastic closure will help keep this hat on even in some windy conditions.
The hat will fit most people, and it also has taped seams to make sure there are no issues with water leaking through.
One of our favorite things about this golf hat is the fact that it is available in a wide range of colors.
Regardless of your style and outfit choice for the day, you can find a Weather Co. hat to match.
Pros
Lots of colors
Lightweight design
Suitable for both sun and rain
Low price
Cons
Won't hold up quite as well in very heavy rain situations
7. Frogg Toggs Waterproof Breathable Bucket Hat
Key Features
Bucket hat wide design
Tension adjustment
Suitable for a variety of sports
If you play other sports besides golf and you are looking for a versatile hat, the Frogg Toggs could be a great choice.
This hat has a very wide 3″ brim around the entire outside.
This will help repel water even further from your face when you are trying to play.
The Frogg Toggs is a completely waterproof design that will repel water.
You can fold this hat up very small and keep it in your bag for a rainy day.
Inside the hat, you will find a one-inch internal band.
The band helps keep your head dry on the inside, and it makes sure you have a tight and secure fit with your hat as well.
If you need to adjust the tension on your hat, there is a cord adjustment.
Many people love this hat for fishing, hunting, and hiking as well.
The price is fair, and the features are strong.
Pros
Adjustable
Good for other sports as well
Wide 3″ brim
Waterproof
Cons
The cord can be annoying when swinging
8. Sumolux Men and Women Outdoor Rain Sun Waterproof Quick-Drying Long Brim Collapsible Portable Hat
Key Features
Very low price
Breathable fabric
Lightweight
The Sumolux hat is a low priced golf rain hat.
This is a breathable mesh hat that is going to help keep you dry because of ventilation and high-quality fabric.
This will not be a waterproof design that will allow water to repel off the hat.
We love that the Sumolux works well on a hot day and a rainy day.
It is nice to have some versatility in the products that you buy.
This is a foldable hat that will easily fit in your golf bag for when you need it.
It comes in plenty of colors so you can purchase a few of these to match with different attire.
Another great feature is that the Sumolux is stain resistant.
Sometimes a hat that gets caught in the rain will show watermarks or sweat marks as well.
Luckily the Sumolux will not.
This hat is built so that its shape will last and hold up over time.
If you want something affordable and quick-drying, the Sumolux is an excellent choice.
Pros
Very fast drying
Lightweight material
Foldable
Cons
9. Rain Girl Golf Women's Rain Hat Black with Pink Trim
Key Features
Best for the woman golfer
Nice styling and design
Multi-use snap strap
Although women are more than welcome to wear any of the rain hats we have discussed, the Rain Girl Golf Women's Rain Hat is specifically designed with the female golfer in mind.
This is a bucket hat style with a snap closure.
The unique thing about this product is that you can put it right over whatever hat or visor you have on.
If it starts raining, you will not need to change hats and get yourself wet in the process.
Simply place the Rain Girl Rain Hat directly over your headgear.
This is one size fits most design with an adjustable strap that you can use to tighten the fit if necessary.
In the back, you will find a multi-use snap strap for ponytails or to clip to another hat in case it is windy.
The Rain Girl hat folds up quite quickly and will store in your golf bag easily.
Pros
Best for the female golfer
Snap closure
Fits over another hat
Cons
10. Sunderland Men's and Ladies' Ultra Lightweight Wide Brim Waterproof Golf Hat
Key Features
Very lightweight design
Water repellant
Available in several sizes
Last on our list is the Sunderland Ultra-Lightweight Waterproof Golf Hat.
This is an extremely water repellent bucket style hat.
If you are looking for something that will push water away from your face and your neck, Sunderland does a great job.
Sunderland is similar to Zero Restrictions in their ability to make high-quality rain gear products.
There is a mesh lining inside the Sunderland hat to help make sure that your head stays cool.
The ultra-lightweight 100% polyester fabric will help with this as well.
On the hat itself, you will notice the Sunderland embroidery at the front.
These products are always priced a bit high, but they are also quite useful in harsh weather.
If you have yet to try a Sunderland golf accessory now may be the time.
Pros
Elastic headband for comfort
Water repellant
Lightweight
Cons
Sunderland branding is a bit large on the front of the hat
Expensive
The most important things to remember when choosing a golf rain hat are that waterproof and water-resistant don't mean the same thing.
Make sure you pay attention to the fit of the hat as rain and wind often go together.
A rain hat that continually blows off your head is not going to cut it.
Hopefully, this list gave you some great options for both bucket hat and baseball cap designed golf rain hats.
When you get your product, make sure to read washing directions as some hats can get ruined in the washing machine.