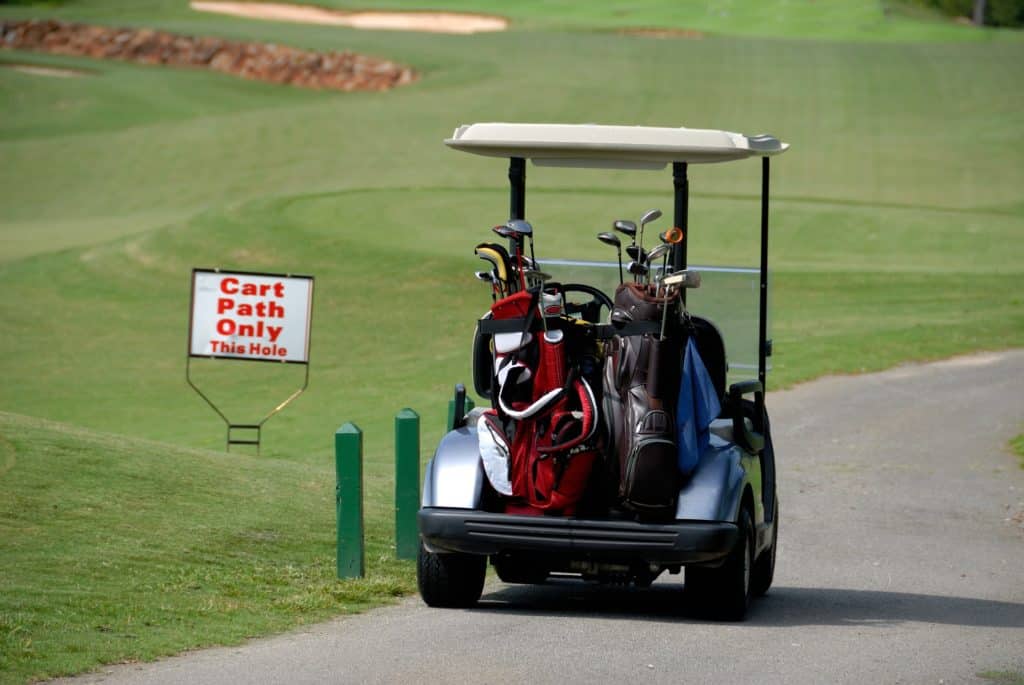 A golf cart bag is the best choice when you play most of your golf riding in a cart.
Golf cart bags are typically heavier than stand bags, but they offer much more storage and quick access to your gear.
With a golf cart bag, you will have lots of pockets right in front of you to stay more organized.
Another critical factor when it comes to golf cart bags is that they usually have more dividers on the top to keep clubs from bumping into each other.
When you have graphite shafts, this is a great way to help keep them protected.
Here are ten of our favorite golf cart bags on the market.

Top 10 Best Golf Cart Bags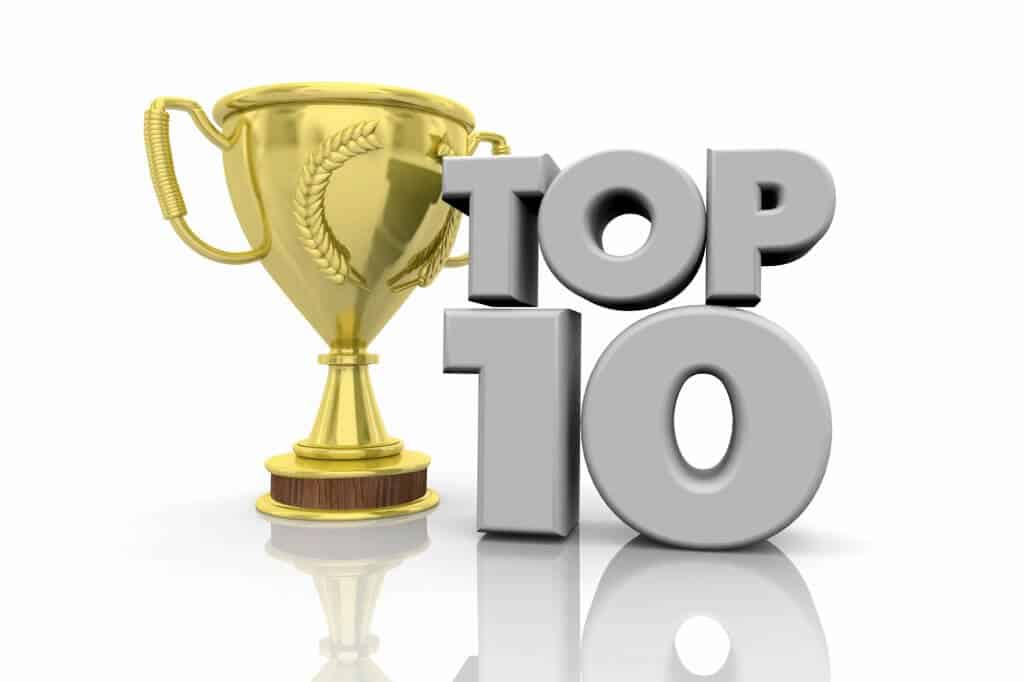 1. Callaway Golf 2019 Org 14 Cart Bag
Key Features
14-way top
Full-length dividers
Large pocket volume
When you start shopping for golf cart bags, one of the things you are going to notice right away is that these golf bags are not cheap.
The construction of the bag and the design is what puts this golf bag at the top of our list.
Everything about how a golfer operates on a cart is thought of when Callaway designs these new cart bags each year.
The non-stadium top is a new release for Callaway, and it allows wedges to sit flush, and it will eliminate hang.
This is just another thing that will keep your clubs more protected and less susceptible to damage.
The way this bag is designed, you will get lots more room in the pockets as well as some additional features on the outside of the bag.
The Callaway golf bag has a fourteen-way top, and each one has a full-length divider.
Your clubs will not be bumping into each other at all with this golf bag.
The separate putter well is a nice feature many golfers enjoy as a way to get on and off the green quickly.
Pros
Range finder pocket with magnet
Large pocket volume
Towel hook
Glove attachment
Cons
Expensive bag for not being the newest release
2. TaylorMade Cart Lite Bag
Key Features
Eight pockets
Extra front-facing pockets
Strap pass-through
The TaylorMade Cart Lite Bag is an excellent option if you want all the high-end features of a cart bag without it being too heavy.
This TaylorMade Cart Lite Bag weighs in at 5.5 pounds, which is pretty light for a full-sized cart bag.
The top of this golf has 14 golf club dividers to help keep things separate and let you always find your favorite golf club.
They designed the TaylorMade Cart Lite Bag with extra pockets in the front part of the bag.
This is a huge benefit because, when your bag is on the cart, it can be challenging to get your accessories out of the pockets.
The TaylorMade leaves you a full organization station right in the front of the bag.
Another great feature of TaylorMade Cart Lite Bag is the True Cart Strap Pass-Through.
In years past, you would have to put the golf cart strap around the outside of the bag and potentially block some of your pockets.
With the pass-through strap, you won't block access to your golf gear, and you get a more stable and secure fit on the cart.
Pros
14-club top
Cart strap pass-through
More front-facing pockets
Available in several colors
Cons
A newer, more expensive bag
3. Sun Mountain 2020 C-130 Golf Cart Bag
Key Features
Full-length dividers
Ten pockets
Cooler pocket
Sun Mountain is one of the best golf bag manufacturers in the industry.
There is no question that their products are of high quality, and they are built to last.
The Sun Mountain golf bags tend to cost a little bit more money, but they truly have all the features a golfer could want.
The C-130 is the latest design by Sun Mountain, and the list of excellent benefits for this product goes on and on.
There are ten total pockets, but the way they are designed and divided is what sets the C-130 apart.
You get a ventilated cooler pocket, two velour-lined pockets (one of which is waterproof), two apparel pockets, and plenty of ball and tee pockets as well.
If you are one of those golfers who has a place for all of their gear, this is a bag you will thoroughly enjoy.
The C-130 has the smart strap system that will help make sure your bag is appropriately attached to the cart without twisting or sliding while in motion.
You may be surprised at how many golf cart bag accidents there is each year.
If your clubs fall off, chances are they won't be in excellent shape.
The top of the C-130 has the 14-club divider, and it will run the full length of the bag.
If you are a golfer playing with graphite shafts, this is the way to go.
Pros
Tons of pockets and options
Keeps clubs in great shape
Strong single strap to carry
Available in different colors
Cons
4. Vessel Lux Cart 2.0
Key Features
Premium cart bag
Made with high-quality materials
14-way top
The Vessel golf bags are considered to be luxury in every way.
There is nothing about this bag that you would consider average or second best.
If you want something that stands out and looks high end, the Vessel is one of the best possible choices.
The Vessel is very easy to organize, and it is a good match for golfers who value orderliness.
On the front of the bag, you will notice a magnetic accessory pocket that makes it easy to put away and take out any of your valuables.
There is also an insulated pocket for you to keep your beverage cold.
The fourteen way top on the golf bag is built to keep your golf clubs protected as well.
The dividers go all the way through to the bottom of the bag.
Pros
Interior lockable pocket
14-way divider
Made with ripstop nylon
9" top
Cons
Premium pricing on the Vessel golf bags
A little heavy
5. Titleist Cart 15
Key Features
Ball pocket can be removed for customization
11 zippered pockets
Velour lined valuables pocket
The Titleist golf products have always been known as the player's products.
If you are a great golfer, you know the quality and durability of the Titleist products.
This particular bag has eleven zippered pockets which let golfers stay extremely organized.
We like the design of this bag and how easy it is to get the gear you need when you are out on the golf course.
Like most Titleist products, they kept in mind the fact that many low handicappers will be using this bag.
Therefore, you can remove the front ball pocket and have your name put on the golf bag.
The Titleist bag comes with a molded pocket and an integrated cart strap tunnel.
The cart strap tunnel makes the fit on the cart much more secure and stable.
Pros
15 full-length dividers
Dedicated putter well
Tons of pockets
Available in many colors
Cons
Not as large as some other cart bags
6. OGIO ALPHA Convoy 514 Golf Cart Bag
Key Features
Large golf bag
14-way top
Magnetic closures on most pockets
Ogio is another company known more for their golf bags than any other product.
When it comes to golf bag design and function and knowing what players need, Ogio does stand out.
From an organizational standpoint, this Ogio comes with a fourteen-way top and ten zippered pockets.
Many of the pockets have magnetic closures, so you won't be stuck zipping pockets while your friends are waiting for you to tee off.
We love the fabric used to create this high-quality golf bag.
The fabric is a sustainable and premium Ogio Alpha Convoy.
It is an ecologically made ultra-durable polyester that will stand up over time.
It has been made with recycled plastic water bottles.
What a great way to give back to the environment and get an incredible and long-lasting golf bag at the same time.
The three handles on the Ogio will help you lift and secure your golf bag when you move it from the car to the cart or vice versa.
Everything about this bag is premium, and Ogio has a great warranty to back up its products.
Pros
Wide range of pockets
Magnetic towel loop
14-way top
Made from eco-friendly material
Cons
Priced very high
Very large will be heavy for some players
7. Bag Boy Golf- Chiller Cart Bag
No products found.
Key Features
Removable cooler
Fourteen-way organizer
Putter well
The Bag Boy Chiller is a popular golf bag because of the removable cooler.
Golfers love the option of being able to pack a cooler that will hold six twelve-ounce cans.
You can place this cooler in your fridge overnight and then simply attach it to your golf bag in the morning.
The cooler is insulated, and it does a great job of keeping your beverages cold during your entire round.
The Bag Boy Chiller is more than just a cooler that holds golf clubs.
The newly designed 14-way organizer on the top of the bag has full-length individual dividers.
The dividers go all the way down the bag and are an excellent choice for golfers who play graphite shafts.
The Bag Boy also takes advantage of Top-Lok technology which allows you to make sure you have a very stable fit on the golf cart.
Rattling is not great for your clubs!
Pros
Putter well
14-way organizer
Removable cooler
Cons
Smaller pockets are not as great on the Bag Boy Chiller because the cooler takes up a lot of room
8. TaylorMade 2020 Tour Staff Bag White/Grey/Blue SIM N7778301 New
Key Features
Very large
Great for an aspiring professional
Used on Tour
If you are serious about your golf game and the equipment you play, you may want to try this TaylorMade Tour Staff Bag.
You will never have to worry about pulling a seven iron out and have two other clubs stuck to it.
This is one of the largest bags out there, and it is widely used on the PGA Tour.
This is a perfect bag for a golfer who just purchased all new TaylorMade clubs, and they want a great way to show them off.
It certainly helps if you have a caddie to carry these clubs from your cart to your car because this bag is not a lightweight option.
When it comes to storage and organization, you will have lots of room, but surprisingly, some of the smaller bags have a better pocket design.
Pros
Great looking bag
High-quality materials
Used on the PGA Tour
Cons
Very heavy
Probably bigger than most amateur golfers need
9. CaddyDaddy Golf- Roadrunner Wheeled Cart Bag
Key Features
Molded wheelbase with skate wheels
Handle for wheeling
15-way top
The CaddyDaddy Golf Roadrunner is a unique golf bag with wheels that stay on the bottom.
The wheels are designed to help golfers move the clubs from the cart to the car.
You may have noticed in a few of our reviews we talked about the weight of the bag and it being quite a project trying to move the clubs from the cart to the car.
With the CaddyDaddy, you won't have this concern because of the wheels that are in place.
These wheels are not intended to be used on the grass of the course, it's merely a transport method for your golf clubs.
In addition to this unique feature, the CaddyDaddy comes with a 15-way top, three full-length dividers, and an insulated cooler pocket.
Of course, the wheels set this bag apart, but even without them, this is a highly functional golf bag with great features.
Pros
Good pocket design
Wheels for easy maneuverability
Easy to transport
15-way top
Cons
The wheels can sit a bit funny on some golf carts
10. Bag Boy Revolver FX Cart Bag
Key Features
Rotating top
Clip lock technology locks clubs in place
Seven zippered pockets
The Bag Boy Revolver FX Cart bag is a very popular bag that Bag Boy updates from time to time.
The thing that sets this cart bag apart is that the entire top of the bag spins.
If you can't reach your driver, you turn the top of the bag, and the driver ends up in the front.
Each of your clubs will fit securely in the Bag Boy Revolver because of the clip lock technology.
This ensures that nothing is going to slip or slide around while the cart is in motion.
In addition to being a great golf bag for accessing your clubs, the seven zippered pockets include a cooler, a valuables pocket, and ball pockets as well.
You will have no issues staying organized with a golf bag like this to work with.
The handles on the Revolver Cart Bag also make it easier to load in and out of your car.
Pros
14-way rotating top
Seven zippered pockets
Clubs will stay in place
Cons
Only select colors available