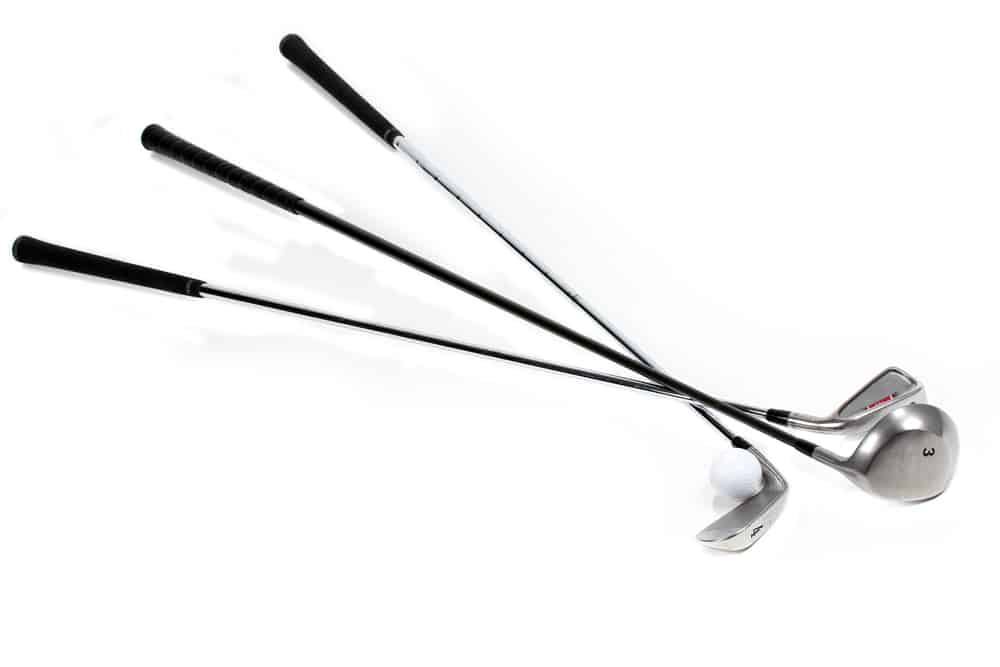 One of the most important considerations when choosing your golf clubs is the golf shaft.
If you are not playing with the proper golf shaft, then you will have a hard time getting better at the game.
The problem with choosing the proper golf shaft and getting the right fit for yourself is that there are many factors involved.
Understanding if the stiff or regular flex golf shaft is best for you takes a bit of time and testing.
We will go through some of the factors that you should consider and how you can choose the best golf shaft for your game.

Stiff vs. Regular Flex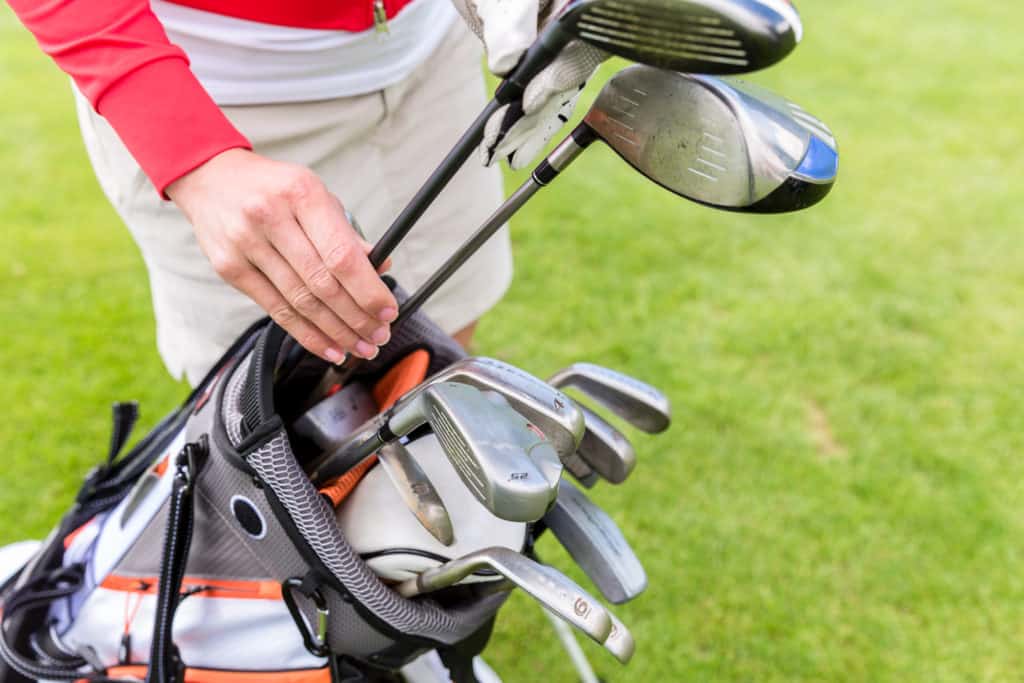 The difference between a stiff and a regular flex golf shaft has everything to do with the way the shaft can bend as a player swings it.
Golf shafts that have a lot of flex to them are better for the slower swinging player.
These players cannot create this natural torque on the club without a bit of help from the equipment.
Golf shafts with a stiff flex will be a bit harder to swing, but they can offer more power to the stronger player.
Some companies will have a shaft that feels a bit stiffer than others based on some of the other components in the shaft.
Many years ago, you could choose a golf shaft based on its flex alone.
Things have changed, and now you need to consider other things like the kick point and the overall weight of the shaft as well.
We will go over who should choose the stiff shaft and who needs the regular golf shaft so that you can understand which would be the best for you.
Who Should Play with a Stiff Golf Shaft?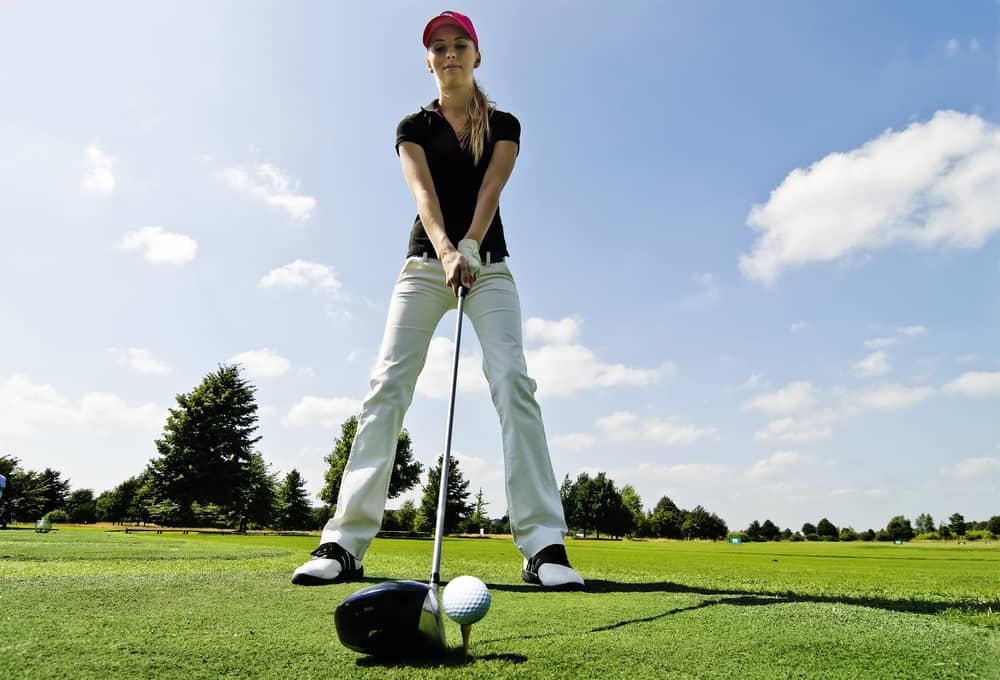 Generally, players with swing speeds over ninety miles per hour should have a stiff golf shaft in their bag.
You will also want to measure the speed of your golf swing using a driver and after you have warmed up and hit a few shots.
Be careful not to measure when you are tired or if you are hitting your first shot of the day.
To get an accurate representation, you should have hit at least thirty or forty golf balls.
Once you have your swing speed, you can make a better determination about which shaft you should be using.
1. Swing Speed
Swing speed is a very important factor in the game of golf.
As we are seeing on the PGA Tour, players with more swing speed are finding ways to win.
With the extra distance that swing speed can give a golfer, they are able to make big advancements in the game without doing anything different.
Golfers like Bryson DeChambeau teach us that strength and power are major factors in becoming a better golfer.
Players who swing with stiff shafts are going to be strong and powerful players with plenty of clubhead speed.
These golfers will be able to hit their drivers around 250 yards or more, and a seven-iron shot should be at least 150 yards.
2. Player Experience
Sometimes a player's experience will factor into the shaft decision as well.
Typically speaking, a new golfer will start with a regular shaft in their clubs.
This is done to help make the game a bit easier and provide a higher launch for the golfer.
With a stiff shaft, you need to have a general capacity to make contact with the ball to be able to get it in the air and headed towards the target.
Players who are more experienced are more likely to go with a stiff golf shaft.
3. Approach to the Game
Golfers who like to play with a stiff shaft tend to be more aggressive players.
These players often put time into their game and focus on both ball striking and power.
Of course, there are players who use regular shafts who can also claim they are serious about their approach to their game.
However, you often see the stiff shafts used by good players who have efficient and fast golf swings.
For those who are looking to play the course with a nice even and consistent tempo in their golf stroke, the regular shaft will likely be a better fit.
One way to look at it is that, if you are a player who goes after the ball, choose the stiff club which will allow you to do this with ease.
Who Should Play with a Regular Golf Shaft?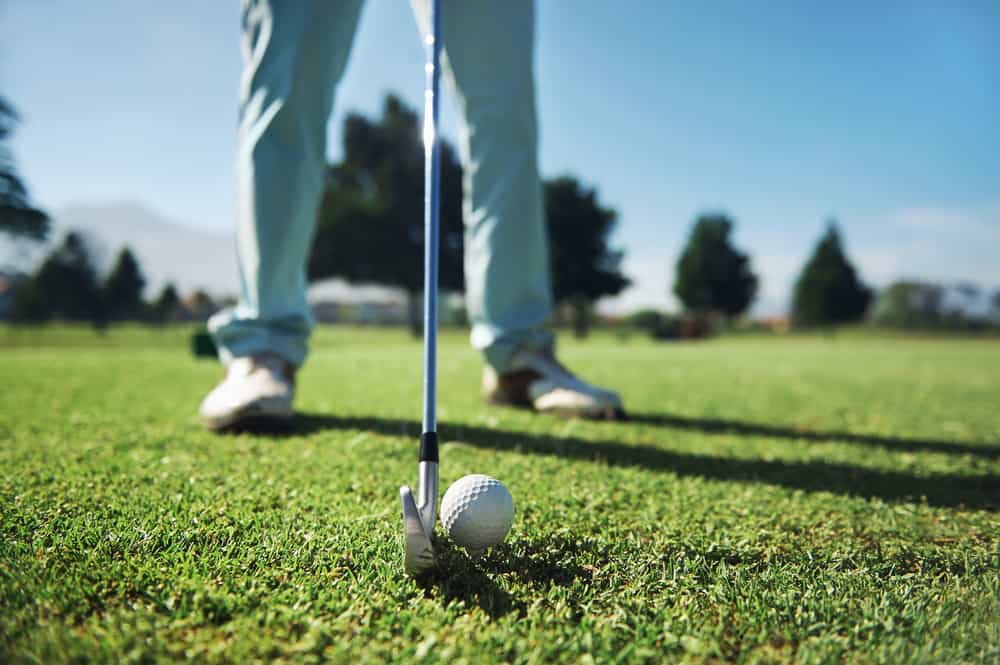 A regular golf shaft is more flexible than a stiff golf shaft, and it also will help players to launch the ball a bit higher.
If you are a golfer who tends to struggle with distance and accuracy, chances are the regular shaft is going to be a better fit for your game.
Playing with the regular shaft allows people a bit more time and help when it comes to releasing the golf ball.
The release is one of the hardest parts of the game, and it is much harder to do with a stiff shaft in your hands.
1. Swing Speed
Most regular shafted golf clubs are for players who are swinging between that 80 and 90 mph range.
The swing speed is the easiest way to figure out which golf shaft to use, but you must remember to consider distances and launch as well.
For players who have a hard time getting the ball in the air, the regular shaft is a good choice.
Like stiff shafts, regular shafts also come in both steel and graphite options.
Playing with a regular steel golf shaft is going to be similar to a stiff shaft.
However, a regular graphite shaft will feel much more flexible and lightweight.
As we mentioned, the weight of the golf shaft always comes into play as well.
2. Player Experience
Regular shafts tend to be the perfect choice for the beginner golf club.
Players who are new to the sport are going to have an easier time learning how to control the regular golf shafts.
There are still some great players who have slightly slower swing speeds, but most average golfers play with a regular golf shaft.
The regular shaft tends to be a bit more forgiving, and at times, it can help players hit the ball a little further as well.
If you are a generally athletic person and learning to play the game of golf for the first time, regular shafts are a great choice.
For players who have been in the game for years and have lots of clubhead speed and experience on the course, the stiff shaft would be the better choice.
3. Approach to the Game
Golfers who thrive with the regular shaft in their clubs are typically those who care about tempo, control, and consistency in their game.
These are the golfers who are going to try to make a good swing and advance the ball in the proper direction.
Most players who use a regular shaft do not need to truly attack the ball because their golf club is built to be more forgiving if the ball is not attacked.
If you find yourself to be a slightly less aggressive golfer, the regular shaft is going to be a good choice.
Can You Play with Some Regular and Some Stiff Shafts?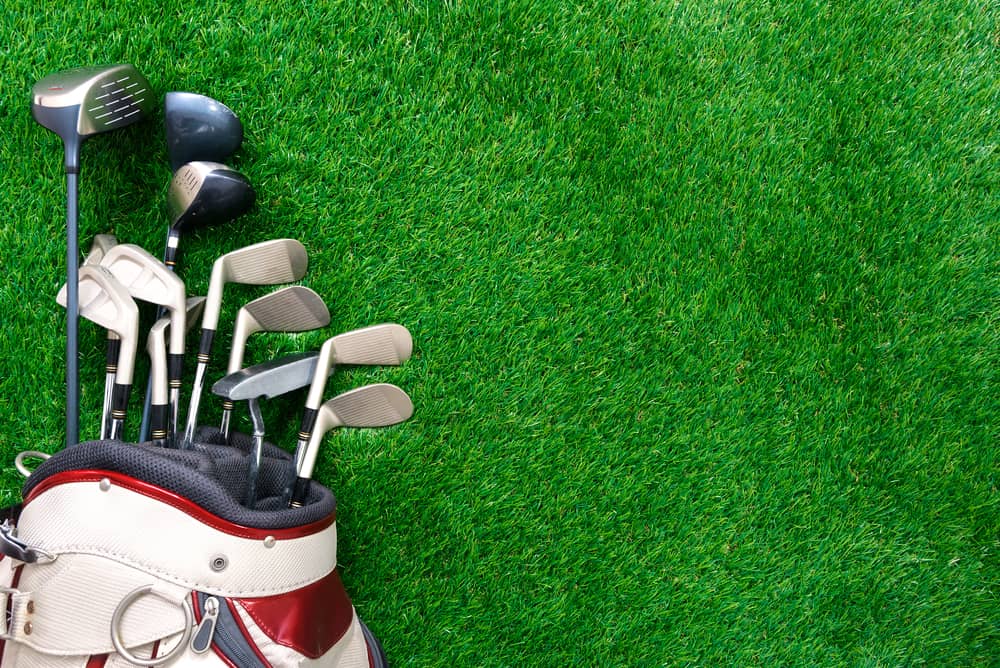 Now that we have established the different types of players who would use some of these clubs on the course, there are still many questions out there.
Many people wonder if it makes sense to keep both stiff and regular golf club shafts in the bag.
Interestingly enough, many golfers will mix both stiff and regular golf shafts.
Where you see this most often is with the drivers and the irons.
The irons are harder to swing fast like the driver.
The irons are heavier, and they are built for more accuracy and control as opposed to pure power and speed.
Most people don't set up the same way to rip a driver as they do to hit a solid seven iron on the green.
This wouldn't be nearly as effective with the seven iron because it is a club that is built for consistency, not distance.
Since golfers tend to naturally go after a ball when they have their driver in their hands, it's wise to get a stiff shaft in the driver and a regular shaft in the irons.
Many players are doing this with their golf sets, and it works out quite well.
You will know you have chosen the wrong club if you can no longer keep the driver straight, but your irons are straight almost every time.
A slight fade is something that most players can live with.
However, a slice is sometimes a sign that the golf shaft is too stiff for you to use.
To know exactly which shaft you should be playing in your clubs, you will likely have to go to a club fitting.
When you go for a complete bag club fitting, you can get an idea of which shaft you should be using in each of your clubs.
There is an expense that comes along with getting fitted for golf clubs, but this is an expense that will be worth paying for.
Does Stiff or Regular Matter in Your Wedges?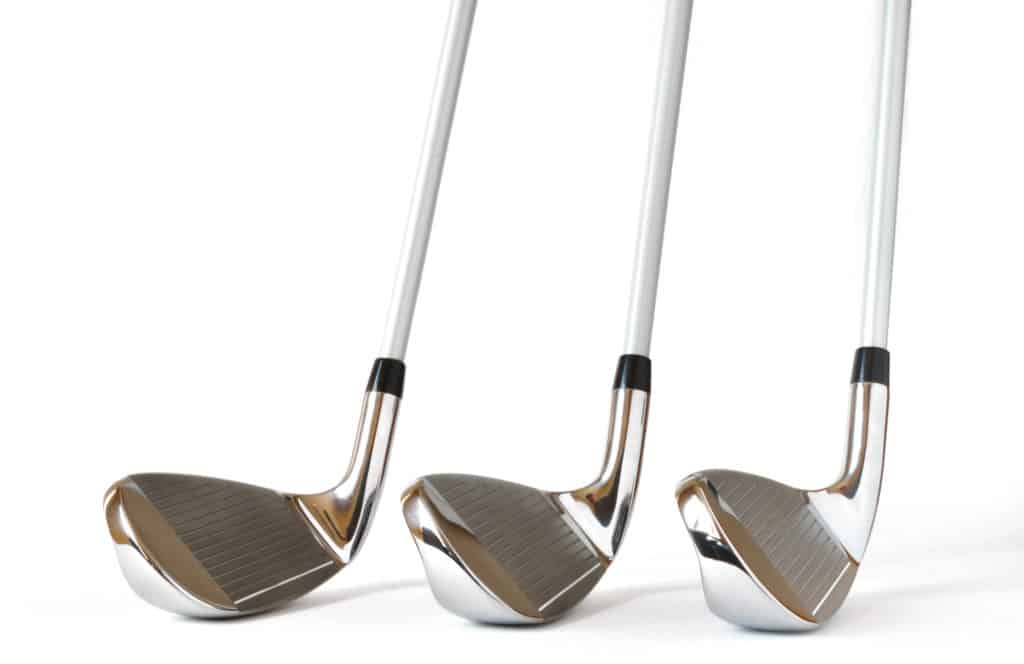 Most golf wedges are sold with a wedge flex shaft.
The wedge flex is a standard option, and it has the flexibility of something between a regular and a stiff shaft.
For many years, players used these types of shafts without asking any questions about whether or not it was the proper fit.
This is understandable, but at the same time, it makes more sense to ask questions and get the proper fit.
More and more golfers are getting custom shafts in their golf wedges.
The game of golf is so inconsistent, and the fact that you may have golf wedges in your bag that are not a proper fit for your game could be costing you strokes.
Most players won't notice the shaft differences for the shorter chips around the green.
However, when you need to use a wedge for an important approach shot, the improper golf shaft makes it difficult to shoot accurately.
The next time you order new golf wedges, make sure you get them with a shaft that matches the rest of the irons in your golf bag.
Should I Use Graphite or Steel Shafts?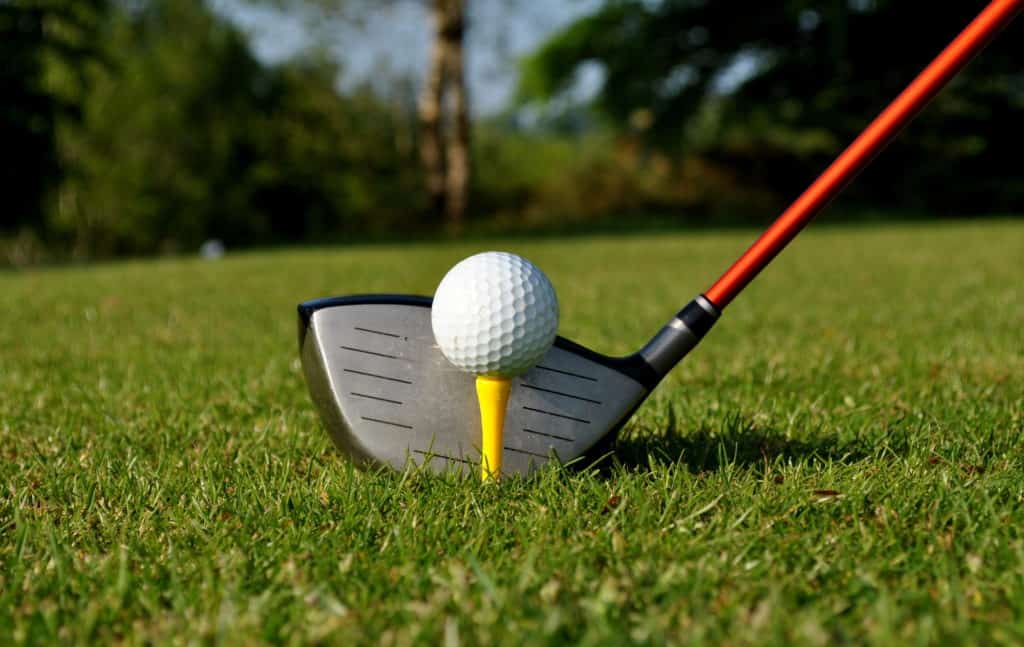 Along with the decision to play either stiff or regular shafts comes the decision about graphite or steel.
Graphite shafts are for players who need to launch the ball higher and get plenty of distance on their shafts.
The steel shafts are better for the players who value control and want their ball flight to be something that they can control.
Most graphite shafts are quite a bit lighter than steel shafts, and this is another factor that should be taken into consideration.
Many good players like to use steel shafts for the majority of their golf career.
As the player ages and the swing slows down, they tend to switch to the graphite shaft to gain a bit of the distance back.
Conclusion
Choosing the proper flex on your golf clubs is not a decision you can make based on one factor alone.
As you have read above, the swing speed, player experience, and approach to the game need to be taken into consideration.
With modern golf fitting equipment, getting the right golf shaft in your hands is much easier than it ever has been.
Computers can track your distance, speed, spin, launch, and more.
This shaft is just as important as the clubhead when determining which is the best option for your game.
In the end, you may find that a mix of regular and stiff shafts could be a better fit for your game.
If you end up with the wrong golf shafts in your club, the fix is a bit expensive.
Try to do your research before purchasing to ensure this does not happen.