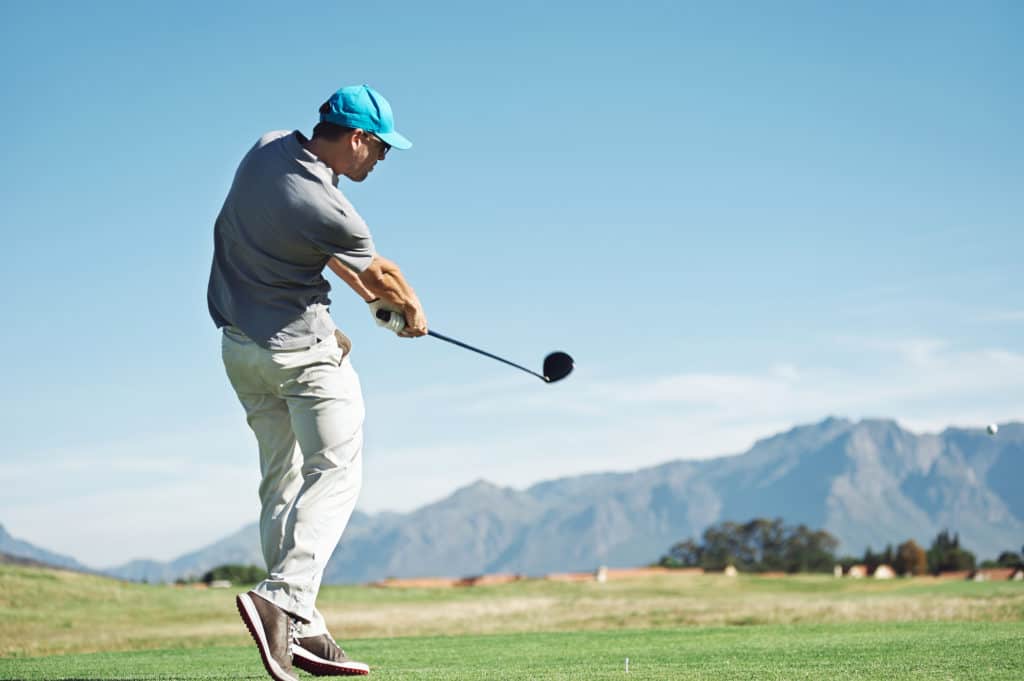 If you feel as though your swing speed is lacking, several reasons could be causing it.
Most players are capable of increasing their swing speed.
Sometimes this will result in positive changes for your golf game; other times, it may result in some negative changes.

What Makes A Golf Swing Speed Slow?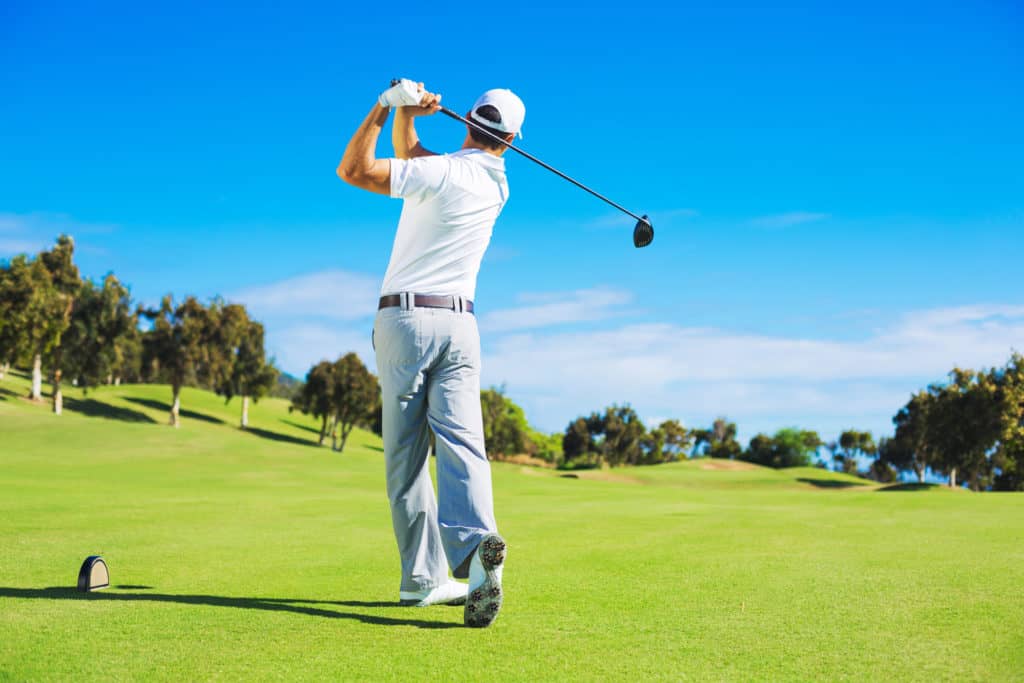 The four things that will make a swing speed slow are age, athletic ability, equipment, and swing fundamentals.
Age
As a player gets older, their swing speed starts to slow down.
This is why you will see that more flexible, easy to hit shafts are called Senior shafts.
There may not be too much you can do about swing speed slowing with age.
You can always work on drills and exercises to remain strong; however, some of this is just going to occur naturally.
Athletic Ability
Golf is much more a sport than some people like to admit to.
If you are not in decent physical condition with some pretty good hand-eye coordination, you will struggle with swing speed.
Golfers who are in excellent physical condition tend to hit the ball much further than those that are not.
It may not seem that difficult to swing a golf club with speed, but it can be.
Many swings speeds are well over 100 mph.
This is quite fast, even if a golf club is not very heavy.
Athletic ability also allows you to time your swing better.
When you have great balance and stability in your swing, you have a better base for generating extra speed.
Equipment
Heavy golf clubs are much harder to swing fast.
If your swing speed is slow, it could be because your golf clubs are too heavy for you.
Choosing something more lightweight will naturally help your swing speed increase.
One option is to choose graphite clubs.
Graphite golf clubs almost always weigh less than steel-shafted clubs.
You will notice that most people can swing their drivers much faster than their irons.
Drivers are distance producing golf clubs that are built to be swung fast.
It is entirely reasonable to have your driver swing speed be higher than your iron swing speed.
Swing Fundamentals
Although you may not think of it in this way, there is quite a bit of science involved in golf.
Every time you swing the golf club, there are tons of science experiments coinciding.
If your swing is efficient and works well, you will generate plenty of speed.
If your golf swing has too many unnecessary moving parts, chances are you will struggle to get your swing speed up.
Think of it like any type of simple machine.
Just like a simple lever or pulley.
If parts of these machines are out of order or, longer than they should be, or not appropriately timed, the machine won't work as well.
A golf swing is truly no different.
This is why some shorter people with excellent fundamentals can generate more distance than a larger, stronger person with terrible mechanics.
This is also why golf professionals work on perfecting even the tiniest issues in their swing.
These small imperfections can end up costing ten or fifteen yards.
This is yardage that nobody can afford to lose.
Why Does Golf Swing Speed Matter?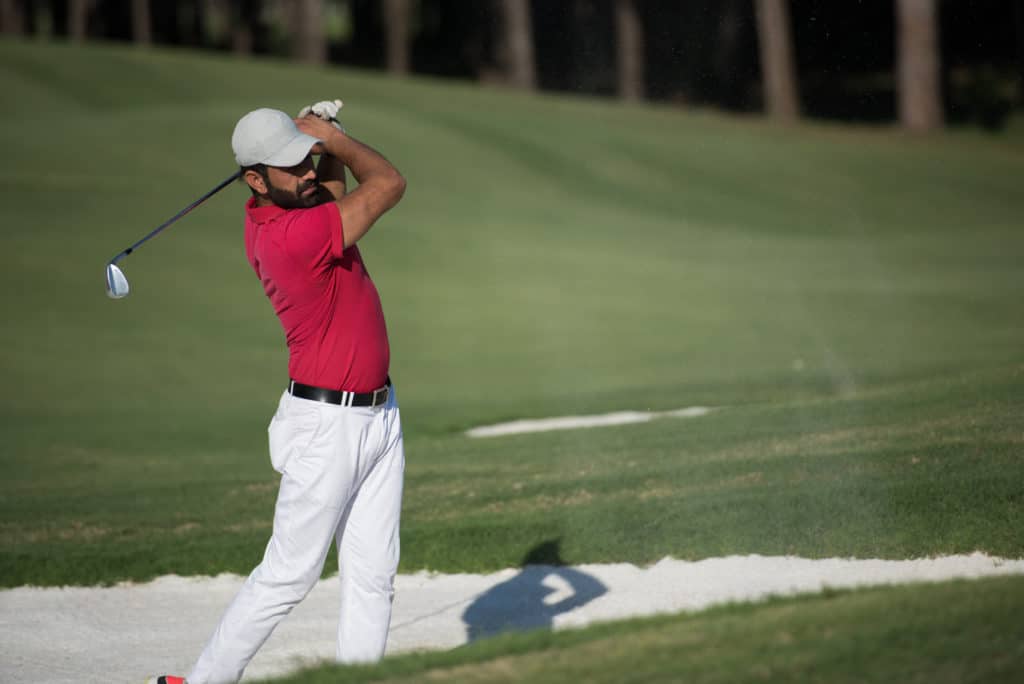 Golf swing speed matters because it will directly affect the ball speed.
Ball speed determines how far your golf ball will fly.
You want the ball to stay in the air for as long as possible to get the most distance.
Having enough swing speed will also help you get shots out of challenging conditions.
If you have a good deal of swing speed, you can get a ball out of the deep rough.
If you watch golfers on television, they will struggle in the high rough, but they eventually can progress the ball a good way.
If an amateur golfer with lower swing speed was in the rough like that, it could take them three or four shots just to get the ball out.
Swing speed is also necessary to get spin on a golf ball.
If you want your shot to stop and stay in a certain position, you will need some swing speed.
As a higher handicap, you may want all the roll you can get; however, at some point, you need to learn to stop the ball.
Since golf swing speed directly relates to how far you hit the ball, it is essential to discuss why it matters to hit the ball far.
Why Does Distance Matter In Golf?

The longer you hit the golf ball, the closer you will get to the hole.
If you can drive a ball 300 yards, then you would technically only have 100 yards into a green on a long par 4.
If you can only drive the ball 200 yards, you will end up having 200 yards into this same green.
The problem is that a 100-yard shot is much easier to hit than a 200-yard shot.
The chances of hitting a 100 yard shot near the pin are much higher than hitting a 200-yard shot close to a pin.
If you add this up throughout an eighteen-hole round, it will equate to several shots.
Having enough distance makes the game of golf easier.
This is not to say that if you can hit the ball far, you will score well.
Distance and scoring don't always go hand in hand.
Beginner golfers that have fast swing speed generally have an easier start to the game.
Although they don't connect with the golf ball each time, they are still getting some great distance when they do connect.
What Is The Average Swing Speed For A Golfer?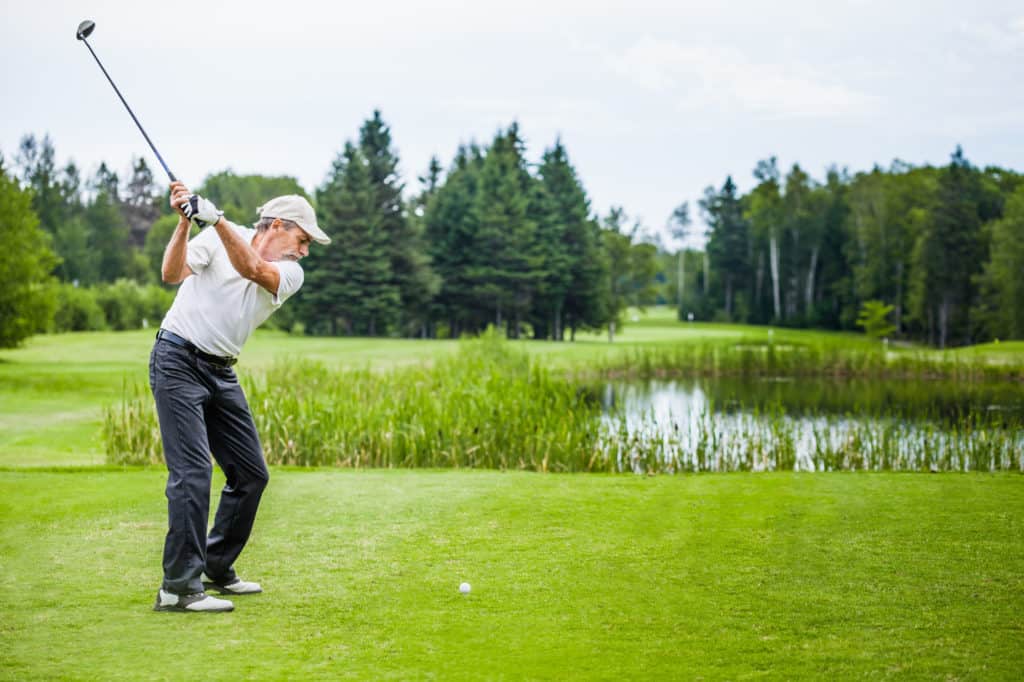 You are likely reading this because you believe your swing speed is low.
How do you know it is low?
Is it low compared to your friend, low compared to an average, low compared to a professional?
Most amateurs are going to have much lower swing speeds than the professional golfers.
The average swing speed for a golfer is 93 miles per hour.
If you swing about 93 miles per hour, your driver will likely end up about 220 yards from the tee.
This swing speed is measured with a driver.
The average swing speeds for irons are much lower.
If you are swinging and your speed is well over 100 miles per hour, you will likely need some different shafts in your golf clubs.
Golfers that routinely swing over 110 miles per hour will need an extra stiff shaft in their club.
When players swing with a club that is not stiff enough for them, they will hit shots nowhere near the target.
They will also not be able to get the distance that they need.
You should always play with a golf shaft that matches the speed of your swing.
Here is a general guide to help you pick a golf shaft for your game.
7 Iron Distance More Than 170 Yards- Extra Stiff Shaft
7 Iron Distance More Than 160 Yards- Stiff Shaft
7 Iron Distance More Than 140 Yards- Less Than 160- Regular Shaft
7 Iron Distance Less Than 140 Yards- Senior Shaft
Drills To Help Increase Swing Speed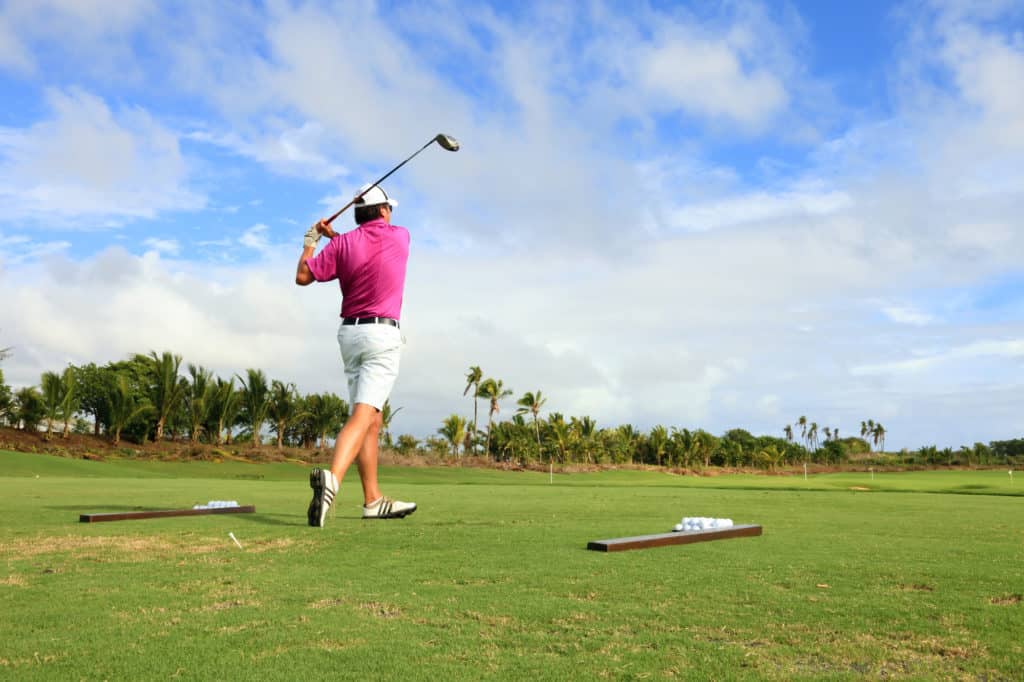 Since we have established that swing speed is quite essential to becoming a better golfer, you may want to start practicing increasing your swing speed.
There are several drills that you can work on to help you increase your speed.
What happens when golfers try and start swinging fast is they will lose timing and tempo.
This is not the right method.
You will have to work to increase your swing speed gradually, it will not happen overnight.
Weighted Golf Clubs
There are several types of weighted golf clubs you can use to increase speed.
Some options will work as a baseball bat donut.
You place the weight on the grip end of your club, and it slides down to the clubhead.
When you swing with the weight on your muscles will start to get stronger.
You will feel what the timing and tempo need to be to get your swing speed higher.
When you take the weight off the club, your regular golf clubs will feel much lighter.
Your first few swings may feel a little too light, and you could end up topping the ball.
Just make sure to keep your stability and tempo, and you will be fine.
Weight Lifting
One thing you can do to increase your swing speed is to increase your physical exercise.
If you work on your upper body strength, you will gain clubhead speed.
If you work with a personal trainer, they can give you some golf-specific exercise.
While you are working on increasing the upper body strength, don't forget about your legs and core.
If you want to have fast swing speed, you need a solid base to work off of.
Your legs, knees, and torso need to be very stable.
Any time that you spend getting yourself in better shape is going to help your swing speed increase.
Fundamentals
Working on your golf swing fundamentals can make a big difference when it comes to swing speed.
The most important one to work on is your grip.
You must remember that your grip is the only connection you have with the golf club.
If your grip is not precisely how it should be, you will lose some speed on your golf swing.
If you have smaller hands, try switching to an interlocking grip to see if it helps you get more distance.
You will likely have a stronger and better grip on the club, and it could make all the difference you need to increase your yardage.
Is Swing Speed Important For Short Game Or Just Long Game?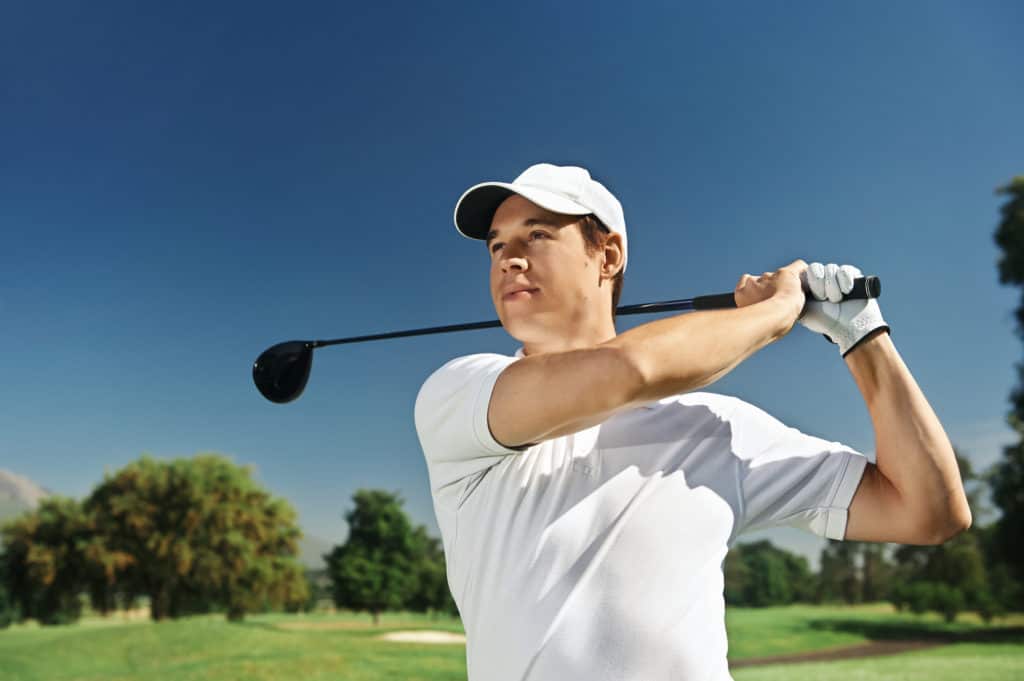 Golfers are always trying to work on their swing speed to increase distance off the tee.
Although this is important, it's still essential to have some speed around the greens.
To hit a shot out of a bunker accurately, you need to really go after the ball.
If you slow down at all while going through your shot, the ball will likely not fly out of the bunker.
You also need a good amount of clubhead speed to get spin on a shot.
If you want to be able to hit those shots where the ball spins back towards the pin, you need speed.
Sometimes players lack speed around the putting green because they lack confidence.
Golfers are afraid that they are going to end up hitting a ball thin and having it run through the green.
To control the ball and work the ball around a putting green, it is crucial to have swing speed.
People mistakenly think that feel means that they are hitting soft shots around the green.
Although these shots land softly, it does not always mean that they were not hit with a good deal of force, to begin with.
When working on increasing your swing speed, just understand that it will affect your entire golf game, not just your short game.
How Do I Get My Swing Speed Tested?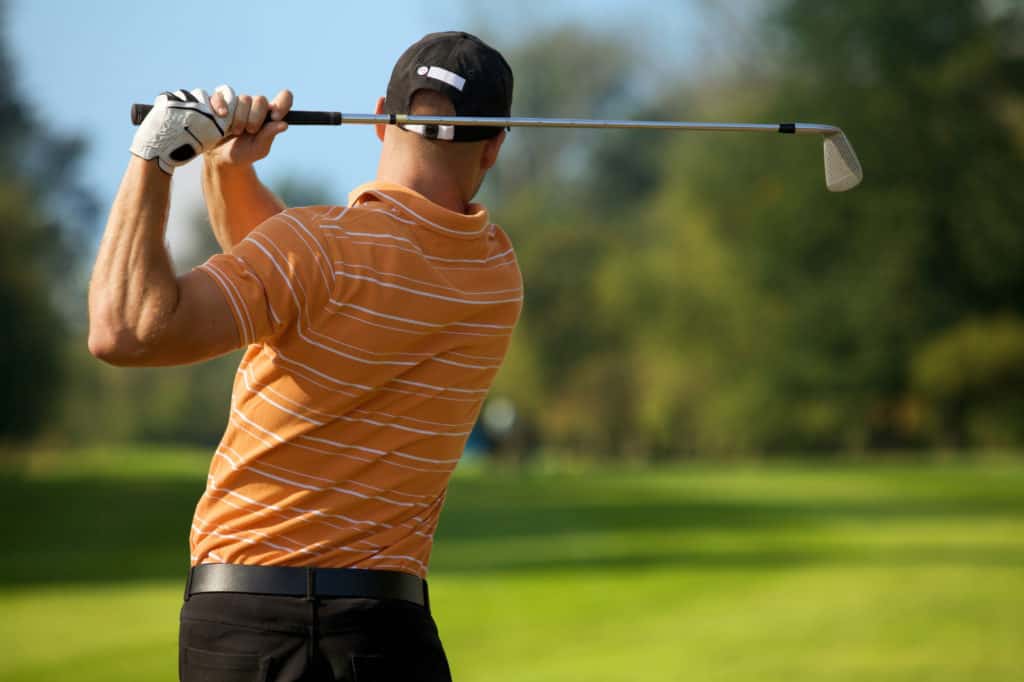 Getting your swing speed tested is easier today than it ever has been.
You can go to any golf fitting center and, in a matter of seconds, have your swing speed given to you.
Your swing speed will vary a little from day to day.
Your speed will also slow as you get through a round of golf.
Unless you are in excellent physical condition, you will likely lose some speed as you finish your round of golf.
This should be taken into consideration when choosing a golf shaft to match your game.
If you walk into a hitting booth and have a 110-mile swing speed on your first shots, try and see what your speed is on your 20th shot.
If your speed is down to 100, it would be a mistake to go for the extra stiff shaft.
Always choose something that fits the skills of your game at any time of your round, not something you have to push for.
Conclusion
You can see that having a slow swing speed can make the game of golf more difficult.
Having longer shots into greens means that you will be a little less accurate with your shots.
This will, in turn, lead to longer putts.
All of these things add up to more shots in the course of a round.
If you spend a little time getting in better physical condition, perfecting the fundamentals of your game, and making sure you are playing with the right clubs, you will see significant increases in swing speed.
The most crucial factor to remember is to understand that this is a long term project.
Don't try and start swinging the club faster in one afternoon.
You will throw off your tempo and regular rhythm.
Commit to slowly increasing your swing speed, and you will be pleasantly surprised with your progress.