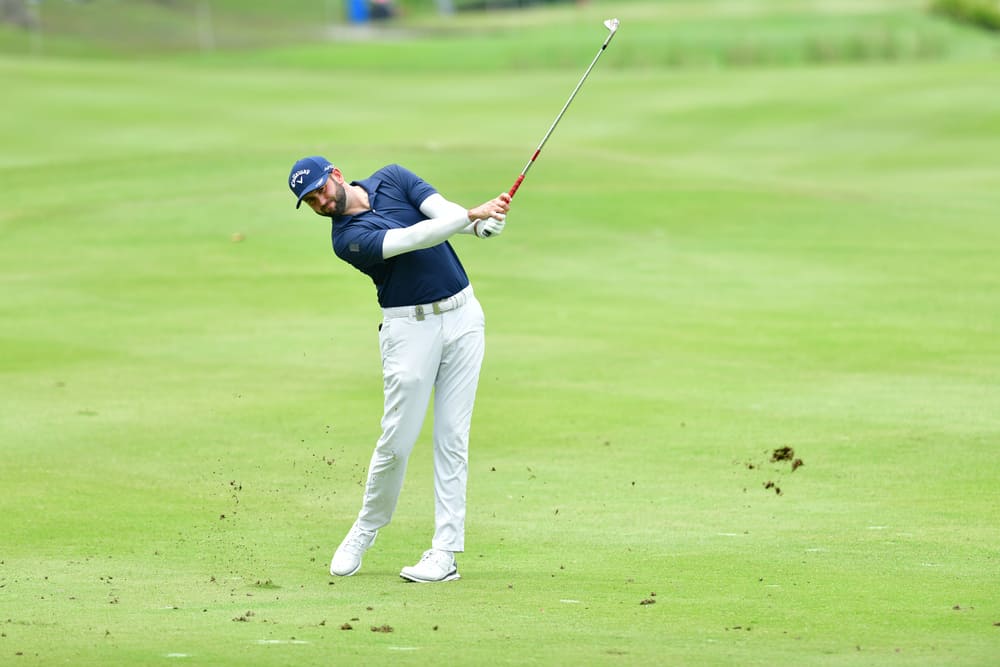 The shank is certainly the most annoying shot in the game of golf.
When you hit a shank, there is no warning, the ball just automatically heads directly toward the right, and you can almost guarantee you will have an ugly shot coming back.
With how frustrating a shank is, it is really important to learn how to fix and control these shots before you hit them.
Even professional golfers will hit the occasional shank.
Sometimes it just happens as the result of a momentary lapse of focus.
However, there are things that you can do to help control shanking the ball and hopefully eliminate it.

How To Cure Shanks With Wedges (7 Tips)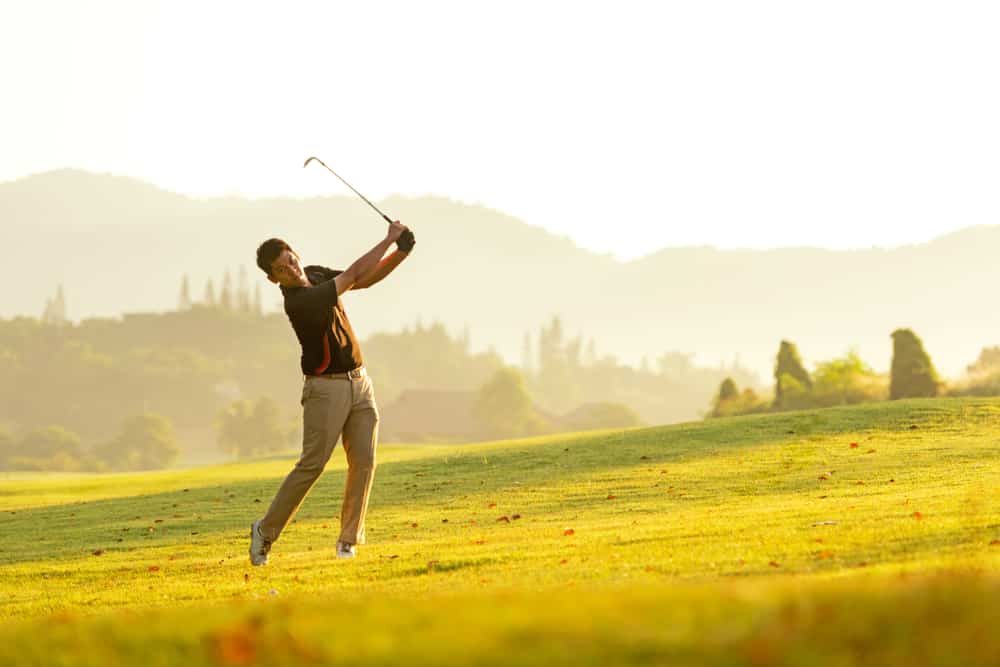 Here are some of the reasons you may be shanking your wedges, as well as a few great ways to cure this issue.
If shanking is your problem, just know that you may only need a slight adjustment to get your game back on track.
1. Taking The Club Too Far Inside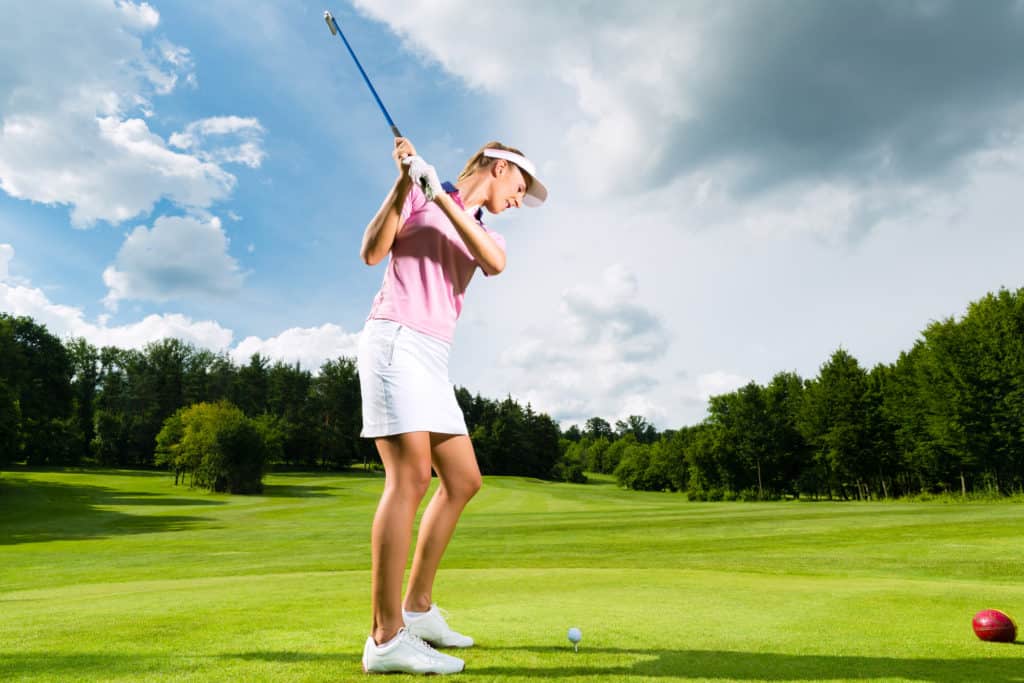 The most common reason for hitting a shank is taking the club too far inside.
When you take the club inside, you will find that it opens the club's face.
With the clubface open, you will have to work very hard to close it down in time to hit the ball squarely.
This becomes even more difficult when you are playing with a wedge because your swing is shortened.
You end up with the club stuck a bit too far behind you and no time in your swing to be able to clear things up and turn the club back to square.
Overall, this is a very difficult position to be in, but there are some good ways to get it fixed.
The easiest way to fix this issue is to work on taking the club back a bit more square.
If you put a tee down directly behind the ball, you can focus on taking your backswing straight back instead of directly inside.
Essentially, you can fix your shank simply by working on your takeaway.
The better your takeaway gets, the easier it is for you to learn to square up the club head.
One of the great things about your shank being caused by the takeaway is that it is easy to fix.
2. Weight Too Much On The Toes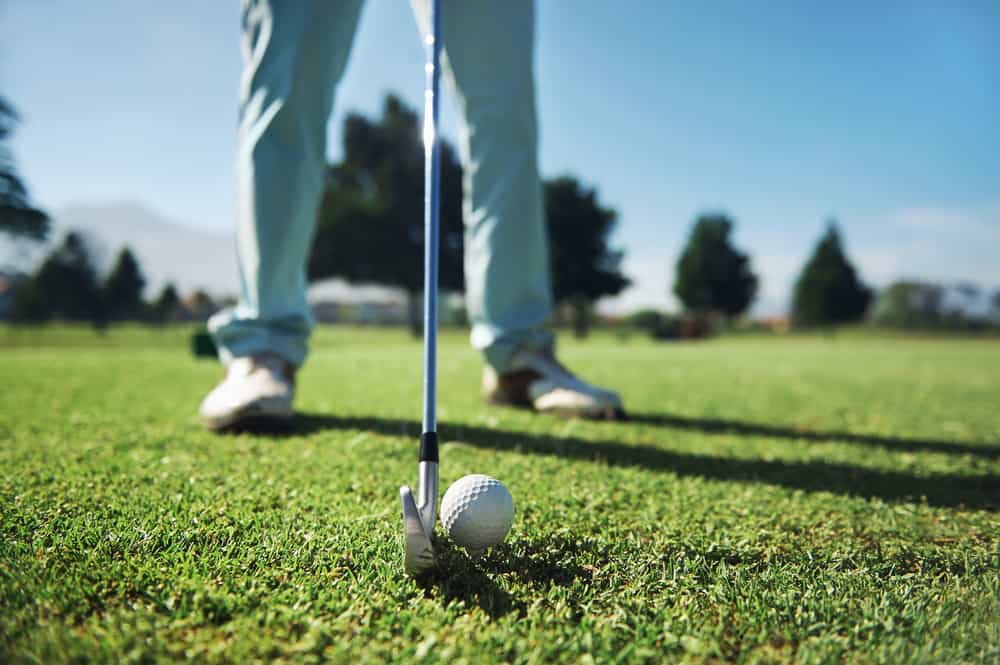 Another reason that you may find out you are shanking a golf wedge is that your weight is not evenly distributed.
So many players think about their weight as being on their left or right foot, but not enough consideration goes into where on the foot the weight is balanced.
For instance, you may find that the weight feels very much towards your toes or towards your heels when you set up.
Your weight should be centered over the balls of your feet.
Only when your weight is balanced like this can you feel as though you are ready to take your next shot.
The weight can easily creep towards your toes, especially if you are standing a bit too far from the golf ball.
As you stand further away, you will likely have to reach for the ball, and this reach causes the weight to go towards the toes of your feet.
Essentially, if you don't get your weight back, the face of the club and the hosel will be delivered very open to the target.
Unless you are very talented and can somehow save the shot from this position, it will likely end up as a shank.
Hitting shanks simply because your weight is unbalanced is really going to feel like a miss.
Try to pay more attention to your stance and your setup.
These are things that you have full control over, and it is worth trying to get them set properly before you end up shanking the ball.
3. Tension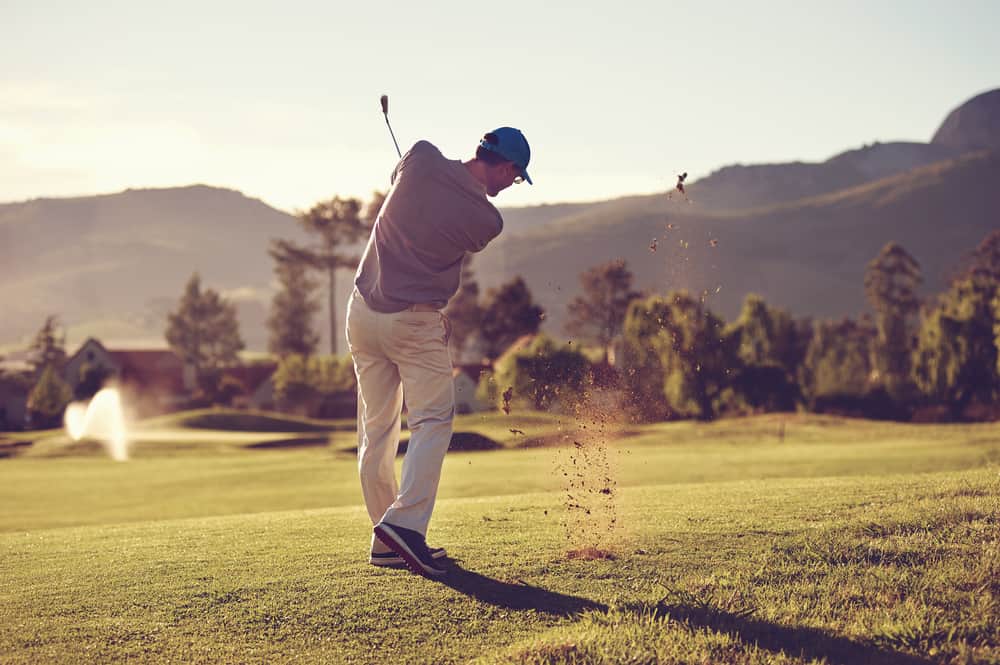 Did you know that tension can cause you to shank the ball?
There is quite a bit of pressure involved with the short game.
When you have a wedge in your hand, you are supposed to be able to hit it close to the hole.
For golfers who are standing close to the hole, there is a lot of pressure to hit it close and one-putt.
In golf, one of the things that we know goes along with pressure is tension.
When you put pressure on yourself to hit a shot close to the hole, you will also end up grabbing the club quite a bit tighter.
This added pressure on the grip of the club is not a good thing for any golfer's game.
When you have this tension, your hands, arms, and shoulders are not going to turn properly or release the way that they should.
Instead, what you should do is try to eliminate as much pressure as you can from your arms and wrists.
If you can relax, you will find that you can easily get through the golf ball with the club rotating as it should.
The better you are at rotating the club through impact, the better you will be at chipping around the greens.
The problem with this tension is that as soon as you shank one shot, your tension is going to increase considerably.
It is very important to consciously relax before you take a swing.
Keep a good hold on the club, stay strong in the way you handle your shot, but don't have unnecessary tension.
The tension is just going to make it more difficult to be a great player.
You may have to work on this concept on the practice or chipping green.
Take some swings where you feel as though you are relaxed before swinging.
Always maintain control of the club but at least stay relaxed.
4. Hands Leading The Way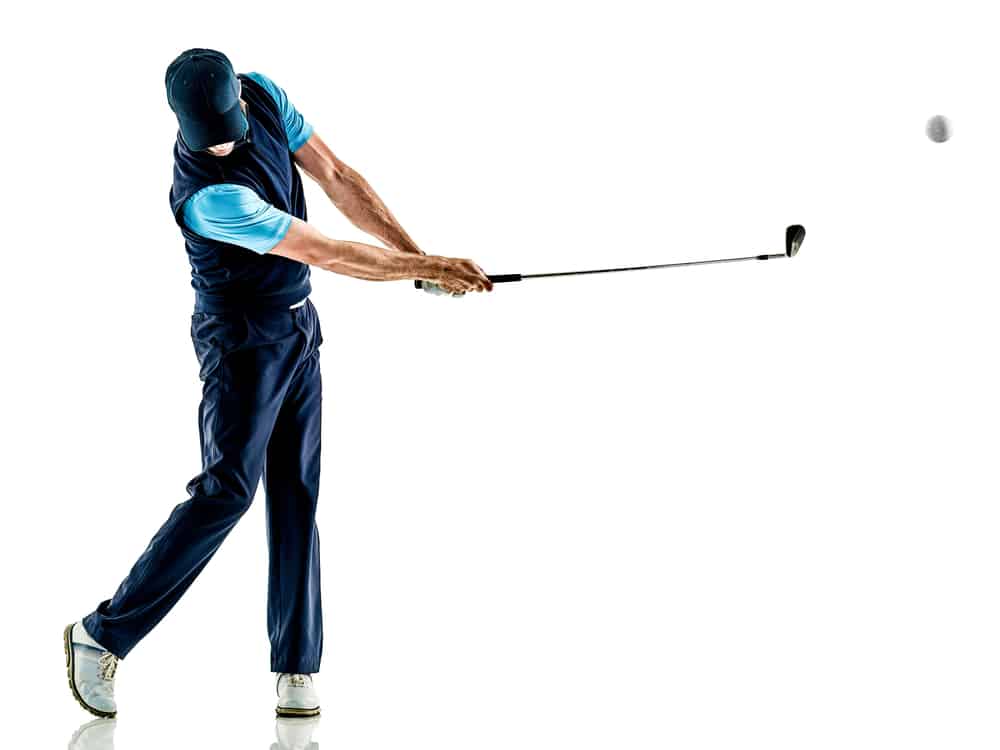 Sometimes a golfer will shank the shot if their hands get too aggressive.
When you chip and putt, your hands are going to play a role, but you must make sure that this role is not too active.
When your hands get ahead of your body, the clubface will typically be delivered to the ball wide open.
When the clubface is wide open, you have a much higher chance of hitting the ball on the hosel of the wedge.
It's important to remember that your body and your hands need to be involved when you hit wedge shots.
You cannot hit great wedge shots if your hands and arms are working on their own.
It takes a bit of time to learn what these turns feel like and how the lower body can connect with the upper body.
One way that we recommend working on this type of shot is to take a few headcovers and put them under your arms.
With the headcovers in your armpits, you can swing the club back all connected and then turn through with everything connected.
With your headcovers in this position, you won't be able to swing the club back without turning your body as well.
This is such a simple drill, but it can make all the difference in your ability to stay connected and keep your lower body involved with the wedge shots that you hit around the green.
5. Mental Game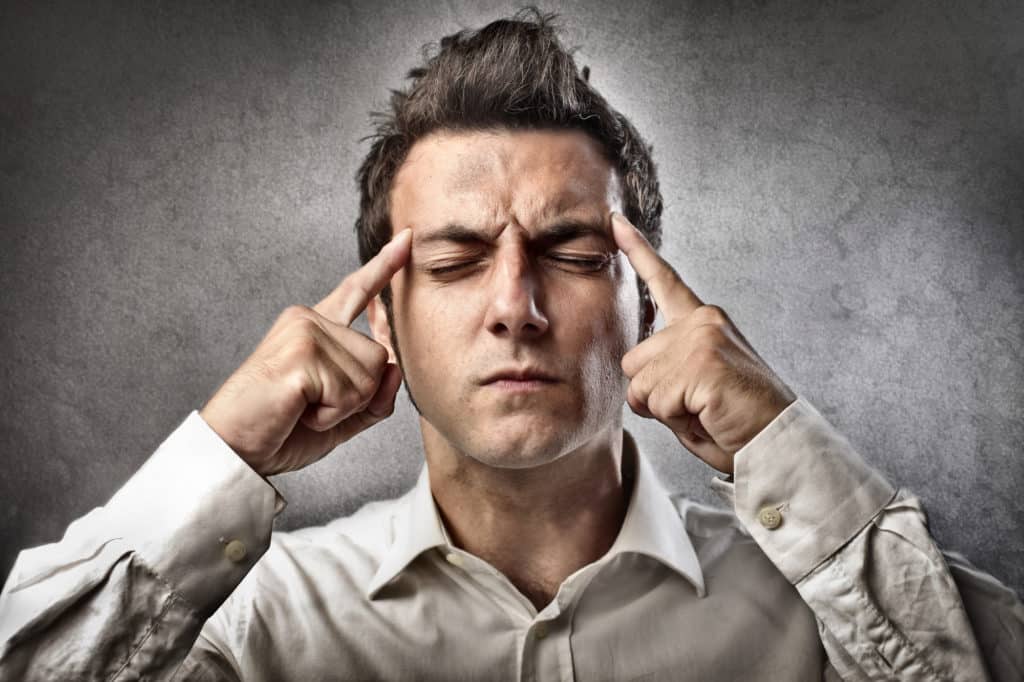 The mental game of golf plays such a large component.
If you are afraid of a shank, your chance of hitting one is much higher.
This is similar to the concept when a golfer stands on a water hole and says, "Don't hit it in the water."
The chances are that the ball is headed for the water.
One thing that you can try and think of when you want to eliminate the shank shot is to think about the shot positively.
Tell yourself that you know how to hit the perfect wedge shot.
Also, start to visualize exactly how you are going to play the shot and where the ball is going to land.
The thoughts you have related to the way you want the golf shot to play out are really going to help you complete the finished golf shot.
Try not to let the thought of a shank get into your mind.
Instead, think of the positives and think about how many great chip shots you have hit through the years.
The idea or concept of a shank should not even come into play.
6. Practice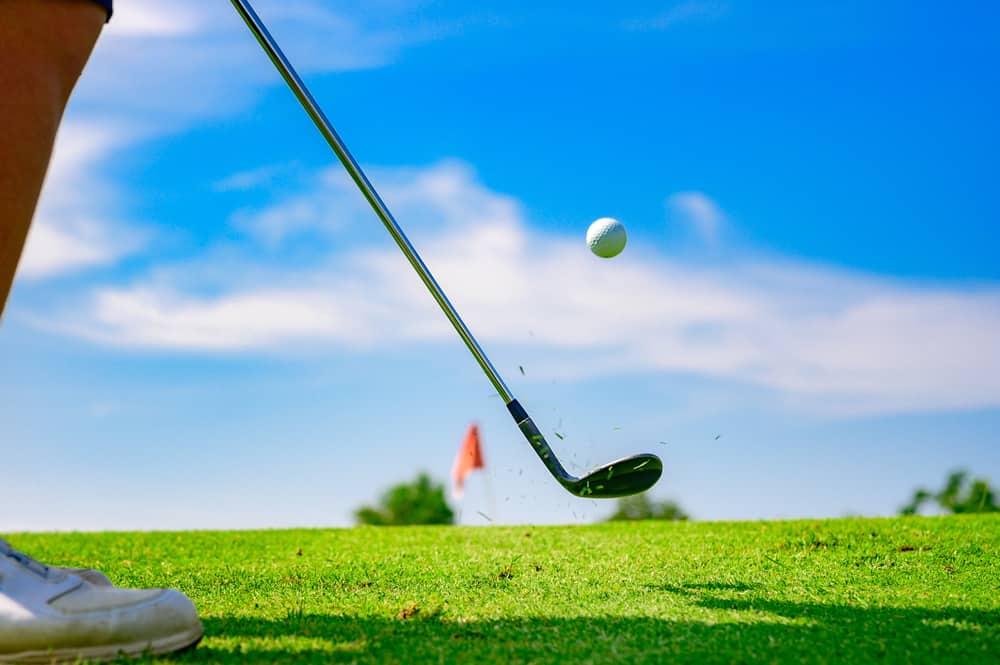 If you want to avoid the shank shot, you need to work on practicing your short game.
It is proven that the more confident you can get in your short game, the better the chance you have of being a great short game player.
The more you work on the chipping and wedges, and you feel as though you have control, the better off you will be.
We know that it is fun to practice hitting 300-yard drives.
You can stand on the tee box and keep hitting one long one after another.
It's great to know how to do this, but the problem is that when it comes to scoring and performance around the green, it is not going to help you advance.
Golfers who practice work on all aspects of their game.
They ensure that they spend plenty of time on both the short game area and on the long game.
If you spend time practicing, you can eventually learn how to succeed even after having one bad hole or a shanked shot around the green.
The more you know your game and how to adjust properly, the better chance you have of recovering and having a great round.
Those who don't practice may hit one shank and then follow it up with several more.
These players don't often have the ability to adjust and fix the problem because they don't have the same awareness.
If you don't want to shank the ball as often, it pays to put the time in.
7. Feet Together Drill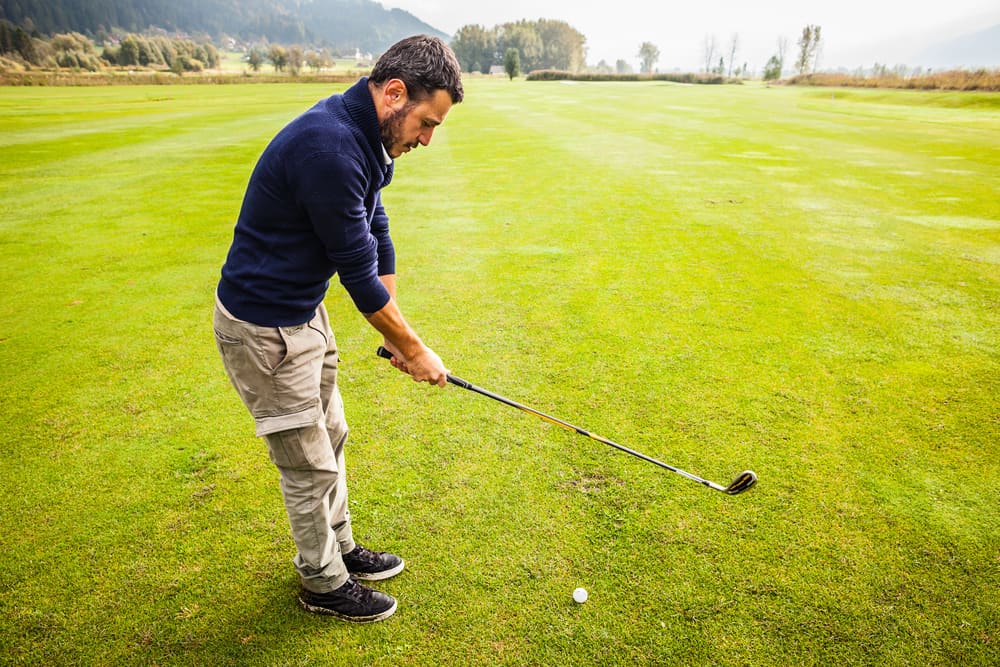 One of our favorite ways to cure a slice is to work on hitting shots with your feet together.
When your feet are together, it is easier to feel where your weight is positioned.
In addition, you will know almost immediately if you take the club a bit too far inside.
Lastly, standing with your feet together helps you make sure that you engage your lower body and use it to help you swing through the ball.
Golfing with your feet together is a drill that works for players of any handicap with any club.
Some players even find this so effective that they will use it to play golf all the time.
Sometimes golfers find that their short game is entirely more effective when their feet are together.
Truthfully, this is not a bad strategy and one that more golfers should think about implementing.
Sometimes hitting a few shots with your feet together will ground you again and get your mind back where it needs to be in order to hit the solid golf shots that you want to hit.
If things go wrong while you are on the golf course, start hitting shots with your feet together and see if you can at least settle down the issues that have been occurring.
Chances are you will be able to figure out some kind of solution to get this to work for you.
Can A Weak Grip Cause A Shank?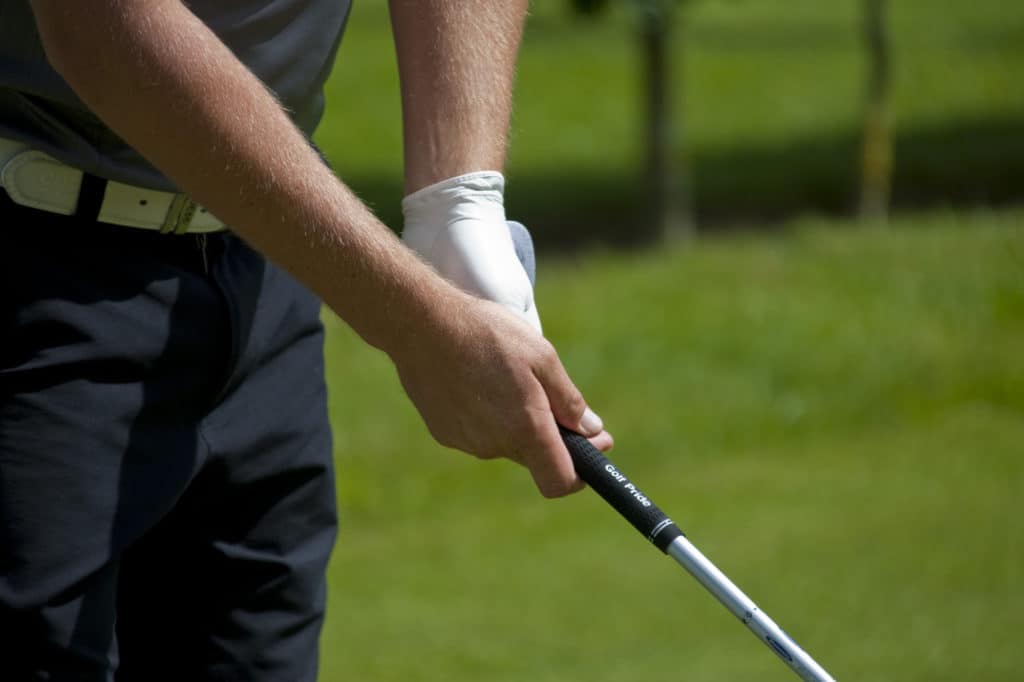 We gave you quite a few reasons that you could be shanking the ball and some great tips for fixing them.
However, there are still some other issues that could come up to cause you to shank the ball.
One of those issues is the weak grip.
If your hands are on the club in too weak a position, the clubface will often get to the ball and be too open.
Therefore, it makes much more sense to have a strong grip as opposed to a weak grip if you are worried about the shank.
What Is The Best Wedge For Golfers Who Shank?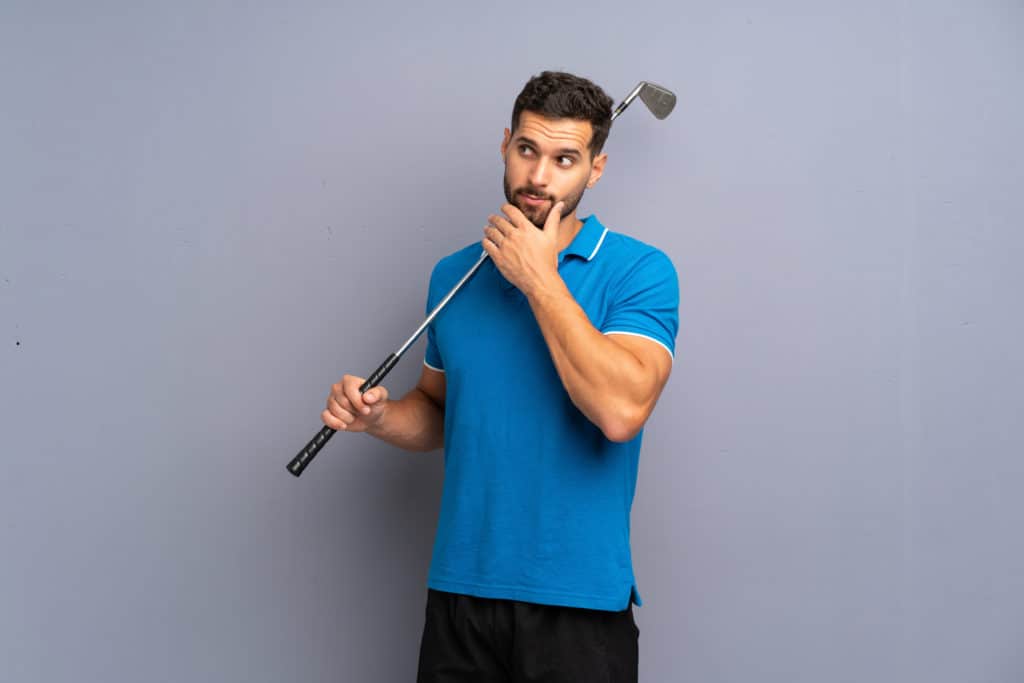 The best wedge for a golfer who struggles with a shank will be the chipper.
If you have seen a chipper, you know that they are essentially a cross between a putter and an iron.
The club is shorter than a typical wedge and will be closer to putter length.
In addition, you will notice that the face of the chipper is not as high lofted as some other wedges.
This club is definitely built for more of a bump and run type shot as opposed to a full swing high lofted golf shot.
You simply learn to swing the chipper the same way you swing a putter, and it will go up in the air for a bit and then roll towards the hole.
Essentially, the chipper makes wedge shots quite a bit easier and eliminates the opening and closing of the clubface.
This is the area where most golfers who shank tend to struggle the most.
Therefore, the best wedge for the shanks really will be something simple like the chipper.
The downside to the chipper is that it is not good for full swing approach shots to the green.
You will still have to use your traditional wedges to hit these types of shots.
However, most golfers will find that hitting full swing shots is almost easier than half swing shots when it comes to avoiding the shank.
When people take full swing shots, they tend to remember the sequence of events of their swing, and they keep things more in check.
As soon as the half or three-quarter swings come into play, golfers tend to struggle with exactly what they need to do to succeed.
Overall, you are going to find that you have to find wedges that make the game more comfortable and easier for you.
For some, this might be a chipper while for others, it could be a pitching wedge.
Conclusion
Hopefully, these tips for how to cure a shank with a wedge have helped you to narrow down what your issues could be.
For most players, a shank is a one-time mistake where you really just weren't thinking and forgot to swing the club properly.
However, if a shank becomes a consistent problem, you do need to take a look at your fundamentals to determine what could be causing it.
Chances are there is an issue with the takeaway or setup that is causing the shank.