The gas tank on a golf cart is something that most people probably don't think much about until they start noticing a gasoline smell around their cart or gas pooling on the ground.
When this happens, your gas tank needs to be removed, cleaned, and repaired or replaced with a safer and stronger model.
Thankfully, removing a gas tank is a step that golf cart owners should be able to handle on their own without a lot of difficulty.
That said, it is important to know each of these steps in order to avoid any potential fire or contamination risk.
You also need to understand how this process may vary slightly from one golf cart manufacturer to the next, ensuring that you handle these steps properly.

How to Take the Gas Tank from a Golf Cart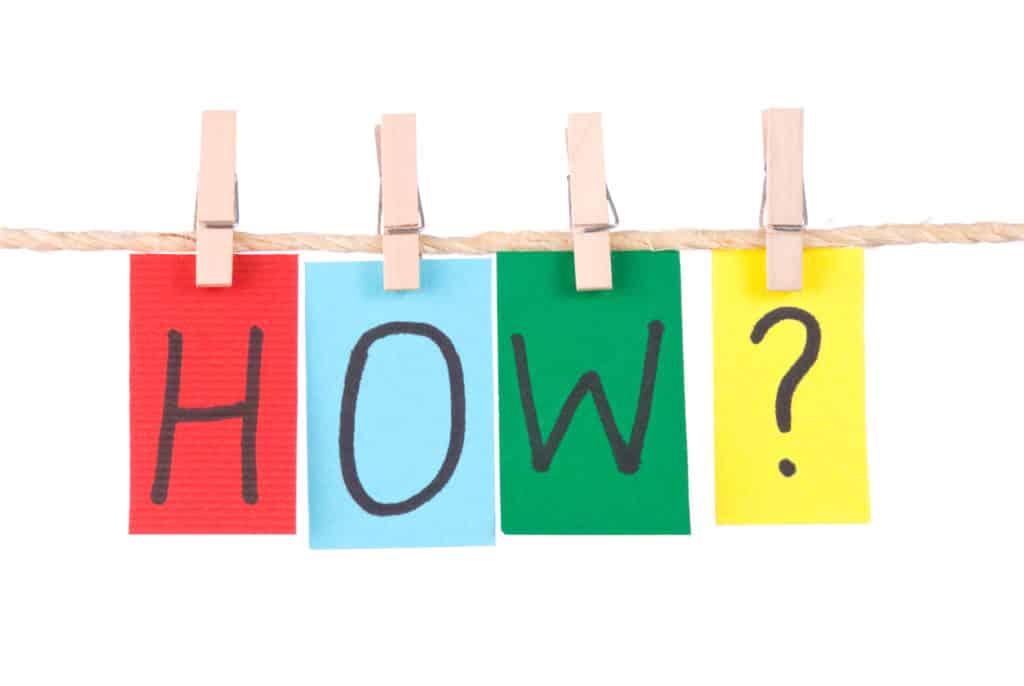 Before you attempt to remove a gas tank from any golf cart model—including Yamaha, Club Cart, and E-Z-GO vehicles—you need to drain the gas tank first.
After you perform this step, you'll need to open up the cart's exterior to get easier access to the gas tank, making it simpler to remove.
1. Drain the Gas Tank—Common on All Models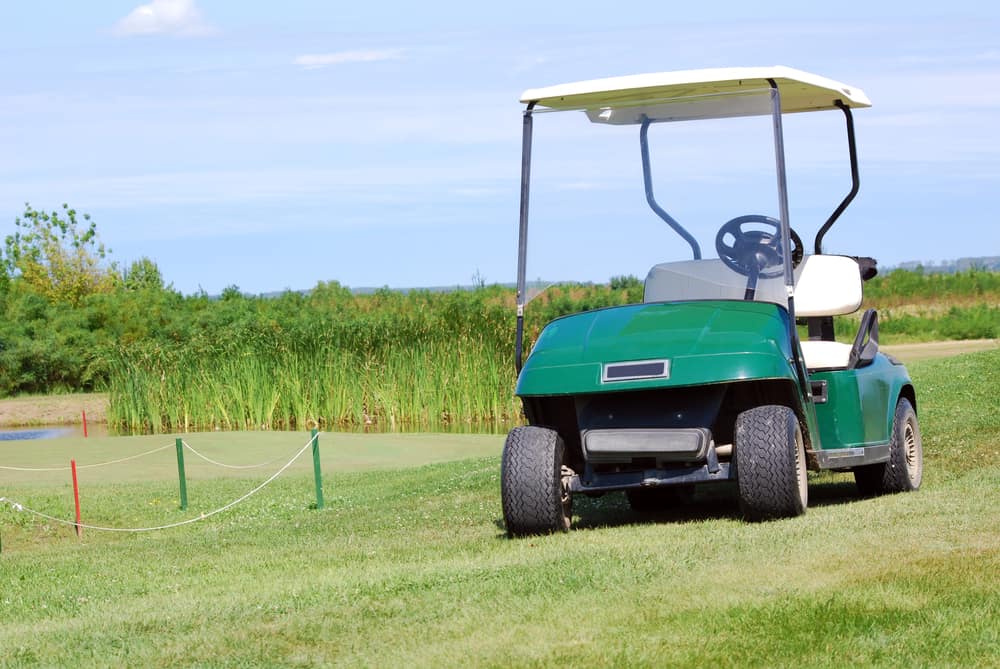 Draining a gas tank is one of the easier steps in this process because it doesn't require a lot of manual skill or mechanical effort to perform properly.
It will require a few tools and a couple of careful and sustained steps, however, so make sure that you pay attention to this facet.
If you want to remove gas from your golf cart model's tank and want to ensure that you get the best overall results, you should:
Find a gas tank hose that is long enough to fit into your golf cart. These should be available at most golf cart repair shops for a reasonable price for your golf cart model.
Carefully insert the hose into your golf cart's gas tank opening. Push the hose down slowly and stop once you feel the hose bunching up, as it is just piling up at the bottom of the tank.
Put a rag over the opening of the gas tank to prevent any spilling that may occur when you attempt the siphoning process to remove the fuel from your tank before taking it off your cart.
Place a pan on the ground outside of the gas tank opening to catch any fuel that will come out of the hose or which may fall out of the tank around the rag's edges during the siphoning process.
Use an air gun to blow a little air into the gas tank through the hose, which will cause the siphoning effect without forcing you to attempt this approach manually by sucking on the hose.
Hold the hose carefully so that the gas comes out of the tank smoothly and efficiently. Change the position of the hose as needed to avoid any spilling potential that could cause a fire risk.
Once all of the gas has been removed from your golf cart's gas tank, you need to take this fuel to a gasoline recycling center near you.
These centers will take your gasoline, clean it out, and recycle it so that it can be used for other purposes again in the future.
Never throw your gasoline in a garbage bag or dump it down the drain or into a sewer, as this is not only very dangerous and destructive but very illegal and could result in huge fines.
Importantly, you should also never, ever, we repeat, NEVER inhale on the tube to trigger the siphoning effect. (Did we mention that this is a very bad idea?)
Though it is true that this will induce the desired gas flow, there's a very good chance you'll get gasoline in your mouth.
While you can spit out this disgusting fuel into the pan without swallowing it, the gas will leave behind a very nasty odor and could even burn the inside of your mouth at the same time.
Even worse, some people may experience some allergic effects when exposed to gasoline in this way or end up damaging their lungs due to vapor exposure.
Please, rent or purchase an air gun to trigger the siphoning effect for your gas tank because it is better to be safe than sorry in this situation.
2. Removing an E-Z-GO Tank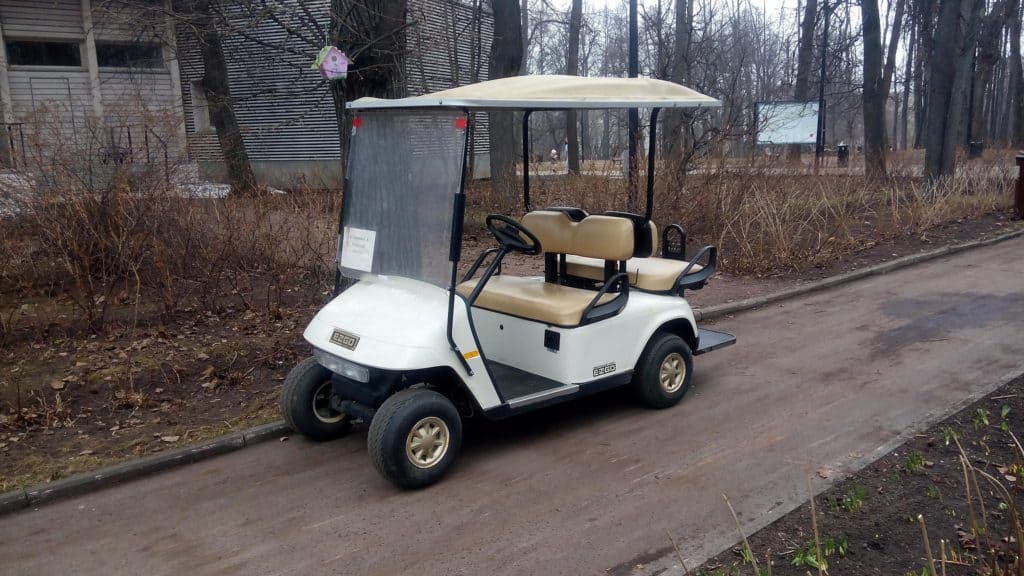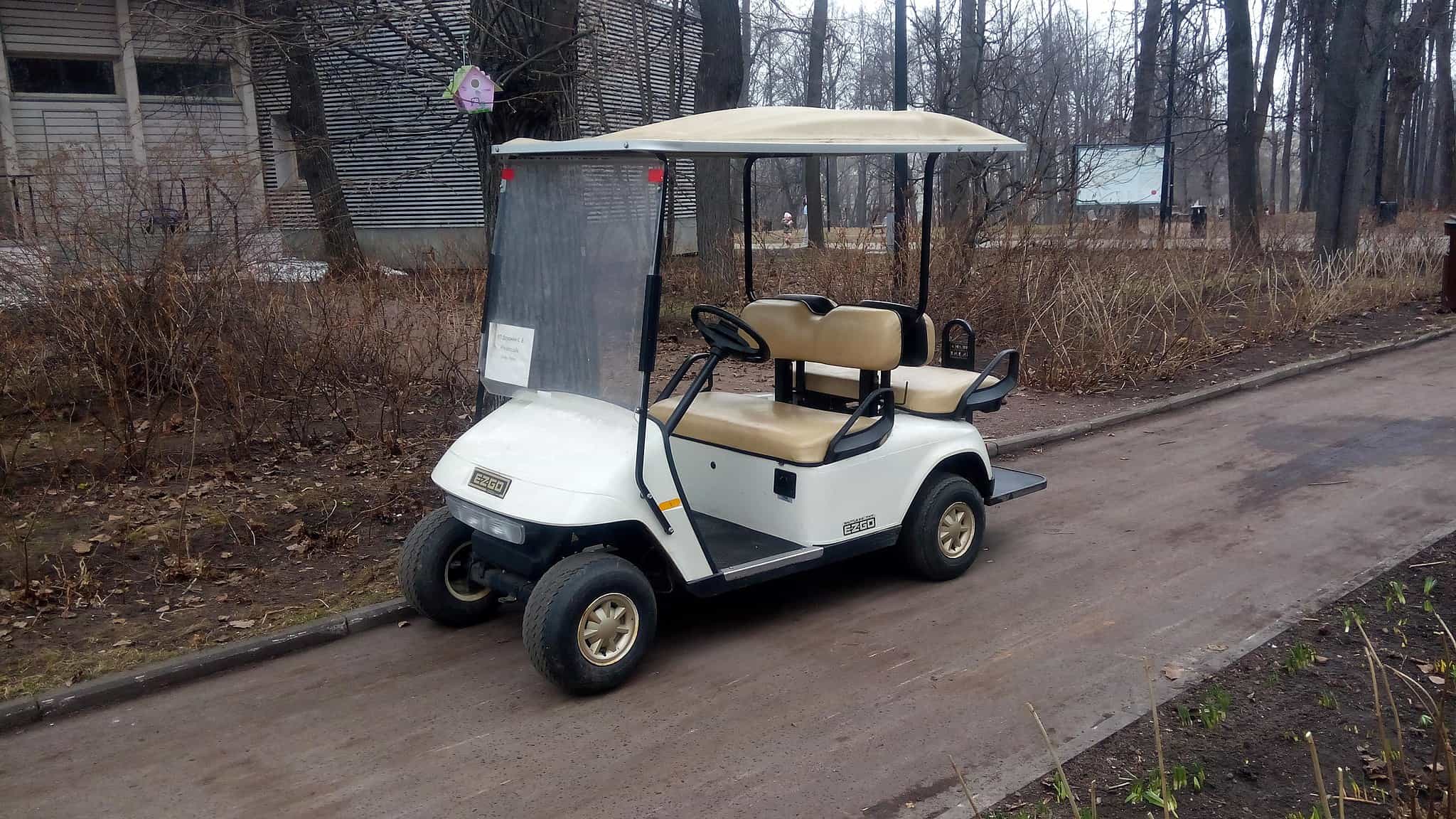 These steps will require you to use a power drill with a three-sixteenth-inch drill bit to take out a handful of different rivets from your cart's body.
The overall process is surprisingly easy on this cart and includes just a handful of different steps, including:
Remove the seat from your golf cart by un-attaching the rivets on the hinge plats.
Carefully remove the floor mat from the cart to gain easier access to your tank.
Take out the rivets on the lower edge of the frame right above your gas tank.
Remove the rivets holding your gas tank in position.
Slowly take the gas tank out of position.
When performing these steps, make sure that you keep your removed rivets in one place to avoid losing them.
You may also want to talk to an E-Z-GO manufacturer or dealer to identify the location of your tank—which may vary on some models—or to get help with this process.
However, we believe that most golf cart owners should have little difficulty performing these steps if they want.
3. Removing a Club Car Tank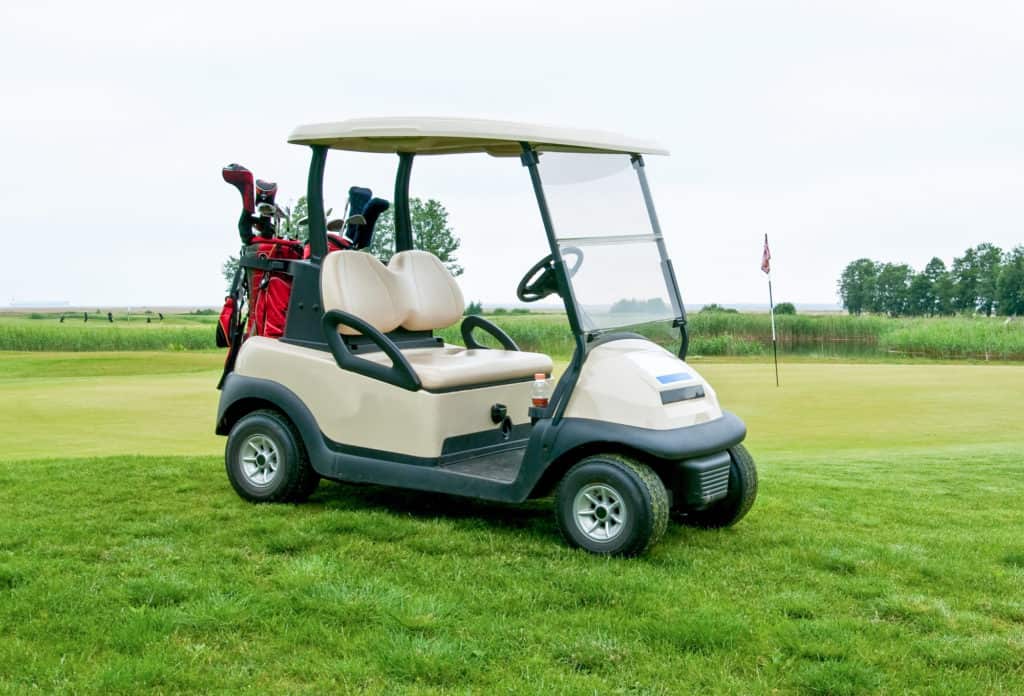 Taking off a Club Car golf cart gas tank is a bit more involved than it is with E-Z-GO models and requires the following steps:
Put your movement switch in the neutral and service positions. Turn the shut-off valve to off.
Run the cart until all of the fuel is used to remove it from the fuel lines, pump, and carburetor.
Remove the negative cable from your battery.
Drain fuel from the carburetor drain screw with a pan.
Turn the key off and carefully remove the black and orange wires on the fuel level sending unit.
Remove the fuel line and vent tube from the tank.
Carefully loosen the screws on the straps holding the tank on the cart.
Take the tank out of your golf cart.
As you can see, the steps involved here a bit more involved and may require the help of a professional if you don't feel comfortable.
4. Removing a Yamaha Tank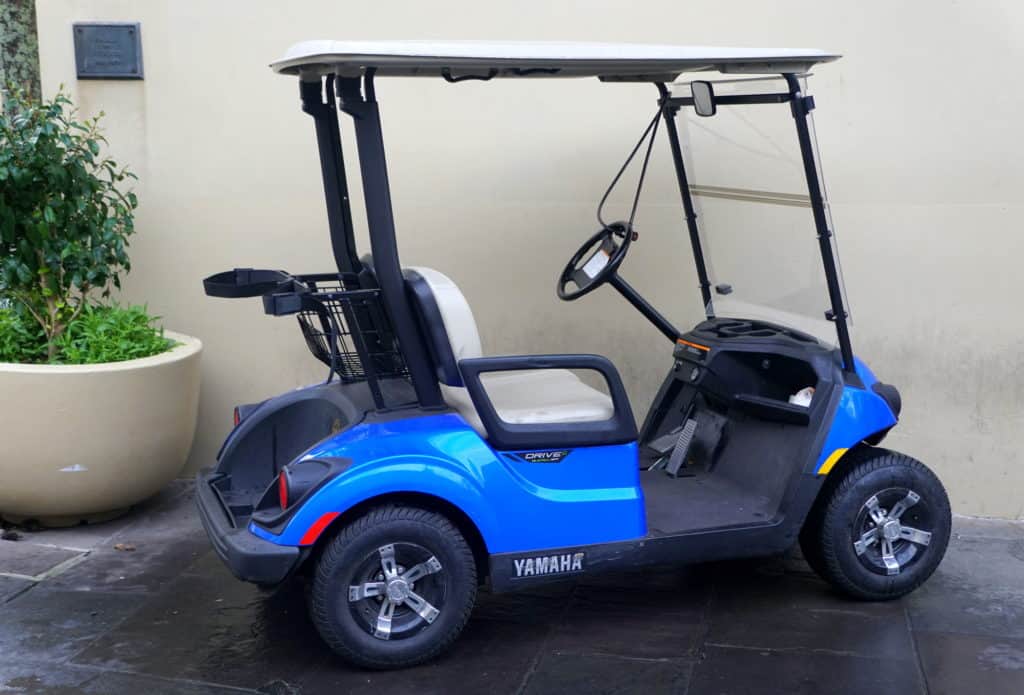 Thankfully, Yamaha utilizes fairly simple designs for their golf carts and has one of the easiest and most straightforward processes for removing a gas tank.
Take the seat off of your cart by removing the connecting screws.
Remove the engine by un-attaching its straps and screws.
Find the gas tank and remove the three bolts holding it down.
Locate the knob at the bottom of the tank and unscrew it.
Remove the engine and seat from the golf cart.
Take out the fuel filter inside the tank.
Pull the tank out of the cart.
You can now clean out your gas tank before you repair it, replace it, or throw it away, minimizing the risk of fire or contamination.
5. Cleaning Your Gas Tank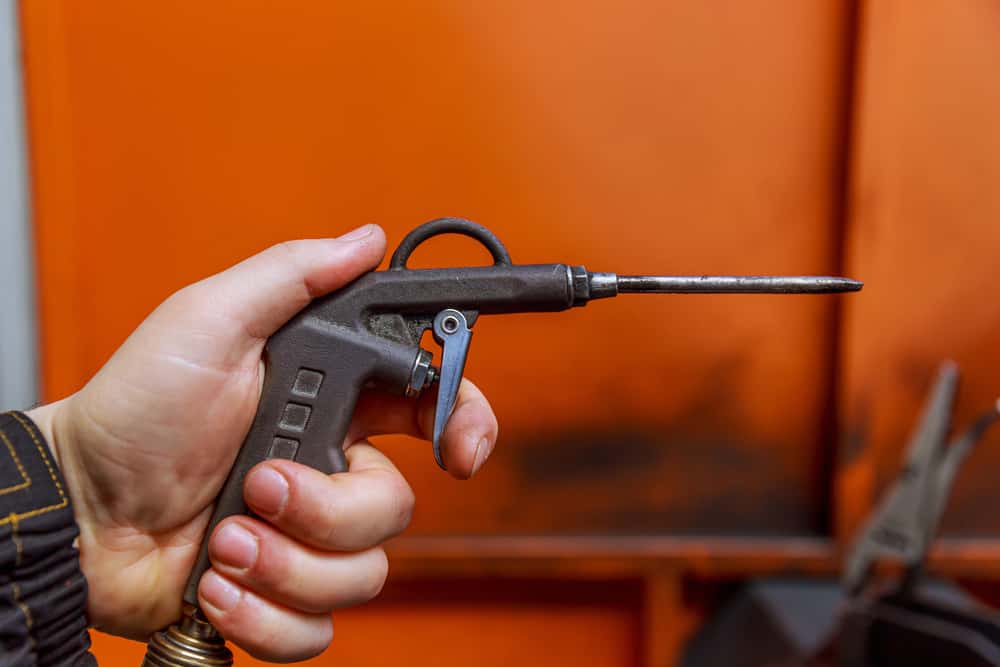 After you have removed your gas tank from your golf cart using one of the three processes above, you can clean it out to make it even safer.
If you somehow did not remove the gas before you took the cart out—something we strongly recommend—you should do so now following the steps at the beginning of the article.
When you're done with that, return to this section and read the following process to ensure that you clean out your tank and make it safer:
Push your siphoning hose back into your gas tank using the same method that we described above in the previous section on gas removal.
Pour gas tank cleaner, degreaser, and water into the tank using the hose in a balanced level as indicated on the cleaners' bottles and directions.
Attach your air flow gun to the hose and run it for about 20 minutes to circulate the cleaning fluids throughout the tank as much as possible.
Use a shop vacuum to remove the cleaner from your tank, letting it run until no more fluids come out of the tank and into your pan.
Don't worry if a little bit of cleaning agent residue remains in the tank as it is designed to be safe to use with gas and won't damage your engine in small amounts.
Now that you're done cleaning out your gas tank, it is important to either repair the holes in the tank via filler sprays, patches, or to replace the tank entirely.
Replacement is probably the best overall option because most of the repairs you can do are designed more as a temporary measure and don't take into account long-term use of your gas tank.
Just as importantly, replacing your gas tank ensures that you don't run into any leak problems and provides you with the strongest gas tank situation possible.
Make sure that you find a replacement gas tank from a manufacturer or supplier that meets your needs and which is easy to install or replace.
You can usually figure out which model you will need by checking the side of the tank or in your owner's manual, using the serial number as a guide.
Reverse the steps above for your respective golf cart manufacturer to replace your tank as smoothly and as efficiently as possible.
Double-check all of your connecting elements or hire a professional to put the gas tank back on if you feel uncomfortable performing any of these steps.