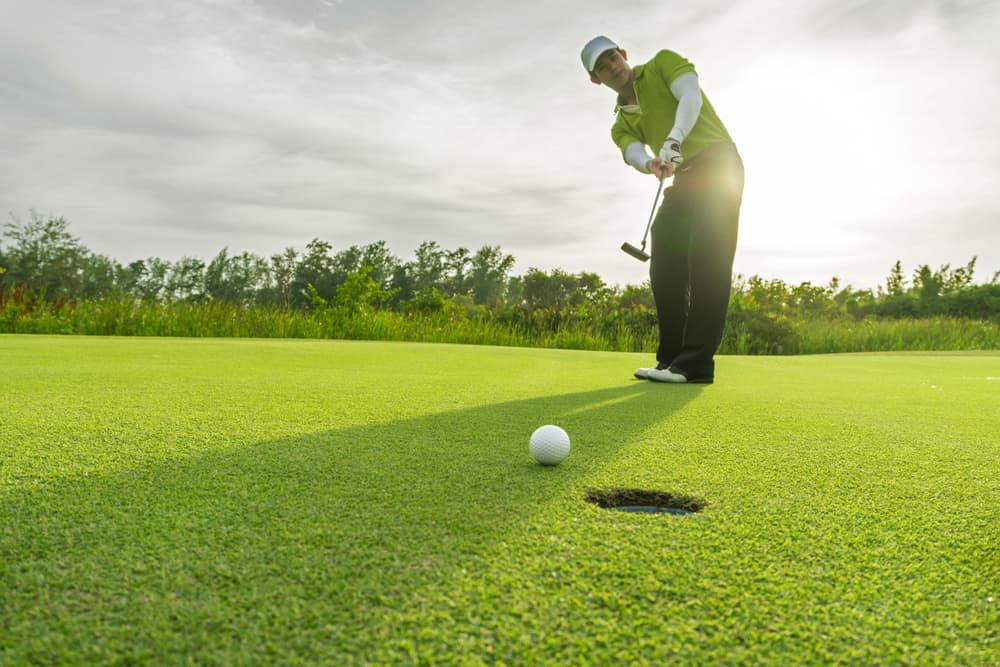 A golf putting aid is designed to help you get your putting game under control.
The better you get at putting, the more likely it is that you will score lower.
Putting can, however, be quite complicated.
If you don't understand the basic concepts of putting and how to improve, you may be left struggling for a long time.
Luckily, there are some putting aids on the market that will make it much easier to improve your putting game.
Here are ten of the best putting aids available in 2021.

Top 10 Best Putting Aids (Updated 2021)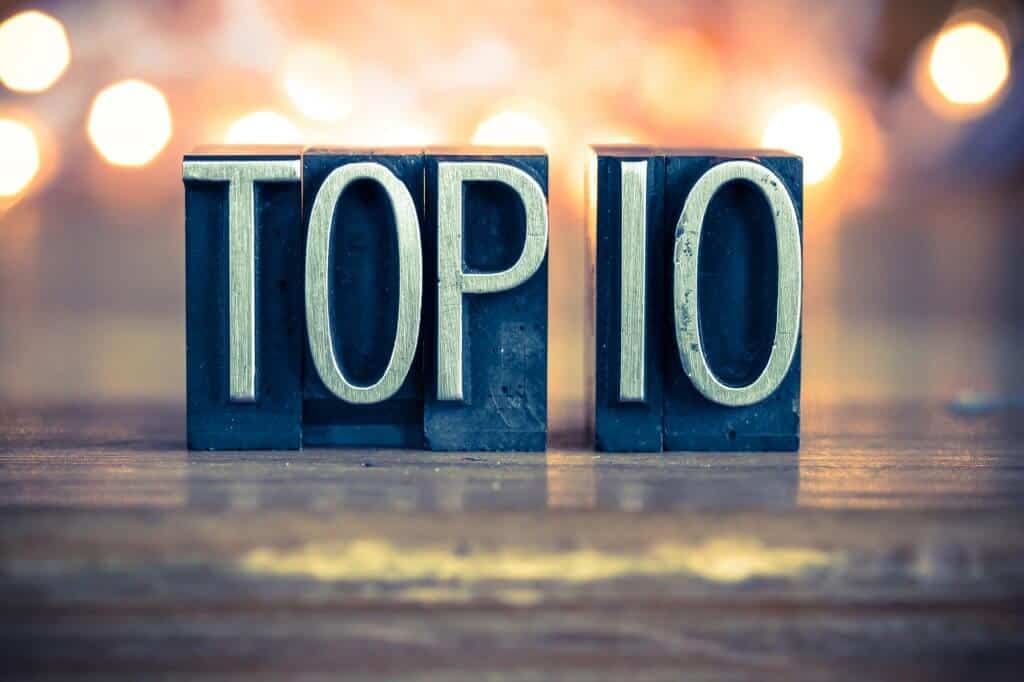 1. SharperGolf Premium Guide Rails Putting Mirror Large 9.25" x 17.5" Putt Swing Alignment Trainer
Key Features
It comes with a mirror so you can see what you are doing
Adjustable
Allows players to grow with the aid
At the top of our list is the SharperGolf Premium Guide Rails Putting Mirror.
In putting, the largest problem players have is that they can't see what they are doing.
When you use a putting mirror, you will be able to see where your eyes are and how your club is set up at the same time.
Understanding whether or not your club is on the correct path will impact your ability to get the ball in the hole.
On the SharperGolf Premium putting air, you will have guide rails which will help you make sure your putting stroke is on track every time.
The concept is that you can practice your putting stroke repeatedly using the aid, and then, when you transfer it to the golf course, you will be on the right path.
The SharperGolf trainer is helpful when it comes to your backswing and follow through as well.
This is an aid that will mostly help with path and control as opposed to distance and speed.
You will notice that it very often makes sense to have more than one putting aid in the bag.
Pros
Great for beginner golfers
Allows players to work on eye placement
Will let you know if your club is on line
Cons
It does not help much with speed practice
2. Miss W Pressure Putt Trainer, Foldable Putt Training Aid Golf Putting Training Tool for Indoor and Outdoor Golf Putting Practice
No products found.
Key Features
Portable putting aid
Can be used on green or carpet
Instant feedback
The Pressure Putt trainer is a new addition to the world of golf, and players are having quite a bit of luck with it.
The Pressure Putt Trainer is designed to help golfers get the feeling of a real golf hole, without having a golf hole cut out.
Essentially, this is a parabolic curve that will teach you the perfect speed at which to putt.
If you make a great putt, the ball will return to you.
If you make a poor putt, the Pressure Putt will reject the putt.
If you make a perfect putt, the Pressure Putt will hold the golf ball, just as a cup would.
We love that the Pressure Putt makes it feel as though there are levels to this game.
If you putt the ball perfectly, you have achieved the top level, but if you miss it a bit, you still have another chance.
However, if you have a terrible putt, it is possible you are doing something very wrong in your golf putting stroke.
This is not difficult to learn, and the instant feedback helps players feel as though they know what they are doing when they play.
The Pressure Putt will help golfers to increase their confidence overall and enjoy the game of golf much more.
Pros
Portable and durable
Gives players instance feedback
Simulates exact conditions of a golf hole
Cons
Take a bit of getting used to initially
3. Pro Path Golf Training Aid, 4 Staggered Putting Gates with Carry Bag
Key Features
Different levels
Durable
Simple but effective design
The Pro Path Putting Gates is a simple but very effective product when you want to work on your aiming and your distance control.
With the Pro Path, you will get four different gates which vary in size.
The first ones are a bit wider, and then, as the ball gets closer to the hole, the size of the gate narrows.
Golfers will have to learn how to make sure their golf ball is headed to the hole and narrowing in on making it into the cup.
You can use these gates in a few different ways.
It can make sense to set up just one gate for beginner golfers and learn how to hit the ball through the gate.
As players become more advanced, they can use these gates to learn how to read putts and keep their ball on track between putts as well.
Overall, this is a simple but effective golf training aid which you can keep in your golf bag.
Pros
Great for any golfer
Lightweight training tool
Easy to put in the ground
Cons
Players won't be able to see what they are practicing like the mirror aids
4. PuttOut Pro Golf Putting Mat – Perfect Your Putting (7.87-feet x 1.64-feet)
Key Features
Putting mat and training aid
Simple setup
Can roll up
The PuttOut Golf Putting Mat works as both a golf mat and a putting aid.
The mat will have lines on it which can help players see if they are hitting the ball straight.
They will also know if their golf putter is traveling on the proper path.
The putting mat comes in a few different colors and is very good for distance control and shorter putt practice.
Overall, this is an affordable way to work on your putting wherever you may be.
Pros
Simple concept
Works as a putting mat and a training aid
Good alignment lines as well
Cons
Takes a minute for the mat to roll out after being folded
5. Pelz Golf DP4007 Putting Tutor
Key Features
Made by Pelz golf
Helps golfers learn to read greens
Great aiming device
Pelz Golf products are designed to help players who need help with their shot game.
There is no question that Dave Pelz has figured out a thing or two about how to make a putt.
The Pelz Golf Putting Tutor is a great all-around tool which helps golfers learn to hit a put squarely.
You can learn to roll the ball down the line and learn how aiming will impact your game as well.
Luckily, this aid is also small enough to fit in your golf bag.
Pros
It helps golfers see what it means to hit the ball on the proper line
Easily adjust aim
Fits in the golf bag
Great tool for the mental game
Cons
No guide to keeping you on track; must learn what you are doing
6. Golf Putting Arc MS-3D
Key Features
Great for arc-style putting stroke
Guides your putter
Can be used with heal or toe of the putter
If you are a golfer who has an arcing putting stroke, you should take a look at the Golf Putting Arc MS-3D.
This putting arc trainer helps you get a perfect stroke while making sure your putter face stays square.
When you line up to use the Putting Arc MS-3D, you will be able to use it on the heel or the toe of your putter.
This putting arc is trusted by professionals who use it on the PGA Tour.
When you use this device, simply keep your putter along the arc the entire time you are putting.
You will be able to feel the support of the arc, and it helps you to learn the correct angles.
Pros
Great for daily use
Can set up indoors or outdoors
Used by professionals
Cons
Not great for those with a straight back, straight through stroke
7. Pelz Golf DP4013 Putting Track
Key Features
Straight back, straight through stroke practice
Perfect eye position
Helps with alignment
The Pelz Golf Putting Track is designed for golfers who swing with more of a straight back and straight through stroke.
The guide helps you to keep your putter on track and on the line the entire time you swing.
One of the things we love the most about this putting track is that you can practice accelerating your golf shots.
When you take the club back, you always want to make sure you accelerate and have a long finish.
The putting track allows you to see how your club is finishing and if it is far enough ahead of the golf ball.
There is also a mirror on the track that helps you make sure your eyes are properly positioned.
Pros
Perfect eye position
Great alignment
Easy to set up and use
Good for all skill levels
Cons
One of the more expensive putting aids
8. TPK Golf Training Aids: 'Putting Stick'; Golf Swing Trainer for Putting Green Eyeline Alignment and Putt Speed
Key Features
Can be used indoors and out
Adjustable back swing stop
Comes with eye alignment
The TPK Golf Training aid is built to help golfers who need help lining up and sinking the shorter putts.
The more golfers learn their putting distances and the size of their stroke, the more consistent they will be.
If you know the precise size and length of the stroke and you need to make a four-foot putt, you will undoubtedly be able to repeat it when moving to the course.
The TPK comes with a backswing stop which allows you to shorten your backswing and get better acceleration through the ball.
When you are set up and ready to putt, you can look down the line and see that your eyes are properly lined up.
Pros
Easy to use
It helps golfers that like facts and exact distances
Smooth putting surface
Has mirrors for eyes
Cons
Putting surface is a little bumpy
9. Crestgolf Golf Putter Plane Laser Sight Golf Training Aid-Fix Your Putt in Seconds
Key Features
Works for right- and left-handed players
Laser technology
Laser guide to check the plane
The Crestgolf is a unique putting device which allows golfers to see if their putting stroke is on the proper plane
instead of using a traditional putting aid which allows you to see if your putter is on the proper plane.
The laser is very easy to operate as you simply switch it on, and it will switch off a few seconds later.
You can also switch it to a continuous mode which will keep the laser on for a longer practice session.
The Crestgolf aid works well both indoors and outdoors, but we find it much easier to see when you are working indoors.
Pros
Works for all player types
Attaches to all golf putters
Let's players see a clear line
Cons
Some golfers like a physical aid as opposed to just a light
10. Frogger Golf Arc Angel Putting Trainer
Key Features
Helps golfers find proper swing plane
Easy to repeat and practice
Can bring anywhere
When you play golf with an arc style putting stroke, it is hard to tell if your arc is correct.
Sometimes you may feel as though you are taking the club too far inside, and you may leave the putter out to the right when you finish.
The only real way to know if your putter is on the proper arc is if you have a guide which can tell you that you are.
The Frogger Golf Arc Angel Putting Trainer is an excellent choice if you are looking to ensure that your arc is correct while putting.
The Frogger allows you to hit putts over and over again while keeping the putter on the proper path.
If you use this device enough, you will have no problem repeating it while on the golf course.
This device easily folds and fits in your bag.
You can also use the included DVD to understand what it takes to complete the perfect putting stroke.
Pros
Proper arc or straight back straight through
Easy to put in the golf bag
It takes a few seconds to set up
Cons