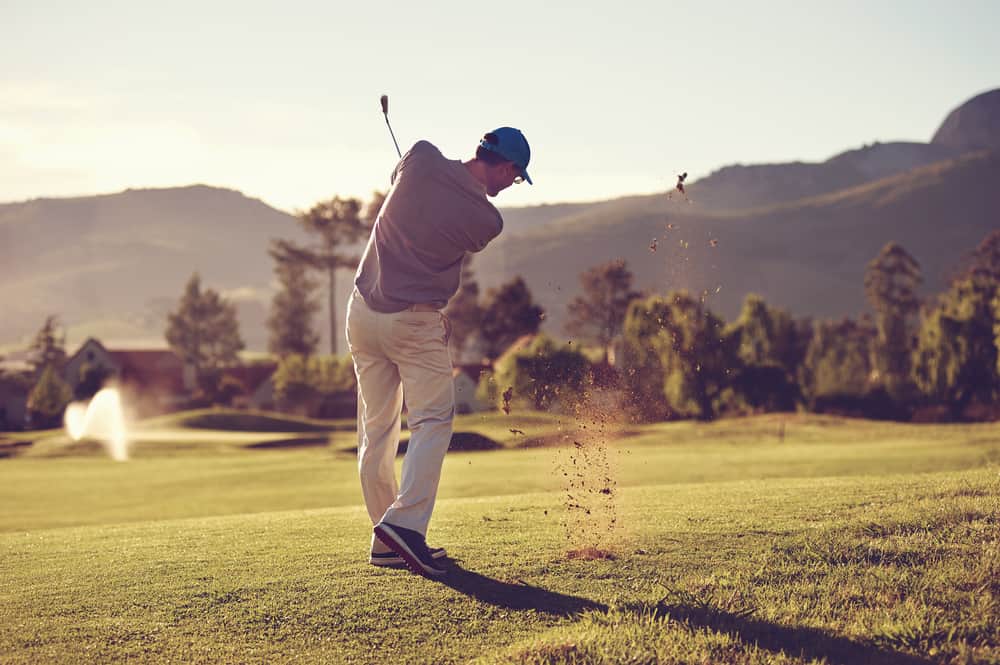 Golfers always like to find the next best way to improve their golf game.
The concepts and ideas to help golfers improve seem to be never-ending.
One of these concepts is to put your weight forward in your golf swing.
The weight starts forward and stays forward pretty much throughout the entire swing.
This method has proven to be very useful for a large majority of players, but it is important to understand all the positives and negatives of this.

Weight Forward Golf Swing (Benefits, Pros, Cons)
What Is a Weight Forward Golf Swing?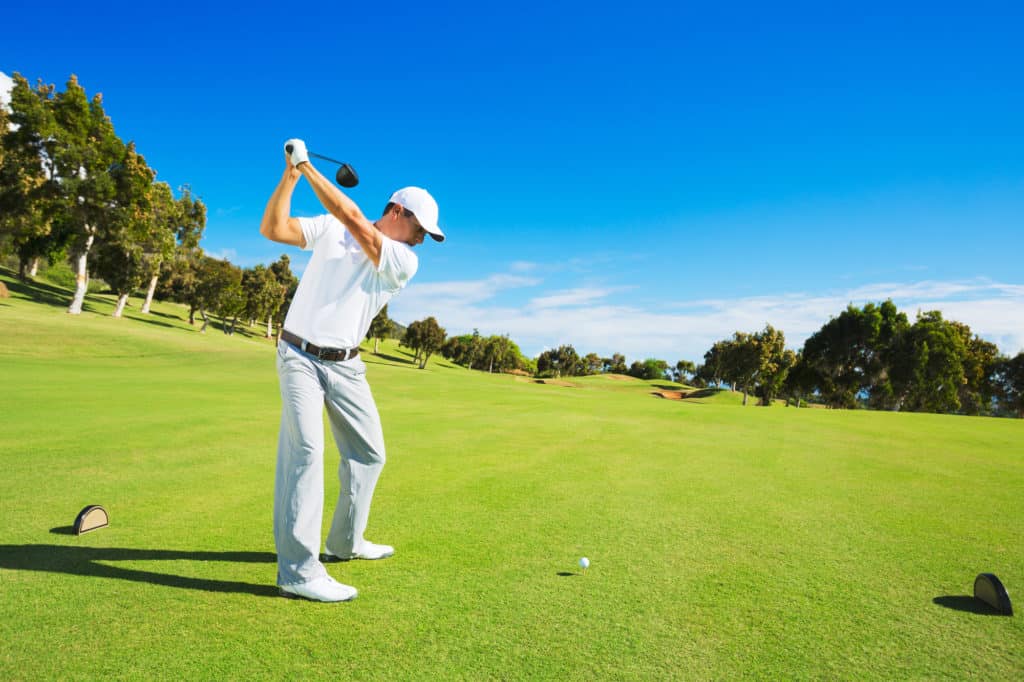 A golf swing with the weight forward may be a bit different than what you think.
When golfers talk about the weight being forward, they mean that they have more weight on their left foot when they swing (for the right-handed golfer).
Golfers will start with a bit more weight and pressure on that left side, and as they swing back, some of the weight stays on the left.
In fact, a majority of the golfer's weight will stay on this side.
When golfers play like this, they are going to feel as though the weight will barely leave the left side.
When a player swings through to their completed finish, this is when all of the weight will then be fully on the left side.
The concept is relatively simple, and it requires a very efficient and high-quality turn, but it is very effective.
Although some golfers are trying this method throughout their entire golf swing, the ones who use it in the wedges are the ones who seem to benefit the most.
If you are thinking of switching to a more weight forward golf swing, think about starting it with some wedge shots.
Benefits of a Weight Forward Golf Swing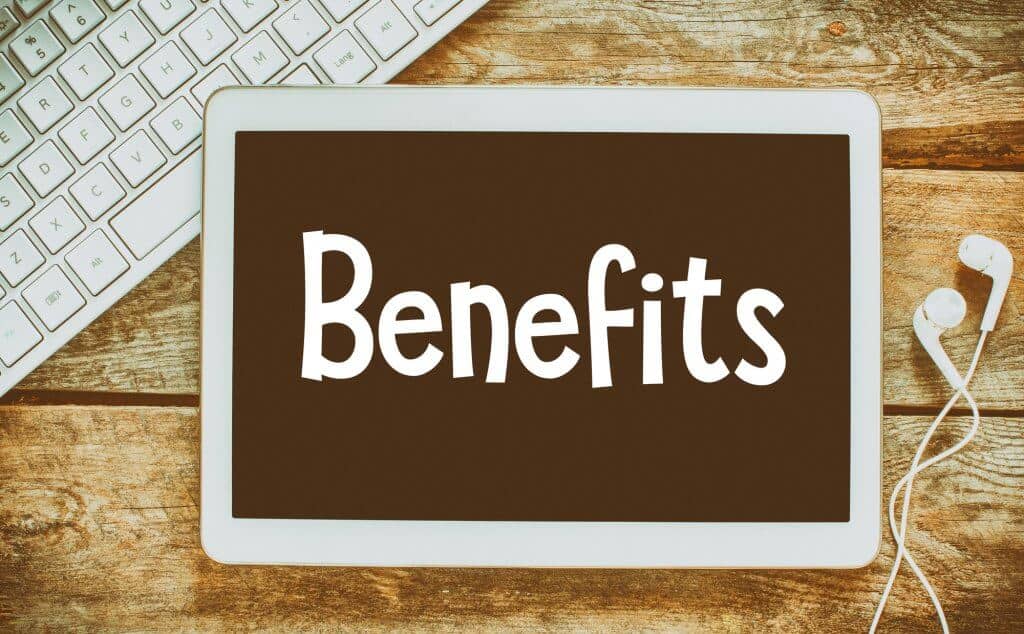 There are three main benefits to the weight forward golf swing.
The benefits are that the swing becomes simpler, the golf swing is easier to finish, and players have an easier time making contact with the center of the clubface.
Let's break down these benefits and discover how you can take advantage of them in your golf game.
1. Simpler Golf Swing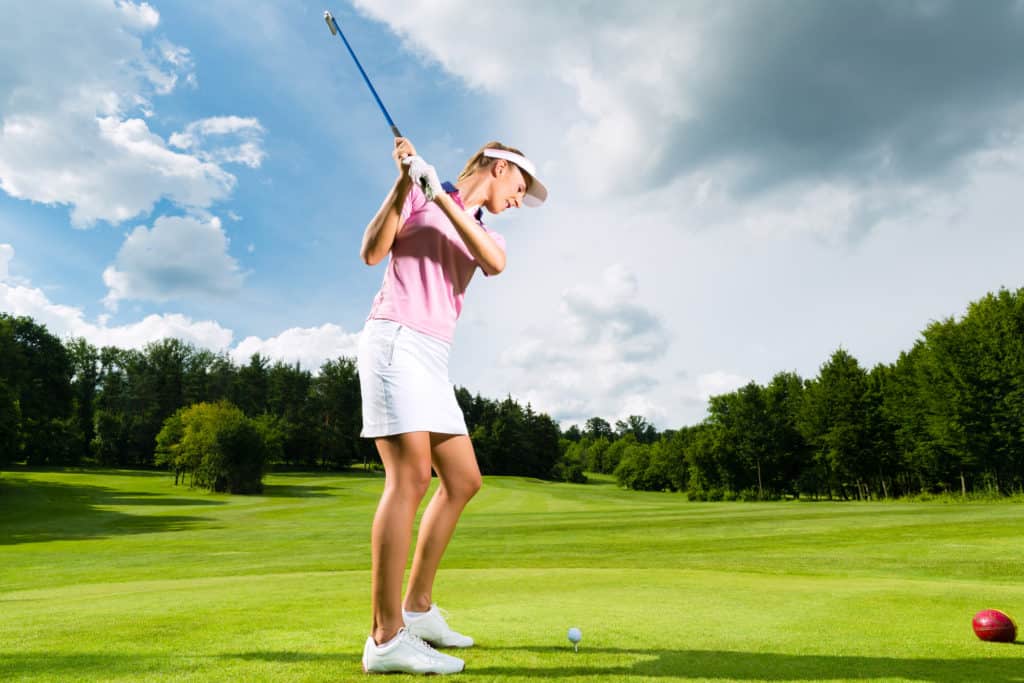 Anytime you can keep things simple in the golf game, it is a benefit.
Golf gets overly complicated, and it happens fast.
One of the things players have a very hard time with is their weight transfer.
When a player turns back, they sometimes have a difficult time transferring their weight.
As they turn, the weight should go from a balanced position to the right side and then fully transfer to the left.
Coordinating this weight transfer along with all of the other dynamics and factors that a golf swing takes can be quite difficult.
Many players are not able to shift their weight both back and then forward again.
When the weight remains on the left side throughout the golf swing, things can stay simpler.
Golfers can focus on a turn and proper wrist angle.
They are also able to try and increase their clubhead speed while staying in this simpler position.
When you look at the professionals, you can see that the golfers who have simple, repeatable golf swings are often very successful.
It is hard to stay consistent in golf, but the weight forward swing can undoubtedly help to make things a bit easier.
2. Easier Finish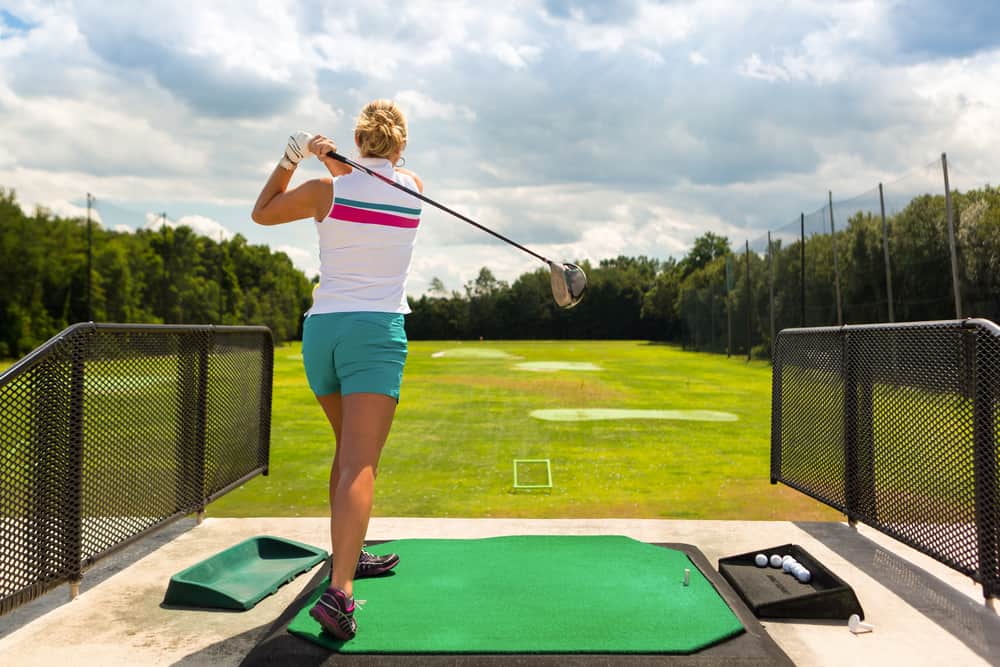 How many times during a round of golf do you find yourself finishing on your back foot?
This is a very common move in golf, and it is often the reason players miss out on quite a bit of distance.
When your weight finishes on your back foot, the chances are that you were swinging up into the golf ball and did not compress it.
When you swing down and through your golf shots, you compress the golf ball and get quite a bit of extra distance and spin.
With the weight on the left side, you are able to create this better compression much more easily.
Golfers can get to the left side and have a high finish if they never transfer much of their weight to the right side.
If you are a player who is continually struggling with getting to the finish position in your swing, the weight forward golf swing could be a great choice.
3. Better Contact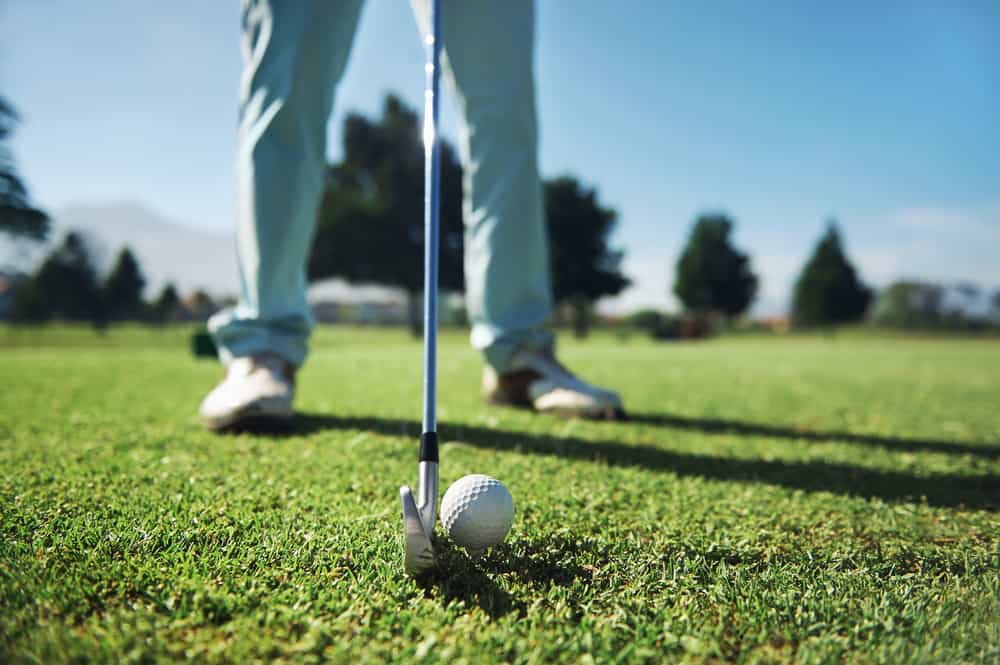 Better contact with the golf ball is essential for accuracy, ball flight, and distance as well.
The closer you get to hitting the ball on the center of the club face, the better your chances are of getting a great shot.
We highly recommend the weight forward golf swing if you are used to making erratic golf shots.
When your weight stays forward, your turn back and your body movements are going to be much more compact.
This will undoubtedly help you to return the clubface to the perfect position at impact.
When you set up to hit a golf ball, you have to think about all that goes on to be able to return your golf club to the same square position.
The slightest issue with your wrist angle, elbow, hip turn, or anything can cause you to miss the center of the club face.
With the weight forward golf swing, you won't be able to make as many of these larger motions, and therefore, it is easier to return the golf club to the center position.
Overall, the weight forward golf swing does make golf a bit easier, but you have to be in the right physical condition to pull this off.
You will also need to learn these movements and the different things required of your body.
How to Start Keeping Your Weight Forward in Your Golf Swing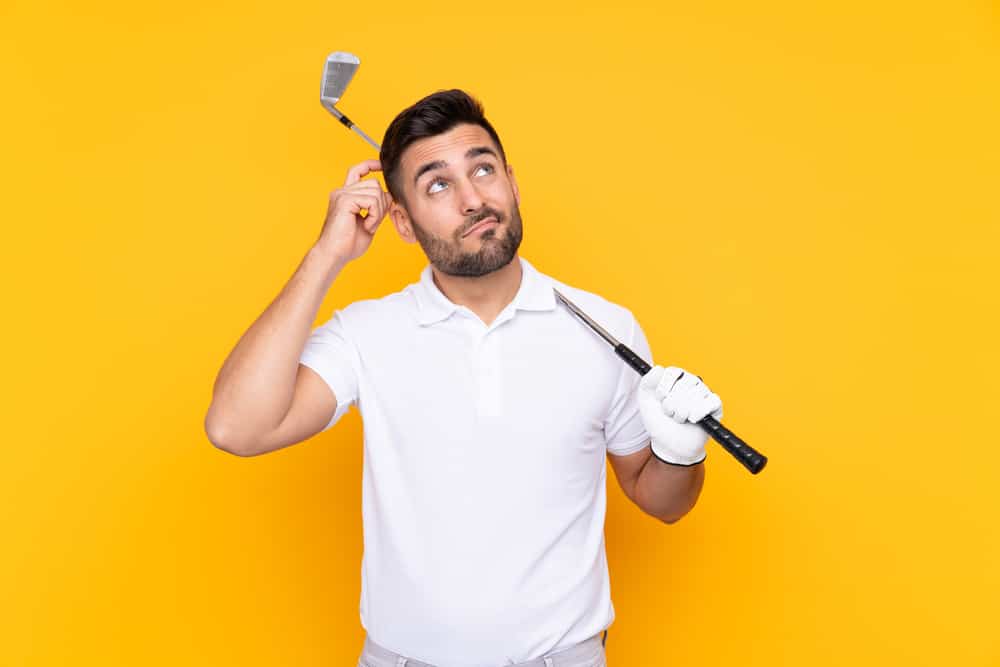 The best way to start the process of keeping your weight forward in your golf swing is to start with your short game.
If you can keep the weight on your left foot while you are hitting some chips, you will start to feel what it takes to turn and pivot with your weight forward.
You will notice that your head stays directly over the ball.
It is also very important not to dip your shoulder down and then up just because your weight is staying forward.
You will have to turn your body very efficiently to make this weight forward position work.
Head on over to a chipping green and bring a sand wedge with you.
When you have your sand wedge set up, you can readily take some swings with the weight on your left foot.
With these chip shots, you will have about 75% of your weight on the left side, and it will not transfer back to your right.
When you finish your chip shot, even more weight will have shifted to the left foot.
You will notice that you have to time your release and your shoulder turn to match with your hip turn.
This will take a bit of getting used to, but it will build a great foundation for what the impact position looks like with the weight forward golf swing.
As you start to master this technique, you can start to expand to larger chip shots and pitches.
It is easiest to start with the short game because you don't transfer all that much weight in your short game to begin with.
With drivers and fairway woods, golfers tend to take a very big turn and transfer a lot of weight.
The short game does not require quite as much work, and therefore, it is the best place to start.
If you are finding success with these methods in your short irons and approach shots, chances are you may switch to this method for your entire swing.
Cons of a Weight Forward Golf Swing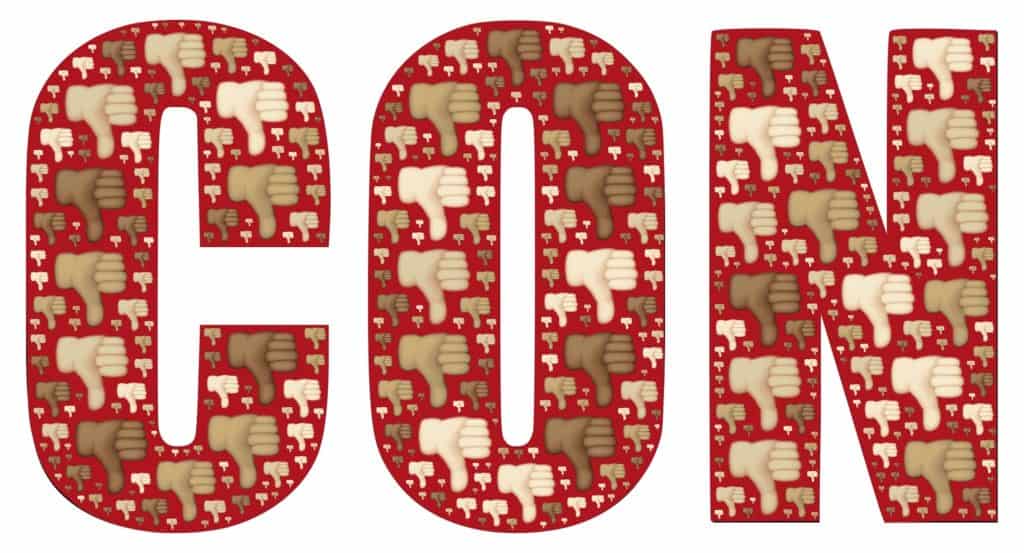 Now that you know all of these great benefits of the weight forward golf swing, it is a good idea to understand the negative impacts.
As with all changes to your golf game, you have to be ready and aware of issues that could come up which will cause your swing to change for the worse.
There are some people for whom the weight forward golf swing will not work.
The biggest negatives of the weight forward golf swing are the decreased ball flight and the flexibility needed to learn it.
1. Lower Ball Flight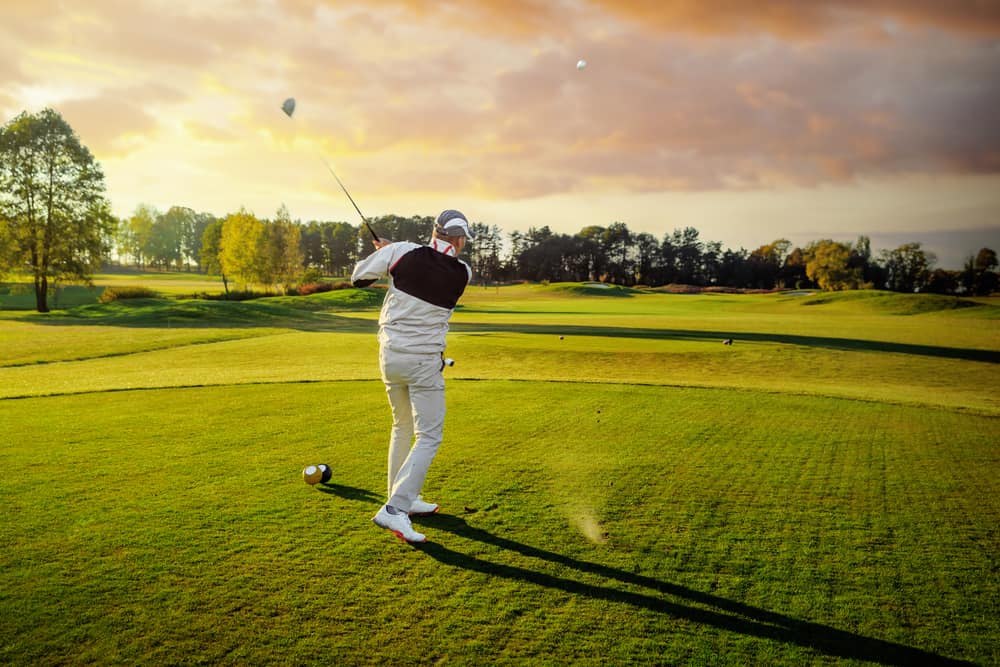 If you keep your weight forward in your golf swing, it could lower the ball flight that you get.
Sometimes the ball position can be adjusted to see if that changes the ball flight, but most likely, the lower ball flight will happen.
Most golfers will still have the ability to spin the ball because the weight forward helps with compression and spin.
The lower ball flight could potentially help some players with the driver shot, but you will want to make sure you have a driver with plenty of loft.
For players who like clubs with eight or nine degrees of loft, the weight forward golf swing could end up making it hard to get the proper ball flight.
If you notice that the ball flight is getting too low, try playing with your setup to see if that helps change the position in any way.
2. Importance of Flexibility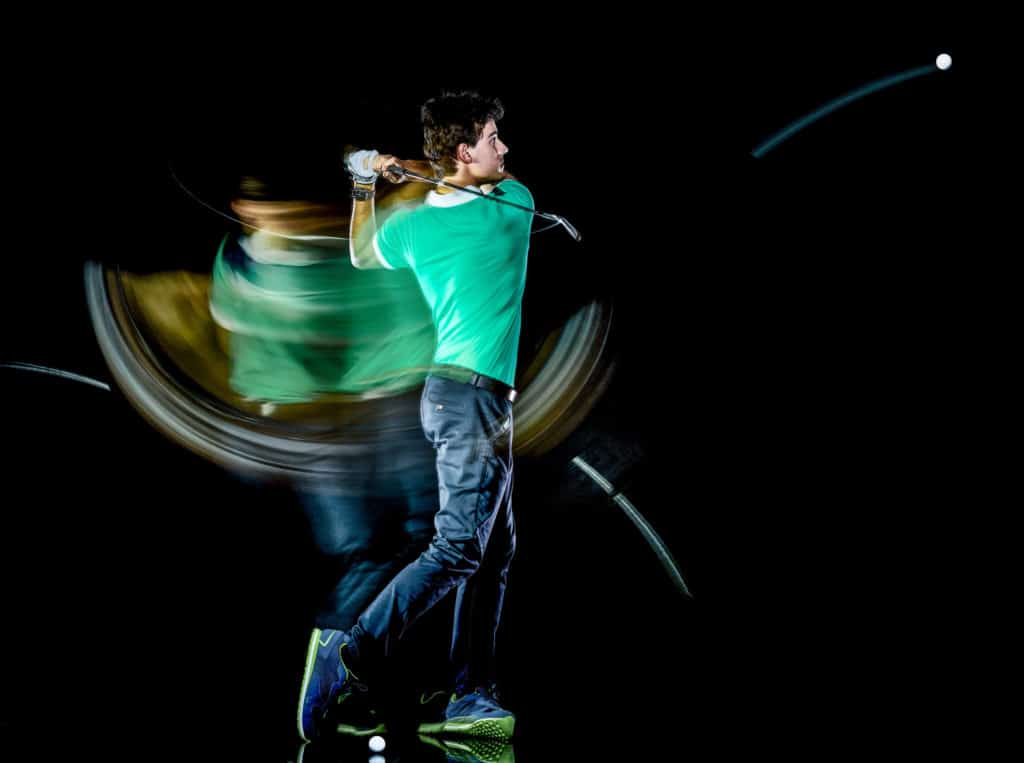 Flexibility is very important when you are working on a weight forward golf swing.
It can be quite tricky to make a turn with your weight forward.
You have to be in good physical condition and capable of completing a good pivot.
One of the major reasons that golfers don't like the weight forward golf swing is that they feel they can't get a proper turn.
When players transfer their weight, they are going to feel as though their lower body is looser.
With the weight staying forward, the turn feels tighter, and it is a bit more difficult.
If you have knee or hip trouble, the weight forward golf swing could be a dangerous one to attempt.
You will want to keep things a bit smoother and looser if you struggle with these types of physical ailments.
Overall, there are not many cons to the weight forward golf swing.
The real problem is that you will have to take the time to learn this.
The time you spend learning will be a good change to your game, but it will be a major change and one that is a bit difficult to make.
Conclusion
If your golf swing needs an overhaul this season, keeping your weight a bit more on the left foot is a good choice.
You will have to invest some time in this process, and chances are it will take you several weeks to start learning.
Start at the short game practice center and work your way up to being able to hit driver and fairway wood shots with your new technique.
If you want a simple and more effective way to get great distance, the weight forward golf swing is a great option.