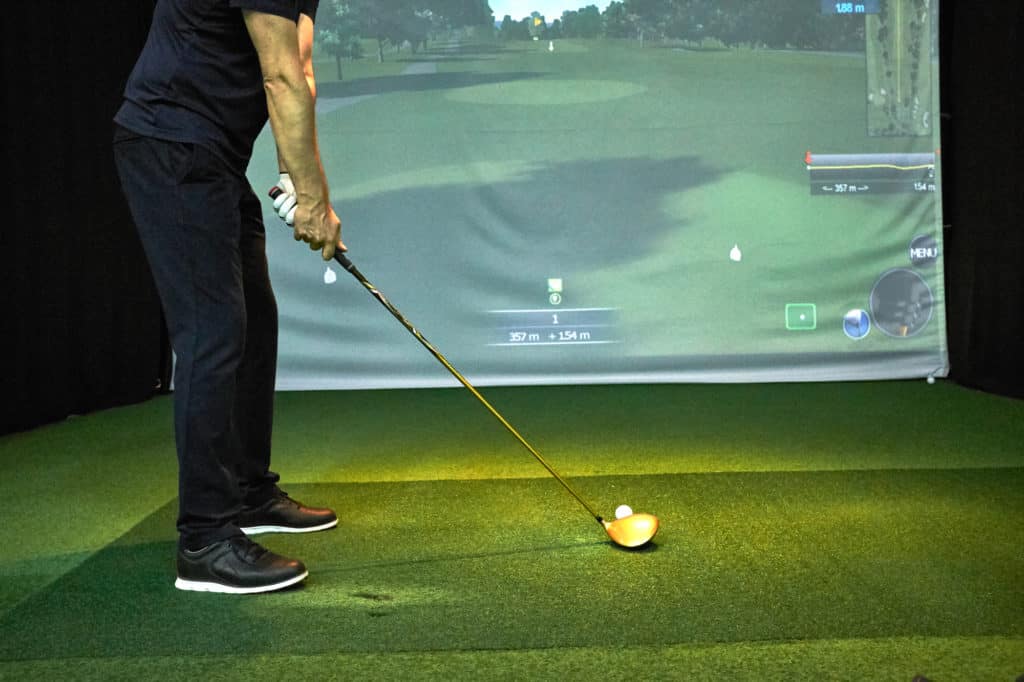 Golf simulators can be a lot of fun, and they can be a great way to keep track of your golf game.
There are only a few complete options on the market that include nets, mats, etc.
We have pulled together the best complete options for under $1000 and then some launch monitors which should help you keep your overall budget under $1000.
Golf simulator setups can cost tens of thousands of dollars, but as time goes on, they are getting more affordable for the home user.

Top 10 Best Simulators Under $1000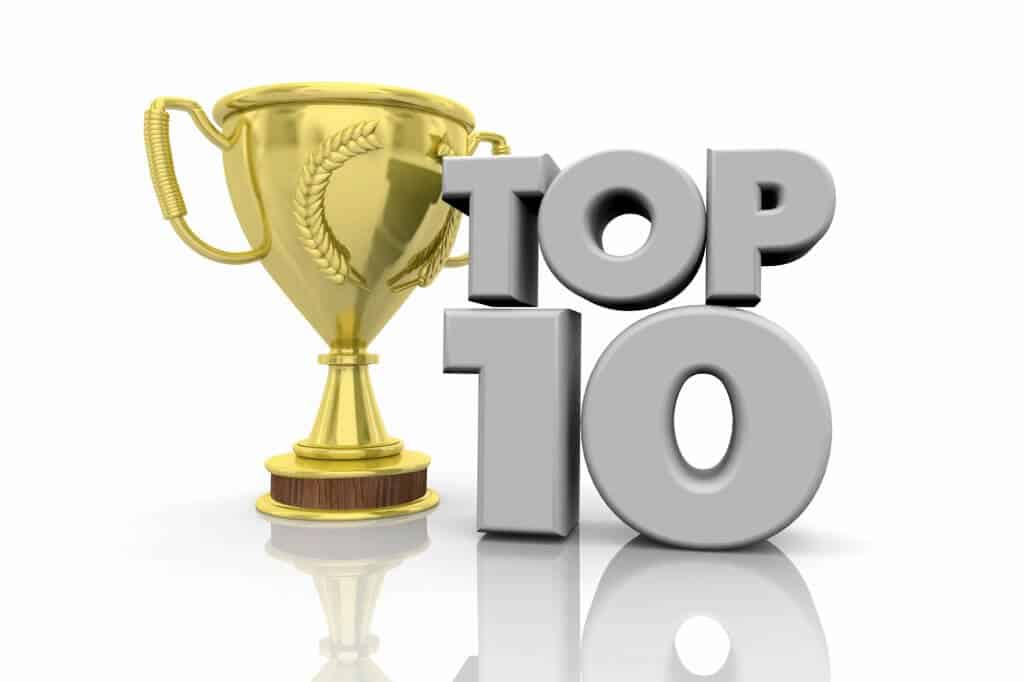 1. OptiShot 2 Golf Simulator
Key Features
Comes with simulator
Options for the mat as well
High speed
The OptiShot 2 is a well-known golf simulator for at-home use.
The Optishot works well with both a Mac or a PC.
One of the things that make the OptiShot so popular is that it is high-speed and fine-tuned.
This model has no trouble picking up your golf swing data and transferring it to the software.
You can see your shot patterns and get all the feedback you need.
The OptiShot is equipped with 16-speed 48MHZ infrared sensors.
These sensors are critical when you choose a golf simulator.
If the sensors don't pick up the swing information correctly, then you will get some inaccurate feedback.
The OptiShot 2 comes with 15 standard courses.
The fifteen courses will keep you busy for quite some time, but there are paid upgrades you can add as well.
Always make sure to check your computer's specifications when purchasing a golf simulator.
If your computer is not compatible, you will need to purchase another one, and that is where things get expensive.
Considering the quality of OptiShot 2, it is a great value.
Pros
Reasonably priced
Easy to setup
Fast speeds
Comes with 15 courses
Cons
2. Phigolf Mobile and Home Smart Golf Game Simulator with Swing Stick – WGT Edition 2019
Key Features
Access to 24 courses
Comes with the club you use
Can use anywhere
The Phigolf WGT is an excellent option if you want an easy setup you can use almost anywhere.
The Phigolf is different from some other simulators because it comes with a stick you use as the golf club.
The sensors are built into the stick, and it allows the simulator to pick up the data necessary to play a round of golf.
You will need to pay $1.99 a month for the Phigolf, but you get access to some excellent golf courses.
You can set this up almost anywhere because you will not need a mat or your own golf clubs.
This simulator is a bit more like a golf video game than it is a training tool for your golf swing.
Although you will still get to swing and you can hit good and bad shots, it's not quite the same as swinging your club.
On the positive side, it's good to note that this is a very inexpensive unit for what you get.
If you are looking to add a fun activity to the home or office, the Phigolf is truly a great choice to consider.
Pros
Sets up in a few minutes
Has access to 24 golf courses
Very affordable option
Can use indoors or outdoors
Cons
3. Rapsodo R-Motion and The Golf Club Simulator and Swing Analyzer
Key Features
Uses your golf clubs
15 top courses
No launch monitor required
The one issue with the golf simulators is that sometimes you need quite a bit of equipment to complete your setup.
Luckily, with the Rapsodo, you will not need a launch monitor or a projector.
This simulator will help you use your own golf clubs to play at fifteen different top golf courses.
You can use your computer for this Rapsodo.
Rapsodo has made several products in the last few years which will help golfers with at-home golf swing games.
The data you will get will include both swing and ball launch data, and you can start analyzing your golf game.
All you need to get started with this unit is a mat.
Considering we were trying to keep simulators on this list under $1000, this one will come in with lots of room to spare.
You may even be able to add some clubs to your bag with the extra room in your budget.
Pros
Very low price
Easy to setup
Comes with 15 courses
Won't need a projector
Cons
The smaller-scale unit does not give as many specs as other models
4. OptiShot 2 Golf Simulator for Home | Golf in A Box
Key Features
Everything needed for a golf room
Good quality
Accurate results
If you have done some research about golf simulators, you probably have seen that you end up needing to purchase quite a bit of equipment.
This can get costly and confusing to combine everything you need and set up the perfect golf room in your home.
Luckily, there are options out there like this OptiShot 2 Golf in a Box.
As you probably noticed, the OptiShot was our top choice, but the OptiShot 2 golf in a box is a slightly different option.
This will come with the Swing Pad, the Software, Cables, Rubber Tees, Practice Balls, and even the net.
When you purchase this system, you will be using your at-home golf simulator later that day.
The mat is good quality and feels like the golf course.
The next measures 7' by 8' by 1' deep, so you should have no trouble fitting this in your golf room.
As far as pricing, quality, and longevity are concerned, you probably won't find a better option than the OptiShot 2 Golf in a Box, especially for less than $1000.
Pros
Comes with everything needed
Accurate
Easy to setup
Cons
Net is a little low for a taller golfer
5. Blast Motion Golf Swing Analyzer
Key Features
Complete swing analysis
Very affordable
Works with phone
If your reason behind purchasing a golf swing simulator is to work on improving your game, you may want to consider the Blast Motion Golf Swing Analyzer.
The Blast Motion is very easy to set up and use, and it can help you analyze your full swing, short game, bunker, and putting as well.
The Blast Motion will capture video of your swing and then allow you to review and analyze this information.
You can get tips and drills that will help you take your golf game to the next level.
The Blast Golf swing trainer will allow you to learn things about your golf game that you never knew before.
Although this is not an authentic simulator where you can play golf courses, you can learn quite a bit about your game and take it to the course the next time you play.
Pros
Affordable
Gives real, actionable information
Drills and tips for working on your game
Cons
Does not include golf courses you can play
6. Ernest Sports ES14 Pro Portable Launch Monitor, Charcoal
Key Features
High-quality launch monitor
Gives lots of data
Premium model
As you may already know, a golf simulator will not work without a proper launch monitor.
A launch monitor is a tool which will allow you to pick up information on your golf swing.
Without the launch monitor, there is no way for the golf stats and data to get into the simulator.
The rest of the options on our list will be launch monitors you will need to pair with projectors, a net, and a mat to complete your setup.
These launch monitors are all reasonably priced, so you can still get your setup for less than $1000.
The ES14 is a very high-quality launch monitor created by a company known for making sports-related simulators and monitors.
Ernest is a good choice not just for the at-home setup but also for teaching professionals and club fitters.
The information you get from Ernest is going to be reliable and accurate as well.
This launch monitor is easy to move, and when you can get specs like ball speed, launch angle, and club speed, you will love the features of this monitor.
Pros
Accurate data
Affordable for how reliable the information is
Professional quality
Cons
Only one part of the simulator
Still need to get net, mat, projector, etc.
7. FlightScope Mevo – Portable Personal Launch Monitor for Golf
Key Features
Can be used indoors or outdoors
Lightweight
Easy to set up
The FlightScope Mevo is another great launch monitor for the golfer looking to get their golf room set up.
This particular model will help to measure things like club head speed, ball speed, smash factor, spin, and flight time as well.
You will certainly get all the information you need out of the FlightScope Mevo.
This is a reasonably priced Launch monitor which will still allow room in your budget for the rest of your golf setup.
The Mevo is known for being one of the more accurate launch monitors.
One of the things we love most about the Mevo is that you can use it at home in your golf room but then take it to the range with you.
You can record information both at home and at the course and use it to analyze your golf game.
If you want accurate results and feedback about what you need to work on in your game, this is the device to work with.
Pros
Very accurate
Lots of data
Portable
Can be used indoors or outdoors
Cons
This is just the launch monitor, not the entire system
8. Rapsodo Mobile Launch Monitor | MLM | Pro-Level Accuracy
Key Features
Easy to work with your phone
Only works outdoors
Very accurate
We have another great option from Rapsodo if you are looking for data to make you a better golfer.
This is one of the most accurate launch monitors available for the average golfer.
If you have ever heard of the Trackman launch monitor, you know how accurate and expensive this model is.
The Rapsodo is almost as accurate as the Trackman, which says a lot considering its price.
This model works with your phone, and you will only be able to use it outdoors.
It is a bit different than an authentic simulator, but it will certainly work to give you accurate data about your golf game.
The feedback is instant, the video is clean, and you can use the shot trace feature as well.
If the idea of a golf simulator overwhelms you, but you want to be able to monitor your own golf game, this is a great choice.
Pros
Works with GPS view
Shot trace
Instant feedback
Cons
9. Ernest Sports ES12 Portable Launch Monitor
Key Features
Very low price
Ball speed and distance
Instant results
If you want a lower-priced launch monitor, the Ernest Sports ES12 is an excellent choice.
This model is one of the lowest-priced options for a launch monitor on the market.
You will get accurate data about both ball speed and distance.
You can pair this launch monitor with other equipment to get a great at home simulator setup going.
Make sure the launch monitor you purchase is compatible with the simulator software you plan to use.
The lower-priced launch monitors do not usually record as much data as the more expensive models.
One of the things we love most about this launch monitor is the skills challenge feature.
It is a great way to stay motivated and improve your golf game.
Pros
Skills challenge
Low pricing
Portable
Cons
Won't give as much data as some other monitors
10. Voice Caddie Swing Caddie SC300 Portable Golf Launch Monitor
Key Features
Gives accurate data
Voice output when using at the range
Doppler radar technology
The last option on our list is another launch monitor that can be paired to set up an at-home golf simulator.
This model uses Doppler radar technology and gives you instant feedback on display.
When you aren't using this at home, you can bring it to the range and get real-time data.
The data is recorded, and you can review it all later and determine which areas of your game are going to need work.
There are lots of options on the market for golf simulators because there are so many different ways you can put the system together.
Try to make sure you choose a model that works for your needs both at home and on the golf course.
Some golfers want a way to play a golf course on a Saturday from their basement, and others want to work on their golf game.
Some golf simulators will be able to complete both of these missions.
The individual parts of a golf simulator setup are not going to be that expensive.
The real expense comes into play when you need to add a mat, a net, a projector, etc.
Pros
Gives real-time data
Portable
Accurate
Cons
Some say the display is not aesthetically pleasing