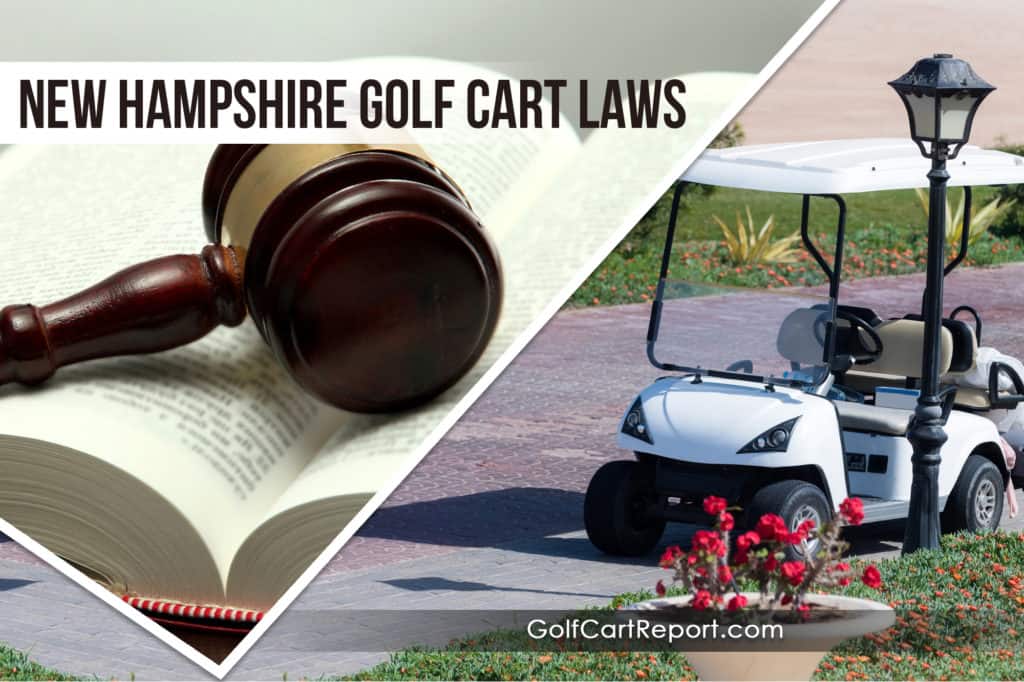 New Hampshire Golf Cart Laws
New Hampshire's laws and regulations on low-speed vehicles and golf cart use are somewhat hard to track down.
Unfortunately, their state law doesn't seem to talk much about these vehicles.
Instead, they focus more on OHRV models and carefully control how they are utilized.
As a result, many low-speed vehicles may fall under this heading and must follow their requirements.
Federal Requirements Affect Your Cart
All low-speed vehicles – those that can hit 20 miles per hour but not over 25 miles per hour – are subject to federal regulations for safety.
These include headlights, stop lights, turn signals, reflex reflectors, rearview mirrors, windshields, seat belts for each rider, a VIN or vehicle identification number, parking brakes, and taillights.
Without these upgrades, your car is not considered a road-ready vehicle.
New Hampshire is subject to these same regulations, so when riding your low-speed vehicle, make sure to follow them thoroughly.
New Hampshire's Designation for Low-Speed Vehicles
New Hampshire's state law does not have specific restrictions on golf carts or low-speed vehicles but has a section on off-highway recreational vehicles or OHRV.
These are considered "Any mechanically propelled vehicle used off of a public way for recreational or pleasure purposes and dependent on the ground or other surfaces for travel.
All legally registered motorized vehicles used off the highway for these purposes shall be deemed as an OHRV." Under this heading, low-speed vehicles qualify.
When you ride an OHRV on your private property, you are under no obligation to register it.
You also don't need to add a license or follow any upgrades for safety purposes.
Though you may be injured by ignoring these regulations, the state cannot regulate how you ride on your private property or private roads.
However, the moment you ride your OHRV off of your land, you need to register it at your local New Hampshire Fish and Game Department office.
These rules and regulations are typical if you use your golf cart or low-speed vehicle off the road.
For example, riding on hills and in woods and not on a public highway is considered off-road travel.
The confusion here lies in whether the state allows golf carts and low-speed vehicles on their roads.
No section of the state law suggests specific on-road control concepts by the state.
As a result, local municipalities have the power to decide how golf carts and low-speed vehicles are used on their roads.
This does mean, however, that you cannot take these vehicles on international, federal, or state highways.
Doing so would break the law and could result in getting ticketed.
Remember: you also need to properly upgrade your cart to meet federal guidelines for low-speed vehicles.
This step helps to protect you even further from issues.
Registering Your Vehicle
When you try to register an OHRV in New Hampshire, you'll quickly find that they don't require a title but merely a year of manufacturer, the make and model information, displacement, and the colors of the vehicle.
You need to present a valid New Hampshire driver's license to get this registration and pay a small fee.
At this point, you get a registration sticker that you can place on your low-speed vehicle.
As a nonresident, you can also get a temporary 10-day registration between May and October.
This registration is suitable for 10 consecutive days and cannot be renewed again that year.
In essence, this means that you get 10 days of off- or on-road fun with your OHRV.
Make sure to talk to local authority figures to learn more about this factor and how it affects your OHRV or low-speed vehicle fun.
After you have registered your OHRV or low-speed vehicle, the registration is typically proper for at least one full year.
When the year passes, you need to go through the process again to upgrade and keep it fully legal.
Thankfully, you don't have to do much more than paying the registration fee.
Some OHRV models may even have a registration that lasts for more than one year.
This all depends on the type of cart or vehicle that you operate in the state.
Your low-speed vehicle may also not need a license, depending on where you travel.
The state law remains vague, here, which is frustrating.
You should talk to local vehicle authorities if you live in the state.
They can help you to understand the laws better and give you an insight into how they operate.
Before you do that, you must also understand other legal elements of running your cart.
For example, you need a valid license when driving one of these carts and must have an OHRV safety permit.
These permits can be obtained by finishing basic training.
Once you receive this permit, you can usually ride these vehicles off-road and may be able to ride on some routes, depending on the municipality.
Federal Golf Cart Laws
Helpful Links
http://www.eregulations.com/wp-content/uploads/2016/04/16NHATV_LR1.pdf
https://www.wildlife.state.nh.us/ohrv/registration.html
https://www.nh.gov/safety/divisions/dmv/driver-licensing/index.htm
https://www.wildlife.state.nh.us/
Disclaimer
Even though our guides are thorough and researched, it is highly recommended that you perform your own research and check with your local municipality on rules as well.