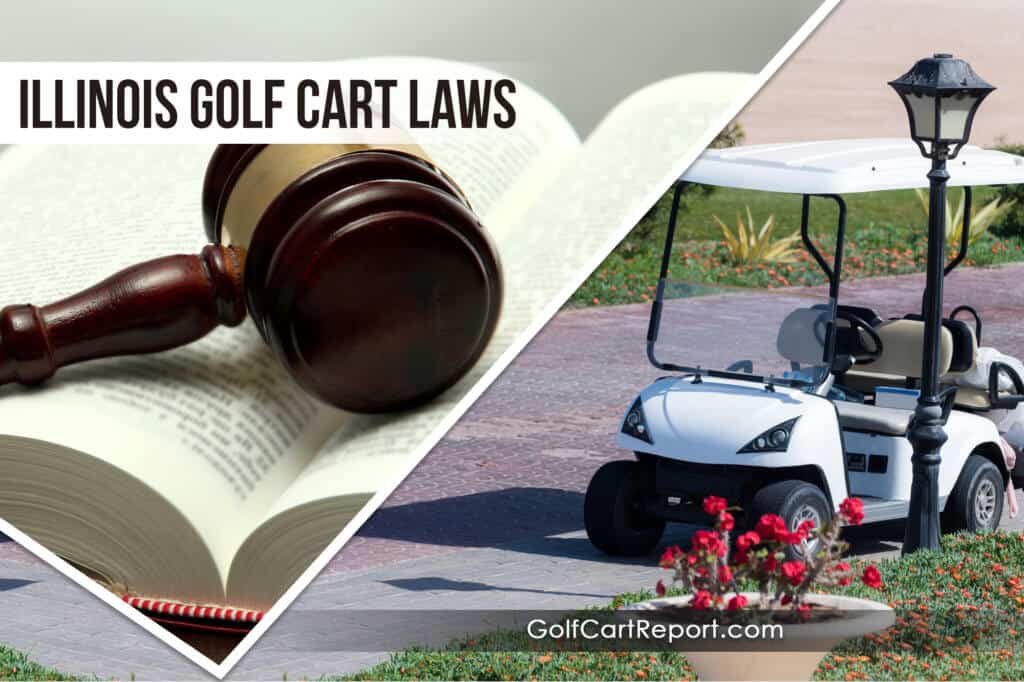 Illinois Golf Cart Laws
The state of Illinois has an interesting contrast between the big city of Chicago and many more rural areas.
As a result, their laws often reflect this difference in unique ways.
For example, golf cart rules in this state are often quite restrictive but at other times lax.
Therefore, it is important to understand these regulations and laws before you take a golf cart on any public road near you.
Federal Laws Protect You and Others
Federal law has little to do with the control of golf carts in states like Illinois.
However, it does restrict riders in all states from riding on federal or international highways, as these are typically too fast for these vehicles.
Otherwise, they stay away from golf cart control.
Federal law does decide what is a low-speed vehicle, which is any vehicle manufactured to travel between 20 miles per hour and 25 miles per hour.
As a result, you must understand what each state says about this operation to ensure that you follow all laws and guidelines without any difficulty.
Golf Cart Use in Illinois
Illinois typically does not allow golf cart use on their roads unless owners upgrade them to low-speed vehicles.
They do, however, require that you have a valid driver's license whenever you take a golf cart on roads.
You also need to hang a slow-moving vehicle sign from a golf cart or low-speed vehicle whenever it is on the road.
This sign protects you and anyone else on the road.
Typically, low-speed vehicles and golf carts in Illinois must be upgraded to make them safe for public use.
These upgrades include brakes, a strong steering apparatus, rearview mirrors, strong tires, red flectors on the front and back, a headlight that shows light for up to 500 feet, a tail lamp that shows light for at least 100 feet, brake lights, and turn signals.
These upgrades must be done by a professional before your golf cart can be registered as a low-speed vehicle.
Before you register and license this vehicle, however, you must also make sure to get a vehicle identification number or VIN.
This number is granted to you when a DMV official finds that your cart has passed all of the legal necessities to become a low-speed vehicle.
Beyond the upgrades mentioned above, your cart must weigh less than 3,000 pounds and be capable of reaching speeds of up to 20 miles per hour but less than 25 miles per hour.
At this point, you can receive a VIN and register your vehicle.
You also need a title and a license for your vehicle as well. Hang the license off of the vehicle and it is legal for road use.
Make sure that you also purchase a limited liability insurance policy to protect your cart and yourself.
You may also want to upgrade your insurance to include damage protection and other types of protection.
This factor varies based on your need, however, so only get the insurance that you think that you need.
At this point, you are completely ready to ride your cart legally in Illinois.
Laws to Follow in Illinois
There are many rules and laws to follow when you ride your golf cart in Illinois.
For example, you cannot take a low-speed vehicle on any road that has a speed limit faster than 35 miles per hour.
When you ride on faster roads, you put yourself in danger because you cannot travel as fast as others may want.
Therefore, your use is restricted to protect not only you but those around you.
You may cross roads that have a speed limit of 45 miles per hour or less without any worry.
However, you cannot cross roads with faster speed limits unless it is at an intersection with a stop light or a four-way stop sign.
In this situation, follow all normal traffic rules and regulations.
These include going when it is your "turn" at a four-way stop.
You don't have a special right of way because you are a low-speed vehicle.
Remember, too, that your golf cart is now considered a low-speed vehicle and not a golf cart.
As a result, you must follow all rules and regulations regarding cart use in your area.
This factor can be confusing for some but just treat your cart like you would a normal car.
In this way, you won't get into any trouble. These steps include signaling appropriately when turning.
Another interesting element to consider is when a road is under the jurisdiction of two different government groups.
For example, a city road may also be classified as a state road.
In this situation, even if the road would otherwise qualify, you cannot ride on this road.
However, if both groups come to an agreement on the rules for the road, you can use it based on those guidelines.
Federal Golf Cart Laws
Helpful Links
Disclaimer
Even though our guides are thorough and researched, it is highly recommended that you perform your own research and check with your local municipality on rules as well.