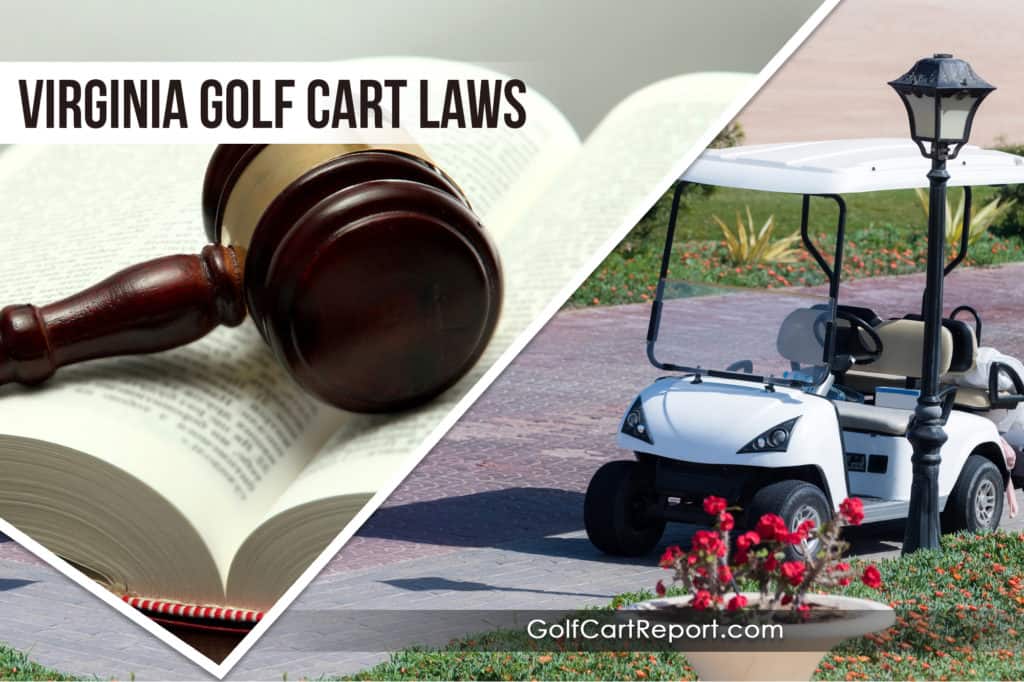 Virginia Golf Cart Laws
As a state, Virginia is quite large and filled with many unique driving opportunities.
For example, you can take golf carts and low-speed vehicles out on many streets in this state.
Understanding the full range of laws and regulations that dictate their use can help you gauge when you should take out a cart and what you can expect if you decide to do so in your area or your city.
Federal Regulations for Golf Carts
Before examining the state and local rules for carts in Virginia, you must understand the federal regulations.
These laws and guidelines help to create a more coherent and logical level of cart and low-speed vehicle use throughout the station.
Fully understanding each of these laws can help you better understand what to anticipate when you take these out for a ride.
For example, the federal government does not set rules and regulations for safety equipment when riding golf carts.
They also do not restrict states and local governments from allowing carts on their roads.
That said, the feds do not allow golf carts on national or international highways.
That restriction is because golf carts can only travel under 20 miles per hour, as manufactured.
This slow-speed is also why they don't set safety standards – they don't consider these carts motor vehicles.
However, the federal government does restrict low-speed vehicles because they are fast enough to be considered motor vehicles.
For example, most can travel at speeds of up to 20 miles per hour but slower than 25 miles per hour.
If they can reach higher rates, states and federal governments will either consider them medium- or high-speed vehicles, based on their maximum speed.
For the sake of this article, we'll focus only on low-speed vehicles.
Once a cart can travel between 20 and 25 miles per hour, the federal government asks for a variety of safety upgrades, including headlamps, stop lamps, turn signal lamps, taillamps, reflex reflectors, parking brakes, rearview mirrors, windshields, seat belts, and a vehicle identification number.
That said, they still allow the individual states to set the rules and regulations for carts on any state, county, and city highways and byways.
Golf Cart Laws in Virginia
Virginia does allow pretty extensive golf cart use on their roads.
Though they do allow cities to restrict where carts go within their limits, they do generally allow carts on any other path that qualifies.
However, there are many restrictions on where these carts can travel. For example, you cannot go on roads above 25 miles per hour.
Doing so is considered dangerous and illegal.
And when you're on the road, you can only travel during daylight hours – defined as between sunrise and sunset – and must display a "slow-moving vehicle" emblem on the front and back of your cart at all times.
However, you can ride during the night if you equip your cart with headlights, taillights, and brake lights.
You also must be at least 16 years old and have a valid driver's license.
One vital loophole to remember is the fact that you can cross streets with a speed limit of over 35 miles per hour if you do so at a stoplight and do not ride on the road itself.
When you cross a road, you are technically still on the road on which you can legally ride.
Only in this situation can you be – temporarily – on a faster road.
Ask your local government about any other restrictions that they may have on golf carts, as they may limit you in different ways you might not expect.
Low-Speed Vehicle Guidelines
Virginia's guidelines for low-speed vehicles are very much the same as other states.
First of all, they follow all safety guidelines set forth by the federal government.
These include the upgrades mentioned previously, as well as the inability to operate on roads with a speed limit above 35 miles per hour.
Like with golf carts, though, you can cross these roads in a low-speed vehicle without trouble.
Next, you also need to register your vehicle and get a license to keep them street-legal.
Remember: your cart is no longer considered a golf cart legally.
Instead, it is now a motor vehicle and must be treated as one.
Therefore, you also need a valid driver's license to keep your cart fully legal on the road.
This guideline is similar for golf carts, though, and shouldn't be too hard for most to handle.
You also need to buy insurance policies to protect your cart.
These policies include Personal Injury Protection and Property Damage Liability.
These policies help to keep you protected from severe financial loss if you get into a crash while driving your cart.
You may also buy more involved procedures if you like, but don't need to for legal purposes.
Federal Golf Cart Laws
Helpful Links
https://www.dmv.virginia.gov/#/
Disclaimer
Even though our guides are thorough and researched, it is highly recommended that you perform your own research and check with your local municipality on rules as well.