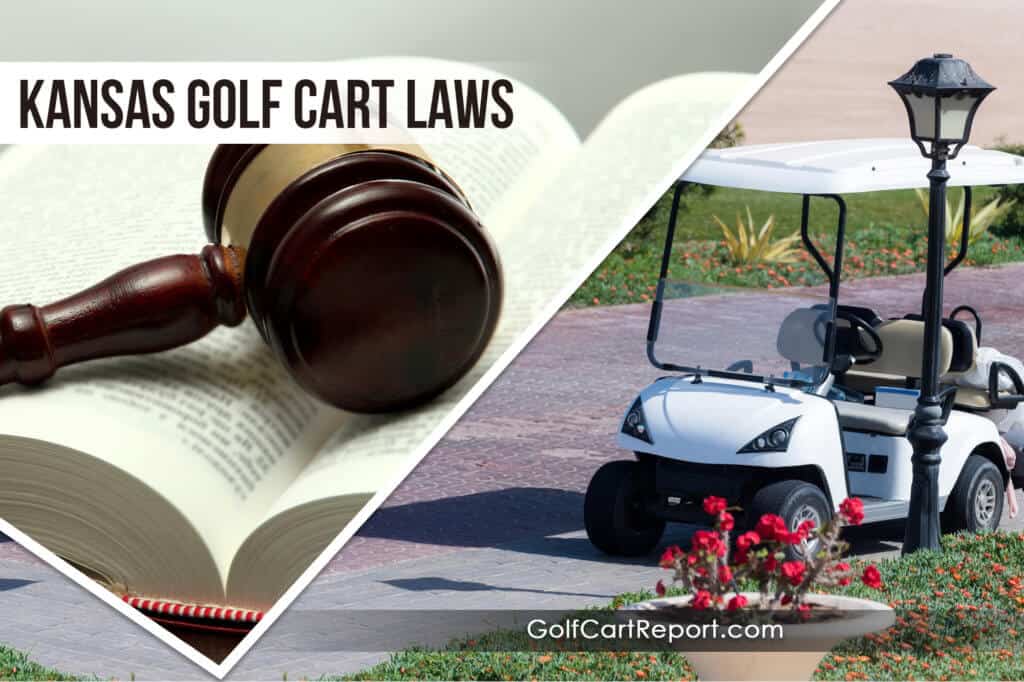 Kansas golf cart laws
Kansas, like many other states, has pretty specific rules about what they do and do not consider golf carts and low-speed vehicles.
These laws must follow any regulations set forth by the federal government and often vary based on what different cities in the state want.
Thankfully, these guidelines are usually pretty easy to understand and don't require much complex though to properly manage.
Kansas Law on Golf Carts
Kansas has a unique guideline for what they call golf carts.
This definition is simultaneously more complex than other state laws and easier than others.
For example, it is more lax than some laws because it states that a cart is a motor vehicle that has no less than three wheels in constant contact with the ground.
Most states define carts as having four wheels.
However, Kansas law also states that a golf cart must weigh no more than 1,800 pounds without a load.
That is about 1,200 pounds or half-a-ton less than other states allow.
They also state that a driver can take only three other people with them on a golf cart.
Some states allow up to five other riders, which means that this riding situation is much more limited than many other cart laws.
Kansas also does not allow golf carts access to any international, federal, or state highways.
And they also ban the use of golf carts in cities that don't explicitly allow it with their laws.
A city that wants to have golf carts on its roads must pass a law that defines these roads and which sets other guidelines that golf carts must follow.
These restrictions are all important to consider.
Furthermore, golf carts cannot be taken on roads with a posted speed of 30 miles per hour.
Therefore, they max out on roads of 25 miles per hour or lower.
That said, golf carts may cross these faster roads – but only 30 miles per hour – if they are moving from one appropriate street to another.
They cannot drive directly on the faster road but on the road that crosses it.
Lastly, golf carts cannot be operated outside of the hours of sunrise and sunset until you have a slow-moving vehicle emblem and lights that are similar to that of a motorcycle.
Once you get these protection items, you can ride your golf cart at night.
However, the state would much rather have residents upgrade their cart to a low-speed vehicle instead of riding a cart.
Once you upgrade your cart to a low-speed vehicle, it falls under different laws and isn't as restricted as your golf cart.
Though you may have to spend some money to get these upgrades, they are worth it for those who want their golf cart on Kansas roads.
Remember, though, that your golf cart is no longer legally a cart but a motor vehicle and can be ticketed as one from now on after your upgrades.
The Definition of a Low-Speed Vehicle
While Kansas does allow some limited travel of golf carts on their roads, you may want to upgrade to a low-speed vehicle to get the most benefits.
This process is one that requires you to pay a professional to change up the appearance and overall design of your cart.
Doing so helps to make your cart not only more attractive but makes it safer and ready for the road and other driving situations.
The benefits of getting classification as a low-speed vehicle are many.
First of all, your cart can now be up to 3,000 pounds.
That's almost a 50 percent increase from when it was a golf cart.
Even better, you can operate on more roads and are safer when you are on the road.
Though it may seem pricey to do the upgrades necessary for this process, it is more than worth the extra cost.
Like all other states, Kansas follows the federal definition of a low-speed vehicle.
Your cart must be upgraded to include headlamps, stop lamps, turn signal lamps, taillamps, reflex reflectors, parking brakes, rearview mirrors, windshields, seat belts, and a vehicle identification number or VIN.
Your cart must also be capable of speeds of up to 20 miles per hour but less than 25 miles per hour.
Many golf carts are not manufactured with a VIN, so you need to insure your vehicle with Personal Liability and Property Damage insurance and then take it to a DMV.
Here, an official can inspect the upgrades that you have made to decide if it qualifies as a low-speed vehicle.
Once it does, you can get at title, register the vehicle, and get a license for the city streets.
Legally, you cannot drive on any roads with a speed limit above 30 miles per hour in a low-speed vehicle.
You also must have a driver's license and should wear your seat belt at all times.
Remember: your cart is now a motor vehicle and is treated, as such, by your local and state authorities. So try to follow these rules and regulations to avoid any issue with your cart.
Federal Golf Cart Laws
Helpful Links
Disclaimer
Even though our guides are thorough and researched, it is highly recommended that you perform your own research and check with your local municipality on rules as well.