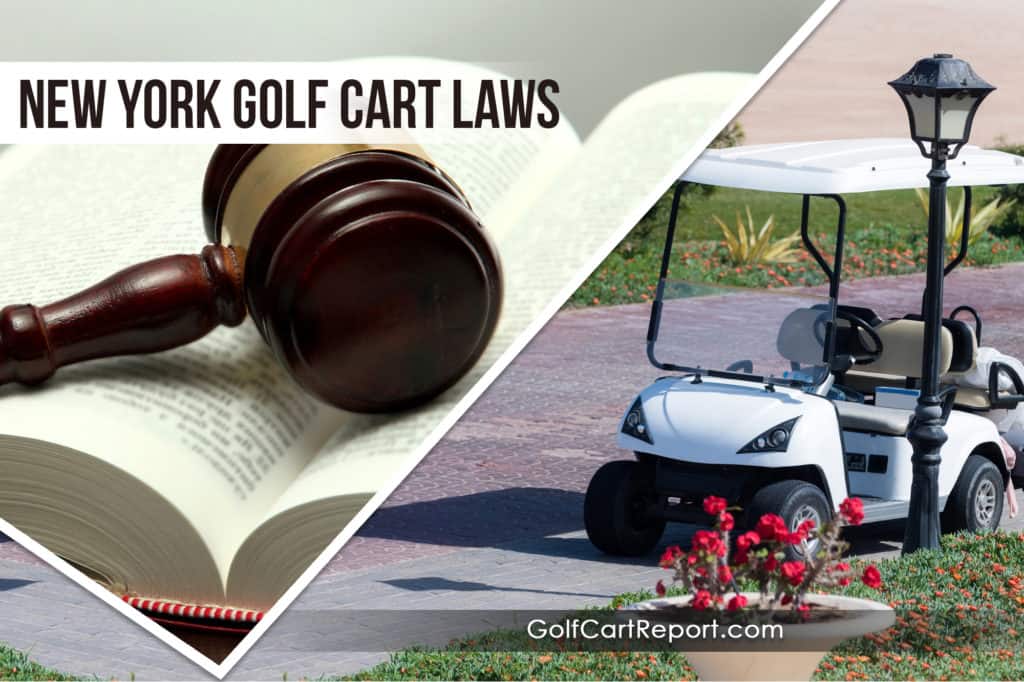 New York Golf Cart Laws
New York State has many unique amenities that make it a great place to live and visit.
Just a few of these include specific laws that help make golf cart and low-speed vehicle use safer in this state.
If you are interested in these types of cars, you need to read on to learn more about your rights.
Doing so can help prevent you from experiencing any legal or financial problems related to this use.
New York Pays Careful Attention to Federal Law
Like with other states, the federal government puts control of golf cart laws in the hands of New York.
That's because golf carts are considered slow-moving vehicles.
As they are manufactured to go under 20 miles per hour, they do not meet federal regulations for motor vehicles.
They also do not need to possess the types of safety upgrades standard for low-speed vehicles.
However, states may dictate increased updates as a way of protecting their citizens.
When a golf cart is upgraded to become a low-speed vehicle, though, the federal law will step in and dictate changes.
That's because these carts are now considered motor vehicles by federal law.
Therefore, you need to make sure that any vehicle under this heading is appropriately upgraded to be as safe as possible.
These upgrades include adding a variety of features and new parts to your cart.
The federal minimum for these enhancements includes headlights, stop lights, turn signal lamps, taillights, reflex reflectors, parking brakes, rearview mirrors, windshields, seat belts, and vehicle identification number or a VIN.
Please note that state governments may make these restrictions more specific and control the use of your carts even further.
So pay attention to these factors first.
And beyond the upgrades mentioned above, all low-speed vehicles must be capable of speeds of up to 20 miles per hour.
However, they cannot pass speeds of 25 miles per hour.
Once they do, they fall under the heading of medium-speed vehicles.
And as there are currently no state laws for these carts in New York, this factor will be ignored here.
Instead, we'll mostly discuss low-speed vehicles.
State Laws for Golf Carts May Vary Based on Area
New York state law is particular about golf carts – you cannot register them in this state.
This rule is different than other states that don't require registration before taking them on the road.
Instead, New York states that you CANNOT register carts, which means you cannot use them on state roads.
However, the state, like others, does allow municipalities to set rules for golf carts.
As a result, you may live in a city that allows golf carts to travel on specific city-owned roads.
Typically, these streets must be below 25 miles per hour to keep cart use safe.
The exact rules, though, will vary based on a city's needs.
So make sure to reach out to any municipal governments near you if you want to use golf carts.
Doing so can help you avoid any legal complications.
These guidelines do not apply to any low-speed vehicle that you may have made out of a cart.
That's because they fall under a different heading and are now treated as motor vehicles.
These carts can be subject to issues such as speeding tickets, drunk driving fines, and reckless driving situations.
Therefore, you must fully understand the rules and laws for these specific carts.
Rules for Low-Speed Vehicles
All low-speed vehicles in New York must meet federal guidelines for such vehicles.
As mentioned previously, this factor includes upgrades to make them safer for the road.
Such updates include headlights, taillights, stoplights, rearview mirrors, and more.
However, New York also wants upgraded parking brakes to ensure that you can stop quickly enough to meet all driving conditions.
And when you ride a low-speed vehicle, you need to register it and get a license to display.
You can register your cart by taking it to a local DMV.
Here, an official will check the VIN and inspect the cart to ensure that it is street legal.
This step also requires you to pay several fees, including registration and licensing costs, to keep your cart legal.
Thankfully, this step shouldn't take that long if you have your ownership papers, including a title, to present to the proper authorities.
Typically, areas that allow the use of low-speed vehicles restrict you to roads of 35 miles per hour or lower.
That limit is set by the state and cannot be exceeded.
However, municipal governments can limit riders even further on their roads.
For example, they may block you from riding on local streets of 30 miles per hour or higher.
Talk to your local officials about this factor to learn more.
And remember that their restrictions do not apply to state-owned highways.
Federal Golf Cart Laws
Helpful Links
https://dmv.ny.gov/registration/motorized-devices-cannot-be-registered-new-york
https://dmv.ny.gov/
Disclaimer
Even though our guides are thorough and researched, it is highly recommended that you perform your own research and check with your local municipality on rules as well.