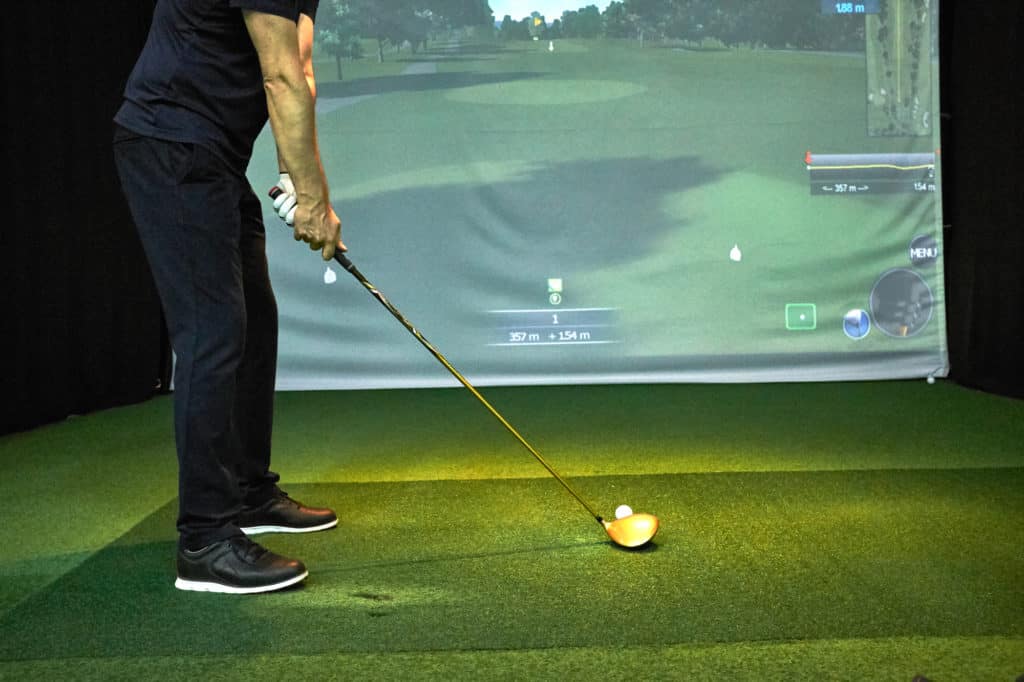 If you have wanted to add a space to your house to practice your golf, you are not alone!
At home golf simulators have been getting more and more popular.
These simulators used to cost thousands of dollars and keep the average golfer from being able to afford one.
Luckily golf simulators have become more affordable, and now there are many different setups and options out there to choose from.
The one constant that you will need to start using a golf simulator is space.
Without the right amount of space, you cannot have an at-home golf simulator.

How Much Space Do You Need For An At Home Golf Simulator?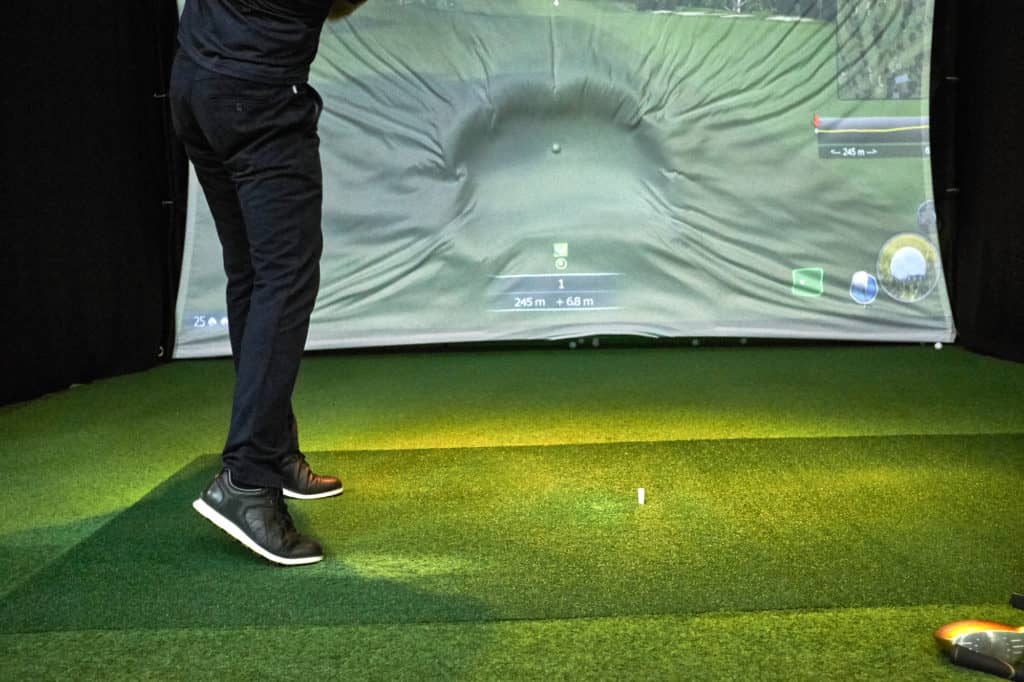 There are three measurements you need to worry about when it comes to a golf simulator space.
You will need a certain amount of height clearance, width clearance, and length clearance.
Most people seem to have plenty of room when it comes to length and width, but they struggle with height.
Generally speaking, you will need ten feet of width and ten feet of length as well.
When it comes to the height you will need anywhere from 8-10 feet depending on a few different factors.
Factors That Go Into Height Clearance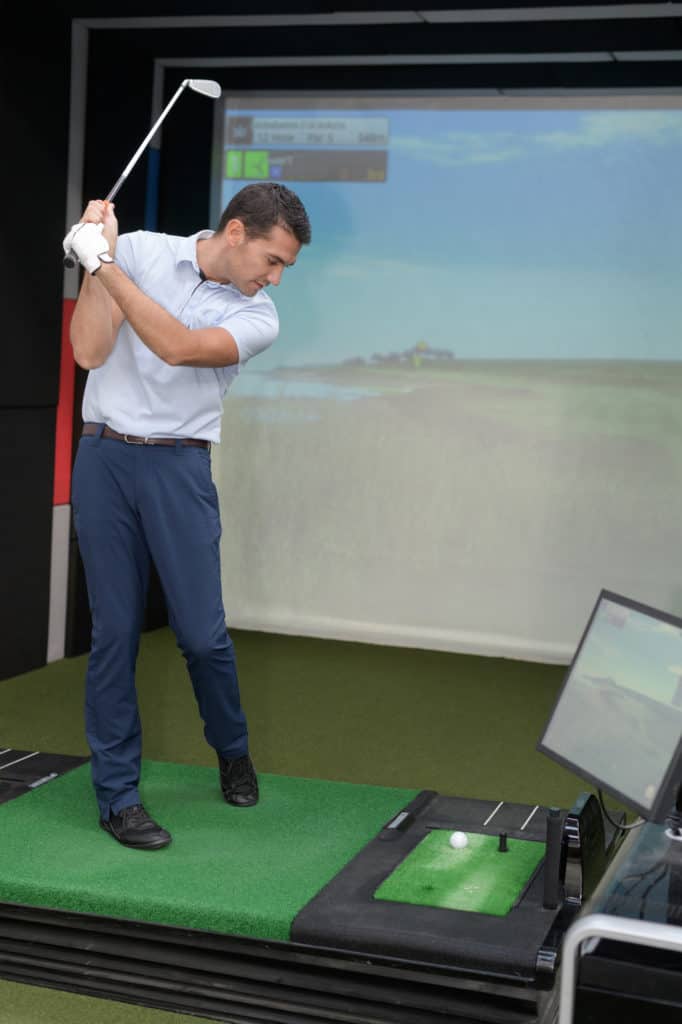 Here are the main things to consider when trying to figure out how much height you need for an at-home golf simulator.
Player Height
How tall are you?
If you are 5'4″ or if you are 6'4″ you are going to have different requirements when it comes to height clearance of an at-home golf simulator.
The taller you are, the more height you will need.
Player Arm Length
In addition to the height of a person, arm length can also be a factor.
Players with much longer arms are going to be swinging the club higher than those that have shorter arms.
At the top of your swing with your arms extended, you may end up getting too close to the ceiling.
Golf Swing Type
Some players have a very compact golf swing.
When you swing compactly, you will not have much trouble finding enough clearance for your simulator.
However, some players have very wide large golf swings.
These swings will have the club out extended away from the golfer at specific points in their swing.
This will cause the club to hit the ceiling if there is not enough clearance.
Golf Club
If you have never noticed, there is a considerable length difference between the golf clubs in your bag.
The driver is the longest club you own, and the putter and wedges are the shortest.
If your simulator is going to be used with your seven iron, then you may need less clearance than if it is going to be used with all of your clubs.
Ideally, you are going to want enough room to swing all of the clubs in your bag freely.
Mat Height
When you use an at-home golf simulator, you will need to hit a ball off of a mat.
Some mats will have you standing on them while you are swinging, and others will have the ball and your clubhead on them.
Some of the mats that you stand on are one to two inches off of the ground.
If you do all your calculations for your golf simulator while standing on the flat ground, you may be in for a tough surprise when you finalize your setup.
Other Space Factors To Consider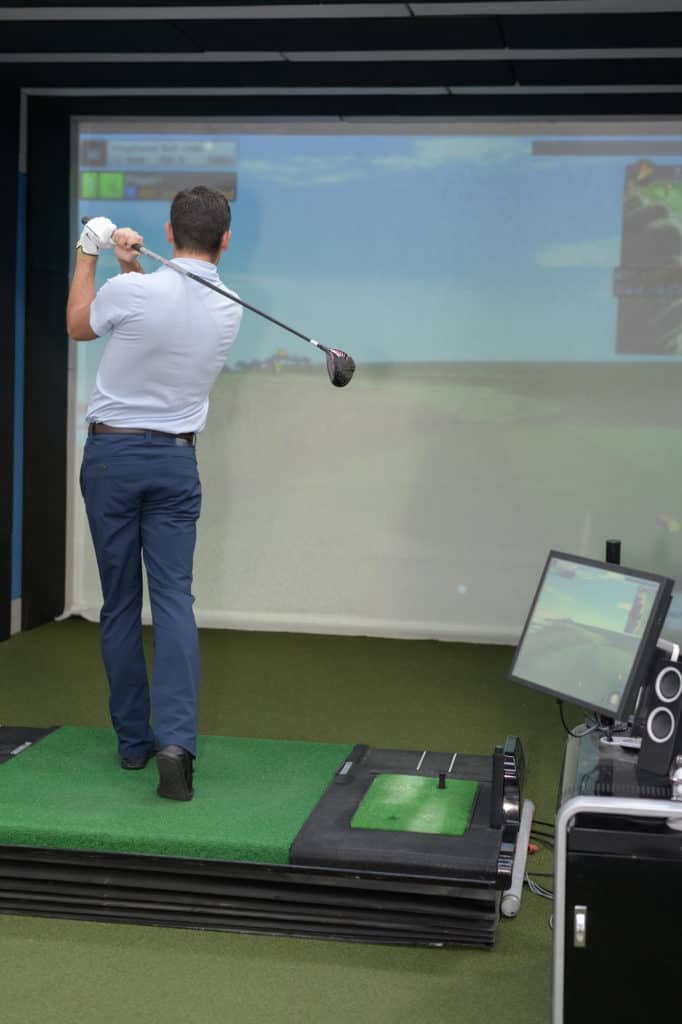 There are a few other things that you need to consider when calculating your space requirements.
For starters, you need to pay close attention to space behind you.
Many people worry so much about where the ball is headed that they forget their backswing may be getting too close to the wall.
It would help if you had several feet in front of you to be able to hit the ball into the net, but make sure you have room behind you as well.
Also, many people make the mistake of putting the golf net directly up against the wall of your house.
When you do this, you do not give the net enough time to stop the ball and slow it down.
This results in holes in the wall on the other side of the net.
Thoroughly test your net before setting it in its final place.
Determine how far the net bounces back when it has shots of different golf clubs being hit into it.
Video Example of Setting Up A Golf Simulator In Home
Are Golf Simulators Good For Your Golf Game?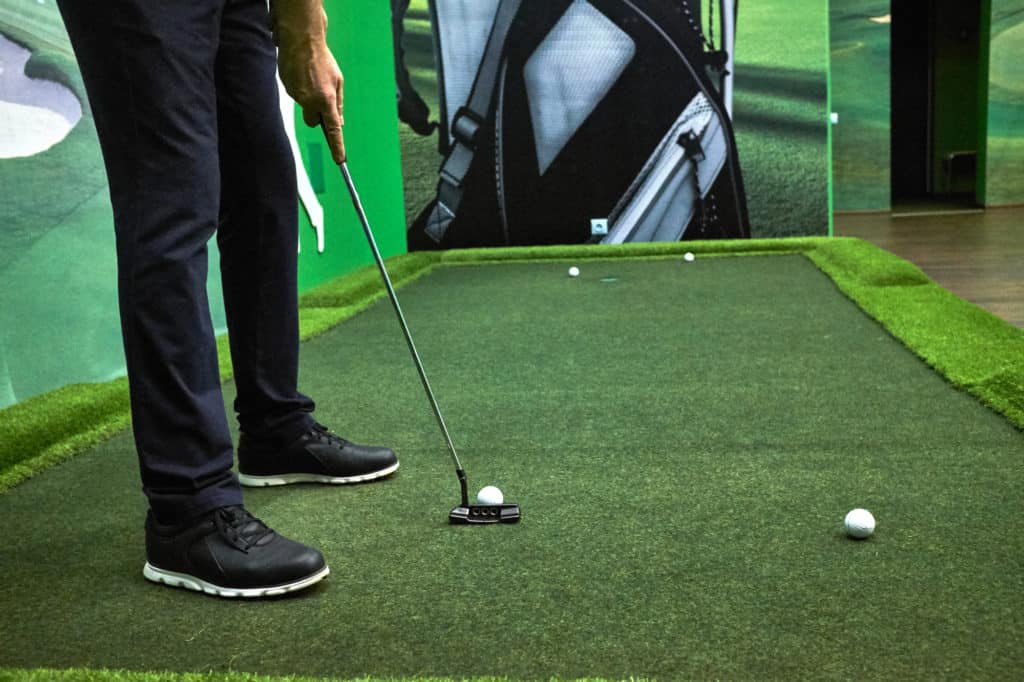 Any golf professional will tell you that the more you swing a golf club, the better you will get at golf.
If you are only playing on Saturdays and you go an entire week without playing the game, a golf simulator could help you get better.
Of course, there are a few things you will need to watch out for when it comes to golf simulators and their effect on your game.
For starters, you need to make sure that you are swinging freely in your simulator.
Some players tend to restrict their golf swings because they are indoors.
Even though they have plenty of room to swing, they lose some of their tempo and get quite restrictive.
This is common and something that most golfers can get over with a little bit of practice.
Another issue with golf simulators is getting too hung up on all the information that they are giving you.
Remember, these simulators can be very accurate, but they are not going to give you exact results that you will see during a standard round of golf.
If you see that you are hitting your seven iron 152 yards on the simulator and you hit it 160 on the course, do not let this concern you.
Try to enjoy the ability to play golf from the comfort of your own home, garage, basement, etc., don't get too hung up on the numbers.
What Other Equipment Do You Need?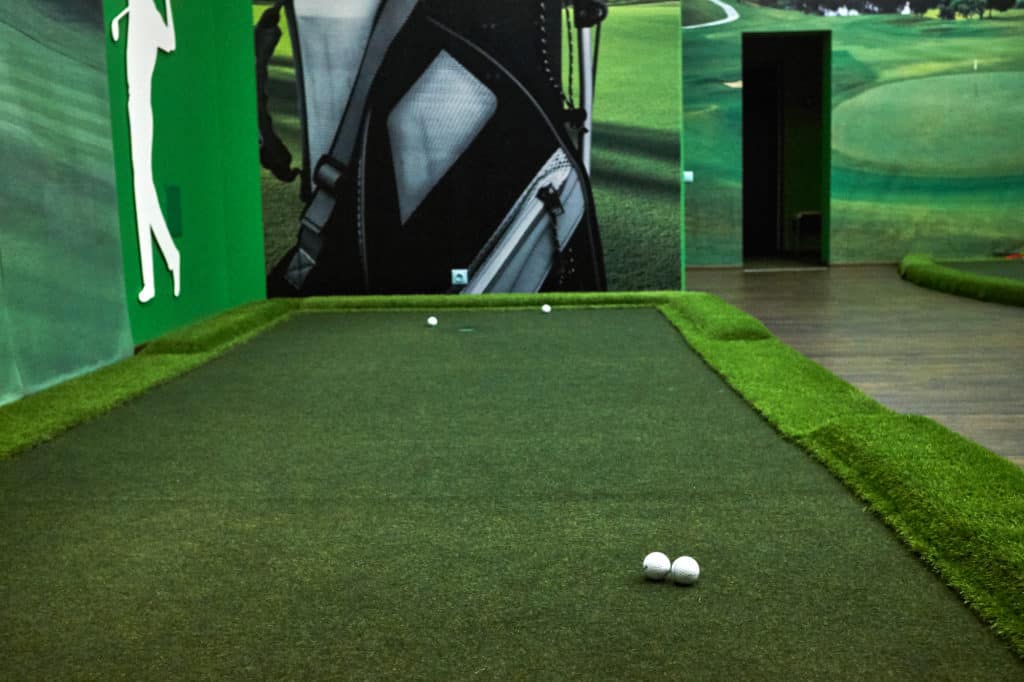 In addition to space, you are going to need some equipment to use a golf simulator properly.
The equipment can add up quickly.
There are high end and low-end products to get for each part of this system.
It is up to you how much you are going to want to spend and how involved you will get with this setup.
Here are the components you will need to set up a simulator. . .
Launch monitor with golf simulator
Projector
Hitting Mat
Screen
Net
Computer or Ipad to Run the Software
There are complete solutions with some companies that can get this project completed for less than $1000, and some others can cost over $50,000.
Do I Need A Permanent Spot For A Golf Simulator?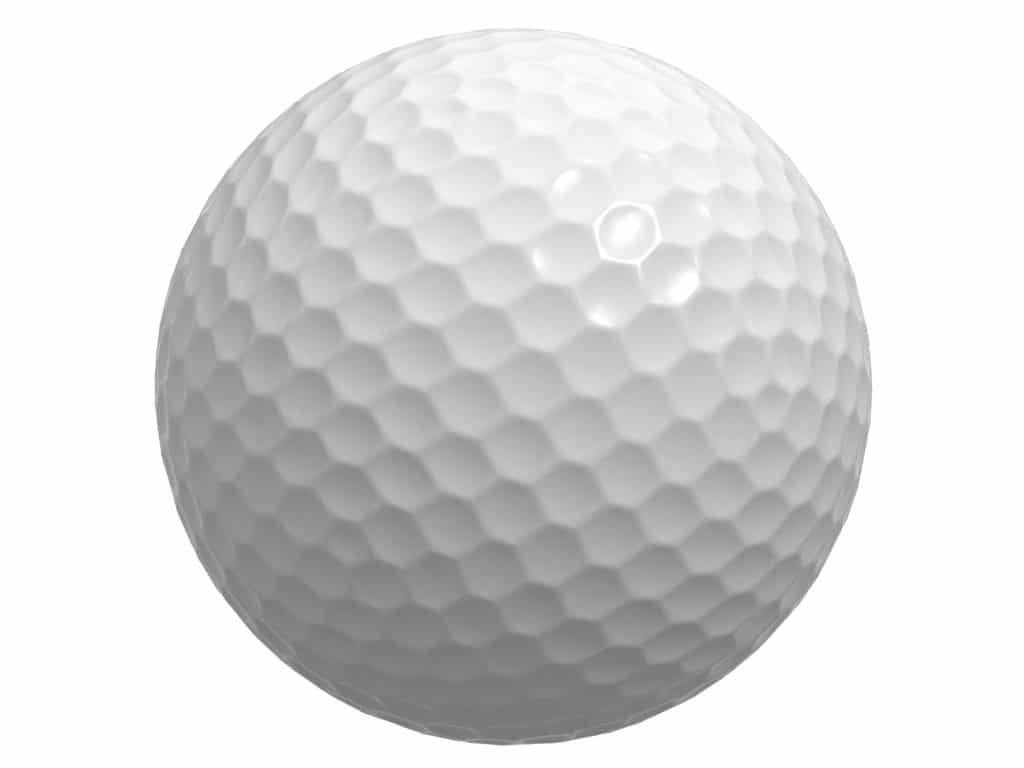 You do not need to keep your simulator set up at all times.
In fact, people have been able to find very creative and unique ways to set a simulator up in a media room and then use that same projector for family movie night.
Of course, it is easier to keep everything set up and centralized, but it is not entirely necessary.
The systems themselves are lightweight.
Some nets can be set up within a matter of minutes, and some can just pull to the side like a curtain to get out of the way.
The projector screen is usually able to roll up, so it is out of the way.
What Handicap Player Should Use A Golf Simulator?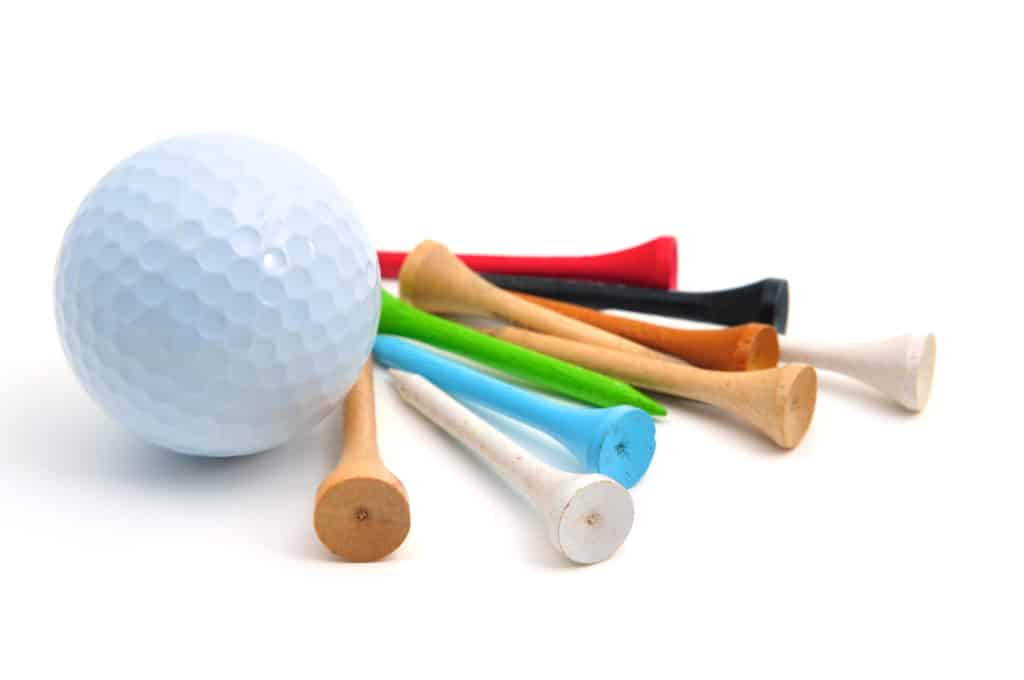 Since a golf simulator may seem a little bit more involved then a simple back yard hitting net, you may be wondering what handicap level these are designed for.
The truth is a golf simulator is built for all handicaps; it has nothing to do with how good you are and more about how much you love the game.
If you are working on getting better or you can't bear to stay away from golf, the golf simulator is a great solution.
Does A Golf Simulator Fit In A Basement?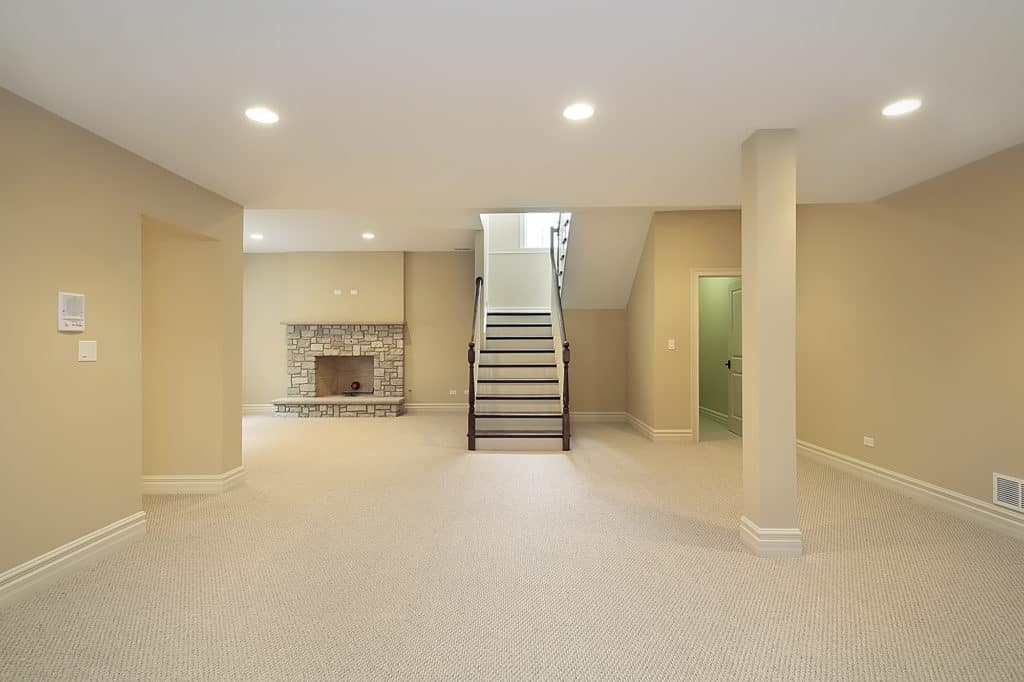 A basement is an ideal place to put a golf simulator.
Most people have some unused space that they can clear out and start converting it into a little golf paradise.
The problem that you may run into when working with a basement simulator is the clearance.
Older homes do not always have full-size ceilings in the basement.
Some people have had luck setting up in a guest bedroom or even the garage.
Having a golf simulator can help not just between rounds at the course but if you live in a climate with an offseason as well.
Conclusion
You will probably find that, like most people, the clearance is going to be the hardest obstacle when choosing a spot for a golf simulator.
Try to get something with at least nine feet of space.
This amount of room should accommodate most golfers of average height.
If you are a very tall person with a wide swing, you are going to need high ceilings to avoid doing damage to your home, your golf club, and yourself!