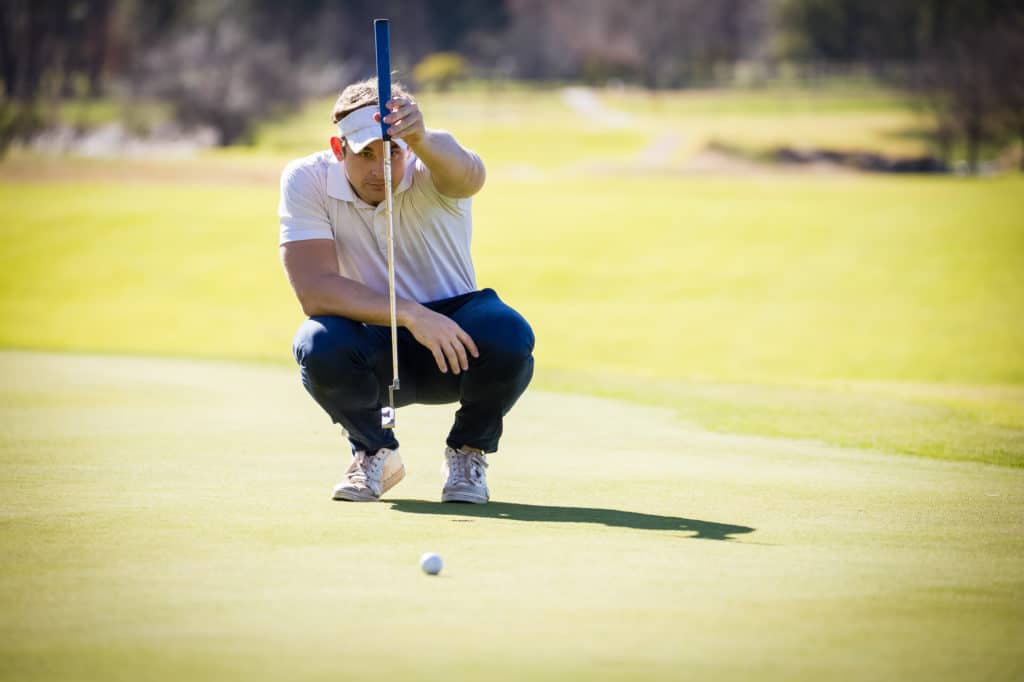 A center shafted putter is designed to give a player the ultimate stability at impact.
If you ever feel your putter waiver or turn when you strike the ball, you may want to try a center shafted putter.
When you put the shaft in the center of the head, it helps you to hold it in place and keep it connected at impact.
We went ahead and put together some reviews of the top 15 best center shafted putters on the market.
Some of these are brand new releases, and others are a few years old.
Putter technology does not change quite as fast as driver or iron technology will.
There is sure to be a putter on this list that will work for your game.

Top 15 Best Center Shafted Putters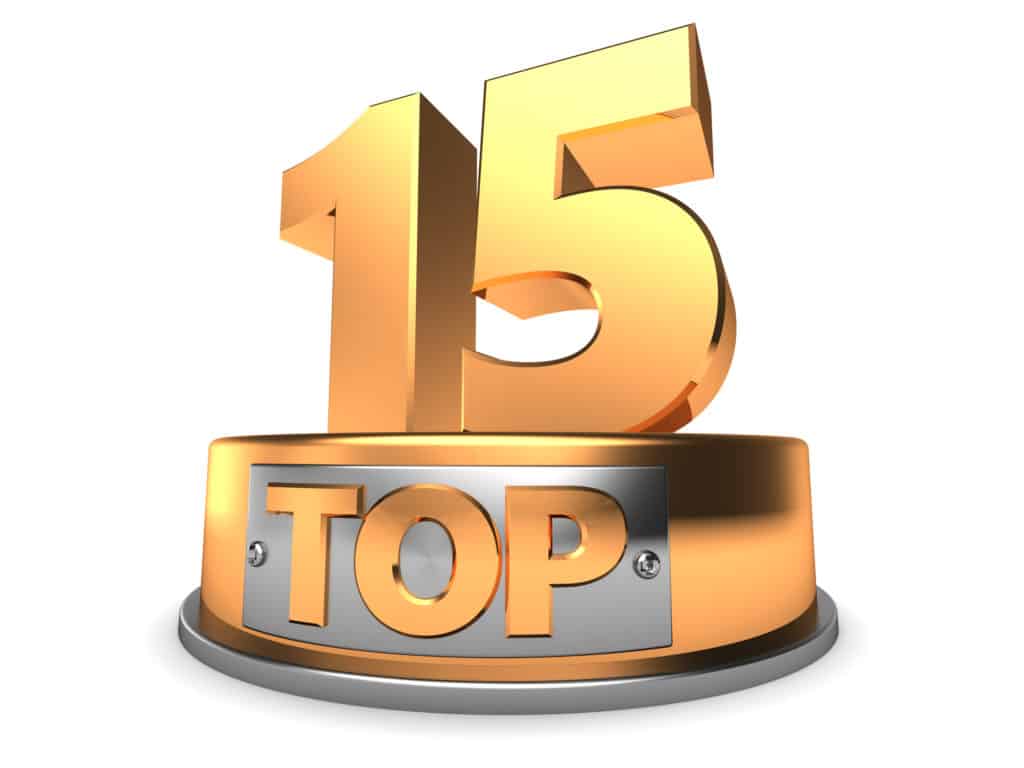 1. TaylorMade Truss Center Shaft Putter
Most people look for a center shafted putter because of the stability that it provides.
You are not going to find a more stable putter than the TaylorMade Truss.
The Truss is built from the idea that just like in building and construction, two connection points are better than one.
The Truss is not a classic looking putter, and it will be more of modern design.
You know how much we love adjustability when it comes to golf clubs.
It can be hard to find an adjustable putter; the Truss has adjustable sole weights.
By moving the weights around, you can personalize the center of gravity and the head weight that feels best for your putting stroke.
This type of technology and personalization in putters is new.
The TaylorMade Truss has a Cobal Blue PureRoll Insert.
Some people like putters without an insert, but if you do like the insert, the Cobalt Blue has excellent sound, feel and roll.
Potentially the most important thing about this center shafted design is stability.
To keep the Truss putter even more stable, TaylorMade put in a 120-gram shaft designed for less deflection.
If you like to keep things reliable and consistent while on the putting green, the TaylorMade Truss is for you.
Pros
Modern design
Very stable at impact
Moveable weights
Cons
2. Cleveland Golf 2019 Huntington Beach SOFT Putter #11 Center Shaft
The Cleveland Huntington Beach Putters were built with the idea of providing incredibly soft feel even on mis-hit.
The diamond CNC milling pattern used on the face of this putter helps to give the ball a very true roll.
Another reason we love Huntington Beach putters is their pricing.
These putters were released at an affordable price, and they only dropped from there.
The center of gravity on Huntington Beach is not moveable, but instead, it is strategically located to provide solid feel and stability.
The Cleveland Huntington Beach Soft putters come in a variety of styles, but the #11 is the only center shafted version that they offer.
The overall head style is a bit of a modern mallet design that will be great for the player looking for speed and distance control.
Pros
Good pricing
Very soft feel
Stable putter
Cons
No insert for players that like an insert
3. Odyssey Stroke Lab Versa Putter
The Odyssey Stroke Lab Versa Putter is a unique design with high-end technology.
The entire Stroke Lab series of putters has brought an enormous change to the world of golf.
For the first time in history, a company started focusing on the shaft in the golf putter and not just the clubhead.
The shaft in the Versa putter is both graphite and steel.
By doing this, they were able to save about 40 grams of weight that could be relocated.
The weight was then relocated into the grip and the club head of the putter.
This weight distribution and change led to a stiffer and more stable putter.
When you add to that, a center shafted design makes this putter a very consistent machine.
One of the essential things for any golfer when it comes to putting is the ability to repeat your stroke consistently.
That is precisely what Odyssey had in mind when they built this putter.
They wanted to create a club that you could use over and over again to repeat the same stroke.
The Stroke Lab Versa has a face insert that has new micro hinges embedded across the face.
These micro hinges help promote and smooth roll and incredible control when it comes to distance.
This is an expensive putter, but it's going to remain in your golf bag for many years and continually perform to a very high level.
Pros
Top of the line shaft technology
Great feel in the face insert
Very stable at impact
Cons
Expensive
Very much about feel, higher handicap putters may not benefit from it
4. Ray Cook Golf- Silver Ray SR400 Putter
For you bargain shoppers that have been hanging with us until we got to the affordable putters, we have arrived.
The Ray Cook Golf Silver Ray SR400 is a very low priced center shafted golf putter.
This putter is perfect for the beginner or high handicapper that wants to give a center shafted putter a try.
The clubhead on the Silver Ray is slightly weighted to help you have some better feel.
We will admit that for the lower handicap player, this putter will feel a bit too light.
The black design and great alignment lines will help you be incredibly accurate when using the Ray Cook SR400.
Although you may not know very much about this brand, there have been tour players that have won events using Ray Cook equipment.
Pros
Incredible price
Easy alignment
Cons
Feels a bit light
Not as high quality of a face insert as the top of the line putters
5. Odyssey 2018 Black and Chrome O-Works Putters
The Odyssey Black and Chome O Works Putter is a bit older than the Stroke Lab Putters that we reviewed.
Since they are not as new in technology, their price is also a bit more affordable.
The Odyssey is and probably always will be a high-quality putter.
These are not clubs that you replace year after year; the Odyssey earns a spot in the bag for a very long time.
The O Works was a great line of putters with a sleek black finish and tons of models to choose from.
The center shafted model is the #2M CS.
The insert inside this putter has the same micro hinge technology that the newer putters still carry.
If you want a proven tour putter for much less than the original asking price, the O Works putters are a great place to look.
Pros
Sleek tour-proven black finish
The micro hinge face insert
Many different models to choose from
Cons
Not the newest technology
6. Bettinardi Golf 2018-2019 Inovai 5.0 Center Shaft Putter
The Bettinardi putters are premium golf putters that are usually geared toward the lower handicap player.
These putters go through a rigorous manufacturing process, and they are all made in the USA.
The Inovai 5.0 is milled from military-grade aluminum and stainless steel.
The idea of combining the two medals helps to achieve a higher moment of inertia.
If you are a player who likes a very simplistic straight back, straight through putting stroke, you will love this Bettinardi.
Another great benefit of the Bettinardi putters is the alignment features, they always have great lines, and they are designed to help you visualize.
You can get this putter with either the standard grip or a jumbo grip.
If you want even more stability with this center shafted putter, choose the jumbo grip.
Pros
Top of the line feel
Great for the lower handicap player
Suitable for simplistic putting strokes
Cons
High price
Premium model not for all golfers
7. Pinemeadow Golf Site 2 Putter, Right Hand
If you loved the look of the Odyssey Versa but not the price tag, you might want to consider the Pinemeadow Golf Site 2 Putter.
This is a simple mallet head design with a center shaft.
You will notice that this putter is a white and silver color, so it will not look quite the same as the Versa, but it has very similar characteristics.
The white on the Pinemeadow putter does give it some nice contrast when on the putting green, and it should help with alignment as well.
Pros
Very low price
Simple mallet head design
Cons
A little lightweight
Feel is not as great as higher-end models
8. ARGOLF Mallet Putter – Morgane – Right Hand – Center Shaft
No products found.
ARGolf is not a very well known brand, but they certainly know how to create a putter that stands out.
The ARGolf putter is made with aircraft aluminum, and it is a black putter design.
The Morgane has a slight offset to it and helps the golfer to square up the clubface at impact.
This putter will work for the beginner to the low handicap putter, but is probably best suited for the mid handicapper.
The milled grooves help you to get a much more consistent roll than other lower quality putters can provide.
If you have a pendulum-type putting swing that you want to continue to perfect, this putter will give you a lot of consistency.
If you don't want the center shafted putter, there are other models than the center shafted design.
However, we love this model for stability and clean lines.
Pros
High-quality design
Very sleek and modern look
Heavy putter head
Cons
Expensive
May be best suited for mid to low handicaps
9. 2020 Tour Edge Exotics Wingman Putter W/Headcover RH Center Shaft 33
The Tour Edge company makes two lines of golf clubs, one for the higher handicapper and one for the lower.
The Tour Edge Exotics golf clubs are built for the lower handicap player.
The Wingman Putter is a very high performing club that is about as modern looking as a putter can get.
We love the interchangeable weights that the Wingman features.
You can change between a 3, 8, and 15-gram weight to get the putter set up exactly as you want.
The face is what Tour Edge calls a Micro-Groove Face, and it gives you a soft and consistent feel with each putt.
Many of the center shafted putters that we have reviewed have been best suited for the pendulum type putting stroke.
The Wingman will appeal to those that have more of an arc in their stroke.
Pros
Modern design
Sleek black look
Designed for the lower handicap player
Cons
Expensive
Not great if your stroke is straight back and straight through
10. 2020 Evnroll ER5CS Hatchback Putter RH Center Shaft 33 Gravity Red
No products found.
Evnroll is a company that takes putters and putter fitting quite seriously.
If you think that your putter is right for you just as it comes off the shelf, Evnroll will disagree.
These guys get very involved in putter fitting and making sure that your putter matches your stroke exactly.
The Hatchback Putter is going to slightly resemble the new TaylorMade Truss that we introduced you to as our top center shafted putter.
If you are looking for the ultimate feel and you don't mind paying for it, you will love this putter.
The face is designed to have a perfect ball interaction, so you get no jump and no stray from your intended line.
If you want a smooth roll, it does make sense to go with the Evnroll putter.
Pros
A very true and reliable roll
Nice weighting
Cons
Priced high
Putter face is a bit higher than some people like
More for the lower handicap players
11. TaylorMade Golf Tour Preferred Red Collection Ardmore #7 Center Offset Super Stroke
If you haven't already picked up on it, the trend for putters today is to be black in color.
A few years ago, TaylorMade introduced an entire line of red putters.
The Ardmore series did quite well for TaylorMade.
They were a tour-level collection, and Ardmore #7 is the center shafted design.
This is a very low profile and a sleek design with great alignment lines.
The center shafted design of this putter gives it some excellent stability as well.
There is an adjustable sole weight to give yourself an even more personalized fit as well.
We love how flat this design is, the only real issue with the putter overall is that you must be ok with it being red.
Pros
Clean design
Easy to manage distance and direction
Good alignment lines
Cons
The red color is not for everyone
Several-year-old technology but still priced a bit higher
12. Bell Putters Non/No Offset Golf Putter 360g
This Bell Putter is another lesser-known name, but there are plenty of great things about this club.
First of all, this is a simple and sleek design, and it is more of a blade style.
As you may have noticed, most of the center shafted designs tend to be mallets, so the option for a blade is excellent.
This is a CNC milled putter made in the United States, and it undoubtedly handcrafted and impressive.
The grip on the Bell Putter is a midsize grip which we love for keeping the hands a little bit out of play.
Lower handicap players will love this design and the weighting as well.
You will be able to feel the weight in the putter head of the Bell, and that is great for having control over distance.
This is a symmetrical and simple looking design that is certainly worth considering.
Pros
Blade style design harder to find in center shafted
CNC milled
Cons
Expensive
Not as sleek or modern looking
13. JAMESMILR TOPSPIN Mallet 3 Horseshoe Type
The JamesMilr Putter is called the Horseshoe, and it certainly looks like it should be called the Horseshoe.
If you were looking to get away from the standard putters that all your friends are using, this could be a great choice.
The face on the JamesMilr is a curved face design, which is not standard.
This putter is USGA conforming so you can use it in tournament play.
The thing that makes this putter stand out is what happens to the ball at impact.
The ball takes off without a hop or skid and just seems to travel on the line.
Yes, this is not a traditional style, and you will have to get used to looking at such a large putter head.
If you can get over how busy the clubhead is and the size of the putter, you may have some good results.
Pros
Very stable design
USGA Conforming
Curved face design
Cons
Strays a bit too far from the traditional putters for most people
Not the greatest feel
Not forgiving on a mis-hit
14. Tour Edge Backdraft GT+ OS-10 Golf Putter, Right Hand, 34-Inch, White
You may remember that we mentioned the Tour Edge company makes a line of putter for the lower handicapper and the higher handicapper.
This Tour Edge Backdraft is their higher handicapper putter.
One of the things we love most about this center shafted design is the price.
This is one of the more affordable putters on the market and could really help you to improve your game for a low price.
Some people love the alignment technology on this golf club, and others don't.
It's a bit similar to the two ball design that was popular for so long.
We like the white contrasting color and the fact that this putter has a very high moment of inertia.
Pros
Easy to keep on line
Nice feel
Tremendous value
Cons
A little light
Not the best for the lower handicapper
Not as stable as other options available
15. Tour Sonic Pro Series 01 Golf Putter
No products found.
Last on our list is the Tour Sonic Pro Series 01 Golf Putter.
Although the pricing is excellent on this model, we do not feel as though the benefits are that strong for improving your golf game.
The alignment channels can help to make sure you are sending the ball towards the hole; however, the feel is just not great.
We found that even for a center shafted putter, it was hard to keep this Tour Sonic consistent at impact.
There are better choices out there if you think a center shafted design is for you.
This putter just has too much going on and does not do enough actually to benefit the golfer.
Pros
Cons
Very odd design and shape
Feel is not great
As you can see from our list, there are a lot of excellent center shafted putters available on the market.
Make sure you choose something that is the correct weight and length for you.
The center shafted putters work best for the straight back and straight through stroke.
The shaft being in the center helps you visualize sending that ball right towards the hole.