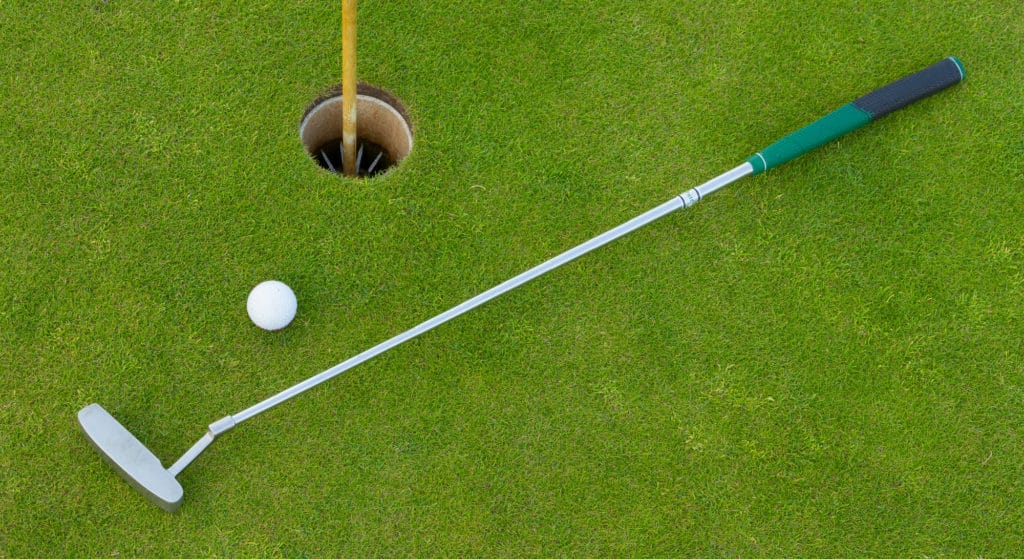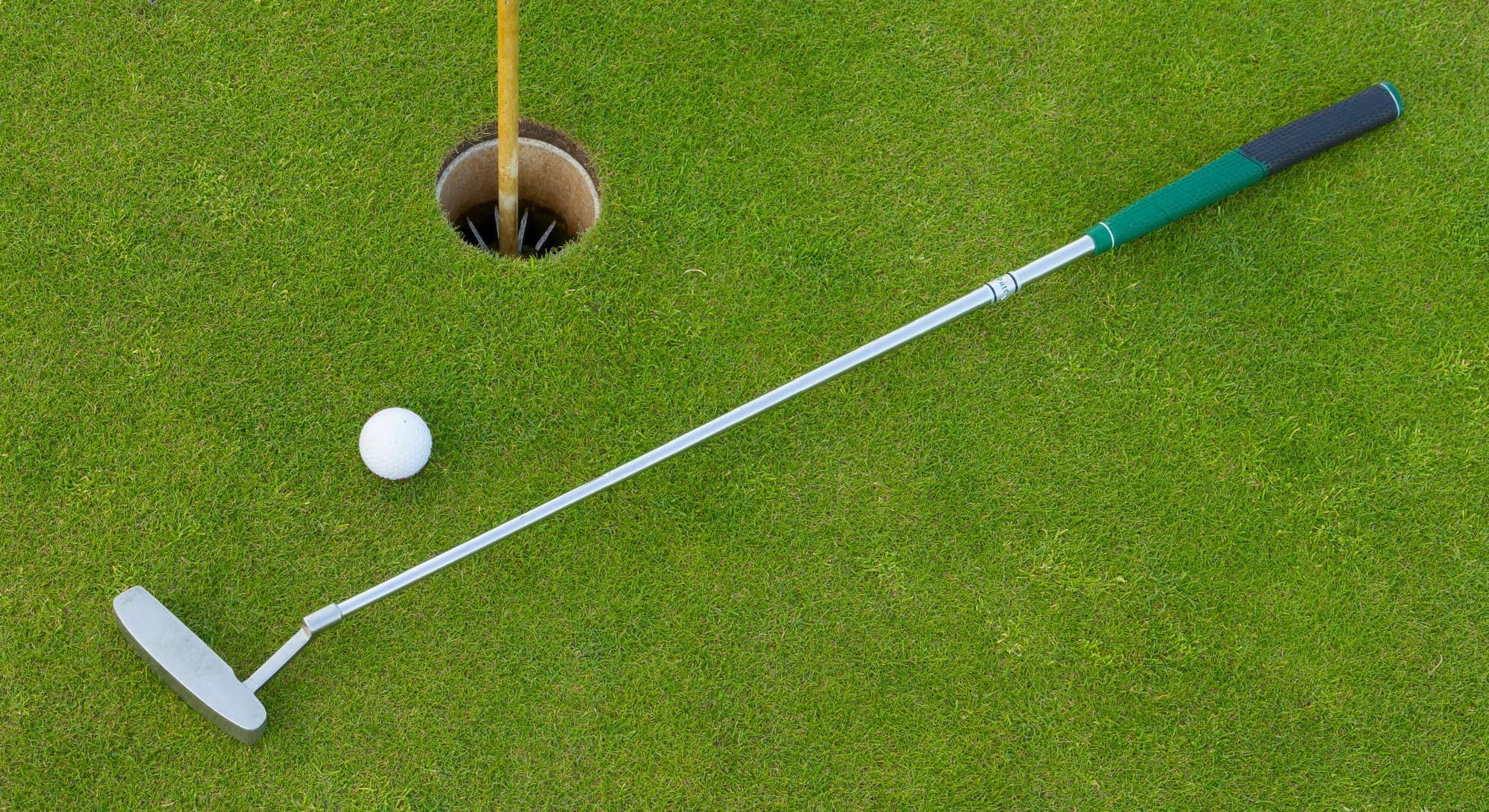 Everybody wants to see how far they can hit a driver.
People want to make sure that they get the best shaft, best loft, and best of everything to get that ball to go further.
Not enough people focus on the importance of fitting when it comes to putters.
Putters are an essential golf club in your bag.
Without a putter, you will not be able to get the ball in the hole.
A good day with a putter can be the difference between shooting 80 or 90.
One of the most important things about your putter is its length.
In this guide, we will help you figure out how to measure a putter, why it is essential, and what you can do with the measurements and lengths you determine.
Why Does Correct Putter Length Matter?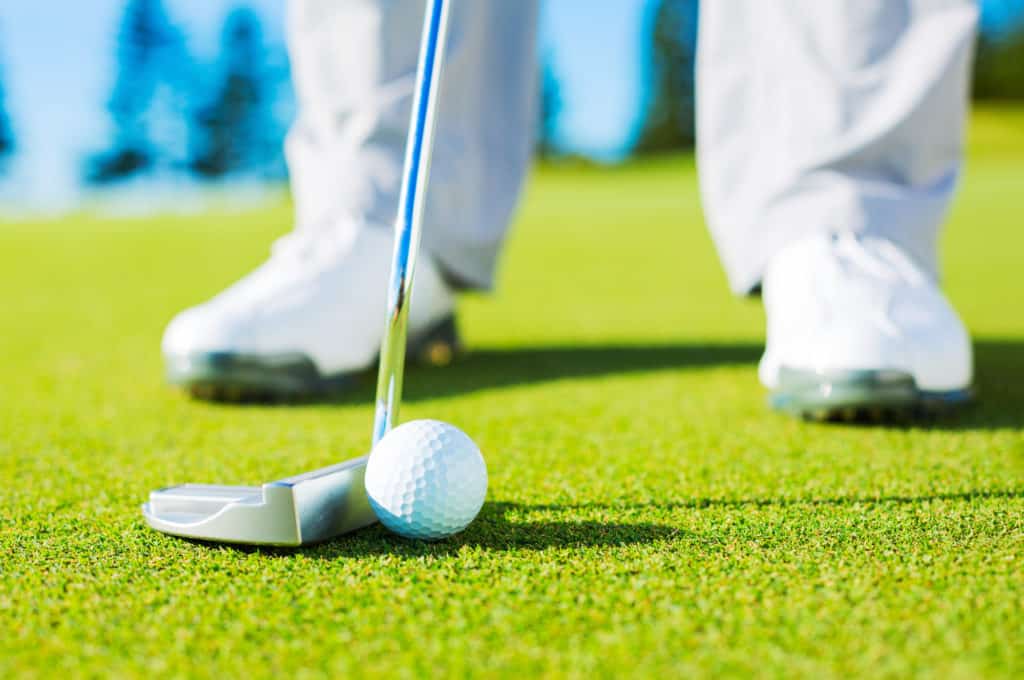 Before we get into how to measure the putter, lets first figure out what you will be looking for and why it matters.
There are three primary reasons that the length of your putter matters.
The first reason is that it will help your setup.
If your putter is not the right length for you, your setup will not be as good.
The second reason is that your stroke will be more consistent.
If a putter is a correct length, you will be more comfortable with it and have a much easier time repeating your stroke.
Repeating your putting stroke is very important to help develop the fundaments of being a great putter.
Lastly, using a putter that is the correct length for you will help you develop speed control.
Speed control is what you use to make sure you are hitting the ball the correct distance each time.
For excellent speed control, you need to have a high level of feel.
Feel is impossible with a putter that doesn't fit you properly.
Why Does Knowing How To Measure My Putter Matter?
You can see that putter length is essential, but why should this matter to you.
There are two fundamental reasons that this should make a difference to you.
The first reason is that a custom putter fitting can be expensive.
If you don't want to pay just to have someone tell you that you need a ½ inch taken off your putter, you can follow these steps and figure it out yourself.
The other reason you may want to know how to measure a putter is that you have a putter you love.
If you have a putter that you feel fits you perfectly, but you just want an upgrade, you need to know the length.
Of course, you could take the putter into a local manufacturer and have them measure for you and find another similar, or you can learn to do it yourself.
Measuring a putter is not nearly as difficult as determining proper length for your irons and other clubs.
This is a great place to start if you are considering becoming a club tinkerer.
Supplies Needed for Measuring the Length of a Putter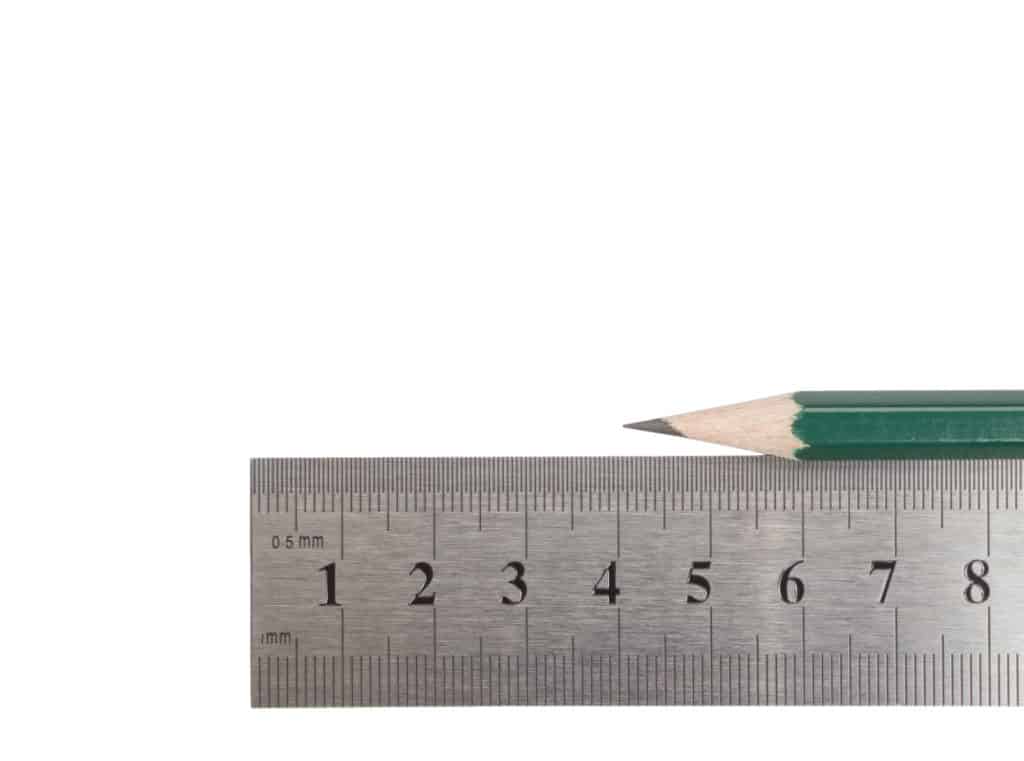 Before starting to measure, you need to make sure you have the correct supplies available.
To get consistent measurements and results, you will need a straight aluminum edge.
If you try and use a yardstick or a tape measure, you will get varying results.
An aluminum straight edge will sit properly when you are trying to determine the exact length.
You may not think that accuracy matters when measuring a putter, but you will soon see that it has a significant impact.
In addition to the aluminum straight edge ruler, you also need a flat, clean work surface.
If your work surface is not level or bumpy in any way, you will see varying results.
Try not to measure your putter while on the putting green.
Putting greens are uneven, and it will cause your measurements to be off.
Steps for Measuring a Putter Length Correctly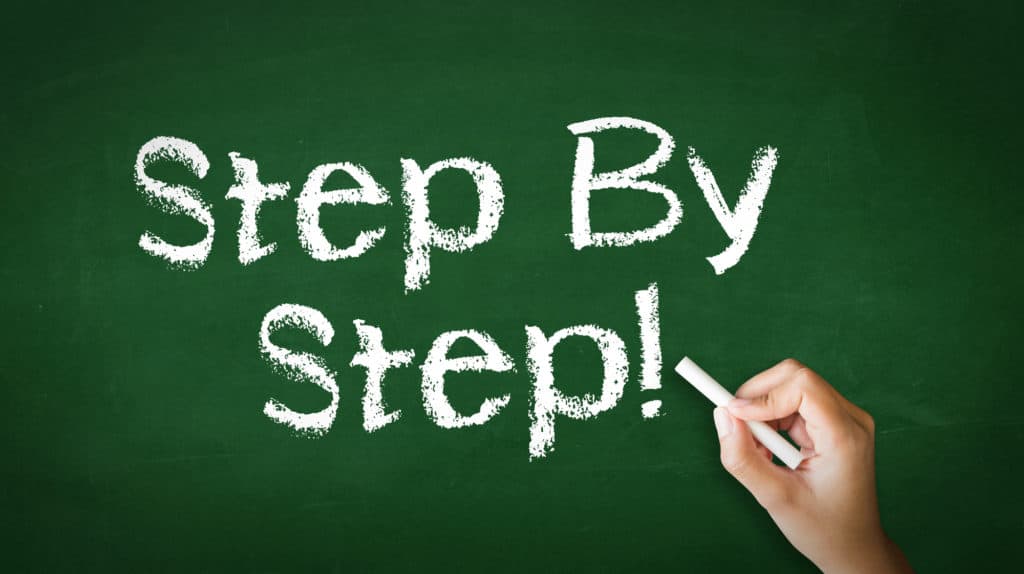 Now that you have your supplies in hand and a flat, clean work surface, you are ready to start measuring.
You must remember that a putter is built a little differently than the iron or a driver.
The shaft of your putter is not always installed directly into the heel of the club.
Putter shafts vary in location, and some are in the center of the head or somewhere between the center and the heel.
Keep this fact in mind as we start the measuring process.
Step 1
Hold your putter so that the center of it is flat on the work surface.
Do not hold your putter as you typically would when you putt.
Measuring the length of your putter has nothing to do with your current putting stroke.
So if your typical stance is to have the putter toe up in the air, just lay the putter on the surface, so the center is flat.
Step 2
Take your aluminum straight edge and place it in line with the center of your putter.
The bottom of your straight edge should be on the ground.
Make sure that you keep the measuring stick as close to the shaft as possible.
Line up the top of your putter grip with the aluminum straight edge.
You don't want the straight edge to stray too far from the shaft at any time in the measuring process.
The number at the top of the grip is the length of your putter.
How Long Are Standard Putters?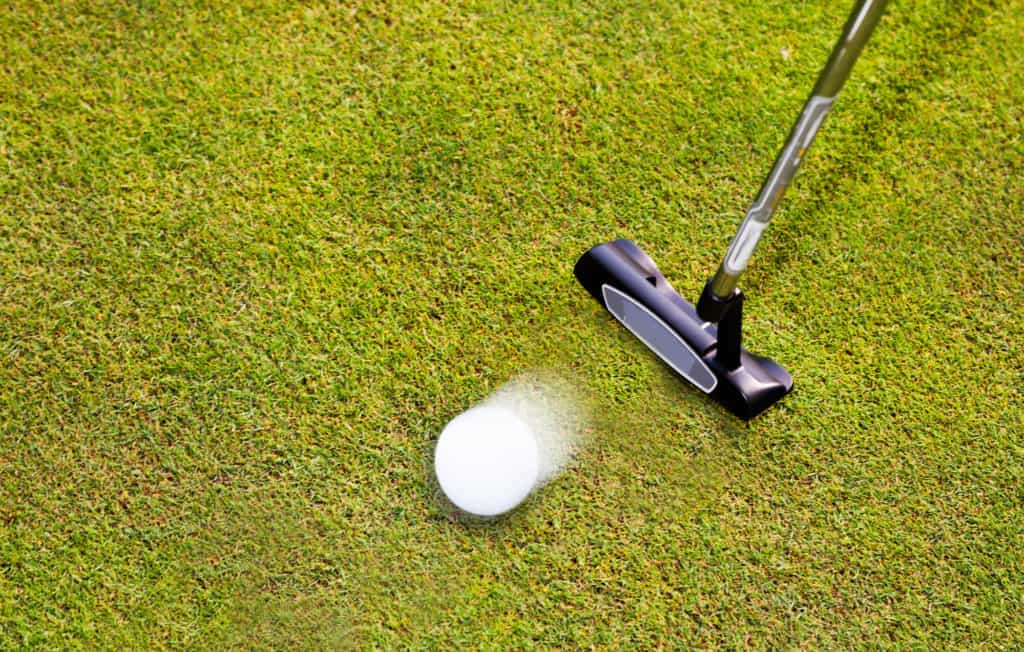 If this is the first time you are experimenting with measuring a putter, you may be curious if the measurement you got is even within the ballpark of standard putters.
The range for putter lengths varies considerably.
You may be surprised at the fact that putters can be anywhere from 32 to 52 inches.
The traditional stock putters are going to be 33-35 inches.
The very long putters are much less common.
Long putters are more about putting style and stroke than they are about player height.
When measuring your putter if you came up with a length of 35 1/8, you probably have a standard 35-inch putter.
Putter lengths do not usually come customized unless you order them that way.
What Length Are Putters Legally Allowed To Be?
If you measure your putter because you want to start tinkering with your clubs, there are a few things you should keep in mind.
The USGA is pretty lenient when it comes to putter length, but the one measurement you need to remember is 18 inches.
A putter must be no shorter than 18 inches.
While the thought of an 18-inch putter may have you smiling, many professionals believe that being closer to the ball helps your stroke.
All other golf clubs in the game of golf must stay shorter than 48 inches.
The USGA does not subject putters to this same rule.
If you like really long putter, you can have one!
What To Do With Your Measurements?
So now that you are a professional at measuring putters, how will you know that yours is the proper length for you?
There are a few ways to determine what putter length you need.
If you don't get your putter length set correctly, you will have trouble with consistency, distance control, and setup.
Here are the most important ways to tell if your putter is the correct length for you, or if you will need to make adjustments.

The Stance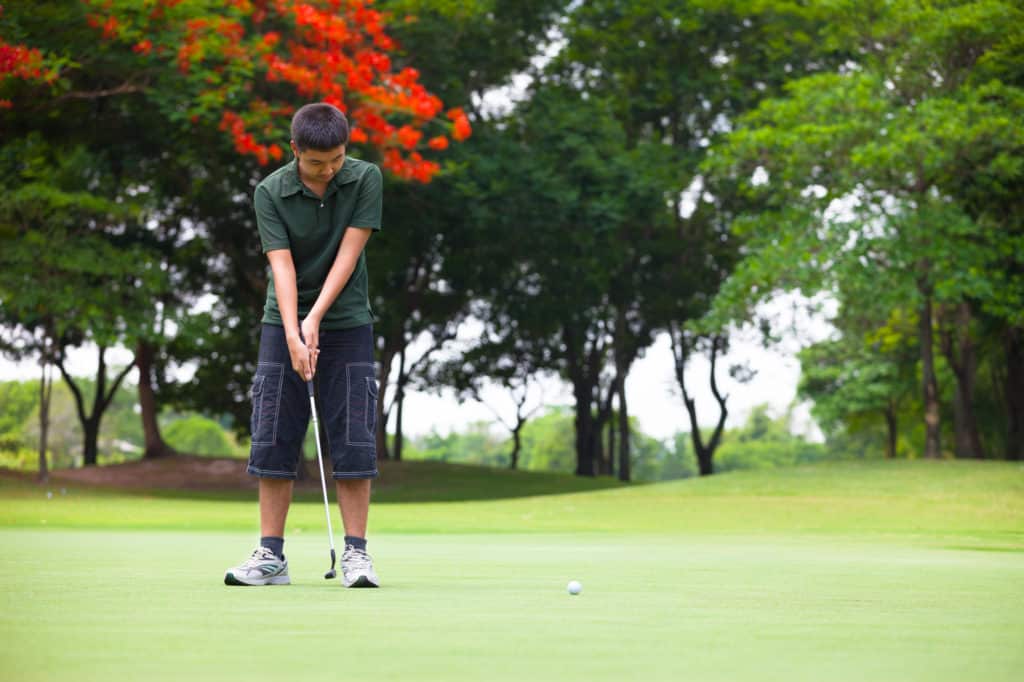 Take your typical stance when you step in to hit a putt.
Get your eyes lined up as you would if you were about to hit the golf ball.
Now have a friend (or you can do it yourself) drop the ball from your eyes directly down to the golf ball in play.
The ball that you drop should strike the ball that is on the ground.
This would indicate that your eyes are directly over the ball.
If your eyes are directly over the ball, it will allow your putting stroke to function like a pendulum.
Now, get yourself in the position that you can drop the ball and have the two balls collide.
If your putter is too short for you, then you will likely be very bent over.
Sometimes if you have to bend too much, it will restrict the putting stroke that you make, especially on longer putts.
If you are not able to bend over enough to get your eyes over the ball, or you are awkwardly standing too tall, then your putter is too long for you.
Another way of knowing that a putter is too long is if your hands go off the bottom of the grip when trying to get into this position.
Sometimes your putter may be just the right length for you, but other times you may have to make adjustments to the length.
The Putting Stroke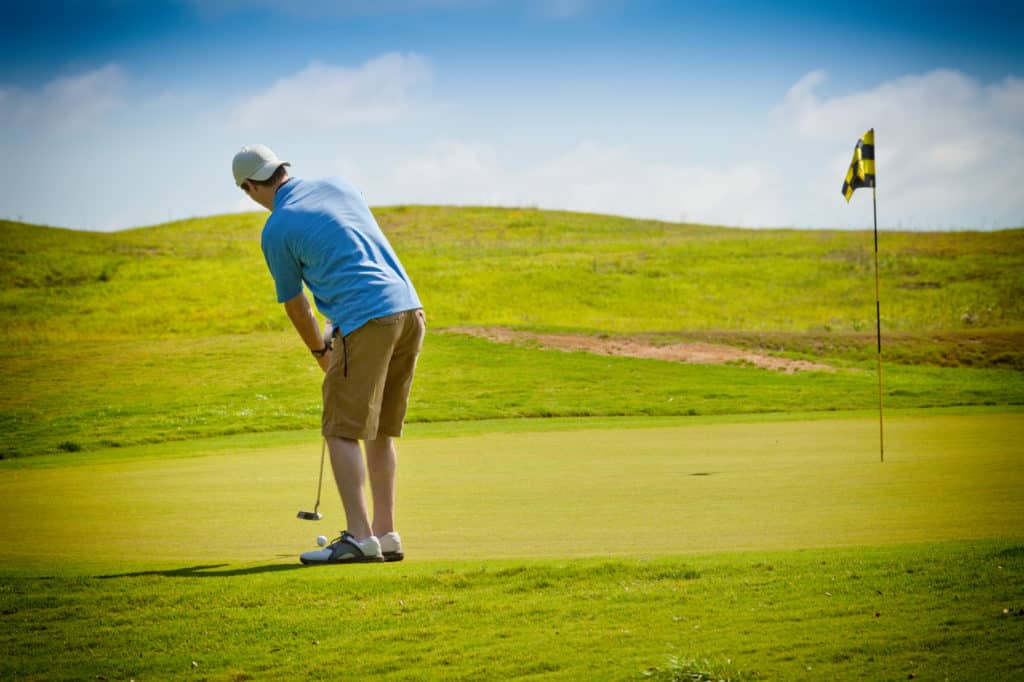 The type of putting stroke that you have could play into the length of the putter you choose.
Make sure that when you determine your putter needs to be shortened or lengthened that you also practice your putting stroke a few times.
If you like to make a large sweeping arc with your putter, you will need some putter length to do this.
The advice here is just to practice a few putts with a putter the length that you think you need before you cut your own.
Golfer Height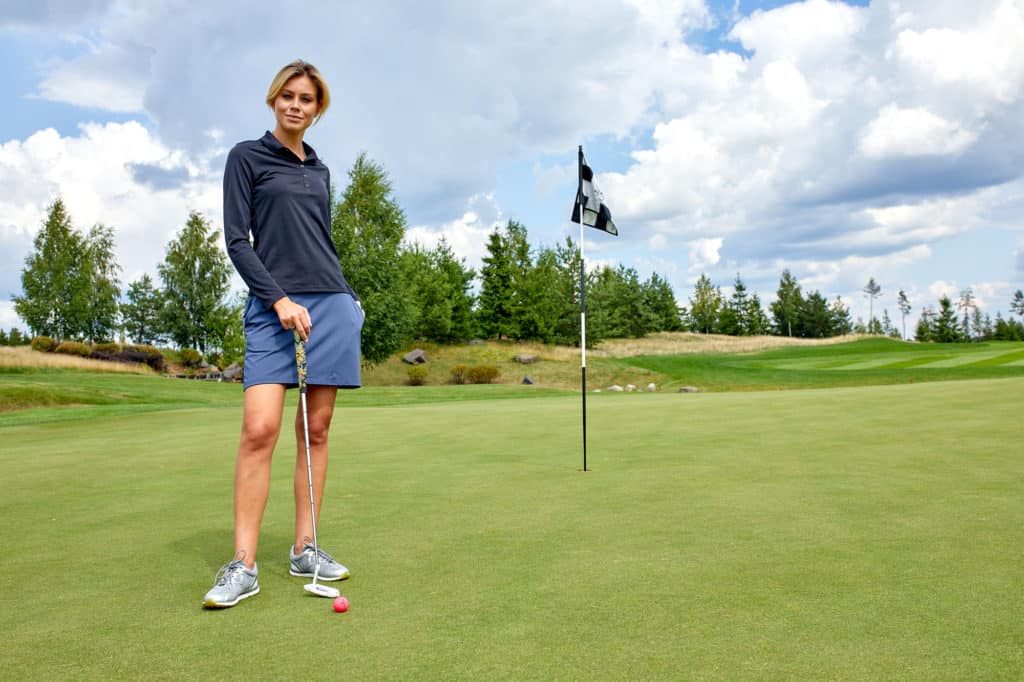 Potentially the most critical factor in determining correct putter length is the player height.
You must remember that just because you see a putter on a shelf, does not mean it is the right length for you.
Golf manufacturers continue to put out putters that are typically around 35 inches in length.
A 35-inch putter is standard for a golfer that is 5'10" or taller.
Not all players are this height, and if you are shorter than this, you should consider a shorter putter.
Most people don't realize that the average putter height on the PGA tour is 33.5 inches.
Golfers think that because it is 35 inches and it's on the shelf available for purchase, it must be the right length.
The majority of golfers are playing with a golf putter that is too long for them.
Player height will not be the ultimate determining factor because, as we mentioned, stroke style and stance and setup matter as well.
Also, golfers have different arm lengths, and that will play into the decision as well.
The reason that the PGA tour players are using the shorter putters is that they understand the importance of getting your eyes over the ball at impact.
Without this, your alignment and stroke will continually be off.
What About Women's Golf Putters and Length?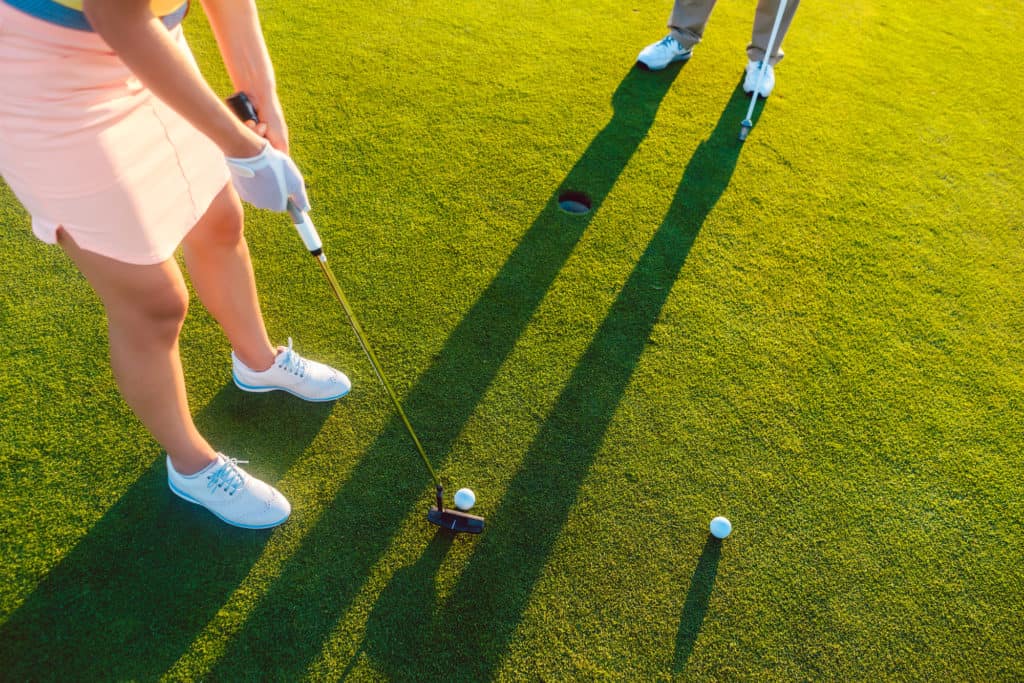 We talked about the standard putter length sizes being 33, 34, and 35 inches.
For women, most of the putters are 33 and 34 inches.
There are not very large technical differences between a man and a women's putter.
The problem with the current putters on the market for women is that most are too long.
Custom fitters realize that most women need a putter that is closer to 31 or 32 inches.
If you are a female golfer that has just never felt comfortable standing over a putt, you may want to measure your putter and see how long it is.
If your putter does need a length correction, you can have one done at a local shop for a very fair price.
Especially if you just need your putter cut down, it will likely cost you a few dollars in labor and the price of a new grip.
Certainly, this is worth the money if it shaves a few shots off your scores.
Final Thoughts
The actual task of measuring a putter is not a difficult one.
You should be able to have this project completed in a matter of a few minutes.
The part that can be a bit difficult is making sure you narrow in on the correct putter length for your game.
If you follow the tips that we gave about what you should feel and what you should look like when setting up, you should be able to find the perfect putter length to put in your golf cart.