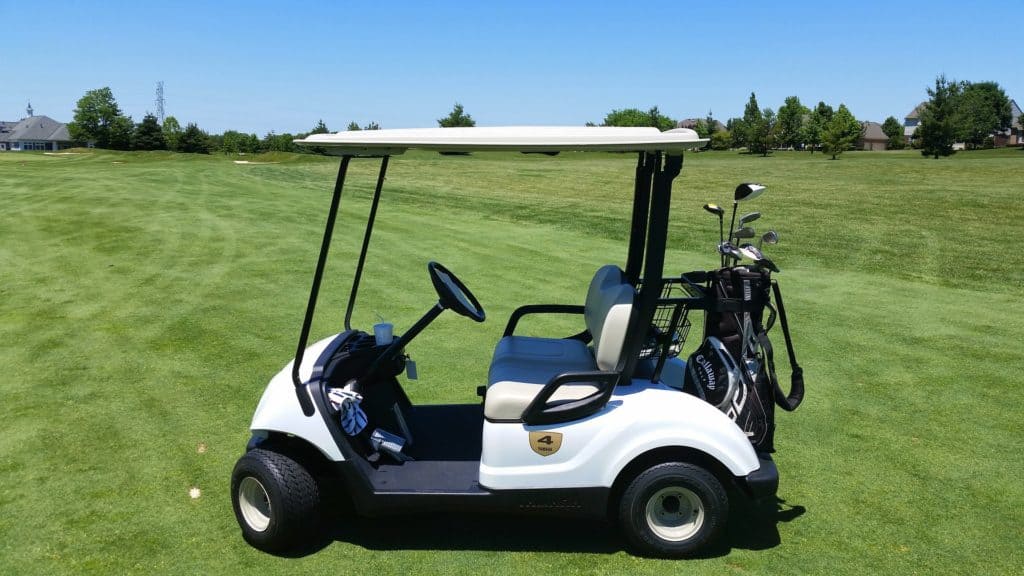 A high-quality golf cart should have little difficulty riding and shouldn't bounce, jerk, or wobble.
However, there are some issues that may cause your cart to ride awkwardly.
These concerns must be properly managed to ensure that your cart remains strong and capable.
Thankfully, there are only a handful of issues that may occur and some of them can be handled by amateur cart owners.
These simple fixes are possible on all cart models, though the exact process may vary based on your brand.

Golf Cart Jerks, Wobbles, Bounces When Taking Off (Reasons & Fixes)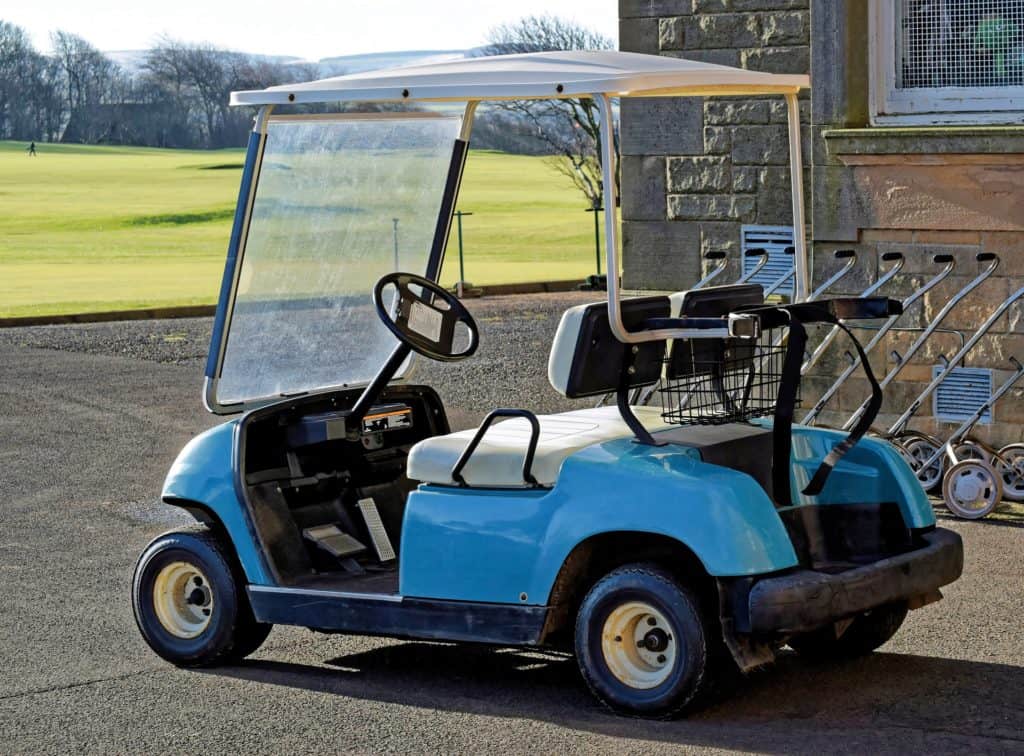 Golf Cart Bouncing Front End
A bouncing front end can be very frustrating and difficult to tolerate when driving your cart.
And since it is one of the most common of these issues, it is one that you need to know how to diagnose and manage to ensure that your cart doesn't run into any more troubles.
But how do you know if your cart is bouncing just in the front and not throughout the cart?
By doing this simple test:
Drive your cart on a straight and flat path that has a few bumps and curves
Pay attention to how your car reacts when you take turns
Do the front tires feel like they're about to fall off? That's a front-end problem
If your cart shakes before you take a turn, it's another type of bouncing problem
Typically, problems like this occur if your tires are non-branded or poorly installed.
If the tires are not all at the same height, you'll experience bouncing as you drive.
However, you may also have poor beads in the tires that aren't completely seated.
If you do, the tires are more likely to bounce and may struggle to run smoothly and effectively on the road or in turns.
Managing this problem is thankfully quite easily and shouldn't be something that you can't handle.
Start by deflating your front tires and paying attention to the side walls.
As your tire deflates, you're going to want to wait until they get about half-way deflated.
At this point, your beads will typically seat themselves or reset their position and make your cart stop bouncing when you drive.
Inflate your tires and test – if the front end still bounces, call a professional.
Bouncing Golf Cart Front Tires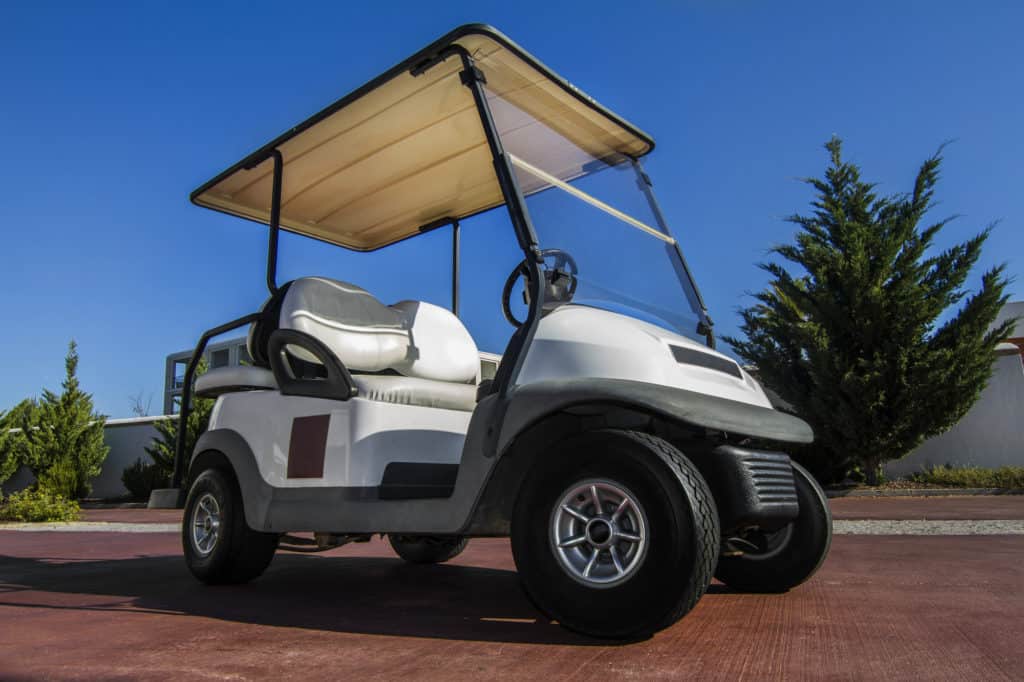 Here's an interesting situation that sometimes develops on some carts – bouncing front tires.
This issue is different than a bouncing front end because you'll see the tires popping up and down without experiencing full movement on the cart body.
This issue is one that can make your cart run awkwardly and may cause damage to the frame if you don't properly manage it.
The causes of this problem are diverse.
For example, tires may end up going out of shape if the cart sits for too long.
Your cart is meant to be driven and the weight of just sitting can cause the tires to go out of shape.
Thankfully, you can usually fix this problem by driving your cart for a few miles in bouncy conditions.
After awhile, the tires warm up and go back to their normal shape and size.
If you don't want to drive your car on out-of-shape wheels – an understandable concern – you may want to jack up the cart instead and run the wheels for awhile.
This may help to heat them up and return to them to their normal shape and size.
You can also run your hands across the surface of the tires and spin them by hand to see if there are any obvious problems with the shape.
When you don't notice a shape issue or if riding the cart does not help stop the bouncing, you may have a problem with your suspension in the cart.
In this situation, you cannot ride your cart for too long but should, instead, take it to a mechanic.
These experts will figure out what is wrong and get your cart back in proper working order ASAP.
Golf Cart Rear Rear End Bounces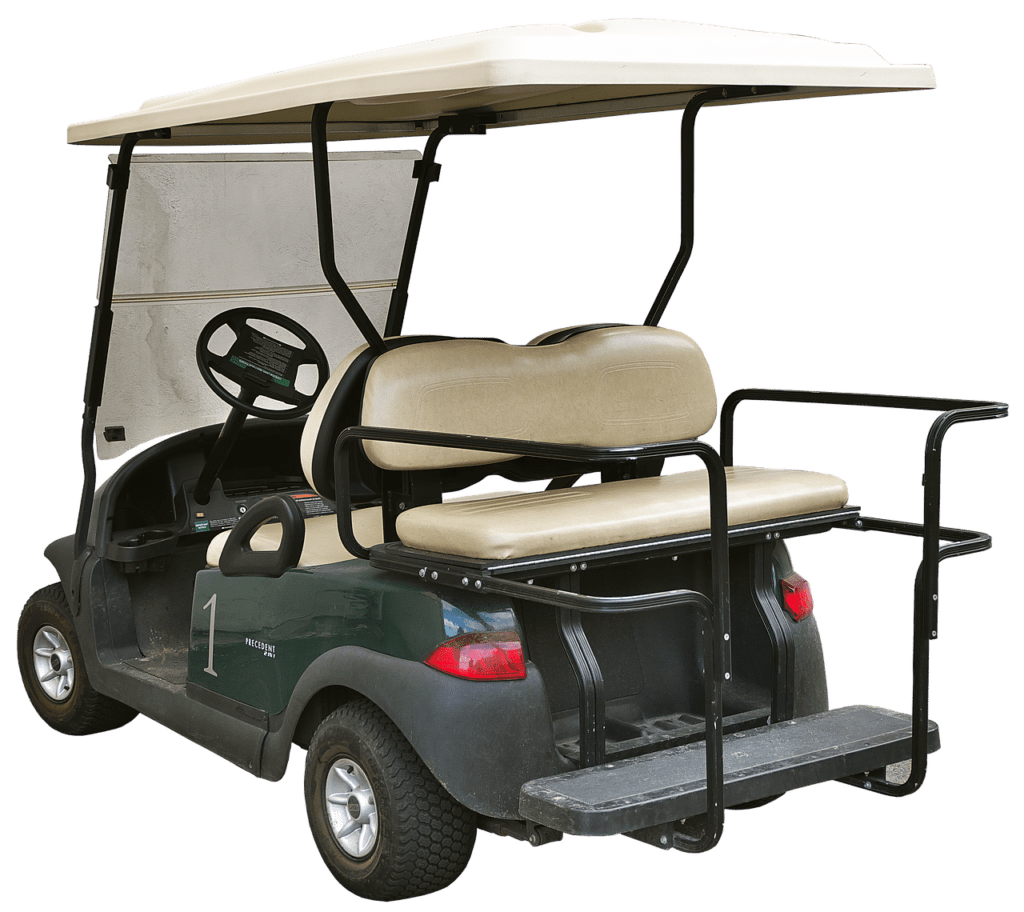 Although the front end of the cart is the side that's most likely to have bounce issues, the rear end can also suffer from this problem unexpectedly.
You'll notice that this problem is the case with you because you won't only shake as you turn corners but may bounce no matter how you are driving.
And this bouncing can become quite distracting and uncomfortable the longer you drive.
Typically, this problem is caused by a handful of common issues.
For example, bad tires in the rear – such as those that have worn down or lost their grip – may cause this issue.
You may also experience this problem if the wheel on the tire is bent and causes uneven driving.
As a result, there are a few steps that you need to take to ensure that you get the best results for your cart.
Start by replacing the tires in the rear with a front-end tire to see if the cart still bounces.
Replace just one tire at first and drive your cart.
Does it still bounce?
If so, replace the other tire with a front-end tire.
At this point, if a tire is to blame, your cart shouldn't bounce anymore.
But what if your cart is still bouncing?
There's a good chance that your wheel is bent and is to blame here.
If you feel comfortable replacing the wheels on your cart, remove them now and check for any problems.
You should see pretty obvious bends or faults in the surface of the wheel.
But if you don't feel like you can handle this step on your own, contact a professional to handle it for you.
Doing so can save you a lot of time and energy and ensure that you get it done right.
Golf Cart Accelerating/Taking Off Causes the Cart to Jerk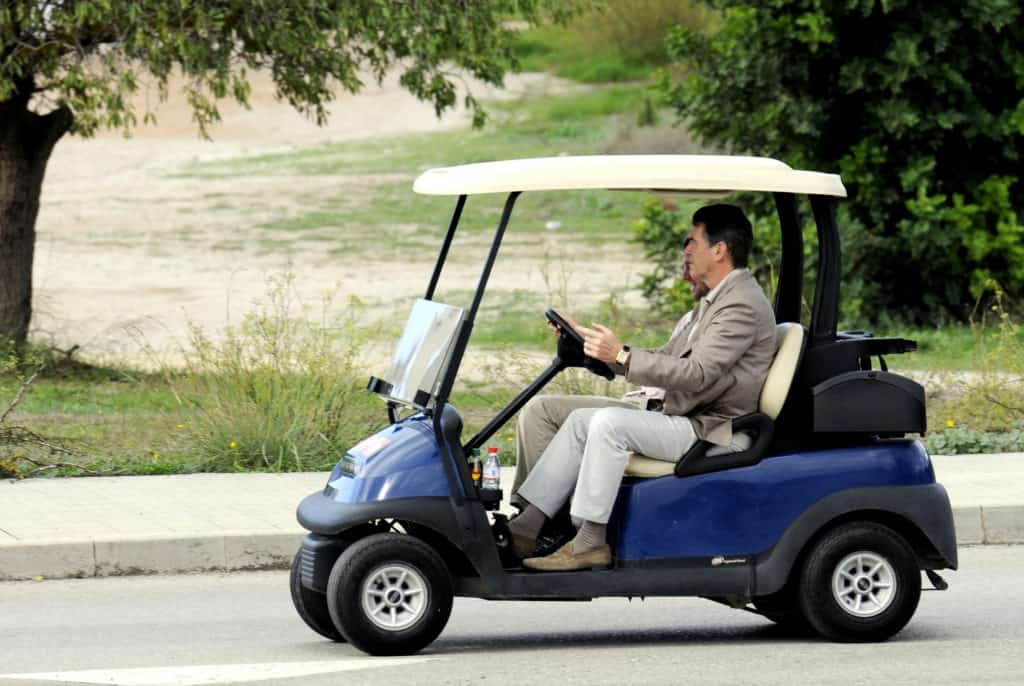 A bouncing golf cart is one thing but one that jerks is a whole different issue.
Jerking carts are very frustrating because they may ride smoothly for awhile and then suddenly start driving erratically or struggling to ride properly.
This issue may be most common when your cart is accelerating or taking off and may either get worse as you drive or smooth out as your ride continues.
Again, there are a few different underlying issues that could be causing a cart to jerk as it accelerates.
The most common problem here is likely an issue with the batteries.
If the battery is low on power or doesn't distribute power properly, then the cart may jerk as it accelerates.
Thankfully, replacing the battery should be a good enough fix to manage this problem without difficulty.
But if this repair doesn't fix the cart or cause it to run smoothly, there's a good chance that you have a problem with an adaptor or a resistor on the cart.
You may also have problems with the clutch or what is known as the Motor Controller Output Regulator or MCOR.
This latter assembly is underneath the pedal and is usually easy to access by removing the floor mat on your cart.
The challenge here is knowing which of these problems are to blame and figuring out how to fix them on your own.
With issues as severe as these, we usually suggest that you get help from a mechanic.
Messing up the clutch or the MCOR is going to cause your cart to become even more jerky.
However, if you feel comfortable replacing adaptors or resistors, try it out to see if you can't save yourself some cash.
Jerking Electric Golf Cart When Starting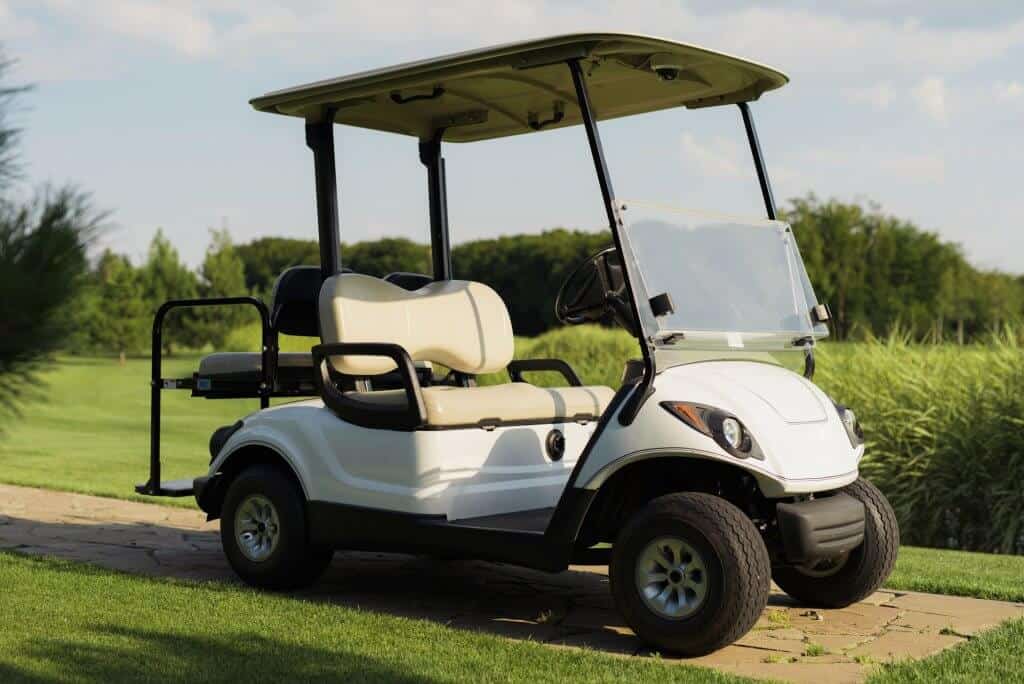 Jerking electric golf carts are probably more common than a jerking gas model.
That's because most "jerking" concerns are caused by battery issues or a poor flow of electricity from the battery to the cart.
Typically, you'll start to notice this problem when your cart needs to charge up.
Thankfully, charging it back up to a full power level should be all that you need to do in this situation.
However, there is also a chance that water damage – a problem that is quite severe on electric carts – has occurred.
When water gets into the various components of your cart – such as under the driver's side floor mat and into the sensor and micro-switch in these spots – that your cart is going to jerk when it rides and may struggle to operate smoothly when starting or accelerating.
If your cart just experienced a rainstorm, this issue is the likely reason it is jerking.
Let it dry out in a sealed environment – like a garage – for a few days before running it again.
In many cases, this should handle the problem with no difficulty.
However, there is also a chance that other issues could develop that make your cart run poorly and require repairs that you may not be able to perform.
For example, the Inductive Throttle Sensor may go out of alignment and require an ohmmeter to check its level.
Your cart's manual will let you know how much output you should get from this part on your cart.
If you don't get this level, you can adjust the output using the components on the ITS.
Typically, these are designed to be easy to use and understand – if not, visit a mechanic.
Electric Golf Cart Jerks But Won't Move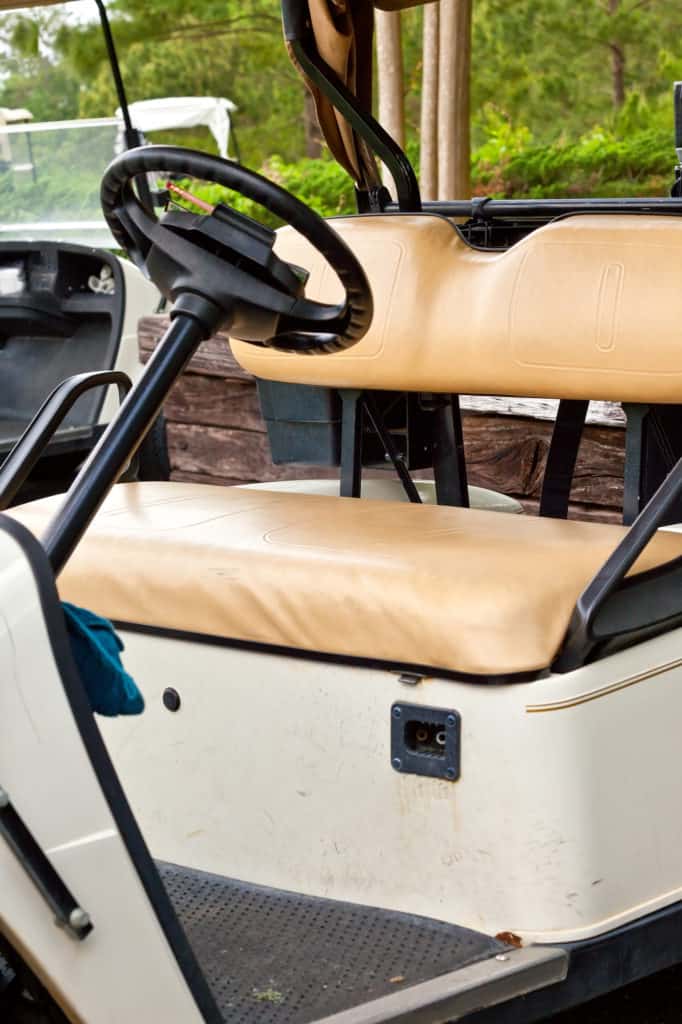 Some golf cart problems are by no means that common but can still be quite frustrating if they aren't properly managed.
Case in point – a jerking electrical cart that won't move.
This situation is very obvious when it happens – your cart will jerk back and forth when you press the accelerator but won't move beyond that.
The reasons behind this issue are somewhat complex.
First of all, your solenoid may not be operating properly.
For example, it may not be giving out the proper voltage and causing your cart to jerk but refuse to move otherwise.
You usually need to replace your golf cart's solenoid if this is the problem because no other types of repairs can really manage a solenoid that refuses to operate and which needs repairs performed on it.
You can test your solenoid by attaching a jumper wire to the yellow wire on this part.
Then, you can attach the other end to the motor controller B-ve terminal.
Try starting the vehicle to move it.
If the cart moves when you have this set up, the problem is likely with your onboard computer.
Most modern electric golf carts have some type of onboard computer to help manage these issues.
Unfortunately, there isn't much you can do in this situation but replace the computer with a new one.
If you know how to read your wiring diagram for the cart and feel comfortable replacing it, carefully detach the wires on the current computer, remove it from the cart, and replace and rewire the new computer.
If you don't feel comfortable, as always, talk to a mechanic.
Jerking Gas Golf Cart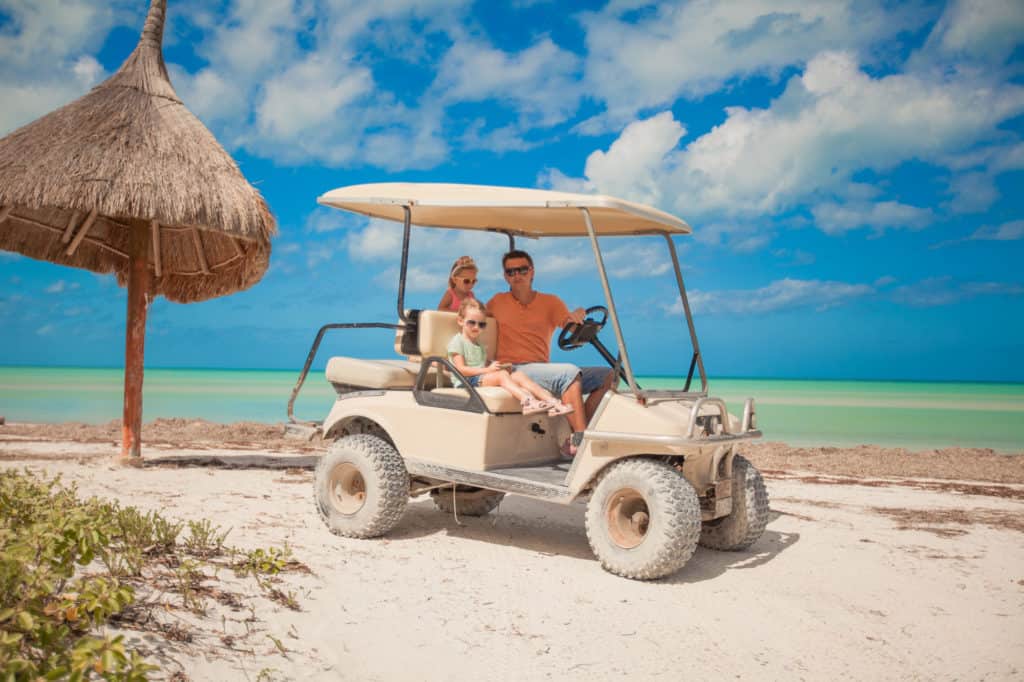 Gas golf carts have a similar design to electric carts but have some differences.
For example, gas carts obviously possess a gasoline-powered engine that is wired up in different ways and which runs in slightly different ways.
Typically, a gas golf cart that jerks when it starts is down to a number of different problems, the most common of which is probably clutch concerns.
The clutch is critical for your gas cart because it regulates how much gas the engine uses as it operates.
When the clutch malfunctions, it may send uneven or improperly balanced levels of gasoline to the engine as it runs.
This issue will cause the cart to "jerk" when you start it up and may cause it to even jerk when it runs, a problem that can be very upsetting to the stomach of many riders.
Typically, this problem is related to the primary clutch weights.
When these weights get broken, the clutch does not shift properly and may use an inappropriate amount of gas.
Replacing these weights requires the help of a professional, though, so make sure to reach out to an expert who you can trust to take over for you when your clutch weights ends up failing on you in this way.
However, there is a clutch problem that you may be able to handle without the help of professionals – dirty clutches.
This concern develops when dirt or dust particles get into the clutch and affect its operation.
These particles will cause the clutch to run poorly and may cause that jerky feeling that you get whenever you operate your cart for too long with a dirty clutch.
Remove your clutch and clean it with water to ensure that it doesn't run poorly.
And make sure to hand-dry it to avoid rust.
Wobbly Golf Cart Whenever You Drive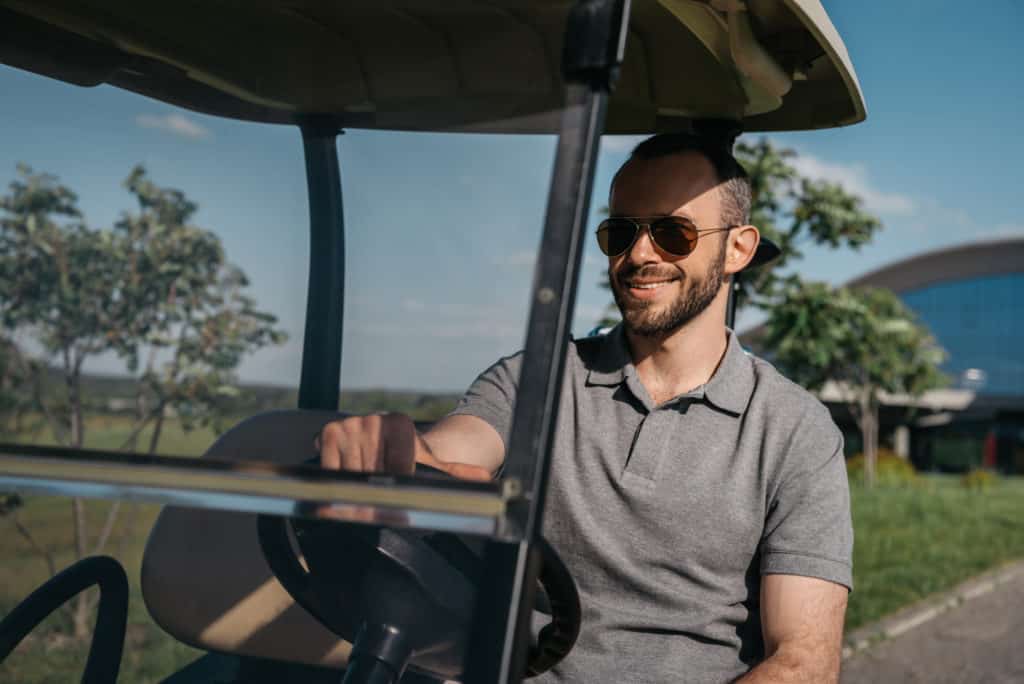 Most of the issues mentioned previously are specific to cart problems when your cart is starting or accelerating.
However, there are times when your cart may "wobble" a bit as you ride.
This wobble will be very obvious and prevalent as you ride and can be quite distracting and upsetting.
Your cart may feel like it is going to fall apart and could experience some damage to its chassis as you ride.
Poor tires are one of the most common causes of this problem.
When your tires are not fully round, they are going to wobble a little and make your cart uneven.
Sometimes, riding your cart for awhile may restore the tires back to their normal state.
In other situations, your cart may even ride more poorly after you ride for awhile.
What can you do to make sure this isn't a problem?
You can remove your tires and replace them with another set to see how they ride.
You may also want to check for alignment issues on your cart by letting go of the wheel as you drive.
Does the cart want to "drift" to the left or right?
If so, your alignment is rather poor.
However, you can also experience this problem if the wheels hubs and lug nuts are not tight enough, installed improperly, or crooked.
Replace the hub and tighten the lugs to avoid this problem – replace the lugs if needed.
What about if your cart doesn't wobble at low speeds but starts to at higher speeds and even "swerves" as you drive?
This problem is related to a different issue – springs in the cart.
These springs are your shock absorbers and provide you with a smooth ride.
Over time, though, they lose their elasticity and end up causing a wobbly ride whenever you reach fast enough speeds.
As a result, you may need to carefully remove these springs and replace them with harder ones – locate the springs near your axle and remove them following the directions on your cart's manual.
You typically need to remove parts around the axle and other elements that may make you uncomfortable.
Talk to a mechanic if you are uncertain about this step.
And if new springs don't help, have these experts add a speed stabilizer to keep your start running smoothly.
Golf Cart Wheels Wobbling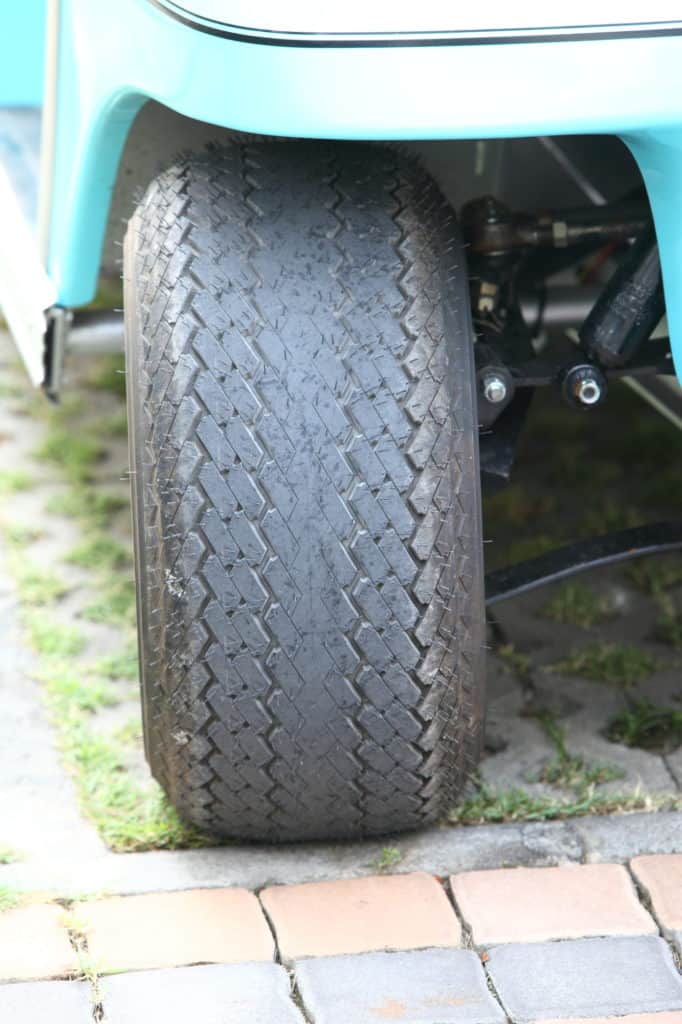 Lastly, you may find that your golf cart wheels "wobble" whenever you are on an even or an uneven road.
This problem is very annoying and may be related to the design of the cart.
If your cart requires or uses eight-inch tires, a wobble is very common.
Why do they even allow these wheel sizes if they almost always wobble?
We're not sure but replacing them with larger tires should make your cart run more smoothly almost immediately.
You may also have an axle that is bent at an odd angle and which needs to be replaced.
This replacement is something that you should definitely look to professionals to manage.
These experts will take the time to assess why your axles are bent, replace them with new ones, and take other steps to ensure that they don't bend again.
And if your front end is the area that wobbles the most, you probably have tire, axles, or kingpin issues.
Tires are easy enough to replace and you may even be able to put in new axles if you are careful with how you work on your cart.
The kingpin is also fairly simple to remove and requires only a handful of different tools to properly remove.
Make sure to look up each of these parts on your cart's diagram to ensure that you know how to replace them with no issue.