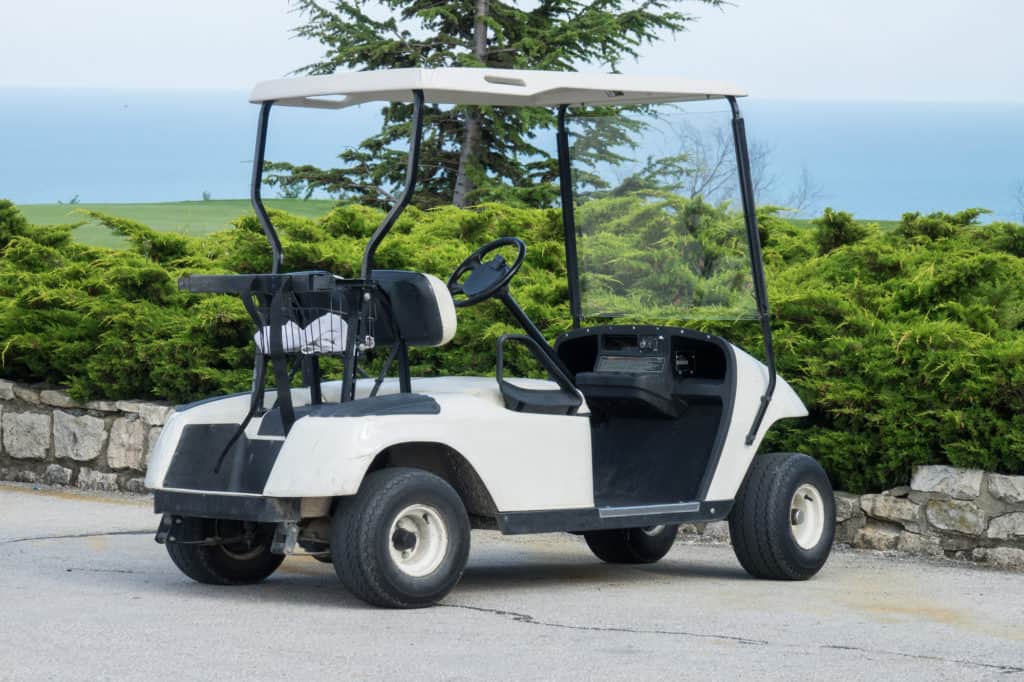 The brakes on your golf cart are critical for keeping it safe whenever you drive.
And in most cases, the brakes shouldn't have any issue operating if you are smart and know how to keep them in great shape.
However, there are situations in which your brakes may stop working.
For example, brakes that "lock up" when you drive are very frustrating and require the help of a high-quality expert to fix.
Or do they?
Many cart owners may have the skills needed to manage this problem and get their brakes working well again.
Let's take a look at 7 reasons why your golf cart brakes may lock up along with fixes.

7 Reasons Why Your Golf Cart Brakes May Be Locking Up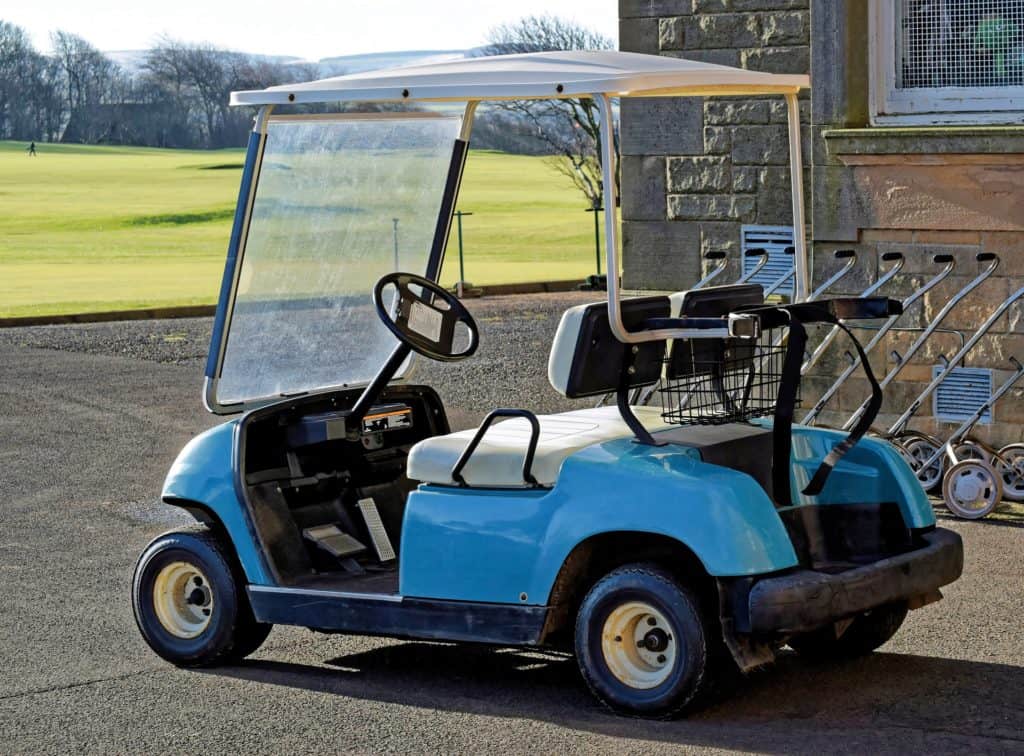 The following issues are among the most likely reasons that you're going to get your brakes locked up.
We've included some common fixes here that should help to make it simpler to sort out what is happening with your cart and how to manage it.
Some of these problems are going to be well beyond your capabilities, though, so make sure to reach out to a mechanic if you need any help here.

1. Brake Cable Kinks
The most common reason that your brake is going to lock up is when the cable gets stuck or has other issues that may cause it to fail to operate.
For example, there are many instances in which the bolts of the lift kit get loose and can cause the cable to operate poorly inside of your cart's chassis.
When this situation develops, you're going to have to open up your cart and check out the cable.
Does it look like it is kinked up or tangled in any way?
Try activating the brake by pressing the pedal.
If you see the cable acting in ways that don't seem right – such as failing to pull – you have a cable problem.
The best way to manage this issue is to either replace the cable, attempt to straighten it out, tighten up the bolts on the lift kit, or have an expert do these steps for you.
Though it may seem well within your ability to handle these steps, we suggest getting help to avoid making any serious mistakes.

2. Brake Cable Binding
The brake cable has another issue that may develop and which may cause your brakes to lock – binding.
This issue develops when your cable gets stuck into a mechanical linkage with itself that is hard to sort out.
In many cases, this linkage may seem impossible to break or manage without help.
When this problem develops, your brake cable is not going to pull properly and may make it very hard for your cart to stop when it should quit moving.
The fixes for this issue are usually quite advanced but often just center on replacing the cable because it has gotten bound up too much in the cart.
However, you may be able to unbind the cable by grabbing both ends of it and giving it a sharp tug.
Sometimes, this works out the binding problems and straightens out your cable.
However, the mechanical linkage is often too complex and requires you to get a new cable installed instead.

3. Pivot Assembly Rusting
The pivot assembly is one of the most important parts of your brakes, albeit one that is rarely discussed.
It helps to move the parts that activate your brakes, ensuring that you can stop properly and safely.
Unfortunately, this part often gets rusted and ends up struggling to operate in a way that may seize up your brakes.
What usually causes this problem to develop on your brakes?
Most of the time, it occurs when these parts end up getting rusted.
Unfortunately, the pivot assembly is a delicate part that can easily wear down without upgrades, causing complications with how your cart runs that may last for a long time.
As a result, you need to identify the source of this rust, replace the damaged part, and get your pivot assembly back into operation right away.
If you feel comfortable with this step, try it out and you may be able to repair your assembly with little difficulty.
But you may need help from experts if you don't have the necessary skill to manage this common issue properly.

4. Brake Parts Start Wearing Out
There are many parts within the brake assembly itself that may wear out and need to be repaired or replaced as soon as possible.
Often, these parts are among the most important elements of your cart's braking system and, therefore, the most heavily used and most likely to get damaged.
For example, the brake drum is put under a lot of pressure every time that you stop and may start wearing out.
The brake shoe is another item that may end up wearing out quickly, as will the brake spring if your cart is getting older and you've used it many times throughout its life.
We suggest that you replace these parts – either by yourself or with a mechanic – to ensure that your cart runs smoothly.
You don't want to let these elements worsen because they may easily end up failing on you and causing your cart's brakes to not just lock up but end up failing to work at all.

5. Latch Mechanism Operational Failure
The latch mechanism on your brake helps it to seize the cable and provide you with the stopping power that you need.
It is located behind or beneath of your cart's brake pedal and goes out of alignment at various times, which may cause the brakes to fail entirely or make it harder for them to operate.
What causes this problem to occur on your cart?
That all depends on many different factors.
Some latch mechanisms fail just because the brake is used too many times.
Others are likely to fail if you put too much pressure on them.
In many situations, failure is just a part of your cart's aging process.
As a result, you need to get behind your brake pedal and adjust the latch mechanism to ensure that it works properly.
Try to move it backwards if it is latching too often or forward if it is missing out on latching at all.
You may want to get an expert to help you here because this adjustment may be a challenge for some to handle.

6. Faulty Motor Brake Issues
The motor brake on your cart is critical for helping your cart know when to stop.
However, when it fails or parts inside of it suffer, there is a good chance that your cart's brakes will lock up as you drive.
This situation is quite frustrating and can put you in a very tough position that may require expert help.
For instance, the motor brake itself may be faulty and need to be replaced.
Check this factor before moving onto other parts because these are often more specialized and harder to perform.
However, other repair steps may be easier for you to handle if you understand cart mechanics at all.
For example, the speed sensor may go bad and cause your cart to lock up the brakes because it fears you are driving too fast.
That and the encoder bearing, which helps manage stopping power, may also be faulty and require replacement.
Get rid of them only if you know how to test them for failure.

7. Axle Bolts Get Loose
It might seem strange to think that the bolts on your axle could cause your brakes to fail.
However, this problem is by no means rare on many golf carts.
These bolts can get loose on the axle or the rear lift kit and cause your brakes to seize up.
It may also lead to other types of damage to your cart as well.
As a result, it is important to know how to find these bolts, the different ways you can replace them, and what to do if the bolts cannot be replaced.
Typically, you'll find these bolts anywhere along the length of your axle or rear lift kit – if they are loose, tighten them up or put in new ones.
What happens if the bolts won't tighten?
And if the replacement ones don't fit or don't tighten all the way?
Well, you'll have a much more expensive repair on your hands because you'll need to replace the total axle and even the rear lift kit to ensure that your cart runs smoothly for the foreseeable future.

Do the Causes Differ Based on the Cart Model?
The seven causes mentioned above are the most likely reasons that your cart's brakes are locking up.
But do all cart models have the same troubles?
Yes but some may have them at different rates than others.
Let's break down these issues on a manufacturer-by-manufacturer basis to get an idea of what may be happening to your cart.
Let's start with the Yamaha brand carts, first, here.
Yamaha carts typically seize up the most due to main brake cable problems.
You're going to get a lot of seizing up of the mechanical linkage, plenty of bindings, and much more.
However, hydraulic brakes may also suffer from a pretty broad range of issues.
These include rusting on the collar of the cart and the bushing, issues that are not unique to Yamaha carts but persistent in many models of them.
By contrast, EZGO brakes tend to suffer from a lack of tension in the brake pedal that requires adjustment to get them operating properly.
In most cases, you are going to need an expert to handle these steps for you.
Trying to handle the unique demands that adjusting brake cable tension puts on you is not worth the trouble and may even worsen the situation if you aren't careful enough here.
Lastly, the Club Car often has problems with the brake drums and shoes that may require fine sandpaper to manage.
In some cases, you may just need to clean the glazing from these parts using this sandpaper to get them in proper working order.
By contrast, you may also need to tighten up the perch and the U-bolts in your brakes too.
The trick here is to know when to talk to a professional and when to try these steps yourself – in most cases, you're likely to find that you get better results from experts but may have some luck with amateur repairs if you are skilled enough.