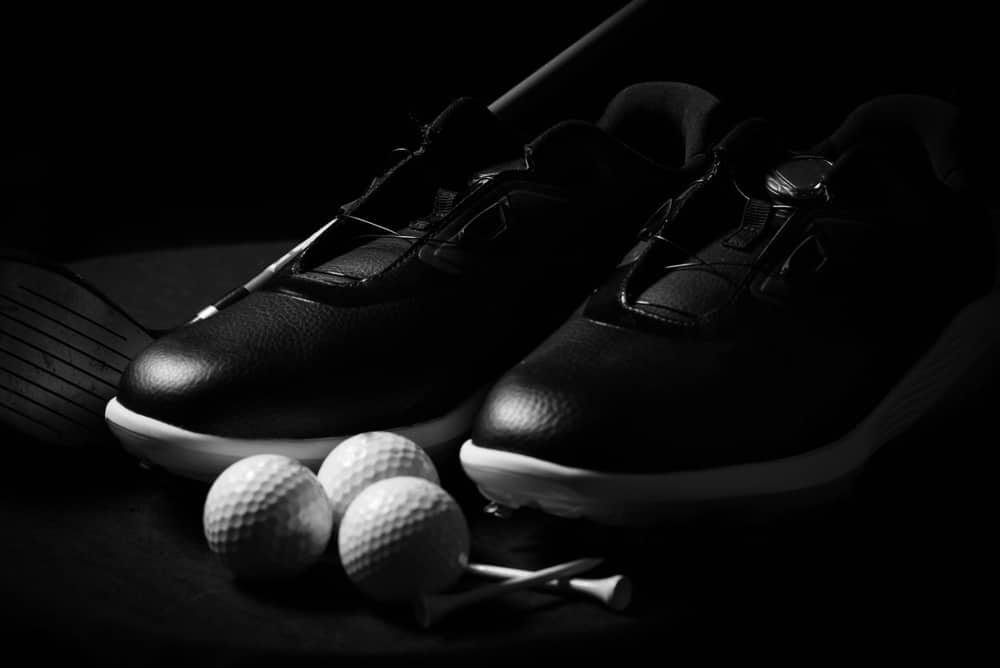 Serious golfers tend to care quite a bit about their fashion.
If you are a golfer who is worried about how you are dressed for your next round, you may often ask yourself about black or white golf shoes.
This can be a difficult decision.
Even if you have several pairs of golf shoes, you may still wonder if the black or white shoes are the better choice.
We have all the latest info on the black or white golf shoe debate.
Chances are, some of these answers will surprise you.

Black or White Golf Shoes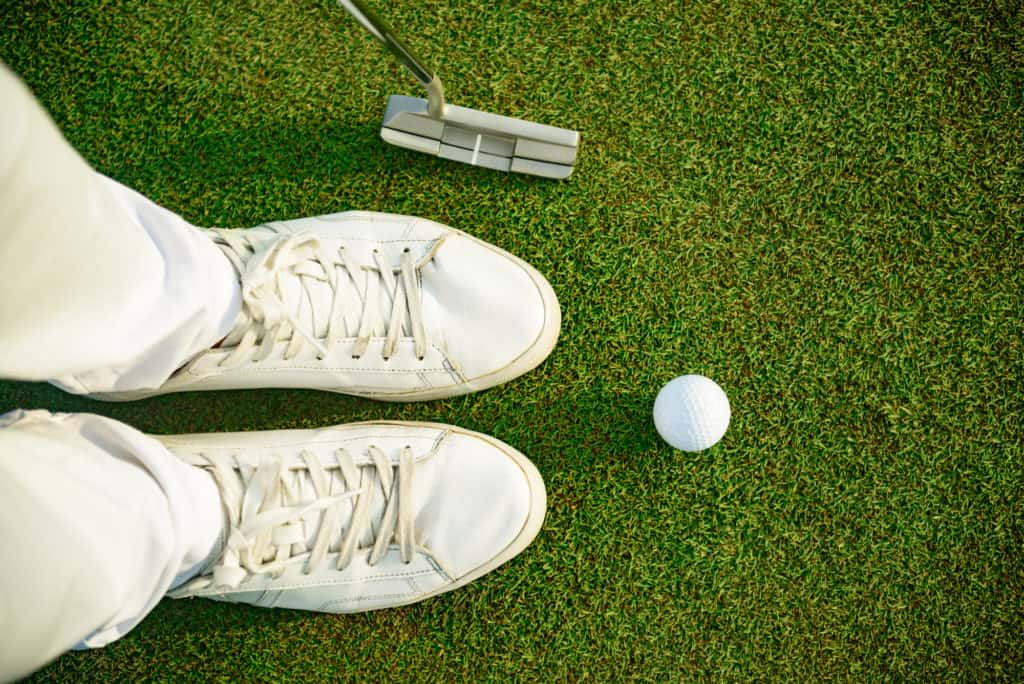 White golf shoes are the better choice to wear.
Although there are times when black golf shoes can be a good fit, the white is going to work out better overall, staying in style longer and with a more traditional look.
Golfers need to know when to wear black shoes and when to wear white shoes.
Looking good and playing well go hand in hand.
Don't make a fashion mistake the next time you head out for a round.
We have put together some of the best tips for making sure that you stay looking good on the golf course regardless of the color of golf shoes you are wearing.
What Socks to Wear with Black Shoes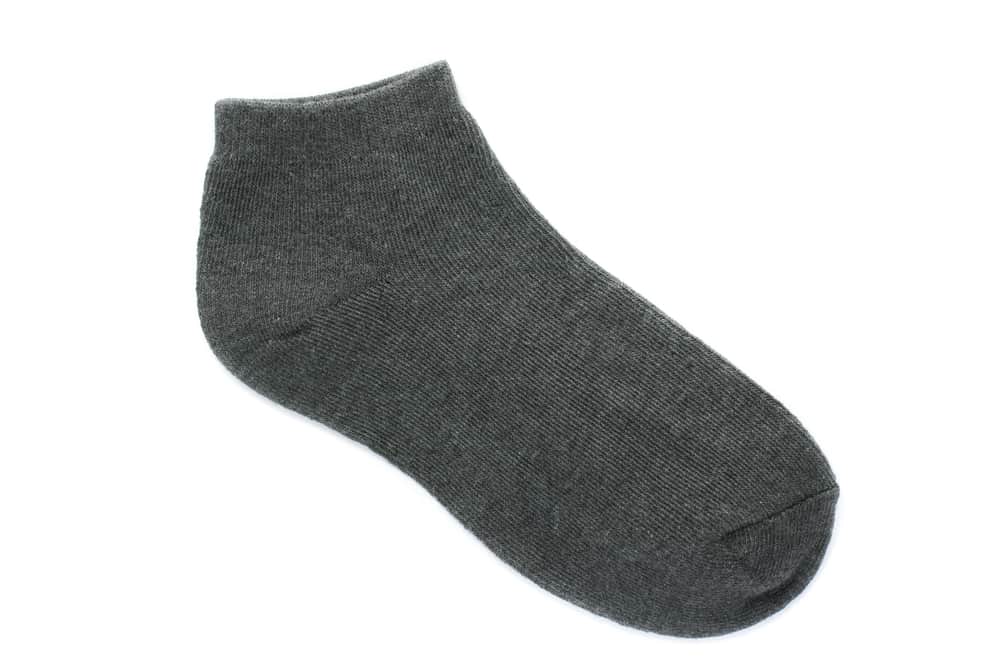 One of the biggest mistakes golfers make is to wear white socks with black shoes.
Many of the golf socks on the market are white.
This has quite a bit to do with the fact that the classic color for golf shoes is also white.
You don't necessarily need to wear golf socks when you go out to play.
With a black shoe, a black ankle-length sock is going to be just fine.
Avoid wearing white socks and especially taller white socks.
The combination of the white sock with the black shoe will stand out and take away from the classic and professional golf look needed for the course.
If you are wearing black shoes, you should also consider the color of the shorts you are wearing.
Most golfers will wear a dark color short while wearing the black shoe.
If this is the case, you should also consider wearing a black belt.
Keeping the colors a bit more consistent will help the outfit look more professional.
What Color Golf Shoes Should You Wear in the Rain?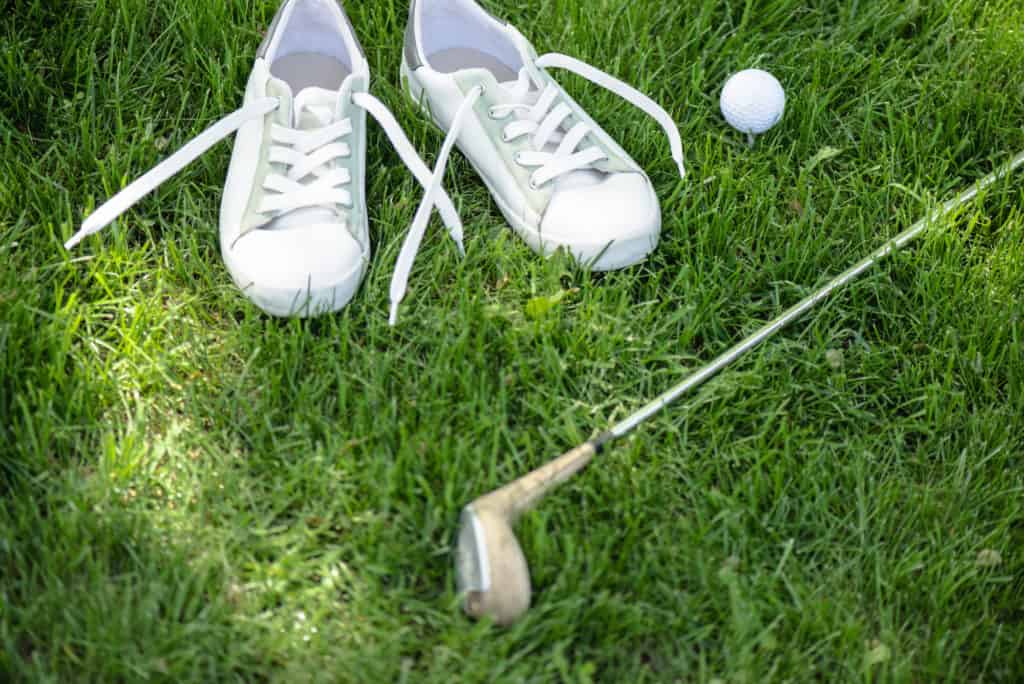 Although we said that the white golf shoes are the better overall choice, it is good to have a pair of black golf shoes for the rain.
When you play in the rain, you will probably be dealing with some mud, dirt, and wet sand.
This will, without a doubt, get your shoes a bit dirty.
Although you will likely be able to clean your white shoes after a round, it will be harder to get out any potential stains or imperfections on the shoe.
With a black shoe, much of the dirt and mud will be hidden.
Of course, you will still need to wash your golf shoes after a round of golf in the rain, but your project will be quite a bit easier if you are working with black shoes.
If you are only wearing your black shoes in the rain, you may want to get a shoe that is also a waterproof option.
The waterproof design will ensure that you don't have to worry about soaking your socks while you are on the course.
Black or White Golf Shoes with Pants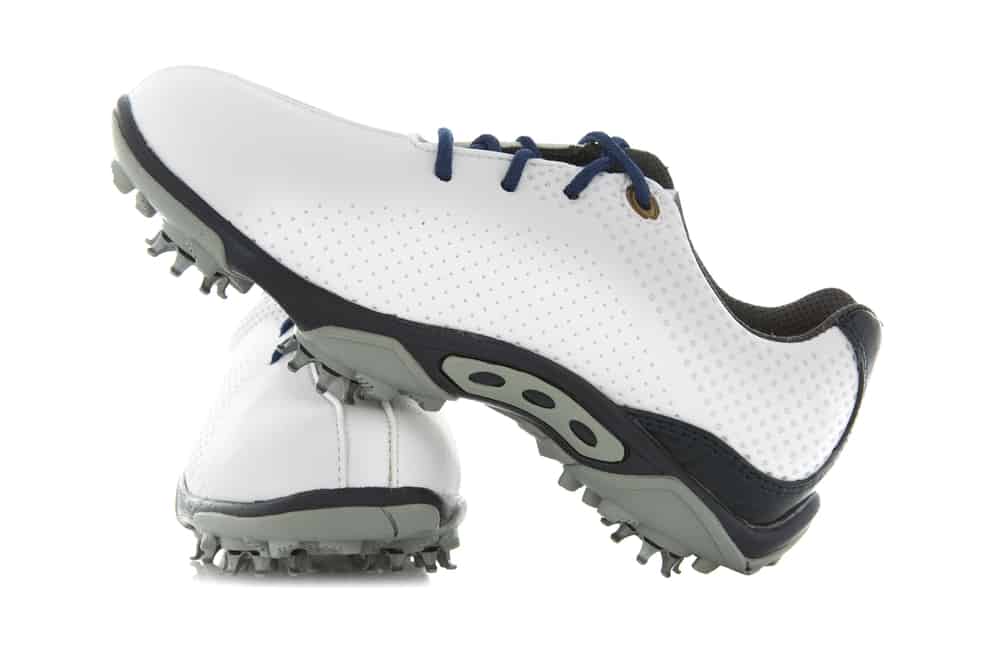 When you wear pants to play golf, you can wear any color golf shoe that you want.
Pants are the great equalizer, and they make golf fashion so much easier.
However, when you wear shorts, you have to be much more conscientious about the color of the shoe you are wearing.
Most of the time, the look of black shoes while wearing shorts is not ideal.
However, if you wear black socks, black shoes, and black shorts, the overall look will be fine.
The problem is usually when golfers wear something like khaki shorts, white socks, and black shoes.
This is just too much going on, and truly, it will not look all that great.
This is not a combination that you would see golfers on the professional tours wearing.
If you really want to wear your black shoes, we recommend you wait for the cooler months when you can wear pants with them.
This will also help if you don't have the proper color socks.
The socks can be any color when you have pants on, and they make golf fashion that much easier.
What About Saddle Shoes?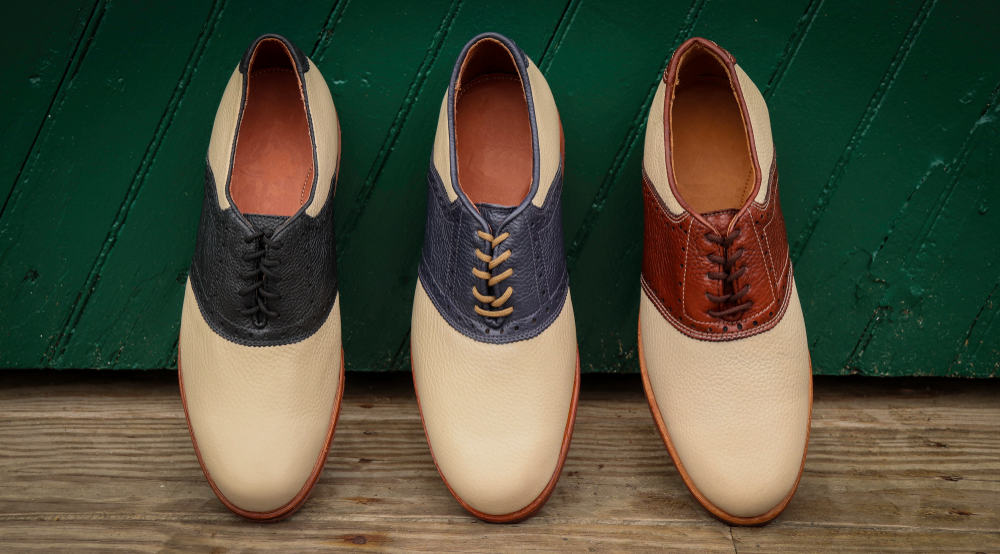 Saddle golf shoes are those that are more than one color.
Typically, the front and back of the golf shoe will be one color, and then the saddle across the center of the shoe is another color.
The saddles shoes are usually black and white, or they can come in a combination of two brown tones.
The saddle shoes help golfers who are unsure of the black or white shoe debate.
With a saddle, you get a little bit of black and white on the shoe, so you can wear them with almost anything.
The shoe will also be a little easier to keep clean because of the fact that it has some black on it.
Saddle golf shoes are a good choice, but they are starting to become a bit more of a dated look.
The saddle shoe was a very classic design, and most golfers are looking for a more modern design in their shoes today.
In fact, a large majority of the golf shoes on the market have a sporty look to them and may feature several colors.
Some of these fashion type golf shoes are also offered at very fair prices.
In the past, where golfers would buy one pair of a high-end golf shoes, they now purchase several pairs and allow themselves a number of different choices on the day of a round.
There is no perfect number of pairs of golf shoes to own, but having at least two pairs is something that most golfers are going to find necessary.
Are Brown Golf Shoes a Good Investment?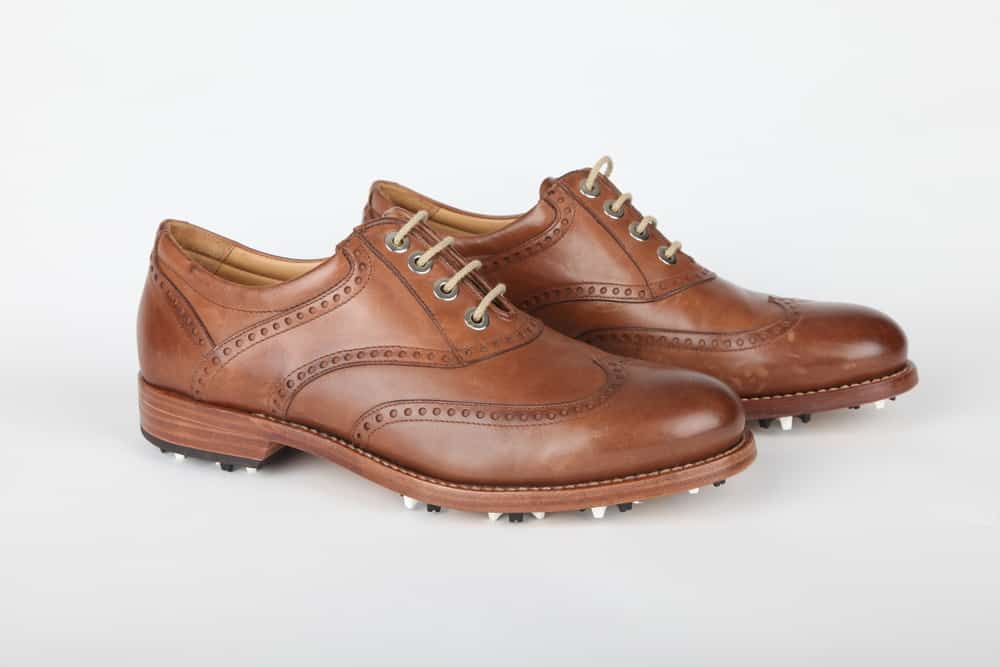 If you still can't decide whether black or white golf shoes are the better fit, maybe it is worth considering getting some brown golf shoes.
The great thing about brown shoes is that they don't get dirty, and they aren't quite as dark as the black.
It is a bit easier to pull off brown golf shoes, even if you are wearing lighter color shorts.
With brown golf shoes, it is still best to wear a brown sock if possible.
This is the place where most golfers who wear brown golf shoes go wrong.
Many of them choose to wear white or black socks, which will definitely take away from the professional look of the brown golf shoe.
If you watch golfers on tour, there are some who will wear brown golf shoes, but most will be wearing black or white.
Do I Really Need Golf Shoes to Play Golf?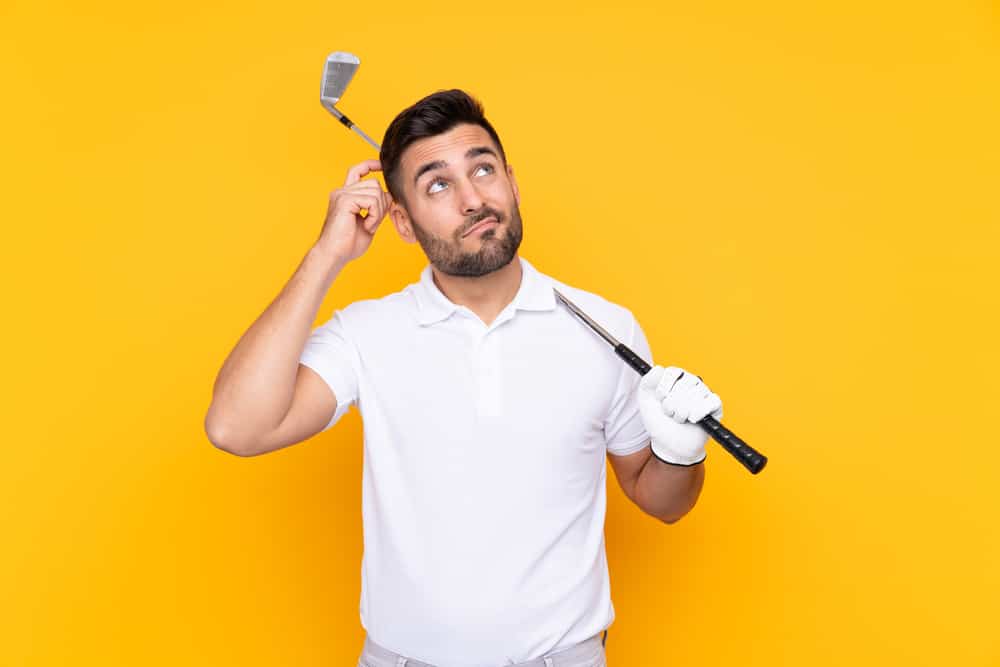 We can forget about golf shoe color for a minute and talk about whether or not golf shoes are really worth it.
Are golf shoes necessary even for the beginner golfers?
For the most part, you will find that golf shoes are absolutely necessary.
The golf shoe provides some extra grip and more stability when a golfer takes a swing.
They are not damaging to the golf course, and they make it less likely for a player to slip while they are swinging.
The golf swing happens quite fast, and if your lower body is not stable on the grass, you will end up hitting some pretty poor golf shots.
Overall, it is essential to consider purchasing golf shoes even if you are new to the game.
For the first few rounds out on the course, it is acceptable to use a sneaker to play golf.
In fact, until you decide if you are going to stick to golf and continue to play it, you don't need to worry so much about the shoes you wear.
As soon as you realize that you are going to be playing the game regularly, it's important to make that investment in your game.
Golf shoes have come down in price, and now you can even purchase them in a spikeless version.
The spikeless golf shoes are going to help players who need a solution they can wear both on and off the golf course.
With spikeless golf shoes, you can walk onto the golf course and into the grocery store without ever having to change your shoes.
These are the perfect choice for the beginner who may not want to make a large investment in a sport they may not stick with.
Are Waterproof Golf Shoes Worth It?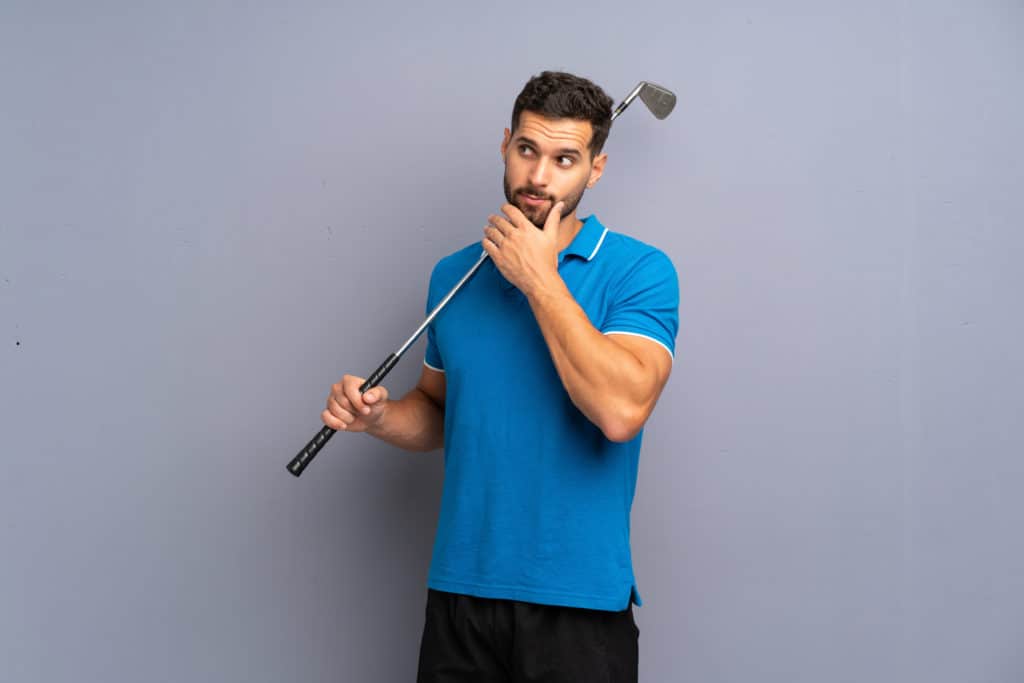 We talked a bit about how the black golf shoe is a better choice when you are playing in poor weather.
However, many golfers wonder if the more expensive waterproof golf shoes are worth the extra money.
The best piece of advice we have is to purchase a shoe that has a waterproof guarantee.
If you head out for a round of golf and come back and your feet are soaked, the company will take your shoe back.
Footjoy is most well known for this, and it is a tremendous benefit to consider when shopping for shoes.
Of course, this waterproof warranty or guarantee will not last for the lifetime of the shoe, but it will last long enough for you to get your money's worth.
For a golfer who is a fair weather golfer and unlikely to head out on the course if it starts to rain, the waterproof golf shoes are probably not worth it.
When you decide on a pair of shoes that you are going to use exclusively for rainy weather, go with something darker in color.
You may as well set yourself up with a pair that is going to last and look good for a long time to come.
Remember that waterproof golf shoes are also good for playing in the morning if there are days when the grass is still wet when you head out on the course.
Conclusion
The debate between the black or white golf shoe is going to change depending on who you talk to.
Some believe there is too much attention given to golf fashion, and it is not necessarily essential to care about the color of your golf shoes.
From our viewpoint, it certainly makes sense to wear a pair of shoes that make you look and feel good.
Take a good look at your outfit before heading to the golf course, make sure that you feel like things match.
If you are at all in doubt, break out the white shoes!