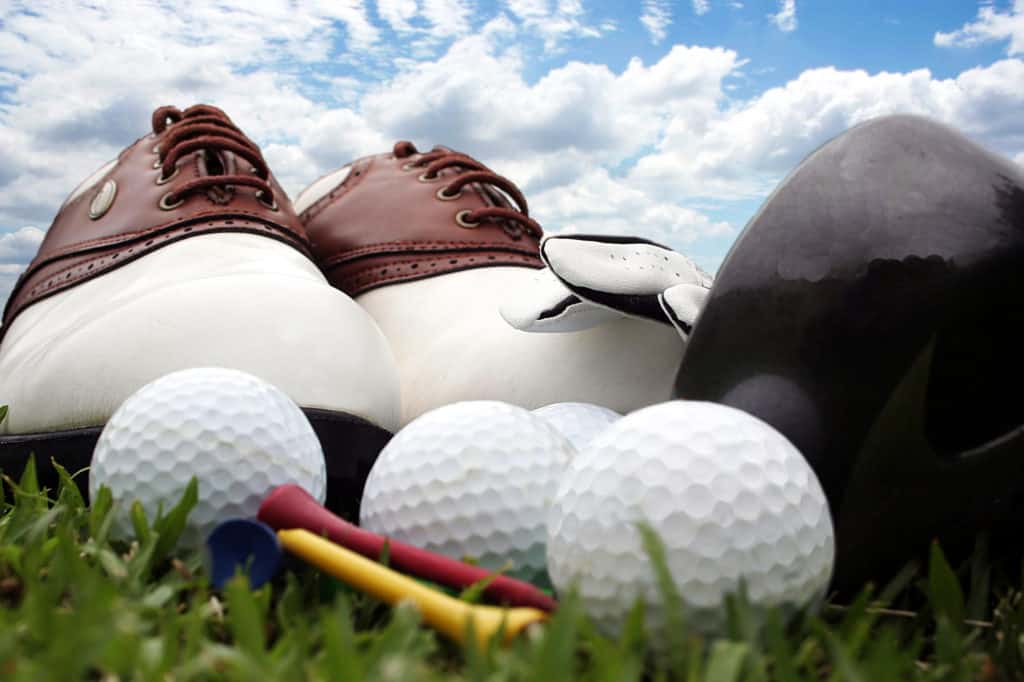 Waterproof golf shoes can make your round of golf much more pleasant.
If you are a golfer who plays in the early morning, you know how uncomfortable it can be to have your feet wet for your entire round.
Not only is it terrible for your feet, but those types of golf shoes will not last very long.
Some waterproof golf shoes can be costly, but we made sure to include options on our list for all budgets.
Here are the top ten best waterproof golf shoes.

Top 10 Best Waterproof Golf Shoes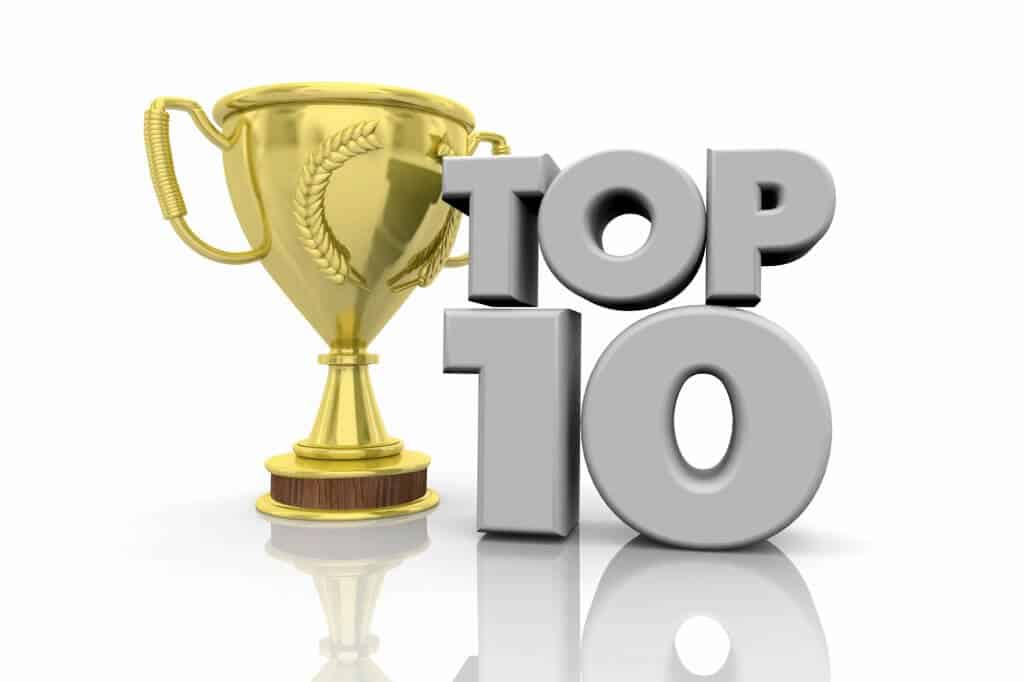 1. New Balance Men's NB Tour Waterproof Spiked Comfort Golf Shoe
Key Features
Rubber sole
Waterproof microfiber upper
Lightweight
New Balance is probably not a name you think of when it comes to golf shoes.
You know how comfortable their sneakers are, and luckily, they were able to make a golf shoe that offers just as much comfort.
Finding a shoe that fits and feels like a sneaker but offers the performance of a golf shoe can be difficult.
The New Balance is relatively affordable and fits well.
The upper part of the shoe is made with a waterproof microfiber leather.
Another great feature of the New Balance Waterproof golf shoes is that they are lightweight.
If you plan on walking the golf course, you want something that will not weigh you down as you travel the course.
Pros
Rubber sole
Waterproof upper
Fairly priced
Available in many colors
Cons
Looks a bit more like a sneaker than a golf shoe
2. adidas Men's Tour360 Xt Spikeless Golf Shoe
Key Features
Spikeless
Synthetic sole
Stability bar and sock liner
Adidas has been making golf shoes for quite some time.
The shoes are usually very high performing, and they have a good mix of a sporty/classic look to them.
One of the things we like most about the Adidas golf shoes is that they tend to last for a long time.
The quality of the material holds up quite well on the golf course, and you can expect to get several years out of this shoe.
The sole of the shoe is a synthetic material that is quite durable and holds up for a long time.
Many of the golf shoes Adidas makes are soft spike golf shoes.
This particular model is a spikeless golf shoe.
If you have not yet made the transition into spikeless golf shoes, now is the time to check it out.
Spikeless golf shoes can be worn form the office to the golf course to the grocery store.
The ability to wear your golf shoes several places without having to change is a great feature.
People have found that many of the spikeless shoes offer just as much stability and support as the spiked golf shoe.
Another excellent benefit of the spikeless shoe is that you won't have to replace the spikes.
The only real downside is that they will wear down quickly if you wear them all the time and not just for golf.
This can be expected of any shoe you wear often.
With Adidas shoes, you get a very sporty fit which also gives you a modern and trendy look.
They also offer a Torsion X Stability bar which helps you feel as though your foot has stability and a strong base.
Pros
Sock liner
Long-lasting synthetic sole
Spikeless
Torsion X Stability bar
Cons
Not everyone likes a spikeless shoe
3. Skechers Men's Torque Waterproof Golf Shoe
Key Features
Waterproof protection
Replaceable soft spikes
¾ inch heel
You may not have even realized that Skechers makes golf shoes.
They have recently entered the golf shoe business, and people are enjoying the products they have brought to the market.
These shoes are equipped with the H2GO waterproof protection and lots of extra cushioning.
Inside the Skechers Men's Torque, you will find a comfortable fabric shoe lining.
Of course, you will still want to wear socks with these shoes, but the added lining helps provide even more protection against water while you are on the course.
The heel of the Skechers golf shoe is quite high.
This can be a good thing for a golfer who thinks their clubs maybe a little too long for them.
Sometimes that little bit of difference in height can make a player feel much more comfortable over the golf ball.
The upper on this shoe is synthetic, but it has a leather look to it.
This is a sporty looking shoe with lots of performance and a few color choices.
If you are a person who enjoys Skechers shoes for your everyday footwear, it is certainly worth taking a look at these new waterproof golf shoes.
Pros
Waterproof protection
Lightweight and soft
Lots of cushion
Higher heel
Cons
Will need to replace spikes from time to time
4. Callaway Men's Solana TRX Golf Shoes
Key Features
Rubber sole
Seven-spike design
Opti-Dri waterproof protection
Next on our list is the Callaway Men's Solana TRX.
These golf shoes come with a seven-spike design to give a player a great connection with the turf beneath them.
If you feel as though you need stability in your golf game, these are the shoes you are going to want to consider.
We love that these shoes will look and feel like you are wearing a sneaker, but they offer much more stability.
This is an excellent shoe for a younger player with fast swing speed.
Sometimes those speeds can make it more challenging to maintain balance.
The Solana comes with a microfiber leather upper equipped with the Opti-Dri waterproof protection.
Inside the shoe, you will find a foam insole which helps the shoe fit around your foot very comfortably.
Pros
Waterproof protection
Looks like a sneaker
Available in three colors
Fairly priced
Cons
Not Callaway's performance model golf shoe
5. Callaway Men's Oceanside LX Golf Shoes
Key Features
7mm foam insole
Spikeless
Class looking golf shoe
Another great option from Callaway is the Men's Oceanside LX Golf Shoe.
The Oceanside is a more classic looking golf shoe with the Opti-Dri Waterproof protection and even more foam than other models.
Some Callaway golf shoes have 5mm of the PlusFoam insole, but this particular model has 7mm.
If you want something comfortable, this is a great choice.
The Oceanside is a spikeless golf shoe, so you will not have to worry about replacing the spikes every few months.
The Men's Oceanside is available in both a black and a white color, so you can get them to match with any golf outfit.
Overall, Callaway is well known for its golf shoes.
In the past, many of their shoes have been a little heavy and cumbersome, but these Oceanside shoes are lightweight and offer a great feel.
Callaway is a great company when it comes to standing behind their warranties and technologies.
If you experience a problem with the shoe, there is no question that Callaway will stand behind it.
Pros
Added foam for comfort
Good stability
Opti-Dri waterproof protection
Cons
Only available in plain colors, not much design to the shoe
6. FootJoy Men's Superlites Xp Golf Shoes
Key Features
Lightweight
Sporty look
Anti-slip technology
FootJoy is undoubtedly the leader when it comes to golf shoes.
The Men's Superlites are a new design from Footjoy.
These shoes are built to be one of the lightest options on the market.
There is no question that golf shoes in the past have been very heavy.
When you start adding in leather and spikes and waterproof protection, the shoe will weigh quite a bit more.
Luckily, FootJoy was able to put together a durable and waterproof golf shoe that weighs less than any other shoe out there.
This is a comfortably fitting golf shoe which is great for walking the course, and it comes with a one-year waterproof guarantee.
The bottom of the shoe is equipped with what FootJoy calls a "Turf gripping advantage."
This turf gripping helps to make sure your foot does not slip or slide during your round.
As excellent as golf shoes are while swinging, sometimes they have been known to slide on hills, especially when they are wet.
Pros
Very lightweight
Durable
Waterproof guarantee
Turf gripping
Cons
More of a sporty look as opposed to a traditional golf shoe
7. FootJoy Men's DryJoys Tour Golf Shoes
Key Features
Known for waterproof construction
Synthetic sole
Cushion fit
The original waterproof golf shoe is the FootJoy DryJoy.
For many years, companies have tried to make footwear that would keep your feet dry during your round, and most of the time, they fell a little short of that goal.
The DryJoys have been known for making sure your feet are comfortable and dry during your entire round.
In addition to being high performing, the DryJoys are also comfortable.
They have quite a bit of cushion on the inside and plenty of heel support as well.
FootJoy also incorporates its Laser Plus Fit, which helps create some underfoot cushioning.
When the DryJoys were first released, people loved the way they performed, but they were not impressed with the comfort.
This has completely changed with the newer models, so if you walk the golf course and expect lots of support and comfort during your round, the DryJoys are great.
We highly recommend having a pair of DryJoys even if you only take them out on a rainy day.
If you can afford the shoe, you will be very impressed with the performance it offers.
The DryJoys are a more expensive shoe, but they should last you quite some time.
Pros
Available in many colors
High performing
Known for being waterproof
Cons
8. ECCO Men's Biom Hybrid 3 Gore-tex Golf Shoe
Key Features
Gore-tex
Breathable
Low profile
The Ecco Men's golf shoes are known for being high performers.
They are also known for being some of the more expensive shoes on the market.
One of the things we love best about the Ecco golf shoes is the styling.
These shoes have a European design and style to them, and they stand out from the other golf shoes on the market.
These particular Ecco Men's golf shoes are known for being very good for playing in wet conditions.
The shoe is made with Gore-Tex material.
Gore-Tex is known for being almost as water-repellent as a duck.
Many rain suits are made from Gore-Tex material.
Having a shoe with this same technology and construction is a true win for golfers.
The uppers on the Ecco shoe are made from Yak leather, which is considerably lighter than other leathers.
This allows the shoe to offer all it does while remaining relatively breathable and lightweight.
Another great feature in the Ecco Shoe is the fact that it is not a high profile design.
Ecco believes in getting golfers closer to the ground where they will have more stability and more natural balance and connection to the ground.
These shoes are an investment, but they are something you will not regret purchasing.
Pros
100% leather
Gore-Tex Waterproof technology
Keeps golfers closer to ground
Low profile
Good looking shoe
Cons
9. Under Armour Men's Performance SL Leather Golf Shoe
Key Features
Breathable
2-Year waterproof warranty
Great performance
With most waterproof golf shoes, you get about a year of a waterproof guarantee.
With the Under Armour Men's Performance SL, you will get two years.
This is quite impressive for a golf shoe.
Most companies will assume that, after one year of golfing, it is normal for some of the waterproofing to start to wear off.
When this happens, your shoe will not do the best job of keeping your foot dry.
The performance this Under Armour offers is well worth the price you will pay.
These shoes are available in straightforward colors and will match with the majority of outfits you own.
Overall, the Under Armour shoes are known for being a bit more sporty than many of the other shoes out there.
If you are someone who likes a high performance or techy style, these shoes are a great fit.
The footbed of this shoe is a cork-covered molded EVA.
You will have plenty of comfort with this shoe in addition to the stability it provides.
Pros
Comfortable
Breathable
Lightweights
Waterproof for two years
Cons
More of a sporty look than a traditional look
10. FootJoy Men's Contour Casual Golf Shoes
Key Features
Casual look
Waterproof leather
Lightweight
Last on our list is another option from FootJoy.
This is a casual looking golf shoe made for a weekend round of golf with friends.
The FootJoy casual shoes have lots of styles, but they provide some excellent performance as well.
Although you may not know it at first glance, the Footjoy is made with waterproof leather.
The full-grain leather helps make the shoe more breathable and, of course, keeps it protected from water as well.
We love this shoe if you are a morning golfer who has to deal with the morning dew while on the course.
This is another spikeless design shoe, so you won't have to worry about wearing it from your car to the course.
Another great thing about the Footjoy Contour is that it is available in four different colors.
For many players, when you find a shoe that fits and works for your game, you should probably get it in a few different colors.
The cushioned insole helps to eliminate shock while walking.
This is a great shoe not just for playing the golf course but walking it as well.
Pros
Synthetic sole
Waterproof leather
Cushion fit
Cons
Hopefully, our list of the best waterproof golf shoes on the market has helped narrow down some of the choices for you.
There are a few key things you need to consider when it comes to waterproof shoes.
In addition to the performance of keeping your foot dry, you will want something that looks good and is comfortable to wear.
When it comes to stability on the bottom of the shoe, most golf shoes offer very similar technology at this point.
Choosing between spikeless or soft spike is also going to help golfers narrow down the choices available to them.
Be sure to take great care of your waterproof golf shoes, so they stay water repellant for years to come.