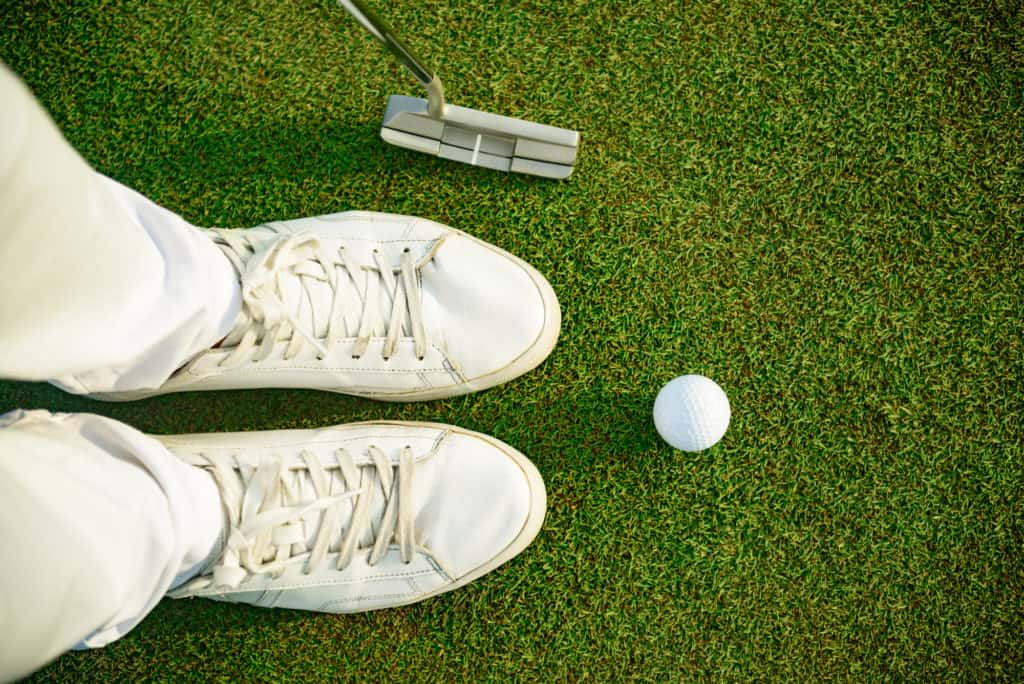 The white golf shoe is almost an icon in golf.
If you have been playing golf for many years, you probably know that most people wear white golf shoes.
White matches with a variety of outfits, and they generally stay relatively cool as well.
The only issue with white golf shoes is that they do tend to show the dirt.
We have put together a guide to help you take care of your white golf shoes so they last you a long time.
There are specific steps you should take before, during, and after a round to maintain your golf shoes for years to come.

How to Clean White Golf Shoes (Step-by-Step Guide)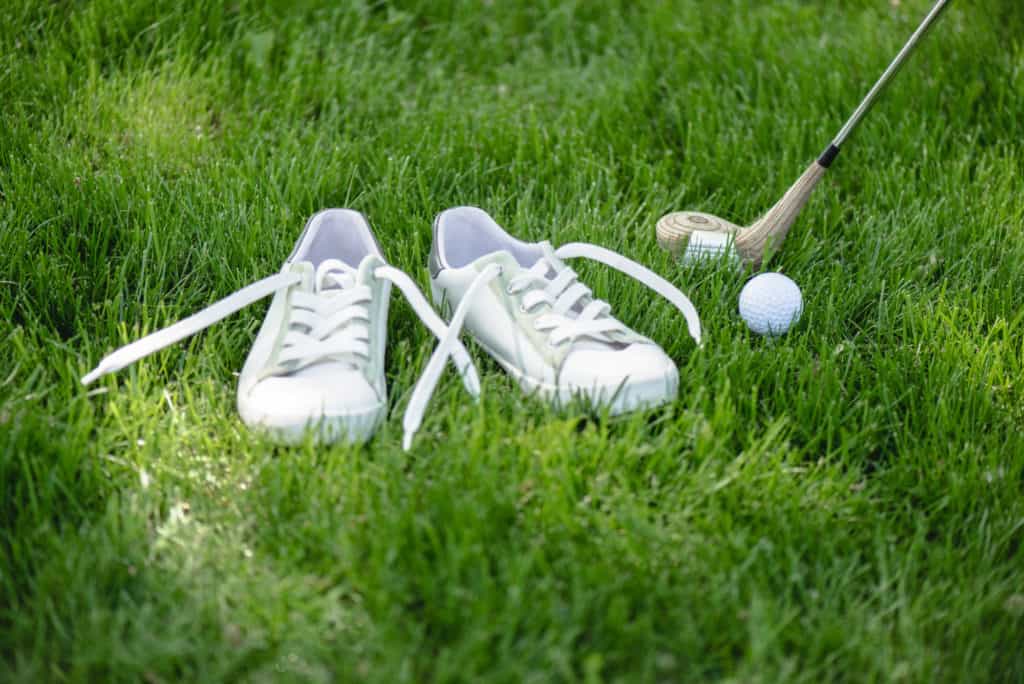 Step 1: Gather Supplies
Depending on the type of white golf shoes you have, the cleaning process can vary.
If you have leather shoes, make sure you are using the proper cleaners for leather.
If you have a synthetic shoe, you have to ensure the cleaner you use specifically states it is for a leather shoe.
Also, since we are talking about white golf shoes, if you are using a cleaner or a polish, make sure is specifically for white shoes.
You will also need a rag or a brush, some soap and water, and an area outside (not in the sun) for the shoes to dry.
Step 2: Remove Laces
You will get a much better clean on your shoe if you remove the laces before starting.
Golf shoelaces can hold dirt in around the holes through which the laces are threaded.
While you are taking the laces off, you are probably going to see dirt and grass coming out from those areas.
You can wash the laces separately by putting them in soapy water and letting them dry.
Laces can also be replaced at a very fair price if you think it may be time to change them out.
Step 3: Clean Visible Dirt and Grass Off Shoes
Before you get your shoes wet, it is an excellent time to remove some of the visible dirt and grass.
When you wet the shoe, this can sometimes turn into a muddy mess, and it will make your cleaning process more difficult.
Use a brush or a rag to remove dirt and grass from the shoe.
If there is a shoe cleaner outside of the golf course that you can put your foot in, this is a great way to remove the loose debris.
Once the shoe is clear of most of the visible debris, then you can start to get to work on the areas of the shoe that need more scrubbing and cleaning.
Step 4: Soap and Water or Shoe Cleaner
For this step, you can either use a mild soap and water, or you can use a white shoe cleaner.
Both options are entirely acceptable to use.
One thing to remember is to put a little bit of cleaner on a brush or a rag, but never submerge your shoe.
The shoe does not need to be completely submerged in the water, and it will make the process much longer and more difficult.
Take the rag and brush and focus on scrubbing the areas of the shoe that have dirt buildup or stains.
You are going to want to make sure the brush you are using is not too sharp.
A wire or heavy bristle brush can sometimes work for the bottom of the shoe, but for the top of the shoe, this will do some damage.
On top of the shoe, it is completely fine to use a rag.
With a little bit of scrubbing, you will be able to get the shoe clean.
Step 5: Air Dry in Shade
When your white golf shoe is clean, you can put it outside to dry.
Do not put the shoe directly in the sun as it can cause issues with the materials starting to dry up and become brittle.
Put the shoe in a shady area where there is still enough breeze to help the shoe air dry within a short period.
Overall, the shoe should not be all that wet, considering you should be dipping only your cleaning object in the solution and then scrubbing in small sections.
Step 6: Polish
The last step is not mandatory; it is merely helpful.
If you see your golf shoe still has some stains after being cleaned, you can use shoe polish on it.
Shoe polish is excellent if there is a scuff or a mark on your shoe that won't disappear when cleaning.
It is worth it to buy an excellent polish/shoe repair.
The cheaper ones will wash off the shoe quite quickly because of how much golf shoes are exposed to the wet grass.
Tips For Maintaining Golf Shoes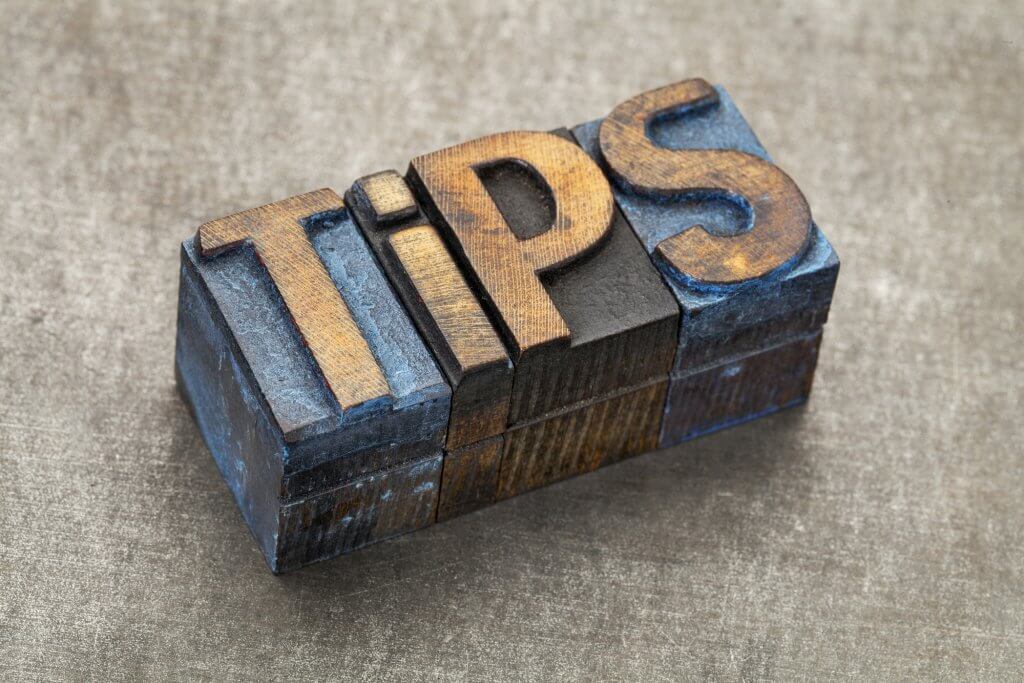 Outside of cleaning your golf shoes, there are also some tips to help you maintain your golf shoes.
The better care you take of your golf shoes, the longer they will last you.
Tip #1: Rotation
Although golf shoes can be expensive, if you are playing a lot of golf, you should have several pairs of shoes.
Both pairs of your golf shoes will last longer if you are rotating them.
We also love the idea of keeping one pair of shoes that are not in great shape and using those on rainy or muddy days.
If your golf course has just opened up after a week of rain, you may want to take out your older pair of shoes to avoid damage to your nicer golf shoes.
Golf shoe manufacturers have done studies on this two-pair rotation theory and have found that the two pairs of shoes last much longer than twice the life of a single pair.
Although you may spend a bit more money upfront, in the long term, you will save quite a bit.
Tip #2: Shoe Horn
Many golfers are in a hurry to put their shoes on and run to the tee box.
This causes a bit of rushing, and sometimes you end up pushing down the back support of your shoe to force it on.
If you do this repeatedly, you will ruin your golf shoes.
Golf shoes should always be put on with a shoehorn.
You can get a simple plastic shoehorn at a very low price and keep in your golf locker at the club or in your garage next to where you store your golf shoes.
A shoehorn will help maintain the structure of the shoe.
Tip #3: Spike Maintenance
Golfers who are using shoes with soft spikes should be continually checking on the health of the spikes.
Spikes are not going to last forever, and depending on how much golf you play, they may need to be replaced every few months.
Replacing soft spikes is not hard to do, but you need to have the proper tool.
Keeping a close eye on the soft spikes is essential not only for the health of your shoes but also for the golf course.
A broken golf shoe will scuff up golf greens and make the golf course superintendent quite upset with you and your foursome.
Tip #4: Storage
Another essential tip to maintaining the life of your golf shoes is where you store them.
Many people keep their golf shoes in the trunk of their car.
As we have mentioned in some of our other guides, the trunk of your car is not the place to be storing any of your other golf equipment.
Golf equipment should be stored in a temperature-controlled environment where it will not start to deteriorate.
The trunk of a car will make your golf shoes start to break apart.
The very high temperatures are not what golf shoes are designed to be exposed to.
In addition to where you store your golf shoes, you should also pay attention to how you store them.
When you leave your golf shoe, you should try and put a cedar shoe tree inside the shoe.
The cedar tree will help to maintain the condition of your golf shoe, and you will see a significant difference in the lifespan of your shoes if you take care of them in this way.
Tip #5: Wet Golf Shoes
Wet golf shoes need immediate attention.
If you do not handle the issues with a wet golf shoe very soon after it gets wet, the shoes could be ruined forever.
The first step in cleaning wet golf shoes is to try and help them dry out by using newspaper.
You can take a piece of newspaper, crumple it up and push it inside the shoe.
You will have to stuff the shoe very full of newspaper if it is very wet.
The newspaper gets into those tough to reach places and starts to absorb all the unwanted water.
You will need to leave this newspaper in your shoes for about ten hours.
That is why it is essential to make sure the shoe is full of crumpled paper.
When the appropriate amount of time has passed, you can take out the newspaper and replace it with a cedar shoe tree.
The cedar shoe tree will help get the shoe back to its original shape and leave it open to dry out the rest of the way.
The cedar shoe tree also works to help fight against any lingering odor if the shoe is wet.
You may have to spend a little time shaping the upper part of the golf shoe so that it dries as well as possible.
Do not place shoes in the direct sunlight to dry out, and do not try to dry then with a hairdryer.
Both of these methods can result in the golf shoe changing its shape and never returning to normal.
What Is the Best Color Golf Shoe?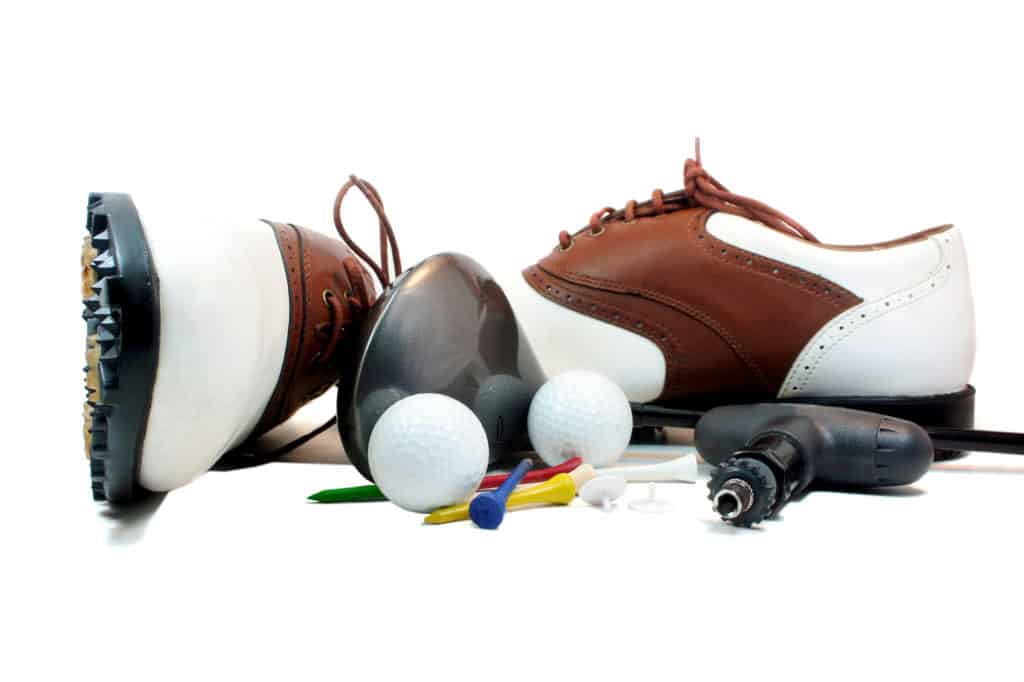 Even though the white golf shoe may take a little more time to take care of and clean, they are the most popular color.
The white goes with a variety of different outfits, and people won't have a hard time matching the shoe with what they are wearing.
White shoes are often encouraged when it comes to wearing golf shoes with shorts on.
Many people don't like the look of a dark shoe when wearing shorts.
The white golf shoes help the golfer lighten up their look and match better with a traditional golf attire and look.
Conclusion
Cleaning white golf shoes is very similar to cleaning any other golf shoe.
The critical thing for golfers to remember is that part of keeping a clean pair of shoes is making sure the shoes are maintained all year long.
Don't let your golf shoes get so incredibly dirty that it takes you an hour to clean them.
You should be able to clean the shoes in a matter of minutes if you are keeping up with the general upkeep of the shoe.