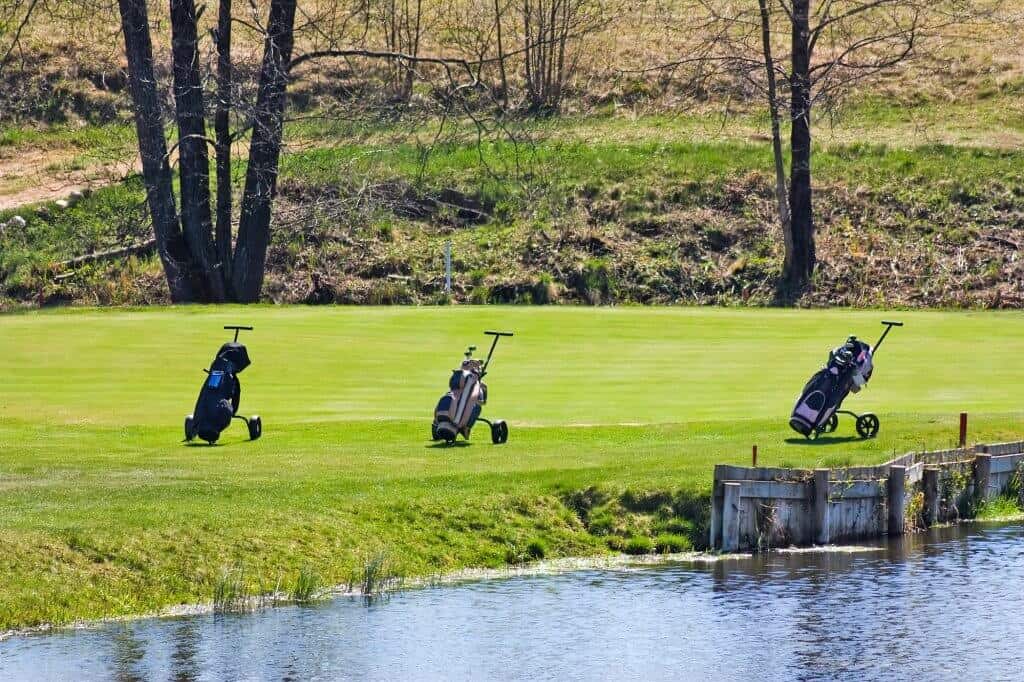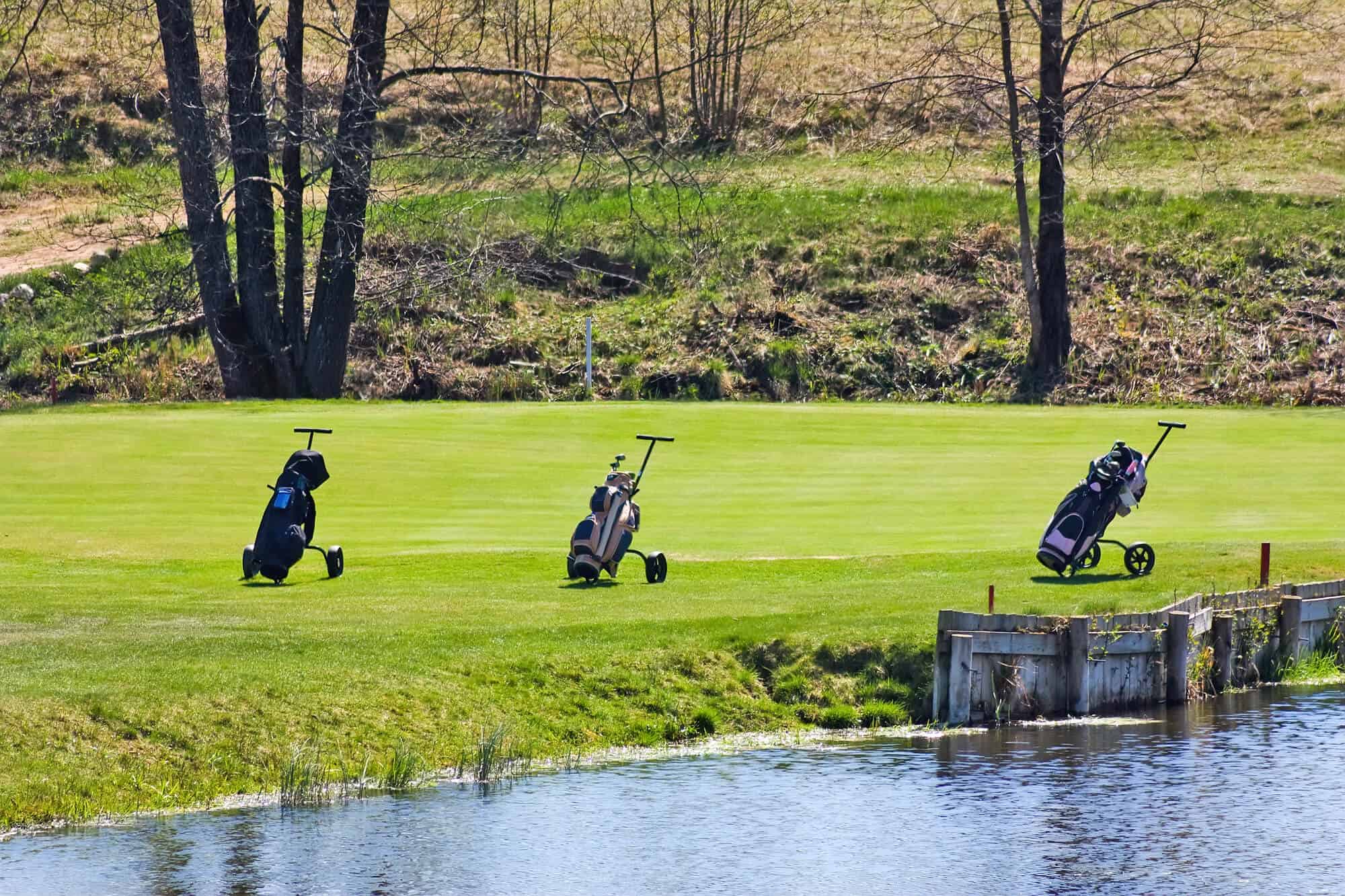 Golfing is one of the more easy-going sports because it requires very little initial investment after you buy your clubs and is relatively easy on your body. However, it can be annoying and frustrating to haul around your clubs for 18 holes.
In fact, some older or weaker golfers may give up the sport because of the need to drag their clubs around a course. So if you are sick of dealing with your heavy and bulky bag, you may want to consider buying a high-quality golf push cart.

These carts provide a stable and robust platform that you can use to haul your clubs more easily. They also make it easier to store a variety of items, such as balls, tees, snacks, and even scorecards. There are dozens of different golf push carts on the market, but I have compiled the top 10 for 2018.
I'll also include the benefits of owning a push cart, the features to consider when buying one, and a detailed FAQ about them. You won't find a more detailed examination of golf push carts anywhere else on the web.
The Benefits of a Golf Push Cart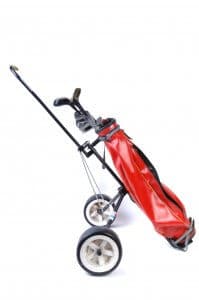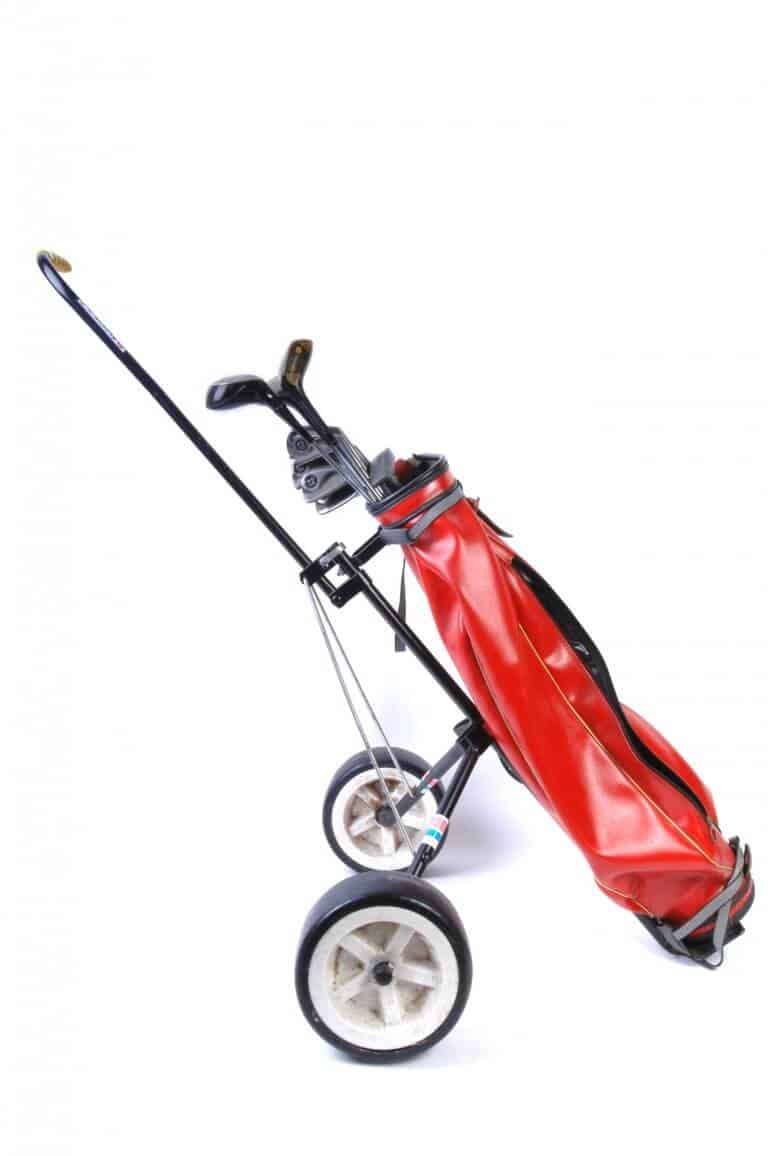 Before buying a golf push cart, it is a good idea to understand their many benefits. In this way, you can better understand why they are worth the cost. After all, some of these models are going to cost over $200 and may even approach $300. When dropping that kind of cash, you need to know what you are getting out of your investment.
Takes Some of the Strain Out of Hauling Your Cart
If you are having a hard time carrying your cart or are merely sick of doing it, an excellent golf push cart will help. While you will still need to push them when they are on the cart, the weight will be evenly distributed on the wheels of the cart. As a result, it will move smoothly across the surf and avoid severe strain.
In fact, using these products can speed up your game a little bit by decreasing the amount of time you spend between holes. As a result, you may be able to get in a quick 18 holes and drop off at the 19th hole bar for a drink and a bite to eat before working on your swing at the driving range. In fact, you might even be able to get in another nine holes if you're quick enough.
Easily Organize Your Gear
Most types of push carts come with a variety of different pockets and holders that you can use for your golfing gear. As a result, you'll have places to store your tees, your extra golf balls, pencils, and even snacks for when you get a little bit peckish on the course. I particularly like carrying almonds when golfing because they give me a little energy and keep me from spending too much on refreshments on the course.
These pockets are typically designed in a way that does not interfere with those on your club bag. As a result, you can hold even more gear than ever. Stack up on golf balls and tees to avoid running out in the middle of a game and having to head back to the clubhouse for more.
Provides More Exercise Than a Riding Cart
Golfers who aren't prepared to haul their cart over several acres often rent out a riding cart instead. This step is understandable for those who are in bad shape, but it does eliminate the little bit of exercise you get from golf. As a result, a push cart is a better investment for those who want to get into shape while getting in their weekly golfing.
That's because using a push cart for your clubs makes it necessary to walk between each hole. As a result, you can get in a good day's exercise. Even better, pushing the cart can increase your wrist strength and also boost some muscles in your arms. I'm not talking about significant muscle gains or anything, but you can subtly increase your strength over a lengthy period.
Very Easy to Store
The best golf push carts feature a collapsible design that makes them very easy to store. As a result, they won't take up nearly as much room in your car. This decreased size makes it easier to take multiple friends with you on a golf trip. However, it is important to check your cart to make sure it can collapse with your bag attached.
While it's not a deal breaker, a cart that fails to collapse with an attached bag is a little less convenient than one that can collapse with a bag. Keep that aspect in mind when choosing a push cart but don't let it be the deciding factor on which model is right for you. Other features and amenities, such as the brake system, are more important to consider.
Includes Several Nice Amenities
A high-quality golf push cart typically has a multitude of amenities that make them a good investment. For example, most should have an umbrella stand where you can place a large umbrella. Installing this item makes it easier for you to protect yourself from the heat of the sun and the cold of the rain.
Even better, many carts come with items like cup holders and scorecard holders. As a result, you can stay hydrated while out on the links and easily keep track of your strokes. Each of the carts mentioned in this review will have at least a handful of these amenities. So let's not hesitate a moment longer but dive right into the reviews.
The Top 10 Golf Push Carts of 2018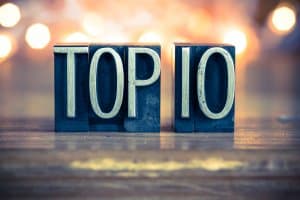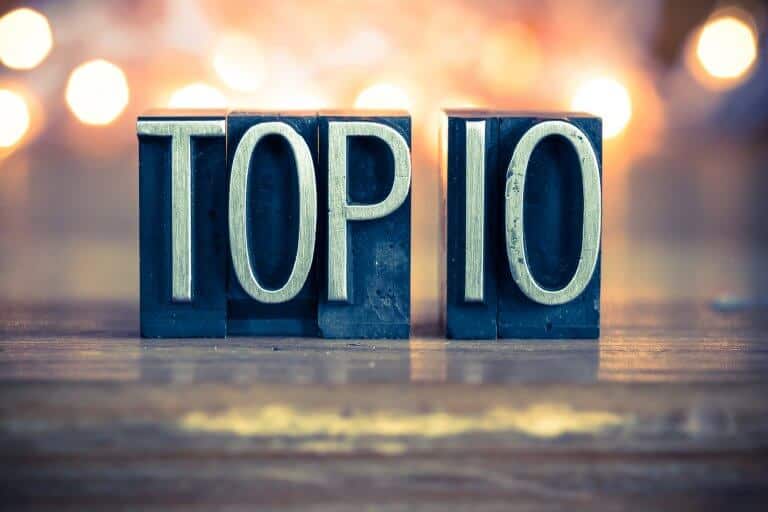 What to Look for in a Push Cart
Before buying any of these carts, it is important to know what to look for in a model. Each of the mini-reviews below will touch on most of these features to give you a detailed understanding of their benefits and disadvantages:
Durable and reliable wheels
Weight between 13-17 pounds
Areas to store golf balls, tees, score cards, and more
Reasonable turning radius
Now that you understand what to look for in a push cart, let's take a look at the top 10 best choices for 2018. Each of these models is worth your money, though you are probably best off investing in the number one choice. However, I'll also highlight the best budget model for those who don't have a lot of spare money.
Top 3 Recommended Push Golf Carts
Preview
Make/Model
CaddyTek One-Click Folding 4 Wheel Version 3 Golf Push Cart, Dark Grey
Qwik-Fold 3 Wheel Push Pull Golf CART - Foot Brake - ONE Second to Open & Close! (White/White)
CaddyLite 15.3 Quad-Fold Golf Push Cart Black
Preview
Make/Model
CaddyTek One-Click Folding 4 Wheel Version 3 Golf Push Cart, Dark Grey
Preview
Make/Model
Qwik-Fold 3 Wheel Push Pull Golf CART - Foot Brake - ONE Second to Open & Close! (White/White)
Preview
Make/Model
CaddyLite 15.3 Quad-Fold Golf Push Cart Black
10. Pinemeadow Golf Courier Lite Two-Wheel Golf Cart
Sale
The first cart I'll highlight is this interesting budget model. It is one of the least expensive options on the list, which means it does lack a few important amenities. For example, it only has two wheels, which does make it a little less durable and stable than the other models I'll talk about further on down this list.
Pros
Lightweight design (10 pounds) makes it easy to haul
Very easy to collapse in just one step
Wheels can be adjusted to improve stability
Low cost makes it an inexpensive investment
Cons
Lacks amenities, such as an umbrella holder
May tip over on steeper inclines
Requires wheel adjustment that can be tough to handle
Best Use Recommendation
I believe that this model is best for beginning golfers or teenagers who don't have a lot of money to spend. While it's not quite the top budget model on this list, it is still worth a look.
9. ProActive Sports Fairway Flyer 603 Golf Push Cart
ProActive Sports Fairway Flyer 603 Golf Push Cart (Charcoal)
Lightweight aluminum alloy construction; weighs only 7 pounds
5-way adjustable handle
Water bottle holder and weather-proof scorecard holder that stores balls, tees, and a pencil
Folds and stands alone for easy storage
Easy-on, push button, quick release, wheels and interlocking double-strut system for added strength
This cart is the top budget model on this list. At under $70, it is a great choice for those who are just getting into golf. However, it is also the lightest model on our list (seven pounds) and is made out of aluminum. This design means it will resist rust and last longer than many steel models.
Pros
Five-way adjustable handle
Storage area for water bottle
Pocket for scorecard, balls, and tees
Cons
Best Use Recommendation
This model is my top budget pick on this list. It earns this spot by having a rust-resistant design and an adjustable handle, as well as a high-quality three-year warranty.
8. Sun Mountain 2017 Micro Golf Cart GT

Sun Mountain Micro Golf Cart GT, Black
Folds and unfolds in two simple steps
New Self-Locking lower latch
Accessory console includes a padded valuables Tray, Score card holder, plus Tee, ball and pencil holders
The Sun Mountain 2017 Micro Golf Cart is a four-wheel model that uses a two-step folding system and a self-locking lower latch. I particularly like this last feature because it ensures your cart won't collapse on the course. Beyond that, it also comes with a nice mesh basket and an upper latch that you can use to adjust your handle height.
Pros
Sturdy build (nearly 17 pounds) won't tip over on the course
Expandable wheel base for a variety of bag sizes
Easy-to-use bungee cord strap system
Basket uses stretchy mesh net
Cons
Some bag holding problems if your bag lacks legs
Wheels lack pivoting abilities
May be a bit wider than other models when folded
Best Use Recommendation
While there are a few negatives holding this model back, I think it's a good choice for a mid-level golfer who plans on hitting the course frequently throughout the year.
7. Caddymatic Golf Pro Lite 3 Wheel Golf Cart White/Green
Caddymatic Golf Pro Lite 3 Wheel Golf Cart White/Green
This is feature-packed golf cart that represents exceptional value
With a quick fold mechanism and quick release wheels, it's ready to go back in your trunk in just a few seconds and is easily stored
Quick release wheels
Three wheels provide great stability, and the option to either push or pull the cart around the course
Scorecard/ball/tee/pencil holder, Drinks bottle holder, Foot brake
The biggest benefit of this cart is its visual appeal. Simply put, it is the best looking cart on the list. It uses a multitude of various accent colors and design options to create a stylish bag. And while it does lack a few features compared to the top bags on this list, it still has some advantages worth considering.
Pros
Quick-fold mechanism for easier collapsing
Quick-release wheels are easy to adjust
Includes reliable foot brake
Holder for scoreboard and golf balls
Cons
While sturdy, the 16-pound weight may be tough for some to haul
Feels a bit long when folded
May lack stability when turned too quickly
Best Use Recommendation
Those who want a stylish cart that matches their fashion sense should try out this option. Thankfully, it is also a pretty solid cart that beginners and intermediate players will enjoy.
6. Spider 3 Wheel Golf Cart with Seat
No products found.
If you want a cart that can also serve as a comfortable seat, this is your best option. The three-wheel base is sturdy enough to hold a variety of weight levels. This feature is particularly beneficial when paired with the on-off sure-hold foot brake. And with the included drink holder, you will have a comfortable place to relax before getting back out on the links.
Pros
Adjustable soft-grip handle
Easy-glide ball bearing wheels
Storage net for a variety of different items
Wheels can be removed for easier storage
Steel design is protected against the elements
Cons
Assembly instructions are very confusing
Storage compartment feels flimsy
Best Use Recommendations
Anyone who gets tired while golfing will appreciate having a comfortable place to sit on this cart. Thankfully, it has just enough features to make it more useful than just a temporary pit stop.
5. Bag Boy Quad XL Golf Cart
Bag Boy Quad XL Push Cart Silver/Black Quad XL Push Cart
Easy one-step handle adjustment accommodates golfers of all heights
Extra-large accessory bag
Handle mounted parking brake
Mobile device holder, Beverage holder and tee and ball marker integrated into the scorecard console
Lightweight, solid maintenance free tires
The Bag Boy Quad XL includes the easiest handle adjustment I've seen on one of these carts. It uses just one step to increase or decrease the height. I also really like the fact that it includes a mobile device holder, even though it could be a bit nicer. The best thing about this cart, though, is its weight (19 pounds) because it makes it very sturdy and unlikely to tip over.
Pros
Four-wheel design is one of the most stable I've used
Nubs hold the bag easily in place
Large cup holder lets you bring along many drinks
Tee holders give you easy access to this item
Cons
Phone holder has a tendency to snap
Some users have had parking brake issues
Lacks wheel swivel ability
Best Use Recommendation
This bag is a very middle-of-the-road option. It has a pretty decent range of features but does lack a few elements. That said, it's worth your money if you like what you've read here.
4. Clicgear Rovic RV1S Swivel Golf Push Cart
Clicgear Rovic Model RV1S Swivel | 3-Wheel Golf Push Cart (Arctic/Lime)
COMPACT – Easily folds down to a size of 13" x 15" x 24" for easy storage and transportation
SWIVEL FRONT WHEEL – Freely swiveling front wheel for maximum maneuverability with the option to lock the wheel in place for straightaways; foot-activated parking brake to prevent the cart from rolling when you walk away
LIGHTWEIGHT & DURABLE – Aluminum tubing and maintenance-free airless tires ensures the cart will last
STORAGE CONSOLE – Full size console storage compartment with built-in scorecard, golf ball, pencil & tee holders
ACCESSORIES – Includes standard cup holder, umbrella mount, and additional accessory tabs for adding more Rove and Clicker accessories
This Clicgear Rovic cart is one of the sturdiest three-wheel designs I've had the pleasure of operating. It is also the heaviest model on our list at 20 pounds. While a bit bulky, it folds down easily into a less than two-foot area, making it very portable for a variety of golf outings.
Pros
Swivel-wheel design increases turning ability
Wheels can be locked to increase stability
Multiple amenities, such as a main lock-fold button
Foot brake is very reliable
Cons
Takes a little effort to fold down
Swivel wheel may struggle in rougher terrain
Price may be high for some buyers
Best Use Recommendations
The swivel-wheel design of this cart makes it an excellent choice for just about any golfer. And while it took a little effort to collapse, I think this is a great choice for skilled or professional golfers. It's really that good.
3. Caddytek Super Deluxe Quad Fold Golf Cart
CaddyLite 15.3 Quad-Fold Golf Push Cart Black
Patented Quad-fold mechanism folds the cart to compact size in 3 simple steps
Strong aluminum frame, weighs less than 15.3 lbs
Three large 11.5" x 2.6" EVA maintenance-free wheels with ball bearings
28" wide body design for effortless pushing
Umbrella holder and storage rack included. Scorecard holder integrated with storage compartment, beverage holder and mesh net
The Caddytek golf court is a lot of fun to use and is one of the easiest carts to push and control on this list. It includes an excellent umbrella holder that makes it easier to avoid weather problems. I also loved how easily it moved over some tougher terrain, which made it one of the most durable and reliable carts on this list.
Pros
Braking system is one of the best I've experienced
Ergonomic handle is very easy to adjust
Bag holder keeps your bag very safe on the cart
Three-wheel design includes reliable ball bearings
Tracking system keeps it straight on the course
Light aluminum frame is also hefty enough (15 pounds) to avoid spills
Cons
Assembly can be difficult
Instructions are a bit confusing
Harder than necessary to open and close
Best Use Recommendation
Honestly, if this cart was easier to open and collapse, it would probably top this list. It's simply one of the best all-around bag carts I've ever used.
2. Qwik-Fold Three-Wheel Push Cart
Qwik-Fold 3 Wheel Push Pull Golf CART - Foot Brake - ONE Second to Open & Close! (White/White)
FOLDS IN ONE SECOND: This Qwik-Fold push cart only takes one second to open and fold with a Patented bullet-system technology that allows the collapsible cart to open and close in one simple step. Equipped with ergonomic handle for comfort.
AIRCRAFT GRADE ALUMINUM: This collapsible cart with wheels is built with a super strong, lightweight, and sturdy aluminum frame that makes the golf pull cart easily maneuverable. It also has an attractive finish that will coordinate with any golf bag.
BUILT-IN UMBRELLA HOLDER: You won't get stuck on the course in a downpour ill-equipped again. This golf push cart features an adjustable umbrella holder (a $39.99 value) that will keep your clubs dry and allow you to play the remainder of your round. It even works as a bit of shade under the sun.
COMPACT & LIGHTWEIGHT: This push cart opens and folds in one step, but is also compact to easily fit in the trunk of your car.
PATENTED FOOT-BRAKE SYSTEM: Simply tap the break with your foot to engage the brake, then tap with your foot again to release the brake. For maximum mobility, this folding golf cart also features ball bearing wheels for a smooth ride over any terrain.
My top three-wheel model pick is just a delight to use. It includes ball-bearing wheels that run more smoothly than any other model on this list. This design means it is one of the smoothest and quickest-turning models that I could find. Beyond that benefit, it also includes a one-second folding design that anyone can master in a moment.
Pros
Plenty of pockets for storing your various gear
Umbrella holder with adjustable positioning
Aluminum design resists rust very easily
Sturdy build (17 pounds) feels very stable
Compact folding size fits in most car trunks
Cons
Front wheel does not swivel
Cannot fold with the bag on the cart
May be too heavy for smaller users
Best Use Recommendation
This model is a great choice for any serious golfer who wants to improve their game. I particularly like how sturdy this one feels on the course, as I was never worried it would tip over.
1. CaddyTek One-Click Folding Four-Wheel Version 3
CaddyTek One-Click Folding 4 Wheel Version 3 Golf Push Cart, Dark Grey
Patented One-Click button folds the cart to compact size (17" x 13.8"x 25.8")
Strong aluminum frame, weighs less than 17 lbs.
Patented press to brake, press again to release foot brake
Two 11.5" x 2.6" Rear and Two 10.5"x2.4" Front EVA maintenance-free wheels provides perfect balance and traction on all types of terrain
Patented basket with cooler build in, Mesh net on the handle, Umbrella holder and storage rack included
My choice for the best golf push cart for 2018 is this four-wheel model. It utilizes a one-click button that easily folds the cart down to a compact size. This design option is pretty nice and helped to give this model the edge over the other items on this list. At just 17 pounds, it should be easy for most people to haul and handle this cart.
Pros
Storage basket holds a large amount of items
Includes an umbrella holder
Sturdy and reliable wheels that require little maintenance
Cons
Umbrella holder may need to be tightened before use
Best Use Recommendation
I suggest this cart for those who want a stable unit that brakes very well. It is also a good choice for anyone who has a little of money to spend and who doesn't mind investing in a high-quality cart.
How to Use a Push Golf Cart
Now that you have read through my detailed reviews of these golf carts, it is worth understanding how to operate them. This section will break down the process into assembling, opening, collapsing, and using the cart when on the course. I wish I could give more detailed instructions for each step, but each cart is slightly different. As a result, the exact operation method will vary.
Assembling the Cart
Assembly of a push cart is typically a pretty simple process. In some instances, it might come pre-assembled, meaning you don't have to do much work. Even on these models, though, you can expect to put on the wheels, remove stuffing from the pockets, and add other small items. That said, some models might require you to do a full assembly. This process is pretty simple but may take some time to perform if you aren't prepared.
For example, you may have to place the wheels on the frame and then hold them in place with a large bolt or nut. Some models may also require you to attach the different legs of the cart using a similar approach. When assembling, make sure to follow all of the instructions carefully and to tighten every connector evenly to avoid putting excessive strain on the frame.
Opening and Collapsing the Cart
Preparing your cart for the course is usually quite easy. Typically, it requires pulling outward on the legs or the handles of your cart. This step will open up the frame, extend the wheel legs, and prepare your cart for use. Most models will have a simple lock that you can attach to keep your cart from collapsing while you're golfing. This lock snaps along the back to hold your cart frame together.
Collapsing the cart is as simple as removing your bag, popping off the lock, and pressing lightly on the legs or handles of the frame. Avoid using too much force here because you might damage the cart. Instead, use slight, but steady, pressure to slowly collapse the structure. You can then tie it shut by wrapping the included straps around the frame.
Putting Your Bag on the Cart
Now that you know how to open and collapse your cart, you can throw your bag on it and hit the course. Thankfully, this step is pretty easy to perform. Place your bag on the bottom of the cart's holding area. This should include a small resting spot that will comfortably hold your bag. Position it so that it is square with the cart and with the bag pockets facing outward.
Once your bag is in place, you need to strap it down. This process includes snapping on vertical and horizontal straps. The horizontal straps usually have a snap connector and an easy length-adjustment method. The vertical straps attach to the bottom of the bag to hold it firmly in place. Your cart is now ready to go. Make sure that you give yourself room to turn on the course because some models have a relatively wide turning radius.
Push Golf Cart FAQ
Q: What kind of golfer is appropriate for these carts?
A: I think that just about any golfer could benefit from a push cart. However, they are particularly nice for older people who struggle to haul their clubs but who don't want to ride in a powered cart. That's because it relieves them of some of the strain while giving them some exercise.
I also think that very petite people and children can benefit from these kinds of carts. While many of these individuals may be strong enough to carry their clubs for 9-18 holes, others may lack that strength. A good push cart helps relieve them of the difficulty while also subtly increasing their musculature.
Q: Will a push cart damage course turf?
A: Push carts are typically safe to use when on a golf course. That's because their wheels are designed to run smoothly and without causing any scuffs. That said, it is possible to cause some damage when you are on the turf, particularly if you aren't careful with how you control your cart.
For example, sudden stops and sharp turns can scuff up the turf and cause severe damage. Running with the cart or dragging it behind you can also create a similar reaction. Use your cart correctly and always give yourself a wide turn berth to avoid damaging the course.
Q: Are push carts legal in tournament play?
A: There are very few circumstances in which push carts will be banned from tournament play. While some golfers do frown upon using them, most amateur tournaments allow their use. Professional use will vary depending on the exact tournament and the group running it.
It may also depend on where you live and the course where you play. For example, British golfers heavily use these carts and most courses there are welcome to them. However, some higher-end American courses ban their use. Make sure to contact your course about their policy before assuming it is okay to bring one.
Q: Are there any safety issues to consider?
A: Using push carts is a very safe process and one that will very rarely cause any serious concerns. The only problem you're likely to run into is people who are misusing them. As mentioned before, this may cause scuffs and tears on the course turf and can be expensive to repair.
That said, there are other considerations to keep in mind. For example, you should always keep your push cart away from rough areas because they aren't designed for them. As a result, pulling your cart into a woods or a sand trap could cause damage to the cart or even make your clubs spill out if the cart tips over.
Q: What kind of etiquette rules dictate push cart use?
A: Push carts are enjoyed by many types of golfers, but not everyone likes them. Some think that they simplify the game or are rude to use. As a result, it is typically a good idea to keep your cart out of the way when on the course. Give yourself at least 4-5 feet around the cart as a safe movement window.
You should also keep it at least 30 feet from tee boxes and greens. This step prevents the cart from becoming an obstruction to the game if somebody is aiming for these areas. In fact, many courses will have signs warning you away from these areas. Steer clear of them to avoid annoying anybody when on the course.
Q: What kind of maintenance is necessary for these carts?
A: Keeping your carts operating well is usually quite easy. Keep them free from dirt and mud by washing the frame with a rag after every game. Make sure to clean off the wheels, as well, to keep them from seizing up while you play. Add a little oil to the wheels every year to keep them lubricated and running well.
And try to keep water and moisture off of the cart, as this may cause rust if it is exposed too long. Dry off the frame and all of the hard-to-reach areas with a towel to protect against this problem. Finally, try to avoid collapsing and opening the frame too often, as this can wear down the mechanical operation and make it harder to perform.
Q: Are three-wheel or four-wheel models better?
A: One of the biggest debates about push carts is which wheel varieties work the best. Some prefer four-wheel models because they are more stable and will rarely tip over. However, others prefer three-wheel types because they can turn more quickly and are often less expensive than their four-wheel sister models.
Honestly, it all depends on what you want to get out of your cart. If stability is more important to you than quick turning, four-wheel models are your best bet. However, if you don't want to hassle with the broader turning range of these types, go for a three-wheel cart. Make sure that you also check their amenities and features to ensure you get the best type for your needs.
Q: Can owners repair these carts on their own?
A: When you run into an issue with your push cart, you may be inspired to try to fix it. This process should be easy enough for most owners to handle on their own. For example, adding new wheels requires removing the bolt holding them to the shaft, taking off the wheel, and inserting a new one. However, other repairs might be beyond amateur abilities.
For example, the folding devices use a variety of springs and control items that will be hard for an amateur to repair or change. Thankfully, you may be able to get your cart fixed at a golf shop if they have hired a professional repair expert. In some instances, though, it may be worth just buying a new cart, mainly if the repair costs will be more than the price of a new cart.
Final Thoughts
As you can see, there are many things to consider when buying a golf push cart. While they all share some of the same basic features, there are benefits and disadvantages to each model. As a result, some may appeal to you while others do not.
For example, a four-wheel model is typically more stable but doesn't turn as sharply as a three-wheel model. And the brake system is usually a little stronger on four-wheel models, though that depends on the exact type that you buy. Thankfully, this article should have given you a pretty good idea of what you want in a cart, making it easier for you to make that critical purchase.
Resources
Women Daily Magazine: Top 5 Health Benefits of Using the Best Golf Push Cart