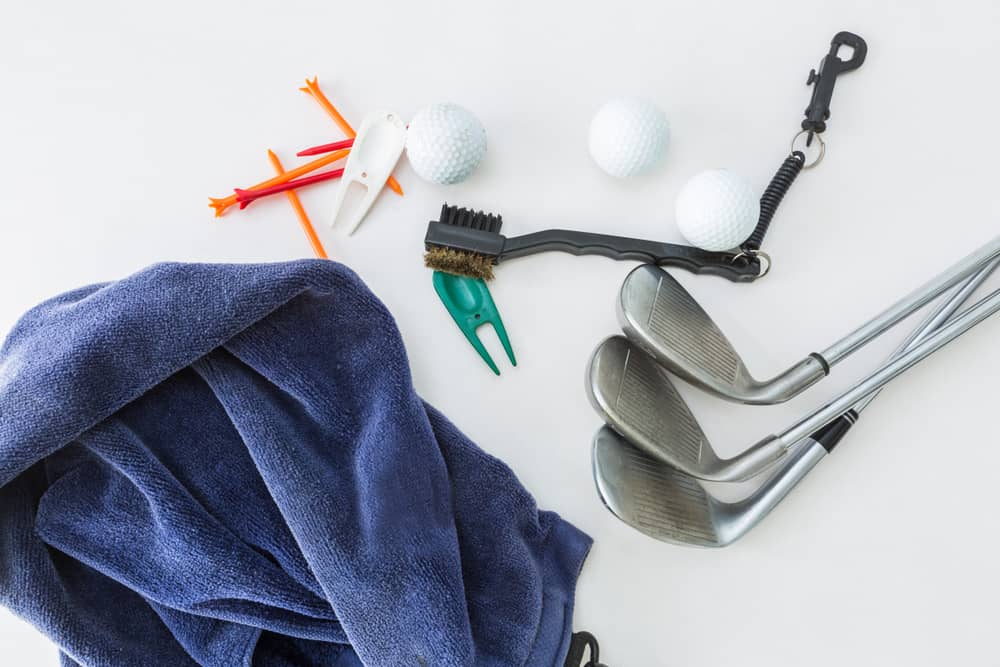 Making sure that your golf club grooves stay clean is so important.
When your golf club makes contact with the ball, it needs to have a clean interaction between the grooves and the ball.
If this interaction does not take place, it's going to be nearly impossible for you to get the spin and the performance that you need.
A golf club cleaning kit can be the perfect solution to this problem.
With a golf club cleaning kit, you can ensure that your clubs have that pure contact with the ball, and you will see much better overall performance.
There are lots of golf club cleaning kits on the market, but only some have the exact specifications that you need to ensure your clubs continue to look great.
We have pulled together five of the best golf club cleaning kits on the market.
Let's take a look and see if one of these could be perfect for your golf game.

Best Golf Club Cleaning Kit (Top 5)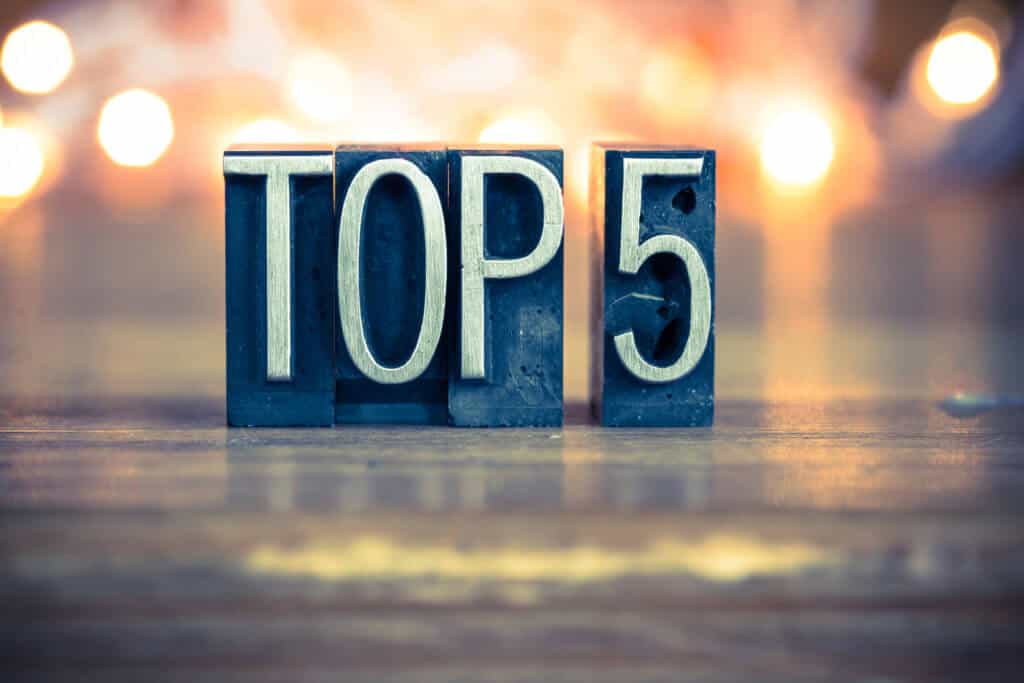 1. Golf-EZ Golf Essentials 21 Piece Kit | Golf Towel | Cleaning Brush | TRI-LINE Golf Ball Alignment Kit | Divot Repair Tool
Key Features
It comes with everything needed to care for clubs properly
Includes golf ball alignment tool
Strong bristles on the brush
The Golf EZ Golf Essentials 21 Piece cleaning kit is the perfect option for taking care of your golf clubs.
Since this set has 21 total pieces, it will do more than keep your golf clubs clean as it has some great accessories to help you stay prepared on the golf course as well.
One of the first things worth mentioning about the Golf EZ is the microfiber towel.
When you are cleaning golf clubs, the microfiber is a perfect material to help ensure that the dirt comes off, but the golf club does not get damaged.
A microfiber towel is very absorbent, and it will dry quickly.
You don't have to worry when it comes time to wash the towel either because it can go in a typical load of laundry and come out ready to use.
The microfiber towel will help to keep your hands clean when on the course if you attach it to your golf bag as well.
In addition, there is a retractable cleaning brush to help clean the grooves of your club.
The brush has two sides, one of which has a bit more durability than the other side.
This helps when you have real tough stains or dirt.
The second side of the brush is a bit softer and will sweep away more of the loose particles.
Another great feature of this set is the golf ball alignment tool.
Most golfers should be putting some kind of a line on their golf balls to help with putting and alignment.
Not only does the Golf EZ come with the tool to get this done, but it also gives you four different markers to make sure you can customize it your way.
In addition to these tools, you get some golf tees, a divot repair tool with a magnetic ball marker, and a handy carrying pouch.
Whether you are a new golfer or have been in the game for many years, this golf club cleaning and accessory kit is a great purchase to consider.
Pros
Has many pieces with golf accessories and golf cleaning
High-quality towel
Divot repair tool has a magnetic ball marker with it
Cons
Not all of the products are for cleaning; some are golf accessories
2. ClubPur Golf Club Cleaning Kit | Multi-Purpose Cleaning Kit for Club Face, Grips, Golf Ball, And Shoes
Key Features
Works on all parts of the golf club
It comes with brushes and a resealable pouch
Easy to use
The ClubPur Golf Club Cleaning kit is unique in that it is explicitly designed around cleaning.
Many of the golf club cleaning kits on the market will also incorporate golf accessories into the package.
Although the accessories are a natural addition, they are not necessarily for the cleaning of the clubs.
With the ClubPur, you can get your entire golf club looking like new.
One of the things we love about the ClubPur is that it is not just for the clubface, but it will also work to keep your grips clean.
So many golfers forget to clean their grips, and it is essential to have that great connection with the club.
A clean grip will also help prolong the life of the grip and could end up saving you quite a bit of money.
This kit comes with a four-ounce bottle of cleaning solution that helps keep dirt away from your clubs for good.
The solution is made up of a conditioner and coconut oils, and you should be able to clean your clubs more than 100 times with this small bottle.
In addition, you will get a nonabrasive cleaning brush to help ensure that the dirt can easily fall off the face of the club.
Even though this cleaning kit has so much effectiveness and power, it is not heavy, and you can keep it in your golf bag when you play.
Many times, when you are setting up to clean your golf clubs, you are going to need a large bucket full of water, a shady place in your driveway, towels to protect the equipment, and more.
However, with this best golf club cleaning kit, all you really need is a quick spray of the club, a brush or two, and then you can wipe it clean.
The soft microfiber cleaning cloth that is included with the set is going to help ensure that you are cleaning the club with a non-damaging cloth.
The cleaning solution does not have an odor to it, and overall, it is not a harsh cleaning product.
Certainly, the product is a bit less abrasive than other golf club cleaning products on the market.
The storage pouch that this set comes with allows you to keep it in your bag so that you will be ready to use it the next time you head out to the golf course.
Most of the golfers who invest in this golf club cleaning kit enjoy the ability to clean their clubs quickly.
Instead of taking a Saturday morning to work on your grooves and grips, you can do the entire set in just a few minutes with this set.
Certainly, saving you that time on the cleaning could give you a few extra minutes on the golf course.
Pros
Very easy to use
Can carry in your golf bag
Nonabrasive cleaning solution
Cons
No accessories included in the kit
3. VIXYN Golf Accessories Gift Set – Golf Towel, Golf Club Brush with Groove Cleaner, Foldable Divot Repair Tool with Ball Marker, Golf Ball Marker And Golf Tee Holder – Golf Club Cleaning Kit
Key Features
5 in 1 Value Pack
It comes with a larger microfiber golf towel
Golf ball line marker
The Vixyn Golf Accessories Gift Set also works as a perfect golf club cleaning kit.
This pack has everything you need to get the grooves on your club to be free of dirt and ready for their next golf shot.
The golf club cleaning kit comes with a 16 x 24-inch tri-fold microfiber golf towel.
This is a perfect way to ensure that your club stays clean, not just during a deep clean but round after round.
The VIXYN set comes with a golf club brush and groove cleaner.
The brush has soft nylon bristles to ensure that the club does not experience any damage.
However, there is also a sharp, pointed groove cleaner for those dirt stains that are tougher to reach.
As long as you stay on top of the cleaning needs for your clubs, you should not have too many instances where you are not able to remove the dirt from the face of your club.
In addition to the cleaning tools, this set also comes with a golf ball line maker and even a plastic golf tee holder.
The golf ball line marker is an excellent option if you are ready to take your putting game to the next level.
Having clean golf clubs will make you feel as though you are a more organized and better prepared golfer.
You will be able to attach this brush and the cleaning towel to your golf bag so that you are ready to use them at any time.
The overall price for the functionality this solution provides is certainly a great feature as well.
Pros
It comes with everything needed to clean clubs
Will attach to the golf bag
Lager microfiber towel
Cons
It does not include a cleaning solution to use on the golf club
4. Golf Towel And Tool Accessories KIT – Comes With A Golf Towel, Golf Club Cleaner, Divot Repair Tool, Golf Club Brush, Golf Ball Marker
Key Features
Microfiber towel with waffle design
It comes with a groove sharpener
Double-sided cleaning brush
This golf towel and accessories kit is an excellent choice for all-around club upkeep and maintenance.
The 16 x 24 microfiber towel is the perfect option to keep attached to your golf bag and ready to clean the clubs at all times.
One thing that sets this option apart from the crowd is the groove sharpener tool.
Once you get your golf clubs clean, you will sometimes look at the grooves and realize they are not as sharp as they once were.
Luckily, this can be fixed by using a golf club groove sharpener.
The groove sharpener is able to keep your grooves clear of any debris but also get them back to their original condition.
The USGA does allow the sharpening of grooves as long as the original shape of the grooves is not changed in any way.
If you happen to change the shape or the size of the grooves, then that could be considered illegal under the rules of golf.
The golf towel and the golf brush that come with this kit will attach directly to your golf bag to make things quite a bit easier when you head out to the course.
We like that this is a double-sided brush that has both soft bristles on one side and brass bristles on the other.
If you are worried about the harsh brass on your golf clubs, simply flip the brush the other way and only use the soft side.
The sharp spike on the golf club brush is also a great tool to get your golf shoes clean.
When you are cleaning your clubs, you may as well spend a bit of time working on the golf shoes as well.
When the golf shoes are clear of debris, they can offer more traction.
By now, you should see that staying clean and organized throughout your round of golf is only going to help you as a player.
Pros
High-quality golf club groove sharpener
Great variety of tools to use
Attach towel and brush to the bag
Cons
Some people don't know how to properly use a groove sharpener
5. Caddy-Clean The All-In-One Golf Club Cleaner
Key Features
Will last for more than 500 sprays
Can attach to the golf bag
Will not damage golf clubs
You know that we always enjoy coming up with some unique solutions for golfers, and this is certainly one of them.
The Caddy Clean is more like a golf club cleaning station that will attach to your golf bag.
This set is built on a recoiling tether that you can use to pull it away from the bag when you need it.
The recoiling tether makes it so easy to move the cleaner exactly where you need it when working on getting your clubs conditioned.
The spray that comes with the Caddy Clean should last for more than 500 cleanings which should be plenty to get you through a season of golf.
The brass groove cleaning tool on the Caddy Clean will only help improve the performance of your golf grooves and not wear them down.
In addition, there is a premium cotton golf towel that comes along with the set.
Having this small station attached to your golf bag is going to help ensure that you are always prepared for your next shot.
Don't waste swings using a dirty golf club.
Pros
Long-lasting spray
Recoiling tether is a nice feature
Groove cleaning tool won't damage clubs
Cons
It can be a bit bulky if you are carrying your clubs