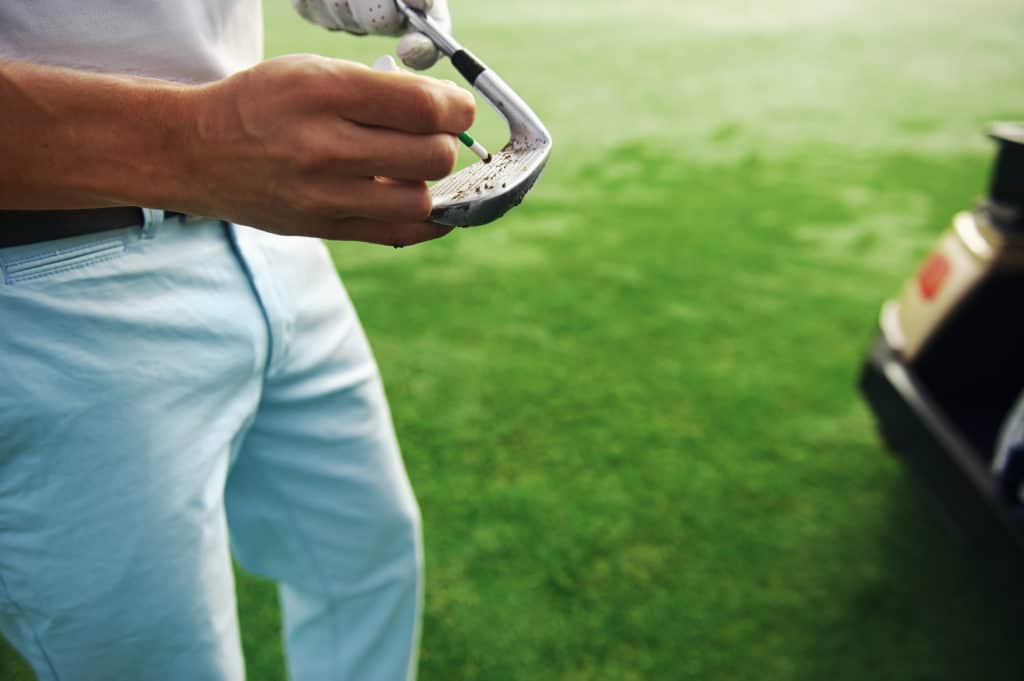 With all the money that you spend on your golf clubs, it is no wonder that you want them to last forever.
We can relate to this.
Changing grips, washing clubs, checking for issues with shafts are all great ways to keep your golf clubs in good shape.
Another more involved way is to sharpen the grooves on your golf clubs.
This is not something that most average players choose to do on a Saturday afternoon.
You must be pretty committed to the game of golf and your clubs to take on this project.
However, before you do, there are some essential things to consider.
In this guide, we will talk to you about groove sharpeners, how they work, why you need to be careful with them, and some of the best groove sharpeners on the market.

Do Golf Club Groove Sharpeners Work?
As long as you buy a high-quality sharpener, and your clubs needed to have the grooves sharpened, you should have no trouble with the effectiveness.
Groove sharpeners are made to restore your golf grooves to their original condition.
You must remember that this is the sole purpose of the sharpener, as this point will come up several times in our guide.
If you don't want to sharpen the grooves on the golf club yourself, you can have a company do them for you.
This will be more costly, but there are a few reasons that it could be a better decision as well.

How Do You Use A Golf Groove Sharpener?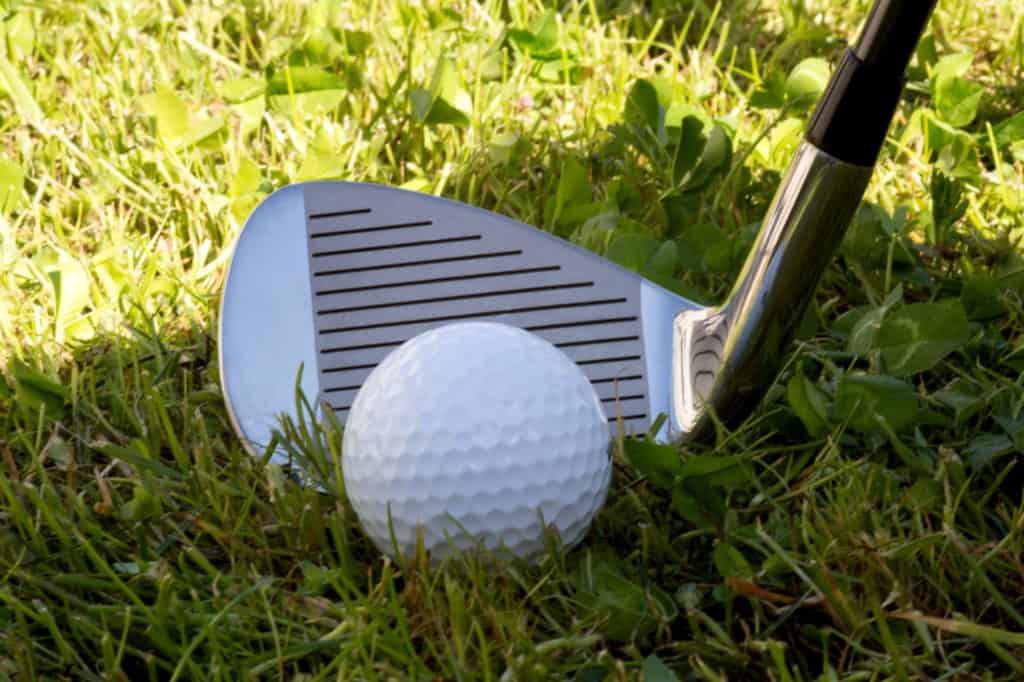 The first thing we must mention about using a groove sharpener is that you must be careful with it.
They do not call this club a sharpener for no reason.
The edges of the sharpener are going to be used to score and fix a metal clubface.
The material has to be strong and extremely sharp for this process to work.
Always wear gloves when completing this process and make sure you have an excellent idea of where both hands are at all times.
If one hand is just simply holding the club, make sure it is positioned in a way that you won't cut yourself if the sharpener slips.

Step 1
The first thing you need to do is thoroughly clean your golf club.
If you have dirt or sand anywhere on the golf club, it can cause more significant damage.
Once your golf club is clean, make sure that it is completely dry before starting this process.

Step 2
Read the instructions on the groove sharpener you bought.
Each groove sharpener will work a bit differently than another.
Make sure that the sharpener you bought says it is compatible with the grooves that are on your golf clubs.
When you have a good handle on how your particular sharpener works, then you can move to the next step.

Step 3
Try to put the golf club in a vice if possible or make sure you are working on a very flat and stable surface.
When working with a groove sharpener, you will likely need to apply a great deal of pressure.
Also, work on a surface that you will not be upset about should it get damaged.
If a groove sharpener slips and puts a scratch on your dining room table, that is going to cause problems.

Step 4
As you work through sharpening each groove, you must make sure that all you are doing is restoring the groove to its original condition.
Take great care not to change the shape of the groove in any way.
Work slowly and carefully as this is a process that will very likely take some time.
Video: Example of Sharpening Golf Club Grooves And Results
Are My Golf Clubs Ready To Have The Grooves Sharpened?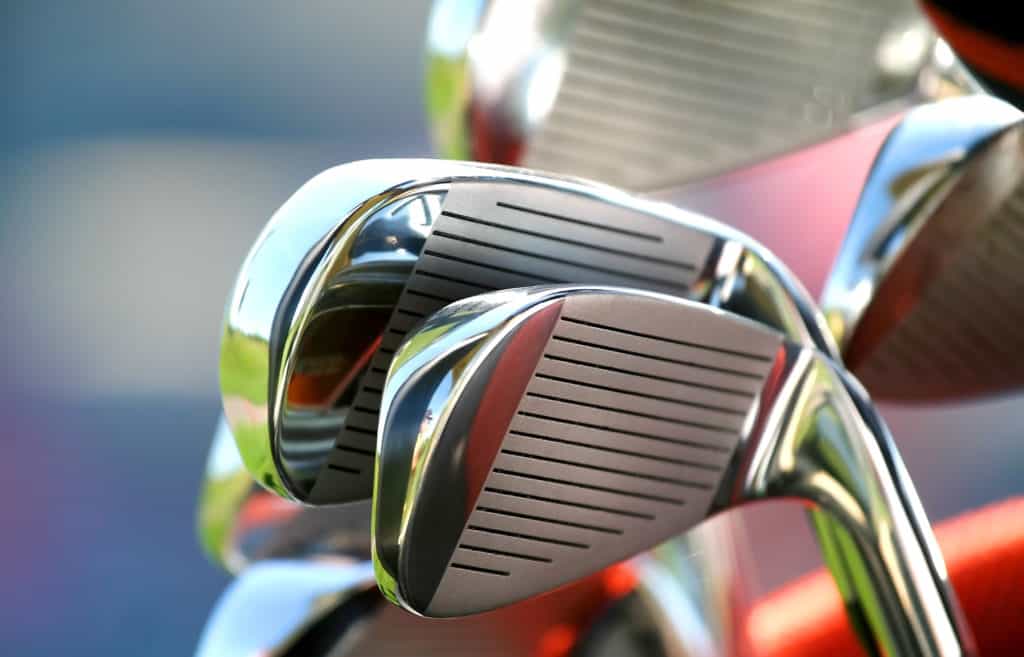 So you take your brand new golf clubs out for a round of golf, and you love them.
After you play, you want to make sure they are back to the original condition so you can have another magical round with them.
Is this the time to buy the groove sharpener?
Absolutely, not.
Golf clubs do not need their grooves sharpened often, and it takes a great deal of time for a club to get to the point that it would ever need its grooves sharpened.
You will have to play hundreds and hundreds of rounds before you will see a need to sharpen the grooves.
For most players, you will be able to see a small area of your club where the golf club is a bit discolored.
This is the area where the majority of your shots are hitting.
Just because it is discolored does not mean that the grooves are in bad shape.
Take a closer look at the clubface and use a golf tee or a pencil to help you do so.
Run the tee along each groove.
Does it run smoothly without bumping into any edges?
Can you visibility see some of the edges of the grooves are turned down and covering the original groove?
If this is the case and your golf clubs have many rounds on them, then it may be time to look into a groove sharpener.
Or, it may be time to send the clubs out for sharpening.
If you attempt to sharpen your grooves too often or too soon, you won't be doing yourself any good.
You also may be risking damage to your golf club.

What Golf Clubs Need To Be Regrooved More Often?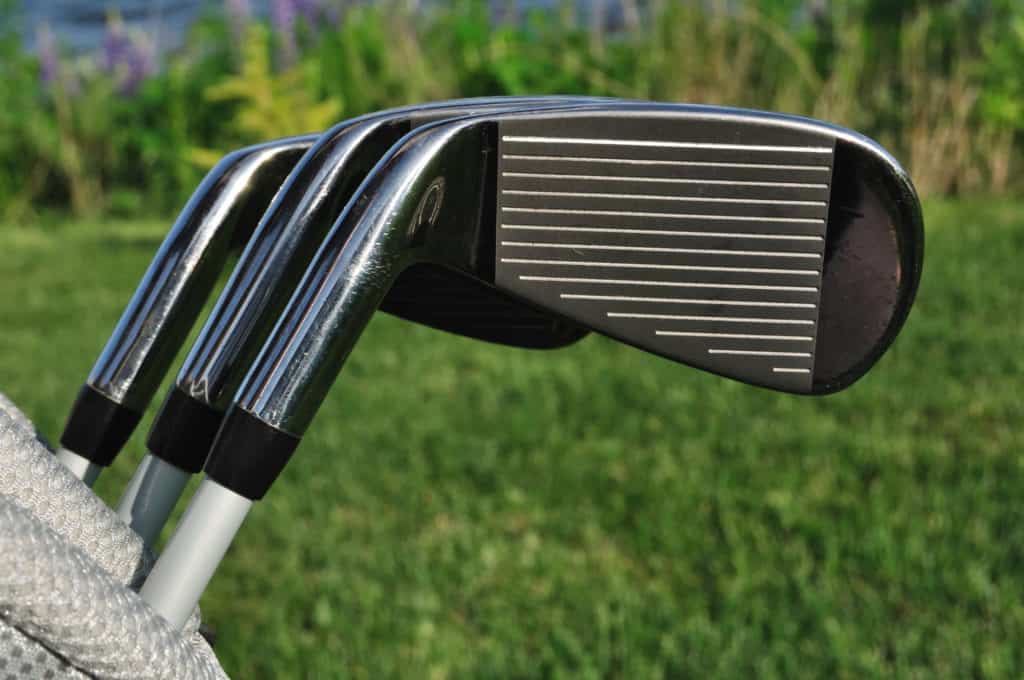 The grooves on your golf clubs will not deteriorate if they are not used often.
Most players have their favorite golf clubs that they return to time and time again during a round.
Chances are you have a wedge and then a seven or eight iron that looks a bit more beat up than the rest of your clubs.
Your four iron may never need to be regrooved for as long as you own it.
This is not a popular golf club for most people and probably sees minimal action in the course of a round.
The golf club that will need the most help as far as regrooving is concerned are the wedges.
Wedges are built to spin the ball, and because of this, the grooves on a wedge are essential.
If a golf ball does not come into contact with clean and smooth grooves on your wedge, then you will not get the results you deserve.
Where your irons may rarely need you to sharpen the grooves, a wedge could need it every year or so.
The process for regrooving a wedge is no different than it is for working on irons.
Always make sure that you are not changing the actual groove at all and only restoring it.
What Is The Purpose Of A Groove On A Golf Club?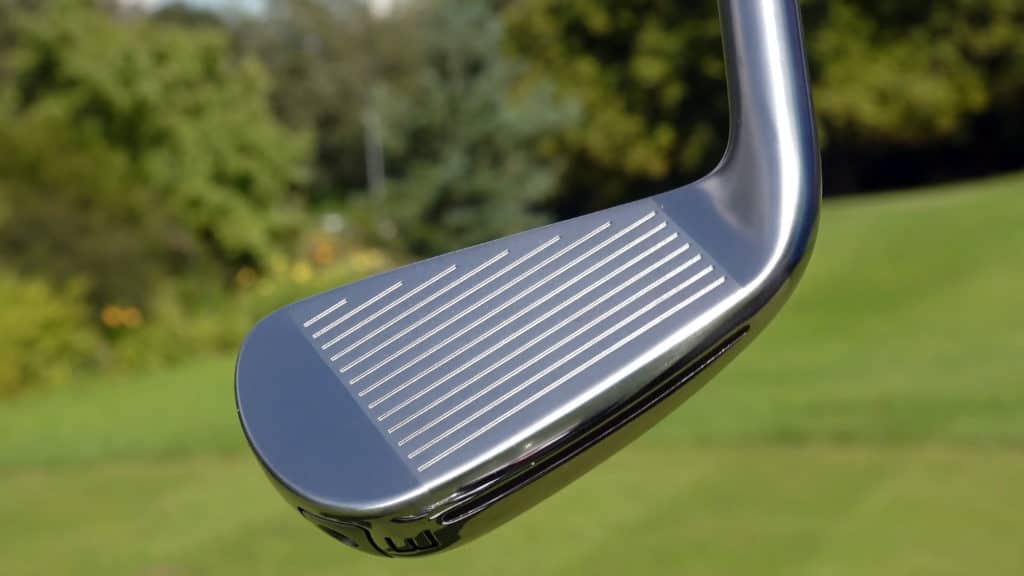 All this talk about sharpening the grooves on your golf clubs may have you wondering what the point of the grooves is in the first place.
The grooves are designed to give a pure and perfect interaction between the ball and the clubface.
When hit accurately, the grooves provide the correct spin to send the ball in the right direction.
The grooves also allow the ball to stop and sometimes spin backward when the ball hits the green.
You may notice that when you hit a golf ball out of the rough, it is tough to get the ball to stop.
It often runs through the green and over the back.
This is because when you hit the golf ball, there was a barrier between the club and the ball.
That barrier was rough or long grass.
The grass makes the connection between the ball and the clubface much less effective and therefore led to a shot that didn't perform the way it should.
When your grooves start to wear out, and they are no longer sharp, you may start to notice more shots like this.
If you were always able to get your wedge to spin back a few feet and now it just won't, it could be that the grooves need to be sharpened.
Can I Use A Homemade Groove Sharpener?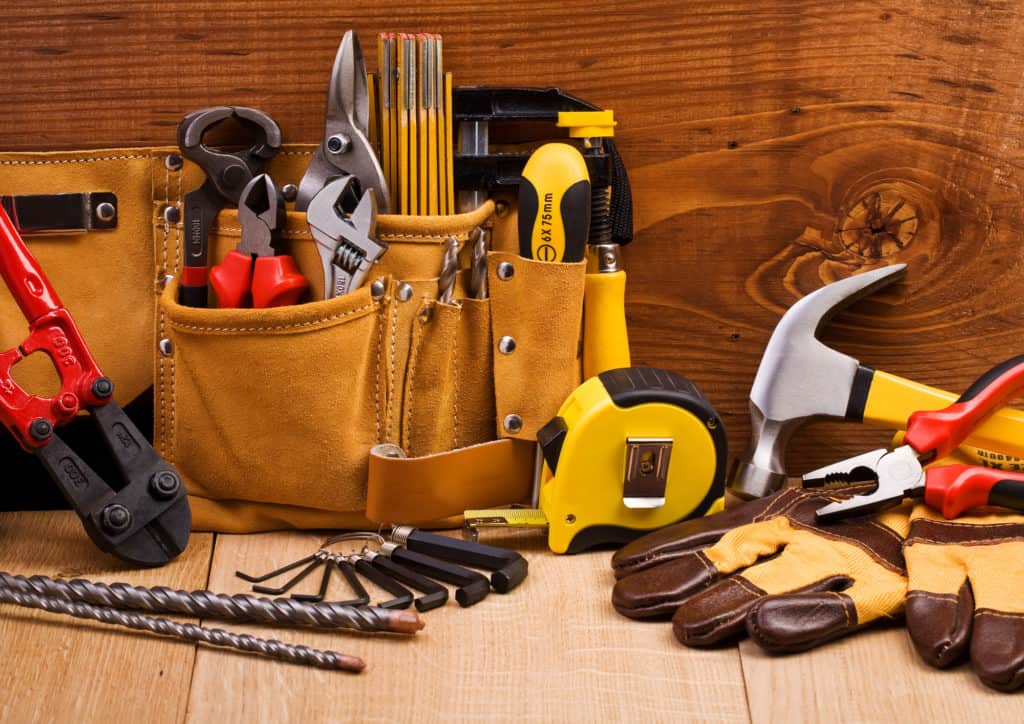 Golf groove sharpeners are not that expensive.
When you consider what it would cost to have this done professionally or what it might cost for a new set of golf clubs, the groove sharpener is cheap.
However, many golfers still don't want to spend money on another gadget.
If you want to sharpen the grooves without using a golf groove sharpener, you can use something like a screwdriver.
A flat head screwdriver that has a very sharp end is going to be your best choice.
The screwdriver must not be too broad that it is going to cause your grooves to change shape.
The process of sharpening grooves requires a good amount of force and pressure from the person working on the clubs.
If you are doing it with a screwdriver, it can be hard to get the proper pressure.
We have seen many golfers slip while doing this and cause damage to other areas of a golf club or their own hands.
Make sure you are extremely careful when using homemade tools to get this process done.
Overall, we believe that groove sharpening should be left to the professionals.
If you genuinely feel as though you must do it at home yourself, then it is worth buying the proper tools to do so.
It's essential to keep in mind that the true groove sharpeners have specific guides on them.
The guides will allow you to make sure you are not making grooves any deeper than they should be.
If you are using a screwdriver, you will not have this same certainty.
Are Groove Sharpeners Illegal?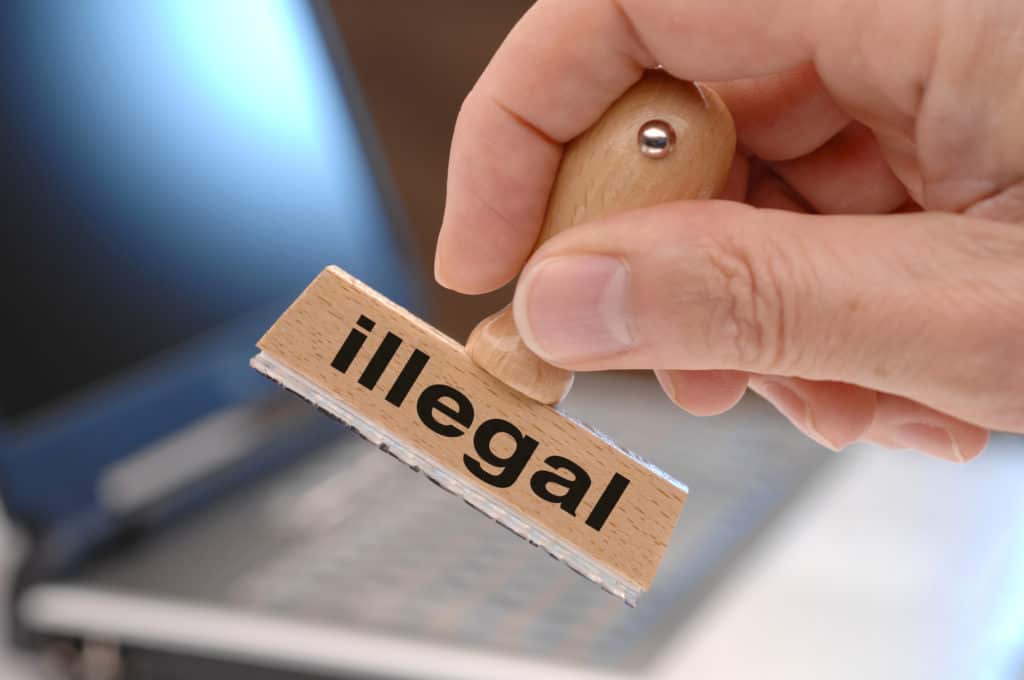 You may have heard some mixed signals about golf groove sharpeners and whether or not they are legal.
The bottom line is that groove sharpeners are legal if they are correctly used.
The USGA completely understands that after a while, the grooves on your club can start to deteriorate.
When they deteriorate, your golf clubs will not be as effective, and that isn't fair to the player.
Except for buying an entirely new set, sometimes a groove sharpener is the only thing that can get your golf clubs to perform again.
The most important thing to remember about the groove sharpener is that it is not legal to change the shape of your grooves.
When your golf clubs were made, the shape and size of the grooves were inspected to make sure they fit within guidelines established by the USGA.
If you were to change the grooves and make them wider or longer than you will likely not be playing with a conforming golf club.
Playing with a non-conforming golf club is illegal.
It is also illegal to use a groove sharpener in the middle of a round of golf.
This would be altering your equipment mid-round, and even if you don't change the shape of the groove, you cannot do this.
Many people question how they will know if they have done damage to their club and altered the groove shape.
In all seriousness, it can be very hard to tell.
If you are not a club tinkerer and this is the first time you will be working on your golf clubs, you may want to save groove sharpening for the professionals.
You are only trying to prolong the life of your golf clubs, but if you make a mistake and cause damage, there may be no going back.
Our best advice is, to be honest with yourself about your ability to work on golf clubs.
If you feel confident, then you can use the appropriate tools to help restore your golf clubs.
How Much Does It Cost To Have Your Golf Grooves Sharpened Professionally?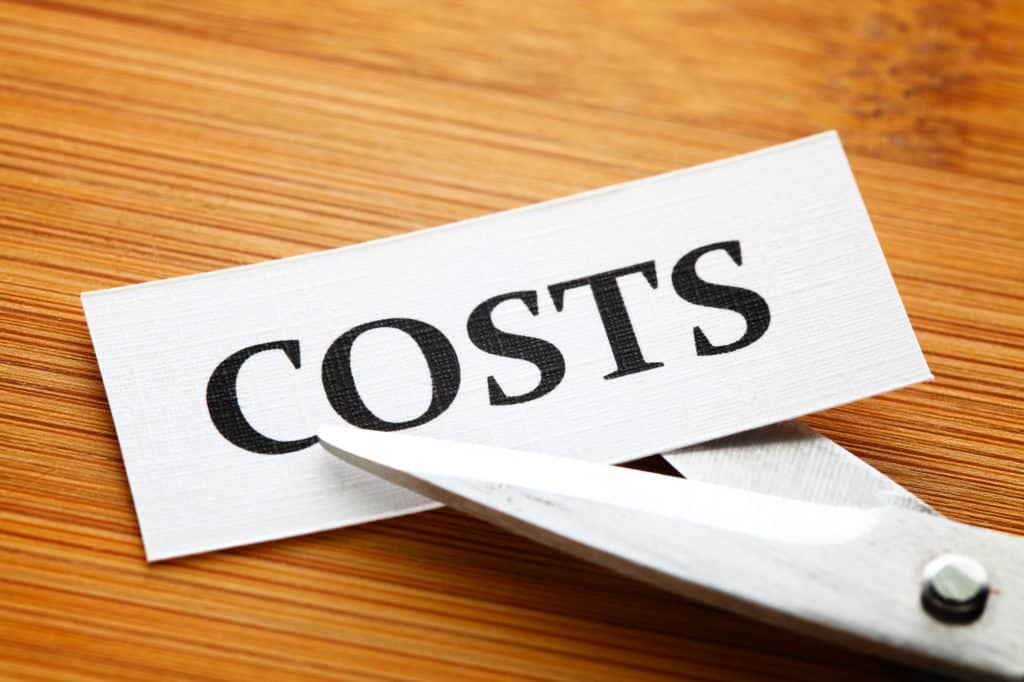 It's hard to give an exact cost of what it would take to have your golf grooves sharpened professionally.
There are a few factors that will determine the price.
The condition of your current clubs, as well as the brand name and the complexity of the grooves.
Some of the modern-day grooves are obscure in shape, and there are also groove in groove technologies out there.
These types of things are likely going to increase the cost of the groove sharpening process.
The best place to consider if you plan on doing work like this to your clubs is the manufacturer.
Look to see if the original manufacturer of your club offers this service.
They would be the most trusted name to go with.
If that is not a possibility, then you can try a local golf shop with a golf club repair specialist.
If you go the local route, you would likely be looking to spend anywhere from $12 -$22 per club.
If you do this for your wedge every once in a while, this is not an astronomical price; however, if you are planning to do this for all your clubs often, it could add up fast.
Since this is likely not a service that you will use all that often, we do believe it is best to leave it to the professionals.
They have the most experience in this process, and for the prices, they charge it is an affordable choice to get your clubs back up to their original performance abilities.
Best Golf Groove Sharpeners
Now that we have discussed all the ins and outs of the groove sharpener for golf clubs, its time to help you find the right one for you.
There is not a ton of variation between the groove sharpeners available on the market.
You should do a bit of research about your golf clubs, the material they are made of, and the shapes of the grooves before starting this process.
Making sure you have what you need before starting the work is essential.
This is not a project to rush into.

HIFROM Groove Sharpener with 6 Heads
HIFROM Groove Sharpener with 6 Heads - Golf Re-Grooving Tool and Cleaner for All Irons Pitching Sand Lob Gap and Approach Wedges and Utility Clubs Red Color
1. A MUST HAVE 6 HEAD GOLF CLUB GROOVE SHARPENER - BEST ON THE MARKET. Perfect for Improving your Backspin and Ball Control just like the PGA Tour Professionals. Fantastic results on both V and U (square) grooves. Convenient and simple to use and carry.Save money to spend another set of irons and wedges. Easy to regroove the clubs without any trouble.
2. FITS YOUR CLUBS: 6 Heads with two different cutting ends, one U shaped, the other V shaped, you choose which one to use. Lichi texture on the shaft surface for firm grippng when cleaning the golf club head, avoiding sliding in the hand. Perfect for Cobra, Cleveland, Ping, Wilson, and other Leading Irons, including Sand Wedges, Lob Wedges, Gap Wedges, Approach Wedges, and other Golf Utility Clubs.
3. DURABLE, COMFORTABLE TO USE: This metal golf tool is designed for long wear and enduring performance; the comfortable grip ensures it is easy to use whilst the precision engineering and highest quality metals make it extremely durable. The texture on the shaft surface for firm grippng when cleaning the golf club head, avoiding sliding in the hand.
4. Highest Quality metal construction. Made from high grade precision tool Vacuum Heat Treated Steel with a maximum hardness of 65 Rockwell for maximum durability and effectiveness. Groove sharpener is precision ground and engineered to exacting tolerances to ensure that it does not compromise USGA rules regarding width and depth.
5. For men or women golfers. Packaged in clear safety tube for ultimate protection. Package Include: 1x red sharpener, 1x PVC container
The Hifrom Groove Sharpener is an excellent option because it is very versatile.
This sharpener comes with six different heads so that you can match your grooves properly with the correct head size.
You will be able to find a list of the manufacturers that this groove sharpener will work for.
The overall price of the Hifrom is very affordable, considering the benefits that you get from it.
This groove sharpener is rather easy to use, and it does not dull or fade quickly.
It has a comfortable grip that you can use while completing the work to make sure your hand doesn't get tired.
You always want to choose a groove sharpener that won't slip from your hand while working.
This is an excellent option from a safety standpoint.
With the convenient size of this groove sharpener, it is a tool that you can keep in your golf bag.
The Hifrom is made with metal, and it is durable and capable of making the changes to the grooves that you need.
You can purchase this tool in a variety of colors, and it comes in a container for safekeeping.
The best part about the Hifrom is that it is manufactured to make sure you cannot go any deeper into the groove than the USGA allows.
This will give you some peace of mind when working on your clubs.
TruGroove Golf Club Groove Sharpener
Another option for a quality golf club groove sharpener is the TruGroove Sharpener.
We like that this model is straightforward and has an easy to use handle and grip.
You can use this sharpener on your irons and your wedges.
It comes in a little carrying case with a cap.
All you need to do is take the cap off and start working on your grooves.
It will work with both u grooves and v grooves.
The TruGroove tool complies with the USGA regulations and will not allow you to go deeper into the groove than necessary when sharpening.
The Tru Groove tool is made with aircraft aluminum and a hardened tool steel tip.
You can quickly get your hand on this grip to work with your club without the groove sharpener slipping.
This is again a very affordable alternative to buying new golf clubs for yourself.
Conclusion
Using a groove sharpener can be a great way to prolong the life of your golf clubs.
Especially when it comes to wedges that tend to wear out a bit more quickly.
If you have a wedge that you love that you don't want to part with, try sharpening the grooves.
If groove sharpening brings it back to life, then you likely just saved yourself $100 or more.
If you don't feel comfortable with this process, then it is imperative to hire a local golf club repair shop to complete this for you.
You must always do what is best to preserve the integrity of your golf clubs.